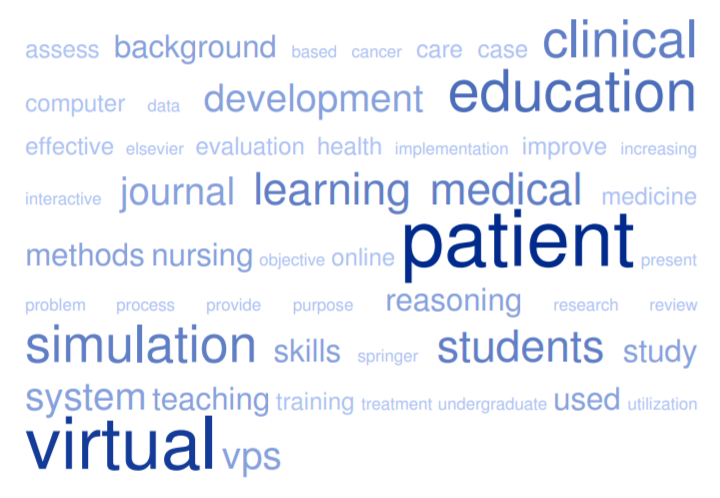 Notes:
Virtual patient simulation (VPS)
Wikipedia:
See also:
100 Best Virtual Patient Videos | Patient Treatment & Dialog Systems 2017 | Therapy & Dialog Systems 2017 | Virtual Patients 2016
---
Evaluation of branched-narrative virtual patients for interprofessional education of psychiatry residents
GL Wilkening, JM Gannon, C Ross, JL Brennan… – Academic …, 2017 – Springer
Objective This pilot study evaluated the utility of branched-narrative virtual patients in an interprofessional education series for psychiatry residents. Methods Third-year psychiatry residents attended four interprofessional education advanced psychopharmacology …
Virtual patient 3D dose reconstruction using in air EPID measurements and a back-projection algorithm for IMRT and VMAT treatments
I Olaciregui-Ruiz, R Rozendaal, RFM van Oers… – Physica Medica, 2017 – Elsevier
Purpose At our institute, a transit back-projection algorithm is used clinically to reconstruct in vivo patient and in phantom 3D dose distributions using EPID measurements behind a patient or a polystyrene slab phantom, respectively. In this study, an extension to this …
Measuring the adoption and integration of virtual patient simulations in nursing education: An exploratory factor analysis
AJ Kleinheksel, AD Ritzhaupt – Computers & Education, 2017 – Elsevier
This study sought to develop a valid and reliable instrument to identify the characteristics of computer-based, interactive, and asynchronous virtual patient simulations that nurse educators identify as important for adoption, and the subsequent curricular integration …
Integration of virtual patients in education of veterinary medicine
J Majerník, M Ma?ar, J Mojžišová – Computer Science and …, 2017 – ieeexplore.ieee.org
Problem based learning, utilizing simulations and virtual reality tools represents one of the approaches integrated into the education of medicine to prepare medical students for both the bedside teaching and their later clinical praxis. On the other side, implementation of …
Implementation of process-oriented feedback in a clinical reasoning tool for virtual patients
I Hege, AA Kononowicz… – … (CBMS), 2017 IEEE …, 2017 – ieeexplore.ieee.org
Virtual patients (VPs) offer a safe environment to teach clinical reasoning skills, but feedback is often provided in outcome-, rather than process-oriented fashion. For complex cognitive skills, such as clinical reasoning, the process itself is often more important than the end …
… (p-PBL) Versus Technology-Enhanced Decision-Based PBL (d-PBL) in the Classroom: Is There an Educational Difference when Using Virtual Patients?
M Sobocan, N Turk, BP Balon – Medical Science Educator, 2017 – Springer
Problem-based learning (PBL) has long been recognised as an important component of the medical curriculum. Koh (2016) states that the medical education community has not reached a consensus on the characteristics of PBL, which therefore defines it more as a …
An architecture of virtual patient simulation platform to train doctor to break bad news
M Ochs, G Montcheuil, JM Pergandi… – … and Social Agents …, 2017 – hal.archives-ouvertes.fr
The way doctors deliver bad news related to damage associated with care has a significant impact on the therapeutic process. In order to facilitate the doctor's training, a simulation system has been developed to train doctors to break bad news with a virtual patient. The …
The Role for Virtual Patients in the Future of Medical Education.
CB White, A Wendling, S Lampotang… – … medicine: journal of …, 2017 – europepmc.org
1. Associate dean and associate professor for medical education, research, and instruction, University of Virginia School of Medicine, Charlottesville, Virginia; caseywhite@virginia.edu. Associate professor of anesthesiology and division chief, Obstetric Anesthesiology, University of Florida …
Virtual Patients in a Behavioral Medicine Massive Open Online Course (MOOC): A Qualitative and Quantitative Analysis of Participants' Perceptions
AH Berman, G Biguet, N Stathakarou… – Academic …, 2017 – Springer
Objective The purpose of this article is to explore learners' perceptions of using virtual patients in a behavioral medicine Massive Open Online Course (MOOCs) and thereby describe innovative ways of disseminating knowledge in health-related areas. Methods A 5 …
The effectiveness of sequencing virtual patients with lectures in a deductive or inductive learning approach
HF Marei, J Donkers, MM Al-Eraky… – Medical …, 2017 – Taylor & Francis
Abstract Background: Virtual patients (VPs) can be sequenced with other instructional methods in different ways. Aim: To investigate the effect of sequencing VPs with lectures in a deductive approach, in comparison with an inductive approach, on students' knowledge …
A clinical reasoning tool for virtual patients: design-based research study
I Hege, AA Kononowicz, M Adler – JMIR medical education, 2017 – ncbi.nlm.nih.gov
Background Clinical reasoning is a fundamental process medical students have to learn during and after medical school. Virtual patients (VP) are a technology-enhanced learning method to teach clinical reasoning. However, VP systems do not exploit their full potential …
Virtual patients in problem?based learning
H Hamdy, A Al?Moslih, G Tavarnesi… – Medical education, 2017 – Wiley Online Library
… Really Good Stuff: Lessons learned though innovation in medical education. Virtual patients in problem?based learning. Hossam Hamdy Corresponding Author. E-mail address: profhossamhamdy@gmail.com. Correspondence: Hossam Hamdy, Department of Clinical …
A psychotherapy training environment with virtual patients implemented using the Furhat robot platform
R Johansson, G Skantze, A Jönsson – International Conference on …, 2017 – Springer
We present a demonstration system for psychotherapy training that uses the Furhat social robot platform to implement virtual patients. The system runs an educational program with various modules, starting with training of basic psychotherapeutic skills and then moves on …
Virtual environments and virtual patients in healthcare
LR Heinrichs, P Dev, D Davies – Healthcare Simulation Education …, 2017 – books.google.com
The junior doctor walks into the ward with a clinical colleague and asks to be directed to Mrs Fernandez, a recently admitted patient with sepsis. A ward nurse had called her to say that the patient had developed a red rash. The doctor introduces herself and her colleague to the …
Evaluation of the use of a virtual patient on student competence and confidence in performing simulated clinic visits
CA Taglieri, SJ Crosby, K Zimmerman… – American Journal of …, 2017 – AJPE
Objective. To assess the effect of incorporating virtual patient activities in a pharmacy skills lab on student competence and confidence when conducting real-time comprehensive clinic visits with mock patients. Methods. Students were randomly assigned to a control or …
The use of a virtual patient to follow pleural pressure changes associated with therapeutic thoracentesis
T Gólczewski, AM Stecka… – … journal of artificial …, 2017 – journals.sagepub.com
Purpose Influence of therapeutic thoracentesis on the pleural pressure (Pp) has been discussed in many clinical studies, however reasons of Pp changes are not precisely established. The aim of the study was to use a previously elaborated virtual …
Developing Virtual Patients with VR/AR for a natural user interface in medical teaching
MA Zielke, D Zakhidov, G Hardee… – Serious Games and …, 2017 – ieeexplore.ieee.org
Professionalism and communication skills are important aspects of medical training, and virtual patient applications can offer cost effective, easily accessible platforms for communication practice which complement flexible, student-driven medical school …
A Virtual Patient Navigation Application for Lung Cancer Assessment Patients
GS Chandhoke, AS Grewal, V Pathak, S Singh… – … Conference on E …, 2017 – Springer
A virtual patient navigator is a web/mobile application that helps patients with lung cancer diagnosis reduce their anxiety and uncertainties. In particular, lung cancer patients easily become overwhelmed when having to manage information overload, many appointments …
Utilization and acceptance of virtual patients in veterinary basic sciences–the vetVIP-project
C Kleinsorgen, M Kankofer, Z Gradzki… – GMS journal for …, 2017 – ncbi.nlm.nih.gov
Context: In medical and veterinary medical education the use of problem-based and cased-based learning has steadily increased over time. At veterinary faculties, this development has mainly been evident in the clinical phase of the veterinary education. Therefore, a …
Combining CNNs and Pattern Matching for Question Interpretation in a Virtual Patient Dialogue System
L Jin, M White, E Jaffe, L Zimmerman… – Proceedings of the 12th …, 2017 – aclweb.org
For medical students, virtual patient dialogue systems can provide useful training opportunities without the cost of employing actors to portray standardized patients. This work utilizes word-and character-based convolutional neural networks (CNNs) for question …
Appraising the role of the virtual patient for therapeutics health education
L Baumann-Birkbeck, F Florentina, O Karatas… – Currents in Pharmacy …, 2017 – Elsevier
Background Face-to-face instruction, paper-based case-studies and clinical placements remain the most commonly used teaching methods for therapeutics curricula. Presenting clinical content in a didactic manner presents challenges in engaging learners and …
Virtual patients in the acquisition of clinical reasoning skills: does presentation mode matter? A quasi-randomized controlled trial
F Schubach, M Goos, G Fabry… – BMC medical …, 2017 – bmcmededuc.biomedcentral.com
The objective of this study is to compare two different instructional methods in the curricular use of computerized virtual patients in undergraduate medical education. We aim to investigate whether using many short and focused cases–the key feature principle–is more …
Trainee perceptions on the usefulness of Virtual Patients and other support during the pre-registration year.
JF Thompson, S White, S Chapman – International Journal of …, 2017 – eprints.keele.ac.uk
Results Interviews were conducted with 20 pre-registration trainees (2014-2015); 9 from the intervention group and 11 from the control group, with 4 trainees having used both types of case study. The sample included 17 females (85%), 3 males (15%) and a mix of those …
Modelling Molecular Mechanisms of Cancer Pathogenesis: Virtual Patients, Real Opportunities
H Lehrach, T Kessler, L Ogilvie, M Schütte… – Mechanisms of …, 2017 – Springer
A combination of decades of cancer research and trillions of dollars has helped to exponentially increase our understanding of the molecular processes involved in cancer pathogenesis [1, 2] and to develop new cancer drugs. However, despite progress in …
Creation of a 3-dimensional virtual dental patient for computer-guided surgery and CAD-CAM interim complete removable and fixed dental prostheses: a clinical …
BT Harris, D Montero, GT Grant, D Morton… – The Journal of prosthetic …, 2017 – Elsevier
… This clinical report proposes a digital workflow using 2-dimensional (2D) digital photographs, a 3D extraoral facial scan, and cone beam computed tomography (CBCT) volumetric data to create a 3D virtual patient with craniofacial hard tissue, remaining dentition (including …
Problem?based learning in internal medicine: virtual patients or paper?based problems?
M Sobocan, N Turk, D Dinevski, R Hojs… – Internal medicine …, 2017 – Wiley Online Library
Background Teaching using paper problem?based learning (p?PBL) sessions has left some students fatigued with the learning process. Therefore, attempts have been made to replace p?PBL with digitally enhanced, decision?making PBL in the form of virtual patients (VP) …
Development of Virtual Patients with Neurological Diseases from CT Images of Cadavers
S Jacobson, SS Giles, A Eileen, M Garry… – Medical Research …, 2017 – journals.ke-i.org
BACKGROUND: In many medical schools Cadavers form the initial "patient" contact and there is very little information available about these "patients" due to the Health Insurance Portability and Accountability Act (HIPAA) of 1996. Most of the cadavers we dissect are from …
An evidence-based approach to designing virtual patients
B Collins – 2017 – scholarscompass.vcu.edu
Background Virtual Patients (VPs) are known to be at least as effective as traditional teaching methods for the development of clinical reasoning. However, we do not know the maximum potential for their effectiveness or how to achieve that. There is wide variation in …
The use of virtual patients to develop musculoskeletal reasoning skills in undergraduate physiotherapy students: a qualitative evaluation of student experience
K Trainor, S McKinnell, P Keane, C Kitteringham – Physiotherapy, 2017 – Elsevier
Purpose: A consensus on the educational value of 'virtual patients' as a teaching resource in the health professions is lacking and further research is required in this area. The purpose of this research was to gain insight into the way virtual patient cases were utilised by …
Implementation of an online course to teach and assess clinical reasoning with virtual patients and concept mapping
I Hege, L Foster-Johnson, J Kiesewetter – researchgate.net
Page 1. What did you do? Implementation of an online course to teach and assess clinical reasoning with virtual patients and concept mapping • Well…. Virtual patients (VPs) can support the learning of clinical reasoning skills, but… • It is still not clear how VPs optimally support …
OPTIMIZING VIRTUAL PATIENT SIMULATION TO IMPROVE PATIENT CARE: EFFECT OF EHR ENHANCEMENTS ON CLINICAL DECISIONS
B Cayla Cason, E Huntley, C Gaunce – img.medscapestatic.com
1. BACKGROUND? Virtual patient simulation (VPS) is a relatively new and rapidly developing teaching instrument with demonstrated effectiveness in medical education. 1 By using a simulated treatment setting that seeks to replicate real-life clinical practice as closely …
Virtual patient cases: to use or not to use? Exploring creators' attitudes against their use in
AZ Karasmani, PE Antoniou, PD Bamidis – Mefanet Journal, 2017 – mj.mefanet.cz
Background: The problems and difficulties in students' education that arise from the existing undergraduate curriculum at the medical school of Aristotle University of Thessaloniki (AUTH) urged the academic staff members to the pursuance of new pedagogic approaches …
Using Virtual Patient Simulation in Substitution for Traditional Clinical Hours in Undergraduate Nursing
F Jimenez – 2017 – researchgate.net
In recent years, undergraduate nursing education has been facing numerous challenges as the demand for nurses continues to increase. The shortage of nursing faculty in addition to increased student enrollment has put a greater burden on the limited resources available in …
Virtual Patient as A Multimedia Learning Tool to Help Students Learn Clinical Reasoning Skills in Medicine.
SH Al-Dosari, A Al-Drees, FS Al-Qahtani… – International Journal of …, 2017 – ijpras.com
Background: Numerous instructional methods are used in medical education, including interactive lectures, problem-based learning (PBL), case-based learning, and bedside teaching. Bedside teaching provides students with a real-life experience interacting with …
Analysing Moodle learning behaviour about virtual patients
M Xu – 2017 – tampub.uta.fi
With the development of Internet, online learning management systems (LMSs) have been used widely for providing teaching platforms. The vast quantities of data that LMSs generate daily are difficult to manage manually. Thus, educational data mining (EDM) is applied to …
The Impact of Virtual Patient Simulation on the Self-Efficacy and Performance Levels of MSN Nursing Students.
MJ Rota – ProQuest LLC, 2017 – ERIC
The relationship between experience and learning is a growing phenomenon of interest to scholars of teaching and learning. In 1938, John Dewey stated that," all genuine education comes about through experience." Self-efficacy is the belief in one's own capabilities to …
iHuman Project: Implementation and Evaluation of Cloud-Based, Virtual-Patient, Case-Based Simulation
ED Kauschinger – 2017 – nursingrepository.org
Research findings from a Duke University School of Nursing pilot project that incorporated a cloud-based, virtual-patient simulation learning platform, i-Human Patients (IHP), in two graduate advanced pathophysiology courses will be presented. Student survey results of …
Development and validation of simulated virtual patients to impart early clinical exposure in endocrine physiology
A Gupta, S Singh, F Khaliq, U Dhaliwal… – Advances in physiology …, 2017 – physiology.org
In the country presently, preclinical medical students are not routinely exposed to real patients. Thus, when they start clinical postings, they are found to have poor clinical reasoning skills. Simulated virtual patients (SVPs) can improve clinical skills without …
Proposal of Strategies to Create a Case of Virtual Patient for Nursing Education
K Hirano, K Tokunaga – 2017 – researchgate.net
In 2011, nursing practice skills, which are the core of undergraduate nursing programs, were assessed with the expectation of developing nursing practitioners, researchers, and educators possessing a broad range of professional knowledge and research capability …
An investigation of professionalism reflected by student comments on formative virtual patient encounters
T Dong, W Kelly, M Hays… – BMC medical …, 2017 – bmcmededuc.biomedcentral.com
This study explored the use of virtual patient generated data by investigating the association between students' unprofessional patient summary statements, which they entered during an on-line virtual patient case, and detection of their future unprofessional behavior. At the …
Effectiveness of Virtual Patient Simulation Training for First-Year Au. D. Students
S Phan, J Georgeson, C Gallagher, J Ivaland… – 2017 – scholarlycommons.pacific.edu
Purpose The purpose of this study is to evaluate the level of improvement Otis use has the on the clinical skills of first year audiology students. Knowledge from this study will provide a greater understanding of the value of patient simulation program use in clinical medical …
LiveBook: Competence Assessment with Virtual-Patient Simulations
S Jalali, E Stroulia, S Foster, A Persad, D Shi… – 2017 IEEE 30th …, 2017 – computer.org
Virtual-patient simulators play an important role in modern medical education. These simulators provide a safe environment for learning, give contextual feedback to learners, and allow the learner to move beyond the time and space constraints of traditional face-to …
Who decides? Analysis of decision-makers in the adoption of virtual patients for nursing education
AJ Kleinheksel, FA Jimenez – Instructor – nursinglibrary.org
BACKGROUND RESULTS In the education of health professionals, faculty of all disciplines have sought to teach their students the diagnostic reasoning and communication skills, and to foster the teamwork and self-confidence, needed to provide safe and effective care in …
Development of a Recommender System to the Virtual Patient Simulator Health Simulator
D Reidel, PRM Barros, SJ Rigo, MR Bez – Proceedings of the 23rd …, 2017 – dl.acm.org
This paper presents a recommender system on clinical cases and materials that may help the student in the learning process. The experiment involves the development of collaborative and content based filters and also three hybrid methods. The system was …
Virtual patient case studies in pharmacy education–how to make it work and worth
W Polak, B Wi?niowska, S Polak, M Snoch, A Skowron – sztukaleczenia.pl
Virtual patients (VPs) based methods seem to be perfect to teach the skills of pharmaceutical care practice, yet there is a surprisingly small number of the published case studies with a detailed description of their use in the undergraduate pharmacy curricula or continuing …
The role of virtual patients in medical education: a review of the literature.
S KEAN – Wounds UK, 2017 – search.ebscohost.com
Abstract Background: Virtual Patients (VPs) are an interactive computer-based clinical patient scenario used in medical education. To determine how VPs are used in medical education, a literature search and review was completed. Methods: A literature search was …
Medical students' attitudes towards the use of virtual patients
M Sobocan, Z Klemenc?Ketis – Journal of Computer Assisted …, 2017 – Wiley Online Library
An increasing number of virtual patients (VPs) are being used in the classroom, which raises questions about how to implement VPs to improve students' satisfaction and enhance their learning. This study developed and validated a scale that measures acceptability and …
The development of a virtual patient e-module for wound management.
S KEAN – Wounds UK, 2017 – search.ebscohost.com
Virtual patients (VPs) are an interactive computer-based clinical patient scenario used in medical education. Part one of this article, published in the last issue, discussed a literature search carried out to determine how VPs are used in medical education. Here, in part two …
Who Decides?: Analysis of Decision-Makers in the Adoption of Virtual Patients for Nursing Education
F Jimenez, AJ Kleinheksel – 2017 – sigma.nursingrepository.org
In 2015, nursing faculty responded to the Virtual Patient Adoption and Integration in Nursing (VPAIN) survey. Of the 398 participants, 194 reported being part of the decision-making process to adopt asynchronous virtual patient simulations. This presentation will describe …
Do virtual patients prepare medical students for the real world? Development and application of a framework to compare a virtual patient collection with …
M Urresti-Gundlach, D Tolks… – BMC medical …, 2017 – bmcmededuc.biomedcentral.com
An important aspect of virtual patients (VPs), which are interactive computer-based patient scenarios, is authenticity. This includes design aspects, but also how a VP collection represents a patient population and how a patient is presented in a VP scenario. Therefore …
Leveraging social media to generate narrative for virtual patient simulations
J Velez, T Neal, D Babichenko… – iConference 2017 …, 2017 – ideals.illinois.edu
This work describes the research and development of semi-automated, user-supervised narrative generation for virtual patient (VP) simulators. We outline the system architecture required of such a system, and propose leveraging data from the health-related content of …
Utilization of a virtual patient for advanced assessment of student performance in pain management
MA Smith, LH Waite – Currents in Pharmacy Teaching and Learning, 2017 – Elsevier
Background and purpose To assess student performance and achievement of course objectives following the integration of a virtual patient case designed to promote active, patient-centered learning in a required pharmacy course. Educational activity and setting …
Minimizing Bias In Indirect Comparisons Utilizing Virtual Patient Level Data
M Rael, J Ishak – Value in Health, 2017 – valueinhealthjournal.com
Objectives When individual patient-level data (IPD) are unavailable, virtual patient-level data (VPLD) can be derived from published Kaplan-Meier (KM) curves for use in various analyses. A particular use-case is in MAIC or STC, where VPLD for comparators are …
Drexel University NP students use virtual patients to hone skills
T Kunwar – The Nurse Practitioner, 2017 – journals.lww.com
Students at Drexel University's College of Nursing and Health Professions are using the i-Human Patients Case Player, which simulates a complete medical patient encounter with animated avatars, human physiology and pathophysiology, virtual histopathology, and 3D …
A Framework for Virtual Patient Navigation Applications
GS Chandhoke – 2017 – pdfs.semanticscholar.org
Abstract According to the Canadian Cancer Society, half of Ontario's population will be diagnosed with cancer in their lifetime. Many patients being assessed for cancer however become overwhelmed when having to manage information overload, many appointments …
Pblcloud Virtual Patient Simulator: Enhancing Immersion Through Natural Language Processing
PR Martin – 2017 – elischolar.library.yale.edu
Clinical Reasoning: Pedagogical and Technological Advances Clinical reasoning refers to the cognitive processes that underlie the collection, evaluation and synthesis of data used to formulate a patient's diagnosis and treatment plan. 1 In undergraduate medical education …
E-Learning in Pediatrics: Virtual Patient Scenarios (Descriptive Abstract)
O Adeyanju, K Pestak, C Foshee – Academic Pediatrics, 2017 – academicpedsjnl.net
Background E-learning involves the use of electronic technologies such as Web 2.0 in education. It allows for standardization of learning materials, facilitates self-direction and self-pacing, and offers unlimited access to content. There is clear evidence that e-learning is at …
Physical-Virtual Patient Bed
S Daher – 2017 – repository.lib.fit.edu
Currently healthcare practitioners use patient simulators such as actors, mannequins, and computer based simulations for learning and training. I am exploring effects of co-locating sensory cues (ie visual and haptic) vs the separation of these cues during a patient …
Automatic classification of doctor-patient questions for a virtual patient record query task
LC Llanos, S Rosset, P Zweigenbaum – BioNLP 2017, 2017 – aclweb.org
We present the work-in-progress of automating the classification of doctorpatient questions in the context of a simulated consultation with a virtual patient. We classify questions according to the computational strategy (rule-based or other) needed for looking up data in …
Using the Virtual Patient to Improve the Primary Care of Traumatized Refugees
R Mollica, J Lavelle, U Fors… – Journal of Medical …, 2017 – journals.sbmu.ac.ir
Background: Refugees who have experienced traumatic life experiences have entered into the United States' primary health care system. Primary care providers (PCPs) have limited training in their diagnoses and treatment. Assessing and caring for the health and mental …
A'virtual Patient'Model Prediction Of Response To Nasal High Flow Therapy
W Kang, A Clark, M Tawhai – B80-C. GETTING MODELED …, 2017 – atsjournals.org
Methods: The model included a simplified, anatomically-based model of conducting airway, with spatially distributed ventilation and perfusion, dynamic gas exchange with O-CO interactions, and descriptions of respiratory feedback mechanisms. The patient sample …
Introduction of Virtual Patient Software to Enhance Physician Assistant Student Knowledge in Palliative Medicine
KA Prazak – Journal of allied health, 2017 – ingentaconnect.com
PURPOSE: The purpose of this project was to infuse palliative medicine and end-of-life care creatively into physician assistant (PA) education. METHODS: Nine second-year PA students volunteered to participate in this quasi-experimental, pretest-posttest pilot study …
Virtual Patient Technology: Engaging Primary Care in Quality Improvement Innovations
AC Blok, CN May, RS Sadasivam… – JMIR medical …, 2017 – ncbi.nlm.nih.gov
Objective We developed 2 virtual patient (VP) avatars in the context of a clinic-level quality improvement program. We sought to determine differences in preferences for VPs and the perceived influence of interacting with the VP on clinical staff engagement with the quality …
Virtual Patients in Health Professions Education
AJ Kleinheksel – Advancing Medical Education Through Strategic …, 2017 – igi-global.com
The field of health professions continues to struggle with the impact of increasing practitioner and educator shortages. Health professions education is also faced with the issues of limited clinical placements and an increasing demand for online education. To address these …
virtual Patient Simulation in Hiv: An Online Educational Tool to Improve Evidence-based Clinical Decision-making
S Hurst, D Blevins – Open forum infectious diseases, 2017 – pdfs.semanticscholar.org
Background. Effective antimicrobial stewardship (AS) requires interdisciplinary teamwork, quality improvement (QI), and knowledge of systems. Simulation (sim) is used to train and evaluate learners on processes. We developed a series of simulated AS committee …
Estimating Pain and Disability in Virtual Patients with Low Back Pain: The Contribution of Nonverbal Behaviors
A Courbalay, T Deroche, M Descarreaux – Journal of Nonverbal Behavior, 2017 – Springer
It is well recognized that chronic low back pain (cLBP) can be estimated from nonverbal pain behaviors. However, only a few studies examined how clinicians rely on those when estimating specific outcomes, such as pain intensity and pain disability. Therefore, the …
Quantitative Analysis of Human Facial Expression: Moving Towards The Creation of a Virtual Patient
S Lee – 2017 – escholarship.org
ABSTRACT OF THE THESISQuantitative Analysis of Human Facial Expression: Moving Towards The Creation of a Virtual PatientBy Sungah Lee Master of Science in Oral Biology University of California Los Angeles, 2017Background: Recent introduction of three …
3D Virtual Diagnosis of the Orthognathic Patient
GRJ Swennen, M Gaboury – 3D Virtual Treatment Planning of Orthognathic …, 2017 – Springer
… 6). 3D Virtual Patient: Systematic Virtual Evaluation of the Patient's Deformity and Bite … 3D volume rendering is more appropriate for virtual evaluation of the patient's deformity and bite. 3D Virtual Patient: Systematic Virtual Evaluation of the Patient's Deformity and Bite …
Virtual Pediatric Patient Activities With Randomized Scenarios as an Instructional Tool for Pharmacy Students
JS Stultz, M Forder, AL Pakyz – The Journal of Pediatric Pharmacology and …, 2017 – jppt.org
… This study is unique in the virtual patient pharmacy education literature. While previous studies have used branched-outcome decision-making for virtual patients, the scenarios did not include pediatric patients, utilize text entry questions, or analyze randomization of multiple …
N802 Improving care for patients with perianal Crohn's disease; review of a perianal virtual clinic
H Yarrow, P Irving, A Williams, F Hibberts… – Journal of Crohn's …, 2017 – insights.ovid.com
… and surgical pre-assessment. PVC activity and outcomes have been reviewed between January and June 2016. Results: During this period we reviewed 69 virtual patients and 31 acute cases face to face. Virtual: 31/69 were …
Virtual medicine: Utilization of the advanced cardiac imaging patient avatar for procedural planning and facilitation
JS Shinbane, LA Saxon – Journal of cardiovascular computed tomography, 2017 – Elsevier
… The virtual patient avatar computer can also be used for procedural planning, computational modeling of anatomy, simulation of predicted therapeutic result, printing of 3-D models, and augmentation of real time procedural performance …
Developing a conversational virtual standardized patient to enable students to practice history-taking skills
K Maicher, D Danforth, A Price… – Simulation in …, 2017 – journals.lww.com
Introduction Although traditional virtual patient simulations are designed to teach and assess cli.
PTH-062 Improving care for patients with perianal crohn's disease; review of a perianal virtual clinic
M Samaan, H Yarrow, P Irving, A Williams, F Hibberts… – 2017 – gut.bmj.com
… and surgical pre-assessment. PVC activity and outcomes have been reviewed between January and June 2016. Results During this period we reviewed 69 virtual patients and 31 acute cases face to face. Virtual 31/69 were …
Simulated conversations with virtual humans to improve patient-provider communication and reduce unnecessary prescriptions for antibiotics: a repeated …
A Schoenthaler, G Albright, J Hibbard… – JMIR medical …, 2017 – ncbi.nlm.nih.gov
… communication and SDM for antibiotic use. When patients accessed the simulation, they assume the role of Laura (the virtual patient) and engage in a conversation with Dr Wei (the virtual provider). Health care providers enter the …
A virtual cardiac catheterization laboratory for patient education: The angiogram procedure
K Wilcocks, N Halabi, P Kartick… – … & Applications (IISA), 2017 – ieeexplore.ieee.org
… grasp and move objects. Moving the objects into the correct position on the virtual patient model allows the patient to advance through the procedure by following the narrator and the information on the tablet. From each step …
Towards the virtual human patient. Quantitative Systems Pharmacology in Alzheimer's disease
H Geerts, A Spiros, P Roberts, R Carr – European journal of pharmacology, 2017 – Elsevier
… and genotypes on the dose-response of a new investigative drug, (2) exploring the possibility of Blood Oxygen level dependent functional MRI (BOLD-fMRI) and pharmaco-EEG as non-invasive biomarkers of target engagement and (3) running virtual patient trials to optimize …
Virtual Stenting for Intracranial Aneurysms: A Risk-Free, Patient-Specific Treatment Planning Support for Neuroradiologists and Neurosurgeons
P Berg, L Daróczy, G Janiga – Computing and visualization for intravascular …, 2017 – Elsevier
With increasing computational resources, more and more engineering methods are applied to medical-related problems in order to support physicians. One prominent.
The Determinants of Online Collective Action in Patients' Virtual Communities: a Multimethod Approach
R Laubie – 2017 – tel.archives-ouvertes.fr
Page 1. HAL Id: tel-01804297 https://tel.archives-ouvertes.fr/tel-01804297 Submitted on 31 May 2018 HAL is a multi-disciplinary open access archive for the deposit and dissemination of sci- entific research documents, whether they are pub- lished or not …
The virtual epileptic patient: individualized whole-brain models of epilepsy spread
VK Jirsa, T Proix, D Perdikis, MM Woodman, H Wang… – Neuroimage, 2017 – Elsevier
Skip to main content …
(Visited 20 times, 1 visits today)