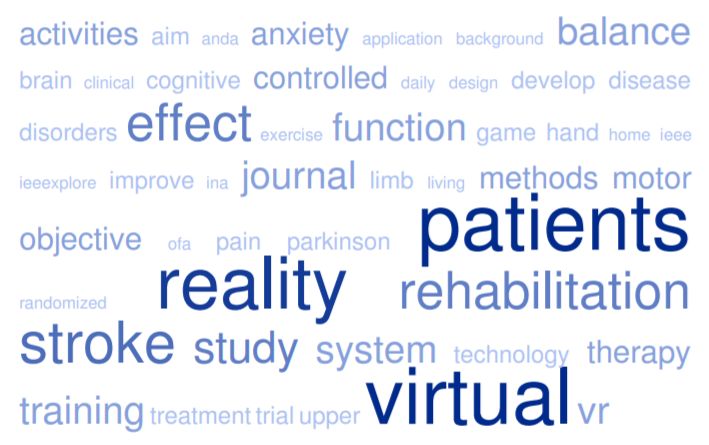 Wikipedia:
See also:
100 Best Virtual Patient Videos | Patient Treatment & Dialog Systems 2017 | Virtual Patients 2016 | Virtual Patients 2017
---
Cognitive training on stroke patients via virtual reality-based serious games
P Gamito, J Oliveira, C Coelho, D Morais… – Disability and …, 2017 – Taylor & Francis
Purpose: Use of virtual reality environments in cognitive rehabilitation offers cost benefits and other advantages. In order to test the effectiveness of a virtual reality application for neuropsychological rehabilitation, a cognitive training program using virtual reality was …
Virtual reality for management of pain in hospitalized patients: results of a controlled trial
VC Tashjian, S Mosadeghi, AR Howard… – JMIR mental …, 2017 – ncbi.nlm.nih.gov
Background Improvements in software and design and reduction in cost have made virtual reality (VR) a practical tool for immersive, three-dimensional (3D), multisensory experiences that distract patients from painful stimuli. Objective The objective of the study was to measure …
Therapeutic effect of virtual reality on post-stroke patients: randomized clinical trial
EP da Fonseca, NMR da Silva, EB Pinto – Journal of Stroke and …, 2017 – Elsevier
Objectives The study aimed to check the therapeutic effect of virtual reality associated with conventional physiotherapy on gait balance and the occurrence of falls after a stroke. Methods This was a randomized, blinded clinical trial conducted with post-stroke patients …
Effect of an immersive preoperative virtual reality experience on patient reported outcomes: a randomized controlled trial
K Bekelis, D Calnan, N Simmons, TA MacKenzie… – Annals of …, 2017 – journals.lww.com
Objective: To investigate the effect of exposure to a virtual reality (VR) environment preoperatively on patient-reported outcomes for surgical operations. Background: There is a scarcity of well-developed quality improvement initiatives targeting patient satisfaction …
Effectiveness of self-training using the mobile-based virtual reality program in patients with social anxiety disorder
HE Kim, YJ Hong, MK Kim, YH Jung, S Kyeong… – Computers in Human …, 2017 – Elsevier
Social anxiety is one of the common mental problems with relatively low treatment-seeking rate. Virtual reality exposure therapy is a promising treatment option for social anxiety disorder (SAD). Our objective was to investigate the efficacy of self-training using the newly …
Virtually home: Exploring the potential of virtual reality to support patient discharge after stroke
K Threapleton, K Newberry, G Sutton… – British Journal of …, 2017 – journals.sagepub.com
Introduction The level of assessment and intervention received by patients prior to discharge varies widely across stroke services in the United Kingdom. This study aimed to explore the potential value of virtual reality in preparing patients for discharge following stroke. Method …
Feasibility and safety of virtual-reality-based early neurocognitive stimulation in critically ill patients
M Turon, S Fernandez-Gonzalo, M Jodar… – Annals of intensive …, 2017 – biomedcentral.com
Growing evidence suggests that critical illness often results in significant long-term neurocognitive impairments in one-third of survivors. Although these neurocognitive impairments are long-lasting and devastating for survivors, rehabilitation rarely occurs …
Use of virtual reality feedback for patients with chronic neck pain and kinesiophobia
KB Chen, ME Sesto, K Ponto, J Leonard… – … on Neural Systems …, 2017 – ieeexplore.ieee.org
This study examined how individuals with and without neck pain performed exercises under the influence of altered visual feedback in virtual reality. Chronic neck pain (n= 9) and asymptomatic (n= 10) individuals were recruited for this cross-sectional study. Participants …
Neural patterns of reorganization after intensive robot-assisted virtual reality therapy and repetitive task practice in patients with chronic stroke
S Saleh, G Fluet, Q Qiu, A Merians… – Frontiers in …, 2017 – frontiersin.org
Several approaches to rehabilitation of the hand following a stroke have emerged over the last two decades. These treatments, including repetitive task practice, robotically assisted rehabilitation and virtual rehabilitation activities, produce improvements in hand function, but …
Comparison of virtual reality exergaming and home exercise programs in patients with subacromial impingement syndrome and scapular dyskinesis: Short …
NO Pekyavas, N Ergun – Acta orthopaedica et traumatologica turcica, 2017 – Elsevier
Objective The aim of this study was to compare the short term effects of home exercise program and virtual reality exergaming in patients with subacromial impingement syndrome (SAIS). Methods A total of 30 patients with SAIS were randomized into two groups which are …
The use of Virtual Reality Facilitates Dialectical Behavior Therapy®"Observing Sounds and Visuals" mindfulness skills training exercises for a Latino patient …
J Gomez, HG Hoffman, SL Bistricky… – Frontiers in …, 2017 – frontiersin.org
Sustaining a burn injury increases an individual's risk of developing psychological problems such as generalized anxiety, negative emotions, depression, acute stress disorder, or post-traumatic stress disorder. Despite the growing use of Dialectical Behavioral …
A pilot study to determine if the use of a virtual reality education module reduces anxiety and increases comprehension in patients receiving radiation therapy
M Marquess, SP Johnston, NL Williams… – Journal of Radiation …, 2017 – Springer
Objectives Pre-treatment patient education has been shown to decrease anxiety and enhance comprehension. Our pilot study evaluates the impact of VERT™, a virtual environment education tool, on these endpoints. Methods Twenty-two patients with prostate …
The Effect of a Virtual Reality Game Intervention on Balance for Patients with Stroke: A Randomized Controlled Trial
HC Lee, CL Huang, SH Ho, WH Sung – Games for health journal, 2017 – liebertpub.com
Objective: The aim of this study was to investigate the effects of virtual reality (VR) balance training conducted using Kinect for Xbox® games on patients with chronic stroke. Materials and Methods: Fifty patients with mild to moderate motor deficits were recruited and randomly …
Experimental variation of social stress in virtual reality–Feasibility and first results in patients with psychotic disorders
K Hesse, PA Schroeder, J Scheeff, S Klingberg… – Journal of behavior …, 2017 – Elsevier
Background and objectives Social interaction might lead to increased stress levels in patients with psychotic disorders. Impaired social stress tolerance is critical for social functioning and closely linked with symptom relapse and hospitalization. We present an …
Conjunctive rehabilitation of multiple cognitive domains for chronic stroke patients in virtual reality
M Maier, NL Bañuelos, BR Ballester… – Rehabilitation …, 2017 – ieeexplore.ieee.org
Classically, cognitive deficits have been studied and treated in isolation from each other. A stroke patient is classified as being memory impaired, having executive dysfunction or showing attentional deficits after which a dedicated rehabilitation therapy is given. Studies …
Virtual reality to augment robot-assisted gait training in non-ambulatory patients with a subacute stroke: a pilot randomized controlled trial.
J Bergmann, C Krewer, P Bauer, A Koenig… – European journal of …, 2017 – europepmc.org
Active performance is crucial for motor learning, and, together with motivation, is believed to be associated with a better rehabilitation outcome. Virtual reality (VR) is an innovative approach to engage and motivate patients during training. There is promising evidence for …
A virtual reality and brain computer interface system for upper limb rehabilitation of post stroke patients
D Achanccaray, K Acuña, E Carranza… – … Systems (FUZZ-IEEE …, 2017 – ieeexplore.ieee.org
This work presents a brain computer interface (BCI) framework for upper limb rehabilitation of post stroke patients, combining BCI and virtual reality (VR) technology; a VR feedback is shown to the participants to achieve a greater activation of certain brain regions involved …
Virtual reality jogging as a novel exposure paradigm for the acute urge to be physically active in patients with eating disorders: Implications for treatment
G Paslakis, V Fauck, K Röder, E Rauh… – … Journal of Eating …, 2017 – Wiley Online Library
The acute urge to be physically active is a relevant clinical phenomenon in patients suffering from eating disorders. In this study with n= 20 female patients with anorexia nervosa and n= 10 female patients with bulimia nervosa, a virtual reality (VR) jogging paradigm was applied …
Leap Motion-based virtual reality training for improving motor functional recovery of upper limbs and neural reorganization in subacute stroke patients
Z Wang, P Wang, L Xing, L Mei, J Zhao… – Neural regeneration …, 2017 – ncbi.nlm.nih.gov
Virtual reality is nowadays used to facilitate motor recovery in stroke patients. Most virtual reality studies have involved chronic stroke patients; however, brain plasticity remains good in acute and subacute patients. Most virtual reality systems are only applicable to the proximal upper …
Testing virtual reality-based cue-exposure software: Which cue-elicited responses best discriminate between patients with eating disorders and healthy controls?
J Pla-Sanjuanelo, M Ferrer-García… – Eating and Weight …, 2017 – Springer
Purpose Virtual reality (VR) technologies have been proposed as a new tool able to improve on in vivo exposure in patients with eating disorders. This study assessed the validity of a VR-based software for cue exposure therapy (CET) in people with bulimia nervosa (BN) and …
Improvement of navigation and representation in virtual reality after prism adaptation in neglect patients
B Glize, M Lunven, Y Rossetti, P Revol… – Frontiers in …, 2017 – frontiersin.org
Prism adaptation (PA) is responsible for an expansion of sensori-motor after-effects to cognitive domains for patients with spatial neglect. One important question is whether the cognitive after-effects induced by PA may also concern higher aspects of spatial cognition …
Autonomous rehabilitation at stroke patients home for balance and gait: safety, usability and compliance of a virtual reality system
EM MEDICA – European journal of physical and rehabilitation …, 2017 – researchgate.net
ABSTRACT BACKGROUND: New technologies, such as telerehabilitation and gaming devices offer the possibility for patients to train at home. This opens the challenge of safety for the patient as he is called to exercise neither with a therapist on the patients' side nor with …
Using Virtual Reality to Train Designers to Develop Friendly Interfaces for Achromatic Vision Patients
V Constantinou, A Lanitis, A Ioannou – Proceedings of the 22nd …, 2017 – dl.acm.org
An investigation in the use of Virtual Reality as a means of training designers to design interfaces accessible to achromatic vision patients is presented. Within this context virtual environments incorporating real life environments are visualised through the eyes of …
Using virtual reality and upper limb unloading to correct motion synergy in poststroke patients
A Klochkov, A Khizhnikova, L Chernikova… – Journal of the …, 2017 – Elsevier
Background: Poststroke upper limb paresis, spasticity and caused by them pathological synergies is the main problem on the way to daily living activities recovery. Motor training in virtual reality (VR) creates the necessary training space for motor skills relearning. Objective …
Efficacy and safety of transcranial direct current stimulation associated to Virtual Reality and toAerobic Exercises program on the treatment of patients with fibromyalgia
M Herrera, J Monells, L Miralles… – Brain Stimulation: Basic …, 2017 – brainstimjrnl.com
Background & Objective: Freezing of gait (FOG) is frustrating problem in Parkinson's disease (PD). There is no effective treatment. The aim of study is to find brain stimulation areas showing more effective response. Methods: Twelve patients with PD were participated. All of them had …
Effect of Virtual Reality on Postural and Balance Control in Patients with Stroke: A Systematic Literature Review
D Marks – physioscience, 2017 – thieme-connect.com
Balancefähigkeit und Mobilität dienten neben klinischen Assessments (Berg Balance Scale, Timed up and go Test) auch Kraftmessplattformen. Bei 4 Untersuchungen fanden sich Verbesserungen in der Interventionsgruppe [2, 7, 8, 10]. Im Review geht jedoch nicht …
A Smart Block for Haptic Interface with Virtual Reality Contents for Mild Cognitive Impairment Patients
TT Tin, D Van Chien, KJ Gil, YB Shin, YL Choi… – ???????? …, 2017 – dbpia.co.kr
The goal of this paper is to implement a haptic interface device for virtual reality application for the patients with MCI (Mild Cognitive Impairment) to recover their lost memory. The physical therapy for treatment of MCI is being developed as a complementary method for the …
Stroke patients perceptions of upper limb use in ADL after rehabilitation using a virtual reality (VR) intervention
A Richardson – 2017 – eprints.nottingham.ac.uk
Virtual Reality interventions are increasingly being researched with regard to their role in upper limb rehabilitation following stroke. Despite emerging evidence to demonstrate their efficacy in increasing motor function, there is weaker evidence to demonstrate an effect on …
A Case Report: Balance Training with Virtual Reality in Patients with Bilateral Peripheral Vestibulopathy
ET Sarac, ED Huzmelib – 2017 – researchgate.net
The use of computerised imaging technologies in vestibular rehabilitation is a new concept. We aimed to examine the effects of virtual reality in a bilateral vestibulopathy patient. The subject was a 22-year old male patient. The bilateral semi-circular channels of patient were …
Virtual reality may relieve pain in patients with spinal cord injuryAbout spinal cord injury
N Saadon-Grosman, S Arzy – Neurology, 2017 – AAN Enterprises
WHAT IS BODY OWNERSHIP? Body ownership is the ongoing feeling that our body and body parts belong to us, and are related to us in a different way than things in the external world. This sense of body ownership may seem trivial to us, yet our brain needs to connect …
Effects of virtual reality intervention on upper limb motor function and activity of daily living in patients with lesions in different regions of the brain
SM Jung, WH Choi – Journal of physical therapy science, 2017 – jstage.jst.go.jp
[Purpose] This study aimed to investigate whether a virtual reality (VR) intervention has an influence in improving the motor function and activities of daily living (ADLs) in patients with lesions in different regions of the brain.[Subjects and Methods] Eleven subjects with …
APTA Responds to'Stroke Patients Get Boost From Virtual Reality Therapy'
K Gardner – Letters to the Editor, 2017 – apta.org
In response to the article," Stroke patients get boost from virtual reality therapy" by Rachael Rettner, I must take exception to Ms. Rettner's statement," Patients were more likely to improve their arm strength if they played virtual reality games than if they received standard …
Comparison of efficacy of two methods of virtual reality and multimedia system on pain and pain anxiety in burn patient during dressing change.
M Ghahramanpour – 2017 – dspace.tbzmed.ac.ir
?????: ?????? ????? ?? ??? ?????? ????? ? ????? ??? ????? ?? ?? ??? ? ?????? ???? ?? ??? ??????? ???? ?????? ?? ??? ????????????: ??? ??????? ??????? ??? ?? ??????? ?????? ?? ????? ????? ?? ?????? ??? ?? ??? ????? ????? ?????. ?????? ???? ?? ??? ???? ???? ????? …?
Effects of Virtual Reality on Balance and Activities of Daily Living in Patients with Parkinson's Disease: A Me-ta-Analysis
XX Wang, WH Duan, H Lin… – Chinese Journal of …, 2017 – wprim.whocc.org.cn
Objective To evaluate the effects of virtual reality on balance and activities of daily living in patients with Parkinson's dis-ease. Methods Randomized controlled trials (RCTs) about virtual reality for balance and activities of daily living in patients with Parkin-son's disease …
Effects of Virtual Reality Therapy on Balance Function and ADL in Hemiplegic Patients
MJ Lee, S Gyeongsan, HM Koo, S Busan… – Jour of Adv Research in …, 2017 – jardcs.org
To identify the effectiveness of virtual reality balance exercise program to improve balance function and daily activities of stroke patients. Thirty patients with stroke-induced hemiplegia were randomly assigned to the experimental and control groups, with 15 patients in each …
Additional Virtual Reality Sitting Balance Training Using XBox Kinect™ in Patients with Neurological Disorders: A Pilot Study.
XH Quadros, S Rao… – Journal of Clinical & …, 2017 – search.ebscohost.com
Introduction: Sitting balance is a prerequisite to upper extremity function, standing and walking, which is affected in various neurological diseases. It is important to attain a good level of sitting balance before one can proceed to standing. In recent years, virtual reality  …
TELEPSYCHIATRY AND VIRTUAL REALITY IN THE TEATMENT OF PATIENTS WITH INTELLECTUAL AND DEVELOPMENTAL DISABILITIES
K Krysta, M Krzystanek, WJ Cuba?a… – Psychiatria …, 2017 – researchgate.net
Background: Treatment and rehabilitation of people with intellectual and developmental disabilities is a multidisciplinary challenge, which require implementing new attitudes. The use of modern technology solutions like telepsychiatry or virtual reality may be a valuable …
Virtual reality upper limb motor and proprioception assessment system for stroke patients
W Hong, J Lee, C Woong, J Kim – … Electronics (GCCE), 2017 …, 2017 – ieeexplore.ieee.org
This paper suggests an upper limb motor and proprioception assessment system using head mount display (HMD) and virtual reality (VR). We designed 1-DOF reaching tasks with various distances. Each task was performed while the VR controller, which represent a …
286519-ALLEVIATING PRE-OPERATIVE ANXIETY THROUGH PATIENT EDUCATION WITH INNOVATIVE 360 IMMERSIVE VIRTUAL REALITY
F Alam – casconference.ca
Introduction: The prevalence of pre-operative anxiety can be as high as 80% in surgical populations. Perioperative clinical trials have revealed that pre-operative anxiety is associated with reduced short-term postoperative recovery, poor functional outcomes, increased pain …
Virtual reality based rehabilitation system for Parkinson and multiple sclerosis patients
MM K?l?c, OC Muratl?, C Catal – Computer Science and …, 2017 – ieeexplore.ieee.org
The aim of this study is to present a virtual reality based rehabilitation system for Parkinson and Multiple Sclerosis (MS) patients. In this study, physical rehabilitation software has been developed using Virtual Reality (VR) technology. The VR environment was used to find a …
Tele-rehabilitation for attention and memory disorder in patients with traumatic brain injury through Virtual Reality
G Cardenas, P Gamito, M Ramirez, S Ventura… – researchgate.net
In Mexico traumatic brain injury (TBI) is the third cause of death with the mortality rate of 38, 8 for 100,000 people. The TBI has strong consequences as neuropsychological and conduction dysfunction like deficit executive functions, working memory and semantic …
Clinical research on therapeutic effect of virtual reality technology on Broca Aphasia patients
Y Zhang, P Chen, X Li, G Wan, C Xie… – … (INCIT), 2017 2nd …, 2017 – ieeexplore.ieee.org
Objective: To explore the therapeutic effect of virtual reality technology on speech function of Broca Aphasia patients after stroke. Method: Eighteen patients with stroke were enrolled in the Rehabilitation Medicine Department, the Third Affiliated Hospital of Sun Yat-sen …
Lateropulsion rehabilitation using Virtual Reality for stroke patients
CG Tsatsis, KE Rice, V Protopopova… – … (LISAT), 2017 IEEE …, 2017 – csis.pace.edu
Virtual reality (VR) is being explored as a method of rehabilitation for stroke patients, specifically in lateropulsion patients. Virtual Reality or augmented reality, provides realistic 3-dimensional environments combined with real-time movements. The user is able to …
Participatory development of Virtual Reality to coach forensic psychiatric patients
H Kip, SM Kelders, Y Bouman, D Dijkslag… – 12th International …, 2017 – ris.utwente.nl
Design In the design phase, requirements are used to develop several prototypes that are evaluated with stakeholders and lead to the technology that will be implemented in practice. Also, persuasive elements and behaviour change theories are added to the technology. In …
Development of a patient-specific surgical simulator based on virtual reality
S Liao, Y Chen, P Sun, D Liao… – Image and Signal …, 2017 – ieeexplore.ieee.org
A surgical simulator can provide doctors with a new way to realize surgical planning and surgical training. In this study, we developed a surgical simulator based on virtual reality technology and haptic device, which can simulate drilling, cutting and catheterization in a …
Virtual Reality Photo Hunt Game Application for Amblyopia Patient
P Vichitvejpaisal, T Chotined – 2017 21st International …, 2017 – ieeexplore.ieee.org
We propose a virtual reality mobile game application for treating young amblyopia patient. Usually, amblyopia patients need to wear a blindfold on the good side of the eyes so that the patient can exercise more on the bad side. This treatment is very problematic among young …
Virtual Reality Surgery Simulation: A Survey on Patient Specific Solution
J Zhang, J Chang, X Yang, JJ Zhang – International Workshop on Next …, 2017 – Springer
For surgeons, the precise anatomy structure and its dynamics are important in the surgery interaction, which is critical for generating the immersive experience in VR based surgical training applications. Presently, a normal therapeutic scheme might not be able to be …
Virtual reality in upper extremity rehabilitation of stroke patients
OU Yemisci, I Mirzayev, M Karatas – Journal of the Neurological …, 2017 – jns-journal.com
Background: Stroke rehabilitation need to develop new approaches in order to help individuals gain higher level of functional independence. These include activating brain plasticity and reorganization of neural system. Virtual Reality (VR) game system is one of …
Virtual Reality for Enriched Rehabilitation of Stroke Patients with Spatial Neglect: Diagnostics and the Rehabilitation Effect on Spatial Attention and Neuronal …
H Fordell – 2017 – diva-portal.org
Background: Approximately a third of all stroke patients develop spatial neglect, a debilitating symptom associated with poor outcome. Spatial neglect is clinically defined as a deficit in processing and responding to stimuli presented on the contralesional side of the …
Virtual reality and hand tracking system as a medical tool to evaluate patients with parkinson's
G Lugo, M Ibarra-Manzano, F Ba, I Cheng – Proceedings of the 11th EAI …, 2017 – dl.acm.org
In this paper, we take advantage of the free hand interaction technology as a medical tool, either in rehabilitation centers or at home, that allows the evaluation of patients with Parkinson's. We have created a virtual reality scene to engage the patient to feel in an …
A virtual reality serious game platform to support treatment of phobia patients.
? ??????????, I Kornarakis – 2017 – apothesis.lib.teicrete.gr
Phobias are an Anxiety Disorder with a significant percentage of the general population suffering from them. In recent years, Virtual Reality Exposure Therapy has emerged, that aids in the treatment of phobias using audiovisual virtual reality content. The aim of this …
Trends in virtual reality technologies for the learning patient
MR Myers – 2017 – repositories.lib.utexas.edu
NextMed convened the Medicine Meets Virtual Reality 22 (MMVR 22) conference in 2016. Since 1992, the conference has brought together a diverse group of researchers to share creative solutions for the evolving challenge of integrating virtual reality tools into medical …
Navigating the Pixelated Waters of Voxel Bay: Designing a Virtual Reality Game for the Pediatric Patient-Player Experience
A Grishchenko – 2017 – rave.ohiolink.edu
Voxel Bay is a virtual reality game created in collaboration with Nationwide Children's Hospital to distract pediatric hemophilia patients from the anxiety related to the prophylaxis infusion procedure they must undergo regularly. This paper documents that answers to the …
A STUDY USING VIRTUAL REALITY AS A SOURCE OF COMPLEMENTARY INFORMATION FOR NUCLEAR MEDICINE PATIENTS AND ITS RELATIVES
SF Mendonça, ACH Nascimento, ACA Mol, ER Marins… – 2017 – carpedien.ien.gov.br
This work consists in the research, analysis and unification of the guidelines transmitted to the patients and their relatives in the radioiodine therapy procedures. The goal is to provide greater understanding of the use of nuclear radiation and better understanding of treatment …
Application of Virtual Reality in Rehabilitation of Motor Function in Stroke Patients
TY Xie, LW Liu, SJ WU, J Tao – Chinese Journal of …, 2017 – wprim.whocc.org.cn
… Application of Virtual Reality in Rehabilitation of Motor Function in Stroke Patients(review). 10.3969/j.issn.1006-9771.2017.11.011. VernacularTitle:????????????? ???????????; Author: ting Yi XIE 1 ; lin Wei LIU ; song Jing WU ; Jing TAO Author …
Virtual reality rehabilitation for stroke patients: Recent review and research issues
ESM Arip, W Ismail, MJ Nordin… – AIP Conference …, 2017 – aip.scitation.org
Stroke is one of the main causes of disability in the world. In order for stroke survivors to reduce their disability, they need to go through a rehabilitation process to regain back their independence and improve their quality of life. To guide patients in their rehabilitation …
… of the Combination of Brain-Computer Interface, Functional Electrical Stimulation and Virtual Reality for Improving Hand Function in Spinal Cord Injured Patients
M Bayon-Calatayud, F Trincado-Alonso… – Converging Clinical and …, 2017 – Springer
This work assesses the usability of a system that combines a brain-computer interface, a functional electrical stimulator and a virtual feedback with the aim of promoting neuroplasticity. The system has been tested in a patient with C5 D ASIA spinal cord injury …
Effects of Virtual Reality Rehabilitation on Balance for Patients with Parkinson's Disease
S Chen, J Liu, LI Shun, K Wang… – Chinese Journal of …, 2017 – wprim.whocc.org.cn
Objective To investigate the effects of a training program based on virtual reality on static and dynamic balance perfor-mance in patients with Parkinson's disease (PD). Methods From June, 2014 to June, 2016, 46 patients with PD were randomly divided into control …
Effect of Virtual Reality Robotic Hand on Hand Motor Function and Activities of Daily Living of Patients after Stroke
Y Liu, C Pan, YE Zhengmao, HU Nan… – Chinese Journal of …, 2017 – wprim.whocc.org.cn
Objective To observe the effect of virtual reality robotic hand on hand motor function and activities of daily living of pa-tients after stroke. Methods From June, 2015 to June, 2016, 32 patients with hand motor dysfunction were assigned into experimental group (n= 16) and …
Biomechanical and human behavior assessment using virtual reality to challenge balance and posture for the elderly and patients with Parkinson's disease
F Muhla, F Clanché, C Rose, A Cosson… – Computer methods in …, 2017 – researchgate.net
Falls are a major problem in Public Health and are the consequence of multifactorial determinants in the elderly and in patients with Parkinson disease that require a functional and global approach to elaborate preventive strategies (Léon and Beck 2014). Most falls …
Virtual reality based vision therapy-For stroke patients with homonymous visual field deficits.
M Ishoel, IM Kanstad – 2017 – brage.bibsys.no
Background Homonymous visual field deficits is a condition where parts of the patient s vision are lost. This condition results in a reduced field of view, which can lead to significant problems, such as reduced literacy, mobility, and challenges with activities of daily living …
Short-term effects of virtual reality and music with exercise training on affective responses and satisfaction level in patients with chronic respiratory disease
H Tekerlek, NV Yagli, M Saglam, A Cakmak, CB Ozel… – 2017 – Eur Respiratory Soc
Aim: In recent years, methods based on technology have gained importance to enhance attendance to pulmonary rehabilitation. We aimed to investigate short-term effects of virtual reality (VR) and music on participants' affective responses and satisfaction level during …
O-24 Virtual reality transforming the lives of terminally ill patients
K Pabla, J Knight, M Motley – 2017 – spcare.bmj.com
We have commissioned and produced a virtual reality film of a local park to give terminally ill patients whose lives have become restricted due to their illness, the chance to see the world from the comfort of their chair or bed. By simply wearing the virtual reality headset, patients  …
VIRTUAL REALITY TRAINING IMPROVES BALANCE OUTCOME IN STROKE PATIENTS
AN Malik, T Masood – International Journal of Rehabilitation Sciences (IJRS), 2017 – ijrs.org
Introduction: Stroke is the leading cause of disability which leads to decline in the functional status and quality of life of patients. The virtual reality training is one of more recent and interesting approaches to facilitate the speedy recovery after stroke. Objective of study: The …
Experience of an upper limb training program with a non-immersive virtual reality system in patients after stroke: a qualitative study
I Lehmann, G Baer, C Schuster-Amft – Physiotherapy, 2017 – Elsevier
Abstract Objectives The YouGrabber (YG) is a new virtual reality training system that focuses on unilateral and bimanual activities. This nested study was part of a larger multicentre randomised controlled trial and explored experiences of people with chronic stroke during a …
The effect of Virtual Reality in reducing preoperative anxiety in patients prior to arthroscopic knee surgery: A randomised controlled trial
A Robertson, R Khan, D Fick… – Serious Games and …, 2017 – ieeexplore.ieee.org
Preoperative anxiety positively correlates with postoperative levels of pain, analgesic use and length of hospital stay. This preliminary study aimed to determine if the principle of distraction, using a relaxing Virtual Reality (VR) immersion, would reduce preoperative …
Design of adaptive control and virtual reality-based fine hand motion rehabilitation system and its effects in subacute stroke patients
X Huang, F Naghdy, H Du, G Naghdy… – Computer Methods in …, 2017 – Taylor & Francis
Robot-assisted therapy is regarded as an effective and reliable method for the delivery of highly repetitive training that is needed to trigger neuroplasticity following a stroke. This study focuses on the pre-defined research gaps by combining adaptive assist-as-needed …
Psychophysiological Reactivity, Interoception and Emotion Regulation in Patients with Agoraphobia During Virtual Reality Anxiety Induction
C Breuninger, DM Sláma, M Krämer, J Schmitz… – Cognitive Therapy and …, 2017 – Springer
The symptoms experienced by patients with agoraphobia are often attributed to excessive autonomic arousal, but recent theories postulate blunted rather than enhanced autonomic reactivity. Cognitive models explain this contrast by distorted interoception, possibly linked to …
EXERCISES WITH AND WITHOUT VIRTUAL REALITY ON PAIN IN PATIENTS WITH PARKINSON DISEASE: A RANDOMIZED, CONTROLLED, SINGLE-BLIND TRIAL
MS d'Alencar, J Ribeiro, R Cruz, K Sá… – Brazilian Journal of …, 2017 – bahiana.edu.br
Introduction: Pain in individuals with Parkinson's Disease (PD) may result from factors such as progressive changes of the disease, originating from the Central Nervous System (CNS), until coming from classic symptoms such as stiffness, dyskinesia and dystonia, having …
Visuo-acoustic stimulation that helps you to relax: A virtual reality setup for patients in the intensive care unit
SM Gerber, MM Jeitziner, P Wyss, A Chesham… – Scientific reports, 2017 – nature.com
After prolonged stay in an intensive care unit (ICU) patients often complain about cognitive impairments that affect health-related quality of life after discharge. The aim of this proof-of-concept study was to test the feasibility and effects of controlled visual and acoustic …
The Impact of Virtual Reality Training on Patient-Therapist Interaction
DJR Christensen, MB Holte – Interactivity, Game Creation, Design …, 2017 – Springer
This paper presents the development and evaluation of a Virtual Reality Kitchen to study the impact of VR rehabilitation on patient-therapist interaction in comparison to conventional rehabilitation. The study was conducted on 10 patients; 5 in an experimental group and 5 in …
Clinical effectiveness of combined virtual reality and robot assisted fine hand motion rehabilitation in subacute stroke patients
X Huang, F Naghdy, G Naghdy… – … Robotics (ICORR), 2017 …, 2017 – ieeexplore.ieee.org
Robot-assisted therapy is regarded as an effective and reliable method for the delivery of highly repetitive rehabilitation training in restoring motor skills after a stroke. This study focuses on the rehabilitation of fine hand motion skills due to their vital role in performing …
(Visited 89 times, 1 visits today)