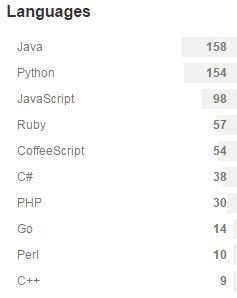 Notes:
This 100 item list represents a search of github for "chat-bot", Apr 2015.
See also:
100 Best GitHub: Chatbot | 100 Best GitHub: Chatterbot
---
"chat-bot" [100x Apr 2015]
cainy393/DogeChat-Bot .. This module can be used to make a chat bot for the website DogeChat using Node.JS and it simplifies the process a great deal.
Netflix/brutal .. A multi-network asynchronous chat bot framework using twisted
ibid/ibid .. Ibid is a multi-protocol general purpose chat bot written in Python. Bugs tracked on launchpad.
nmoroze/SimpleChatBot .. To learn more Python, I decided to implement a simple chatbot. It's inspired by ELIZA, and tries to form your input as a question by matching it to various patterns.
tansaku/faqbot .. JavaScript chat bot to answer frequently asked questions (faq)
Unihedro/JavaBot .. Java based chat bot that runs in Java room of Stack Overflow Chat.
NeoBlack/T3Bot .. T3Bot is a chat bot which reacts on typo3.slack.com to several commands