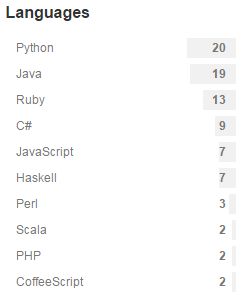 Notes:
This 100 item list represents a search of github for "chatterbot", Apr 2015.
See also:
100 Best GitHub: Chat-bot | 100 Best GitHub: Chatbot
---
chatterbot [100x Apr 2015]
mccogley/Chatterbot .. Repository storing toy chatterbots based on the original Eliza implementation.
Jire/chatterbot .. Use Cleverbot, Jabberwacky, and PandoraBots in your Java applications
spkain/ChatterBot .. ChatterBot Sample for VB.NET , maked by Visual Studio 2010 ,used .Net Framework 4.0.
sunishsheth2009/ChatterBot .. Uses Python, Flask, Natural Language processing, SQLAlchemy, NLTK and beautiful soup for web scrapping.
aichaos/rivescript-js .. A RiveScript interpreter for JavaScript. RiveScript is a scripting language for chatterbots.
neuromancer/reserbot .. A chatterbot using reservoir computing to process and generate natural language.
kaeza/lua-chatterbot .. Highly unoptimized, buggy, slow, inefficient, and funny chat bot using Markov chains.
parmentf/pyector .. ECTOR is a learning chatterbot. pyECTOR is its python version.
patriciogonzalezvivo/ofxEliza .. Wrapper for "Chatterbot Eliza 2.0" made by Gonzales Cenelia. With is a C++ implementation of this well know chatbot
beldar/webapp .. Just a test I did for a Whatsapp-Like chatterbot mobile web app, thought for a Volkswagen Polo campaign
nitrix/arya .. Artificial Intelligence – Phase #1 chatterbot
aliem/chatty .. a couple of irc frontends to two beautyful chatterbots
nslay/ircbnx .. IRCBNX Chatterbot is a replica of the Battle.net text gateway bot BNX Chatterbot for IRC
andwi/Eliza .. An implementation of the Eliza Chatterbot in Ruby
Jonanin/gigahal .. The classic markov chatterbot, re-imagined and IQ-boosted.
ondieki/R .. R Files -Chatterbot, Recursion, Pattern Matching, Lists etc
ishan-marikar/ChatBot-Mark-II .. A chat-bot created using the agsxmpp library and the Chatterbot API which communicates through Facebook's chat server (chat.facebook.com)
felixc/hector .. A literate Haskell implementation of the ELIZA chatterbot system.
wlmiller/ChatBot .. A simple ChatterBot which builds random responses using n-grams.