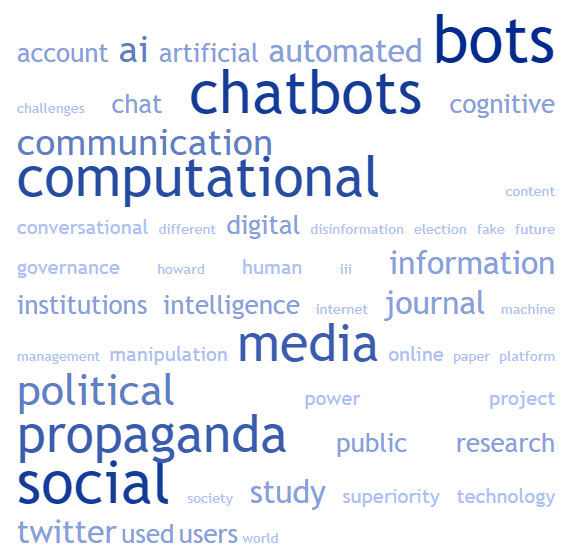 Notes:
Political bots
Weaponized narrative
Resources:
Wikipedia:
See also:
---
Conversational Agent Research Toolkit: An alternative for creating and managing chatbots for experimental research
T Araujo – Computational Communication …, 2020 – computationalcommunication.org
… The return of the chatbots. Natural Language Engineering, 22(5), 811–817 … Political Communication, Computational Propaganda, and Autonomous Agents — Introduction … Predicting Consumer Responses to a Chatbot on Facebook …
Political discourse through artificial intelligence: parliamentary practices and public perceptions of chatbot communication in social media
CS Ben-Porat, S Lehman-Wilzig – The Rhetoric of Political …, 2020 – elgaronline.com
… Future studies in other countries will have to account for chatbot use on each country's respective, popular social media platform … Why people use chatbots. In International Conference on Internet Science (pp … Computational propaganda in Canada: The use of political bots …
A conversation-based perspective for shaping ethical human–machine interactions: The particular challenge of chatbots
G Murtarelli, A Gregory, S Romenti – Journal of Business Research, 2020 – Elsevier
… interactions ethically. This study aims to discuss conceptually the ethical challenges related to chatbots within the marketplace by integrating the current chatbot-based literature with that on conversation management studies. A new …
Social Bots for Peace: Combating Automated Control with Automated Civic Engagement?
S Woolley, M Kumleben – Social Media as a Space for Peace Education, 2020 – Springer
… Computational propaganda is increasingly common in Nigeria (Funke, 2018), South Africa (Zille, 2018), and Kenya (Portland Communications, 2018)—countries with … Many deal-hunting sites use bots to post bargains, and chatbots can even find recommendations tailored to a …
The Propaganda Machine in the Age of Social Media
V ?U?UI – fssp.uaic.ro
… In a paper dedicated to computational propaganda in Canada, Elizabeth Dubois and Fenwick McKelvey (2019) spoke about four types: – Dampeners: bots that … In 2014 a chatbot named "Eugene Goostman" (portrayed as a 13 years old Ukrainian boy) passed the Turing test by …
Artificial Intelligence (AI) in communications: journalism, public relations, advertising, and propaganda
GF Nobre – researchgate.net
… context aware chat bots, social sensitive machines, and politically persuasive … It is already being used by servers like Facebook, which use it to filter advertisements and in chatbots, and the Associated Press, which uses it for writing full … (2017:6) Computational propaganda is a …
Failure to launch: Competing institutional logics, intrapreneurship, and the case of Chatbots
V Belair-Gagnon, SC Lewis… – Journal of Computer …, 2020 – academic.oup.com
… Article Navigation. Failure to Launch: Competing Institutional Logics, Intrapreneurship, and the Case of Chatbots. Valerie Belair-Gagnon … autonomy for newsworkers. These clashing logics limit the adoption and influence of chatbots. This study …
Fact-Check spreading behavior in twitter: A qualitative profile for false-claim news
FS Marcondes, JJ Almeida, D Durães… – World Conference on …, 2020 – Springer
… ACM (2019)Google Scholar. 8. Marcondes, FS, Almeida, JJ, Novais, P.: A short survey on chatbot technology: failure in raising the state of the art … Woolley, S., Howard, P.: Computational Propaganda: Political Parties, Politicians, and Political Manipulation on Social Media …
Fact-Check Spreading Behavior in Twitter: A Qualitative Profile for False-Claim News
P Novais – Trends and Innovations in Information Systems and …, 2020 – books.google.com
… Keywords: Chatbot· Social agent· Fake news· Fact check· Social media 1 Introduction The spread of fake news on Twitter is commonplace [4]. Despite the existing efforts for identifying and debunking fake-news … Fake-news spreading is based on computational propaganda …
The unedited public sphere
B Bimber, H Gil de Zúñiga – New Media & Society, 2020 – journals.sagepub.com
The health of democratic public spheres is challenged by the circulation of falsehoods. These epistemic problems are connected to social media and they raise a classic problem of how to understand …
Social bots versus real humans: the framing of'Trump's Wall'on Twitter
N Parra-Novosad – 2020 – mospace.umsystem.edu
… the user or owner…" (Bosser, 2001, p. 1002). This study focuses on political bots on Twitter, which by definition participate in computational propaganda. Page 13. 5 … In the 1990s, chatbots were developed and deployed to represent humans online (Woolley, 2018) …
Deep strategic mediatization: Organizational leaders' knowledge and usage of social bots in an era of disinformation
M Wiesenberg, R Tench – International Journal of Information Management, 2020 – Elsevier
… Examples of these software bots are chatbots or other algorithms that are designed with … For example, the "Computational Propaganda Research Project" concentrates primarily on research on "how tools … can be prevalent as well (this is what differentiates chat bots from social …
Demystifying social bots: On the intelligence of automated social media actors
D Assenmacher, L Clever, L Frischlich… – Social Media+ …, 2020 – journals.sagepub.com
Recently, social bots, (semi-) automatized accounts in social media, gained global attention in the context of public opinion manipulation. Dystopian scenarios like the malicious amplification of t…
Digital civic participation and misinformation during the 2020 Taiwanese presidential election
HCH Chang, S Haider, E Ferrara – Media and Communication, 2021 – cogitatiopress.com
… Abstract From fact-checking chatbots to community-maintained misinformation databases, Taiwan has emerged as a critical case- study for citizen participation in politics online … The Cofacts chatbot was created to counter chatroom-based misinformation (Han, 2018) …
POLITICS IN THE AGE OF CONNECTIVE CYNICISM
F SCHÄFER – The Digital Transformation–Implications for the Social … – academia.edu
… friends, or machine learning algo- rithms, for instance, those used in software to control bots ("friendly" chatbots and "malicious … a) Social bots and computational propaganda Computational propaganda (ie, the orchestrated attempt to manipulate public opinion or the outcome of …
Social bots as an instrument of influence in social networks: typologization problems
VV Vasilkova, NI Legostaeva – KnE Social Sciences, 2021 – knepublishing.com
… these are not only fake accounts but also operating within social networks chatbots, spambots, scan bots, semi-automatized cyborg bots, etc. Secondly, there is a shift … pp. 839–851. [2] Arnaudo, D. (2017). Computational Propaganda in Brazil: Social Bots During Elections …
Conversational Agent Research Toolkit
T Araujo – pure.uva.nl
… the existing chatbots being used for the experi- ment, the only manipulations across conditions that can be done are either (a) having participants complete different tasks with the same chatbot (by changing the instructions given to a participant) or (b) using different chat- bots in …
The Bad, the Good, and the Rebellious Bots: World's First in Artificial Intelligence
S Lombardo – Analyzing Future Applications of AI, Sensors, and …, 2021 – igi-global.com
… Cambridge Analytica and computational propaganda, influenced consensus in the political field, targeting those … Facebook chatbots in 2017 started doing their own thing too, creating a … Clifford, C. (2017, August 2). Facebook chatbot controversy highlights how paranoid people …
Blind Spots in AI Ethics and Biases in AI governance
NK Corrêa – academia.edu
… In Brazil, the use of computational propaganda and political bots has been detected during the impeachment of former president Dilma Rousseff (Arnaudo, 2017) … Causing several companies to increase the use of chatbots and AI assistants (Hao, 2020) …
Lie Machines: How to Save Democracy from Troll Armies, Deceitful Robots, Junk News Operations, and Political Operatives
PN Howard – 2020 – books.google.com
… It's not PR, and it's more than political campaign messaging. And computational propaganda is the use of algorithms to produce, distribute, and market untruths that serve ideology. Some writers prefer disinformation, misin- formation, propaganda, or other terms for these fibs …
Wide-spectrum characterization of long-running political phenomena on social media: the brexit case
E Calisir, M Brambilla – Proceedings of the 35th Annual ACM …, 2020 – dl.acm.org
… In a recent article [10], the author states that the computational propaganda powered by political bots takes many forms: networks of highly automated Twitter accounts; fake users on Facebook, YouTube, and Instagram; chatbots on Tinder, Snapchat, and Reddit …
The Usage of Social Bots as a Threat to Democracy
M de Oliveira Fornasier – Braz. J. Pub. Pol'y, 2020 – HeinOnline
… Procee&ngs…Oxford: Project on Computational Propaganda, 2019 … entre computador e ser humano, que operam em linguagem natural (conhecidos como chatbots, tais como a … que sugerem a próxima palavra para uma pesquisa na internet ou um chatbot amigável – correm o …
DIALOGIC: A Toolkit for Generative Interactive Dialog
DC Howe – International Conference on the Foundations of Digital …, 2020 – dl.acm.org
… metrics that might be applied to Dialogic itself, we subscribe to the position that new dialog systems cannot be … The artwork engages users in a personalised journey that tells a cautionary tale of computational propaganda, technology and democracy … "Turning a chatbot into a …
Demand for Deceit
S Woolley, K Joseff – 2020 – ned.org
… Why? As concerns about computational propaganda and disinformation have rocketed to the top of public agendas, this important question has received greater atten- tion from researchers, policymakers, and civil society. The …
SOCIAL MEDIA AND THE 2019 INDONESIAN ELECTIONS
JY Hui – Southeast Asian Affairs, 2020 – JSTOR
… N. Howard, "Troops, Trolls and Troublemakers: A Global Inventory of Organized Social Media Manipulation", The Computational Propaganda Project, 2017 … Lisa-Maria Neudert, "Future Elections May Be Swayed by Intelligent, Weaponized Chatbots", MIT Technology Review, 22 …
How Many Bots in Russian Troll Tweets?
I Alsmadi, MJ O'Brien – Information Processing & Management, 2020 – Elsevier
… Bots are used for many different purposes and, accordingly, are given different names, including crawlers, chat bots, spam bots, social bots … The Oxford Internet Institute's computational propaganda team (https://twitter.com/oiioxford) views an average of more than 50 posts a day …
Bots for Autocrats: How Pro-Government Bots Fight Opposition in Russia
D Stukal, S Sanovich, R Bonneau, JA Tucker – denisstukal.com
… In more sophisticated cases, bots can fully control a Twitter account and even communicate with other social media users (Freitas et al. 2015), thus resembling chatbots or recomender systems one could encounter when interacting with a large company online. Here …
Utilizing bots for sustainable news business: Understanding users' perspectives of news bots in the age of social media
H Hong, HJ Oh – Sustainability, 2020 – mdpi.com
… is necessary [19,20,24], and Maniou and Veglis [20] showed that chatbots, as a … The in-article chatbot, a conversational interface tool at the bottom of news stories, helps readers … Similarly, it is widely accepted that computational propaganda from bot accounts on Twitter played a …
The Technium: Tools and Targets of the Conflicts
DS Hartley III, KO Jobson – Cognitive Superiority, 2021 – Springer
… Servant bots consist of bots such as the chat bots that serve help functions; however, to the extent that they collect personal information about the user chatting with them, their overall use may be problematical (Dubois & McKelvey 2019) … Computational Propaganda …
Falling victims to online disinformation among young Filipino people: Is human mind to blame?
ZC Collado, AJM Basco… – Cognition, Brain, Behavior, 2020 – search.proquest.com
… Troops, trolls and troublemakers: A global Inventory of organized Social Media manipulation. Computational Propaganda Research Project. Oxford. Working paper no … Why people use chatbots. In International Conference on Internet Science (pp. 377-392). Springer, Cham …
Computational Approaches to Subjective Interpretation of Multimedia Messages
P Blandfort – 2020 – kluedo.ub.uni-kl.de
Page 1. Computational Approaches to Subjective Interpretation of Multimedia Messages Vom Fachbereich Sozialwissenschaften der Technischen Universität Kaiserslautern zur Verleihung des akademischen Grades Doctor rerum naturalium (Dr. rer. nat.) genehmigte …
The Reality Game: A gripping investigation into deepfake videos, the next wave of fake news and what it means for democracy
S Woolley – 2020 – books.google.com
… FORMER SECRETARY OF DEFENSE JAMES MATTIS It took a few years of studying computational propaganda for me to come to a simple but important … He told me that he was intrigued by my talk and had never heard of chatbots (automated profiles built to mimic real people …
Making Twitter Safer: Uncovering Social-Bot on Twitter through User's Content Approach
N Sumaila, S Wakamiya, E Aramaki – DBSJ Journal (Web), 2020 – dbsj.org
… 2.2 Chat Bot In Natural Language Processing (NLP) context, the main goal is to realize natural conversation instead of bot detection … [18] Philip N. Howard and Bence Kollanyi. Bots, #strongerin, and #brexit: Computational propaganda during the UK-EU referendum …
The Role of Artificial Intelligence in Community Planning
JB Hollander, R Potts, M Hartt, M Situ – International Journal of Community …, 2020 – Springer
This paper examines the role and potential risk of artificial intelligence (AI) powered automated social media accounts in participatory planning processes.
Conversational bots used in political news from the point of view of the user's experience: Politibot
HMS Gonzales, MS González – Communication & Society, 2020 – researchgate.net
… Keywords Robot journalism, chatbot, mobile journalism, innovation, audiences, political news … These are the so-called chatbots, or conversational bots, which are applications that distribute personalised content in the form of chats with users …
accountability. see transparency, platform society accuracy vs. directional goals, and adjustment to misinformation correction, 172–173 accurate information vs …
LA Adamic – cambridge.org
… reinforcement seeking, 38–41 Chan, Jason, 70 Chandrasekharan, Eshwar, 72 chat bots … 304 community-driven filtration of disinformation, 274 competition, increasing internet platform, 215 complex realism, in media impact on democracy, 157 computational propaganda, 25, 90 …
Bots, elections, and social media: a brief overview
E Ferrara – Disinformation, Misinformation, and Fake News in …, 2020 – Springer
… A very recent trend is that of providing Bot-As-A-Service (BaaS): Advanced conversational bots powered by sophisticated Artificial Intelligence are provided by companies like ChatBots.io that can be used to carry digital spam campaigns [29] and scale such operations by …
THE PROPAGANDA MACHINE
S Monaci – Reimagining Communication: Meaning, 2020 – books.google.com
… These authoritative regimes systematically use social media to disseminate, also through the use of automated chat-bots, messages and opinions … This is the case of computational propaganda BOTs, where fake profiles are invented to multiply messages to support this or that …
UNDERSTANDING DIGITAL POLITICS-PRINCIPLES AND ACTIONS
T Piñeiro-Otero, XM Rolán – Vivat Academia, 2020 – academia.edu
… disseminating bots (they automate targeted tweets and retweets), traffic bots (programmed to increase interactions in contents), temporary bots (it consists in ceding an account temporarily or thematically for a cause, through automated content), automated chatbots (useful for …
The Future of Great Power Intervention: New Alternatives to Military Intervention
B Harris – 2020 – papers.ssrn.com
Page 1. Do Not Cite or Circulate Without Permission from Author Massachusetts Institute of Technology Political Science Department Research Paper No. 2020-2 The Future of Great Power Intervention: New Alternatives to Military Intervention …
The New COIN of the Realm: The Future of Technology and Insurgency
PW Singer – STRATEGIC LATENCY UNLEASHED, 2021 – cgsr.llnl.gov
… In this way, events that never took place may be presented online as real occurrences, documented with compelling video evidence. Finally, there are neural-network–trained chatbots—also known as machine- driven communications tools, or MADCOMs …
Technology, ICT and tourism: from big data to the big picture
S Gössling – Journal of Sustainable Tourism, 2020 – Taylor & Francis
… This is equally relevant in the context of further uses of intelligent automation applications in tourism, such as digital personal assistants, chatbots, autonomous vehicles, customer services, robot receptions, automated porters, virtual … The Computational Propaganda Project …
Cognitive Superiority: Information to Power
DS Hartley III, KO Jobson – 2020 – books.google.com
Page 1. Dean S. Hartley III Kenneth O. Jobson Cognitive Superiority Information to Power Page 2. Cognitive Superiority Page 3. Dean S. Hartley III • Kenneth O. Jobson Cognitive Superiority Information to Power Page 4. Dean …
Hybrid collective intelligence in a human–AI society
MMM Peeters, J van Diggelen, K Van Den Bosch… – AI & SOCIETY, 2020 – Springer
Within current debates about the future impact of Artificial Intelligence (AI) on human society, roughly three different perspectives can be recognised: (1.
What types of covid-19 conspiracies are populated by twitter bots?
E Ferrara – First Monday, 2020 – journals.uic.edu
… is now possible to rely upon bot-as-a-service (BaaS), to create and distribute large-scale bot networks using pre-existing capabilities provided by companies like ChatBots.io, and … Computational propaganda: Political parties, politicians, and political manipulation on social …
Identity?based motivation and the logic of conversations obfuscate loss of online privacy and what policy?makers can do about it
D Oyserman, N Schwarz – Journal of Consumer Psychology, 2020 – Wiley Online Library
… with any online site. Companies, service platforms, and hardware providers encourage anthropomorphizing in numerous ways, from chat bots to virtual assistants with human voices and natural language … social media manipulation. The Computational Propaganda Project, 1; …
Perceived threats from social bots: The media's role in supporting literacy
D Schmuck, C von Sikorski – Computers in Human Behavior, 2020 – Elsevier
… chatbot conversations, Hill, Ford, and Farreras (2015) found that although individuals used fewer words per message when communicating with a chatbot rather than a human, their communication indicated that they felt confident and comfortable communicating with chatbots …
Fantastic bots and where to find them
S Agaton – 2020 – diva-portal.org
… project to examine algorithms and automation in politics, The Computational Propaganda Research Project (COMPROP)2. Similar to the reactions in … Gorwa and Guilbeault divides bots in to six categories, Crawlers and Scrapers, Chatbots, Spam bots, Social Bots, Sockpuppets …
Analyzing Twitter Users' Behavior Before and After Contact by the Internet Research Agency
U Dutta, R Hanscom, JS Zhang, R Han… – arXiv preprint arXiv …, 2020 – arxiv.org
… on Social Media While some bots are designed for providing better service/management, such as auto-moderators and chat bots, they can … Arnaudo [3] examined computational propaganda during three election related political events in Brazil from 2014 to 2016, and found that …
Communication Rights for Social Bots?: Options for the Governance of Automated Computer-Generated Online Identities
S Pedrazzi, F Oehmer – Journal of Information Policy, 2020 – JSTOR
… These include web robots that collect information through crawling and scraping, chatbots that are used as human-machine communication systems mostly in commercial settings, or spambots that are deployed to direct users to compromised websites.21 The literature further …
Counter-Radicalization Bot Research
W MARCELLINO, M MAGNUSON, A STICKELLS… – 2020 – rand.org
… xix Abbreviations….. xxi CHAPTER ONE Social Chatbots: An Introduction ….. 1 An Introduction to Bots … Page 23. 1 CHAPTER ONE Social Chatbots: An Introduction …
Human-machine Detection of Online-based Malign Information
W Marcellino, K Cox, K Galai, L Slapakova, A Jaycocks… – 2020 – rand.org
Page 1. Human–machine detection of online-based malign information William Marcellino, Kate Cox, Katerina Galai, Linda Slapakova, Amber Jaycocks, Ruth Harris Page 2. For more information on this publication, visit www.rand.org/t/RRA519-1 …
Digital Democracy, Social Media and Disinformation
P Iosifidis, N Nicoli – 2020 – books.google.com
… And it does not end there. Current internet structures have prompted agents – mainly from authoritarian regimes – to destabilise liberal democracies by means of computational propaganda and digital disinformation, further exacerbating the situation …
Ethics of artificial intelligence and robotics
VC Müller – 2020 – plato.stanford.edu
… CBO9781139046855.020 [Bostrom and Yudkowsky 2014 available online]; Bradshaw, Samantha, Lisa-Maria Neudert, and Phil Howard, 2019, "Government Responses to Malicious Use of Social Media", Working Paper 2019.2, Oxford: Project on Computational Propaganda …
Factions: acts of worldbuilding on social media platforms
DL Little – 2020 – theses.gla.ac.uk
Page 1. Little, Dana L. (2020) Factions: acts of worldbuilding on social media platforms. DFA thesis. http://theses.gla.ac.uk/81994/ Copyright and moral rights for this work are retained by the author A copy can be downloaded for personal non-commercial research or study …
My Boss the Computer: A Bayesian analysis of socio-demographic and cross-cultural determinants of attitude toward the Non-Human Resource Management
P Mantello, MT Ho, MH Nguyen, QH Vuong – 2021 – osf.io
… medical students' population found students express interest and desire to receive more AI training in their degree (Bin Dahmash et al., 2020; Pinto dos Santos et al., 2019; Sit et al., 2020). A mixed-method study on the perception of the proliferation of AI chatbots in healthcare …
Automated influence and the challenge of cognitive security
S Rajtmajer, D Susser – Proceedings of the 7th Symposium on Hot …, 2020 – dl.acm.org
… or contextualize IO A first set of plausible responses would develop warning systems to flag suspected computational propaganda, with or … filtering streaming field footage, creating content out of existing mission command feeds and aiding public affairs' functions with chat-bots …
My Boss the Computer: A Bayesian analysis of socio-demographic and cross-cultural determinants of attitude toward the Non-Human Resource Management
M Peter, MT Ho, MH Nguyen, QH Vuong – arXiv preprint arXiv:2102.04213, 2021 – arxiv.org
… medical students' population found students express interest and desire to receive more AI training in their degree (Bin Dahmash et al., 2020; Pinto dos Santos et al., 2019; Sit et al., 2020). A mixed-method study on the perception of the proliferation of AI chatbots in healthcare …
Cognitive Superiority
DS Hartley III, KO Jobson – Springer
Page 1. Dean S. Hartley III Kenneth O. Jobson Cognitive Superiority Information to Power Page 2. Cognitive Superiority Page 3. Dean S. Hartley III • Kenneth O. Jobson Cognitive Superiority Information to Power Page 4. ISBN …
Measuring bot and human behavioral dynamics
I Pozzana, E Ferrara – Frontiers in Physics, 2020 – frontiersin.org
… Their purposes can be many: news aggregators collect and relay pieces of news from different sources; chatbots can be used as automated customer assistants; however, as a by now large number of studies has shown, the vast majority of bots are employed as part of large …
Smart Technologies and Fundamental Rights: Global Governance of AI: Pressure on Political Legitimacy
S Rainey, AM Astobiza – Smart Technologies and Fundamental Rights, 2020 – brill.com
Jump to Content Jump to Main Navigation. English; ??; français; Deutsch. Access via: Google Googlebot – Web Crawler SEO. Login to my Brill account Create Brill Account. Publications. Subjects. African Studies American Studies …
Malicious Use of Artificial Intelligence and International Psychological Security in Latin America
E Pashentsev, D Bazarkina – academia.edu
… A Microsoft chatbot called "Tay.ai" looked like an ordinary teenage girl and attracted teenagers to talk on social media. But less than a day after his debut, Tay suddenly turned into a Hitler-loving, feminist-bashing troll. So what went wrong …
Employees on social media: A multi-spokespeople model of CSR communication
N Hamza Koya, J Roper – 2020 – researcharchive.wintec.ac.nz
Page 1. Page 2. SCHOOL OF MEDIA AND COMMUNICATION SHANGHAI JIAO TONG UNIVERSITY SCHOOL OF MEDIA AND COMMUNICATION SHANGHAI JIAO TONG UNIVERSITY Shanghai Jiao Tong University (SJTU …
Tweeting the cosmos: On the bot poetry of The Ephemerides
RA Carter – Convergence, 2020 – journals.sagepub.com
This article discusses Twitter bots that generate textual outputs for aesthetic effect. It considers in-detail a specific instance, The Ephemerides (@the_ephemerides) by Allison Parrish, and presen…
Deepfakes Generation and Detection: State-of-the-art, open challenges, countermeasures, and way forward
M Masood, M Nawaz, KM Malik, A Javed… – arXiv preprint arXiv …, 2021 – arxiv.org
Page 1. Deepfakes Generation and Detection: State-of-the-art, open challenges, countermeasures, and way forward Momina Masood1, Mariam Nawaz2, Khalid Mahmood Malik3, Ali Javed4, Aun Irtaza5 1,2Department of Computer …
Introduction: Preparing for a "Transhuman" Future
P Bloom – Identity, Institutions and Governance in an AI World, 2020 – Springer
… A plethora of new types of 'creatures' is emerging: robots, animats, chatbots, digital assistants, social bots, automated avatars and artificial life forms, to name a few, including hybrids and collectives, such as machine-enhanced humans, cyborgs, artificial swarms, human …
New Challenges to Enlightenment: Why Socio-Technological Conditions Lead to Organized Immaturity and What to Do About it
AG Scherer, C Neesham – Available at SSRN, 2020 – papers.ssrn.com
Page 1. 1 New challenges to Enlightenment: Why socio-technological conditions lead to organized immaturity and what to do about it Andreas Georg Scherer University of Zurich andreas.scherer@business.uzh.ch Cristina Neesham Newcastle University …
Glossary on Platform Law and Policy Terms
L BELLI – 2020 – intgovforum.org
Skip to main content. Google Tag Manager. Home. The IGF is a global multistakeholder platform that facilitates the discussion of public policy issues pertaining to the Internet …
Predictive analytics in humanitarian action: a preliminary mapping and analysis
K Hernandez, T Roberts – 2020 – opendocs.ids.ac.uk
Page 1. Emerging Issues Report Kevin Hernandez Institute of Development Studies Tony Roberts Institute of Development Studies June 2020 Predictive analytics in humanitarian action: a preliminary mapping and analysis Page 2. About this report …
Does the use of social networks by the European Parliament during the 2019 election campaign decrease the democratic deficit?
L Thiry – 2020 – matheo.uliege.be
Page 1. https://lib.uliege.be https://matheo.uliege.be Does the use of social networks by the European Parliament during the 2019 election campaign decrease the democratic deficit? Auteur : Thiry, Lucile Promoteur(s) : Grandjean …
Identity, Institutions and Governance in an AI World: Transhuman Relations
P Bloom – 2020 – Springer
Page 1. Transhuman Relations Identity, Institutions and Governance in an AI World Peter Bloom Page 2. Identity, Institutions and Governance in an AI World Page 3. Peter Bloom Identity, Institutions and Governance in an AI World Transhuman Relations Page 4 …
South American expert roundtable: increasing adaptive governance capacity for coping with unintended side effects of digital transformation
G Viale Pereira, E Estevez, D Cardona, C Chesñevar… – Sustainability, 2020 – mdpi.com
This paper presents the main messages of a South American expert roundtable (ERT) on the unintended side effects (unseens) of digital transformation. The input of the ERT comprised 39 propositions from 20 experts representing 11 different perspectives. The two-day ERT discussed …
Tackling threats to informed decision-making in democratic societies: Promoting epistemic security in a technologically-advanced world
E Seger, S Avin, G Pearson, M Briers, S Ó Heigeartaigh… – 2020 – repository.cam.ac.uk
… Both Computational Propaganda: Political Parties, Politicians, and Political Manipulation on Social Media (2018) by Woolley and Howard and Lie Machines (2020) by Howard detail how technological advances are used by political and private actors from around the globe, to …
Myths of Social Media: Dismiss the Misconceptions and Use Social Media Effectively in Business
M Carvill, I MacRae – 2020 – books.google.com
Page 1. – MYTHS OF – SOCIAL MEDIA DISMISS THE MISCONCEPTIONS AND USE SOCIAL MEDIA EFFECTIVELY IN BUSINESS º & dº sº. MICHELLE CARWILL º |AN MACRAE Kogan Page Page 2. i Myths of Social Media Page 3 …