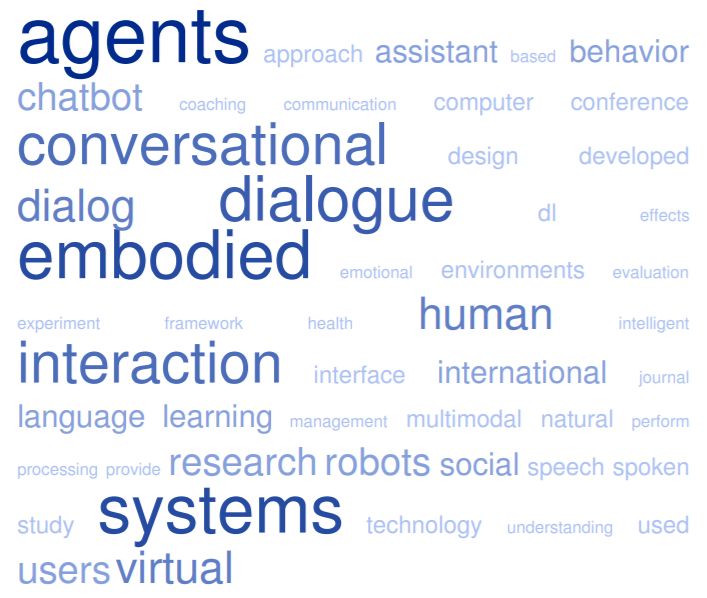 Notes:
An embodied agent is a virtual or physical entity that is designed to act autonomously and interact with its environment. In the context of dialog systems, embodied agents are often used to simulate human-like conversations with users. They may be used in virtual assistants, chatbots, or other types of interactive systems that involve natural language communication.
There are several ways in which embodied agents are used in dialog systems:
Providing a visual representation: Embodied agents can be used to provide a visual representation of the system, such as a virtual assistant with a human-like appearance. This can help users feel more comfortable interacting with the system and make it easier for them to understand the context of the conversation.
Enhancing the user experience: Embodied agents can be designed to display emotions, facial expressions, and other nonverbal cues, which can help to create a more natural and engaging conversation with users.
Improving the quality of the conversation: Embodied agents can use machine learning algorithms to analyze user input and generate appropriate responses, which can improve the quality and coherence of the conversation.
Customizing the conversation: Embodied agents can be programmed to tailor their responses to the specific needs or preferences of the user, which can make the conversation feel more personalized.
Overall, embodied agents can be used to create more natural and engaging dialog systems, and can help to improve the user experience when interacting with these systems.
Embodied learning is a type of learning that involves the use of physical or virtual environments and agents to facilitate the learning process. It emphasizes the role of the body and sensory-motor interactions in learning, and aims to create learning experiences that are more immersive and interactive.
Interactive character is a virtual or physical entity that is designed to interact with users in a natural and responsive manner. Interactive characters may be used in virtual assistants, video games, educational software, and other types of interactive systems.
Virtual character is a computer-generated character that is designed to simulate a real or fictional person. Virtual characters may be used in video games, movies, virtual reality experiences, and other types of media. They can be designed to look and behave like real people, or they can be more stylized and exaggerated to create a particular aesthetic or mood. Virtual characters may be controlled by users or by artificial intelligence algorithms, and can be used to create immersive and interactive experiences.
Wikipedia:
References:
See also:
100 Best Artificial Intelligence Embodiment Videos | 100 Best Virtual Reality Embodiment Videos | Embodiment Meta Guide | EMBR (Embodied Agents Behavior Realizer) | JAMES (Joint Action for Multimodal Embodied Social Systems) | Unembodied Artificial Intelligence
---
Embodied Conversational AI Agents in a Multi-modal Multi-agent Competitive Dialogue.
RR Divekar, X Mou, L Chen, MG De Bayser, MA Guerra… – IJCAI, 2019 – homepages.rpi.edu
… practical attention-aware embodied agent. In Human-Computer Interaction – INTERACT 2019, 2019. [Khouzaimi et al., 2016] Hatim Khouzaimi, Romain Laroche, and Fabrice Lef`evre. Reinforcement learning for turn-taking management in incremental spoken dialogue systems …
You talkin'to me? A practical attention-aware embodied agent
RR Divekar, JO Kephart, X Mou, L Chen… – IFIP Conference on Human …, 2019 – Springer
… You Talkin' to Me? A Practical Attention-Aware Embodied Agent. Authors; Authors and affiliations. Rahul R. Divekar Email author; Jeffrey O. Kephart; Xiangyang Mou; Lisha Chen; Hui Su. Conference paper First Online: 25 August 2019 …
Exploring virtual agents for augmented reality
I Wang, J Smith, J Ruiz – Proceedings of the 2019 CHI Conference on …, 2019 – dl.acm.org
… with four different agents in AR (voice-only, non-human, full-size embodied, and a miniature embodied agent) while completing a … 2.1 Embodied Conversational Agents Embodied Conversational Agents [17], or ECAs, are dialogue systems that not only utilize a natural speech …
M-path: a conversational system for the empathic virtual agent
ÖN Yalç?n, S DiPaola – Biologically Inspired Cognitive Architectures …, 2019 – Springer
… In this work, we proposed and implemented a dialogue system to equip empathic behaviors in a conversational agent … For future work, we intend to integrate this system into our embodied agent framework and further compare the perception of the agent during face-to-face …
A High-Fidelity Open Embodied Avatar with Lip Syncing and Expression Capabilities
D Aneja, D McDuff, S Shah – 2019 International Conference on …, 2019 – dl.acm.org
… intelligence with it. One line of research emphasizes that embodied agents offer several advantages over non-embodied dialogue systems. An agent that has a physical presence means that the user can look at it. Cassell [3 …
Usability evaluation of spoken humanoid embodied conversational agents in mobile serious games
D Korre – 2019 – era.ed.ac.uk
… and emotions. Despite these theoretical advantages, according to recent studies, the interaction with spoken dialogue systems, either in the form of an embodied agent or not, is still inferior compared to other approaches that allow a direct manipulation of the system …
Developing enhanced conversational agents for social virtual worlds
D Griol, A Sanchis, JM Molina, Z Callejas – Neurocomputing, 2019 – Elsevier
… In order to enhance communication in these environments, we propose the integration of dialog systems to develop conversational agents with the ability of oral communication and, at the same time, which benefit from the visual modalities provided by virtual worlds …
An end-to-end conversational style matching agent
R Hoegen, D Aneja, D McDuff… – Proceedings of the 19th …, 2019 – dl.acm.org
… Cassell and Bickmore argue that the methods that humans use for establishing trust can also be used by intelligent agents [8]. As shown in their studies with the embodied agent REA, by incorporating small talk … Advances in natural multimodal dialogue systems 30 (2005), 23–54 …
Survey of conversational agents in health
JLZ Montenegro, CA da Costa… – Expert Systems with …, 2019 – Elsevier
JavaScript is disabled on your browser. Please enable JavaScript to use all the features on this page. Skip to main content Skip to article …
Using History of Belief States for Adaptive Dialogue Management
X Yuan – Proceedings of the 2019 International Conference on …, 2019 – dl.acm.org
… book shopping systems. Fig. 4 shows the layout of the developed dialogue system and the use of an embodied agent for software customization, with details of book-store ontology and POMDP-based dialogue management …
Say hello to your new automated tutor–a structured literature review on pedagogical conversational agents
S Hobert, R Meyer von Wolff – 2019 – aisel.aisnet.org
… Whereas in the past embodied agents were common, nowadays especially messenger-like agents (aka chatbots) are widespread … assistant" OR "virtual teaching assistant" #3 ( chatbot OR chatterbot OR talkbot OR "interactive agent" OR "dialog system" OR "conversational …
MULEA'19: The First International Workshop on Multimodal Understanding and Learning for Embodied Applications
J Gao, JY Pan – Proceedings of the 27th ACM International Conference …, 2019 – dl.acm.org
… Other relevant research areas include multimodal understanding, context modeling, and grounded dialog systems … In addition to the static media processing and understanding that was explored in historical multimedia research, these new "embodied" agents also require …
An Ontology-Powered Dialogue Engine For Patient Communication of Vaccines.
M Amith, R Lin, L Cui, D Wang, A Zhu, G Xiong… – SEPDA …, 2019 – researchgate.net
… This engine is a prototype that we plan to integrate into an embodied agent to provide the autonomous interaction in- telligence to discuss health … data from a Wizard of OZ experiment [8], and that data led to the development of the ontology-driven dialogue system engine …
Design for fast request fulfillment or natural interaction? Insights from an experiment with a conversational agent
S Diederich, AB Brendel, S Lichtenberg, L Kolbe – 2019 – aisel.aisnet.org
… dec- ades (Shawar and Atwell, 2007) and has been studied under various terms, such as product recom- mendation agents (Wang and Benbasat, 2005; Qiu and Benbasat, 2010), virtual agents (Baylor, 2009; Bickmore, Pfeifer and Jack, 2009), or dialogue systems (Mc Kevitt …
Training doctors' social skills to break bad news: evaluation of the impact of virtual environment displays on the sense of presence
M Ochs, D Mestre, G De Montcheuil… – Journal on Multimodal …, 2019 – Springer
… In [5], the authors have shown that this self-report questionnaire is effective "to measure how people perceive an embodied agent" … doctor verbal production is inter- preted in real time by the operator who selects the adequate input signal to be transmitted to the dialogue system …
Discussing with a computer to practice a foreign language: research synthesis and conceptual framework of dialogue-based CALL
S Bibauw, T François, P Desmet – Computer Assisted Language …, 2019 – Taylor & Francis
… Spoken dialogue systems (SDS) appeared in the 1970s as telephone interfaces for customer services, and have been vastly researched … based CALL applications have been developed in these areas, offering task-oriented interactions with embodied agents, contextualized in …
Empathic dialogue system based on emotions extracted from tweets
S Tahara, K Ikeda, K Hoashi – … of the 24th International Conference on …, 2019 – dl.acm.org
… propose an emotion recognition system from user's voice utterance with deep- learning based approach [1]. Empathic dialogue systems have also been attracting attention. Zara is an embodied agent that expresses empathy with her face and gestures after recognizing the …
Can you say more about the location? The Development of a Pedagogical Reference Resolution Agent
M Paetzel, R Manuvinakurike – arXiv preprint arXiv:1909.00945, 2019 – arxiv.org
… Spoken dialogue system (SDS) technologies have made rapid progress in the past decade: Au- tomatic speech recognizers with low word er- ror rates, machine learning approaches … We developed this game to operate web-based and with an embodied agent as a team partner …
A taxonomy of social cues for conversational agents
J Feine, U Gnewuch, S Morana, A Maedche – International Journal of …, 2019 – Elsevier
Peculiarities of Human Machine Interaction for Synthesis of the Intelligent Dialogue Chatbot
I Sidenko, G Kondratenko, P Kushneryk… – 2019 10th IEEE …, 2019 – ieeexplore.ieee.org
… Chat bots are used in different areas to solve common problems. Chatbots are typically used in dialogue systems for various practical purposes including customer service or information acquisition … Embodied agent must provide a function of presence …
The Handbook of Multimodal-Multisensor Interfaces, Volume 3: Language Processing, Software, Commercialization, and Emerging Directions
S Oviatt, B Schuller, P Cohen, D Sonntag… – 2019 – books.google.com
… 137 References 138 Software Platforms and Toolkits for Building Multimodal Systems and Applications 145 4.1 4.2 4.3 4.4 4.5 4.6 4.7 4.8 4.9 Michael Feld, Robert Neßelrath, Tim Schwartz Introduction 145 Definitions 145 Architecture of Dialogue Systems 146 Dialogue …
Common sense and Semantic-Guided Navigation via Language in Embodied Environments
D Yu, C Khatri, A Papangelis, M Namazifar, A Madotto… – 2019 – openreview.net
… In this work, we evaluate the role of common sense and semantic understanding in embodied agents, using concept-driven navigation (RoomNav (Wu et al., 2018b)) as a testbed … Multimodal transformer networks for end-to-end video-grounded dialogue systems …
VOnDA: A Framework for Ontology-Based Dialogue Management
B Kiefer, A Welker, C Biwer – arXiv preprint arXiv:1910.00340, 2019 – arxiv.org
… describe VOnDA, an open-source framework initially developed to imple- ment dialogue strategies for conversational robotic and virtually embodied agents … This requires a long-term memory which can be efficiently accessed by the dialogue system to exhibit familiarity with the …
Embodied contextualization: Towards a multistratal ontological treatment
JA Bateman, M Pomarlan, G Kazhoyan – Applied Ontology, 2019 – content.iospress.com
A fundamental issue concerning the treatment of meaning in context is how to deal with the extremely flexible relationship that appears to hold between descriptions , which are taken as the exchangeable bearers of meaning, and the actual contexts whi.
A need for trust in conversational interface research
J Edwards, E Sanoubari – … of the 1st International Conference on …, 2019 – dl.acm.org
… ABSTRACT Across several branches of conversational interaction research in- cluding interactions with social robots, embodied agents, and con … example of these interfaces is conversational user inter- faces (CUIs) which can include text-based dialogue systems, voice- based …
Design and implementation of embodied conversational agents
F Geraci – 2019 – rucore.libraries.rutgers.edu
… testbed of purposeful human characters in a rich virtual environment. The concept of meaningful embodied agents can be expressed in terms of their capacity to perform behaviors, as presented in parameterized behavior trees all, nd …
An Improved Approach of Intention Discovery with Machine Learning for POMDP-based Dialogue Management
RR Raval – 2019 – scholar.uwindsor.ca
… RL: Reinforcement Learning SDS: Spoken Dialogue Systems SLP: Structured Language Processing … agents; Ananova and Microsoft Agent are examples of graphically embodied agents. Embodied conversational agents have embodied agents (usually with a graphical …
Transferable representation learning in vision-and-language navigation
H Huang, V Jain, H Mehta, A Ku… – Proceedings of the …, 2019 – openaccess.thecvf.com
… In contrast to these tasks, VLN agents are embodied in the environment and must combine language, scene, and spatio-temporal understanding. Embodied Agent Navigation Navigation in realistic 3D environments has also received increased interest recently [35, 18, 29, 46] …
CasandRA: A Screenplay Approach to Dictate the Behavior of Virtual Humans in AmI Environments
E Stefanidi, A Leonidis, N Partarakis… – … Conference on Human …, 2019 – Springer
… For example, the ICT Virtual Human Toolkit [16, 17] offers a flexible framework for generating high fidelity embodied agents and integrating … This type of interface is made possible with the help of multimodal dialogue systems, which extend common speech dialogue systems …
Performance-based Expressive Character Animation
D Aneja – The Adjunct Publication of the 32nd Annual ACM …, 2019 – dl.acm.org
… Research has found that embodied agents offer several advantages over non-embodied dialogue systems. An agent that has a physical presence means that the user can look at it. Central to this argument is that it is important to realize how humans inter- act with each other …
CasandRA: A Screenplay Approach to Dictate the Behavior of Virtual Humans in AmI Environments
M Antona – HCI International 2019–Late Breaking Posters: 21st …, 2019 – books.google.com
… For example, the ICT Virtual Human Toolkit [16, 17] offers a flexible framework for generating high fidelity embodied agents and integrating … This type of interface is made possible with the help of multimodal dialogue systems, which extend common speech dialogue systems …
Realistic natural interaction with virtual statues in x-reality environments.
G Margetis, G Papagiannakis, C Stephanidis – International Archives of …, 2019 – d-nb.info
… To that end, embodied agents should communicate and interact with the users not only verbally, but also providing emotional … Several Neural Network approaches pursue realistic spoken dialogue systems, such as Recurrent Neural Networks, Recursive Neural Networks or …
Living with Harmony: A Personal Companion System by Realbotix™
K Coursey, S Pirzchalski, M McMullen, G Lindroth… – AI Love You, 2019 – Springer
… developments. Keywords. Androids Personal assistant Virtual reality Realbotix Embodied agent Companion agent. Download chapter PDF. 1 Introduction … way. The dialog system is specifically designed to address human sexual desire …
Council of Coaches
B Bedsted, A Pease, C Pelachaud, VT Salcedo… – 2019 – research.utwente.nl
… In the PORTIA system — a dialog system that allows users to engage in a natural dialog about the relation between food and … leans heavily on existing knowledge and background in the field of coaching, personalized human-computer interaction, embodied agents, (multi-party …
Essential Features and Critical Issues with Educational Chatbots: Toward Personalized Learning via Digital Agents
J Riel – … , Administration, and Technologies. Hershey, PA: IGI …, 2019 – papers.ssrn.com
… Other less-common terms have also been used to describe chatbot-type technologies, such as chat app, chatterbot, digital agent, embodied agent, or virtual assistant … Comparison of Eliza with modern dialogue systems. Computers in Human Behavior, 58, 278–95 …
Intelligent Dialogue System Based on Deep Learning Technology
I Sidenko – pdfs.semanticscholar.org
… Chat-bots are typically used in dialog systems for various practical purposes including customer service or information acquisition … Keep context-specific information (such as a username, etc.) [2, 4, 5]. C. Embodied agent: must provide a presence function …
Implementation Strategy of Virtual Conversation Bot for Speech Reorganisation Using Natural Language Processing
D Joshi, P Shah, S Shah – International Journal of Applied …, 2019 – indianjournals.com
… [1] A keyword supported the dialog system to make it potential that the user may chat with the chat bot … [4] C. Embodied agent: It ought to '"provide the perform of presence…once thought to be terribly optional… this perform proves to be crucial within the case of standard users.'" …
Promoting Relational Agent for Health Behavior Change in Low and Middle-Income Countries (LMICs): Issues and Approaches
MF Kabir, D Schulman, AS Abdullah – Journal of medical systems, 2019 – Springer
The use of contemporary technologies in healthcare systems to improve quality of care and to promote behavioral healthcare outcomes are prevalent in high-income countries. However, low and…
Why Build an Assistant in Minecraft?
A Szlam, J Gray, K Srinet, Y Jernite, A Joulin… – arXiv preprint arXiv …, 2019 – arxiv.org
… Instead of directly using an existing game platform, another approach has been to implement a simulation for embodied agent research, especially for navigation, QA and situated dialogue … Frames: a corpus for adding memory to goal-oriented dialogue systems …
Design of conversational humanoid robot based on hardware independent gesture generation
D Baumert, S Kudoh, M Takizawa – arXiv preprint arXiv:1905.08702, 2019 – arxiv.org
… Generating appropriate gestures along with verbal expressions is an important issue when combining chatbot systems with embodied agents or robots [6]. If the robot's conversational content is limited, an … [3] F. Bessho, T. Harada, and Y. Kuniyoshi, "Dialog system using realtime …
Spiking Neural Networks for early prediction in human–robot collaboration
T Zhou, JP Wachs – The International Journal of Robotics …, 2019 – journals.sagepub.com
This article introduces the Turn-Taking Spiking Neural Network (TTSNet), which is a cognitive model to perform early turn-taking prediction about a human or agent's intentions. The TTSNet framework…
Lia: A virtual assistant that can be taught new commands by speech
M Chkroun, A Azaria – International Journal of Human–Computer …, 2019 – Taylor & Francis
… was an offshoot from the CALO project starting in 2003 (Mark & Perrault, 2004) and is based on many years of research in the dialog system community (Wahlster … Some virtual assistants include embodied agents (Cassell, 2000, Watanabe, Okubo, Nakashige, & Danbara, 2004 …
Managing an Agent's Self-presentational Strategies during an Interaction
B Biancardi, M Mancini, P Lerner… – Frontiers in Robotics and …, 2019 – frontiersin.org
In this paper we present a computational model for managing the impressions of warmth and competence (the two fundamental dimensions of social cognition) of an Embodied Conversational Agent (ECA) while interacting with a human. The ECA can choose among four different …
Do Smart Speakers Respond to Their Errors Properly? A Study on Human-Computer Dialogue Strategy
X Ge, D Li, D Guan, S Xu, Y Sun, M Zhou – International Conference on …, 2019 – Springer
… Users' frustrations were alleviated and they were more willing to keep playing the game comparing to those who didn't get affective support. Hone et al. [9, 10] further proved that an embodied agent was more effective, and female agent was better than male agent …
Anticipation and its applications in human-machine interaction
S Ondáš, M Pleva – 2019 – ceur-ws.org
… They performed an experiment with the 3D Embodied Agent Greta [18], which confirm defined associations … While, the anticipatory behavior can be considered as non-important for simple task-oriented dialogue systems, it can bring more human-like character of the interaction …
Intelligent Conversational Agent Assisted Health Coaching System: The CoachAI Approach
A Fadhil – researchgate.net
… With the rise of deep learning and increased computing power, it became possible to build complex domain dependent dialogue systems … Text Dialog state tracking Fig. 7. CoachAI – Task-oriented dialog system overview. F. Dialog Engine …
Merging Representation and Management of Physical and Spoken Action
C Threlkeld, M Scheutz – pdfs.semanticscholar.org
… In fact, this is the foundation of some dialogue systems, especially with queries and responses (eg Alexa or Siri) … Deictic gesture is often important in reference resolution. An embodied agent may want to identify a specific object among sev- eral distractors …
Dominant and submissive nonverbal behavior of virtual agents and its effects on evaluation and negotiation outcome in different age groups
AM Rosenthal-von der Pütten, C Straßmann… – Computers in Human …, 2019 – Elsevier
… other hand. Assistive technology only fulfills its goal when it actually supports the user – which in non-embodied agent technologies is often only possible when the user cooperates and complies with the task at hand. Unlike …
Influence of embodiment and substrate of social robots on users' decision-making and attitude
B Wang, PLP Rau – International Journal of Social Robotics, 2019 – Springer
… To reduce the influence of the robot voice, all the implementations used the dialog system of Nao … Int J Hum Comput Stud 77:23–37CrossRefGoogle Scholar. 6. Brooks D, Chen YP, Howard AM (2015) Simulation versus embodied agents: does either induce better human …
Embodiment in socially interactive robots
E Deng, B Mutlu, M Mataric – arXiv preprint arXiv:1912.00312, 2019 – arxiv.org
… their human interaction partners. Two basic questions arise: (1) do physically embodied agents interact more effectively than their non-physically embodied counterparts? and (2) if so, why? Rosch et al. (1991) discussed the …
Blended Agents: Manipulation of Physical Objects within Mixed Reality Environments and Beyond
S Schmidt, OJA Nunez, F Steinicke – Symposium on Spatial User …, 2019 – dl.acm.org
… language processing enables VAs to understand their human communica- tion partners while speech synthesis and natural dialogue systems generate human … The embodied agent MACK [6], for example, is using a static knowledge base including the VA's fixed location and …
Should AI-Based, conversational digital assistants employ social-or task-oriented interaction style? A task-competency and reciprocity perspective for older adults
V Chattaraman, WS Kwon, JE Gilbert, K Ross – Computers in Human …, 2019 – Elsevier
… In the context of spoken dialog systems implemented with the general public, a study found that 33% of utterances from a corpus … Participants in the study were either assigned to play the game with an affective embodied agent who motivated participants with encouragement (eg …
My Science Tutor and the MyST Corpus
W Ward, R Cole, S Pradhan – 2019 – researchgate.net
… project. The articles describe the process used to develop spoken dialog sessions, the results of the summative evaluations, and analyses of the performance of the spoken dialog system, and feedback from teachers and students …
Towards the Learning, Perception, and Effectiveness of Teachable Conversational Agents
N Chhibber – 2019 – uwspace.uwaterloo.ca
… 17 3.3 Conversational Interface . . . . . 19 3.3.1 Why a Conversational Interface? . . . . 19 3.3.2 Dialog System . . . . . 20 3.3.3 Teaching Guidance . . . . . 21 …
How Voice Can Change Customer Satisfaction: A Comparative Analysis between E-Commerce and Voice Commerce
D Kraus, V Reibenspiess, A Eckhardt – 2019 – aisel.aisnet.org
… embodied agents (sometimes also called avatars) are conversational systems that provide a visual representation of the virtual agent in addition to a text or speech interface [13, 18]. Luger and Sellen [3] use the term conversational agent for an emergent form of dialogue system …
When Chatbots meet patients: one-year prospective study of conversations between patients with breast cancer and a Chatbot
B Chaix, JE Bibault, A Pienkowski, G Delamon… – Jmir …, 2019 – cancer.jmir.org
Patient-Centered Innovations, Education and Technology for Cancer Care and Cancer Research.
MuMMER: Socially Intelligent Human-Robot Interaction in Public Spaces
ME Foster, B Craenen, A Deshmukh, O Lemon… – arXiv preprint arXiv …, 2019 – arxiv.org
… The non-verbal behaviour of an embodied agent is at least as communicative as its ver- bal behaviour (Vinciarelli, Pantic, and Bourlard … Conversational interaction The MuMMER system focuses on enabling an agent to combine a task-based dialogue system with chat-style open …
Text-based Chatbot Assisted Health Coaching System: Preliminary Evaluation & Results
A Fadhil – researchgate.net
… dent dialogue systems … F. Künzler, F. Barata, S. Hung, D. Büchter et al., "Text-based healthcare chatbots supporting patient and health professional teams: Preliminary results of a randomized controlled trial on childhood obesity," in Per- suasive Embodied Agents for Behavior …
Nonverbal Behavior in
A Cafaro, C Pelachaud… – The Handbook of …, 2019 – books.google.com
… 2014] for behav- ior planning and generation. Flipper is a library for specifying dialogue rules for dialogue systems, that uses XML-templates to describe the preconditions, effects and BML behaviors of these rules. A simple example of agreeting template is shown in Figure 6.6 …
of deliverable Final prototype description and evaluations of the virtual coaches
G Huizing, B Donval, M Barange, R Kantharaju… – 2019 – council-of-coaches.eu
… et al., 2018). It turns the provided abstract conversational moves and information provided by the other modules in this part of the system into a series of multimodal utterances for the virtual embodied agents. It also regulates …
Control of robot swarms through natural language dialogue: a case study on monitoring fires
NMA Mendonça – 2019 – repositorio.iscte-iul.pt
… In order to establish a dialog platform to be able to cope with open domains con- sidering the possible interactions between the embodied agent and humans, there must be a validation and interpretation of the natural language utterances pro …
Designing emotional BDI agents: good practices and open questions
Y Sánchez-López, E Cerezo – The Knowledge Engineering Review, 2019 – cambridge.org
… Page 2. 2 Y. SÁNCHEZ-LÓPEZ AND E. CEREZO This is why emotions may significantly raise agent's effectiveness when interacting with a human and are extensively used in interface agents and, more specifically, in embodied agents …
An architecture for emotional facial expressions as social signals
R Aylett, C Ritter, MY Lim, F Broz… – IEEE Transactions …, 2019 – ieeexplore.ieee.org
… similar level to other agent actions rather than giving them control of agent activity, while in dialogue system research, agent actions are … The two most widely-used systems for transforming an affective response into a behaviour specification in embodied agents are the Facial …
Anthropomorphic virtual assistants and the reactions of Internet users: An experiment on the assistant's voice
E Chérif, JF Lemoine – Recherche et Applications en …, 2019 – journals.sagepub.com
Virtual assistants are increasingly common on commercial websites. In view of the benefits they offer to businesses for improving navigation and interaction with the consumers, researchers and prac…
Conversational Agent for Health Coaching
A JUMAAH – 2019 – researchgate.net
Page 1. Doctoral Dissertation Doctoral Program in Information Engineering & Computer Science (30thcycle) CONVERSATIONAL AGENT FOR HEALTH COACHING Design, Development and Pilot Evaluation of A Conversational Agent Assisted Coaching Platform …
Nonverbal behavior in multimodal performances
A Cafaro, C Pelachaud, SC Marsella – The Handbook of Multimodal …, 2019 – dl.acm.org
Page 1. 6Nonverbal Behavior in Multimodal Performances Angelo Cafaro, Catherine Pelachaud, Stacy C. Marsella 6.1 Introduction The physical, nonverbal behaviors that accompany face-to-face interaction convey a wide variety …
Humour-in-the-loop: Improvised Theatre with Interactive Machine Learning Systems
KW Mathewson – 2019 – era.library.ualberta.ca
… Dziri N, Kamalloo E, Mathewson KW and Zaiane O (2019) Evaluating Coherence in Dialogue Systems using Entailment … Ann Arbor, USA. • Mathewson KW and Pilarski PM (2017) Reinforcement Learning based Embodied Agents Modelling Human Users Through Interaction …
Human-Robot Interaction
H Ayano?lu, JS Sequeira – Emotional Design in Human-Robot Interaction, 2019 – Springer
… According to Dautenhahn and Billard (1999) social robots are embodied agents that are part of a heterogeneous group: a society of robots and humans … (2015) discuss a dialog system capable of maintaining the coherence of the interaction and introducing new topics …
From rituals to magic: Interactive art and HCI of the past, present, and future
M Jeon, R Fiebrink, EA Edmonds, D Herath – International Journal of …, 2019 – Elsevier
JavaScript is disabled on your browser. Please enable JavaScript to use all the features on this page. Skip to main content Skip to article …
Designing with Gaze: Tama–a Gaze Activated Smart-Speaker
D McMillan, B Brown, I Kawaguchi, R Jaber… – Proceedings of the …, 2019 – dl.acm.org
… including enabling agents to show attention to conversational partners and objects [eg 9]. Szafir and Mutlu [79] built an embodied agent that monitored … 2.2 Speech Agents Speech dialogue systems that can perform talk in a relatively natural way with users have been a goal for …
This is the author's version of a work that was published in the following source
J Feine, U Gnewuch, S Morana, A Maedche – 2019 – researchgate.net
… In the 1980s, this was followed by the appearance of voice-based dialog systems, voice user interfaces … Despite the large number of different terms used to describe this technology (eg, CA, ECA, chatbot, dialog systems, companions, virtual …
Assessing the effect of persuasive robots interactive social cues on users' psychological reactance, liking, trusting beliefs and compliance
AS Ghazali, J Ham, E Barakova… – Advanced …, 2019 – Taylor & Francis
… case study: bringing social intelligence into home dialogue systems. Interactions. 2005;12(4):37–44.[Crossref] , [Google Scholar],32 De Ruyter B, Saini P, Markopoulos P, et al … case study: bringing social intelligence into home dialogue systems. Interactions …
Could you tell a bit more about your experience with the chatbot?
E de Louw, S Wubben – 2019 – drewhendrickson.github.io
… Disembodied agents (or text-based conversational agents), often referred to as chatbots (chatterbot/chatterbox) or natural dialogue systems, communicate with users … It is, therefore, logical that most research on emphatic bots is regularly performed with embodied agents …
Survey on frontiers of language and robotics
T Tangiuchi, D Mochihashi, T Nagai, S Uchida… – Advanced …, 2019 – Taylor & Francis
ABSTRACTThe understanding and acquisition of a language in a real-world environment is an important task for future robotics services. Natural language processing and cognitive robotics have both b…
Boundary conditions of the politeness effect in online mathematical learning
M Mikheeva, S Schneider, M Beege, GD Rey – Computers in Human …, 2019 – Elsevier
… directness. Jucks, Linnemann, and Brummernhenrich (2018) investigated politeness in spoken dialogue systems and found that perceived trustworthiness was reduced by the lack of politeness. Johnson et al. (2005, pp. 298 …
Designing for Trust
M Dagli – 2019 – kilthub.cmu.edu
… These programs that we interact with by talking or writing are called conversational agents, also known as dialog systems … Is a companion a distinctive kind of relationship with a machine? .In Proceedings of the 2010 Workshop on Companionable Dialogue Systems (CDS '10) …
Comparing phonetic changes in computer-directed and human-directed speech
E Raveh, I Steiner, I Siegert, I Gessinger… – Studientexte zur …, 2019 – essv.de
… Saarland University 2 Multimodal Computing and Interaction, Saarland University 3 audEERING GmbH, Gilching 4 Mobile Dialog Systems, Institute for … may be the illusion that Alexa feels more distant than the human interlocutor, because Alexa is not an embodied agent …
Prototyping relational things that talk: a discursive design strategy for conversational AI systems
B Aga – 2019 – pearl.plymouth.ac.uk
Page 1. 1 PROTOTYPING RELATIONAL THINGS THAT TALK: A DISCURSIVE DESIGN STRATEGY FOR CONVERSATIONAL AI SYSTEMS by BIRGITTE AGA A thesis submitted to the University of Plymouth in partial fulfilment for the degree of DOCTOR OF PHILOSOPHY …
Learning from Others' Experience
S Höhn – Artificial Companion for Second Language …, 2019 – Springer
… Human-Computer Inter- action (HCI) and dialogue modelling to obtain models for human-robot communica- tion and dialogue systems from naturally … Avatars, talking heads and embodied agents as well as integration of text-to-speech engines became nice-to-have extensions …
Implementation and evaluation of a shopping assistance chatbot in an e-commerce case
T Böger – 2019 – run.unl.pt
… They are sometimes referred to as "chatterbots", "intelligent agents", "conversational agents", "conversational interfaces", or "dialogue systems" (Chai, Budzikowska … While a disembodied chatbot usually is limited to communication via text or speech, an embodied agent can also …
Computational Framework for Facilitating Intimate Dyadic Communication
D Utami – 2019 – repository.library.northeastern.edu
… In Chapter 4, I introduced the research platform used throughout the experiments in the dissertation, including the Furhat robot and the IrisTK dialog system. In Chapter 5, I answer the first research question by presenting a study on the acceptance …
Investigating the Automation of Self-Help Therapies by means of Visual Tooling
GJ Kolkman – 2019 – dspace.library.uu.nl
Page 1. Investigating the Automation of Self-Help Therapies by means of Visual Tooling AUTHOR GJ (Gerben) Kolkman 4118863 SUPERVISORS Dr. ir. RJ (Robbert Jan) Beun Prof. dr. ir. JFM (Judith) Masthoff August 4th, 2019 Page 2. Abstract …
The impact of chatbot technology attributes on customer experience: an example in telecom
ARP Quintino – 2019 – repositorio.ucp.pt
… 2.2.2. Types of online agents – Chatbot versus Avatar In the online agent's universe, the literature is more extensive about the embodied agents (avatars) (figure 2) when compared with disembodied agents (chatbots) (figure 3). Many studies …
Examining the Relative Impact of Professional Profile Images and Facial Expressions in Small Business-to-Business Marketing Online
S Pawar, A Fagerstrøm, IAZ Dimude… – Interacting with …, 2019 – academic.oup.com
AbstractThis article responds to a call for research on the context-specific effects of human images in different online contexts. This study investigates how i.
Learning Socially Appropriate Robot Approaching Behavior Toward Groups using Deep Reinforcement Learning
Y Gao, F Yang, M Frisk, D Hemandez… – 2019 28th IEEE …, 2019 – ieeexplore.ieee.org
… 17, no. 1, pp. 1334–1373, 2016. [4] E. Ferreira and F. Lefevre, "Reinforcement-learning based dialogue system for human–robot interactions with socially-inspired rewards," Computer Speech & Language, vol. 34, no. 1, pp. 256–274, 2015 …
Towards A Better Understanding Of Service Quality Attributes Of A Chatbot
H Meerschman, J Verkeyn – lib.ugent.be
… VII List of figures FIGURE 1: RELATIONSHIPS BETWEEN CLASSES OF SOFTWARE-BASED DIALOG SYSTEMS (RADZIWILL & BENTON, 2017) …. 4 … Dialog systems Conversational agents …
Artificial Companion for Second Language Conversation
S Höhn – 2019 – Springer
… I hope that this book starts a movement bringing together researchers from the two worlds, Dialogue Processing and Conversation Analysis, in order to build better dialogue systems and, finally, better understand ourselves when we are talking. Overview of the book …
Techné: Research in Philosophy and Technology
J Seibt, WCRMB Social – Techné: Research in Philosophy …, 2019 – researchportal.helsinki.fi
… Social robots are often generically characterized as 'artificial embodied agents that can act autonomously in the physical and symbolic space of human social interac- tions.' The particular philosophical interest of these artefacts more clearly comes into view, however, once their …
Human-Computer Interaction–INTERACT 2019: 17th IFIP TC 13 International Conference, Paphos, Cyprus, September 2–6, 2019, Proceedings
D Lamas, F Loizides, L Nacke, H Petrie, M Winckler… – 2019 – books.google.com
Page 1. David Lamas· Fernando Loizides· Lennart Nacke· Helen Petrie· Marco Winckler · Panayiotis Zaphiris (Eds.) Human-Computer Interaction – INTERACT 2019 17th IFIPTC 13 International Conference Paphos, Cyprus, September 2–6, 2019 Proceedings, Part III Page 2 …