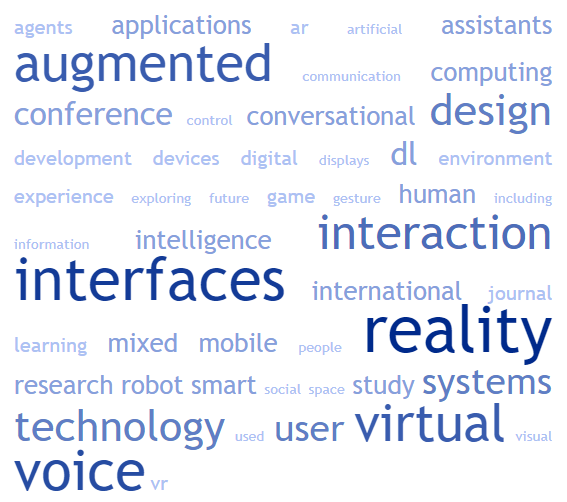 See also:
Extended Reality & Voice User Interface 2020
---
Voice Interaction for Augmented Reality Navigation Interfaces with Natural Language Understanding
J Zhao, CJ Parry, R dos Anjos… – … Conference on Image …, 2020 – ieeexplore.ieee.org
… In this paper we study voice interfaces for AR applications that enable hands-free interaction … Page 5. (a) Voice interface accuracy (b) Task … [2] M. Billinghurst, H. Kato, and S. Myojin, "Advanced interaction tech- niques for augmented reality applications," in International …
How latency, action modality and display modality influence the sense of agency: a virtual reality study
P Winkler, P Stiens, N Rauh, T Franke, J Krems – Virtual Reality, 2020 – Springer
… designers could take account of our findings regarding the modality of an action by providing additional feedback cues to increase the SOA for interactions with voice interfaces … For example, in a virtual reality (VR), the individual is represented by and acts through an avatar …
Designing Voice Interfaces: Back to the (Curriculum) Basics
C Murad, C Munteanu – Proceedings of the 2020 CHI Conference on …, 2020 – dl.acm.org
… Given voice interfaces' current state of usability, improving the design of voice-based interactions must first involve improving the training … have been emerging, bringing about new challenges in designing for them, such as Virtual and Augmented Reality, Ubiquitous Computing …
Development framework for context-aware augmented reality applications
S Krings, E Yigitbas, I Jovanovikj, S Sauer… – … Proceedings of the 12th …, 2020 – dl.acm.org
… As this prevents the user from seeing any objects of the AR application, a voice interface is activated (see Figure 5). It makes sure the description of the … Context- Aware Online Adaptation of Mixed Reality Interfaces … CAMAR: Context-aware mobile augmented reality in smart space …
Augmented Reality Space Informatics System
O Thomas, D Lambert, B Dayrit – International Conference on Human …, 2020 – Springer
… The Augmented Reality Space Informatics System (ARSIS) was designed for the NASA SUITS (Spacesuit User Interfaces … Mixed reality (MR) integrates these digital elements into PR … the names of possible voice commands to aid in navigation of the voice interface and memory …
First Workshop on Multimodal e-Coaches
L Angelini, M El Kamali, E Mugellini… – Proceedings of the …, 2020 – dl.acm.org
… This is a non-exhaustive list of topics for the workshop position papers: • Spatially distributed interfaces for e-Coaches; • Augmented reality and voice interfaces for e-Coaches; • Text and voice conversational agents for coaching; • Embodied and empathic virtual coaches; …
NottReal: A tool for voice-based Wizard of Oz studies
M Porcheron, JE Fischer, M Valstar – Proceedings of the 2nd Conference …, 2020 – dl.acm.org
… KEYWORDS conversational interfaces, voice interfaces, vuis, woz … including lookup [13], gestural/spatial recognition [7], robot control [18], mixed reality techniques [4 … is a cross-platform Python-based desktop application for Wizard-controlled voice interface studies, where the …
Sensitive interfaces for blind people in virtual visits inside unknown spaces
NE Guerrón, A Cobo, JJS Olmedo, C Martín – International Journal of …, 2020 – Elsevier
… Evidence shows that the voice interface provides a statistically significant difference on effectiveness … audio events and interacting with these events within a virtual reality (VR) experience … Because the parameters associated with the voice interfaces such as speed, distance units …
Rethinking User Interaction with Smart Environments—A Comparative Study of Four Interaction Modalities
M Handosa, A Dasgupta, M Manuel… – … Conference on Human …, 2020 – Springer
… User interaction Multi-modal interaction Interaction interfaces Mixed reality interface Voice interface Graphical User … Jo, D., Kim, GJ: ARIoT: scalable augmented reality framework for interacting with … G., Zuckerman, O.: Comparing social robot, screen and voice interfaces for smart …
Teach-Me DNA: an Interactive Course Using Voice Output in an Augmented Reality System
M Kenoui, MA Mehdi – 020 1st International Conference on …, 2020 – ieeexplore.ieee.org
… Another point tied to 3D interaction in general and to voice interfaces in particular, is that … Also, the user has been able to use the proposed voice interface allowing them to naturally … and W. Woo, "A usability study of multimodal input in an augmented reality environment," Virtual …
The Intersection of User Experience (UX), Customer Experience (CX), and Brand Experience (BX)
F van de Sand, AK Frison, P Zotz, A Riener… – User Experience Is Brand …, 2020 – Springer
… Voice interfaces, smart objects, and the Internet of Things (IoT), as well as the intersections of virtual reality (VR) and augmented reality (AR), have to be regarded specifically with their very own characteristics in order to apply and design them in the best possible way …
A focus area maturity model for software ecosystem governance
S Jansen – Information and Software Technology, 2020 – Elsevier
… This creates ecosystems of ecosystems, where new platforms are formed on top of existing platforms. An interesting example is the ARComp case that is presented in this article, which is an augmented reality platform based on the Unity platform …
A framework for introducing emerging technologies in design studio classes
M Lewis – Research & Education in Design: People & Processes …, 2020 – books.google.com
… Technologies undergraduate students explore or simulate include augmented reality, indoor tracking, voice interfaces, face recognition … mobile and web app development tools, while the majority investigate forms of virtual, augmented, or mixed reality (XR) technologies …
Humanizing Headless Communication: Marriage between Graphical and Voice Interface
A Rungta, A Rungta, G Sharma – … International Conference for …, 2020 – ieeexplore.ieee.org
Page 1. Humanizing Headless Communication Marriage between Graphical and Voice Interface … Augmented Reality AR could be used to develop graphical avatars of the voice assistants which could be projected on any target location chosen by the user …
Alexa, How Do I Build a VUI Curriculum?
C Murad, C Munteanu – Proceedings of the 2nd Conference on …, 2020 – dl.acm.org
… This is Not What We Wanted': Talking With And Around Voice Agents" [22] and "Talking With Robots: Creating Voice Interfaces" [25] that … 1. Look towards other specialized fields and interaction techniques (such as Touch Interfaces, Virtual Reality, Ubiquitous Interfaces, etc), and …
Grasping Everyday Automation–A Design Space for Ubiquitous Automated Systems
J Bongard, M Baldauf, P FrÖehlich – 19th International Conference on …, 2020 – dl.acm.org
… were identified: computer vision (for eye tracking, face recognition, augmented and virtual reality, eg [8 … the type of user interaction from "hardware buttons" to a "voice interface" or switching … Augmented Reality Learning Experiences: Survey of Prototype Design and Evaluation …
Graphical User Interface Auto-Completion with Element Constraints
L Brückner – 2020 – aaltodoc.aalto.fi
… While novel interaction patterns are being researched and are growing, such as voice interfaces, brain interfaces, or virtual reality-based interfaces, the dominant pattern is still the GUI with its direct manipulation interaction technique …
Wearable Wisdom: An Intelligent Audio-Based System for Mediating Wisdom and Advice
P Pataranutaporn, T Vega Gálvez, L Yoo… – Extended Abstracts of …, 2020 – dl.acm.org
… Author Keywords Wearable Technology; Intelligent Agent; Voice Interfaces; Context Aware System; Wisdom; Advice; … Through audio-based augmented reality glasses, our system offers just-in-time wisdom and advice based on the user's query and context by generating a …
Modality and Depth in Touchless Smartphone Augmented Reality Interactions
J Qian, DA Shamma, D Avrahami, J Biehl – … International Conference on …, 2020 – dl.acm.org
… Voice interface, gesture manipulation, and device-mediated interactions are often used for these modalities [30–32, 41 … Voice interfaces use specific commands for multimodal interactions [10, 43] … In Mixed and Augmented Reality (ISMAR), 2017 IEEE International Symposium on …
Otherware needs Otherness: Understanding and Designing Artificial Counterparts
M Laschke, R Neuhaus, J Dörrenbächer… – Proceedings of the 11th …, 2020 – dl.acm.org
… This is certainly true for voice interfaces, such as Alexa, where many interactions (eg, switching on the light) could just be … human-computer interaction, with a particular interest in new user interfaces for personal design and personal fabrication, augmented reality, wearable and …
Speech Automated Examination for Visually Impaired Students
KA Bharadwaj, MM Joshi, NS Kumbale… – 2020 2nd …, 2020 – ieeexplore.ieee.org
… The goals mentioned by the authors of "An efficient examination system for blinds with real-time voice interface" [5] can further be enhanced by automating the entire process – from ID verification to submitting the … Further, authors of [11] have discussed virtual reality as one of …
Living the Future: The Technological Family and the Connected Home
L Hall – 2020 – sure.sunderland.ac.uk
… 4 The 2025 Smart Home 8 Immersive Virtual Reality – A Space for the Children? 28 … Aiming to provide a future scene setter, the focus is on home technologies likely to have an impact on families including smart devices, voice assistants, interactive toys and virtual reality …
What If Conversational Agents Became Invisible? Comparing Users' Mental Models According to Physical Entity of AI Speaker
S Lee, M Cho, S Lee – Proceedings of the ACM on Interactive, Mobile …, 2020 – dl.acm.org
… The Influence of Visual Embodiment and Social Behavior on the Perception of Intelligent Virtual Agents in AR. In 2018 IEEE International Symposium on Mixed and Augmented Reality (ISMAR) … 2017. Comparing social robot, screen and voice interfaces for smart-home control …
Towards a Smart and Socialised Augmented Reality
A Soro, R Brown, P Wyeth, S Turkay – … of the 2020 CHI Conference on …, 2020 – dl.acm.org
… see through, hands free interaction (eg goggles, glasses, head up displays), the obvious choice of a voice interfaces to complement … The Effects of Sharing Awareness Cues in Collaborative Mixed Reality … Augmented reality in education: a meta-review and cross-media analysis …
Voxento: A Prototype Voice-controlled Interactive Search Engine for Lifelogs
A Alateeq, M Roantree, C Gurrin – … of the Third Annual Workshop on …, 2020 – dl.acm.org
… In this work, the authors used virtual reality as a way to visualise lifelog data and perform search tasks based on a temporal filter and … system outlined in this paper is designed in the spirit of these assertive technologies and is instantiated as an intuitive voice interface to a lifelog …
Voice Interaction for Training: Opportunities, Challenges, and Recommendations from HCI Perspective
I Kondratova, B Emond – International Conference on Human-Computer …, 2020 – Springer
… gaze, etc.) offers a flexible and integrated set of interaction tools for Augmented Reality (AR), and … In particular, natural language (or voice) interfaces have been widely applied to military training … 10], tactical language and culture training for the Army [17], mixed reality training for …
Development of Human-Computer Interactive Interface for Intelligent Automotive
L Jianan, A Abas – International Journal of Artificial Intelligence, 2020 – lamintang.org
… (d) Using augmented reality technology, made the important driving information such … (2015, May). Evaluation of a context-aware voice Interface for Ambient Assisted Living: qualitative user study vs. quantitative system evaluation. ACM Trans. Access. Comput. 7, 2, Article 5, 36 …
Spatially-Aware Displays for Computer Assisted Interventions
A Winkler, U Eck, N Navab – … on Medical Image Computing and Computer …, 2020 – Springer
… Voice interfaces as an alternative exhibit other difficulties, such as challenges in a noisy operating room … Ribaupierre, S.: Visual perception and human-computer interaction in surgical augmented and virtual reality environments. In: Mixed and Augmented Reality in Medicine, pp …
Assumptions Checked: How Families Learn About and Use the Echo Dot
E Beneteau, Y Guan, OK Richards, MR Zhang… – Proceedings of the …, 2020 – dl.acm.org
… command-line email interfaces [13], table-top surface gestures [36], augmented reality [25], voice … The burgeoning work in HCI regarding modern voice interfaces provides insights into how … of devices, work exploring how individuals learn about voice interface device capabilities …
Creating a Technology for Synthesizing Mechatronic Devices and VR Systems
VV Polyansky, NE Bodunkov… – 2020 International Multi …, 2020 – ieeexplore.ieee.org
… that the belt is running too fast or slow for them, they can use the voice interface that is … [2] ME Portman, A. Natapov, D. Fisher-Gewirtzman, "To go where no man has gone before: Virtual reality in architecture … 3] RT Azuma, "A survey of augmented reality," Presence: Teleoperators …
iVision: An Assistive System for the Blind Based on Augmented Reality and Machine Learning
J Shen, Z Dong, D Qin, J Lin, Y Li – International Conference on Human …, 2020 – Springer
… with low efficiency and can't use traditional UI as smoothly as a sighted person, the system uses voice interfaces to build … The speech-based interface combines real-time object detection model and augmented reality, into an interactive speech-based positioning and navigation …
CUI@ CHI: Mapping Grand Challenges for the Conversational User Interface Community
H Candello, C Munteanu, L Clark, J Sin… – Extended Abstracts of …, 2020 – dl.acm.org
… Her research looks at the usability and design of conversational voice interfaces, and exploring the development of different tools and … in Computer Sci- ence at the University of Nottingham, and is a member of the Mixed Reality Lab and … Progressivity for voice interface design …
Trading Up: Exchanging our Data for a Better Life
N Turner – Marriott Student Review, 2020 – scholarsarchive.byu.edu
… I own a Google Home assistant, and it has helped to improve my quality of life with its simple, straightforward voice interface … Augmented reality, virtual reality, advanced prosthetics, arts and music creation, and more are possible via thought interfaces …
Little Genius: An Experiment in Internet of Tangible Learning Things
IA Zualkernan, F Aloul, E Algebail… – 2020 IEEE 20th …, 2020 – ieeexplore.ieee.org
… children who participated in the evaluation had no previous experience using Amazon Alexa as a voice interface; some children … Ecosystem: Creating Serious Games with IoT Features," in 2018 IEEE International Symposium on Mixed and Augmented Reality Adjunct (ISMAR …
CUI@ CSCW: Collaborating through Conversational User Interfaces
M Porcheron, L Clark, M Jones, H Candello… – … Publication of the 2020 …, 2020 – dl.acm.org
… Her research looks at the usability and design of conversational voice interfaces, and exploring the development of different tools and … Associate Professor in HCI at the University of Nottingham, UK, and a member of the Mixed Reality Lab … Progressivity for Voice Interface Design …
Tourism 4.0 technologies and tourist experiences: a human-centered design perspective
U Stankov, U Gretzel – Information Technology & Tourism, 2020 – Springer
… Analytics, Artificial Intelligence (AI), Blockchain, Location-based Services or Virtual and Augmented Reality Systems, and … desire for travel, such as virtual museum tours and even a virtual reality concert in … For example, a voice interface at a busy airport or the need to download …
Customer-Specific Robotic Attendant for VR Simulators
J Park, H Yong, S Ha, J Lee… – IEEE Transactions on …, 2020 – ieeexplore.ieee.org
… provide his/her personal information directly via physical interaction through a user interface (eg, voice interface or a … com/computing/chinas-new-sci-fi-amusement-park-is- powered-entirely- by-virtual-reality-rides/ [3] T. Nelson, "Impact of virtual and augmented reality on theme …
The digital marketing capabilities gap
D Herhausen, D Mio?evi?, RE Morgan… – Industrial Marketing …, 2020 – Elsevier
Multifunctional Cell for Complex Aerostructures Assembly and Aircraft Maintenance Assisted by Neural Network
A Mazzotta, G Iagulli, V De Vita – cps4eu.eu
… where a component is missing (US1); • Assembly instructions integrated in the real environment through a mixed reality headset (US1), or as a list using augmented reality glasses (US2 … One of the main advantages of voice interfaces is that they enable a hand-free operation …
Grounded Theory
V Schwind – hci-lecture.org
… "Compared to the smartphone application, the voice interface improves the user experience, but increases the frustration level when errors occur." "Women perceive higher levels of immersion than men with decreasing levels of avatar realism in virtual reality." …
Accessibility of Different Natural User Interfaces for People with Intellectual Disabilities
M Braun, M Wölfel, G Renner… – … on Cyberworlds (CW), 2020 – ieeexplore.ieee.org
… as gaming (eg using the Microsoft Kinect), as an input modality in virtual reality (eg using … As seen in Table III, there have been examined 25 relevant abilities for voice interface use belonging … Looking at the important abilities for voice interfaces, 25.5% would be able to use this …
Direction-of-Voice (DoV) Estimation for Intuitive Speech Interaction with Smart Device Ecosystems
K Ahuja, A Kong, M Goel, C Harrison – Proceedings of the 33rd …, 2020 – andykong.org
… approaching feasibility, it does fall short of the 99%+ accuracies consumers have come to expect, though they are perhaps more forgiving with voice interfaces … For instance, DoV could be used in social extended reality to facilitate richer communication between participants …
Tangible Interfaces and Interactions in Sci-Fi Movies: A Glimpse at the Possible Future of TUIs through Fictional Tangible Systems
V Cheung, AN Antle – … of the Fourteenth International Conference on …, 2020 – dl.acm.org
… For example, voice interfaces are now ubiquitous as personal assistants (Alexa, Bixby, Siri, Ok-Google, etc.), and holographic displays are now … from Sci-Fi movies and TV shows, covering a wide range of futuristic systems including gestural interfaces, virtual reality, and brain …
Development and Human Factors Considerations for Extended Reality Applications in Medicine: The Enhanced ELectrophysiology Visualization and Interaction …
JNA Silva, MB Privitera, MK Southworth… – … Conference on Human …, 2020 – Springer
… In augmented reality (AR), the user remains in their natural environment and has the ability … a medical device, there are unique considerations when developing an extended reality application in … While avoiding some of the pitfalls of the voice interface (see below), hand gesture …
Educational Technology in the Age of Natural Interfaces and Deep Learning
CD Kloos, C Alario-Hoyos… – … de Tecnologias del …, 2020 – ieeexplore.ieee.org
… in their learning processes in Education 3.0, such as internet-based CSCL, augmented reality, adaptive learning … In this case mixed reality allows observing the world from different points of view … to multiple statements and this can be replicated in a voice interface, this artificial …
Hand movement activity-based character input system on a virtual keyboard
MA Rahim, J Shin – Electronics, 2020 – mdpi.com
… In addition, sensor-based HGR technology is used to provide user authentication, sign language recognition, character input, computer vision and virtual reality and so on … However, noise at the voice interface and the speed of processing of vision-based HCIs are major concerns …
SUPPORTING PEOPLE'S INDEPENDENCE THROUGH VOICE USER INTERFACE (VUI) DEVICES
U Shamim, G Spinelli, A Woodcock, A Nair – Editors: Kirsty Christer … – research.hanze.nl
… European Journal of Information Systems 25 (1): 64-76. Klein, L.(2016)."Design for Voice Interfaces". Sebastopol, CA: O'Reilly Media Inc … Rauschnabel, P., He, J., and Y. Ro. 2018. "Antecedents to the adoption of augmented reality smart glasses: A closer look at privacy risks" …
A Mixed Reality Interface for Digital Twin Based Crane
X Tu – 2020 – aaltodoc.aalto.fi
… In the context of Industry 4.0, voice interfaces start playing a crucial role, especially when … The origin of augmented reality (AR) and virtual reality (VR) came way back in … AR is defined as the extended reality where supplementary contextual computerized information is added to …
SHARED PATH Service Design and Artificial Intelligence in Designing Human-Centred Digital Services
T Jylkäs – 2020 – lauda.ulapland.fi
… Due to technologies, such as advanced cameras, virtual reality and the accessibility of digital devices, the production of moving images has become widely … Over the past couple of years since the rise of the popularity of chatbots and voice interfaces, a number of works on …
Combining Gesture and Voice Control for Mid-Air Manipulation of CAD Models in VR Environments
M Friedrich, S Langer, F Frey – arXiv preprint arXiv:2011.09138, 2020 – arxiv.org
… Questions How much experience do you have in virtual reality applications? How much experience do you have in CAD/3D modeling software … However, voice interfaces must be de- signed carefully in order to be intuitive while com- mand recognition must work flawlessly …
Extended Reality Environments
J Floty?ski – Knowledge-Based Explorable Extended Reality …, 2020 – Springer
… The Virtual Reality Modeling Language (VRML) (Web3D Consortium 1995) is an open, textual language devised by the … to various classes of IT systems, in particular, widely disseminated aural and voice interfaces, are out … 2.3 Human–System Interfaces for Extended Reality 17 …
Theorizing femininity in artificial intelligence: a framework for undoing technology's gender troubles
DM Sutko – Cultural Studies, 2020 – Taylor & Francis
… Our voice interfaces default to feminine voices and are themselves designed to perform stereotypically gendered labour: scheduling, reminding, making lists, seeking information, taking notes, making calls, and sending … Balsamo (1996), writing about virtual reality, argues …
Tech Trends in Practice: The 25 Technologies that are Driving the 4th Industrial Revolution
B Marr – 2020 – books.google.com
… How Are Voice Interfaces and Chatbots Used in Practice … For instance, without AI, we wouldn't have achieved the amazing advances in the Internet of Things (IoT, Trend 2), virtual reality (Trend 8), chatbots (Trend 11), facial recognition (Trend 12), robotics and automation (Trend …
Design and Evaluation of a Tool to Support Air Traffic Control with 2D and 3D Visualizations
G Rottermanner, VA de Jesus Oliveira… – … on Virtual Reality …, 2020 – ieeexplore.ieee.org
… 2020 IEEE Conference on Virtual Reality and 3D User Interfaces (VR) 978-1-7281-5608-8/20/ $31.00 ©2020 IEEE 10.1109/VR46266 … Various data-link and voice interfaces such as the ATCO or pilot communication allow for full interaction in system performance 886 Page 3 …
Implementation Success of an Indoor Navigation with Location-Based Augmented Reality
M Khayyat, S Yahya, M Alsharabi, A Aljahdali… – researchgate.net
… Further improvements can be done to GuideMe by using a standard voice interface of the smartphone, just by … Matuszka T, Gombos G, Kiss A. A new approach for indoor navigation using semantic webtechnologies and augmented reality … Virtual augmented and mixed reality …
Situated Emotions. The Role of the Soundscape in a Geo-Based Multimodal Application in the Field of Cultural Heritage
L Bollini, I Della Fazia – … Conference on Computational Science and Its …, 2020 – Springer
… and challenges in a blended environment where virtual, augmented and mixed reality are promising … home devices – such as Alexa in 2014 – in recent years voice interfaces [10] have … previous projects The Betrothed 2.0 [25] and 3.0 explored augmented reality applications and …
Facial Movement Interface for Mobile Devices Using Depth-sensing Camera
C Deepateep, P Vichitvejpaisal – 2020 12th International Conference … – ieeexplore.ieee.org
… Portet et al. designed a voice interface target for the elderly in dangerous situations [14]. Simpson et al … ARKit Framework integrates iOS device depth-sensing camera and motion features to produce augmented reality … Mixed Reality for Learning Programming …
Gaze-based Interaction with Windshield Displays for Automated Driving: Impact of Dwell Time and Feedback Design on Task Performance and Subjective Workload
A Riegler, B Aksoy, A Riener, C Holzmann – … International Conference on …, 2020 – dl.acm.org
… interaction, feedback design, dwell time, windshield display, automated driving, user study, virtual reality … In this context, augmented reality (AR) windshield displays (WSDs) [28], ie large displays … Natural language and voice interfaces [18] are also a viable option, however, not …
Understanding Users' Relationship with Voice Assistants and How It Affects Privacy Concerns and Information Disclosure Behavior
C Ghosh, MS Eastin – International Conference on Human-Computer …, 2020 – Springer
… Nass (2004) suggested the presence of voice interface was one of the anthropomorphic cues … Osei-Frimpong and McLean 2018), and virtual and augmented reality (Rauschnabel et … Brasel (2016) found that touch versus voice interfaces produced different consumer reactions to …
Controller-Free Hand Tracking for Grab-and-Place Tasks in Immersive Virtual Reality: Design Elements and Their Empirical Study
A Masurovsky, P Chojecki, D Runde, M Lafci… – Multimodal …, 2020 – mdpi.com
… Immersive Virtual Reality (VR) enables the user to "dive into" a computer-generated 3D environment … Camera-based interaction is also central to other immersive technologies such as augmented reality (AR) or mixed reality (MR), which often do not provide controllers …
Social car: The research of interaction design on the driver's communication system
Z Yu, X Lin – Concurrency and Computation: Practice and …, 2020 – Wiley Online Library
… Besides, the development of interaction technology makes voice control, the multitouch technique, gesture control, and augmented reality technology applicable to the car … The glance time of the voice interface is obviously lower than the other two …
Research Toolkit for Family Speculative Play with Future Toys
S Druga, R Michelson – Special Issue on Designing the future of …, 2020 – interact.oulu.fi
… Game Blast from the Past Mutual Engagement, Collaborative Inquiry, Intention to Develop Augmented Reality Curball Mutual … With increasing trends in smart, STEM-based, and mixed reality toys, there are tremendous opportunities to orient toy … Voice interfaces in everyday life …
Augmented reality for manual assembly in industry 4.0: Gathering guidelines
SS Agati, RD Bauer, MS Hounsell… – … Augmented Reality  …, 2020 – ieeexplore.ieee.org
… following areas: assembly, maintenance, design, manu- facturing, mobile applications, 3D models, and Virtual Reality (VR … K. A survey of industrial augmented reality Cardoso et al … In both cases, "visual, gesture, and voice interfaces are used along with force feedback systems to …
The Innovation Ultimatum: How six strategic technologies will reshape every business in the 2020s
S Brown – 2020 – books.google.com
… Chapter 5: Virtual, Augmented, and Mixed Reality What Are They and Why Are They Important … Patient: Sensors and Wearables Flip the Model Blockchain-Based Medical Records Reward Healthy Behavior and Take Us beyond Accidental Wellness Augmented Reality and 5G …
It's over there: can intelligent virtual agents point as accurately as humans?
F Wu – 2020 – open.library.ubc.ca
Learning, knowledge, research, insight: welcome to the world of UBC Library, the second-largest academic research library in Canada.
RoboTIC: A serious game based on augmented reality for learning programming
S Schez-Sobrino, D Vallejo, C Glez-Morcillo… – Multimedia Tools and …, 2020 – Springer
… This three-dimensional space can be deployed in an Augmented Reality (AR) environment that allows interaction with visual elements in a more … Also, in a more advanced way using Virtual Reality techniques, in [33] it is proposed a system that facilitates the understanding of …
Identifying personality dimensions for characters of digital agents
M Braun, F Alt – Character Computing, 2020 – Springer
… This can be used to optimize voice interfaces for limiting overall cognitive load and limiting negative effects like inattentional blindness … work could apply this technique to other domains with limiting factors for interaction, such as social robotics, augmented reality, or professional …
Jingle Jigsaw-Playful Dance Scaffolding Through Motion Detection
JD Allen, A Holzer – Extended Abstracts of the 2020 CHI Conference on …, 2020 – dl.acm.org
… 2010. A virtual reality dance training system using motion capture technology. IEEE Transactions on Learning Technologies 4, 2 (2010), 187–195 … 2018. Voice interfaces in everyday life … 2019. Astaire: A Collaborative Mixed Reality Dance Game for Collocated Players …
Computer-integrated interventional medicine: a 30 year perspective
RH Taylor – Handbook of Medical Image Computing and Computer …, 2020 – Elsevier
… devices. Can enable sophisticated visualization and "augmented reality" methods for displaying information … procedure. Typical examples include robotic systems, "augmented reality" displays, surgical navigation systems, and other devices …
A CONTEMPORARY SURVEY ON INTELLIGENT HUMAN-ROBOT INTERFACES FOCUSED ON NATURAL LANGUAGE PROCESSING
I Giachos, D Piromalis, M Papoutsidakis, S Kaminaris… – 2020 – researchgate.net
… system (Poncela & Gallardo-Estrella, 2015), as well as a RVDK (Robot Voice Development Kit) for easy implementation of voice interfaces (Bastianelli et al … Another HCI feature used is Augmented Reality (AR), whose purpose is for the user to manipulate the target objects in this …
Human factors in police mobile computer terminals: A systematic review and survey of recent literature, guideline formulation, and future research directions
M Zahabi, C Pankok Jr, J Park – Applied ergonomics, 2020 – Elsevier
JavaScript is disabled on your browser. Please enable JavaScript to use all the features on this page. Skip to main content Skip to article …
Voice Assistants and Smart Speakers in Everyday Life and in Education
G Terzopoulos, M Satratzemi – Informatics in Education, 2020 – ceeol.com
… A voice interface is essential for IoT devices that lack touch capabilities (Metz, 2014) … with cognitive disabilities or vision problems, in order to investigate how voice interfaces can assist … Virtual reality, augmented reality and voice assistants can provide new learning experiences …
Adoption of Digital Technologies in Health Care During the COVID-19 Pandemic: Systematic Review of Early Scientific Literature
D Golinelli, E Boetto, G Carullo, AG Nuzzolese… – Journal of medical …, 2020 – jmir.org
… The list of new digital solutions is rapidly growing [3]. In addition to "video visits," these options include email and mobile phone apps as well as use of wearable devices, chatbots, artificial intelligence (AI)–powered diagnostic tools, voice-interface systems, and mobile sensors …
Memory as a Common Asset. Algorithmic Generative Representations for the Reconstruction of the Community Identity after the Earthquake
G Amoruso, P Mironenko – XXXXII Convegno internazionale dei …, 2020 – re.public.polimi.it
… aumentata prima e dopo la Realtà (digitalmente) Aumentata Connecting Spaces between Art and Science: Projective Boxes as (Analogical) Augmented Reality Before and After the (Digital) Augmented Reality 511 Paolo Giordano … Is it Possible to Design with Voice Interfaces …
Il disegno per l'infanzia: approcci interdisciplinari per una nuova forma di didattica-The drawing for children: interdisciplinary approaches to a new form of education.
A Cardaci – Connettere: un disegno per annodare e tessere. 42° …, 2020 – aisberg.unibg.it
… aumentata prima e dopo la Realtà (digitalmente) Aumentata Connecting Spaces between Art and Science: Projective Boxes as (Analogical) Augmented Reality Before and After the (Digital) Augmented Reality 511 Paolo Giordano … Is it Possible to Design with Voice Interfaces …
Legature, intrecci e merletti. Le strutture tessili
S Conte, M Rossi, V Marchetti… – … Dei Docenti Delle …, 2020 – re.public.polimi.it
… aumentata prima e dopo la Realtà (digitalmente) Aumentata Connecting Spaces between Art and Science: Projective Boxes as (Analogical) Augmented Reality Before and After the (Digital) Augmented Reality 511 Paolo Giordano … Is it Possible to Design with Voice Interfaces …
Dal faro per il mare al pozzo per il cielo: la chiesa di Santa Croce a Bergamo nella memoria di Santa Maria della Grotta a Messina-From the Lighthouse to the sea to …
A Cardaci, S Innocenti – Connettere: un disegno per annodare e …, 2020 – aisberg.unibg.it
… aumentata prima e dopo la Realtà (digitalmente) Aumentata Connecting Spaces between Art and Science: Projective Boxes as (Analogical) Augmented Reality Before and After the (Digital) Augmented Reality 511 Paolo Giordano … Is it Possible to Design with Voice Interfaces …
Automatic intraoperative optical coherence tomography positioning
M Grimm, H Roodaki, A Eslami, N Navab – International journal of …, 2020 – Springer
… One method [14] proposes a complete augmented reality guidance system for big-bubble deep anterior lamellar keratoplasty (DALK) using iOCT … The framework encodes desired poses in a context-free grammar to allow for a natural voice interface …
Relative Pointing Interface: A gesture interaction method based on the ability to divide space
M Lee, J Kwahk, SH Han, H Lee – International Journal of Industrial …, 2020 – Elsevier
… of use in areas where gestures are useful to interact, such as IoT (Internet of Things) and VR (Virtual Reality)/AR (Augmented Reality) … Rapid development of technologies such as Internet of Things (IoT), Artificial Intelligence (AI), and Virtual or Mixed Reality (VR/MR) has …
Effectiveness of using voice assistants in learning: A study at the time of COVID-19
MC Sáiz-Manzanares, R Marticorena-Sánchez… – International journal of …, 2020 – mdpi.com
… 6,7]. Therefore, it can be used for the analysis of multimodal and multichannel data on SRL provided by LMS environments, in which different resources such as smart tutoring, serious games, multimedia resources, augmented reality resources, and virtual reality are applied …
A systematic review of swarm robots
I Olaronke, I Rhoda, I Gambo… – Current Journal of …, 2020 – journalcjast.com
… communication. Furthermore, studies in swarm robotics are practically limited to virtual reality simulations … communication. Furthermore, most studies in swarm robotics are limited to virtual reality simulations in Computer Science [10,19,20] …
VMCC: a virtual reality framework for augmenting mission control operations
E Anandapadmanaban – 2020 – dspace.mit.edu
… Figure 11 VIEW Project shown. (a) shows a schematic of different components of VIEW, including vir- tual control panel, 360 degree data space, 6DoF gesture tracking, tactile input, voice interface, and 3D sound cues … ACRONYMS AR Augmented Reality … VR Virtual Reality …
Human–machine metacommunication towards development of a human-like agent: A short review
A Ito – Acoustical Science and Technology, 2020 – jstage.jst.go.jp
… However, current spoken dialog systems, such as "smart speakers" and "intelligent personal assistants" [8], are not only task- oriented voice interfaces but also … [14] S. Miyake and A. Ito, "A spoken dialogue system using virtual conversational agent with augmented reality," Proc …
Rethinking the roles and skills of information professionals in the 4th Industrial Revolution
L Ayinde, H Kirkwood – Business Information Review, 2020 – journals.sagepub.com
With the development of the 4th Industrial Revolution (4th IR), its emerging technologies and skills; there is a mismatch between 4th IR, and the skills needed by information professionals to survi…
One-thumb text acquisition on force-assisted miniature interfaces for mobile headsets
LEE Lik-Hang, ZHU Yiming… – 2020 IEEE …, 2020 – ieeexplore.ieee.org
… Target Acquisition as the action of selecting icons and menus in an interface, character keys on a keyboard, or 3D objects in Virtual and Augmented Reality interfaces on … ity," https://medium.com/@ gavizoid16/immersive-entertainment-augmented- virtual-reality-fc3dd2037c20 …
The Future of User Experience Design in the Interior of Autonomous Car Driven by AI
L Giraldi – International Conference on Intelligent Human Systems …, 2020 – Springer
… command and a virtual "assistant" is at disposal to satisfy passengers needs, giving information using, for instance, augmented reality and smart … The findings can help supporting the design and the development of vehicle agent-based voice interfaces to enhance trust and user …
A Turning Point for Telehealth: COVID-19 Spurs Rapid Uptake of Connected Care
C Hayhurst – Biomedical instrumentation & technology, 2020 – meridian.allenpress.com
… technologies. He thinks it's just a matter of time before virtual reality makes its mark on telehealth, so that a "visit" with a physician might include a chat with a virtual receptionist and appear to take place in the provider's real office …
An Investigation Into The Level Of Valence Offered By Different Pointing Devices Against Challenging Tasks
E Ahmed, A Islam, M Ashraf, MI Khan… – 2020 International …, 2020 – ieeexplore.ieee.org
… 1] A. u. Batmaz and W. stuerzlinger, Ieffects of 3d rotational jitter and selection methods on 3d pointing tasYs," in 2019 IEEE Conference on Virtual Reality and 3D … [3] M. Luria, G. Hoffman, and O. ZucYerman, Icomparing social robot, screen and voice interfaces for smartYhome …
Participatory Design in the Classroom: Exploring the Design of an Autonomous Vehicle Human-Machine Interface with a Visually Impaired Co-Designer
EW Huff Jr, KM Lucaites, A Roberts… – Proceedings of the …, 2020 – journals.sagepub.com
… with 15 visually impaired persons and three orientation and mobility (O&M) instructors to develop a prototype of an augmented reality (AR) map … Included in the wireframes is the availability of a voice interface via the passenger speaking to the system or the system speaking to …
Investigating the Opportunities for Technologies to Enhance QoL with Stroke Survivors and their Families
IS Silva, J Guerreiro, M Rosa, J Campos… – Proceedings of the …, 2020 – dl.acm.org
… daily activities. Many technolog- ical solutions have been explored for physical rehabilitation, including robotics [49], virtual reality [26, 52, 57], games [2, 12, 28, 40, 54], tangibles [34], and mixed reality [12, 35]. These approaches …
Towards Empathic Conversational Interaction
M Spitale, F Garzotto – Proceedings of the 2nd Conference on …, 2020 – dl.acm.org
… be too general, and might not be able to capture some design requirements for emphatic conversational interaction that are specific of some types of social agents, eg, social robots or virtual reality agents, where … Design targeting voice interface robot capable of active listening …
PoseAsQuery: Full-Body Interface for Repeated Observation of a Person in a Video with Ambiguous Pose Indexes and Performed Poses
N Hamanishi, J Rekimoto – Proceedings of the Augmented Humans …, 2020 – dl.acm.org
… While the idea to query by pose to search a frame in the video has previously been proposed [15], we extend it and apply it to video observation in a training context. In regard to repeating a segment of a video, research focusing on a voice interface is also related to our work …
Personal Food Model
A Rostami, V Pandey, N Nag, V Wang… – Proceedings of the 28th …, 2020 – dl.acm.org
… The RGB color space has been the foundation of many advances in multimedia technology such as digital displays, virtual reality and 3D printing … Conversational voice interfaces are becoming quite popular, mak- ing rapid progress …
Voice interaction game design and gameplay
FJ Allison – 2020 – minerva-access.unimelb.edu.au
… A scene from the 2013 film Her (Jonze, 2013) stands out as an unusually apt depiction of voice interaction. The film is set in a near future in which voice interfaces have become the standard format for interacting with digital technology …
TandemTrack: Shaping Consistent Exercise Experience by Complementing a Mobile App with a Smart Speaker
Y Luo, B Lee, EK Choe – Proceedings of the 2020 CHI Conference on …, 2020 – dl.acm.org
… For the TandemTrack Alexa skill, we used Alexa Skills Kit (ASK) [4] to build the front-end voice interface, and Node.js [19] for the back-end service, which is hosted on the Amazon Web Servic Lambda [6]. The TandemTrack skill is distributed through Amazon Alexa skill's beta …
Analyzing the adoption and diffusion of voice-enabled smart-home systems: empirical evidence from Thailand
D Pal, C Arpnikanondt, S Funilkul… – Universal Access in the …, 2020 – Springer
The market for voice assistants (VAs) and other allied voice-based smart-home products is gradually emerging. The initial growth has been slower than expec.
AN EXTENDED KEY COMPETENCE FRAMEWORK TO MASS CUSTOMIZE AFTER-SALES SERVICES
PC Gembarski, J Brinker, O Thomas – researchgate.net
… life. Augmented reality (AR) glasses are intended to reduce this problem … diagnosis. Also using AR glasses, the technician logs on sensor data and uses the voice interface to navigate through the machine documentation. 72 Page 7 …
Supporting People with Vision Impairments in Automated Vehicles: Challenge and Opportunities
R Brewer, N Ellison – 2020 – deepblue.lib.umich.edu
… Interestingly, few participants (n = 3) described using Aira1, an augmented reality headset technology that connects people with vision impairments to live agents or "visual interpreters": "When I order Uber or Lyft, I can order it through my visual interpreter, and then the visual …
A Review of Smart Design Based on Interactive Experience in Building Systems
Z Li, J Zhang, M Li, J Huang, X Wang – Sustainability, 2020 – mdpi.com
… New Ways of Working and the Physical Environment to Improve Employee Engagement. Previous Article in Special Issue Deep-Learning-Based Stress-Ratio Prediction Model Using Virtual Reality with Electroencephalography Data …
A Complete Bibliography of ACM Transactions on Accessible Computing
NHF Beebe – 2020 – netlib.org
… Blind leading the sighted: Drawing design insights from blind users towards more productivity-oriented voice interfaces. ACM Transactions on Ac- cessible Computing, 12(4):1–35, January 2020 … Effects of virtual reality proper- ties on user experience of individuals …
Navigating the Combinatorics of Virtual Agent Design Space to Maximize Persuasion
D Parmar, S Ólafsson, D Utami, P Murali… – Proceedings of the …, 2020 – researchgate.net
… studied the effects of an animated and static virtual human in a medical virtual reality system for educating nurses about the signs … Users interacting with the TTS-only interface performed the task significantly better, while users interacting with a mixed-voice interface thought they …
The state of voice user interfaces in Latin America
AL Iñiguez-Carrillo, LS Gaytán-Lugo… – Avances en …, 2020 – aihc.amexihc.org
… Virtual reality 4 30 24 59 … In 17th Symposium on Virtual and Augmented Reality, SVR 2015, Institute of Electrical and Electronics Engineers Inc., Diretoria de Inovac?õ e Novos Negócios, Cientistas Desenvolvimento Tecnológico Ltd, Saõ Carlos, SP, Brazil, 127–132 …
All Rise for the AI Director Eliciting Possible Futures of Voice Technology through Story Completion
J Cambre, S Reig, Q Kravitz, C Kulkarni – Proceedings of the 2020 ACM …, 2020 – dl.acm.org
… The HCI and Design communities have only recently adopted story completion as a method. Most notably, Wood et al. [56] analyzed 45 stories gathered through story completion to un- derstand "cultural ideals" around virtual reality pornography …
Multi-person Spatial Interaction in a Large Immersive Display Using Smartphones as Touchpads
G Sharma, RJ Radke – Proceedings of SAI Intelligent Systems Conference, 2020 – Springer
… Since there were 3 games for the touch-only interface and 3 for the voice interface, each pair of participants played 6 games … J., Papka, M., Barnes, C., M. Cohen, S., Das, S., et al.: Scientist in wonderland: a report on visualization applications in the cave virtual reality environment …
Competitive advantages of US companies in information and communication technologies
V PERSKAYA, L KRASAVINA, V ABRAMOV… – Revista …, 2020 – revistaespacios.com
… Robots, autonomous vehicles, virtual reality, AI, machine learning, unmanned aerial vehicles and the Internet of things are rapidly moving … With the advent of faster networks, mobile applications and a voice interface, mathematical calculations become ubiquitous and integrated …
Understanding Older Adults' Participation in Design Workshops
A Pradhan, B Jelen, KA Siek, J Chan… – Proceedings of the 2020 …, 2020 – dl.acm.org
… for themselves through participatory methods [46,47,69,79]. Researchers have used these methods in areas as diverse as banking systems [79] to social virtual reality applications [4]. From this work to date, we have learned …
A Review of Automated Speech-Based Interaction for Cognitive Screening
C Boletsis – Multimodal Technologies and Interaction, 2020 – mdpi.com
… Other systems, like the ones presented by Di Nuovo et al. [11] and Luperto et al. [14], utilise some of the modalities mentioned before to combine voice interfaces with other types of interfaces and offer multimodal interaction …
Exploring Smart Agents for the Interaction with Multimodal Mediated Environments
R Richer, N Zhao, BM Eskofier, JA Paradiso – Multimodal Technologies …, 2020 – mdpi.com
… the Peripheral Vision during Electronic Text Reading. Previous Article in Journal Iterative Prototyping of Urban CoBuilder: Tracking Methods and User Interface of an Outdoor Mobile Augmented Reality Tool for Co-Designing …
Three-button gateway smart home interface (TrueSmartface) for elderly: Design, development and deployment
S Sharma, J Wong – Measurement, 2020 – Elsevier
… The study suggests that the voice interface apparently has better acceptability compared to other intrusive approaches to aid and ease the daily living of … [3] explore the possibilities of inclusion of contemporary technologies such as Virtual Reality and downloadable hypertext …
A multistudy investigation of drivers and passengers' gesture and voice input preferences for in-vehicle interactions
LB Bilius, RD Vatavu – Journal of Intelligent Transportation …, 2020 – Taylor & Francis
… complex toward smart, connected, and autonomous vehicles, but also toward integration with the Internet-of-Things (Igorevich & Min, 2015; Taherkhani et al., 2016) and Augmented Reality (Langlois et al … (2010) proposed a prototype for a conversational voice interface to reduce …
Spatial soundscape superposition and multimodal interaction
M Cohen, WL Martens – The Technology of Binaural Understanding, 2020 – Springer
… personal audition systems also include virtual reality (vr) and augmented reality (ar) auditory … mounted displays (hmds). Vr and ar are generally considered mixed reality (mr), so … 4 Extended reality (XR), location, and social diffusion taxonomy—The horizontal Extended Reality (xr …
Artificial intelligence in healthcare: An essential guide for health leaders
M Chen, M Decary – Healthcare management forum, 2020 – journals.sagepub.com
Artificial Intelligence (AI) is evolving rapidly in healthcare, and various AI applications have been developed to solve some of the most pressing problems that health organizations currently face….
Natural Sciences Teaching By using of ICTs to Individuals with Special Educational Needs
MTL Kontopoulou, AS Drigas – researchgate.net
… Via the Dragon Dictate voice interface students use a packaged Authorware to control the … In this environment student can know and interact with a 3D Virtual Reality (VR) environment … SMALLab is a mixed reality environment where participants interact face–to-face in an …
Perspective and evolution of gesture recognition for sign language: a review
J Galván-Ruiz, CM Travieso-González… – Sensors, 2020 – mdpi.com
… this context, on one side, the use of touch screens and voice interfaces is currently … applied in multiple areas, such as patient monitoring, virtual and augmented reality navigation and … 2). Later, in 1969, engineer Myron Krueger started working with virtual reality prototypes, and …
Secure Voice Input on Augmented Reality Headsets
J Shang, J Wu – IEEE Transactions on Mobile Computing, 2020 – ieeexplore.ieee.org
… 1 Secure Voice Input on Augmented Reality Headsets Jiacheng Shang and Jie Wu, Fellow, IEEE Abstract—Voice-based input is usually used as the primary input method for augmented reality (AR) headsets due to immersive AR experience and good recognition performance …
Considerations for oral and maxillofacial surgeons in COVID-19 era: can we sustain the solutions to keep our patients and healthcare personnel safe?
R Chigurupati, N Panchal, AM Henry, H Batal… – Journal of Oral and …, 2020 – Elsevier
… technological innovations (ex. voice-interface, chat bots etc.) in health care delivery[10] The fact that we have all adopted these technologies rapidly is verification that, "Necessity is the mother of Invention". Such opportunities …
Collaboration Around an Interactive Tabletop Map: Comparing Voice Interactions and a Tangible Shape-changing Controller
SG Dellana, S Johansson, SB Poulsen… – … Conference on Mobile …, 2020 – dl.acm.org
… experience of autonomous driving. Additionally, we look at examples of work on shape-change and voice interfaces to highlight relevant insights on the benefits and limits of both modalities. 2.1 Controlling Autonomous Vehicles …
CHAPTER FOURTEEN PROTEST AND ACTIVISM IN WORLD DIGITAL LITERATURE: IMAGINING THE INTERNET
M PORTELA – Literature and the Arts since the 1960s: Protest …, 2020 – books.google.com
… The fact that game engines, flight simulators and virtual reality tools are routinely used as war-training tools or as war- display interfaces of remote … 22 The large-scale use of voice interfaces is yet another instance of the ways in which the internet has become part of the 21 https …
Otter this world can a mobile application promote children's connectedness to nature?
S Kawas, NS Kuhn, M Tari, A Hiniker… – Proceedings of the …, 2020 – dl.acm.org
… 48,49,56,60]. Another body of work has explored ways to leverage mobile technologies and augmented reality in an effort to support children's engagement in outdoor science inquiry [17,25,31,43,61,62]. We could find only …
Media Equation
RJ Lee?Won, YK Joo, SG Park – The International Encyclopedia …, 2020 – Wiley Online Library
… Namely, although the human?like attributes of the voice interface did not necessarily elicit greater social responses to the flattering computer, participants low in rationality and high in experientiality were more likely to "buy" the flattering comments from the human?like computer …
Virtual and augmented reality: Advancing research in consumer marketing
M Wedel, E Bigné, J Zhang – International Journal of Research in …, 2020 – Elsevier
… Share. Export. Advanced. Elsevier. International Journal of Research in Marketing. Volume 37, Issue 3, September 2020, Pages 443-465. International Journal of Research in Marketing. Full Length Article. Virtual and augmented reality: Advancing research in consumer marketing …
Mobile Device Usage Recommendation based on User Context Inference Using Embedded Sensors
C Shi, X Guo, T Yu, Y Chen, Y Xie… – 2020 29th International …, 2020 – ieeexplore.ieee.org
… Embedded Sensors of Mobile Devices Indoor Physical Environment Outdoor Multiple Users Single User Social Situation Static Motion Dynamic Motion ynamic Mo Human Motion Displaying Warning Message Muting Notification Activating Voice Interface No Restriction Fig …
Emerging Technologies
A Sunyaev – Internet Computing, 2020 – Springer
… immersive technologies. Section 12.2 specif- ically explains mixed reality, augmented reality, and virtual reality by discussing their basic working principles, exemplary applications, and potential future impact. Simi- larly, the …
Current and future global challenges in management and leadership: Finance and quantum computing
NM Casati – Paradigm shift in management philosophy, 2020 – Springer
… Customer customization includes voice interface, which still needs improvement … chatbots" which has pushed other areas such as "cognitive automation" and "augmented reality" (Thite, 2019 … it can still be obfuscated by our free will to trust quantum virtual reality delusions instead …
FrownOnError: Interrupting Responses from Smart Speakers by Facial Expressions
Y Yan, C Yu, W Zheng, R Tang, X Xu… – Proceedings of the 2020 …, 2020 – dl.acm.org
Page 1. CHI 2020 Paper CHI 2020, April 25–30, 2020, Honolulu, HI, USA FrownOnError: Interrupting Responses from Smart Speakers by Facial Expressions Yukang Yan1, Chun Yu12†, Wengrui Zheng1, Ruining Tang1, Xuhai …
Digital ethnography of home use of digital personal assistants
J Paay, J Kjeldskov, KM Hansen… – Behaviour & …, 2020 – Taylor & Francis
… The voice interface works great […] Home automation is a lot slicker when you can turn on a light by saying 'Alexa, turn on the living room light' instead of having to first find and unlock your phone, then search for and open the relevant app. (Amazon) …
Critical Analysis On Legal Aid Regulation For Marginal Community Based On Legal Language
A Wijayanti – TEST: Engineering & Management, 2020 – repository.um-surabaya.ac.id
Page 1. 2/9/2020 TEST Engineering & Management www.testmagzine.biz/index.php/testmagzine 1/2 …
Review of Quantitative Empirical Evaluations of Technology for People with Visual Impairments
E Brulé, BJ Tomlinson, O Metatla, C Jouffrais… – Proceedings of the …, 2020 – dl.acm.org
Page 1. CHI 2020 Paper CHI 2020, April 25–30, 2020, Honolulu, HI, USA Review of Quantitative Empirical Evaluations of Technology for People with Visual Impairments Emeline Brulé Brianna J. Tomlinson Oussama Metatla …
Universal Access in Human-computer Interaction: Design Approaches and Supporting Technologies: 14th International Conference, UAHCI 2020, Held as …
M Antona, C Stephanidis – 2020 – books.google.com
… Can Virtual Reality Help … LNCS 12191, Virtual, Augmented and Mixed Reality: Industrial and Everyday Life Applications (Part II), edited by Jessie YC Chen … Hammad Hassan Qureshi and Doris Hooi-Ten Wong 311 Virtual and Augmented Reality for Universal Access Large Scale …
Large Interactive Laser Light-Field Installation (LILLI)
TJ Schoeppner – 2020 – dspace.mit.edu
… 3D display technologies, such as virtual reality (VR), re- quired a new interaction framework since many functions on 11 Page 13. Figure 2-2: An interactive window display at a shop in London [38] … Sharma and Radke [56] combined gestural and voice interfaces and 16 Page 18 …
Intentions, Meanings, and Whys: Designing Content for Voice-based Conversational Museum Guides
F Barth, H Candello, P Cavalin… – Proceedings of the 2nd …, 2020 – dl.acm.org
… 1995. Audio augmented reality: a prototype automated tour guide. In Conference companion on Human factors in computing systems … 2019. Progressivity for voice interface design. In Proceedings of the 1st International Conference on Conversational User Interfaces. ACM, 26 …
Reducing loneliness among elderly with decreased mobility using technology
RM Lok – 2020 – essay.utwente.nl
… The technology of virtual and augmented reality is also seeing growing attention in the past years. Virtual reality is defined in the Oxford dictionary as "The computer-generated simulation of a three-dimensional image or environment that can be interacted with in a seemingly …
The Construction Technology Handbook
H Seaton – 2020 – books.google.com
… Hugh, being an advocate of virtual reality (VR)/artificial intelligence (AI) and all things technology, wanted to deep dive into our world … Damon Hernandez introduced me to Silicon Valley, Virtual and Augmented Reality, and showed me how to run a hackathon – his friendship has …
Investigating family perceptions and design preferences for an in-home robot
B Cagiltay, HR Ho, JE Michaelis, B Mutlu – Proceedings of the Interaction …, 2020 – dl.acm.org
… Luria et al. [38] compared the usability of a social robot with screen and voice interfaces for a smart-home control system and reported that user perceptions of flow, engagement, enjoyment, and situation awareness were higher for an embodied social robot …
A synopsis of input modalities for in-vehicle infotainment and consumption of interactive media
LB Bilius, RD Vatavu – ACM International Conference on Interactive …, 2020 – dl.acm.org
Page 1. A Synopsis of Input Modalities for In-Vehicle Infotainment and Consumption of Interactive Media Laura-Bianca Bilius MintViz Lab | MANSiD Research Center University ?tefan cel Mare of Suceava Suceava 720229, Romania laura.bilius@usm.ro …
Usability of Voice-based Intelligent Personal Assistants
DS Zwakman, D Pal, T Triyason… – … on Information and …, 2020 – ieeexplore.ieee.org
… weather, maps, scheduling meetings, making calls, making payments and much more [1]. However, extant research has shown that although many of the modern day devices are capable of multimodal interactions (from smartphones to smart-speakers to virtual reality), yet the …
Paradigm Shift in Remote Eye Gaze Tracking Research: Highlights on Past and Recent Progress
IS Shehu, Y Wang, AM Athuman, X Fu – Proceedings of the Future …, 2020 – Springer
… Later surveys [3, 81, 122] presented a wider usage for eye tracking including that of REGTs, adding augmented reality [21, 32, 141, 169, 190], bio-metric authentication [33, 34, 52, 108, 206], and human behavior analysis [17, 62, 159, 163, 164] …
Semantic voice search in IETP: filling the gap for maintenance 4.0
HC Marques, A Giacotto, CE Scussiatto… – Journal of Quality in …, 2020 – emerald.com
… handling printed pages. There are several alternatives such as remote human assistant, augmented reality devices and text-reading digital assistant, but all of them need an improved ICT infrastructure. The mechanics showed …
Free software virtual assistants for designing pervasive gaming experiences to promote active aging: State of the art
E Nacimiento-Garc?a, GG Carina – 2020 – ceur-ws.org
… Hinske, S., Lampe, M., Magerkurth, C., Röcker, C.: Classifying Pervasive Games: On Pervasive Computing and Mixed Reality. 21 11 … Coucke, A., et al.: Snips Voice Platform: an embedded Spoken Language Un- derstanding system for private-by-design voice interfaces …
Eye Tracking Algorithms, Techniques, Tools, and Applications with an Emphasis on Machine Learning and Internet of Things Technologies
AF Klaib, NO Alsrehin, WY Melhem… – Expert Systems with …, 2020 – Elsevier
Novel Human-in-the-Loop (HIL) Simulation Method to Study Synthetic Agents and Standardize Human–Machine Teams (HMT)
P Damacharla, P Dhakal, JP Bandreddi, AY Javaid… – Applied Sciences, 2020 – mdpi.com
… The US military has keenly started to show its interest in artificial intelligence (AI) and augmented reality (AR) to improve their medical modeling and simulation (MMS) programs that train doctors, nurses, and first respondents in handling real-world situations …
The Swinging Politics of American Capitalism
A Kessler – Horizons: Journal of International Relations and …, 2020 – JSTOR
Page 1. 148 nS zori Ho Autumn 2020, No.17 148 nS zori Ho Autumn 2020, No.17 in three the jum tery, wh with th In 19 gone th Volcke Now it As in 1 "the m es, dere has it r side of tainly n corpor phased The Swinging Politics of American Capitalism Andy Kessler …
Can we talk? How a talking agent can improve human autonomy team performance
A Bogg, S Birrell, MA Bromfield… – Theoretical Issues in …, 2020 – Taylor & Francis
… Battiste et al. (2018, 491) remarked that the Pilot participants of their research into Human Autonomy Teaming recommended giving the automation 'a better voice interface that uses natural language'. However, conversely, the …
Interaction with the Soundscape: Exploring Emotional Audio Generation for Improved Individual Wellbeing
A Baird, M Song, B Schuller – International Conference on Human …, 2020 – Springer
… In: Proceedings ICME 2017, pp. 1051–1056. IEEE, Hong Kong, July 2017Google Scholar. 45. Paterson, N., Naliuka, K., Jensen, SK, Carrigy, T., Haahr, M., Conway, F.: Design, implementation and evaluation of audio for a location aware augmented reality game …
The Fabrication Commons: Creative Agency Through Intuitive Interfaces
A Gontarz – 2020 – uwspace.uwaterloo.ca
Page 1. The Fabrication Commons: Creative Agency Through Intuitive Interfaces by Alexander Gontarz A thesis presented to the University of Waterloo in fulfilment of the thesis requirement for the degree of Master of Architecture …
Infrared head pose estimation with multi-scales feature fusion on the IRHP database for human attention recognition
H Liu, X Wang, W Zhang, Z Zhang, YF Li – Neurocomputing, 2020 – Elsevier
JavaScript is disabled on your browser. Please enable JavaScript to use all the features on this page. Skip to main content Skip to article …
DESIGN, USER EXPERIENCE, AND USABILITY. DESIGN FOR CONTEMPORARY INTERACTIVE
A Marcus, E Rosenzweig – 2020 – books.google.com
… LNCS 12191, Virtual, Augmented and Mixed Reality: Industrial and Everyday Life Applications … Marcelo M. Soares Designing Games and Immersive Experiences Augmented Reality Interface Design to … Teeuw 391 Analyzing the User Experience of Virtual Reality Storytelling with …
User Behaviour with Unguided Touchless Gestural Interfaces
M Henschke – 2020 – openresearch-repository.anu.edu.au
… (1997), adapted to include full body movements rather than just hands and arms. ….18 Figure 2.3: A multimodal pointing/voice interface described in Bolt (1980). …33 …
Intelligent personal assistants: A systematic literature review
A de Barcelos Silva, MM Gomes, CA da Costa… – Expert Systems with …, 2020 – Elsevier
JavaScript is disabled on your browser. Please enable JavaScript to use all the features on this page. Skip to main content Skip to article …
Nobody Speaks that Fast! An Empirical Study of Speech Rate in Conversational Agents for People with Vision Impairments
D Choi, D Kwak, M Cho, S Lee – … of the 2020 CHI Conference on Human …, 2020 – dl.acm.org
Page 1. CHI 2020 Paper CHI 2020, April 25–30, 2020, Honolulu, HI, USA "Nobody Speaks that Fast!" An Empirical Study of Speech Rate in Conversational Agents for People with Vision Impairments Dasom Choi Department …
Usability guidelines and evaluation criteria for conversational user interfaces: a heuristic and linguistic approach
K Sugisaki, A Bleiker – Proceedings of the Conference on Mensch und …, 2020 – dl.acm.org
… 10 heuristics. Nielsen's heuristics have been applied widely to various applications such as e-learning application[1], second-screen ap- plication [47], augmented reality [31], video games [64], ambient displays [50]. Previous …
Framing the design space of multimodal mid-air gesture and speech-based interaction with mobile devices for older people
O Mich, G Schiavo, M Ferron, N Mana – International Journal of …, 2020 – igi-global.com
… of thedevice.Mid-airinteractionbasedontouchlessgestureshasbeenexploredasaninputmodality for large displays (Nancel, Wagner, Pietriga, Chapuis, & Mackay, 2011), mobile phones (Jones, Sodhi,Forsyth,Bailey,&Maciocci,2012),augmentedreality(Piumsomboon,Clark …
The Usability of Interaction Methods in Augmented Reality
B Munsinger – 2020 – search.proquest.com
… Supervising Professor: John Quarles, Ph.D. Augmented reality (AR) is a type of virtual reality in which computer generated holograms can be seen overlaid on the real world … (S = subject, R = researcher, VR/AR = virtual reality/augmented reality) . . . . 66 xii …
Smartphones in mental health: a critical review of background issues, current status and future concerns
M Bauer, T Glenn, J Geddes, M Gitlin, P Grof… – International journal of …, 2020 – Springer
There has been increasing interest in the use of smartphone applications (apps) and other consumer technology in mental health care for a number of years. However, the vision of data from apps seamlessly returned to, and integrated in, the electronic medical record (EMR) to assist …
Voice Control of Fetch Robot Using Amazon Alexa
P Liu – 2020 – vtechworks.lib.vt.edu
… 51 x Page 11. List of Abbreviations ADA Americans with Disabilities Act AMR Autonomous Mobile Robot AR Augmented Reality AWS Amazon Web Service FoV Field of View IDL Interface Definition Language IMU Inertial Measurement Unit IoT Internet of Things …
Review of Experimental Evaluations Methods of Technology for Visually Impaired People
E Brulé, B Tomlinson, O Metatla, C Jouffrais, M Serrano – 2020 – oatao.univ-toulouse.fr
Page 1. Official URL https://doi.org/10.1145/3313831.3376749 Any correspondence concerning this service should be sent to the repository administrator: tech-oatao@listes-diff.inp-toulouse. fr This is an author's version published in: http://oatao.univ-toulouse.fr/26331 …
Conceptualising technology, its development and future: The six genres of technology
S Harwood, S Eaves – Technological Forecasting and Social Change, 2020 – Elsevier
ML for UX?-An Inventory and Predictions on the Use of Machine Learning Techniques for UX Research
M Chromik, F Lachner, A Butz – … of the 11th Nordic Conference on …, 2020 – dl.acm.org
… Historically, most academic research on ML within the HCI community had a technical focus on how to improve the interaction with systems (eg, through adaptive interfaces) or develop new modes of interaction (eg, gesture and voice interfaces) [6]. In the opposite sense, HCI …
Modelling of Internet of Things (IoT) for Healthcare
S Kolarkar – 2020 – search.proquest.com
… producing the desired results. Voice interface could act as a good digital assistant for physician in examination room, operating room … Thanks to technology, patients get better treatment with virtual reality tools, wearable medical devices, telehealth, and 5G mobile technology …
Conversational User Interfaces on Mobile Devices: Survey
R Jaber, D McMillan – Proceedings of the 2nd Conference on …, 2020 – dl.acm.org
… The study has shown that voice interfaces provide a significant advantage over the touch interface in terms of distraction and length of interaction while driving. Similarly, He et al. [38] also conducted a study to asses the Page 3 …
Model-Driven Requirements for Humans-on-the-Loop Multi-UAV Missions
A Agrawal, J Cleland-Huang… – 2020 IEEE Tenth …, 2020 – ieeexplore.ieee.org
… graphical user interface (GUI). Researchers have described other forms of interactions [16], including haptic and voice interfaces [17], [18], but these are infrequently used in emergency response applications. A. DroneResponse: A …
Voice-based Conversational Agents for the Prevention and Management of Chronic and Mental Conditions: A Systematic Literature Review
C Bérubé, T Schachner, R Keller, E Fleisch… – JMIR Preprints 30/11 …, 2020 – cocoa.ethz.ch
Page 1. JMIR Preprints Bérubé et al Voice-based Conversational Agents for the Prevention and Management of Chronic and Mental Conditions: A Systematic Literature Review Caterina Bérubé, Theresa Schachner, Roman …
Conversational Interface for Secondary Tasks While Driving a Car
BL Chvátal – 2020 – core.ac.uk
… Asynchronous communication is divided into three phases: interaction with the voice interface, lis- tening to the message, answering message. It depends on the driver when the specific phase will be processed. 2.1.1 Environment …
Voice Games: The History of Voice Interaction in Digital Games
T Kiiski – 2020 – theseus.fi
… In recent years, the pace has intensified. A 2017 study by Allison and colleagues (Al- lison et al. 2017) attributes the renewed relevance of voice interfaces in game design to three parallel developments. These developments include a series of rapid improvements in speech …
Using tangible user interfaces for teaching concepts of internet of things
A Nathoo, G Bekaroo, T Gangabissoon… – … Technology and Smart …, 2020 – emerald.com
… methods of interaction between human beings and the digital world using various techniques including the graphical user interfaces (GUIs) that involve interaction with devices such as mouse, trackpads or smartphone touchscreens, in addition to voice interfaces that entail …
Usability and User eXperience Evaluation of Conversational Systems: A Systematic Mapping Study
GC Guerino, NMC Valentim – … of the 34th Brazilian Symposium on …, 2020 – dl.acm.org
… Population ("conversational system*" OR "voice interface*" OR "voice recognition" OR "voice-based interaction" OR "voice interaction" OR "speech interface*" OR "speech recognition" OR "dialogue interface*" OR "dialogue agent*" OR "speaker recognition*") AND …
Conversational Crowdsourcing for Older Adults: a Wikipedia Chatbot Concept
K Skorupska, K Warpechowski, R Nielek… – Proceedings of 18th …, 2020 – dl.eusset.eu
… (2019), which could appear after the conversation with Gizmo concludes. A screen-supported voice interface is an excellent environment to implement this solution. Example conversation An example conversation on how the chatbot interacts with the user is given below …
Thermal Interaction for Improving Tactile Artwork Depth and Color-Depth Appreciation for Visually Impaired People
J Iranzo Bartolomé, JD Cho, L Cavazos Quero, S Jo… – Electronics, 2020 – mdpi.com
… Double tapping activated explanatory audio feedback and triple tapping activated a sound effect feedback related to what is touched. A user voice interface was also added to facilitate the control of the system by giving the users the chance of using their voice as input …
Human Factors Studies on Automotive Head-Up Display Design
??? – 2020 – s-space.snu.ac.kr
… based on the fact that the range of possible automotive HUD functions is expanding with the advent of new technologies in the areas of photonics, augmented reality … 2013), and, supporting augmented reality games (Schroeter et al., 2014; Steinberger et al., 2015) …
Brand conversation: Linguistic practices on social media in the light of face-work theory
A Andriuzzi, G Michel – Recherche et Applications en …, 2020 – journals.sagepub.com
The rise of social media has resulted in brand–consumer interaction and more frequent conversations between consumers and brand representatives. To better understand how this 'brand conversation' o…
Library and Educational Use Cases
E Rivero – Library Technology Reports, 2020 – search.proquest.com
Page 1. 14 Library Technology Reports alatechsource.org Ma y/June 2020 Virtual Voice Assistants Win Shih and Erin Rivero Library and Educational Use Cases Erin Rivero Chapter 2 In a world increasingly powered by machine …
Smart and Healthy Ageing through People Engaging in supporting Systems
A Andreou, X Constandinos, L D'Arino, Ó Pérez… – shapes2020.eu
Page 1. D5.1 – SHAPES User Experience Design and Guidelines Version 3.0 This project has received funding from the European Union's Horizon 2020 research and innovation programme under grant agreement No 857159 Smart and Healthy Ageing through People …
Prompto: Investigating Receptivity to Prompts Based on Cognitive Load from Memory Training Conversational Agent
SWT Chan, S Sapkota, R Mathews, H Zhang… – Proceedings of the …, 2020 – dl.acm.org
… The app had a voice interface and a text-based chat interface for users who were uncomfortable with speech interaction or require … Having both voice and text-based interfaces has been suggested to overcome privacy and preference limitations of purely voice interfaces [69] …
Digital Technology for Older People
H Petrie, JS Darzentas – The Oxford Handbook of Digital …, 2020 – books.google.com
Page 179. chapter 6 Digital Technology for Older People A Review of Recent Research Helen Petrie and Jenny S. Darzentas Introduction One of the great challenges facing the world today is the aging of the population. The …
Application of Affordance Factors for User-Centered Smart Homes: A Case Study Approach
Y Cho, A Choi – Sustainability, 2020 – mdpi.com
Smart homes improve quality of life by providing various services based on information and communication technologies. However, smart home systems are complicated and user interfaces for the interaction between smart home and user are often not user-friendly, causing potential …
Economics of Cryptocurrencies: Artificial Intelligence, Blockchain, and Digital Currency
JD Agarwal, M Agarwal, A Agarwal… – World Scientific Book …, 2020 – World Scientific
Page 1. 331 © 2021 World Scientific Publishing Company https://doi.org/10.1142/ 9789811220470_0013 Chapter 13 Economics of Cryptocurrencies: Artificial Intelligence, Blockchain, and Digital Currency JD Agarwal Indian …
Real-time human action and gesture recognition using skeleton joints information towards medical applications
MS Kibbanahalli Shivalingappa – 2020 – papyrus.bib.umontreal.ca
… Keywords— Human action in Virtual Environment, Gesture detection, Medical infor- matics, Virtual Reality Systems, Deep learning, VR solution for Alzheimer's, Human factors for medical treatment. 7 Page 8 … USB Universal Serial Bus VR Virtual Reality 19 Page 20. Page 21 …
AgeTech, Cognitive Health, and Dementia
A Sixsmith, J Sixsmith, ML Fang… – Synthesis Lectures on …, 2020 – morganclaypool.com
Page 1. SIXSMIT H • E T AL A GE T ECH, C O GNIT IVIE H EAL T H, AND DE ME N T IA M O R GAN & CL A YPOO L Page 2. Page 3. AgeTech, Cognitive Health, and Dementia Page 4. Page 5. iii Synthesis Lectures on Assistive, Rehabilitative, and Health-Preserving Technologies …
An empirically grounded sociotechnical perspective on designing virtual agents for older adults
J Sin, C Munteanu – Human–Computer Interaction, 2020 – Taylor & Francis
Autonomous, intelligent virtual agents (IVAs) are increasingly used commercially in essential information spaces such as healthcare. Existing IVA research has focused on microscale interaction patt…
HCI in Mobility, Transport, and Automotive Systems: Driving Behavior, Urban and Smart Mobility: Second International Conference, MobiTAS 2020, Held as …
H Krömker – 2020 – books.google.com
… LNCS 12191, Virtual, Augmented and Mixed Reality: Industrial and Everyday Life Applications … in Youth with Intellectual Disabilities Using Fully Immersive Virtual Reality – A Feasibility … Kalayci, Alexander Stocker, and Bettina Kubicek 379 Using Augmented Reality to Mitigate …
Interactive Privacy Preferences Management for Shared Spaces in Internet of Things
BA Muhander, J Wiese, O Rana, C Perera – arXiv preprint arXiv …, 2020 – arxiv.org
… inferred knowledge). The fact that voice interfaces are considered more natural and do not require as much interaction as other interfaces [110], they span many other applications that have di erent sensing abilities. These applications …
Introduction to information systems
RK Rainer, B Prince, I Splettstoesser-Hogeterp… – 2020 – books.google.com
Page 1. Introduction to Information Systems Supporting and Transforming Business Fifth Canadian Edition R. KELLY RAINER, JR. BRAD PRINCE CRISTÓBAL SÁNCHEZ-RODRÍGUEZ INGRID SPLETTSTOESSER HOGETERP …
Knowledge-Based Explorable Extended Reality Environments
J Floty?ski – Springer
… development of new IT technologies, including virtual reality (VR) and augmented reality (AR), mobile … Despite various possible structures of mixed reality scenes, a lot of common technologies … of such technologies under a single, more general term—extended reality (XR)—has …
Karola Pitsch (2020): Answering a robot's questions. Participation dynamics of adult-child-groups in encounters with a museum guide robot. In: Réseaux, 220 …
K PITSCH – duepublico2.uni-due.de
Page 1. ANSWERING A ROBOT'S QUESTIONS: PARTICIPATION DYNAMICS OF ADULT-CHILD-GROUPS IN ENCOUNTERS WITH A MUSEUM GUIDE ROBOT KAROLA PITSCH1 Current trends in artificial intelligence and …
Surveillance: Technologies, Techniques and Ramifications
BG Blundell – Ethics in Computing, Science, and Engineering, 2020 – Springer
… have been quickly revealed. In Sect. 4.5 we turn our attention to forms of augmented reality which enable (in principle) real and synthetic image content to be overlaid on a single display screen. Evangelists of this general approach …
Landscape Stories. Racconti visuali sul paesaggio del quotidiano/Landscape Stories. Visual Storytelling on the Everyday Landscape
C Casonato, G Cossa – … congresso della unione italiana per il …, 2020 – re.public.polimi.it
… aumentata prima e dopo la Realtà (digitalmente) Aumentata Connecting Spaces between Art and Science: Projective Boxes as (Analogical) Augmented Reality Before and After the (Digital) Augmented Reality 511 Paolo Giordano … Is it Possible to Design with Voice Interfaces …
And This, Kids, Is How I Met Your Mother: Consumerist, Mundane, and Uncanny Futures with Sex Robots
GM Troiano, M Wood, C Harteveld – … of the 2020 CHI Conference on …, 2020 – dl.acm.org
Page 1. CHI 2020 Paper CHI 2020, April 25–30, 2020, Honolulu, HI, USA "And This, Kids, Is How I Met Your Mother": Consumerist, Mundane, and Uncanny Futures with Sex Robots Giovanni Maria Troiano Matthew Wood Casper Harteveld …
The Transformation of Journalism in the Networked Age
S Oláh – werkstatt.unideb.hu
Page 1. Werkstatt, 13 (2018) 1-34 ISSN 2061-8999 Aufsatz The Transformation of Journalism in the Networked Age Trends of News Production in the Hungarian Digital Economy Szabolcs Oláh Department of Communication …
Developing and Evaluating Wearable Input Device Interfaces to Direct a Team of Agents
AS Khalaf – 2020 – search.proquest.com
… 2.3.3 Mixed Reality Game Mixed Realities are systems that connect virtual and physical reality in some meaningful way through the use of networks, sensors, and databases [120]. These range from augmented reality that integrates computer-generated objects into the physical …
DESIGN, USER EXPERIENCE, AND USABILITY. CASE STUDIES IN PUBLIC AND PERSONAL
A Marcus, E Rosenzweig – 2020 – books.google.com
… LNCS 12191, Virtual, Augmented and Mixed Reality: Industrial and Everyday Life Applications (Part II), edited by Jessie YC … A Virtual Reality Study … 393 405 ERA – Augmented Reality Teaching – Assistive Technology Developed for the Literacy Process of Children with ASD …
Designing and Evaluating Young Children's Interaction During an Alexa Trivia Game
Y Du – 2020 – escholarship.org
… old. The game Animal Actions was designed by drawing on different bodies of literature, including accessibility in voice interface design from human computer interaction (HCI) and assistive technology research, game design, and communication science and disorders. It …
Proceedings of 17th European Conference on Computer-Supported Cooperative Work–Doctoral Colloquium
L Ciolfi, A Salovaara, I Wagner, M Koch – eusset.eu
… 113. Porcheron, Martin, Joel E. Fischer, Stuart Reeves, und Sarah Sharples. (2018): Voice Interfaces in Everyday Life. In Proceedings of the 2018 CHI Conference on Human Factors in Computing Systems – CHI '18, 1–12. Montreal …
Thermal Interaction for Improving Tactile Artwork Depth and Color-Depth Appreciation for Visually Impaired People
JI Bartolomé, JD Cho, LC Quero, S Jo, G Cho – search.proquest.com
… Double tapping activated explanatory audio feedback and triple tapping activated a sound effect feedback related to what is touched. A user voice interface was also added to facilitate the control of the system by giving the users the chance of using their voice as input …
Theory: Foundations of Quality in Natural and Synthesized Speech
B Weiss – Talker Quality in Human and Machine Interaction, 2020 – Springer
… Especially with this emergence of new, voice-driven services, however, the interest increases to study the experienced quality of such voice-interfaces and in particular, how likable such a synthetic voice or the whole artificial conversational partner is perceived …
Blind leading the sighted: drawing design insights from blind users towards more productivity-oriented voice interfaces
A Abdolrahmani, KM Storer, ARM Roy… – ACM Transactions on …, 2020 – dl.acm.org
… We argue that when the blind lead the sighted through voice interface design, both blind and sighted users can benefit … 2019. Blind Leading the Sighted: Drawing Design Insights from Blind Users towards More Productivity-oriented Voice Interfaces. ACM Trans. Access …
CHA: A Caching Framework for Home-based Voice Assistant Systems
L Xu, A Iyengar, W Shi – codegreen.cs.wayne.edu
Page 1. CHA: A Caching Framework for Home-based Voice Assistant Systems Lanyu Xu Wayne State University Detroit, MI, 48202 xu.lanyu@wayne.edu Arun Iyengar IBM TJ Watson Research Center Yorktown Heights, NY, 10598 aruni@us.ibm.com …
AI Enabled Foreign Language Immersion: Technology and Method to Acquire Foreign Languages with AI in Immersive Virtual Worlds
RR Divekar – 2020 – search.proquest.com
… ble. This dissertation explores how extensions to state-of-the-art Artificial Intelligence (AI) integrated with Extended Reality (XR) can bring experiences like the ones found in interna … skills. Extended Reality (XR) and Artificial Intelligence (AI) are two technologies that …
Exploring Voice-Controlled System: Services and Consumer Preferences towards future usage within the Food Industry
P Jennifer, G Sofroniev – 2020 – diva-portal.org
Page 1. Bachelor Thesis within: Business Administration and Economics Number of Credits: 15 hp Program of Study: International Management Author: Jennifer Parflo and Georgi Sofroniev Jönköping December 2019 Exploring Voice- Controlled System …
UNIVERSIDAD POLITECNICA DE MADRID
CI Simulator, A Feasible – 2020 – oa.upm.es
… so that they perform well in real interviews. By using multiple advanced technologies such as virtual reality (VR), chatbots, and emotions recognition, (Stanica et al. 2018) have created two different VR environments to simu- lat
Cultural Analytics
L Manovich – 2020 – books.google.com
Page 1. LEV MANOVICH CULTURAL ANALYTICS STREETVIEW FACADE FACADE COLORS TWITTER MESSAGES INSTAGRAM PHOTOS 2.0360 MEDIAN HOUSEHOLD INCOMI 11.1994 INSTAGRAM PHOTO COLORS INSTAGRAM PHOTOS Midtown Monedas Page 2 …
Acoustic-based sensing and applications: A survey
Y Bai, L Lu, J Cheng, J Liu, Y Chen, J Yu – Computer Networks, 2020 – Elsevier
JavaScript is disabled on your browser. Please enable JavaScript to use all the features on this page. Skip to main content Skip to article …
Higher Education and Mobile Learning: How Innovative Instructors Use Mobile Applications for Learning
N Poppens – 2020 – ir.stthomas.edu
Page 1. University of St. Thomas, Minnesota UST Research Online Education Doctoral Dissertations in Leadership School of Education 2020 Higher Education and Mobile Learning: How Innovative Instructors Use Mobile Applications for Learning Nicolas Poppens …
Understanding How Chatbots Work: An Exploratory Study of Mental Models in Customer Service Chatbots
S Ordemann – 2020 – duo.uio.no
Page 1. "Understanding How Chatbots Work": An Exploratory Study of Mental Models in Customer Service Chatbots I "Understanding How Chatbots Work" An Exploratory Study of Mental Models in Customer Service Chatbots Stine Ordemann …
Exploring Strategic Communication Challenges in the Era of the Voice Assistant
X Huang – 2020 – lup.lub.lu.se
Page 1. Exploring Strategic Communication Challenges in the Era of the Voice Assistant XIAOYU HUANG Lund University Department of strategic communication Master's thesis Course: SKOM12 Term: Spring 2020 Supervisor Howard Nothhaft Cecilia Cassinger …
Understanding the Role of Artificial Intelligence and Its Future Social Impact
S Sheikh – 2020 – books.google.com
Page 1. Understanding the Role of Artificial Intelligence and Its Future Social Impact Salim Sheikh Saïd Business School, University of Oxford, UK A volume in the Advances in Human and Social Aspects of Technology (AHSAT) Book Series Page 2 …