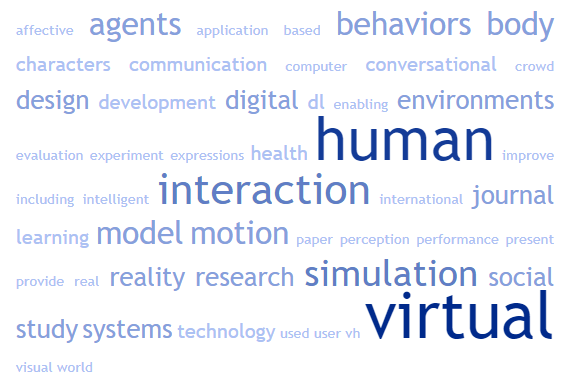 Notes:
This text discusses the use of virtual humans in various fields, including computer games, virtual environments, medical diagnosis, and education. It also discusses the use of virtual humans for tasks such as guiding experiments and providing tactical questioning and interrogation. The text also mentions the use of virtual humans in the remediation of social cognition deficits and the exploration of attack as a concept. The text also mentions the use of virtual humans in extended reality scenarios and the potential for virtual humans to improve safety, quality, and human-centered design in operating tasks. The text also mentions the potential for virtual humans to provide an alternative to pictures and videos. The text also discusses the use of virtual humans to support physical well-being and to enable the transfer of learning by observation and imitation of experts.
See also:
---
The ability of place: digital topographies of the virtual human on Ethnographia Island
T Boellstorff – Current Anthropology, 2020 – journals.uchicago.edu
In this article I explore the relationship between digital place and disability through an ethnographic study of disability experience in the virtual world Second Life. I discuss how forms of landscape and interface shape disability experience, how building relates to "being …
Computer-Controlled Virtual Humans in Patient-Facing Systems: Systematic Review and Meta-Analysis
D Chattopadhyay, T Ma, H Sharifi… – Journal of medical …, 2020 – jmir.org
Background: Virtual humans (VH) are computer-generated characters that appear humanlike and simulate face-to-face conversations using verbal and nonverbal cues. Unlike formless conversational agents, like smart speakers or chatbots, VH bring together the …
Do Virtual Humans Dream of Digital Sheep?
MA Carrozzino, R Galdieri… – IEEE Computer …, 2020 – ieeexplore.ieee.org
As human beings, we are so used to interacting with each other that any world without humans would feel alien to us, including digital ones. In this article, we present a survey on the role of digital human-like characters in virtual worlds, both as counterparts of real human …
Real-time simulation of virtual humans' emotional facial expressions, harnessing autonomic physiological and musculoskeletal control
Y Tisserand, R Aylett, M Mortillaro… – Proceedings of the 20th …, 2020 – dl.acm.org
Emotion expressions and communication involve involuntary and voluntary processes that may not always operate consistently. Expressive behaviour involving physiological changes may carry information about hidden aspects of emotional experience important for accurate …
Realistic Virtual Humans from Smartphone Videos
S Wenninger, J Achenbach, A Bartl… – 26th ACM Symposium …, 2020 – dl.acm.org
This paper introduces an automated 3D-reconstruction method for generating high-quality virtual humans from monocular smartphone cameras. The input of our approach are two video clips, one capturing the whole body and the other providing detailed close-ups of …
A Novel Investigation of Attack Strategies via the Involvement of Virtual Humans: A User Study of Josh Waitzkin, a Virtual Chess Grandmaster
K Dhou – International Conference on Human-Computer …, 2020 – Springer
A growing body of evidence suggests that attack is a significant concept that has been explored by researchers from various disciplines such as marketing, psychology, and computing. Additionally, there has been substantial research undertaken on the role of …
Design of reliable virtual human facial expressions and validation by healthy people
AS García, P Fernández-Sotos… – Integrated …, 2020 – content.iospress.com
The level of realism that real-time virtual humans have reached in the last years enables their use as an alternative to pictures and videos in the remediation of social cognition deficits. This paper presents the engineering principles and tools used to design facial …
Start Making Sense: Predicting confidence in virtual human interactions using biometric signals.
S Dalzel-Job, RL Hill, R Petrick – … Behavior 2020-21 …, 2020 – measuringbehavior.org
Background Virtual humans–whether computer-controlled agents or human-controlled avatars–are widely used during online interactions. Not only are they utilised during social interaction (eg gaming), but also in important jointaction or task-oriented communication …
Virtual Humans in AR: Evaluation of Presentation Concepts in an Industrial Assistance Use Case
E Lampen, J Lehwald, T Pfeiffer – 26th ACM Symposium on Virtual …, 2020 – dl.acm.org
Embedding virtual humans in educational settings enables the transfer of the approved concepts of learning by observation and imitation of experts to extended reality scenarios. Whilst various presentation concepts of virtual humans for learning have been investigated …
Tailoring virtual human?delivered interventions: A digital intervention promoting colorectal cancer screening for Black women
MJ Vilaro, DS Wilson?Howard, LN Griffin… – Psycho …, 2020 – Wiley Online Library
Objective Despite efforts to reduce cancer disparities, Black women remain underrepresented in cancer research. Virtual health assistants (VHAs) are one promising digital technology for communicating health messages and promoting health behaviors to …
Empirical evaluation and pathway modeling of visual attention to virtual humans in an appearance fidelity continuum
M Volonte, RG Anaraky, R Venkatakrishnan… – Journal on Multimodal …, 2020 – Springer
In this contribution we studied how different rendering styles of a virtual human impacted users' visual attention in an interactive medical training simulator. In a mixed design experiment, 78 participants interacted with a virtual human representing a sample from the …
Touching virtual humans: Haptic responses reveal the emotional impact of affective agents
I Ahmed, VJ Harjunen, G Jacucci… – IEEE Transactions …, 2020 – ieeexplore.ieee.org
Interpersonal touch is critical for social-emotional development and presents a powerful modality for communicating emotions. Virtual agents of the future could capitalize on touch to establish social bonds with humans and facilitate cooperation in virtual reality (VR). We …
Detection and Synthesis of Full?Body Environment Interactions for Virtual Humans
A Juarez?Perez, M Kallmann – Computer Graphics Forum, 2020 – Wiley Online Library
We present a new methodology for enabling virtual humans to autonomously detect and perform complex full?body interactions with their environments. Given a parameterized walking controller and a set of motion?captured example interactions, our method is able to …
The Design of Charismatic Behaviors for Virtual Humans
N Wang, L Pacheco, C Merchant, K Skistad… – Proceedings of the 20th …, 2020 – dl.acm.org
Charisma is a powerful device of communication and persuasion. Researchers have pinpointed specific behaviors that contribute to the perception of charisma. How can we realize such behaviors in a virtual character? In this paper, we discuss our work in the …
Abstract IA15: Mobile virtual human health care guides for young adult childhood cancer survivors
S Rizzo, D Spruijt-Metz, A Hartholt, B Swartout… – 2020 – AACR
Since the mid-1990s, a significant scientific literature has evolved regarding the mental/physical health outcomes from the use of what we now refer to as Clinical Virtual Reality (VR). While the preponderance of clinical work with VR has focused on building …
Little World: Virtual Humans Accompany Children on Dramatic Performance
X Wang, X Ding, J Li, J Qin – Proceedings of the 28th ACM International …, 2020 – dl.acm.org
Every child is the leading actor in her/his unique world. To help them achieve performance, an interactive art called'little world'is proposed to let virtual humans accompany children on drama performance. Theatrical adaptation rewrites the novel to an interactive drama suitable …
iVisit: Digital Interactive Construction Site Visits Using 360-Degree Panoramas and Virtual Humans
R Eiris, J Wen, M Gheisari – Construction Research Congress 2020 …, 2020 – ascelibrary.org
Site visits or field trips are an integral part of construction management education, providing students with experiential learning of jobsite conditions. However, these types of real-world opportunities are difficult to obtain within the current educational framework based on …
Intelligent Blended Agents: Reality–Virtuality Interaction with Artificially Intelligent Embodied Virtual Humans
S Schmidt, O Ariza, F Steinicke – Multimodal Technologies and …, 2020 – mdpi.com
Intelligent virtual agents (VAs) already support us in a variety of everyday tasks such as setting up appointments, monitoring our fitness, and organizing messages. Adding a humanoid body representation to these mostly voice-based VAs has enormous potential to …
Toward Automated Evaluation of Empathetic Responses in Virtual Human Interaction Systems for Mental Health Scenarios
H Yao, AG de Siqueira, A Foster, I Galynker… – Proceedings of the 20th …, 2020 – dl.acm.org
This paper investigates the process of automating the evaluation of empathetic response levels in virtual human interaction systems implementing mental health scenarios. Two suicidal virtual patients were developed to collect clinician participants' empathetic …
Towards Rapid Development of Conversational Virtual Humans using Web3D Technologies
M Zalake, AG de Siqueira, K Vaddiparti… – The 25th International …, 2020 – dl.acm.org
In this paper, we propose a framework for the rapid development of conversational virtual humans (VHs) via the web. Web3D formats, such as WebGL, have enabled the use of interactive VHs on the web. Web-based conversational VHs are found to have great …
Towards Animating Virtual Humans in Flooded Environments
D Schaffer, A Antonitsch, A Neto, S Musse – Motion, Interaction and …, 2020 – dl.acm.org
The simulation of virtual humans organized in groups and crowds has been widely explored in the literature. Nevertheless, the simulation of virtual humans that interact with fluids is still incipient. Indeed it is easy to understand that human behavior is different from ordinary rigid …
Social Prescribing Across the Lifespan with Virtual Humans
ÖN Yalç?n, S Moreno, S DiPaola – Proceedings of the 20th ACM …, 2020 – dl.acm.org
Social Prescribing is a novel holistic approach in health care that focuses on the importance of socio-psychological factors in well-being to support physical well-being across the lifespan. Despite the promising results shown in several studies, there are many barriers in …
Multi-Platform Expansion of the Virtual Human Toolkit: Ubiquitous Conversational Agents
A Hartholt, E Fast, A Reilly, W Whitcup… – … Journal of Semantic …, 2020 – World Scientific
We present an extension of the Virtual Human Toolkit to include a range of computing platforms, including mobile, web, Virtual Reality (VR) and Augmented Reality (AR). The Toolkit uses a mix of in-house and commodity technologies to support audio-visual sensing …
Effects of Interacting with a Crowd of Emotional Virtual Humans on Users' Affective and Non-Verbal Behaviors
M Volonte, YC Hsu, KY Liu, JP Mazer… – … IEEE Conference on …, 2020 – ieeexplore.ieee.org
In this contribution we examined the effects on users during interaction with a virtual human crowd in an immersive virtual reality environment. We developed an agent-based crowd model with rich properties including eye gaze, facial expression, body motion, and verbal …
How we trust, perceive, and learn from virtual humans: The influence of voice quality
EK Chiou, NL Schroeder, SD Craig – Computers & Education, 2020 – Elsevier
Research has shown that creating environments in which social cues are present (social agency) benefits learning. One way to create these environments is to incorporate a virtual human as a pedagogical agent in computer-based learning environments. However …
Using Virtual Human Technology in Perioperative Team Training Simulations
M Brunges, TE Hughes – AORN Journal, 2020 – Wiley Online Library
Incorporating virtual human (VH) technology into simulation programs for perioperative education and training can improve interdisciplinary teamwork and communication. The development of VH s allowed interdisciplinary teams at the University of Florida Health …
Synthetic Perception and Decision-making for Autonomous Virtual Humans in Virtual Reality Applications
HRO Aguirre, D Thalmann… – Virtual Reality Designs, 2020 – books.google.com
Virtual humans are represented as intelligent embodied agents living in virtual environments in the form of virtual characters that look like, act like, and even interact with humans. The creation and usage of virtual humans have served to explore research issues where it is …
Towards a Legion of Virtual Humans: Steering Behaviors and Organic Visualization
A da Silva Antonitsch, SR Musse… – 2020 33rd SIBGRAPI …, 2020 – ieeexplore.ieee.org
Many studies have been done to control virtual humans and crowds. Navigation, split, merge, and collision avoidance are examples of what has been done in such areas when simulating crowds of individuals. This paper explores the macroscopic crowds' concept and …
Behaving socially with a virtual human role-player in a simulated counseling session
JL Hart, MD Proctor – The Journal of Defense Modeling and …, 2020 – journals.sagepub.com
Visual attention is an essential social element in face-to-face conversations between people. The Army is now using virtual environments with virtual human role-players to provide for the development and practice of leader counseling skills. While literature indicates that virtual  …
Proarrhythmic Effects of Electrolyte Imbalance in Virtual Human Atrial and Ventricular Cardiomyocytes
JJ Joseph, CW McIntyre… – 2020 42nd Annual …, 2020 – ieeexplore.ieee.org
Dialysis is prescribed to renal failure patients as a long-term chronic treatment. Whereas dialysis therapeutically normalizes serum electrolytes and removes small toxin molecules, it fails to alleviate fibroblast induced structural fibrosis, and unresponsive uremia. The …
Effects of Behavioral and Anthropomorphic Realism on Social Influence with Virtual Humans in AR
H Jun, J Bailenson – … on Mixed and Augmented Reality Adjunct …, 2020 – ieeexplore.ieee.org
While many applications in AR will display embodied agents in scenes, there is little research examining the social influence of these AR renderings. In this experiment, we manipulated the behavioral and anthropomorphic realism of an embodied agent …
Context Construction and Virtual Human Based Intelligent Navigation in Virtual Experiment
Z Pan, D Yu, Y Li, M Cao – Transactions on Edutainment XVI, 2020 – Springer
In view of the problems of high cost and many potential hazards in real middle school experiments, we construct a virtual experiment simulation situation with virtual human guidance in experiment operation, intelligent algorithm assistance in experiment failure, and …
Evaluating Feedback Strategies for Virtual Human Trainers
X Shang, AS Arif, M Kallmann – arXiv preprint arXiv:2011.11704, 2020 – arxiv.org
In this paper we address feedback strategies for an autonomous virtual trainer. First, a pilot study was conducted to identify and specify feedback strategies for assisting participants in performing a given task. The task involved sorting virtual cubes according to areas of …
Study and evaluation of human perception on virtual humans and crowds
VFA Araujo – 2020 – tede2.pucrs.br
The behavior of the human being depends on his perception of the world. Behaviors have been studied for a long time, in different aspects, in particular research in Graphic and Visual Processing. In addition to being studied, behaviors can be simulated, as well as analyzed in …
Motion Retargeting for Virtual Human Based on Vector Features of Lower Limbs
S Qu, J Liu, T Xu, L Ma – Journal of Physics: Conference Series, 2020 – iopscience.iop.org
In view of the contradiction that limited motion data can not meet the requirements of rich and changeable motion, motion reuse technology emerges as the times require, which can drive different human skeleton models with the same motion data to generate corresponding …
Methodology for Building Synthetic Datasets with Virtual Humans
S Basak, H Javidnia, F Khan… – 2020 31st Irish …, 2020 – ieeexplore.ieee.org
Recent advances in deep learning methods have increased the performance of face detection and recognition systems. The accuracy of these models relies on the range of variation provided in the training data. Creating a dataset that represents all variations of …
Multidimensional Measurement of Virtual Human Bodies Acquired with Depth Sensors
A Fuster-Guilló, J Azorín-López… – … Workshop on Soft …, 2020 – Springer
Obtaining 3D measurements of the human body requires precise scanning of the body, as well as methods for extracting these 1D/2D and 3D measurements from the selected volumes. The analysis of these 3D measurements and their monitoring over time (4D) in …
Innovative Active Head Restraint System in a Car: Safety Assessment with Virtual Human Body Model
J Vychytil, J Hlucha, L Kovar, M Kostikova… – 2020 – sae.org
The aim of this study is to use numerical simulations for safety assessment of an innovative active head restraint system. This system was developed to protect the head and neck of an occupant in a car without a head airbag during a side impact. Its FE model is created and …
The rise of the virtual human
WA Powell, N Corbett, V Powell – Natural Language Processing …, 2020 – igi-global.com
Virtual Humans are here to stay. From the voice in your satNav to Apple's "Siri", we are accustomed to engaging in some level of conversation with our technology, and it is rapidly becoming apparent that natural language interfaces have potential in a wide range of …
"Intimate relationship" with "virtual humans" and the "socialification" of familyship
H Yamaguchi – Paladyn, Journal of Behavioral Robotics, 2020 – degruyter.com
In this article, the author provides a new view on intimate relationships with "virtual humans" such as robots and AIs. Recent technological developments have enabled firms to create humanlike robots and AIs. It is likely that, in the near future, a growing number of people will …
Thigmotaxis in a virtual human open field test
D Gromer, DP Kiser, P Pauli – osf.io
Animal models are used to study neurobiological mechanisms in mental disorders. Although there has been significant progress in the understanding of neurobiological underpinnings of threat-related behaviors and anxiety, little progress was made with regard to new or …
Virtual Human Motion Extension Based on Bayesian Network
S Qu, T Xu, L Ma, J Liu – MS&E, 2020 – iopscience.iop.org
Aiming at the problem of virtual human motion reuse, the concept of motion extension is proposed, which includes lengthways extension and transverse extension. The lengthways extension extends motion along the time, and generates more frames from existing motion …
Direct 3D Organ Extraction Method in Virtual Human-Body Color Volume Image
B Liu, Y Chen, S Liu, Q Wang, X Niu… – Journal of Medical …, 2020 – ingentaconnect.com
Extracting 3D structures from voxel based images can make doctors more directly observe the situation of the target in the clinic, making it easier for doctors to diagnose the condition and make the medicine teaching more directly and easier to understand. For this purpose …
Automatic Segmentation for Virtual Human Motion
S Qu, T Xu, L Ma, J Liu – MS&E, 2020 – iopscience.iop.org
A technique of automatic segmentation for motion data has been proposed, which describes high-dimensional motion with low-dimensional motion character and automatically segments the motion capture data by detecting changes of motion character. Gaussian …
Biophysics-based simulation of virtual human model interactions in 3D virtual scenes
K Risvas, M Pavlou, EI Zacharaki… – 2020 IEEE Conference …, 2020 – ieeexplore.ieee.org
Virtual simulations of operating tasks provide knowledge on a variety of parameters, useful for preventive ergonomic analysis, that helps to improve safety, quality and promote human-centered design. This paper presents the development of a biophysics-based simulation tool …
Triggering and measuring neural response indicative of inhibition in humans during conversations with virtual humans
G Ahamba – 2020 – usir.salford.ac.uk
The aim of this PhD was to determine if a confrontational virtual human can evoke a response in the prefrontal cortex, indicative of inhibiting an antisocial response. It follows previous studies by Aleksandra Landowska (2018) and Schilbach (2016) demonstrating that …
Improving Health Care with a Virtual Human Sleep Coach
C Ribeiro, G Mehrotra, G Vey, A Alhothali, C DiMarco – 2020 – source.sheridancollege.ca
Persuasive technology can have a significant effect on people's health. The sleep coach application is a persuasive technology that raises student's awareness and attitudes towards getting a full night's sleep (6-9 hours) to be more positive. Students using the application to …
Promises and Challenges of Virtual Human-Centered Design with and for Rural Communities
M Levin, E Myers – 2020 – repository.isls.org
Approximately 13.4 million children in the United States live in rural areas, and a growing body of research indicates these children often lag behind their non-rural peers academically, thus establishing an achievement gap. This poster details initial stages of the …
Proarrhythmic Effects of Electrolyte Imbalance in Virtual Human Atrial and Ventricular Cardiomyocytes
SR Kharche – 2020 – osf.io
Dialysis is prescribed to renal failure patients as a long-term chronic treatment. Whereas dialysis therapeutically normalizes serum electrolytes and removes small toxin molecules, it fails to alleviate fibroblast induced structural fibrosis, and unresponsive uremia. The …
Evaluating virtual human role-players to practice & develop leadership skills.
G Suarez – 2020 – ir.canterbury.ac.nz
Many organizations are dissatisfied with the outcomes of their leadership training efforts despite the significant money they are investing in training programs. Researchers suggest that practice-based training techniques, such as role-playing, are the most critical and …
Santos®: A Unique Physics-Based Virtual Human Model Enabling Scientific Analysis and Prediction of Warfighter Behavior
R Bhatt, T Klopfenstein, K Farrell, C Murphy… – modsimworld.org
Modeling and simulation requires higher-fidelity, physics-based human models to conduct proper analysis of human behavior, and to predict how humans will conduct various tasks. The widespread use of "scripted" avatars within modeling and simulation today limits …
Performance Analytics and Reviews on Virtual Human Resources for Cost Optimization
TJ Mohammed, RA Ibrahim, MF Mohammed – inter-journals.com
… Costing human resources. Wiley Encyclopedia of Management, 1-1. [5] Stone, DL, & Deadrick, DL (2015). Challenges and opportunities affecting the future of human resource management. Human Resource Management Review, 25(2), 139-145. [6] Schmid Mast, M., Kleinlogel, EP …
Influence of Patient Immigrant Status on Provider Diabetes Treatment Decisions: A Virtual Human Experimental Study
L Hsueh – 2020 – scholarworks.iupui.edu
Immigrants are at elevated risk for not having their diabetes treatment appropriately intensified, likely resulting in poorly-controlled diabetes and increased morbidity and mortality. Immigrant status is a powerful sociodemographic cue, yet its influence on …
From digital virtual human, three-dimensional visualization to digital intelligence in liver surgery
CH Fang, P Zhang, YY Lau, SZ Zhong – Zhonghua wai ke za zhi …, 2020 – europepmc.org
Digital intelligent hepatobiliary surgery has evolved over decades. It has experienced an evolution course from digital virtual human technology to the establishment of a quality-controlled and homogeneous three-dimensional visualization system for precision diagnosis …
A Neuro-VR toolbox for assessment and intervention in Autism: Brain responses to non-verbal, gaze and proxemics behaviour in Virtual Humans.
C Kelly, U Bernardet, K Kessler – … on Virtual Reality and 3D User …, 2020 – ieeexplore.ieee.org
This research plans to investigate non-verbal social interaction in a virtual environment. Participants are required to interact with a virtual human (VH) in order to complete a puzzle using only eye-gaze. The project will focus on joint attention (JA) that can be categorised …
Inculcating Metacognition and Critical Thinking: Pedagogical Infrastructures Employing Virtual Humans
DM Davis, FJ Stassi, MC Davis, KJ Ristuccia – hpc-educ.org
This paper reviews the need of and opportunities for improving metacognition and critical thinking in today's DoD personnel. It identifies some current constraints on effectively addressing those issues, and reports on advances in virtual human interfaces that can …
Real-Time Cloth Simulation on Virtual Human Character Using Enhanced Position Based Dynamic Framework Technique
M Mohammed, T Al-Sharify… – Baghdad Science …, 2020 – bsj.uobaghdad.edu.iq
Cloth simulation and animation has been the topic of research since the mid-80's in the field of computer graphics. Enforcing incompressible is very important in real time simulation. Although, there are great achievements in this regard, it still suffers from unnecessary time …
Imperatives for Virtual Humans
W Li, JM Allbeck – arXiv preprint arXiv:2004.10014, 2020 – arxiv.org
Seemingly since the inception of virtual humans, there has been an effort to make their behaviors more natural and human-like. In additions to improving movement's visual quality, there has been considerable research focused on creating more intelligent virtual …
Real-time Simulation on Virtual Dressing Based On Virtual Human Body Model
DH XueChuanyu, Z Mingmin… – Journal of System … – journal19.magtechjournal.com
In this paper we put forward a real-time method of virtual dressing using a single Kinect device. Virtual dressing using a low-cost device has very important application, but classic 3D human body dressing algorithms cannot work in real time. We need to generate 3D …
3 Overview of Talks 3.1 Animation and Simulation of Realistic Virtual Humans
M Botsch – Interactive Design and Simulation – drops.dagstuhl.de
Realistic virtual humans have many interesting applications in several fields–ranging from characters in computer games, to avatars representing ourselves in virtual environments, and digital models for medical diagnosis and intervention planning. Over the last five years …
Human-Systems Integration Design: From Virtual to Tangible
GA Boy – 2020 – hal.archives-ouvertes.fr
… The book discusses flexibility in design and operations, tangibility of software-intensive systems, virtual human-centered design, increasingly-autonomous complex systems, Human-Factors and Ergonomics of sociotechnical systems, and systems of systems integration …
Human genetics and genomics meetings going virtual: practical lessons learned from two international meetings in early 2020
ARR Forrest, GM Repetto, JKV Reichardt – 2020 – Springer
… Table 1 Lessons learned from two genetics and genomics meetings Full size table. The virtual Human Genome Meeting (HGM) in Perth, Australia … 1 figure1. Screenshot of one of the authors (ARRF) presenting at the virtual Human Genome Meeting (HGM) 2020. Full size image …
Affective and Human-Like Virtual Agents
B Budnarain – 2020 – uwspace.uwaterloo.ca
… experimentally demonstrate that our methods for affective facial expression and utterance construction can be successfully used in AI applications with virtual humans. Thus, we design and build a prisoner's dilemma game application including the integration of a virtual human …
Multipurpose virtual model of a human body and its utilization in the traffic safety
J Špi?ka, J Vychytil, L Hyn?ík… – Mathematical …, 2020 – stumejournals.com
… Recently, the virtual human body models are being used more often and virtual approach in the biomechanical fields … This work demonstrates the application of the virtual human body model Virthuman in various road traffic incidents including the pedestrian …
Walk Ratio: Perception of an Invariant Parameter of Human Walk on Virtual Characters
B Niay, AH Olivier, K Zibrek, J Pettré… – ACM Symposium on …, 2020 – dl.acm.org
… 2 RELATED WORK 2.1 Motion Editing Developments in motion capture systems and algorithms have undeniably improved the realism of virtual humans in the last decades … 1995]. Lastly, the blended motion must be adapted to the virtual human morphology [Hecker et al …
Virtual Ergonomics Evaluation of Thresher using Digital Human Modeling suitable for Agricultural Women Workers of Vidarbha Region (India)
MAD Kadam, GK Awari, CN Sakhale – Journal of Seybold Report ISSN … – seyboldjournal.com
… The ergonomic applied research platform provided by CATIA can build 3D models for human body and device through the establishment of virtual human body model and body posture simulation, which improves the efficiency …
Virtual reality in manufacturing: immersive and collaborative artificial-reality in design of human-robot workspace
AA Malik, T Masood, A Bilberg – International Journal of Computer …, 2020 – Taylor & Francis
ABSTRACTOver the past years, the concept of human-machine interaction has received ample attention to achieve hybrid automation in manufacturing. A form of hybrid automation is taking benefit from …
The virtual assay software for human in silico drug trials to augment drug cardiac testing
E Passini, X Zhou, C Trovato, OJ Britton… – Journal of …, 2020 – Elsevier
… Fig. 1. Software design and operability in Virtual Assay. The Core Engine provides a user-friendly GUI to efficient algorithms for the sampling and solution of populations of virtual human cardiac cell models. Each model in the …
Human–Systems Integration: From Virtual to Tangible
GA Boy – 2020 – books.google.com
… A holistic view Virtual human-centered design of complex systems Influences of several engineering backgrounds The evolution of engineering-oriented human-centered fields of investigation The evolution of complexity science Managing complexity by designing and …
Virtual Big Heads: Analysis of Human Perception and Comfort of Head Scales in Social Virtual Reality
Z Choudhary, K Kim, R Schubert… – … IEEE Conference on …, 2020 – ieeexplore.ieee.org
… found that non-verbal social signals such as smiling, gaze direction, and the proximity behavior of a virtual human affected a user's perception of that virtual hu- man's personality and interpersonal attitude during a first encounter situation, even after a very short time of …
A Human Touch: Social Touch Increases the Perceived Human-likeness of Agents in Virtual Reality
M Hoppe, B Rossmy, DP Neumann… – Proceedings of the …, 2020 – dl.acm.org
… reactions [11, 17, 43]. When considering haptic interactions between two virtual human representations, we distinguish between a kind of HCI (human-computer interaction) [47] and mediated touch (cf. [24]). Touch occurring between …
Human-robot negotiation of intentions based on virtual fixtures for shared task execution
D Wei, H Zhou, HY Yang – 2020 17th International Conference …, 2020 – ieeexplore.ieee.org
Page 1. Dong Weia Hua Zhoub Hua Yong Yangb aPhD Candidate, bProfessor, State Key Laboratory of Fluid Power and Mechatronic Systems, School of Management, Zhejiang University, Zheda Road 38, Hangzhou 310063 …
Research Progress and Prospect of Virtual Biochemical Physiological Human
ZHZ Qinping – Peng Cheng Laboratory Commumications – tx.pcl.ac.cn
… National Institutes of Health, NIH????"??????? ?????"???2019 ?????????? ????????????????????? ?????????? ??????????? ???????????????????Virtual Human Body, VHB …
Multi-Channel Human-Computer Cooperative Interaction Algorithm in Virtual Scene
J Li, Z Feng, X Yang – Proceedings of 2020 the 6th International …, 2020 – dl.acm.org
… reality is a necessary condition for users to operate various virtual objects in the virtual environment to obtain realistic perception [1]. Human hand is introduced into the virtual scene and the interaction between virtual hand and virtual environment can give full play to the …
Virtual Reality Study of Human Adaptability in Industrial Human-Robot Collaboration
P Fratczak, YM Goh, P Kinnell… – … on Human-Machine …, 2020 – ieeexplore.ieee.org
… making it appear larger). In attempt to achieve higher level of immersion and reactivity to virtual stimuli through body transfer illusion [13], participants' body was scaled, tracked and simulated by a virtual human. The model of …
Behavioral Indicators of Interactions Between Humans, Virtual Agent Characters and Virtual Avatars
TS Griffith, C Fidopiastis, P Bockelman-Morrow… – … Conference on Human …, 2020 – Springer
… In: Psychological Inquiry (2002)Google Scholar. 8. de Melo, CM, Gratch, J.: Beyond believability: quantifying the differences between real and virtual humans … de Melo, CM, Gratch, J.: Beyone believability: quantifying the differences between real and virtual humans …
Are avatars treated like human obstacles during aperture crossing in virtual environments?
AL Hackney, ME Cinelli, WH Warren, JS Frank – Gait & Posture, 2020 – Elsevier
… Proceedings of the ACM Symposium on Applied Perception (2012), pp. 7-10. Google Scholar. [15] W. Souza Silva, G. Aravind, S. Sangani, A. LamontagneHealthy young adults implement distinctive avoidance strategies while walking and circumventing virtual human vs …
Achieving affective human–virtual agent communication by enabling virtual agents to imitate positive expressions
T Numata, H Sato, Y Asa, T Koike, K Miyata… – Scientific reports, 2020 – nature.com
Affective communication, communicating with emotion, during face-to-face communication is critical for social interaction. Advances in artificial intelligence have made it essential to develop affective human–virtual agent communication. A person's belief during human–virtual agent …
Assessment of Aircraft Pilot Seat Performances with Digital Human Models and Virtual Prototypes
J REGNAULT, C BOROT… – DHM2020: Proceedings of …, 2020 – books.google.com
… Digital human models have been generated by Safran engineers to match with volunteers. Real male volunteers correspond to small, medium and large statures [8][9]. Table 1. Pilot morphology: Real Volunteers & virtual human models from ESI Interior Solution …
Human swarm interaction using plays, audibles, and a virtual spokesperson
P Chaffey, R Artstein, K Georgila… – … Learning for Multi …, 2020 – spiedigitallibrary.org
SPIE Digital Library Proceedings.
Application of a Novel Virtual Maintenance System: Digital Enterprise Lean Manufacturing Interactive Application-Ergonomics for Integrating Human Factors into …
XF Chen, XG Wang, YM Wang, SE Ji… – … of Computational and …, 2020 – ingentaconnect.com
… limits. As illustrated in Figure 5, according to the forces act- ing on the manikin's right hand by deicing tool, activity of the virtual human is analyzed and evaluated by using biomechanics function in CATIA or DELMIA software …
Virtual intimacy in human-embodied conversational agent interactions: the influence of multimodality on its perception
D Potdevin, C Clavel, N Sabouret – Journal on Multimodal User Interfaces, 2020 – Springer
Interacting with an embodied conversational agent (ECA) in a professional context addresses social considerations to satisfy customer-relationship. This pa.
Achieving affective human–virtual agent communication by enabling virtual agents to imitate positive expressions
N Takashi, S Hiroki, A Yasuhiro… – Scientific Reports …, 2020 – search.proquest.com
Page 1. 1 Scientific RepoRtS | (2020) 10:5977 | https://doi.org/10.1038/s41598-020-62870- 7 www.nature.com/scientificreports Achieving affective human–virtual agent communication by enabling virtual agents to imitate positive expressions …
A New Human Anatomy Teaching Mode Combining Virtual Anatomy System and Dissection to Promote Active Learning and Improve Learning Efficiency.
N Chen, B Fang, W Tan, Y Li, N Luo, J Liu, X Zhang… – 2020 – researchsquare.com
… However, through vivid 3D interactive operation, it is a simple task to transform and rotate the virtual human organs in three-dimensional virtual space [25, 26] (Table2 Q1, 2). The nal test scores obtained by students in the CVA group supported this …
A Framework for Realizing Industrial Human-Robot Collaboration through Virtual Simulation
N Land, A Syberfeldt, T Almgren, J Vallhagen – Procedia CIRP, 2020 – Elsevier
… workplace generation. Procedia CIRP. 2016;44:228-32. [9] Land N, Syberfeldt A, Almgren T, Vallhagen J. Virtual Human-Robot Collaboration: The Industry's Perspective on Potential Applications and Benefits. 17th ICMR. 2019:161 …
The physical-virtual patient simulator: a physical human form with virtual appearance and behavior
S Daher, J Hochreiter, R Schubert… – Simulation in …, 2020 – journals.lww.com
Introduction We introduce a new type of patient simulator referred to as the Physical-Virtual Pati.
Interactions Between Humans, Virtual Agent Characters and Virtual Avatars
T Griffith – 2020 – stars.library.ucf.edu
… This tool includes a Human Intelligence (HUMINT) component that uses life-like avatars and speech recognition to support tactical questioning, interrogation, screening, and the use of an interpreter through free-flowing conversations with virtual humans (Blinde, 2016) …
Emotional Valence Recognition on Virtual, Robotic, and Human Faces: a Comparative Study
L Cerda, P Graziani, J Del-Monte – Journal of Technology in Behavioral …, 2020 – Springer
With the advent of new technologies in everyday life, leisure, or therapy, we will increasingly interact with a non-human virtual character. Understanding.
Virtual Consumption, Sustainability and Human Well-Being
KR Pike, CT DesRoches – Environmental Values, 2020 – ingentaconnect.com
Page 1. ? = username $REMOTE_ASSR = IP address Tue, 05 May 2020 07:06:36 = Date & Time Environmental Values 29 (3), June 2020: 361–378. Submitted 5 March 2019; accepted 28 June 2019; fast-track 7 September 2019 © 2019 The White Horse Press …
Analyzing Human-Building Interactions in Virtual Environments Using Crowd Simulations
M Usman – 2020 – yorkspace.library.yorku.ca
Page 1. ANALYZING HUMAN–BUILDING INTERACTIONS IN VIRTUAL ENVIRONMENTS USING CROWD SIMULATIONS MUHAMMAD USMAN A DISSERTATION SUBMITTED TO THE FACULTY OF GRADUATE STUDIES …
Towards real world neuroscience: the impact of virtual and augmented reality techniques on the study of human performance and sense of presence.
DM Marucci – iris.uniroma1.it
Page 1. Department of Psychology International Doctor of Philosophy course in Psychology and Social Neuroscience XXXII cycle Towards real world neuroscience: the impact of virtual and augmented reality techniques on the study of human performance and sense of …