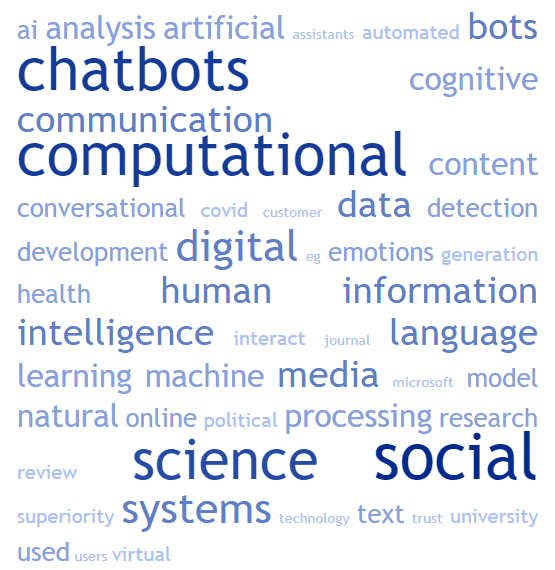 Notes:
Computational social science refers to the academic sub-disciplines concerned with computational approaches to the social sciences. (Scalable uncertainty management refers to the management of uncertain, incomplete or inconsistent information, such as the Web.*)
Analyzing domestic abuse
Application of big data for national security
Automated analysis of the us presidential elections using big data and network analysis
Computational sociolinguistics
Converting human rights primary source documents into data
Cultural analysis
Data-driven discovery
Digital journalism research
Gender discrimination
Heterogeneous evidence using neural networks
Human values
Identifying motivations
Political communication research
Science of the social
Social media dynamics
Tracking employment shocks
Twitter
Understand cultural processes
Resources:
Wikipedia:
References:
See also:
Cognitive Agents | Natural Language Processing
---
computational social science as the ultimate Web intelligence
X Tao, JD Velasquez-Silva, J Liu, N Zhong – World Wide Web, 2020 – Springer
… In another interesting work, "End-to-End Latent-Variable Task-Oriented Dialogue System with Exact Log-likelihood Optimization," the authors … These works made significant contributions to methodological advancement for Web Intelligence and Computational Social Science …
NUBOT: Embedded Knowledge Graph With RASA Framework for Generating Semantic Intents Responses in Roman Urdu
J Shabbir, MU Arshad, W Shahzad – arXiv preprint arXiv:2102.10410, 2021 – arxiv.org
… A training example for the RASA Core dialogue system is called a story … domain knowledge graph from API call than we are able to make our chatbot more dynamic and flexible with users but here is the major issue of … Journal of Computational Social Science, pages 1–13, 2020 …
Artificial intelligence cooperation to support the global response to COVID-19
M Luengo-Oroz, KH Pham, J Bullock… – Nature Machine …, 2020 – nature.com
… Virtual assistants and chatbots are being used to disseminate trusted content at scale 19 , requiring mechanisms for propagation of updates to information as new evidence becomes available in the COVID-19 response. Data and model sharing. AI applications require data …
The pushshift reddit dataset
J Baumgartner, S Zannettou, B Keegan… – Proceedings of the …, 2020 – ojs.aaai.org
… visualization. Custom tools have also been developed to integrate the Pushshift archive into Figure 3: The Pushshift chatbot in Slack. Figure … dataset. these Slack communities. For example, users can interact with a Slack chatbot in realtime. The …
Simple, interpretable and stable method for detecting words with usage change across corpora
H Gonen, G Jawahar, D Seddah… – Proceedings of the 58th …, 2020 – aclweb.org
… 1 Introduction Analyzing differences in corpora from different sources (different time periods, populations, geo- graphic regions, news outlets, etc) is a central use case in digital humanities and computational social science. A …
The Influence of Social Networks on Human Society
MA Ameddah – researchgate.net
… been an important topic for the most part of the 21st century in computational social science [6] that … A good example of social networks in the business field would be chatbots that have revealed … In fact, the global chatbot is expected to reach a revenue of US$994.5 million by the …
Adhering, Steering, and Queering: Treatment of Gender in Natural Language Generation
Y Strengers, L Qu, Q Xu, J Knibbe – … of the 2020 CHI Conference on …, 2020 – dl.acm.org
… However, much of HCI's NLG-based interests focus on chat- bots and virtual assistants (VA … might involve developing distinctive personalities or genders for text-based chatbots, conversational agents … This is different from generating a gender neutral chatbot that seeks to erase or …
POLITICS IN THE AGE OF CONNECTIVE CYNICISM
F SCHÄFER – The Digital Transformation–Implications for the Social … – academia.edu
… or involuntarily) interacting not only with real humans, but also with algorithms, such as filter algorithms sug- gesting information and potential friends, or machine learning algo- rithms, for instance, those used in software to control bots ("friendly" chatbots and "malicious" social …
Disembodied machine learning: On the illusion of objectivity in NLP
Z Waseem, S Lulz, J Bingel, I Augenstein – arXiv preprint arXiv …, 2021 – arxiv.org
… includes high-level tasks that require semantic and pragmatic understanding, eg machine translation (MT), dialogue systems, metaphor detection … In Proceedings of the First Workshop on NLP and Computational Social Science, pages 138–142, Association for Computational …
Relationship identification between conversational agents using emotion analysis
S Qamar, H Mujtaba, H Majeed, MO Beg – Cognitive Computation, 2021 – Springer
… Smart chatbots deployed as helpline agents on Twitter are prime examples of such a use-case … Recent generative conversational models have been incorporating audio features for incorporating such sentiments in dialog systems [41] …
Opportunities for Artificial Intelligence–Enabled Social Media Analysis of Public Attitudes Toward Covid-19 Vaccines
A Hussain, A Sheikh – NEJM Catalyst Innovations in Care Delivery, 2021 – catalyst.nejm.org
… Brandt J, Buckingham K, Buntain C. Identifying social media user demographics and topic diversity with computational social science: a case study of … Nadarzynski T, Miles O, Cowie A, Ridge D. Acceptability of artificial intelligence (AI)-led chatbot services in healthcare: A mixed …
Digital civic participation and misinformation during the 2020 taiwanese presidential election
HCH Chang, S Haider, E Ferrara – Media and Communication, 2021 – cogitatiopress.com
… Abstract From fact-checking chatbots to community-maintained misinformation databases, Taiwan has emerged as a critical case- study for citizen participation in politics online … The Cofacts chatbot was created to counter chatroom-based misinformation (Han, 2018) …
Some Thoughts on Digitalization Research in Times of Corona
J Radtke – NEWPERSPEC TI VES ON DI GI T ALI Z ATI ON: LOC … – ris.utwente.nl
… particularly likely to deal with digitalization, eg computer science, digital health and digital humanities, computational social science, research on … as he introduced the speech processing software ELIZA in 1966, partly anticipated artificial intelligence and chatbots and already …
Towards a Comprehensive Taxonomy and Large-Scale Annotated Corpus for Online Slur Usage
J Kurrek, HM Saleem, D Ruths – Proceedings of the Fourth Workshop on …, 2020 – aclweb.org
… 139 used by Amazon.com were shown to discriminate against women (Cook, 2018). Similarly, Microsoft released a public chatbot that learned to share racist content on Twitter (Vincent, 2016). A common so- lution is to debias language representations (Boluk- basi et al., 2016) …
Artificial intelligence tools and perspectives of university librarians: An overview
MY Ali, SB Naeem, R Bhatti – Business Information Review, 2020 – journals.sagepub.com
The main purpose of this paper is to assess and examine the possible application of Artificial Intelligence (AI) tools in Pakistani academic libraries, particularly those areas of library technical…
Automatic Detection of Sexist Statements Commonly Used at the Workplace
D Grosz, P Conde-Cespedes – … on Knowledge Discovery and Data Mining, 2020 – Springer
… Applications regarding a state-of-the-art workplace sexism detection model include aids for Human Resources departments, AI chatbots and sentiment analysis … In: Proceedings of the Second Workshop on NLP and Computational Social Science edn …
Wide-spectrum characterization of long-running political phenomena on social media: the brexit case
E Calisir, M Brambilla – Proceedings of the 35th Annual ACM …, 2020 – dl.acm.org
… In a recent article [10], the author states that the computational propaganda powered by political bots takes many forms: networks of highly automated Twitter accounts; fake users on Facebook, YouTube, and Instagram; chatbots on Tinder, Snapchat, and Reddit …
Falling victims to online disinformation among young Filipino people: Is human mind to blame?
ZC Collado, AJM Basco… – Cognition, Brain, Behavior, 2020 – search.proquest.com
… Journal of International Affairs, Special Issue, 71(1.5). Retrieved from https://ora.ox.ac.uk Brandtzaeg, PB, & Følstad, A. (2017, November). Why people use chatbots. In International Conference on Internet Science (pp. 377-392). Springer, Cham …
Opportunities, Tools, and New Insights: Evidence on Emotions in Service from Analyses of Digital Traces Data
A Rafaeli, GBY Tov, S Ashtar, D Altman – Emotions and Service in the …, 2020 – emerald.com
… opens. Computational Social Science research has touched on the study of emotion. Groups … customers. In this vein, Hu et al. (2018) describe creation of a tone-aware chatbot for interactions with customer requests on social media. Balducci …
Augmenting surveys with data from sensors and apps: Opportunities and challenges
B Struminskaya, P Lugtig, F Keusch… – Social Science …, 2020 – journals.sagepub.com
The increasing volume of "Big Data" produced by sensors and smart devices can transform the social and behavioral sciences. Several successful studies used digital data to provide new insights into…
Bots as Active News Promoters: A Digital Analysis of COVID-19 Tweets
A Al-Rawi, V Shukla – Information, 2020 – mdpi.com
… from official health chatbots, they are both automated accounts that are active on social media. We argue here that within the context of this COVID-19 pandemic, there are clear similarities but certainly different motivations. WHO, on the one hand, created a health chatbot on …
A survey of the state of explainable AI for natural language processing
M Danilevsky, K Qian, R Aharonov, Y Katsis… – arXiv preprint arXiv …, 2020 – arxiv.org
… This ob- fuscation of the process by which a model arrives at its results can be problematic, as it may erode trust in the many AI systems humans interact with daily (eg, chatbots, recommendation systems, in- formation retrieval algorithms, and many others) …
Researching Social Networks: Opportunities and Challenges
D Jemielniak – Frontiers in Human Dynamics, 2020 – frontiersin.org
… (2012). Manifesto of computational social science. Eur. Phys. J. Spec. Top … Org. Inquiry 13, 48–62. Google Scholar. Przegalinska, A., Ciechanowski, L., Stroz, A., Gloor, P., and Mazurek, G. (2019). In bot we trust: a new methodology of chatbot performance measures. Bus. Horiz …
Individuals with depression express more distorted thinking on social media
KC Bathina, M Ten Thij, L Lorenzo-Luaces… – Nature Human …, 2021 – nature.com
Depression is a leading cause of disability worldwide, but is often underdiagnosed and undertreated. Cognitive behavioural therapy holds that individuals with depression exhibit distorted modes of thinking, that is, cognitive distortions, that can negatively affect their emotions …
Smart City and Modelling of Its Unorganized Flows Using Cell Machines
TT Trung – Civil Engineering Journal, 2020 – core.ac.uk
… the computerized tracking of a look), neurosystems, bases and the systems of knowledge, supports of solutions, the chat bots, "talking heads … "Big Data in Computational Social Sciences and Humanities: An Introduction." Big Data in Computational Social Science and Humanities …
Text Style Transfer: A Review and Experiment Evaluation
Z Hu, RKW Lee, CC Aggarwal – arXiv preprint arXiv:2010.12742, 2020 – arxiv.org
… The research and development of chatbots, ie, intelligent dialogue systems that are able to engage in … from the study suggest that a user may be influenced by chatbot's conversational styles, and TST algorithms could be exploited to enhance the chatbots' flexibility in …
Emotion preservation in translation: Evaluating datasets for annotation projection
K Kajava, E Öhman, P Hui… – Proceedings of Digital …, 2020 – helda.helsinki.fi
… Although this problem is being addressed more and more, the lack of resources is still leading to difficulties in creating tools such as customer-service chat bots, automatic speech recognition [1 … In: NIPS workshop on computational social science and the wisdom of crowds (2010 …
Emoji Embeddings Across Languages and Cultures
A Dennis, C Muxica, S Dziewietin, S Koch-Sultan – christian-muxica.com
… Contemporary computational social science, communication re- search, and linguistic research have shown that communication through emoji has the same level of … Not only would this compari- son be interesting, but it could prove useful in de- veloping chat bots capable of …
Proceedings of the 58th Annual Meeting of the Association for Computational Linguistics
D Jurafsky, J Chai, N Schluter, J Tetreault – … of the 58th Annual Meeting of …, 2020 – aclweb.org
… Cognitive Modeling and Psycholinguistics: Emily Prud'hommeaux, Cassandra L. Jacobs, Cecilia Ovesdotter Alm, Christos Christodou- lopoulos, Masoud Rouhizadeh, Serguei Pakhomov, Yevgeni Berzak Computational Social Science and Social Media …
Dangers of Bias in Data-Intensive Information Systems
B Park, DL Rao, VN Gudivada – Next Generation Information Processing …, 2021 – Springer
… Chandler, S.: The AI chatbot will hire you now … Lazer, D., Pentland, A., Adamic, l., Aral, S., Barabasi, AL, Brewer, D., Christakis, N., Contractor, N., Fowler, J., Gutmann, M., Jebara, T., King, G., Macy, M., Roy, D., Van Alstyne, M.: Computational social science …
Dynamic mechanism of social bots interfering with public opinion in network
C Cheng, Y Luo, C Yu – Physica A: Statistical Mechanics and its …, 2020 – Elsevier
… As an approach to computational social science, ABMs are used here to construct and measure the spiral of silence model [19], [36], [37]. The framework of opinion formation and expression according to the spiral of silence theory is shown in Fig …
Towards the Design of an Interactive Machine Learning System for Qualitative Coding
T Rietz, A Maedche – 2020 – aisel.aisnet.org
… "Tell Me About Yourself: Using an AI-Powered Chatbot to Conduct … "Optimizing Features in Active Machine Learning for Complex Qualitative Content Analysis," in Proceedings of the ACL Workshop on Language Technologies and Computational Social Science, pp. 44–48.
Perceived threats from social bots: The media's role in supporting literacy
D Schmuck, C von Sikorski – Computers in Human Behavior, 2020 – Elsevier
… chatbot conversations, Hill, Ford, and Farreras (2015) found that although individuals used fewer words per message when communicating with a chatbot rather than a human, their communication indicated that they felt confident and comfortable communicating with chatbots …
Using BERT for Qualitative Content Analysis in Psychosocial Online Counseling
P Grandeit, C Haberkern, M Lang, J Albrecht… – … Computational Social …, 2020 – aclweb.org
Page 1. Proceedings of the Fourth Workshop on Natural Language Processing and Computational Social Science, pages 11–23 Online, November 20, 2020. c 2020 Association for Computational Linguistics https://doi.org/10.18653/v1/P17 11 Abstract …
Review and Challenges of Technologies for Real-time Human Behavior Monitoring
S Davila-Montero, JA Dana-Le, G Bente… – … Circuits and Systems, 2021 – ieeexplore.ieee.org
… They are better known in those areas as "social signals", a notion that was first introduced in the field of computational social science and organization engineering [57]. Thus, we focus on reviewing the most commonly used nonverbal communication channels …
A scoping review on the use, processing and fusion of geographic data in virtual assistants
C Granell, PG Pesántez?Cabrera… – Transactions in … – Wiley Online Library
… While chatbots and virtual assistants have recently drawn much attention in other fields, such as healthcare and mental health (Abd?alrazaq et … from 2010 to 2019 and executing queries that combined search terms related to the virtual assistants (eg chatbot, conversational, and …
Bots, elections, and social media: a brief overview
E Ferrara – Disinformation, Misinformation, and Fake News in …, 2020 – Springer
… A very recent trend is that of providing Bot-As-A-Service (BaaS): Advanced conversational bots powered by sophisticated Artificial Intelligence are provided by companies like ChatBots.io that can be used to carry digital spam campaigns [29] and scale such operations by …
Sociological modeling of smart city with the implementation of UN sustainable development goals
O Kolesnichenko, L Mazelis, A Sotnik, D Yakovleva… – Sustainability …, 2021 – Springer
The COVID-19 pandemic before mass vaccination can be restrained only by the limitation of contacts between people, which makes the digital economy a key co.
Stance detection: A survey
D Küçük, F Can – ACM Computing Surveys (CSUR), 2020 – dl.acm.org
Page 1. 12 Stance Detection: A Survey DILEK KÜÇÜK, TÜB?TAK Energy Institute, Ankara, Turkey FAZLI CAN, Bilkent University, Ankara, Turkey Automatic elicitation of semantic information from natural language texts is an important …
Affective organizational commitment, 174–181 ANOVA, 146 Anxiety, 78–79 Approach motivation, 35–36
BSR Inventory – Anxiety – emerald.com
… Case-based learning (CBL), 86 Chat-based service conversations, 111–112 Chatbots, 15 Chi-square analysis, 146 CoachBots, 13 … fit index (CFI), 182–183 Compassion, 55, 62 Competencies, 60 Composite reliability (CR), 58–59 Computational social science, 108 …
Detecting Abuse on the Internet: It's Subtle
S Bagga – 2020 – search.proquest.com
… Consequently, there is a growing interest in the fields of Natural Language Processing (NLP) and computational social science to develop algorithmic models that can au- tomatically detect offensive language on social media. 1 Page 13 …
How should we understand the digital economy in Asia? Critical assessment and research agenda
K Li, DJ Kim, KR Lang, RJ Kauffman, M Naldi – … Commerce Research and …, 2020 – Elsevier
JavaScript is disabled on your browser. Please enable JavaScript to use all the features on this page. Skip to main content Skip to article …
Detecting 'Dirt'and 'Toxicity': Rethinking Content Moderation as Pollution Behaviour
N Thylstrup, Z Waseem – Available at SSRN 3709719, 2020 – papers.ssrn.com
… It was kind of like Microsoft's infamous failed Tay chatbot experiment, except instead of tricking the bot into replying with racist tweets, Jigsaw used the crowdsourced virulence as training data to feed its models, helping to identify and …
The Rise of Emotion AI: Decoding Flow Experiences in Sports
M Bartl, J Füller – 21st Century Sports, 2020 – Springer
… 2017; Richter and Bartl 2018); human resources try to create safe and productive workplace improvements; sales teams try to optimize customer service (eg, chatbots, call centers … In CM Stützer, M. Welker & M.Egger (Eds.), Computational social science in the age of big data (pp …
Proceedings of the 2020 Conference on Empirical Methods in Natural Language Processing (EMNLP)
T Cohn, Y He, Y Liu – Proceedings of the 2020 Conference on Empirical …, 2020 – aclweb.org
… USA Senior Area Chairs Computational Social Science and Social Media Jacob Eisenstein, Google, USA Dong Nguyen, Utrecht University, Netherlands Dialog … USA Area Chairs Computational Social Science and Social Media David …
The Diffusion of Information, Emotions and Opinions on Social Media
B Roß – 2020 – duepublico2.uni-due.de
Page 1. The Diffusion of Information, Emotions and Opinions on Social Media Von der Fakultät für Ingenieurwissenschaften, Abteilung Informatik und Angewandte Kognitionswissenschaft der Universität Duisburg-Essen zur Erlangung des akademischen Grades …
Cognitive Superiority: Information to Power
DS Hartley III, KO Jobson – 2020 – books.google.com
Page 1. Dean S. Hartley III Kenneth O. Jobson Cognitive Superiority Information to Power Page 2. Cognitive Superiority Page 3. Dean S. Hartley III • Kenneth O. Jobson Cognitive Superiority Information to Power Page 4. Dean …
The Technium: Tools and Targets of the Conflicts
DS Hartley III, KO Jobson – Cognitive Superiority, 2021 – Springer
… Servant bots consist of bots such as the chat bots that serve help functions; however, to the extent that they collect personal information about the user chatting with them, their overall use may be problematical (Dubois & McKelvey 2019) … Computational social science has arrived …
Confronting Abusive Language Online: A Survey from the Ethical and Human Rights Perspective
S Kiritchenko, I Nejadgholi, KC Fraser – arXiv preprint arXiv:2012.12305, 2020 – arxiv.org
… Automatic detection of harmful content has been deployed to increase the safety of virtual assistants and chatbots, through prevention of hate speech generation … Xu, Ju, Li, Boureau, Weston, and Dinan (2020) investigated the safety of open-domain chatbots …
Depressed individuals express more distorted thinking on social media
KC Bathina, M Thij, L Lorenzo-Luaces… – arXiv preprint arXiv …, 2020 – arxiv.org
… Future char- acterizations of the relations between depressogenic language and mood may aid in the develop- ment of automated interventions (eg, "chatbots") or suggest … This is an important discussion in computational social science that will continue to be investigated …
Towards Neural Programming Interfaces
ZC Brown, N Robinson, D Wingate, N Fulda – arXiv preprint arXiv …, 2020 – arxiv.org
… Curran Associates, Inc., 2017. [2] Daniel Adiwardana, Minh-Thang Luong, David R. So, Jamie Hall, Noah Fiedel, Romal Thoppilan, Zi Yang, Apoorv Kulshreshtha, Gaurav Nemade, Yifeng Lu, and Quoc V. Le. Towards a human-like open-domain chatbot, 2020 …
Artificial intelligence for social good: A survey
ZR Shi, C Wang, F Fang – arXiv preprint arXiv:2001.01818, 2020 – arxiv.org
… present sports videos for days if one happens to watch a live baseball game on the platform [1]; email writing becomes much faster with machine learning (ML) based auto-completion [2]; many businesses have adopted natural language processing based chatbots as part of …
Predicting political sentiments of voters from Twitter in multi-party contexts
A Khatua, A Khatua, E Cambria – Applied Soft Computing, 2020 – Elsevier
JavaScript is disabled on your browser. Please enable JavaScript to use all the features on this page. Skip to main content Skip to article …
Defining collective identities in technopolitical interaction networks
XE Barandiaran, A Calleja-López… – Frontiers in …, 2020 – ncbi.nlm.nih.gov
… of automated politics. Campaigns include processes of political automation: the use of chatbots, posting bots, false profiles, and the automated inflation of metrics and followers (Bessi and Ferrara, 2016). They are frequently …
NEW PERSPECTIVES ON DIGITALIZATION: LOCAL ISSUES AND GLOBAL IMPACT
J RADTKE, M KLESEL, B NIEHAVES – researchgate.net
… particularly likely to deal with digitalization, eg computer science, digital health and digital humanities, computational social science, research on … as he introduced the speech processing software ELIZA in 1966, partly anticipated artificial intelligence and chatbots and already …
Commentary: Opportunities and challenges of technology in relationship marketing
L Steinhoff, RW Palmatier – Australasian Marketing Journal (AMJ), 2020 – ncbi.nlm.nih.gov
… To augment online customer experiences, companies increasingly invest in new instruments focusing on "humanizing" artificial intelligence technologies, such as chatbots, avatars, virtual assistants, embodied virtual agents, or service robots that interact with customers ( Saad …
NADAL: A Neighbor-Aware Deep Learning Approach for Inferring Interpersonal Trust Using Smartphone Data
GF Bati, VK Singh – Computers, 2021 – mdpi.com
Interpersonal trust mediates multiple socio-technical systems and has implications for personal and societal well-being. Consequently, it is crucial to devise novel machine learning methods to infer interpersonal trust automatically using mobile sensor-based behavioral data. Considering …
"Evacuate everyone south of that line" Analyzing structural communication patterns during natural disasters
E Kušen, M Strembeck – Journal of Computational Social Science, 2020 – Springer
In this paper, we analyze more than 16 million tweets that have been sent from 6.1 million Twitter accounts and are related to nine natural disasters. As p.
An ad hoc WHO technical consultation managing the COVID-19 infodemic: call for action, 7-8 April 2020
World Health Organization – 2020 – apps.who.int
Page 1. AN AD HOC WHO TECHNICAL CONSULTATION Managing the COVID-19 infodemic CALL FOR ACTION Page 2. Page 3. AN AD HOC WHO TECHNICAL CONSULTATION CALL FOR ACTION Managing the COVID-19 infodemic Page 4 …
Effects of Support-Seekers' Community Knowledge on Their Expressed Satisfaction with the Received Comments in Mental Health Communities
Z Peng, X Ma, D Yang, KW Tsang, Q Guo – 2021 – zhenhuipeng.com
Page 1. Effects of Support-Seekers' Community Knowledge on Their Expressed Satisfaction with the Received Comments in Mental Health Communities Zhenhui Peng zpengab@connect.ust. hk The Hong Kong University of Science and Technology Hong Kong, China …
HOW ARTIFICIAL INTELLIGENCE IS CHANGING HEALTH AND HEALTH CARE
J Roski, W Chapman, J Heffner, R Trivedi, G Del Fiol… – Artificial Intelligence in … – nam.edu
… For example, a request by a patient to refill a prescription might involve speech recognition or AI chatbots, a rules-based system to determine if prior … It is worth noting that deep learning systems already drive many of today's speech recognition, translation, and chatbot programs …
NADAL: A Neighbor-Aware Deep Learning Approach for Inferring Interpersonal Trust Using Smartphone Data. Computers 2021, 10, 3
GF Bati, VK Singh – 2020 – search.proquest.com
Page 1. computers Article NADAL: A Neighbor-Aware Deep Learning Approach for Inferring Interpersonal Trust Using Smartphone Data Ghassan F. Bati 1 and Vivek K. Singh 2,* Citation: Bati, GF; Singh, VK NADAL: A Neighbor …
Multilingual identification of offensive content in social media
M Pàmies Massip – 2020 – diva-portal.org
… Among the applications of NLP are machine translators, spell checkers, virtual assistants, chatbots and interactive voice response applications. This project will focus on the sub-field of text classification, which is defined below. 2.1.1 Text classification …
Exploiting discourse structure of traditional digital media to enhance automatic fake news detection
A Bonet-Jover, A Piad-Morffis, E Saquete… – Expert Systems with …, 2021 – Elsevier
JavaScript is disabled on your browser. Please enable JavaScript to use all the features on this page. Skip to main content Skip to article …
digital society
R Haase – ericpostma.nl
Page 1. AI in the digital society Quality of algorithms and decision-making Prof. dr. Eric Postma Professor of Articial Intelligence Tilburg University Foreword By Ran Haase In 2015, we in Eindhoven were thinking about what the …
Artificial Intelligence: Risks and Opportunities for SOF
P Scharre – STRATEGIC LATENCY UNLEASHED, 2021 – cgsr.llnl.gov
… org/pdf/1804.00308. pdf; and James Vincent,"Twitter Taught Microsoft's AI Chatbot To Be a Racist Asshole in Less than a Day," Verge, May 24, 2016; and Peter Lee,"Learning from Tay's Introduction," Microsoft, March 25, 2016, https://blogs. microsoft …
Defining Collective Identities in Technopolitical Interaction Networks
XE Barandiaran Fernández, A Calleja López, E Cozzo – 2020 – addi.ehu.eus
… of automated politics. Campaigns include processes of political automation: the use of chatbots, posting bots, false profiles, and the automated inflation of metrics and followers (Bessi and Ferrara, 2016). They are frequently …
A Call for Scholar Activism
M Young, PM Krafft, MA Katell – AI Activism – dl.acm.org
… In gaining support for this effort via funding set aside by the University of Washington Information School for a speaker series on computational social science, we were able to provide university space, awareness, and honoraria to an event held on campus in April 2019 to a …
Truth, Lie and Hypocrisy
B Galitsky – Artificial Intelligence for Customer Relationship …, 2021 – Springer
Automated detection of text with misrepresentations such as fake reviews is an important task for online reputation management. We form the Ultimate Deception Dataset that consists of customer…
School of Computing Science
I Ounis, R Murray-Smith, J Jose, N Pugeault, P Siebert… – 2021 – 130.209.16.93
… simulated users. Building on the well-established agenda-based simulation framework from dialogue systems research, we develop interaction and preference models specific to the item recommendation scenario. For evaluation …
Closed-and Open-Vocabulary Approaches to Text Analysis: A Review, Quantitative Comparison, and Recommendations
JC Eichstaedt, ML Kern, DB Yaden… – Psychological …, 2020 – researchgate.net
… Keywords: text analysis, computational social science, method comparison, language, natural language processing 3 Page 4 … dialog systems, machine translation, and sentiment analysis (Kenton & Toutanova, 2019; Peters, Neumann, Zettlemoyer & Yih, 2018) …
Safety, Connection and Reflection: Designing with Therapists for Children with Serious Emotional Behaviour Issues
L Loke, A Blishen, C Gray, N Ahmadpour – 2021 – academia.edu
Page 1. Safety, Connection and Reflection: Designing with Therapists for Children with Serious Emotional Behaviour Issues Lian Loke The University of Sydney Sydney School of Architecture, Design and Planning Sydney, Australia lian.loke@sydney.edu.au …
Machine Learning in Mental Health
A Thieme, D Belgrave, G Doherty – scss.tcd.ie
Page 1. 1 Machine Learning in Mental Health A Systematic Review of the HCI Literature to Support the Development of Effective and Implementable ML Systems Anja Thieme† Healthcare Intelligence, Microsoft Research, Cambridge, UK, anthie@microsoft.com …
Cognitive Superiority
DS Hartley III, KO Jobson – Springer
Page 1. Dean S. Hartley III Kenneth O. Jobson Cognitive Superiority Information to Power Page 2. Cognitive Superiority Page 3. Dean S. Hartley III • Kenneth O. Jobson Cognitive Superiority Information to Power Page 4. ISBN …
Toward fairness in AI for people with disabilities SBG@ a research roadmap
A Guo, E Kamar, JW Vaughan, H Wallach… – ACM SIGACCESS …, 2020 – dl.acm.org
… lf not carefully built, conversational agents could amplify existing biases against PVVD, such as through returning stereotyped content in conversations (eg, Microsoft shut down the chatbot Tay because it started generating … Facebook launches Messenger platform with chatbots …
Software is Scholarship
HB Shadab – Available at SSRN 3632464, 2020 – papers.ssrn.com
Page 1. Draft last updated 7/10/2020 Software is Scholarship Houman B. Shadab1 Abstract This Article provides the first systematic account of software applications as works of scholarship. ?Software is scholarship?to the extent …
Closed and Open Vocabulary Approaches to Text Analysis: A Review, Quantitative Comparison, and Recommendations
ML Kern, DB Yaden, HA Schwartz, S Giorgi, G Park… – psyarxiv.com
… Keywords: text analysis, computational social science, method comparison, language, natural language processing … all tasks they have been used including named entity recognition, question answering, automatic reading comprehension, dialog systems, machine translation …
Controllable Text Generation
S Prabhumoye – 2020 – cs.cmu.edu
… At a minimum, controlling these three aspects of communication can be used for tasks such as: • Dialogue systems – controlling the persona of the system, various aspects of the response such formality, authority etc, and grounding conversation on unstructured content …
The Role of Justice in Development: The Data Revolution
M Ramos-Maqueda, DL Chen – 2020 – users.nber.org
Page 1. The Role of Justice in Development: The Data Revolution Manuel Ramos-Maqueda and Daniel L. Chen ? Efficient, fair, and accessible justice systems promote peace and secu- rity, support economic investment and …
Utilization Of Mobile Technology In Dissemination Of Information For Pension Claims Processing In Jubilee Insurance
NG Maina – 2020 – erepository.uonbi.ac.ke
Page 1. UNIVERSITY OF NAIROBI SCHOOL OF COMPUTING AND INFORMATICS UTILIZATION OF MOBILE TECHNOLOGY IN DISSEMINATION OF INFORMATION FOR PENSION CLAIMS PROCESSING IN JUBILEE INSURANCE BY MAINA NYAWIRA GLADYS …
A Socratic Principle-Based MethodFor Fighting Fake News
DHW Lam – 2020 – dspace.library.uu.nl
… In the work of Mohammad [23], sentiment analysis is a technique to identify and determine one's attitude towards a topic or target from a text. This task can be applied to measure the general opinion in elections, developing a dialogue system to handle queries or complaints, etc …
Understanding the Impact of Geographical Distance on Online Discussions
N Cheke, J Chandra, SK Dandapat – IEEE Transactions on …, 2020 – ieeexplore.ieee.org
Page 1. This article has been accepted for inclusion in a future issue of this journal. Content is final as presented, with the exception of pagination. IEEE TRANSACTIONS ON COMPUTATIONAL SOCIAL SYSTEMS 1 Understanding the Impact of Geographical Distance …
Digital Transformation of Identity in the Age of Artificial Intelligence
K Shibuya – 2020 – Springer
… Japan. This curriculum intentionally diversifies the risks from genetics, medical sciences, chemical safety, disaster, computer security, and social issues related to emerging risks in term of computational social science. Through …
Supporting Volunteer Moderation Practices in Online Communities
J Seering – 2020 – reports-archive.adm.cs.cmu.edu
… rebukes, interpersonal moderation, governance, communities, online communities, self- governance, self-moderation, literature review, platforms and policies, commercial content moderation, human- centered design, metaphors, computational social science, thematic analysis …