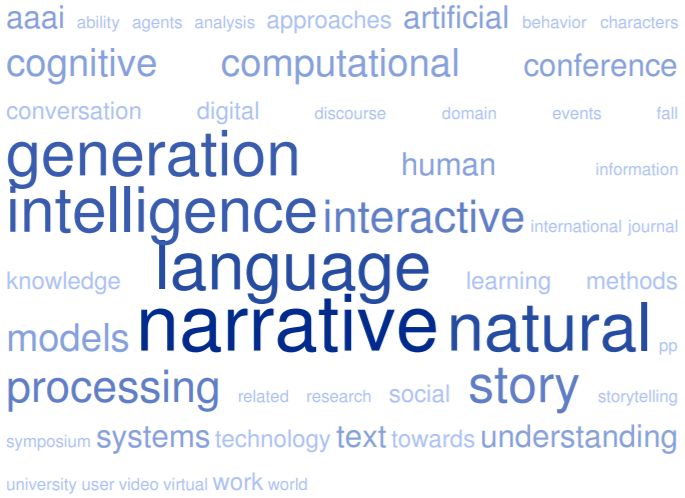 Notes:
Narrative intelligence is the ability to understand, analyze, and generate narratives. It involves the ability to identify the key elements of a narrative, such as characters, plot, and themes, and to understand the ways in which these elements interact to create a cohesive story.
Narrative intelligence is related to natural language processing in that natural language processing is one of the key tools used to study and analyze narratives. Natural language processing is the use of algorithms and other computational techniques to process and analyze natural language data, such as text and speech. By using natural language processing to analyze narrative texts, it is possible to identify key elements of the narrative, such as characters and events, and to understand how these elements relate to each other and contribute to the overall story.
In addition, natural language processing can be used to generate narratives. This can involve using machine learning algorithms to train a model on a large collection of narrative texts, and then using that model to generate new narrative texts. This can be used to create new stories, or to help generate responses to user input in interactive narrative systems.
Narrative understanding refers to the process of comprehending and interpreting stories or narratives. It involves the ability to recognize and interpret the elements of a story, such as the plot, characters, and setting, and to understand the relationships between these elements and their meaning.
Narrative understanding and narrative intelligence are related in that they both involve the ability to comprehend and make sense of stories and narratives. However, while narrative understanding is concerned with the process of understanding stories and narratives, narrative intelligence involves the ability to use this understanding in a practical and effective way. In other words, narrative intelligence is the ability to apply narrative understanding in real-world situations.
Wikipedia:
References:
See also:
100 Best Business Intelligence Tool Videos
---
Computer-assisted authoring for natural language story scripts
R Sanghrajka, W Wito?, S Schriber, M Gross… – Thirty-Second AAAI …, 2018 – aaai.org
… Natural language capabilities pose a challenge in informa- tion retrieval from complex stories: natural language under- standing has a long way to … Boyang Li's work in generating narrative intelligence and determining causal links from a crowd-sourced narrative is an interesting …
Effective Anchoring for Multimodal Narrative Intelligence
KR Chandu – 2020 – cs.cmu.edu
Page 1. Effective Anchoring for Multimodal Narrative Intelligence Thesis Proposal by … Page 2. Abstract Anthropomorphic narrative generation in natural language in the form of stories, pro- cedures, etc., has been a long-standing dream of artificial intelligence. Working towards …
Proceedings of the First Workshop on Narrative Understanding
D Bamman, S Chaturvedi, E Clark, M Fiterau… – Proceedings of the First …, 2019 – aclweb.org
… 12:17–12:19 Deep Natural Language Understanding of News Text Jaya Shree, Emily Liu, Andrew Gordon and Jerry Hobbs … 16:00–16:40 Invited talk: "Computational Narrative Intelligence and the Quest for the Great Automatic Grammatizator" Mark Riedl …
A narrative sentence planner and structurer for domain independent, parameterizable storytelling
SM Lukin, MA Walker – Dialogue & Discourse, 2019 – 129.70.43.92
… Natural Language and Dialogue Systems Lab University of California, Santa Cruz, CA … The ability to use Natural Language Generation (NLG) to produce stories that are tai- lored and adapted to the individual reader could have large impact in many different applications …
Desiderata for a Computational Model of Human Online Narrative Sensemaking
RE Cardona-Rivera, RM Young – 2019 – qed.cs.utah.edu
… events in a narrative's plot and has proven to be an effective method for modeling natural language generation in … is needed, we believe that exploring the interdependencies of sensemaking and generation will transformatively advance the enterprise of narrative intelligence …
9 Heteronomy of Narrative
HR Ekbia – Narrative Complexity: Cognition, Embodiment …, 2019 – books.google.com
… that moved colored blocks around in a virtual world shown on a monitor, following instructions given to it in natural language … Narrative Intelligence: Complexity Reduction through Attribution and Inscription Another approach, which is in some ways more attractive (and for that …
Designing a socially open narrative generation system
T Akimoto, T Ogata – Natural Language Processing: Concepts …, 2020 – igi-global.com
… This type of knowledge is applicable to various tasks of natural language processing, such as understanding and summarization, and also provides a basic knowledge for narrative generation … A text by the natural language generator and log data accompany each discourse …
Chatbot's Mechanical Intelligence Challenging Human Narrativity: A Humanistic Approach
DY Kim, B Lee – ?????, 2018 – dbpia.co.kr
… Some chatterbots use sophisticated natural language processing systems, but many simpler systems only scan for keywords within the input, then pull the reply with the most matching keywords, or the most … In contrast to a pure conceptual reasoning, narrative intelligence can …
Extending Narrative Planning Domains with Linguistic Resources.
J Porteous, JF Ferreira, A Lindsay, M Cavazza – AAMAS, 2020 – joaoff.com
… branching narratives). The underlying idea is to use natural language labels of planning domain elements to generate related concepts using lexical relations between these labels and other terms in online lexical resources. Hence …
The long path to narrative generation
P Gervás, E Concepción, C León… – IBM Journal of …, 2019 – ieeexplore.ieee.org
… Some of the solutions considered for this purpose have been based on Natural Language Processing, using various technologies for knowledge representation, and supported by a myriad of techniques from the domain of Artificial Intelligence … In Narrative Intelligence …
Narrative Generation to Support Causal Exploration of Directed Graphs
A Choudhry – 2020 – vtechworks.lib.vt.edu
… while enabling the user to see the effect of interventions on the target nodes, 2) the use of natural language generation techniques … Blair and Meyer [25] coined the term 'Narrative Intelligence', a phenomenon that defines an entity's ability to organize events and experiences as …
Narrative Generation in the Wild: Methods from NaNoGenMo
J van Stegeren, M Theune – Proceedings of the Second Workshop on …, 2019 – aclweb.org
Page 1. Proceedings of the Second Storytelling Workshop, pages 65–74 Florence, Italy, August 1, 2019. c 2019 Association for Computational Linguistics 65 Narrative Generation in the Wild: Methods from NaNoGenMo Judith …
Leveraging Cognitive Models in Planning to Assist Narrative Authoring
R Sanghrajka – Fourteenth Artificial Intelligence and Interactive Digital …, 2018 – aaai.org
… 2017), addressing the related problem of narrative information extraction – the use of natural language processing methods to identify events and other features of a story from a story text … Crowdsourcing narrative intelligence …
The Art of Narration and Artificial Narrative Intelligence: Implications for Interdisciplinary Research
IA Livytska – Journal of Narrative and Language Studies, 2019 – researchgate.net
… By the term "artificial narrative intelligence" (AnI) the author of this paper understands the insofar acquired capability of Story … models of creative writing (Bereiter &Scardamalia, 1987), Mind Theory (Minsky, 1981) and conceptualisations of natural language (see Davis&Travers …
Toward automated quest generation in text-adventure games
P Ammanabrolu, W Broniec, A Mueller, J Paul… – arXiv preprint arXiv …, 2019 – arxiv.org
… Quest generation requires narrative intelligence as a quest must maintain co- herence throughout and progress towards a goal … This is fur- ther complicated in the case of a text-adventure as a consequence of all interactions being in natural language—the potential output space …
Bringing stories alive: Generating interactive fiction worlds
P Ammanabrolu, W Cheung, D Tu, W Broniec… – arXiv preprint arXiv …, 2020 – arxiv.org
… Abstract World building forms the foundation of any task that requires narrative intelligence. In this work, we focus on procedurally generating interactive fic- tion worlds—text-based worlds that players "see" and "talk to" using natural language …
Narratological formulation of story-form memory construction: applying Genette's narrative discourse theory
T Akimoto – Biologically Inspired Cognitive Architectures Meeting, 2019 – Springer
… Keywords. Narrative intelligence Story Episodic memory Narratology Genette Narrative discourse theory Story-centered cognitive system. Download conference paper PDF. 1 Introduction … 15. Lönneker B (2005) Narratological knowledge for natural language generation …
Ex-Tarot: An extended Tarot-based narrative generation
PS Chacón, M Eger – 2019 IV Jornadas Costarricenses de …, 2019 – ieeexplore.ieee.org
… Additionally, a quarter of the stories was marked as containing grammatical errors. For future work, we would like to address the natural language generation to further reduce this error rate … Narrative intelligence. J. Benjamins Pub., 2003. [4] James R Meehan …
Villanelle: Towards Authorable Autonomous Characters in Interactive Narrative.
C Martens, O Iqbal, S Azad, M Ingling, A Mosolf… – INT/WICED …, 2018 – ceur-ws.org
… Narrative in Virtual Environments – Towards Emergent Narrative. In Working Notes of the Narrative Intelligence Symposium, 1999 … [MS03b] Michael Mateas and Andrew Stern. Integrating plot, character and natural language processing in the interac- tive drama façade …
Learning Joint Gaussian Representations for Movies, Actors, and Literary Characters
H Kim, D Katerenchuk, D Billet, H Park… – Proceedings of the …, 2019 – researchgate.net
… Recent years have witnessed renewed interest in narrative text understanding, a research topic closely related to many natural language prob- lems, including event semantics (Hu et al., 2017; Wang et al., 2017), script learning (Modi, 2016; Pichotta and Mooney, 2016; Ferraro …
The 3 International Workshop on Narrative Extraction from Texts: Text2Story 2020
R Campos, A Jorge, A Jatowt, S Bhatia – European Conference on …, 2020 – Springer
… Although information extraction and natural language processing have made significant progress towards automatic interpretation of texts, the problem of fully identifying and relating … Riedl, O.: Computational narrative intelligence: a human-centered goal for artificial intelligence …
Emergentist view on generative narrative cognition: considering principles of the self-organization of mental stories
T Akimoto – Advances in Human-Computer Interaction, 2018 – hindawi.com
… Although connectionist models including deep neural networks are applied to various domains including image-recognition systems and end-to-end natural language processing systems, this type of approach does not fit the essential part of generative narrative cognition …
COMPUTER-DRIVEN CREATIVITY STANDS AT THE FOREFRONT OF ARTIFICIAL INTELLIGENCE AND ITS POTENTIAL IMPACT ON LITERARY …
P Gervás – AC/E Digital Culture Annual Report.: Digital Trends in …, 2018 – books.google.com
… Bibliography 1. Agirrezabal, M., Arrieta, B., Hulden, M., Asti- garraga, A.: POS-tag based poetry generation with Wordnet. In: En: Proceedings of the 14th European Workshop on Natural Language Genera- tion (ACL 2013)(2013) …
Learning Norms from Stories: A Prior for Value Aligned Agents
MSA Nahian, S Frazier, M Riedl… – Proceedings of the AAAI …, 2020 – dl.acm.org
… In this work, we train multiple machine learning models to classify natural language descriptions of situations found in the comic strip as normative or non-normative by identifying if they align with the main characters' behavior …
Computer-based Story Generation. An Analysis from a Phenomenological Standpoint
? Tr?u?an-Matu – International Journal of User-System Interaction, 2019 – rochi.utcluj.ro
… Bailey, P. (1999) "Searching for storiness: Story generation from a reader's perspective", Narrative Intelligence … for concept-to-text generation", In Proceedings of the conference on Human Language Technology and Empirical Methods in Natural Language Processing, pp …
The campfire storytelling system–automatic creation and modification of a narrative
JR Hollister, AJ Gonzalez – Journal of Experimental & Theoretical …, 2019 – Taylor & Francis
… Instead of focusing on how to generate a narrative, STORYBOOK concentrates on how to take a story structure and create a natural language output in the story domain of Little Red Riding Hood. The story structure is created through the use of a finite state narrative planner …
Author-Driven Approaches to Computational Narrative Design for Games
DJ Tree, A Malizia – International Conference on Human-Computer …, 2019 – Springer
… Story analysis combines techniques in Natural Language Translation, Sentiment analysis and applies them to a corpus of stories to gain insights into the structures … (2016) who have begun to address the democratisation of computational narrative intelligence through the …
Generating stories using role-playing games and simulated human-like conversations
A Tapscott, C León, P Gervás – … Natural Language Generation (CC-NLG …, 2018 – aclweb.org
… and Natural Language Generation, pages 34–42, Tilburg, November 2018. c 2018 Association for Computational Linguistics References Ruth Aylett. 1999. Narrative in Virtual Environments – Towards Emergent Narrative. In AAAI fall sympo- sium on narrative intelligence …
Automatic text generation in macedonian using recurrent neural networks
I Milanova, K Sarvanoska, V Srbinoski… – … Conference on ICT …, 2019 – Springer
… In: Working Notes of the Narrative Intelligence Symposium (1999)Google Scholar. 2. PÉrez, RPÝ., Sharples, M.: MEXICA: a computer model of … Joint Conference of the 47th Annual Meeting of the ACL and the 4th International Joint Conference on Natural Language Processing of …
A dataset for telling the stories of social media videos
S Gella, M Lewis, M Rohrbach – … Empirical Methods in Natural Language …, 2018 – aclweb.org
… One goal of auto- matically understanding and describing such videos with natural language is to generate multi-sentence descriptions which convey the story, making them accessible to situationally (eg bandwidth) or phys- ically ("blind") disabled people … Narrative intelligence …
The study of narrative acts with and for digital media
N Szilas, S Estupiñán, M Marano… – Digital Scholarship in …, 2019 – academic.oup.com
Abstract. In this article, we introduce the concept of narrative act which denotes a meta-action—an action on an action—that contributes to the narrative seque.
Stories as mental representations of an agent's subjective world: A structural overview
T Akimoto – Biologically inspired cognitive architectures, 2018 – Elsevier
… on natural language generation (2005), pp. 91-100. Google Scholar. Mani, 2013 I. ManiComputational modeling of narrative. Morgan & Claypool, CA (2013). Google Scholar. Mateas and Sengers, 2003 M. Mateas, P. Sengers (Eds.), Narrative intelligence, John Benjamins …
Towards Design Principles for Humor in Interactive Emergent Narrative.
K Chen, S Rank – DiGRA Conference, 2018 – digra.org
… Although discourse is vitally important in comedy, it also lends itself to extremely difficult problems with natural language generation: it is … "Narrative in virtual environments-towards emergent narrative." In Proceedings of the AAAI fall symposium on narrative intelligence, pp …
The 3\documentclass [12pt]{minimal}\usepackage {amsmath}\usepackage {wasysym}\usepackage {amsfonts}\usepackage {amssymb}\usepackage {amsbsy} …
R Campos, A Jorge, A Jatowt… – Advances in Information …, 2020 – europepmc.org
… Although information extraction and natural language processing have made significant progress towards automatic interpretation of texts, the problem of fully identifying and relating … Riedl, O.: Computational narrative intelligence: a human-centered goal for artificial intelligence …
An approach to analyze the social acceptance of virtual assistants by elderly people
N Thakur, CY Han – Proceedings of the 8th International Conference on …, 2018 – dl.acm.org
… Author Keywords Virtual assistants, social acceptance, natural language processing, sentiment analysis, user experience, trust, interactive devices, emotion analysis … In: AAAI fall symposium on narrative intelligence, pp 87–92 5. Lazlo Ring, Lin Shi, Kathleen Totzke, Timothy …
An industrial educational laboratory at Ducati Foundation: narrative approaches to mechanics based upon continuum physics
F Corni, HU Fuchs, G Savino – International Journal of Science …, 2018 – Taylor & Francis
… in the arms and body when pushing the beam) and gradually learn how to explain what is experienced in terms of good natural language … The term narrative framing is used in a double sense, to represent (1) the enlisting of narrative intelligence in the perception of phenomena …
Narrative Text Generation via Latent Embedding from Visual Stories
??? – 2019 – s-space.snu.ac.kr
… can describe it using natural language, which is human-readable. Then we can adopt the narrative text generation as a surrogate task for situation explanation. Story generation tasks are one of interesting field so-called Narrative Intelligence …
Visual Understanding and Narration: A Deeper Understanding and Explanation of Visual Scenes
SM Lukin, C Bonial, CR Voss – arXiv preprint arXiv:1906.00038, 2019 – arxiv.org
… Cognitive Science, 5(4):293–331. Boyang Li. 2015. Learning knowledge to support domain-independent narrative intelligence. Ph.D. thesis, Georgia Institute of Technology … Springer. Birte Lönneker. 2005. Narratological Knowledge for Natural Language Generation …
of human understanding: Sharing narratives of meaning
J Delafield-Butt – The Child's Curriculum: Working with the …, 2018 – books.google.com
… coupled to expressive gestures and vocalizations, which gives us the powers of what Thomas Reid calls our natural language … NARRATIVE INTELLIGENCE AND FEELINGS IN COGNITION 77 time becoming much more complex with intrusions from the other children and other …
Consideration of Fundamental Methods and Principles for Human-Computer Co-Creation of Narratives
T Akimoto, T Ogata – Post-Narratology Through Computational and …, 2019 – igi-global.com
… This type of knowledge is applicable to various tasks of natural language processing, such as understanding and summarization, and also provides a basic knowledge for narrative generation … Natural language is a basic expression form …
Storifying observed events: Could i dress this up as a story
P Gervás – Proc. 5th AISB Symp. Comput. Creativity, 2018 – nil.fdi.ucm.es
… content planning', in Proceedings of Computational Creativity and Natural Language Generation Workshop, International Conference on Natural Language Generation (INLG … model for simple narratives', in Pro- ceedings of the AAAI Fall Symposium on Narrative Intelligence, pp …
Learning Generative Models of Social Interactions with Humans-in-the-Loop
D Feng, P Sequeira, E Carstensdottir… – 2018 17th IEEE …, 2018 – ieeexplore.ieee.org
… 8, pp. 139–152, 1995. [14] M. Mateas and P. Sengers, Narrative intelligence. J. Benjamins Pub., 2003. [15] J. Pennington, R. Socher, and CD Manning, "Glove: Global vectors for word representation," in Empirical Methods in Natural Language Processing (EMNLP), 2014, pp …
Identifying Therapist and Client Personae for Therapeutic Alliance Estimation.
VR Martinez, N Flemotomos, V Ardulov… – …, 2019 – researchgate.net
… 37, no. 1-2, 2013. [13] M. Riedl, "Computational Narrative Intelligence: Past, Present, and … [22] K.-n. Hassanali, Y. Liu, and T. Solorio, "Using latent dirichlet allocation for child narrative analysis," in Proceedings of the 2013 Workshop on Biomedical Natural Language Processing …
Automation of news production in Norway: Augmenting newsroom with artificial intelligence.
E Pashevich – 2018 – duo.uio.no
… Norwegian newsrooms. The technology of Natural Language Generation, powered by artificial intelligence, allows partial automation of mundane and repetitive tasks, while freeing … written materials. The Natural Language Generation (NLG) technology that lies at the core of …
Biologically Inspired Cognitive Architectures 2019: Proceedings of the Tenth Annual Meeting of the BICA Society
AV Samsonovich – 2019 – books.google.com
… and journals: –Artificial social–emotional intelligence; –Active humanlike learning and cognitive growth; –Narrative intelligence and context … 48 Sergio Castellanos, Luis-Felipe Rodríguez, and J. Octavio Gutierrez-Garcia Overview of Natural Language Processing Approaches in …
Program understanding, the narrative hypothesis
E Harth – 2019 – archive-ouverte.unige.ch
… level application behaviour and source code statements as two comparable stories, both written in natural language … This technique rests on the domain concepts identified in the program using an ontology (designed by an expert of the domain) and the natural language …
Lyra: Simulating Believable Opinionated Virtual Characters
S Azad, C Martens – Proceedings of the AAAI Conference on Artificial …, 2019 – aaai.org
… Our system instead produces modifiers and keywords that in combination with a templat- ing mechanism could state the intention of the characters and be used to produce natural language dialog utterances … ANT and the traditional narrative intelligence approach …
Story Quality as a Matter of Perception: Using Word Embeddings to Estimate Cognitive Interest
M Behrooz, J Robertson, A Jhala – Proceedings of the AAAI Conference on …, 2019 – aaai.org
… Small talk and conversational storytelling in embodied conversational interface agents. In AAAI fall symposium on narrative intelligence, 87–92 … In Proceedings of the 2014 conference on empirical methods in natural language processing (EMNLP), 1532–1543 …
DramaQA: Character-Centered Video Story Understanding with Hierarchical QA
S Choi, KW On, YJ Heo, A Seo, Y Jang, S Lee… – arXiv preprint arXiv …, 2020 – arxiv.org
… video events. Video Story Question Answering requires the ability to discriminate what's meaningful in a very long video, and also requires visual processing, natural language, and additional acoustic modeling. Recently, there …
Socially emotional brain-inspired cognitive architecture framework for artificial intelligence
AV Samsonovich – Cognitive Systems Research, 2020 – Elsevier
… To unleash the power of these elements in order to make behavior of the agent believable, one may need to add another functionality to the model, called narrative intelligence (Pentland and Feldman, 2007, Riedl and Young, 2010) …
Combining intentionality and belief: Revisiting believable character plans
A Shirvani, R Farrell, SG Ware – Fourteenth Artificial Intelligence and …, 2018 – aaai.org
… Alireza Shirvani, Rachelyn Farrell, Stephen G. Ware Narrative Intelligence Lab, Department of Computer Science University of New Orleans, New Orleans, LA 70148, USA {ashirvan … First we translate all actions into short sentences using a simple natural language template …
Deep Reinforcement Learning for Interactive Narrative Planning.
P Wang – 2018 – repository.lib.ncsu.edu
… cognitive science communities for a long time. Narrative intelligence tasks, such as story … Skerry-Ryan, Stanton, Wu, Weiss, Jaitly, Yang, Xiao, Chen, Bengio & Le, 2017; Mehri et al., 2016; Sotelo et al., 2017), natural language processing and understanding (Kumar et al., 2016; …
Story scrambler-automatic text generation using word level rnn-lstm
D Pawade, A Sakhapara, M Jain… – International …, 2018 – pdfs.semanticscholar.org
… to articulate a piece of a promotional snippet, they have followed the following steps: (a) information extraction (b) sentiment analysis (c) natural language generation … This system claims to provide narrative intelligence but yet there is scope to improve the accuracy of story quality …
Learning to Listen: Critically Considering the Role of AI in Human Storytelling and Character Creation
A Kasunic, G Kaufman – Proceedings of the First Workshop on …, 2018 – aclweb.org
… Just as recent work in natural language process- ing has criticized and sought ways to rectify the amplification of negative biases (eg gender bi- ases) in NLP techniques (Dwork et al., 2012; Zhao et al., 2017; Bolukbasi et al., 2016; Voigt et al., 2017), AI storytelling has the …
Manipulating Narrative Salience in Interactive Stories Using Indexter's Pairwise Event Salience Hypothesis
R Farrell, SG Ware, LJ Baker – IEEE Transactions on Games, 2019 – ieeexplore.ieee.org
… There are comparatively few works that focus specifically on influencing user behavior [24]. Roberts and Isbell were able to influence players using player models and concepts from social psychology, discourse analysis, and natural language generation [25]. El Nasr et al …
Exploring improvisational approaches to social knowledge acquisition
D Feng, E Carstensdottir, MS El-Nasr, S Marsella – 2019 – eprints.gla.ac.uk
Page 1. Feng, D., Carstensdottir, E., El-Nasr, MS and Marsella, S. (2019) Exploring Improvisational Approaches to Social Knowledge Acquisition. In: 18th International Conference on Autonomous Agents and MultiAgent Systems, Montreal, QC, Canada, 13-17 May 2019, pp …
To Test Machine Comprehension, Start by Defining Comprehension
J Dunietz, G Burnham, A Bharadwaj… – arXiv preprint arXiv …, 2020 – arxiv.org
Page 1. To Test Machine Comprehension, Start by Defining Comprehension Jesse Dunietz?, Gregory Burnham?, Akash Bharadwaj, Jennifer Chu-Carroll, Owen Rambow, and David Ferrucci Elemental Cognition 1jessed,gregb …
Screenwriting for new film mediums: Conceptualizing visual models for interactive storytelling
G Ogle – Journal of Screenwriting, 2019 – ingentaconnect.com
… Very little if any of the narrative intelligence research to date has addressed how to assist storyworld authors (2007: 68) […] The creative … Although looking towards the crea- tion of new technologies and new ways to interact (like natural language), he urges authors to forget …
Augmenting user interaction experience through embedded multimodal media agents in social networks
M Matsiola, C Dimoulas, G Kalliris… – Information Retrieval and …, 2018 – igi-global.com
… Computational systems of narrative intelligence may interact with human users in a natural way since they understand collaborative … such as cloud computing and mobile cloud computing paradigms, new software engineering models, natural language processing, artificial …
Oxford Research Encyclopedia of Literature
D Coste – 2018 – academia.edu
Page 1. Narrative Theory and Aesthetics in Literature Page 1 of 44 PRINTED FROM the OXFORD RESEARCH ENCYCLOPEDIA, LITERATURE (literature.oxfordre.com). (c) Oxford University Press USA, 2016. All Rights Reserved …
Effect of Explicit Emotional Adaptation on Prosocial Behavior of Humans towards Robots depends on Prior Robot Experience
B Kühnlenz, K Kühnlenz, F Busse… – 2018 27th IEEE …, 2018 – ieeexplore.ieee.org
… The importance of such "mutual beliefs" in natural language communication is instantiated in the phenomenon of "grounding" [12], meaning that the interpretation of communicated contents has to be at least … of the AAAI Fall Symposium on Narrative Intelligence, 1999 …
Intention Revision of Plan-Based Agents for Narrative Generation.
AA Amos-Binks – 2018 – repository.lib.ncsu.edu
… Using intentional plans that contain intention revisions, I generate simple template-based natural language text that human subjects read … Often referred to as narrative intelligence [MS99], education [eg Row11] and entertainment [eg Gam12] leverage our narrative intelligence …
Constructive Biology of Emotion Systems: First-and Second-Person Methods for Grounding Adaptation in a Biological and Social World
CL Nehaniv – Cognitive Architectures, 2019 – Springer
… We argue that these grammatical categories of human natural language are useful in considering the adaptive role of emotions as they relate to, regulate, and control behaviors in … Post-reactivity and deliberation are supported by remembering, history, and narrative intelligence …
Improvisational Artificial Intelligence for Embodied Co-creativity
M Jacob – 2019 – smartech.gatech.edu
… challenging to address in its unconstrained form because it requires agents to possess many complex reasoning capabilities such as narrative intelligence (the ability to tell and under … tive is referred to as narrative intelligence (see [28, 29, 30]). As a central human faculty …
Dynamic emphatical narration for reduced authorial burden and increased user freedom in interactive storytelling
G Méndez, R Hervás, P Gervás, A Martín… – Connection …, 2019 – Taylor & Francis
… Aylett, 1999 Aylett, R. (1999). Narrative in virtual environments– towards emergent narrative. In Proceedings of the AAAI fall symposium on narrative intelligence (pp. 83–86). Orlando, FL, USA. [Google Scholar]; Cavazza, Aylett …
Spatial Discourse Production: Applying Denis's Framework to Non-Urban Context
E Egorova – German Conference on Spatial Cognition, 2018 – Springer
… 83–94. Springer, Heidelberg (1999). https://doi.org/10.1007/3-540-48384-5_6CrossRefGoogle Scholar. 10. Herman, D.: Spatial cognition in natural-language narratives. In: Proceedings of the AAAI Fall Symposium on Narrative Intelligence, pp. 21–25 (1999)Google Scholar. 11 …
Tourist Support System Using User Context Obtained from a Personal Information Device
S Matsuno, R Suzumura, M Ohyama – … of the 26th Conference on User …, 2018 – dl.acm.org
… Narrative Intelligence … Neural Networks (IJCNN) [19] Toshinori S. Taiichi H. Manabu O. (2016) The Operation of NEologd: Ditionary Generation System for Word Separation, Special Interest Group of Natural Language Provessing Research Report, vol.2016-NL-229(15):1-14 [20 …
Constructive Biology of Emotion Systems: First-and Second-Person Methods for Grounding Adaptation
CL Nehaniv – Cognitive Architectures, 2018 – books.google.com
… per- son). We argue that these grammatical categories of human natural language are useful in considering the adaptive role of emotions as they relate to, regulate, and control behaviors in a biological and social setting. We …
Modeling affective character network for story analytics
OJ Lee, JJ Jung – Future Generation Computer Systems, 2019 – Elsevier
… Different than the former two approaches, a few studies have attempted to analyze the stories of the narrative works directly by applying SNA (Social Network Analysis) methods and partially using NLP (Natural Language Processing) [[8], [9]] and image processing [[10], [11 …
The Computational Creativity Continuum.
RP y Pérez – ICCC, 2018 – computationalcreativity.net
… The ER model has been applied mostly to natural language generation, eg, storytelling (Pérez y Pérez and Sharples, 2001), and more recently to other areas, eg, interior design (Pérez y Pérez, Aguilar … Learning knowledge to support domain- independent narrative intelligence …
Relationship Between Critical Pedagogy and Reflective Thinking with L2 Teachers' Pedagogical Success
A Roohani, S Haghparast – Journal of Asia TEFL, 2020 – search.proquest.com
… narrative intelligence. They considered narrative intelligence, that is, the ability to build and tell stories using genuine, natural language, as an important factor in English teachers' pedagogical effectiveness. Likewise, the results …
Posthuman Folklore
T Thompson – 2019 – books.google.com
Page 1. PQSTHUMAN FQIFKFQRE º – TQR THQMPSQN Page 2. Posthuman Folklore Page 3. Page 4. Posthuman Folklore Tok Thompson UNIVERSITY PRESS OF MISSISSIPPI / JACKSON Page 5. The University Press of Mississippi …
Curating simulated storyworlds
J Ryan – 2018 – escholarship.org
… 623 12.1 Curationist emergent narrative in Sheldon County. . . . . 682 x Page 12. List of Tables 8.1 Example templates used to produce rudimentary natural language expressions of emergent World events. . . . . 345 xi Page 13. Abstract …
Artificial Intelligence and the Environmental Crisis: Can Technology Really Save the World?
KR Skene – 2019 – books.google.com
… Mikolov et al. (2016) set out four basic requirements for AI: 1. Interactive communication using natural language; 2. Channelling of non-linguistic information such as sensory perception; 3. The capacity to learn; 4. The capacity for motivation …
BDI player modelling for interactive narratives
J Rivera Villicana – 2018 – researchbank.rmit.edu.au
Page 1. BDI Player Modelling for Interactive Narratives A thesis submitted for the degree of Doctor of Philosophy Jessica Rivera-Villicana Bachelor of Computer Science and Engineering Benemerita Universidad Autonoma de Puebla, Mexico …
Caring for Vincent: A Chatbot for Self-Compassion
M Lee, S Ackermans, N van As, H Chang… – Proceedings of the …, 2019 – dl.acm.org
Page 1. Caring for Vincent: A Chatbot for Self-compassion Minha Lee, Sander Ackermans, Nena van As, Hanwen Chang, Enzo Lucas, and Wijnand IJsselsteijn Human-Technology Interaction Eindhoven University of Technology …
Automatic Transformation of a Video Using Multimodal Information for an Engaging Exploration Experience
FA Salim, F Haider, S Luz, O Conlan – Applied Sciences, 2020 – mdpi.com
Exploring the content of a video is typically inefficient due to the linear streamed nature of its media and the lack of interactivity. While different approaches have been proposed for enhancing the exploration experience of video content, the general view of video content has remained …
Script acquisition: a crowdsourcing and text mining approach
LDA Wanzare – 2020 – publikationen.sulb.uni-saarland.de
… Thus, we live in a world where communication in natural language is a central theme … An interesting question for computational linguists and Natural Language Processing (NLP) community is: can machines also understand and talk natural language …
I Didnt Understand, I m Really Not Very Smart
B Taerning, A Silvervarg – EDUCATION SCIENCES, 2019 – diva-portal.org
… The digital tutee interacted with the student both via a scripted multiple-choice conversation and via a natural language chat conversation, see Section 2.1.1. In the chat conversation in which the digital tutee commented on her performance, expectations and ability to perform …
I Hear You, I Feel You: Encouraging Deep Self-disclosure through a Chatbot
YC Lee, N Yamashita, Y Huang, W Fu – … of the 2020 CHI conference on …, 2020 – dl.acm.org
Page 1. CHI 2020 Paper CHI 2020, April 25–30, 2020, Honolulu, HI, USA "I Hear You, I Feel You": Encouraging Deep Self-disclosure through a Chatbot Yi-Chieh Lee1 2, Naomi Yamashita2, Yun Huang1, Wai Fu1 1University …
I Didn't Understand, I´ m Really Not Very Smart—How Design of a Digital Tutee's Self-Efficacy Affects Conversation and Student Behavior in a Digital Math Game
B Tärning, A Silvervarg – Education Sciences, 2019 – mdpi.com
… The digital tutee interacted with the student both via a scripted multiple-choice conversation and via a natural language chat conversation, see Section 2.1.1. In the chat conversation in which the digital tutee commented on her performance, expectations and ability to perform …
Trusting virtual agents: The effect of personality
MX Zhou, G Mark, J Li, H Yang – ACM Transactions on Interactive …, 2019 – dl.acm.org
… an AI interviewer's ability to coach a user. Third, the engine must allow easy integration of third-party conversational technologies, eg, Google Natural Language Processing (NLP) API. With these design criteria in mind and inspired …
Working through synthetic worlds
KW Kisiel – 2018 – books.google.com
… digital native interaction with digital games; discourse analysis of gameplay chat; integrating software engineering and usability engineering processes; internationalization and localization of Web sites; and human interaction with natural language technologies, complex …
Rethinking technologies for behavior change: A view from the inside of human change
A Rapp, M Tirassa, L Tirabeni – ACM Transactions on Computer-Human …, 2019 – dl.acm.org
Page 1. 22 Rethinking Technologies for Behavior Change: A View from the Inside of Human Change AMON RAPP, MAURIZIO TIRASSA, and LIA TIRABENI, University of Torino Human-Computer Interaction researchers are …