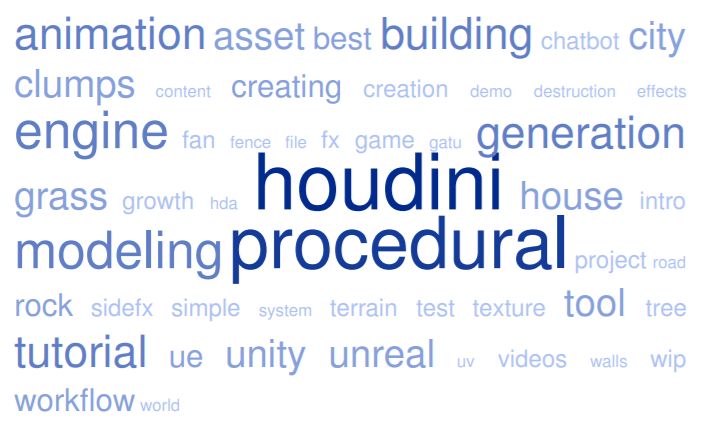 Notes:
Houdini is a software tool for creating 3D graphics and effects. It includes a feature called procedural generation, which allows users to create complex, customizable graphics and animations using a set of algorithms and rules.
Procedural generation in Houdini is typically accomplished using a combination of node-based visual scripting and Python programming. Users can create networks of nodes, each of which performs a specific task or operation, and then connect these nodes together to create a workflow that generates the desired output.
Procedural generation is often used in Houdini to create complex, detailed environments or assets, such as landscapes, buildings, or vegetation. It can also be used to create particle effects, such as explosions or smoke, or to generate animations or simulations.
One key advantage of procedural generation is that it allows users to create a large amount of content quickly and efficiently, without the need to create each element by hand. This can be especially useful for creating large, complex scenes or for iterating on designs. It is also a flexible approach that allows users to easily customize and vary the generated content.
Houdini's procedural generation capabilities can be used to create a variety of virtual human assets, such as 3D models, animations, and simulations.
For example, users could use Houdini's node-based workflow to design a system for generating realistic human faces or bodies. They could specify rules and parameters for things like facial features, skin texture, and body proportions, and then use these rules to generate a large number of unique human models.
Houdini's particle systems and dynamics tools can also be used to create simulations of human motion, such as walking or running. Users could design a system for generating realistic human animations by specifying rules for things like joint angles and muscle movements, and then use these rules to generate a wide range of human motions.
Resources:
Wikipedia:
References:
See also:
100 Best Golaem Videos | 100 Best Houdini Character Videos | Procedural Generation & Natural Language Processing | Procedural Storytelling
---