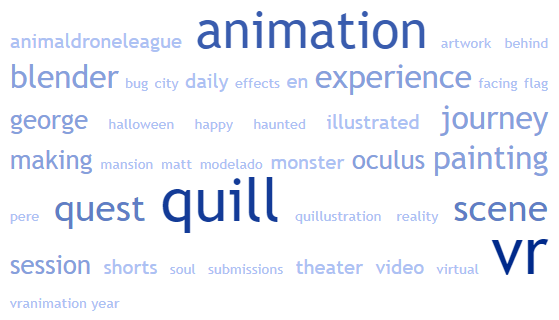 Notes:
Quill is a virtual reality painting and animation tool created by the company Oculus, which is owned by Facebook. It was first introduced in 2016 as a way for artists to create 3D paintings and animated short films in a virtual environment.
The development of Quill began in 2015 when Oculus VR, the virtual reality company owned by Facebook, acquired a start-up called Story Studio. Story Studio was a small team of filmmakers and animators who were exploring the potential of VR as a storytelling medium. The team had created an internal tool called "Quill" that allowed them to draw and paint in VR and they saw the potential for the tool to be used by artists and animators outside of their team.
After the acquisition, Oculus continued to develop Quill and released it as a free tool for the Oculus Rift VR headset. Since its release, Quill has been used by artists and animators to create a wide range of VR experiences, from animated shorts to interactive installations.
Quill has been praised for its intuitive interface and powerful tools, which allow artists to create detailed and immersive VR experiences. It has also been used in a variety of industries, including film, gaming, and education. The tool has continued to evolve and improve over the years, with new features and capabilities being added with each update.
Iñigo Quilez is a computer programmer and mathematician who co-founded Smoothstep in 2019 with a group of other experienced developers. Prior to starting Smoothstep, Quilez worked as a senior graphics programmer at Oculus, where he was responsible for developing the virtual reality art tool Quill.
After leaving Oculus, Quilez and his co-founders created Smoothstep with the goal of developing cutting-edge graphics technology that would allow artists and designers to create immersive digital experiences more easily. The company's primary focus has been on developing a new graphics engine called EmberGen, which enables artists to create realistic simulations of fire, smoke, and other natural phenomena in real time.
Resources:
quill.art .. quill by smoothstep vr illustration and animation tool
Wikipedia:
See also:
---