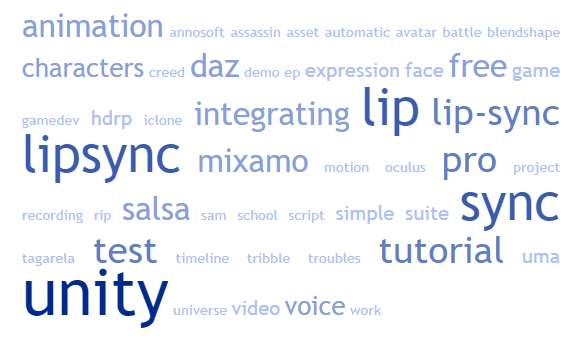 Notes:
Unity avatar refers to a virtual character or model that is used in the Unity game engine. Unity is a popular game engine used for creating video games, simulations, and other interactive content, and it provides a range of tools and features for creating and customizing avatars. A Unity avatar might be created from a 3D model or other asset, and might be customized with different appearance, behaviors, or actions.
Virtual human project refers to a project or initiative that is focused on creating or studying virtual humans or human-like characters. This might involve creating 3D models or simulations of human characters, or it might involve research into the behavior, appearance, or other characteristics of virtual humans. A virtual human project might be focused on creating realistic and lifelike virtual humans, or it might be focused on exploring the potential applications or implications of virtual humans in different contexts.
Lip sync refers to the synchronization of a character's mouth movements with spoken dialogue or audio. This can be used to create a more realistic and lifelike appearance for the character, as the mouth movements will match the words being spoken. Lip sync is often used in animation and game development, as well as in virtual reality and other interactive media.
In the Unity game engine, lip synchronization can be achieved using various techniques and tools. One common method is to use pre-animated mouth shapes or phonemes, which are predetermined shapes or positions of the mouth that correspond to different sounds or phonemes in a language. These mouth shapes can be mapped to specific sounds or words in the spoken dialogue, and the appropriate mouth shape can be triggered or played when the corresponding sound is played. Another method is to use motion capture or facial tracking to capture and replicate a person's mouth movements as they speak. This can produce more realistic and expressive lip sync animations, but may require more complex setup and processing.
There are also various tools and assets available for creating lip sync animations in Unity, such as the Oculus Lip Sync SDK. These tools typically provide a range of features and options for designing and controlling the mouth movements and timing of the lip sync animation, and may support different methods or approaches for achieving lip sync.
Resources:
Wikipedia:
See also:
100 Best Adobe Mixamo Videos | 100 Best AI System Videos | 100 Best Blender Lipsync Videos | 100 Best Blender Tutorial Videos | 100 Best Dialog System Videos | 100 Best Faceshift Videos | 100 Best Graphviz Videos | 100 Best Kinect SDK Videos | 100 Best MakeHuman Videos | 100 Best Multi-agent System Videos | 100 Best OpenCog Videos | 100 Best Unity3d Lipsync Assets | 100 Best Unity3d Web Player Videos | 100 Best Vuforia Videos
---