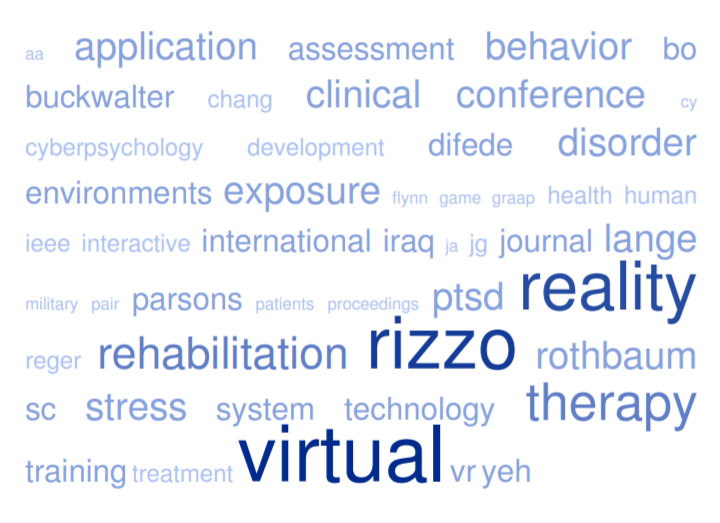 Notes:
Albert "Skip" Rizzo is a clinical psychologist and researcher who is known for his work in the field of virtual reality (VR) and its applications in healthcare and other areas. He is the director of medical virtual reality at the Institute for Creative Technologies (ICT) at the University of Southern California (USC), a research institute that focuses on the development of innovative technologies for education, training, and entertainment.
Rizzo is an expert in the use of VR and other immersive technologies for psychological treatment and rehabilitation, and he has conducted extensive research on the effectiveness of VR in addressing a variety of mental health conditions, including post-traumatic stress disorder (PTSD), anxiety disorders, and phobias. He has also developed a number of VR-based treatment programs for use in clinical settings.
In addition to his work in VR and healthcare, Rizzo has also conducted research in other areas, such as human-computer interaction and artificial intelligence. He has published numerous articles and book chapters on these and other topics, and he is a frequent speaker at conferences and other events.
Resources:
Wikipedia:
References:
See also:
SimSensei | SmartBody | USC SimCoach | Virtual Human Toolkit
---
Virtual Standardized Patients for Interactive Conversational Training: A Grand Experiment and New Approach
TB Talbot… AS Rizzo
Exploring the Cognitive… Social… Cultural… and Psychological Aspects of … (2019)
Clinical Virtual Reality: Emerging Opportunities for Psychiatry
AS Rizzo… ST Koenig… TB Talbot
Focus 16 (3)… 266-278 (2018)
Using Virtual Interactive Training Agents (ViTA) with Adults with Autism and Other Developmental Disabilities
SL Burke… T Bresnahan… T Li… K Epnere… A Rizzo… M Partin… RM Ahlness… …
Journal of autism and developmental disorders 48 (3)… 905-912 (2018)
Does Virtual Reality Increase Simulator Sickness During Exposure Therapy for Post-Traumatic Stress Disorder?
GM Reger… D Smolenski… A Edwards-Stewart… NA Skopp… AS Rizzo… A Norr
Telemedicine and e-Health (2018)
When translational neuroscience fails in the clinic: Dexamethasone prior to virtual reality exposure therapy increases drop-out rates
JL Maples-Keller… T Jovanovic… BW Dunlop… S Rauch… C Yasinski… …
Journal of anxiety disorders (2018)
Teach Me A Story: an Augmented Reality Application for Teaching History in Middle School
B Schiavi… F Gechter… C Gechter… A Rizzo
2018 IEEE Conference on Virtual Reality and 3D User Interfaces (VR)… 679-680 (2018)
Keynote Speaker is Clinical Virtual Reality Ready for Primetime?
AS Rizzo
2018 IEEE Conference on Virtual Reality and 3D User Interfaces (VR)… 1-9 (2018)
Virtual reality applications for the assessment and treatment of PTSD
A Rizzo… MJ Roy… A Hartholt… M Costanzo… KB Highland… T Jovanovic… …
Handbook of Military Psychology… 453-471 (2017)
Clinical virtual reality tools to advance the prevention… assessment… and treatment of PTSD
AS Rizzo… R Shilling
European journal of psychotraumatology 8 (sup5)… 1414560 (2017)
What I have changed my mind about and why: public health and technology perspectives in the field of trauma studies
PP Schnurr… R Bryant… L Berliner… DG Kilpatrick… A Rizzo… JI Ruzek
European journal of psychotraumatology 8 (sup5)… 1372007 (2017)
Is clinical virtual reality ready for primetime?
A Rizzo… ST Koenig
Neuropsychology 31 (8)… 877 (2017)
Reporting mental health symptoms: breaking down barriers to care with virtual human interviewers
GM Lucas… A Rizzo… J Gratch… S Scherer… G Stratou… J Boberg… LP Morency
Frontiers in Robotics and AI 4… 51 (2017)
A pilot feasibility study of virtual patient simulation to enhance social work students' brief mental health assessment skills
M Washburn… P Bordnick… AS Rizzo
Social work in health care 55 (9)… 675-693 (2016)
IRB and research regulatory delays within the military health system: Do they really matter? And if so… why and for whom?
MC Freed… LA Novak… WDS Killgore… SAM Rauch… TP Koehlmoos… …
The American Journal of Bioethics 16 (8)… 30-37 (2016)
Self-reported symptoms of depression and PTSD are associated with reduced vowel space in screening interviews
S Scherer… GM Lucas… J Gratch… AS Rizzo… LP Morency
IEEE Transactions on Affective Computing… 59-73 (2016)
Autonomous virtual human agents for healthcare information support and clinical interviewing
A Rizzo… R Shilling… E Forbell… S Scherer… J Gratch… LP Morency
Artificial intelligence in behavioral and mental health care… 53-79 (2016)
Baseline psychophysiological and cortisol reactivity as a predictor of PTSD treatment outcome in virtual reality exposure therapy
SD Norrholm… T Jovanovic… M Gerardi… KG Breazeale… M Price… M Davis… …
Behaviour research and therapy 82… 28-37 (2016)
Detection and computational analysis of psychological signals using a virtual human interviewing agent
A Rizzo… S Scherer… D DeVault… J Gratch… R Artstein… A Hartholt… G Lucas… …
J Pain Manage 9… 311-21 (2016)
Virtual Reality Exposure Therapy for PTSD
MJ ROY… A RIZZO… J DIFEDE… BO ROTHBAUM
Complementary and Alternative Medicine for PTSD… 271 (2016)
Virtual reality exposure for PTSD due to military combat and terrorist attacks
A Rizzo… J Cukor… M Gerardi… S Alley… C Reist… M Roy… BO Rothbaum… …
Journal of Contemporary Psychotherapy 45 (4)… 255-264 (2015)
A multisite… randomized clinical trial of virtual reality and prolonged exposure therapy for active duty soldiers with PTSD
G Gahm… G Reger… MV Ingram… M Reger… A Rizzo
Geneva foundation Tacoma WA (2015)
Virtual reality exposure therapy for combat-related PTSD
J Cukor… M Gerardi… S Alley… C Reist… M Roy… BO Rothbaum… JA Difede… …
Posttraumatic stress disorder and related diseases in combat veterans… 69-83 (2015)
Virtual reality standardized patients for clinical training
A Rizzo… T Talbot
The Digital Patient: Advancing Healthcare… Research… and Education… 257 (2015)
Update and Expansion of the Virtual Iraq/Afghanistan PTSD Exposure Therapy System
A Rizzo… JA Difede… BO Rothbaum… JG Buckwalter… JM Daughtry… …
Future Directions in Post-Traumatic Stress Disorder… 303-328 (2015)
Using virtual reality as part of an intensive treatment program for PTSD
DC Beidel… ASM Neer… C Bowers… BC Frueh… H Hilo… A Rizzo
Paper presentation at Interservice/Industry Training… Simulation… and … (2014)
Virtual reality exposure therapy for combat-related posttraumatic stress disorder
A Rizzo… A Hartholt… M Grimani… A Leeds… M Liewer
Computer 47 (7)… 31-37 (2014)
Adolescent suicidal risk assessment in clinician-patient interaction: A study of verbal and acoustic behaviors
V Venek… S Scherer… LP Morency… A Rizzo… J Pestian
Spoken Language Technology Workshop (SLT)… 2014 IEEE… 277-282 (2014)
A Randomized… Double-Blind Evaluation of d-Cycloserine or Alprazolam Combined With Virtual Reality Exposure Therapy for Posttraumatic Stress Disorder in Iraq …
BO Rothbaum… M Price… T Jovanovic… SD Norrholm… M Gerardi… B Dunlop… …
American Journal of Psychiatry 171 (6)… 640-648 (2014)
Motion controllers for learners to manipulate and interact with 3D objects for mental rotation training
SC Yeh… JL Wang… CY Wang… PH Lin… GD Chen… A Rizzo
British Journal of Educational Technology 45 (4)… 666-675 (2014)
Expansion of a VR Exposure Therapy System for Combat-Related PTSD to Medics/Corpsman and Persons Following Military Sexual Trauma.
AA Rizzo… A Hartholt… BO Rothbaum… JA Difede… C Reist… D Kwok… A Leeds… …
MMVR… 332-338 (2014)
Intelligent frozen shoulder rehabilitation
MC Huang… SH Lee… SC Yeh… RC Chan… A Rizzo… W Xu… W Han-Lin… …
IEEE Intelligent Systems 29 (3)… 22-28 (2014)
Clinical Virtual Reality.
AS Rizzo… B Lange… S Koenig
Handbook of Virtual Environments… 2nd ed…. 1159-1203 (2014)
Haptic Virtual Reality Pinch Task for Chronic Hemiparesis
S Chen… SC Yeh… M McLaughlin… A Rizzo… C Winstein
Journal of Computers 25 (1)… 48-55 (2014)
A virtual reality system integrated with robot-assisted haptics to simulate pinch-grip task: Motor ingredients for the assessment in chronic stroke
SC Yeh… SH Lee… RC Chan… S Chen… A Rizzo
NeuroRehabilitation 35 (3)… 435-449 (2014)
Machine learning-based assessment tool for imbalance and vestibular dysfunction with virtual reality rehabilitation system
SC Yeh… MC Huang… PC Wang… TY Fang… MC Su… PY Tsai… A Rizzo
Computer methods and programs in biomedicine 116 (3)… 311-318 (2014)
Initial evaluation of a virtual reality executive function assessment tool in individuals with traumatic brain injury
D Krch… D Vazquez… S Koenig… A Rizzo… N Chiaravalloti
Brain Injury 28 (5-6)… 682-682 (2014)
Automatic audiovisual behavior descriptors for psychological disorder analysis
S Scherer… G Stratou… G Lucas… M Mahmoud… J Boberg… J Gratch… …
Image and Vision Computing 32 (10)… 648-658 (2014)
SimSensei Kiosk: A virtual human interviewer for healthcare decision support
D DeVault… R Artstein… G Benn… T Dey… E Fast… A Gainer… K Georgila… …
Proceedings of the 2014 international conference on Autonomous agents and … (2014)
Self-Reported Differences in Personality… Emotion Control… and Presence Between Pre-Military and Non-Military Groups in a Pilot Study Using the Stress Resilience in Virtual …
BS John… LS Oliva… JG Buckwalter… D Kwok… AS Rizzo
MMVR… 182-184 (2014)
A Randomized… Double-Blind Evaluation of
BO Rothbaum… M Price… T Jovanovic… SD Norrholm… M Gerardi… B Dunlop… …
(2014)
Psychophysiological and Cortisol Reactivity Predicts PTSD Treatment Outcome in Virtual Reality Exposure Therapy with D-Cycloserine
T Jovanovic… S Norrholm… M Gerardi… K Breazeale… M Davis… E Duncan… …
NEUROPSYCHOPHARMACOLOGY 39… S369-S370 (2014)
Development of a Virtual Reality-Based Pinch Task for Rehabilitation in Chronic Hemiparesis
S Chen… SC Yeh… M McLaughlin… A Rizzo… C Winstein
Advanced Technologies… Embedded and Multimedia for Human-centric Computing … (2014)
Virtual humans for learning
W Swartout… R Artstein… E Forbell… S Foutz… HC Lane… B Lange… JF Morie… …
AI Magazine 34 (4)… 13-30 (2013)
Virtual reality as a tool for delivering PTSD exposure therapy
A Rizzo… J Difede… BO Rothbaum… JM Daughtry… G Reger
Post-Traumatic Stress Disorder: Future Directions in Prevention… Diagnosis … (2013)
User-state sensing for virtual health agents and telehealth applications.
J Gratch… LP Morency… S Scherer… G Stratou… J Boberg… S Koenig… …
MMVR… 151-157 (2013)
Automatic behavior descriptors for psychological disorder analysis
S Scherer… G Stratou… M Mahmoud… J Boberg… J Gratch… A Rizzo… …
Automatic Face and Gesture Recognition (FG)… 2013 10th IEEE International … (2013)
Adapting user interfaces for gestural interaction with the flexible action and articulated skeleton toolkit
EA Suma… DM Krum… B Lange… S Koenig… A Rizzo… M Bolas
Computers & Graphics 37 (3)… 193-201 (2013)
Special Section on Touching the 3rd Dimension: Adapting user interfaces for gestural interaction with the flexible action and articulated skeleton toolkit
EA Suma… DM Krum… B Lange… S Koenig… A Rizzo… M Bolas
Computers and Graphics 37 (3)… 193-201 (2013)
Virtual reality applications to address the wounds of war
AS Rizzo… JG Buckwalter… E Forbell… C Reist… JA Difede… BO Rothbaum… …
Psychiatric Annals 43 (3)… 123-138 (2013)
Virtual reality as a tool for delivering PTSD exposure therapy and stress resilience training
A Rizzo… B John… B Newman… J Williams… A Hartholt… C Lethin… …
Military Behavioral Health 1 (1)… 52-58 (2013)
Using virtual reality driving simulators in persons with spinal cord injury: three screen display versus head mounted display
NE Carlozzi… V Gade… AS Rizzo… DS Tulsky
Disability and Rehabilitation: Assistive Technology 8 (2)… 176-180 (2013)
Verbal indicators of psychological distress in interactive dialogue with a virtual human
D DeVault… K Georgila… R Artstein… F Morbini… D Traum… S Scherer… …
Proceedings of the SIGDIAL 2013 Conference… 193-202 (2013)
Virtual Reality Technologies for Innovation
S Richir… P Corsi… AS Rizzo
Innovation Engineering: The Power of Intangible Networks… 197-212 (2013)
Stroke Rehabilitation via a Haptics-Enhanced Virtual Reality System
SC Yeh… SH Lee… JC Wang… S Chen… YT Chen… YY Yang… HR Chen… …
Advances in Intelligent Systems and Applications-Volume 2… 439-453 (2013)
Using virtual reality for clinical assessment and intervention
A Rizzo… TD Parsons… P Kenny… JG Buckwalter
Handbook of technology in psychology… psychiatry… and neurology: Theory … (2012)
STRIVE: Stress Resilience In Virtual Environments: a pre-deployment VR system for training emotional coping skills and assessing chronic and acute stress responses.
A Rizzo… JG Buckwalter… B John… B Newman… T Parsons… P Kenny… …
Studies in health technology and informatics 173… 379-385 (2012)
Virtual patients as novel teaching tools in psychiatry
C Pataki… MT Pato… J Sugar… AS Rizzo… TD Parsons… CS George… P Kenny
Academic Psychiatry 36 (5)… 398-400 (2012)
Strive: Stress resilience in virtual environments
JG Buckwalter… A Rizzo… B John… B Newman… J Williams… T Parsons
Virtual Reality Short Papers and Posters (VRW)… 2012 IEEE… 173-174 (2012)
An innovative ADHD assessment system using virtual reality
SC Yeh… CF Tsai… YC Fan… PC Liu… A Rizzo
Biomedical Engineering and Sciences (IECBES)… 2012 IEEE EMBS Conference on … (2012)
Designing informed game-based rehabilitation tasks leveraging advances in virtual reality
B Lange… S Koenig… CY Chang… E McConnell… E Suma… M Bolas… A Rizzo
Disability and rehabilitation 34 (22)… 1863-1870 (2012)
Simcoach: an online intelligent virtual human agent system for breaking down barriers to care for service members and veterans
A Rizzo… E Forbell… B Lange… J Galen Buckwalter… J Williams… K Sagae… …
Healing War Trauma A Handbook of Creative Approaches. Taylor & Francis (2012)
Impact of time on task on ADHD patient's performances in a virtual classroom
S Bioulac… S Lallemand… A Rizzo… P Philip… C Fabrigoule… MP Bouvard
European Journal of Paediatric Neurology 16 (5)… 514-521 (2012)
Treatment for posttraumatic stress disorder in military and veteran populations: Initial assessment
S Galea… K Basham… L Culpepper… J Davidson… E Foa… K Kizer… K Koenen… …
Washington… DC: The National Academies (2012)
Treating combat-related ptsd with virtual reality exposure therapy
S Leaman… BO Rothbaum… J Difede… J Cukor… M Gerardi… A Rizzo
Handbook of Military Social Work… 113-140 (2012)
Interactive game-based rehabilitation using the Microsoft Kinect
B Lange… S Koenig… E McConnell… CY Chang… R Juang… E Suma… M Bolas… …
Virtual Reality Short Papers and Posters (VRW)… 2012 IEEE… 171-172 (2012)
Development and testing of virtual reality exposure therapy for post-traumatic stress disorder in active duty service members who served in Iraq and Afghanistan
RN McLay… K Graap… J Spira… K Perlman… S Johnston… BO Rothbaum… …
Military medicine 177 (6)… 635-642 (2012)
Analyzing the impact of stress: a comparison between a factor analytic and a composite measurement of allostatic load
JG Buckwalter… A Rizzo… BS John… L Finlay… A Wong… E Chin… TE Seeman
The Interservice/Industry Training… Simulation & Education Conference (I … (2011)
Development of an interactive stepping game to reduce falls in older adults
B Lange… S Flynn… CY Chang… W Liang… Y Si… C Nanavati… CL Chieng
International Journal on Disability and Human Development 10 (4)… 331-335 (2011)
Intelligent virtual patients for training clinical skills
A Rizzo… P Kenny… TD Parsons
JVRB-Journal of Virtual Reality and Broadcasting 8 (3) (2011)
Assessment of cognition in early dementia
NB Silverberg… LM Ryan… MC Carrillo… R Sperling… RC Petersen… …
Alzheimer's & Dementia 7 (3)… e60-e76 (2011)
Leveraging unencumbered full body control of animated virtual characters for game-based rehabilitation
B Lange… EA Suma… B Newman… T Phan… CY Chang… A Rizzo… M Bolas
International Conference on Virtual and Mixed Reality… 243-252 (2011)
SimCoach: an intelligent virtual human system for providing healthcare information and support
A Rizzo… B Lange… JG Buckwalter… E Forbell… J Kim… K Sagae… J Williams… …
International Journal on Disability and Human Development 10 (4)… 277-281 (2011)
Virtual reality goes to war: A brief review of the future of military behavioral healthcare
A Rizzo… TD Parsons… B Lange… P Kenny… JG Buckwalter… B Rothbaum… …
Journal of clinical psychology in medical settings 18 (2)… 176-187 (2011)
Markerless full body tracking: Depth-sensing technology within virtual environments
B Lange… A Rizzo… CY Chang… EA Suma… M Bolas
Interservice/industry training… simulation… and education conference (I/ITSEC) (2011)
Development and evaluation of low cost game-based balance rehabilitation tool using the Microsoft Kinect sensor
B Lange… CY Chang… E Suma… B Newman… AS Rizzo… M Bolas
Engineering in medicine and biology society… EMBC… 2011 annual international … (2011)
Virtual reality technologies for research and education in obesity and diabetes: research needs and opportunities
AG Ershow… CM Peterson… WT Riley… AS Rizzo… B Wansink
Journal of diabetes science and technology 5 (2)… 212-224 (2011)
Faast: The flexible action and articulated skeleton toolkit
EA Suma… B Lange… AS Rizzo… DM Krum… M Bolas
Virtual Reality Conference (VR)… 2011 IEEE… 247-248 (2011)
Describing the attention deficit profile of children with neurofibromatosis type 1 using a virtual classroom environment
Y Gilboa… S Rosenblum… A Fattal-Valevski… H Toledano-Alhadef… A Rizzo… …
Virtual Rehabilitation (ICVR)… 2011 International Conference on… 1-5 (2011)
Using a Virtual Classroom environment to describe the attention deficits profile of children with Neurofibromatosis type 1
Y Gilboa… S Rosenblum… A Fattal-Valevski… H Toledano-Alhadef… …
Research in developmental disabilities 32 (6)… 2608-2613 (2011)
Breathe: a game to motivate the adherence of breathing exercises
B Lange… S Flynn… CY Chang… A Rizzo… M Bolas
Journal of Physical Therapy Education 25 (1)… 30-35 (2011)
Engineering in medicine and biology society… EMBC
B Lange… CY Chang… E Suma… B Newman… AS Rizzo… M Bolas
2011 Annual International Conference of the IEEE. IEEE… 1831-1834 (2011)
Virtual reality and interactive digital game technology: new tools to address obesity and diabetes
AS Rizzo… B Lange… EA Suma… M Bolas
Journal of diabetes science and technology 5 (2)… 256-264 (2011)
Virtual reality applications for addressing the needs of those aging with disability.
AA Rizzo… P Requejo… CJ Winstein… B Lange… G Ragusa… A Merians… …
MMVR… 510-516 (2011)
Evaluate Virtual Reality Game-based Treatment for Patients with Imbalance and Vestibular Dysfunction
MC Huang… SC Yeh… S Chen… PC Wang… MC Su… YP Hung… CH Chang… …
(2011)
Emotions and Telerebabilitation: Pilot Clinical Trials for Virtual Telerebabilitation Application Using Haptic Device and Its Impact on Post Stroke Patients' Mood and Motivation
SC Yeh… M McLaughlin… Y Nam… S Sanders… C Chang… B Kennedy… S Flynn… …
International Conference on Virtual and Mixed Reality… 119-128 (2011)
A 3D motion controlled method for the training of mental rotation
CY Wang… SC Yeh… JL Wang… SC Yang… A Rizzo
Advanced Learning Technologies (ICALT)… 2011 11th IEEE International … (2011)
Cutting edge developments in psychology: virtual reality applications. Interview with two leading experts
D David
Journal of Evidence-Based Psychotherapies 10 (1)… 115 (2010)
Development of an interactive game-based rehabilitation tool for dynamic balance training
B Lange… S Flynn… R Proffitt… CY Chang… A "Skip" Rizzo
Topics in stroke rehabilitation 17 (5)… 345-352 (2010)
Virtual reality exposure therapy for combat?related posttraumatic stress disorder
BO Rothbaum… A Rizzo… JA Difede
Annals of the New York Academy of Sciences 1208 (1)… 126-132 (2010)
Development of an interactive rehabilitation game using the Nintendo WiiFit Balance Board for people with neurological injury
B Lange… S Flynn… CY Chang… A Ahmed… Y Geng… K Utsav… M Xu… D Seok… …
Topics in Stroke Rehabilitation 15 (5)… 345-352 (2010)
breath: A Game To Motivate The Compliance Of Breathing Exercises.
B Lange… S Flynn… K Chang… A Rizzo… M Bolas
Cardiopulmonary Physical Therapy Journal 21 (4)… 26-27 (2010)
Development and early evaluation of the Virtual Iraq/Afghanistan exposure therapy system for combat?related PTSD
A Rizzo… JA Difede… BO Rothbaum… G Reger… J Spitalnick… J Cukor… …
Annals of the New York Academy of Sciences 1208 (1)… 114-125 (2010)
virtual environments for stroke recovery: pilot clinical trials for user-centric patient/clinician distribution platform with tele-rehabilitation application using haptics …
M Mclaughlin… Y Nam… S Sanders… S Yeh… C Chang… B Kennedy… S Flynn… …
International Journal of Stroke 5… 66 (2010)
House calls revisited: leveraging technology to overcome obstacles to veteran psychiatric care and improve treatment outcomes
M Olden… J Cukor… A Rizzo… B Rothbaum… JA Difede
Annals of the New york Academy of Sciences 1208 (1)… 133-141 (2010)
Improvement in cerebral function with treatment of posttraumatic stress disorder
MJ Roy… J Francis… J Friedlander… L Banks?Williams… RG Lande… P Taylor… …
Annals of the New York Academy of Sciences 1208 (1)… 142-149 (2010)
Virtual reality exposure therapy for post-traumatic stress disorder and other anxiety disorders
M Gerardi… J Cukor… JA Difede… A Rizzo… BO Rothbaum
Current psychiatry reports 12 (4)… 298-305 (2010)
Use of immersive virtual reality for treating anger
SD Miyahira… RA Folen… M Stetz… A Rizzo… MM Kawasaki
Stud Health Technol Inform 154… 82-86 (2010)
2011 Combined Sections Meeting Platform Presentation Schedule
J Dekerlegand… E Newland… L Yuen… K O'Donnell… RL Hansen… BA Raza… …
Cardiopulmonary physical therapy journal 21 (4)… 22 (2010)
Interactive Game-Based Rehabilitation Tools: Never Too Old To Play
S Flynn… B Lange… C Chang… BL Kennedy… A Rizzo
GERONTOLOGIST 50… 172-172 (2010)
A Comparative Analysis between Experts and Novices Interacting with a Virtual Patient with PTSD.
PG Kenny… TD Parsons… AA Rizzo
Annual Review of Cybertherapy and Telemedicine… 122-124 (2009)
Application Development and Clinical Results from a Virtual Iraq System for the Treatment of Iraq War PTSD
SC Yeh… B Newman… M Liewer… J Pair… P Treskunov… T Parsons… G Reger… …
Proceedings of the IEEE VR2009 Conference (2009)
Emerging treatments for PTSD
J Cukor… J Spitalnick… JA Difede… A Rizzo… BO Rothbaum
Clinical psychology review 29 (8)… 715-726 (2009)
The ViRTICo trial: virtual reality therapy and imaging in combat veterans
MJ Roy… J Francis… L Banks-Williams… J Friedlander… P Taylor… KT Tarpley… …
CYBERPSYCHOLOGY & BEHAVIOR 12 (1)… 92-92 (2009)
Optimizing Clinical Training for the Treatment of PTSD Using Virtual Patients.
PG Kenny… TD Parsons… BO Rothbaum… J Difede… G Reger… AA Rizzo
Annual Review of Cybertherapy and Telemedicine… 264-268 (2009)
A virtual iraq system for the treatment of combat-related posttraumatic stress disorder
SC Yeh… B Newman… M Liewer… J Pair… A Treskunov… G Reger… …
Virtual Reality Conference… 2009. VR 2009. IEEE… 163-170 (2009)
Virtual reality exposure therapy for combat-related PTSD
A Rizzo… G Reger… G Gahm… JA Difede… BO Rothbaum
Post-traumatic stress disorder… 375-399 (2009)
Breath: a game to motivate the compliance of postoperative breathing exercises
B Lange… S Flynn… A Rizzo… M Bolas… M Silverman… A Huerta
Virtual Rehabilitation International Conference… 2009… 94-97 (2009)
Clinical results from a virtual Iraq PTSD exposure therapy application
A Rizzo… K Graap… R McLay… B Rothbaum… J Difede… GM Reger… K Perlman… …
Front. Neuroeng. Conference Abstract: Annual CyberTherapy and … (2009)
Virtual reality in rehabilitation of attention deficit/hyperactivity disorder The instrument construction principles
R Anton… D Opris… A Dobrean… D David… A Rizzo
Virtual Rehabilitation International Conference… 2009… 59-64 (2009)
Experimental evidence for suspense as determinant of video game enjoyment
C Klimmt… A Rizzo… P Vorderer… J Koch… T Fischer
CyberPsychology & Behavior 12 (1)… 29-31 (2009)
Computer-based visuospatial and wayfindng assessment for mild dementia of the Alzheimer's type: Preliminary results of healthy control group
BS Lange… A Rizzo
Alzheimer's & Dementia: The Journal of the Alzheimer's Association 5 (4)… P377 (2009)
Initial usability assessment of off-the-shelf video game consoles for clinical game-based motor rehabilitation
B Lange… S Flynn… A Rizzo
Physical Therapy Reviews 14 (5)… 355-363 (2009)
Development and clinical results from the virtual Iraq exposure therapy application for PTSD
A Rizzo… B Newman… T Parsons… G Reger… K Holloway… G Gahm… …
Virtual Rehabilitation International Conference… 2009… 8-15 (2009)
An overview of a USC Rehabilitation Engineering Research Center: The use of virtual reality for a range of motor impairments
S Flynn… B Lange… A Rizzo… FJ Valero-Cuervas… L Baker… C Winstein… …
Virtual Rehabilitation International Conference… 2009… 223-223 (2009)
Three-dimensional game environments for recovery from stroke
Y Jung… SC Yeh… M McLaughlin… AA Rizzo… C Winstein
Serious games: mechanisms and effects. New York: Routledge… Taylor and … (2009)
Distractibility in attention/deficit/hyperactivity disorder (ADHD): The virtual reality classroom
R Adams… P Finn… E Moes… K Flannery… AS Rizzo
Child Neuropsychology 15 (2)… 120-135 (2009)
Balance In'Age'Of Technology: Development Of Virtual Reality Gaming Applications To Improve Balance
B Lange… S Flynn… A Rizzo
GERONTOLOGIST 49… 133-134 (2009)
Different Methods for Conducting VR Therapy for Combat PTSD… What Studies Show… and Practical Application of VR Treatment in Iraq
RN Mclay… DP Wood… A Rizzo… J Spira… K Perlman… B Rothbaum… JA Difede… …
CYBERPSYCHOLOGY & BEHAVIOR 12 (5)… 636-636 (2009)
Effects of Stereoscopic Displays and Interaction Devices on Human Motor Behavior
SC Yeh… B Lange… CY Chang… C Wang… AA Sawchuk
CYBERPSYCHOLOGY & BEHAVIOR 12 (1)… 102-102 (2009)
A VR-supported Tele-system for Stroke Rehabilitation
SC Yeh… Lei-Li… CY Chang… S Chen… M McLaughlin… C Winstein… A Rizzo
CYBERPSYCHOLOGY & BEHAVIOR 12 (1)… 101-102 (2009)
Low-cost Webcam and Off-the-shelf Game Interfaces to Produce VR Systems for Motor Rehabilitation After Traumatic Brain Injury… Spinal Cord Injury… and Amputation
S Flynn… B Lange… SC Yeh… AS Rizzo
CYBERPSYCHOLOGY & BEHAVIOR 12 (1)… 84-84 (2009)
Virtual Iraq: VR PTSD Exposure Therapy with Active Duty Iraq War Combatants
A Rizzo… B Rothbaum… J Difede… K Graap… G Reger… G Gahm… R McLay… …
CYBERPSYCHOLOGY & BEHAVIOR 12 (1)… 90-91 (2009)
Clinical results from the virtual Iraq exposure therapy application for PTSD
A Rizzo… T Parsons… J Pair… R McLay… S Johnston… K Perlman… R Deal… …
UNIVERSITY OF SOUTHERN CALIFORNIA MARINA DEL REY CA INST FOR CREATIVE … (2008)
Therapist treatment manual for virtual reality exposure therapy: Posttraumatic stress disorder in Iraq combat veterans
BO Rothbaum… J Difede… A Rizzo
Atlanta: Virtually Better Inc (2008)
Virtual Iraq: initial results from a VR exposure therapy application for combat-related PTSD
AA Rizzo… K Graap… K Perlman… RN McLAY… BO Rothbaum… G Reger… …
Studies in health technology and informatics 132… 420 (2008)
Virtual reality exposure therapy using a virtual Iraq: case report
M Gerardi… BO Rothbaum… K Ressler… M Heekin… A Rizzo
Journal of Traumatic Stress: Official Publication of The International … (2008)
Effects of stereoscopic displays and interaction devices on human motor behavior
SC Yeh… B Lange… CY Chang… C Wang… AA Sawchuk… A Rizzo
The Engineering Reality of Virtual Reality 2008 6804… 680405 (2008)
Virtual human patients for training of clinical interview and communication skills
TD Parsons… P Kenny… AA Rizzo
Proceedings of the Virtual Reality and Associated Technology Conference (2008)
Virtual patients for future leaders
P Kenny… T Parsons… G Reger… C Pataki… A Rizzo
The Proceedings of the 2008 Interservice/Industry Training… Simulation … (2008)
Virtual humans for assisted health care
P Kenny… T Parsons… J Gratch… A Rizzo
Proceedings of the 1st international conference on PErvasive Technologies … (2008)
Panel on Artificial Agents for Psychotherapy.
E Hudlicka… CL Lisetti… D Hodge… A Paiva… AA Rizzo… E Wagner
AAAI Spring Symposium: Emotion… Personality… and Social Behavior… 60-64 (2008)
Virtual reality Post Traumatic Stress Disorder (PTSD) exposure therapy results with active duty Iraq war combatants
A Rizzo… G Reger… K Perlman… B Rothbaum… J Difede… R McLay… K Graap… …
ICDVRAT 2008 (2008)
Impact of stimulus intensity and complexity upon attentional processing within a virtual environment
TD Parsons… AS Rizzo
ARCHIVES OF CLINICAL NEUROPSYCHOLOGY 23 (6)… 659-659 (2008)
Effects of stereoscopic displays and interaction devices on human motor behavior 
S Yeh… B Lange… CY Chang… C Wang… AA Sawchuk… A Rizzo
PROCEEDINGS-SPIE THE INTERNATIONAL SOCIETY FOR OPTICAL ENGINEERING 6804… 6804 (2008)
Virtual reality applications for the treatment of combat-related PTSD.
A Rizzo… BO Rothbaum… K Graap
Routledge/Taylor & Francis Group (2007)
VR aided motor training for post-stroke rehabilitation: System design… clinical test… methodology for evaluation
SC Yeh… J Stewart… M McLaughlin… T Parsons… CJ Winstein… A Rizzo
Virtual Reality Conference… 2007. VR'07. IEEE… 299-300 (2007)
Intervention to enhance skilled arm and hand movements after stroke: A feasibility study using a new virtual reality system
JC Stewart… SC Yeh… Y Jung… H Yoon… M Whitford… SY Chen… L Li… …
Journal of neuroengineering and rehabilitation 4 (1)… 21 (2007)
Evaluation approach for post-stroke rehabilitation via virtual reality aided motor training
SC Yeh… J Stewart… M McLaughlin… T Parsons… CJ Winstein… A Rizzo
International Conference on Ergonomics and Health Aspects of Work with … (2007)
Using virtual reality to assess memory abilities of patients with multiple sclerosis
N Josman… A Kaizerman-Dinerman… P Weiss… A Rizzo… A Miller
MULTIPLE SCLEROSIS 13… S217-S217 (2007)
Virtual reality and other experiential therapies for combat-related posttraumatic stress disorder
JL Spira… JM Pyne… B Wiederhold… M Wiederhold… K Graap… A Rizzo
Primary Psychiatry 13 (3)… 58 (2006)
Randomized controlled trial of cognitive behavioral therapy with virtual reality exposure therapy for post-traumatic stress disorder
MJ Roy… W Law… I Patt… JA Difede… A Rizzo… K Graap… B Rothbaum
CYBERPSYCHOLOGY & BEHAVIOR 9 (6)… 716-717 (2006)
A virtual reality exposure therapy application for Iraq war post traumatic stress disorder
J Pair… B Allen… M Dautricourt… A Treskunov… M Liewer… K Graap… G Reger
Virtual Reality Conference… 2006… 67-72 (2006)
Effectiveness of virtual reality for pediatric pain distraction during IV placement
JI Gold… SH Kim… AJ Kant… MH Joseph… AS Rizzo
CyberPsychology & Behavior 9 (2)… 207-212 (2006)
Randomized controlled trial of CBT with virtual reality exposure therapy for PTSD
S Roy… W Law… I Patt… J Difede… A Rizzo… K Graap… B Rothbaum
Annu. Rev. Cyberther. Telemed 4… 39-44 (2006)
Virtual reality technology for psychological/neuropsychological/motor assessment and rehabilitation: applications and issues
A Rizzo… BK Wiederhold
Virtual Reality Conference… 2006… 308-308 (2006)
A Virtual Reality Therapy Application for OEF/OIF Combat–Related Post Traumatic Stress Disorder
A Rizzo… J Pair… T Parsons… M Liewer… K Graap… J Difede… B Rothbaum… …
USC Institute for Creative Technologies (2006)
A virtual reality exposure therapy application for Iraq War military personnel with post traumatic stress disorder: From training to toy to treatment
A Rizzo… J Pair… K Graap… B Manson… PJ McNerney… B Wiederhold… …
NATO Security through Science Series E Human and Societal Dynamics 6… 235 (2006)
CyberSightings
S Rizzo
CYBERPSYCHOLOGY AND BEHAVIOR 9 (6)… 776-779 (2006)
Integrating haptic-tactile feedback into a video-capture–based virtual environment for rehabilitation
U Feintuch… L Raz… J Hwang… N Josman… N Katz… R Kizony… D Rand… …
CyberPsychology & Behavior 9 (2)… 129-132 (2006)
An exploration of delsarte's structural acting system
SC Marsella… SM Carnicke… J Gratch… A Okhmatovskaia… A Rizzo
International Workshop on Intelligent Virtual Agents… 80-92 (2006)
Expose… distract… motivate and measure: Virtual reality games for health
A Rizzo
Nuevas Ideas en Informatico Educativa 2… 1-4 (2006)
VR enhanced upper extremity motor training for post-stroke rehabilitation: task design… clinical experiment and visualization on performance and progress
S Yeh… A Rizzo… M McLaughlin… T Parsons
Studies in health technology and informatics 125… 506 (2006)
State of the art in virtual rehabilitation
AS Rizzo
CyberPsychology & Behavior 9 (2)… 113-113 (2006)
Pilot trial results from a virtual reality system designed to enhance recovery of skilled arm and hand movements after stroke
JC Stewart… SC Yeh… Y Jung… H Yoon… M Whitford… SY Chen… L Li… …
2006 International Workshop on Virtual Rehabilitation… 11-17 (2006)
Cognitive performance assessment in mixed and virtual environment systems
J Pair… A Rizzo
University of Southern California Marina Del Rey CA Inst for Creative … (2006)
A virtual reality exposure therapy application for Iraq war veterans with Post Traumatic Stress Disorder: from training to toy to treatment
A Rizzo… J Pair
oi%3Dbibs%26hl%3Den%26cites%3D3538234710018970185&sa=D&ust=1544677670553000 (2006)
Virtual Classroom: An Ecological Version of the Continuous Performance Task
G Moreau… MC Guay… A Rizzo
CYBERPSYCHOLOGY & BEHAVIOR 9 (6)… 703-703 (2006)
'virtual'assessment of cognitive workload and attentional capacity in a simulated classroom task: P301
HJ Moller… D Klimchuk… R Mitura… S Lam… J Nhan… A Rizzo
Journal of Sleep Research 15… 170 (2006)
Using virtual reality to assess memory abilities of patients with multiple sclerosis
A Miller… A Dinerman… PLT Weiss… R Kizony… A Rizzo… N Josman
MULTIPLE SCLEROSIS 12… S165-S165 (2006)
Haptics-enhanced virtual environments for stroke rehabilitation
M McLaughlin… A Rizzo… Y Jung… W Peng… S Yeh… W Zhu
Proc. IPSI (2005)
Virtual reality and applied psychophysiology
BK Wiederhold
Applied Psychophysiology and Biofeedback 30 (3)… 183-185 (2005)
Development of a VR Therapy Application for Iraq War Veterans with PTSD
A Rizzo… J Pair… PJ McNerney… E Eastlund… B Manson… J Gratch… R Hill… …
USC Institute for Creative Technologies. White Paper… Contract No. DAAD… 19-99 (2005)
Development of a data management tool for investigating multivariate space and free will experiences in virtual reality
JF Morie… K Iyer… DP Luigi… J Williams… A Dozois
Applied Psychophysiology and Biofeedback 30 (3)… 319-331 (2005)
Gender differences and cognition among older adults
TD Parsons… AR Rizzo… C Zaag… JS McGee… JG Buckwalter
Aging… Neuropsychology… and Cognition 12 (1)… 78-88 (2005)
Effectiveness of virtual reality for pediatric pain distraction during IV placement
S Kim… J Gold… A Rizzo… A Kant… M Joseph
The Journal of Pain 6 (3)… S58 (2005)
Human emotional state and its relevance for military VR training
A Rizzo… JF Morie… J Williams… J Pair… JG Buckwalter
UNIVERSITY OF SOUTHERN CALIFORNIA MARINA DEL REY CA INST FOR CREATIVE … (2005)
Virtual reality technology for behavioral/cognitive/neuropsychological assessment and intervention: Applications and issues
A Rizzo… BK Wiederhold
null… 309 (2005)
Development of a VR therapy application for Iraq war military personnel with PTSD
A Rizzo… J Pair… PJ McNerney… E Eastlund… B Manson… J Gratch… R Hill… …
Studies in health technology and informatics 111… 407-413 (2005)
Comparison of two VR platforms for rehabilitation: video capture versus HMD
D Rand… R Kizony… U Feintuch… N Katz… N Josman… AS Rizzo… PL Weiss
Presence: Teleoperators & Virtual Environments 14 (2)… 147-160 (2005)
Virtual anesthesia: the use of virtual reality for pain distraction during acute medical interventions
JI Gold… AJ Kant… SH Kim
Seminars in Anesthesia… Perioperative Medicine and Pain 24 (4)… 203-210 (2005)
From training to toy to treatment: preliminary results from virtual reality therapy: application for Iraq war military personnel with combat-related post-traumatic stress disorder
A Rizzo… J Pair… PJ McNerney… E Eastlund… B Manson… J Gratch… R Hill… …
Cyberpsychology & Behavior 8 (4)… 352-353 (2005)
Virtual reality in outpatient phlebotomy: evaluating pediatric pain distraction during blood draw
J Gold… G Reger… A Rizzo… G Buckwalter… S Kim… M Joseph
The Journal of Pain 6 (3)… S57 (2005)
Games for health: Game-based virtual reality applications for mental disorders and rehabilitation
A Rizzo… J Pair… G Buckwalter… J Gold… C Winstein… M McLaughlin… K Graap… …
CyberPsychology & Behavior 8 (4)… 351-352 (2005)
Virtual Therapeutic Environments with Haptics: An Interdisciplinary Approach for Developing Post-Stroke Rehabilitation Systems.
AA Rizzo… M McLaughlin… Y Jung… W Peng… SC Yeh… W Zhu
CPSN 5… 70-76 (2005)
A SWOT analysis of the field of virtual reality rehabilitation and therapy
AS Rizzo… GJ Kim
Presence 14 (2)… 119-146 (2005)
Formation of spatial presence: By form or content
S Lee… GJ Kim… A Rizzo… H Park
Proceedings of 7th Annual International Presence Workshop… Valencia… Spain (2004)
Space extension: the perceptual presence perspective
J Hwang… GJ Kim… AS Rizzo
Proceedings of the 2004 ACM SIGGRAPH international conference on Virtual … (2004)
Sex differences in mental rotation and spatial rotation in a virtual environment
TD Parsons… P Larson… K Kratz… M Thiebaux… B Bluestein… JG Buckwalter… …
Neuropsychologia 42 (4)… 555-562 (2004)
Memory assessment using graphics-based and panoramic video virtual environments
A Rizzo… L Pryor… R Matheis… M Schultheis… K Ghahremani… A Sey
Proc. 5th Intl Conf. Disability… Virtual Reality & Assoc. Tech (2004)
The Virtual Classroom: A Virtual Environment for the Assessment of Attention Processes in Children with Attention Deficit Hyperactivity Disorder
A Rizzo… D Klimchuk… R Mitura
Virtual Reality for Public Consumption… IEEE Virtual Reality 2004 Workshop … (2004)
Musical interaction at a distance: Distributed immersive performance
E Chew… R Zimmermann… AA Sawchuk… C Kyriakakis… C Papadopoulos… …
Proceedings of the MusicNetwork Fourth Open Workshop on Integration of Music … (2004)
A controlled study of the effectiveness of virtual realty to reduce children's pain during venipuncture
JI Gold… GM Reger… A Rizzo… JG Buckwalter… R Allen… E Mendelowitz… …
CYBERPSYCHOLOGY & BEHAVIOR 7 (3)… 285-285 (2004)
Virtual reality for psychotherapy: Current reality and future possibilities.
K Glanz… AS Rizzo… K Graap
Psychotherapy: Theory… Research… Practice… Training 40 (1-2)… 55 (2003)
Video-based virtual environments
T Pintaric… A Rizzo… U Neumann
ACM SIGGRAPH 2003 Sketches & Applications… 1-1 (2003)
360 degree panoramic HMD immersion
K Ghahremani… A Rizzo… U Newman
null… 313 (2003)
Tutorial 3: assessment… rehabilitation and therapy applications using VR
A Rizzo… G Burdea… L Hodges… M Schultheis… D Strickland… B Wiederhold… …
vr… 301 (2002)
Virtual reality and disability: emergence and challenge
AS Rizzo
Disability and rehabilitation 24 (11-12)… 567-569 (2002)
Gender differences and cognition among older adults
T Parsons… A Rizzo… J McGee… J Buckwalter
ARCHIVES OF CLINICAL NEUROPSYCHOLOGY 17 (8)… 728-728 (2002)
Special issue: Virtual reality applications in neuropsychology-Guest editors' introduction
A Rizzo… JG Buckwalter
Presence-Teleoperators and Virtual Environments 10 (4)… III-V (2001)
Virtual reality exposure therapy for Vietnam veterans with posttraumatic stress disorder.
BO Rothbaum… LF Hodges… D Ready… K Graap… RD Alarcon
The Journal of clinical psychiatry (2001)
Advances in the application of virtual environments for mental healthcare
A Rizzo
IEEE Virtual Reality (2001)
Immersive panoramic video
U Neumann… T Pintaric… A Rizzo
Proceedings of the eighth ACM international conference on Multimedia… 493-494 (2000)
Virtual environment applications in clinical neuropsychology
A Rizzo… JG Buckwalter… C van der Zaag… U Neumann… M Thiébaux… …
Virtual Reality… 2000. Proceedings. IEEE… 63-70 (2000)
Immersive panoramic video
T Pintaric… U Neumann… A Rizzo
Proceedings of the 8th ACM International Conference on Multimedia 493 (2000)
Virtual Environment Applications in Clinical Neuropsychology'Rizzo… A….'Buckwalter… JG…'van der Zaag… C…'Neumann… U….'Thiebaux… M….'Chua… C… van Rooyen… A…. & 3Humphrey… L …
A Rizzo
Proceedings of the IEEE Virtual Reality 2000: 18-22 March 2000… New … (2000)
The Use of Virtual Reality in the Assessment of Spatial Skills
J Buckwalter… A Rizzo… C van der Zaag… A van Rooyen… P Larson… …
First International Congress of Neuropsychology in the Internet (1999)
Virtual environments in the diagnosis… prevention… and intervention of age-related diseases: A review of VR scenarios proposed in the EC VETERAN project
G Riva… A Rizzo… D Alpini… EA Attree… E Barbieri… L Bertella… JG Buckwalter… …
CyberPsychology & Behavior 2 (6)… 577-591 (1999)
Preliminary findings on a virtual environment targeting human mental rotation/spatial abilities
A Rizzo… JG Buckwalter… P Larson… A Van Rooyen… K Kratz… U Neumann… …
Proceedings of the 2nd European Conference on Disability… Virtual Reality … (1998)
Cybersightings
A Rizzo
CYBERPSYCHOLOGY AND BEHAVIOR 1 (4)… 427-428 (1998)
Virtual reality exposure therapy.
BO Rothbaum… L Hodges… R Kooper
Journal of Psychotherapy Practice & Research (1997)
= = =
Methodology for Clinical Trials of Virtual Reality in Healthcare: Recommendations from an International Working Group
B Birckhead… C Khalil… X Liu… S Conovitz… A Rizzo… I Danovitch… K Bullock… …
(Undated)
Virtual Reality Exposure Therapy
MJ Roy… A Rizzo… JA Difede
(Undated)
Gilles Simon… LORIA²INRIA Andrei State… UNC²Chapel Hill Didier Stricker… Fraunhofer IGD/ZGDV Venkataraman Sundareswaran… Rockwell Scientific Haruo Takemura… Nara Institute of …
Y Akatsuka… R Behringer… M Billinghurst… W Birkfehlner… K Daniilidis… …
(Undated)
NIDRR Perspectives on VR Applications for Addressing the Needs of those Aging with and into Disability
A RIZZO… P REQUEJO… CJ WINSTEIN… B LANGE… G RAGUSA… …
(Undated)
Simcoach: An Online Intelligent Virtual Human Agent System For Breaking Down Barriers To Care For Service Members And Veterans
A Rizzo… E Forbell… B Lange… JG Buckwalter… J Williams… K Sagae… D Traum
(Undated)
UDN: User-Directed News
A Rizzo… LS Gardner… D McLeod… U Neumann
(Undated)
" Video-based virtual environments"; Vortrag: SIGGRAPH 2003… San Diego… California; 27.07. 2003-31.07. 2003; in:" Proceedings of the SIGGRAPH 2003 conference on Sketches …
T Pintaric… A Rizzo… U Neumann
(Undated)
Platform Session I: Psychological and Neurophysiological Impact
R Samana… H Wallach… M Safir… A Rizzo… B Newman… T Parsons… JA Difede… …
(Undated)
Virtual Reality… A New Therapy Part One: Virtual Iraq-Afghanistan
AS Rizzo… J Brennan Jr
(Undated)
The Virtual Iraq PTSD Exposure Therapy System: Current status and future development needed to produce a TRL 9 system A White Paper
A Rizzo
(Undated)
Virtual Reality and Interactive Digital Game Technology: New Tools to Address Childhood Obesity and Diabetes Albert" Skip" Rizzo… Ph. D. & Belinda Lange… Ph. D.
A Rizzo
(Undated)