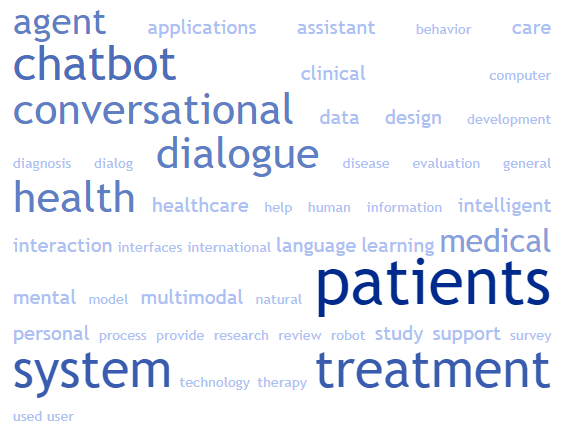 Notes:
Chatbots are increasingly being used in patient treatment to help improve the delivery of health, medical, therapeutic, and other types of therapy. Chatbots can be used in a variety of ways to support patient treatment, including:
Providing information and education: Chatbots can be used to provide patients with information and education about their health conditions, medications, and treatment options. They can also provide information about healthy living habits, such as exercise and diet.
Monitoring patient progress: Chatbots can be used to monitor patient progress and collect data on various aspects of their health, including symptoms, treatment adherence, and lifestyle habits. This data can be used to help healthcare providers track patient progress and make informed treatment decisions.
Providing emotional support: Chatbots can be used to provide emotional support to patients, including by offering encouragement, motivation, and guidance. They can also provide a listening ear and a safe space for patients to express their emotions and concerns.
Offering telemedicine: Chatbots can be used to support telemedicine, which is the delivery of healthcare services remotely using technology. This can be especially useful during the COVID-19 pandemic, when in-person visits may be difficult or impossible.
Supporting self-management: Chatbots can be used to support self-management, which is the process of taking an active role in managing one's own health and wellbeing. Chatbots can provide patients with tools and resources to help them manage their health conditions and adopt healthy habits.
See also:
100 Best Virtual Patient Videos | 100 Best Virtual Reality Therapy Videos | 100 Best Watson Health Videos | Avatars & Therapy 2018 | Health & Medical Chatbots (Case Studies) | Medical Coding | Medical Expert Systems | UMLS (Unified Medical Language System) & Dialog Systems | Virtual Patient & Chatbots 2018 | Virtual Reality Therapy News 2018 | Virtual Reality Therapy News 2019
---
Design, Development, and Evaluation of a Patient-Centered Health Dialog System to Support Inguinal Hernia Surgery Patient Information-Seeking
RJ Lordon – 2019 – digital.lib.washington.edu
… Low health literacy negatively impacts a patient's ability to understand their personal health, disease, medications, treatment [2,17–20], and written health information [21,22] … For surgery patients, in particular, low health literacy was associated with poor medical …
A chatbot-based graphical user interface for hospitalized patients: Empowering hospitalized patients with a patient-centered user experience and features for self …
J LEVIN – 2019 – odr.chalmers.se
… patients in their decision making and preparing for consequences of treatment while increasing … Respecting patients privacy preferences is of high importance and ultimately decides the realization in … healthcare is a transformation creating new roles for both patient and caregiver …
Survey On Chat Bot System For Cancer Patient
P Nehul, B Lohar, U Jagtap, S Rajurkar, G Virkar – oaijse.com
… ABSTRACT: Normally Users are not aware about all the treatment or symptoms regarding the particular disease for small … patients they have to wait for experts acknowledgement for a long time. Some of the processes may charge amount to … in Patient-Carer Conersational cases …
Emergency Patient Care System Using Chatbot
P Raj, R Murali Krishna, SM Krishna, KH Vardhan… – ijtre.com
… have proved that that chatbot can provide healthcare in low costs and improved treatment if the … CONCLUSION In this paper, we have presented a system for the patients to get instant help in … An integrated messaging system will also be provided, so that, the patient can send a …
Social Media and Chatbots use for chronic disease patients support: case study from an online community regarding therapeutic use of cannabis
AR Teixeira – 2019 – repositorio-aberto.up.pt
… (2010) study, the Internet "more commonly lead to patients being more able to participate in the decision making process concerning their treatment." (p. 1231 … The dynamic of social media communities is directly linked with patient activation, increasing patient's willingness …
A Generative Dialogue System for Reminiscence Therapy
M Carós Roca – 2019 – upcommons.upc.edu
… Research focused on identifying treatments to slow down the evolution of neurodegenerative diseases is a very … Therapies such as Reminiscence, that stimulate memories of the patient's past, has well documented benefits on … Evaluate the therapy with two patients diagnosed of …
A Reinforcement Learning Based Intelligent System for the Healthcare Treatment Assistance of Patients with Disabilities
A Coronato, M Naeem – … Symposium on Pervasive Systems, Algorithms and …, 2019 – Springer
… Improvement in patient treatment and care is important for all healthcare stakeholders in order to provide a higher level of satisfaction to patients [2]. Medical … medicine and clinical practice and tools are affected: diagnostic systems (eg [5]), personalized treatments (eg DTR …
Effectiveness of a chat-bot for the adult population to quit smoking: protocol of a pragmatic clinical trial in primary care (Dejal@)
JF Avila-Tomas… – BMC Medical …, 2019 – bmcmedinformdecismak …
… A chat-bot is not a software that needs to be installed in a smartphone or tablet, it respects the privacy of the patient scrupulously, and its learning curve is … We also estimate that this type of intervention will improve the accessibility of patients to an evidence-based treatment …
Adaptive Treatment Assisting System for Patients Using Machine Learning
M Naeem, A Coronato… – 2019 Sixth International …, 2019 – ieeexplore.ieee.org
… The purpose of the adaptive treatment assistance sys- tem is to help patients in their treatment plans through effective messages by first considering … One relevant characteristic of the system is that it is not pre-programmed and customized based on the actual patient skills …
The next generation: chatbots in clinical psychology and psychotherapy to foster mental health–a scoping review
E Bendig, B Erb, L Schulze-Thuesing… – Verhaltenstherapie, 2019 – karger.com
… In the treatment of psychological problems, they might offer tools that par- ticipants could … Performance of the Chatbot The effectiveness of the chatbot may vary depending on the … and chatbots that use nat- ural-language, speech-based interfaces in dialogue systems (such as …
Chatbot implementation for ICD-10 recommendation system
N Siangchin, T Samanchuen – 2019 International Conference …, 2019 – ieeexplore.ieee.org
… classify the patients based on principal diagnosis, secondary diagnosis, procedure of treatment, length of … In the standard coding guideline, the codes must be classified by patient types, such … For complete coding in this group, when patients have complication diseases, codes of …
Conversational Interfaces for Health: Bibliometric Analysis of Grants, Publications, and Patents
Z Xing, F Yu, J Du, JS Walker, CB Paulson… – Journal of medical …, 2019 – jmir.org
… variations and key stakeholders, such as health, healthcare, medicine, clinic, physician, patient, and caregiver … CIs to improve patients' engagement [39], for palliative care of patients with advanced … grant for a project that applied CI technology to support the treatment of major …
kBot: Knowledge-Enabled Personalized Chatbot for Self-Management of Asthma in Pediatric Population
D Kadariya – 2019 – rave.ohiolink.edu
… differently. A general treatment approach such as a generic asthma care plan proves … with a patient through a contextualized and personalized manner on hand-held devices … alert on potential environmental triggers, and educate the patients on various asthma self …
Chatbot in mental health care
M Vijayarani, G Balamurugan – Indian Journal of Psychiatric Nursing, 2019 – ijpn.in
… that health-care services require wisdom and empathic relationship with the patient than only … also said that chatbots for health care might pose a risk to patients if they … psychology skills and promote well-being among young people after cancer treatment: randomized controlled …
Assistive System in Conversational Agent for Health Coaching: The CoachAI Approach
A Fadhil – arXiv preprint arXiv:1904.11412, 2019 – arxiv.org
… 4: Combined Physical Activity Adherent Patients Recommendation … the current focus has shifted the preferences of individuals from health treatment to disease … Existing telemedicine approaches in disease prevention all focus on handling patient's condition efficiently and …
A Comparative Study of Self-Diagnosis User Interfaces for Depression: Focusing on Usability of Paper-Based, Text-Based and Voice-Based Conversational Interface
O Mangkang, JY Yun – ?? HCI ?? ????, 2019 – dbpia.co.kr
… many clinical treatments has shown that it can have a positive impact on patient using such treatment … can be used as a way to prove reliability and can also make the patients to express … The depressed patient's perspective." american Journal of Psychiatry 163.1 (2006), 148-150 …
A Study on the Client Experience using Chatbot based on Counseling Theory.
A Lee, HC Kim, MC Cha, YG Ji – Journal of the Ergonomics …, 2019 – search.ebscohost.com
… and Wagner, B., Web-based psychotherapy for posttraumatic stress disorder in war-traumatized Arab patients: randomized controlled … B., Unützer, J., Callahan, CM, Perkins, AJ and Kroenke, K., Monitoring depression treatment outcomes with the patient health questionnaire …
Chatbot acceptance in healthcare: Explaining user adoption of conversational agents for disease diagnosis
S Laumer, C Maier, FT Gubler – 2019 – aisel.aisnet.org
… is the process to identify the causes of health problems and to initiate the subsequent treatment … While a patient with statutory health insurance in a country such as Germany has to … Analogous to how patients usually trust a physician with regard to their diagnosis, similar trust of …
Chatbots as extenders of pediatric obesity intervention: an invited commentary on "Feasibility of Pediatric Obesity & Pre-Diabetes Treatment Support through Tess, the …
D Thompson, T Baranowski – Translational behavioral medicine, 2019 – academic.oup.com
… the social desirability of response likely in an unequal provider–patient interaction, it … important first step in automating communication with child and adolescent weight management patients … Feasibility of pediatric obesity and prediabetes treatment support through Tess, the AI …
Usability Evaluation of Self-Diagnosis User Interfaces for Depression: A Comparative Study among Paper-Based, Text-Based, and Voice-Based Conversational …
O Mangkang, JY Yun – ?? HCI ?? ???, 2019 – dbpia.co.kr
… has shown that it can have a positive impact on patient using such treatment … used as a way to prove reliability and can also make the patients express themselves … Patient and consumer safety risks when using conversational assistants for medical information: An observational …
Healthcare ex Machina: Are conversational agents ready for prime time in oncology?
JE Bibault, B Chaix, P Nectoux, A Pienkowski… – Clinical and translational …, 2019 – Elsevier
… are shown to be effective and safe, they could be prescribed like any drug to improve patient information, monitoring, or treatment adherence … Lottick, LC Vanderwerker, SD Block, et al.Psychiatric disorders and mental health service use in patients with advanced …
DIL-A Conversational Agent for Heart Failure Patients
S Moulik – 2019 – search.proquest.com
… physical limitations, distressed emotions resulting in difficulties dealing with treatment … with 15 patients indicate promising results with respect to intervention adherence (13.000 conversational turns over … 4 months or 8 per day and patient), scalability of the THCB approach (99.5 …
Intelligent Healthbot for Transforming Healthcare
O Kadu, S Sihasane, S Naik, V Katariya… – … in International Journal …, 2019 – academia.edu
… Right now Machine learning or AI is been used in Medical diagnosis and treatment … Text-based Healthcare Chatbots Supporting Patient and Health Professional Teams … self-service channels [41] and digital health interventions [1, 31] have the potential to support patients in their …
Delivering Cognitive Behavioral Therapy Using A Conversational SocialRobot
F Dino, R Zandie, H Abdollahi, S Schoeder… – arXiv preprint arXiv …, 2019 – arxiv.org
… Sentiment analysis also suggested that patient mood improved throughout the course of treatment … The exit survey results demonstrate that overall, patients were satisfied with Ryan and … and effectiveness of iCBT administered using SAR as a potential treatment for depression …
When Chatbots meet patients: one-year prospective study of conversations between patients with breast cancer and a Chatbot
B Chaix, JE Bibault, A Pienkowski, G Delamon… – Jmir …, 2019 – cancer.jmir.org
… 5]. Most cancer patients are treated at home and have to manage their treatment alone … be evaluated so that they can be an integral part of the doctor/patient relationship … Vik's answers are very diverse, and patients can find all the relevant, quality-checked medical information …
Towards emotion-sensitive conversational user interfaces in healthcare applications
K Denecke, R May, Y Deng – Studies in health technology and …, 2019 – arbor.bfh.ch
… The reactive system where a patient's acute illnesses are treated is evolving to a treatment more centered … Beyond, mobile health applications are increasingly used by patients offering the opportunity to collect health data, to continuously monitor the personal health and to …
The personalization of conversational agents in health care: Systematic review
AB Kocaballi, S Berkovsky, JC Quiroz, L Laranjo… – Journal of medical …, 2019 – jmir.org
… standardized evaluation methods or had failed to address aspects of patient safety [2 … The search terms included "conversational agents", "dialogue systems", "relational agents" and "chatbots … the system (eg, making different system functionalities available for patients and carers …
Recommending Moodle Resources Using Chatbots
K Souali, O Rahmaoui, M Ouzzif… – … Conference on Signal …, 2019 – ieeexplore.ieee.org
… doctor like agent which uses medical information of the symptoms and treatment records gathered … give suggestions and provide medical advice to patients or recommend the patients to visit … In this paper, we have presented a literature review on dialogue systems and proposed …
Remote cardiovascular health monitoring system with auto-diagnosis
B Bhattacharya, S Mohapatra… – … on Vision Towards …, 2019 – ieeexplore.ieee.org
… focusses to build a tele-medicine system dependent upon M2M technology for CVD patients especially in … then he/she can reply back to the system, this reply is sent to patient for his … This chatbot behaves as a virtual doctor in terms of conversation, treatments and suggestions to …
An Approach to Teach Nao Dialogue Skills
M Graña, A Triguero – International Work-Conference on the Interplay …, 2019 – Springer
… and the aim of the system is to assist in some experimental treatments of children … sometimes, they show toward robots, behaviors that TD patients had toward human caretakers; … The company has marketed a product for dealing with experiments and treatment of ASD children …
Review on: Virtual Assistant and Patient Monitoring System by using AI & Data Science
S Patil, V Patil, V Bagal, S Butala – 2019 – academia.edu
… Timely diagnosis and treatment can solve these issues to a great extent … All data is collected and also the past data of patient is save … the proposed method is more accurate and faster and can be helpful anywhere, anytime, and suitable for a variety of problems of the patients …
Evaluation of Chatbot Prototypes for Taking the Virtual Patient's History.
A Reiswich, M Haag – dHealth, 2019 – books.google.com
… scenarios such as recording the patient's medical history or deciding a treatment option … different prototypes are implemented for the scenario of taking the patient's medical history … FS Komputer and K. Perisian, Designing a Chatbot for diabetic patients, International Conference …
Integration chat-bota@ ribs_karkas_bot with expert system
VP Burdaev – 2019 – repository.hneu.edu.ua
… help the patient is diagnosed: type of coronary behavior, degree of socio-psychological … treatment of liver diseases, conduct a statistical evaluation of therapeutic interventions in patients; ? the "ADBC" expert system [3 – 5] (automatic diagnosis of breast cancer) is …
Physicians' perceptions of chatbots in health care: cross-sectional web-based survey
A Palanica, P Flaschner, A Thommandram, M Li… – Journal of medical …, 2019 – jmir.org
… disagree, %. Help patients better manage their own health, 7, 47, 26, 17, 3. Improve quality of patient care, 8, 27, 36, 21, 8. Help provide more personalized treatment, 7, 21, 36, 27, 9. Reduce travel time to health care provider, 20, 32, 30, 12, 6 …
A Planning Strategy For Dialogue Management in Healthcare.
MS Teixeira, M Dragoni, C Eccher – SWH@ ISWC, 2019 – ceur-ws.org
… to give advice to patients with the intention of giving some guidance on the patient's treatment … simple scenario, we distinguish only 2 symptoms (slots) that are common for patients with asthma … This question also has a non-deterministic outcome since the patient may inform none …
How should my chatbot interact? A survey on human-chatbot interaction design
AP Chaves, MA Gerosa – arXiv preprint arXiv:1904.02743, 2019 – arxiv.org
… 2016], and patients self-monitor the progress of their treatment [Fitzpatrick et al … string that includes the synonyms chatbots, chatterbots, conversational agents, conversational interfaces, conversational systems, conversation systems, dialogue systems, digital assistants …
Passive Diagnosis of Mental Health Disorders Incorporating an Empathic Dialogue System
F Delahunty, M Arcan, R Johansson – 2019 – thesiscommons.org
… the mental health domain specifically, dialogue systems are already seeing widespread implementation [13], both for screening and treatment of disorders [3 … They are often short, standardised and allow for easy comparisons between patients. 2.2 Patient Health Questionnaire …
Employing Conversational Agents in Palliative Care: A Feasibility Study and Preliminary Assessment
M Chatzimina, L Koumakis, K Marias… – 2019 IEEE 19th …, 2019 – computer.org
… of symptom prevalence ,and severity in persons receiving active cancer treatment," ,Support … [35] T. Giorgino ,et al.,, "Automated spoken dialogue system for ,hypertensive patient home management … dialog system for home care ,and data acquisition from chronic patients," ,Stud …
Conversational agents in the treatment of mental health problems: Mixed-method systematic review
H Gaffney, W Mansell, S Tai – JMIR mental health, 2019 – mental.jmir.org
… We conducted a systematic review and synthesis of conversational agents in the treatment of mental health problems. Conversational agents are diverse in design [1] and include, for example, chatbots (eg, casual conversation delivered verbally or through text), embodied …
Explainable argumentation for wellness consultation
I Sassoon, N Kökciyan, E Sklar, S Parsons – International Workshop on …, 2019 – Springer
… include those in which both agent and human play the role of patient, and so … This exhaustive set of stroke treatment schemes will then drive the development of an associated set of … us to assess the feasibility of the approach and establish, qualitatively, how patients interact with …
Generative model chatbot for Human Resource using Deep Learning
SA Sheikh, V Tiwari, S Singhal – 2019 International Conference …, 2019 – ieeexplore.ieee.org
… at Stanford University in 1972 to treat blood diseases [4]. Mycin was based on standards and had the option to recommend an appropriate treatment plan to a patient with blood … [18] H. Chen, X. Liu, D. Yin, and J. Tang, "A Survey on Dialogue Systems: Recent Advances and …
A context-aware conversational agent in the rehabilitation domain
T Mavropoulos, G Meditskos, S Symeonidis… – Future Internet, 2019 – mdpi.com
… On the other hand, there is also an ontology-based dialogue system which creates … most fitting course of action, the REA platform interacts seamlessly with patients, providing personalised … Of particular importance is the sleep sensor placed under patient beds, which assesses …
Design for fast request fulfillment or natural interaction? Insights from an experiment with a conversational agent
S Diederich, AB Brendel, S Lichtenberg, L Kolbe – 2019 – aisel.aisnet.org
… language, often referred to as virtual personal assistants, or through written text, often called chatbots or dialogue systems (Gnewuch et … The document further contained a link to the chatbot, which ran- domly assigned the participant to the control or treatment configuration …
How Does a Robot Speak? About the Man-Machine Verbal Interaction
PA BUVET, B FACHE, A ROUAM – 2019 – ceur-ws.org
… 9 TREATMENT(HUMAN1,HUMAN2) … Furthermore, an utterance as: Le médecin a déclaré aux patients qu'il était absent (The doctor announced to his patients that he was absent) is analyzed as a … 2) (DECLARATION(HUMAIN:MEDECIN,HUMAIN:PATIENT,ABSENCE(HUMAIN …
Text-based Chatbot Assisted Health Coaching System: Preliminary Evaluation & Results
A Fadhil – researchgate.net
… before the intervention, will assist physicians to better understand their patient by checking … and personalise the plan defined by the coach to fit with patients condition … a wellness recommender system that helps individuals adapt suitable personalised wellness therapy treatment …
From user feedback to requirements using chatbots
D Horváth – 2019 – dspace.library.uu.nl
… 4.2.3 Treatment validation … For the case study, a prototype of a requirements focused chatbot, that can be implemented in the software application HiX by ChipSoft, will be developed … These modules cover a broad range of fields, eg Finance, Patient and Multimedia modules exist …
Survey of conversational agents in health
JLZ Montenegro, CA da Costa… – Expert Systems with …, 2019 – Elsevier
… Conversational agents. Chatbot. Expert systems. Systematic review. Health … many technologies driving considerable changes in the health field involving physicians, patients, and other … with several applications having been introduced in the therapeutic and patient care context …
Experimental study of socio chatbot usability
R Ren – 2019 – repositorio.uam.es
… Figure 2.1: Relationships between classes of software-based dialog systems … Research on dialogue systems can be traced back to the 1950s, when Alan M. Turing posed the … development of ELIZA at MIT in 1960, can be considered the first dialogue system [19] …
Translational Medicine in the Era of Social Media: A Survey of Scientific and Clinical Communities
E Sandalova, JG Ledford, M Baskaran… – Frontiers in Medicine, 2019 – frontiersin.org
… Overall, there are multiple efforts to create Chatbots to support patients and healthcare professionals … or medical advice or professionals are less aware about opportunities that Chatbot presents (23 … seems to be adopted by many scientific (9, 25, 26) and patient forums already …
A Deep Learning Based Chatbot for Campus Psychological Therapy
J Yin, Z Chen, K Zhou, C Yu – arXiv preprint arXiv:1910.06707, 2019 – arxiv.org
… Real world applications include making spoken dialogue systems and carrying out social media mining … and the following psychological distresses, it is crucial for our chatbot model to … As psychological counseling is a medical field where patients' personal data are sensitive and …
Automatic summarization of medical conversations, a review
J Lopez – TALN-RECITAL 2019-PFIA 2019, 2019 – hal.archives-ouvertes.fr
… without omitting information, and a patient can review the diagnostic and the treatment later in … The dialogue between patients and doctors can be recorded and a summary been generated with the … points, to the attention of other doctors and for the medical history of the patient …
Designing for health chatbots
A Fadhil, G Schiavo – arXiv preprint arXiv:1902.09022, 2019 – arxiv.org
… systems, measuring accuracy and user satisfaction are examples of NLP complications that dialog systems encounter (Schumaker … For example, when there is a steep drop-off in patient's drug adherence in the … We need to learn what patients' value and try to connect to it with …
Evaluation Techniques for Chatbot Usability: A Systematic Mapping Study
R Ren, JW Castro, ST Acuña… – International Journal of …, 2019 – World Scientific
… development of ELIZA at MIT in the 1960s, can be considered the ¯rst dialogue system [1]. In … use of speech synthesis con- stitutes a crucial design factor, even for text-based dialogue systems … an important aspect is the random order of application and of the treatments, to avoid …
Intelligent Conversational Agent Assisted Health Coaching System: The CoachAI Approach
A Fadhil – researchgate.net
… sense of health data) or user-clinician applications (apps that connect the two groups for diagnosis and treatment) … This model was build by clinically validated anonymized patients data provided by a health clinic for research … 7. CoachAI – Task-oriented dialog system overview …
A comparative study of word embedding methods for early risk prediction on the Internet
E Fano – 2019 – diva-portal.org
… For example, they mention that patient speech presented "increased number of phraseologisms, tautologies, lexical and semantic repetitions, metaphors, comparisons, inversions, ellipsis … (2007) looked at essays written by patients undergoing treatment for anorexia …
The Transformative Power of Mobile Medicine: Leveraging Innovation, Seizing Opportunities and Overcoming Obstacles of mHealth
P Cerrato, J Halamka – 2019 – books.google.com
… It is not a substitute for professional medical advice, diagnosis, or treatment … a successful pilot program that demonstrated the value of using Alexa's technology for hospitalized patients. This is the list of utterances/ques- tions generated for the patient bedside skill: • Ask BIDMC …
A Readiness Evaluation of Applying e-Government in the Society: Shall Citizens begin to Use it?
LT Khrais, MA Mahmoud… – Editorial Preface From …, 2019 – researchgate.net
… Each employee will be doing his/her job sincerely, and each patient will take his/her … authors proposed a mobile healthcare application as a chatbot to give a fast treatment in response … life, and also in response to the sudden health changes that can affect patients and threaten …
Anthropomorphic Virtual Assistant to Support Self-care of Type 2 Diabetes in Older People: A Perspective on the Role of Artificial Intelligence.
G Magyar, J Balsa, AP Cláudio, MB Carmo… – VISIGRAPP (1 …, 2019 – scitepress.org
… is depicted in Figure 3; this feedback guides the user on the treatment of a … Establishing the computer-patient working alliance in automated health behavior change interventions', Patient Education and … (2010) 'Response to a relational agent by hospital patients with depressive …
Conversational AI: An Overview of Methodologies, Applications & Future Scope
P Kulkarni, A Mahabaleshwarkar… – 2019 5th …, 2019 – ieeexplore.ieee.org
… the bot understand what is the use of the information received from the patient … agent that was capable of disease diagnosis and also providing treatment guidance [52] … and Satoshi Nakamura, "Statistical dialog management applied to WFST- based dialog systems," 2009 IEEE …
Towards computational persuasion via natural language argumentation dialogues
A Hunter, L Chalaguine, T Czernuszenko… – Joint German/Austrian …, 2019 – Springer
… Consider for example, a child asking a parent for a rise in pocket money, a doctor trying to get a patient to enter a … Treatment reduction … could then allow for the menu of counterarguments from which the user selects his/her choice to be replaced by the chatbot natural language …
Rehabilitation, the great absentee of virtual coaching in medical care: Scoping review
P Tropea, H Schlieter, I Sterpi, E Judica, K Gand… – Journal of Medical …, 2019 – jmir.org
… of care from the professional environment into the home has become critical to ensure patients' quality of life and to optimize the economics of medical and social treatments … frequent reason for neurological disability [3]. Rehabilitation is a process by which a patient follows a …
Modelling Working Alliance Using User-aware Explainable Embodied Conversational Agent for Behaviour Change: Framework and Empirical Evaluation
A Abdulrahman, D Richards – 2019 – aisel.aisnet.org
… planning and decision-making involving health information tailored to the patient's context can lead to effective patient engagement in the treatment plan (Roberts … Patients acceptance of their role in the shared planning is influenced by different factors such as his/her personal …
Digitalization and Public Services: A Labour Perspective
E Voss, R Rego – 2019 – repositorio.ul.pt
… New digital technol- ogies such as e-health or e-medicine, digital patient management, remote … and social services and have the potential to provide added value for patients, students and … Chatbot / bot A chatbot (or simply 'bot') is a text-based dialogue system that allows one to …
Discourse Behavior of Older Adults Interacting With a Dialogue Agent Competent in Multiple Topics
SZ Razavi, LK Schubert, KA Van Orden… – arXiv preprint arXiv …, 2019 – arxiv.org
… interest, these results also reflect positively on the so- phistication of our dialogue system … effectiveness of social problem-solving therapy and reminiscence therapy as treatments for depression in … dialogue components in a vatar t herapy for schizophrenia patients with refractory …
Wordnet as a Relational Semantic Dictionary Built on Corpus Data
M Piasecki, A Dziob – CLARIN, 2019 – videolectures.net
Page 1. CLARIN-PL Wordnet as a Relational Semantic Dictionary Built on Corpus Data Maciej Piasecki, Agnieszka Dziob Wroc?aw University of Science and Technology G4.19 Research Group maciej.piasecki@pwr.edu.pl 2019-09-03 Page 2. Plan …
Medical and health systems
D Sonntag – The Handbook of Multimodal-Multisensor Interfaces …, 2019 – dl.acm.org
… They collect data from multiple targets, from obesity to alcohol and drug use, to lack of treatment adherence … [2016] conduct a study to motivate patients to exercise … The use of sensors helps to interpret a clinical patient's physical state, health status, mental status, and engagement …
DATE OF PUBLICATION July 2019
T Walsh, N Levy, G Bell, A Elliott, J Maclaurin… – 2019 – researchgate.net
… 3.5.1 Spoken and text-based dialogue systems … transform our manufacturing, infrastructure and agriculture sectors; advances in natural language processing are revolutionising the way clinicians interpret the results of diagnostic tests and treat patients; chatbots and automated …
Progress of artificial intelligence (AI)
TMI B?jenescu – 2019 – ip-81.180.74.21.utm.renam.md
… The AI progress requires standardization, clear benchmarks (eg, dialogue systems, planning and continuous robotics … AI / machine learning is being used in oncology to identify optimal treatment patterns … AI is being used to match clinical trials with patients, drive robotic surgeons …
Emoty: an emotionally sensitive conversational agent for people with neurodevelopmental disorders
F Catania, N Di Nardo, F Garzotto… – Proceedings of the 52nd …, 2019 – 128.171.57.22
… launched with the aim to mitigate anxiety and support depression treatment by simulating the … The Dialog System has been implemented with the IBM Watson Assistant service, which … expression and recognition, to enable therapists monitor the improvements of their patients …
Digital Human Modeling and Applications in Health, Safety, Ergonomics and Risk Management. Healthcare Applications: 10th International Conference, DHM …
VG Duffy – 2019 – books.google.com
… Given the excellent survival rates, patients undergoing clinical treatment for prostate cancer often focus on patient-centered outcomes of care to guide treatment choices, such as rates of urinary incontinence (UI) or irritative voiding symptoms and erectile …
Observing dialogue in therapy: Categorizing and forecasting behavioral codes
J Cao, M Tanana, ZE Imel, E Poitras, DC Atkins… – arXiv preprint arXiv …, 2019 – arxiv.org
… In this paper, we study modeling behavioral codes used to asses a psychotherapy treatment style called … long been studied in the context of psychotherapy, going back to chat- bots such as … a helper could guide both veteran and novice therapists towards better patient outcomes …
Conversational Agent for Health Coaching
A JUMAAH – 2019 – researchgate.net
… 91 7.2 Chatbot questionnaire topics & examples. . . . . 92 … peers. For example, PatientsLikeMe1 is a patient network through which patients connect with others sharing the same disease or condition and track or share their own experiences …
EMMA: An Emotion-Aware Wellbeing Chatbot
A Ghandeharioun, D McDuff… – 2019 8th …, 2019 – ieeexplore.ieee.org
… Synchronous, text-based interventions, either by a human or a chat-bot, have shown significant … Also, we expected negative states to benefit more from immediate intervention as a treatment … C. Guidelines for Affective Chatbot Design and EMI Delivery Do not interrupt a good …
More general evaluation of a client-centered counseling agent
T Horii, Y Sakurai, E Sakurai, S Tsuruta… – 2019 IEEE World …, 2019 – ieeexplore.ieee.org
… After a phase of trust developing, CRECA makes its patients aware of the problem's core and … This made the process of building up trust in the patient quite long and sometimes not really … for the conversation agent, there is ELIZA [23] as an initial work of client-centered treatment …
Dialogue design and management for multi-session casual conversation with older adults
SZ Razavi, LK Schubert, B Kane, MR Ali… – arXiv preprint arXiv …, 2019 – arxiv.org
… with an ex- pert advisory panel of professionals (at our affiliated medical research center) working with geriatric patients … integration of an automated dialogue system for multi … We first com- ment on extant work on spoken dialogue systems that are designed to help older adults …
Impact of artificial intelligence on businesses: from research, innovation, market deployment to future shifts in business models
N Soni, EK Sharma, N Singh, A Kapoor – arXiv preprint arXiv:1905.02092, 2019 – arxiv.org
… Oracle, multinational computer technology corporation, "With regards to chatbots, which are in many ways the most recognizable form of AI, 80% of sales and … Product recommendation system: Tmall Smart Selection, AI-powered chatbot: Dian Xiaomi …
FeelFit-Design and Evaluation of a Conversational Agent to Enhance Health Awareness.
P Meier, JH Beinke, C Fitte, A Behne, F Teuteberg – ICIS, 2019 – researchgate.net
… A substantial proportion of therapy costs result from insufficient patient adherence to ther- apy … field of mental health, wherein they support psychotherapy in the treatment of depression … provides conversational diagnoses, and DOCYET (DOCYET 2019), which refers patients to a …
Comparison and efficacy of synergistic intelligent tutoring systems with human physiological response
F Alqahtani, N Ramzan – Sensors, 2019 – mdpi.com
… physiological signals. This method also began with medical applications, and focuses on computer-vision based tools to analyze the expressions of a patient during check-ups, treatment, and rehabilitation or therapy. For instance …
Automatización inteligente en la gestión de la comunicación
KCV Abad, T Bonini – … interdisciplinar de estudios de Comunicación y …, 2019 – recyt.fecyt.es
… in an organization, the support of several technologies is fundamental, that we consider four the ones with the greatest impact and that others could possibly increase according to advances in technological developments: – Internet of things – The big data – Robots – Chatbot …
Pilot Data Collection Survey and Analytical Techniques for Persuasion Engineering Systems
A Braca, B Spillane, V Wade, P Dondio – tara.tcd.ie
… Research into persuasive dialog systems is impor- tant as it can be used to increase the … This will help to determine significant effects between the treatment and con- trol groups … Use of portable digital media players increases patient mo- tivation and practice in voice therapy …
The metonymic and echoic exploitation of scenarios in meaning making
AG Masegosa – ORGANISING COMMITTEE – fungramkb.com
… In the second part of the paper, we devote our attention to the computational treatment of the … replicate the linguistic capacities in the right hemisphere of the brain so that patients after surgery … e) What type of compensatory mechanisms can we provide so that the patient does not …
AI in Consulting
M Bayati – 2019 – theseus.fi
… developing to deal with side-effects that could result from drug usage and therefore guarantee an element of patient safety as they develop medications that have lesser … Page 20. 16 urgency for treatment. Thus, patients who would be brought in suffering, for example …
Virtual humans: Today and tomorrow
D Burden, M Savin-Baden – 2019 – books.google.com
… key mind processes of a virtual human Kismet robot Research on dialogue systems for language … and virtual assistant systems, such as Siri, Alexa and Cortana, the chatbot-based virtual … found in several mobile phone applications and the customer service chatbots which are …
There is no Artificial General Intelligence
J Landgrebe, B Smith – arXiv preprint arXiv:1906.05833, 2019 – arxiv.org
… For we also review the current state of the art in dialogue system building and conclude by identifying what we see as the potential for dialogue systems that would … first comprehensively described by Gehlen (1988, chapters 19ff.); for a contem- porary treatment, see Gómez …
Discourse-Level Dialogue Management
B Galitsky – Developing Enterprise Chatbots, 2019 – Springer
… along with the availability of tagged corpus allows for a most systematic treatment of dialogue … The workhorse of traditional dialog systems is slot-filling (Wang and Lemon 2013) which … Twelve users (author's colleagues) asked the chatbot 15–20 questions reflecting their financial …
A Comprehensive Review of Ethical Frameworks in Natural Language Processing
PF North – 2019 – scss.tcd.ie
… A patient's failure to report embarrassing symptoms, therefore, might actually have a negative … where "discrimination can occur when individuals or groups receive unfair treatment as a … challenges when making use of crowdsourced material for spoken dialog systems in vehicles …
Design and Analysis of a Human-Machine Interaction System for Researching Human's Dynamic Emotion
X Sun, Z Pei, C Zhang, G Li… – IEEE Transactions on …, 2019 – ieeexplore.ieee.org
… or feel-terrible factor in human–machine communica- tion applications, such as medical treatment of mental … Dynamic emotional modeling can be used in the dialog system. Today's dialog systems are becoming increasingly more intelligent and can be applied to complex tasks …
A USABILITY STUDY OF THE INTELLIGENT ASSISTANT FOR SENIOR CITIZENS TO SEEK HEALTH INFORMATION
S Hu – 2019 – cdr.lib.unc.edu
… oriented dialogue system by voice-based intelligent assistants, which sets a foundation for the … chatbot, and real person will help to shape the development direction of multimodal intelligent … Find out the treatment and medicine you can take to deal with a burn. (5 minutes) …
Relational Agents in Mental Health
H Gaffney – 2019 – research.manchester.ac.uk
… 110 Patient and Public Involvement (PPI) … Registration number: CRD42018106652 Key words: relational agent; conversational agent; chatbot; mental health; psychological … of relational agents in the treatment of mental health problems …
A Brief Encounter with Vincent: The Effect on Self-Compassion from a Single Interaction with a Chatbot That Gives or Asks for Help
N van As – pure.tue.nl
… den Brink & Berger, 2016) and even complete VR sessions for clinical patients (Falconer et al., 2016; Falconer et al., 2014) … a great extent, but differed on its roles of patient and therapist: Lee et al … program is non-human and does not require such treatment. 3 Page 13 …
Using technology for pronunciation teaching, learning, and assessment
MC Pennington, P Rogerson-Revell – English Pronunciation Teaching and …, 2019 – Springer
… designed to simulate a psychiatric interview between doctor and patient taking place … and CAPT programs to be able to use spoken dialogue systems for language … A spoken dialogue system combines speech recognition, natural language understanding, and speech synthesis …
Multimodal Analysis and Estimation of Intimate Self-Disclosure
M Soleymani, K Stefanov, SH Kang, J Ondras… – 2019 International …, 2019 – dl.acm.org
… In a meta-analysis, Weisband and Kiesler [42] found that patients are more likely to self-disclose to computers rather … recog- nition of self-disclosure has been limited to language under- standing in interactions with spoken dialogue system [35], online patient support group …
Feedpal: Understanding opportunities for chatbots in breastfeeding education of women in india
D Yadav, P Malik, K Dabas, P Singh – … of the ACM on Human-Computer …, 2019 – dl.acm.org
… 3.2 Conversational Agents: Growth and Opportunities Although the buzz around chatbot might appear to be newer, the history dates back to 1966 … Low doctor to patient ratios, high cost, and complex procedures increase the gap between professionals and patients …
A Review on Dyadic Conversation Visualizations-Purposes, Data, Lens of Analysis
JY Kim, RA Calvo, K Yacef, NJ Enfield – arXiv preprint arXiv:1905.00653, 2019 – arxiv.org
… Lastly, the nature of human-to-bot conversation can al- so be different from human-to-human conversations. In a general, unconstrained context, current dialogue systems are incapable of generating responses that are rated as highly appropriate by humans [45] …
Human-Computer Interaction–INTERACT 2019: 17th IFIP TC 13 International Conference, Paphos, Cyprus, September 2–6, 2019, Proceedings
D Lamas, F Loizides, L Nacke, H Petrie, M Winckler… – 2019 – books.google.com
Page 1. David Lamas· Fernando Loizides· Lennart Nacke· Helen Petrie· Marco Winckler · Panayiotis Zaphiris (Eds.) Human-Computer Interaction – INTERACT 2019 17th IFIPTC 13 International Conference Paphos, Cyprus, September 2–6, 2019 Proceedings, Part III Page 2 …
Evaluation of Methods for Data-Driven Tools that Empower Mental Health Professionals
OA Demasi – 2019 – escholarship.org
… Ben, you have been so supportive and patient with me and my research. It is incredible … If a smart device could track someone's mental wellbeing, clinicians could better understand their patients' conditions and design novel treatment interventions …
BACHELORS THESIS
ME Adam – 2019 – researchgate.net
… natural language" [Dal16]; they are further known as: conversational dialogue systems, chatterbots, chat … Therefore, chatbots need to both, understand emotions and be empathic [FBX+18 … address empathy and emotional intelligence when implementing the later chatbot, as they …
Responsible innovation in online therapy
KV Vold, D Peters, R Calvo, D Robinson – 2019 – repository.cam.ac.uk
… and a patient is an intimate one, depending on detailed knowledge of the patient's life, which … upon in considering these issues is the cost-benefit considerations at play in the treatment of rare … there is an absolute need to obtain informed consent, so that when patients agree to …
Investigating the Automation of Self-Help Therapies by means of Visual Tooling
GJ Kolkman – 2019 – dspace.library.uu.nl
… This helps the patient identify problematic behaviour and change it accordingly … By facing those fears patients become aware of their self-limiting behaviour, while slowly being introduced to … a study on insomnia treatment almost half the people did not finish the treatment, with an …
Commercialization of multimodal systems
PR Cohen, R Tumuluri – The Handbook of Multimodal-Multisensor …, 2019 – dl.acm.org
… among others. With more limited functionality, Mabu™ from Catalia Healthare is intended to engage patients in a long-term wellness relationship through conversa- tion that is tailored to the patient's emotional state. Mabu reminds …
Proactive Communication in Human-Agent Teaming
EM van Zoelen – 2019 – dspace.library.uu.nl
… systems, while the work done in this thesis is not aimed at creating a dialogue system … how much money you will get from your health insurance for a certain medical treatment … Slot Filling: finite-state automata Traditional task-oriented dialogue systems as well as most current …
Early integration for movement modeling in latent spaces
R Hornung, N Chen, P van der Smagt – The Handbook of Multimodal …, 2019 – dl.acm.org
… Related to companion technologies introduced in Chapter 11 and referenced in Chapter 13, the models may also be used for control, eg, to adjust a rehabilitation robot exactly to the needs of a patient and only support motion execution if the patient is actively participating …
Embedded multimodal interfaces in robotics: applications, future trends, and societal implications
EA Kirchner, SH Fairclough, F Kirchner – The Handbook of Multimodal …, 2019 – dl.acm.org
Page 1. 13Embedded Multimodal Interfaces in Robotics: Applications, Future Trends, and Societal Implications Elsa A. Kirchner, Stephen H. Fairclough, Frank Kirchner 13.1 Introduction In the past, robots were primarily used …
Reinforcement Learning from Algorithm Model to Industry Innovation: A Foundation Stone of Future Artificial Intelligence
D Shaokang, C Jiarui, LIU Yong, BAO Tianyi… – ZTE …, 2019 – tech-en.zte.com.cn
Page 1. ZTE COMMUNICATIONS September 2019 Vol. 17 No. 3 Reinforcement Learning from Algorithm Model to Industry Innovation: A Foundation Stone of Future Artificial Intelligence DONG Shaokang, CHEN Jiarui, LIU Yong, BAO Tianyi, and GAO Yang Review …
Privacy concerns of multimodal sensor systems
G Friedland, MC Tschantz – The Handbook of Multimodal-Multisensor …, 2019 – dl.acm.org
… Bill Lee 55 Male 75 Larynx Some of the attributes (column headers) intuitively identify the person the row is about, for example, the name "attribute." Other attributes are intuitively private, such as the type of cancer a patient has. Some attributes fall somewhere in between …
Hybrid Methodology: Combining Ethnography, Cognitive Science, and Machine Learning to Inform the Development of Context?Aware Personal Computing and …
M CURY, E WHITWORTH, S BARFORT… – … Praxis in Industry …, 2019 – Wiley Online Library
Page 1. Ethnographic Praxis in Industry Conference Proceedings 2019 EPIC Proceedings pp 254–281, ISSN 1559-8918, https://www.epicpeople.org/epic Hybrid Methodology Combining Ethnography, Cognitive Science, and …
JAQ: a chatbot for foreign students
A Gellens, S Gustin, Y Deville – dial.uclouvain.be
… A chatbot (also called chatterbot, conversational agent or sometimes spoken dialogue system) is a computer program able to converse … Figure 2.1: Chatbot abstract view … When talking about chatbots, there can be a potential confusion with other types of systems, either because …
Computational Framework for Facilitating Intimate Dyadic Communication
D Utami – 2019 – repository.library.northeastern.edu
… professional help, citing barriers such as high treatment cost, lack of time, and preference to solve problems on one's own [14] … dissertation, including the Furhat robot and the IrisTK dialog system … socially interact with stroke patients during the motor rehabilitation process …
Profiling Artificial Intelligence as a Material for User Experience Design
Q Yang – 2019 – reports-archive.adm.cs.cmu.edu
… The rst is the design of a clinical decision-support system that can e ectively col- laborate with doctors in making life-and-death treatment decisions. It exempli es Level 1 … patient. The system extracts insights from previous implant recipients' medical records and then predicts …
Multimodal dialogue processing for machine translation
A Waibel – The Handbook of Multimodal-Multisensor Interfaces …, 2019 – dl.acm.org
… Field-adaptable and extendable systems. Languages and vocabularies change, and interpreting dialogue systems must evolve alongside such changing languages and vocabularies and adapt to any given dialogue scenario …
Nonverbal behavior in multimodal performances
A Cafaro, C Pelachaud, SC Marsella – The Handbook of Multimodal …, 2019 – dl.acm.org
Page 1. 6Nonverbal Behavior in Multimodal Performances Angelo Cafaro, Catherine Pelachaud, Stacy C. Marsella 6.1 Introduction The physical, nonverbal behaviors that accompany face-to-face interaction convey a wide variety …
Ergonomics for the design of multimodal interfaces
A Heloir, F Nunnari, M Bachynskyi – The Handbook of Multimodal …, 2019 – dl.acm.org
Page 1. IIPART MULTIMODAL BEHAVIOR Page 2. Page 3. 7Ergonomics for the Design of Multimodal Interfaces Alexis Heloir, Fabrizio Nunnari, Myroslav Bachynskyi 7.1 Introduction There are many ways a machine can infer …
People v. Robots: A Roadmap for Enforcing California's New Online Bot Disclosure Act
B Stricke – Vand. J. Ent. & Tech. L., 2019 – HeinOnline
… Comparison of Eliza with Modern Dialogue Systems, 58 COMPUTERS HUM. BEHAv. 278 (2016). 66. These terms are used in conflict, even in academic literature, though for many users and sellers, personal assistants are disembodied audio chatbots that perform tasks for the …
Understanding the interplay between technology and social ties in later life
S Nikitina – 2019 – iris.unitn.it
… chatbot conceptual model, contributing to the experiments design and conducting experiments, contributing to writing the paper. Chapter 7. Understanding the requirements and behaviors for reminiscence chatbots Building …
How to Survive a Robot Invasion: Rights, Responsibility, and AI
DJ Gunkel – 2019 – books.google.com
… 3.1 Natural Language Processing 3.1.1 The Imitation Game 3.1.2 Chatbots 3.2 Machine Learning 3.2.1 AlphaGo … 3.2 AIML code for an ELIZA-type chatbot … Today an increasingly significant portion of this work can be performed by a speech dialogue system (SDS), like Google …
ICTAI 2019
YM Boumarafi, Y Salhi – computer.org
… CLASSIFICATION – 1 METAPHOR – A Multiagent Architecture using IoT and Classification Algorithms for Referral Postoperative Patients 479 … NEURAL NETS – 3 RegCNN: A Deep Multi-output Regression Method for Wastewater Treatment 816 …
Walk with me: An iterative design process involving senior citizens in the making of a persuasive eHealth system
S Dedinja – 2019 – diva-portal.org
… community health data, and real-time monitoring of the vital signs of the patients (Germanakos et … work processes as good as they should; usability should be improved to guarantee patient safety; national … After "edit", save info 6. Click on the edit icon in medical treatment 7. Click …
Proposal of a Hybrid Approach for Natural Language Generation and its Application to Human Language Technologies
C Barros – 2019 – rua.ua.es
Page 1. Proposal of a Hybrid Approach for Natural Language Generation and its Application to Human Language Technologies Cristina Barros Catalán Page 2. Departamento de Lenguajes y Sistemas Informáticos Escuela Politécnica Superior Proposal of a Hybrid Approach for …
Structured Knowledge Discovery from Massive Text Corpus
C Zhang – arXiv preprint arXiv:1908.01837, 2019 – arxiv.org
… Figure 1 illustrates three scenarios on community Q&A, voice assistant/chatbot, and service center Q&A … For example, a concept transi- tion tSymptom?Medicine in the healthcare domain usually starts with patients describing their … Diet Cause Treatment Surgery Recover Risk …
Deep learning based recommender system: A survey and new perspectives
S Zhang, L Yao, A Sun, Y Tay – ACM Computing Surveys (CSUR), 2019 – dl.acm.org
… ACM Computing Surveys, Vol. 52, No. 1, Article 5. Publication date: February 2019. Page 7. Deep Learning Based Recommender System: A Survey and New Perspectives 5:7 speech recognition, chatbots, and many others. RNN and CNN play critical roles in these tasks …
Parsimonious Vole: a Systemic Functional Parser for English
E Costetchi – 2019 – media.suub.uni-bremen.de
… clinical narratives or patient's reports about their health and gather information on the side effects … extract names of drugs, patients and pharmaceutical companies and relation detection … for extended insights. They deploy chat bots for increased responsiveness by providing …