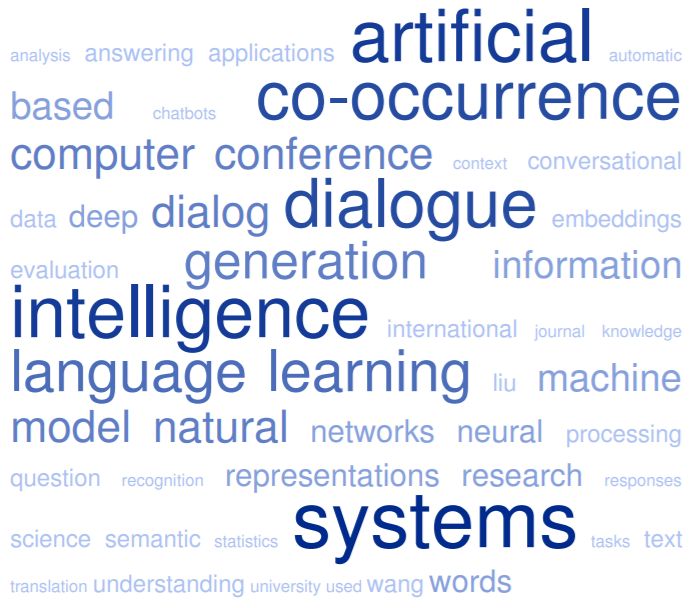 Notes:
In corpus linguistics, collocation refers to the mere co-occurrence of words.
Wikipedia:
References:
See also:
Collocation Extraction & Dialog Systems
---
Explanation in artificial intelligence: Insights from the social sciences
T Miller – Artificial Intelligence, 2019 – Elsevier
… Download PDFDownload. Share. Export. Advanced. Elsevier. Artificial Intelligence. Volume 267, February 2019, Pages 1-38. Artificial Intelligence. Explanation in artificial intelligence: Insights from the social sciences …
The Cognitive Workbench: Using Artificial Intelligence in the Content Analysis of Change Experiences
R Assadollahi – Radical Change in Everyday Life, 2019 – Springer
… More recent developments in the field of artificial intelligence make it possible to pro- duce … Even in this relatively simple setup (no relation extraction, just co-occurrence, no hierarchies or sub … In dialog systems (eg chat bots), this technology could be used to interactively build up …
Graph convolutional network with sequential attention for goal-oriented dialogue systems
S Banerjee, MM Khapra – … of the Association for Computational Linguistics, 2019 – MIT Press
… Domain-specific goal-oriented dialogue systems typically require modeling three types of inputs, namely, (i) the knowledge-base associated with the … We show that in such situations we could use the global word co-occurrence graph to enrich the representations of utterances …
I wanna talk like you: Speaker adaptation to dialogue style in l2 practice conversation
AJ Sinclair, R Ferreira, D Gaševi?, CG Lucas… – … on Artificial Intelligence …, 2019 – Springer
… AIED 2019: Artificial Intelligence in Education pp 257-262 | Cite as … A co-occurrence matrix is derived for each dialogue from these code vectors … This better understanding of tutor adaptation can inform the design of tutoring dialogue systems …
Non-task-oriented Dialogue System specialized in distinguishing multiple meaningful words
M Kuwata, K Shibasato – 2019 12th Asian Control Conference …, 2019 – ieeexplore.ieee.org
… At last, the system is evaluated by co-occurrence network … 3] Michmasa INABA, Sayaka KAMIZONO, Kenichi TAKAHASHI, "Candidate Utterance Acquisition Method for Non-task-oriented Dialogue Systems from Twitter", The Japanese society for artificial intelligence, Vol.29 …
Emotion Recognition through Intentional Context
PL IHASZ, M KOVACS… – International Journal of …, 2019 – jstage.jst.go.jp
… 4.3.2 Association strength assessment From the co-occurrence frequencies obtained, the normal … Drama Architecture, In; Proceed- ings of the First Artificial Intelligence and Interactive … 4th Tutorial and Research Workshop on Perception in Multimodal Dialogue Systems, IEEE, pp …
Dialog Acts Classification with Semantic and Structural Information
H Wu, L Cheng, J Jin, F Yuan – 2019 International Conference …, 2019 – ieeexplore.ieee.org
… Network-based Multi- label Classification with BetterInitialization Leveraging Label Co- occurrence[C].Proceedings … Frames: a corpus for adding memory to goal-oriented dialogue systems[C]//Proceedings … In Proceedings of International Joint Conference on Artificial Intelligence …
An Ensemble Dialogue System for Facts-Based Sentence Generation
R Tanaka, A Ozeki, S Kato, A Lee – arXiv preprint arXiv:1902.01529, 2019 – arxiv.org
… Copyright c 2019, Association for the Advancement of Artificial Intelligence (www.aaai.org). All rights reserved. that combining these approaches is crucial to generate mean- ingful responses. In this study, we propose an ensemble dialogue system conditioned on a previous …
Artificial Intelligence Based System for Preliminary Rounds of Recruitment Process
S Uttarwar, S Gambani, T Thakkar, N Mulla – International Conference On …, 2019 – Springer
… for representing words that are pre-trained globally on a word-word co-occurrence matrix for … In: Proceedings of the Twenty-Fifth International Joint Conference on Artificial Intelligence (IJCAI 2016 … TF-IDF weight method based on sentence similarity for spoken dialogue system, pp …
Department of Computer Science Hong Kong Baptist University Hong Kong, China cswlcai@ comp. hkbu. edu. hk
W Cai – 2019 – pdfs.semanticscholar.org
… The edge with larger weight (co-occurrence frequency greater than 10) is in solid line and that with lower weight in dashed line. Preference Expression … 2017. Building Task-oriented Dialogue Systems for Online Shopping. In Thirty-First AAAI Conference on Artificial Intelligence.
Normativity, meaning plasticity, and the significance of vector space semantics
E Gregoromichelaki, C Howes, A Eshghi… – Proceedings of the …, 2019 – eecs.qmul.ac.uk
… (2011) argue that "mindreading" effects can be ac- counted for exactly because of such co-occurrence mechanisms that … Bootstrapping incremental dialogue systems: using linguistic knowl- edge to learn from minimal data … Journal of Artificial Intelligence Research 60, 1003–1030 …
Artificial Intelligence in Education: 20th International Conference, AIED 2019, Chicago, IL, USA, June 25-29, 2019, Proceedings
S Isotani, E Millán, A Ogan, P Hastings, B McLaren… – 2019 – books.google.com
Page 1. Seiji Isotani· Eva Millán · Amy Ogan · Peter Hastings· Bruce McLaren · Rose Luckin (Eds.) Artificial Intelligence in Education 20th International Conference, AIED 2019 Chicago, IL, USA, June 25–29, 2019 Proceedings, Part I 123 Page 2 …
Multimodal dialog system: Generating responses via adaptive decoders
L Nie, W Wang, R Hong, M Wang, Q Tian – Proceedings of the 27th ACM …, 2019 – dl.acm.org
Page 1. Multimodal Dialog System: Generating Responses … Qi Tian Noahs Ark Lab, Huawei tian.qi1@huawei.com ABSTRACT On the shoulders of textual dialog systems, the multimodal ones, recently have engaged increasing attention, especially in the retail domain …
Enhancing generative conversational service agents with dialog history and external knowledge
Z Wang, Z Wang, Y Long, J Wang, Z Xu… – Computer Speech & …, 2019 – Elsevier
… process is intractable and can be more complex than the original goal of our system that is to incorporate external knowledge into dialog systems … deg(w)/freq(w)), where freq(w) is the word frequency in the dialog history and deg(w) is the word co-occurrence frequency with …
Referring to the recently seen: reference and perceptual memory in situated dialog
JD Kelleher, S Dobnik – arXiv preprint arXiv:1903.09866, 2019 – arxiv.org
… From theoretical linguistic and cognitive perspectives, situated dialog systems are interesting as they provide ideal … such as the first blue house we saw), or co-occurrence within a … In Proceedings of the International Joint Confer- ence on Artificial Intelligence (IJCAI), pages 2072 …
Conversational Response Re-ranking Based on Event Causality and Role Factored Tensor Event Embedding
S Tanaka, K Yoshino, K Sudoh, S Nakamura – arXiv preprint arXiv …, 2019 – arxiv.org
… George Doddington. 2002. Automatic Evaluation of Machine Translation Quality Using N-gram Co- occurrence Statistics … 2014. Boot- strapping Dialog Systems with Word Embeddings. Peter Jansen, Mihai Surdeanu, and Peter Clark. 2014 …
Question Embeddings Based on Shannon Entropy: Solving intent classification task in goal-oriented dialogue system
A Perevalov, D Kurushin, R Faizrakhmanov… – arXiv preprint arXiv …, 2019 – arxiv.org
… Embeddings, Shannon Entropy, Intent Classification, Natural Language Processing, Dialogue Systems, Word2vec, FastText … Let F be a word context (word co-occurrence within window h … to meaning: Vector space models of semantics,"Journal of artificial intelligence research 37 …
Relational word embeddings
J Camacho-Collados, L Espinosa-Anke… – arXiv preprint arXiv …, 2019 – arxiv.org
… This relational word embedding is still learned from co-occurrence statistics, and can thus be used even when no external knowl- edge base is available … 3A co-occurrence in which there are k words in between w and v then receives a weight of 1 k+1 . Page 4. time budget …
A research platform for multi-robot dialogue with humans
M Marge, S Nogar, CJ Hayes, SM Lukin… – arXiv preprint arXiv …, 2019 – arxiv.org
… dialogue retrieval algorithm, which matches responses to instructions using a word co- occurrence metric … OpenDial: A Toolkit for Developing Spoken Dialogue Systems with Probabilistic Rules … In Pro- ceedings of the Twenty-Ninth AAAI Conference on Artificial Intelligence …
Chat response generation based on semantic prediction using distributed representations of words
K Furumai, T Takiguchi, Y Ariki – … Workshop on Spoken Dialogue System …, 2019 – Springer
… recent years, dialogue systems have been actively studied owing to advances in artificial intelligence … used as a method for automatically generating responses in dialog systems, as seen … Automatic evaluation of machine translation quality using n-gram co-occurrence statistics …
On the role of knowledge graphs in explainable AI
F Lecue – Semantic Web, 2019 – content.iospress.com
… Question: Automated Planning and Scheduling [29] is a branch of Artificial Intelligence that is … of questions sequencing in dialogue, debugging a plan-based dialogue system [45] or … from having statistics-based explanation only, ie, mainly based on co-occurrence and correlation …
Artificial Intelligence in the legal sector. A comparative analysis of expert and AI approaches to predicting court decisions
N Kaliazina – 2019 – pdfs.semanticscholar.org
… 1980s: Artificial Intelligence is the part of computer science concerned with designing … documents classification, machine translation, spoken dialogue systems, and complex question answering … a co-occurrence matrix (word context) that basically count how frequently a word …
Modeling interaction structure for robot imitation learning of human social behavior
M Doering, DF Glas, H Ishiguro – IEEE Transactions on Human …, 2019 – ieeexplore.ieee.org
… To solve the problem of responding to ambiguous human actions, a novel topic clustering algorithm based on action co- occurrence frequencies is … Index Terms—Human–robot interaction, imitation learning, in- teraction structure, spoken dialog system, unsupervised learning …
Enhancing domain-specific supervised natural language intent classification with a top-down selective ensemble model
GB Jenset, B McGillivray – Machine Learning and Knowledge Extraction, 2019 – mdpi.com
… A production dialogue system, or conversational Artificial Intelligence (AI) system, is typically built … Applications of dialogue systems in highly-regulated domains face the potential added challenge … from usage, specifically from a word's typical context of co-occurrence with other …
High Performance Personal Adaptation Speech Recognition Framework by Incremental Learning with Plural Language Models
Y Ikegami, R Knauf, E Damiani… – … on Signal-Image …, 2019 – ieeexplore.ieee.org
… can be used for improving one-to-one human-machine dialogue systems such as … In addition, building lexical co-occurrence model by large amount of ASR's results … ACKNOWLEDGMENT This work was supported by Artificial Intelligence Research Promotion Foundation …
Socially-Aware Dialogue System
R Zhao – 2019 – lti.cs.cmu.edu
… agents. In Proceedings of the 26th International Joint Conference on Artificial Intelligence (IJCAI'17). 6Zhao, Ran, Oscar J. Romero, and Alex Rudnicky. 2018. SOGO: A social intelligent negotiation dialogue system. In Proceedings …
Enhancing semantic word representations by embedding deep word relationships
A Nugaliyadde, KW Wong, F Sohel, H Xie – Proceedings of the 2019 11th …, 2019 – dl.acm.org
… conditioned lstm-based natural language generation for spoken dialogue systems," arXiv preprint … in International Workshop on Multi-disciplinary Trends in Artificial Intelligence, 2017, pp … and JP Levy, "Extracting semantic representations from word co-occurrence statistics: A …
Conversational Interfaces for Health: Bibliometric Analysis of Grants, Publications, and Patents
Z Xing, F Yu, J Du, JS Walker, CB Paulson… – Journal of medical …, 2019 – jmir.org
… In addition, a recent report on artificial intelligence (AI) by World Intelligence Property … CI-related terms [1,2,21,26], such as spoken dialogue system, conversational agent … employed bibliometric analysis, social network analysis (SNA), and term co-occurrence analysis techniques …
Incorporating joint embeddings into goal-oriented dialogues with multi-task learning
F Kassawat, D Chaudhuri, J Lehmann – European Semantic Web …, 2019 – Springer
… 1,242. Max triple co-occurrence. 750 … Wen, TH, et al.: A network-based end-to-end trainable task-oriented dialogue system. arXiv preprint arXiv:1604.04562 (2016). 25 … In: Proceedings of the Thirty-First AAAI Conference on Artificial Intelligence. State Key Lab …
Deep conversational recommender in travel
L Liao, R Takanobu, Y Ma, X Yang, M Huang… – arXiv preprint arXiv …, 2019 – arxiv.org
… In fact, artificial intelligence is set to be a game-changer for this industry, through helping travellers and … another line of approaches using reinforcement learning (RL) to train goal-oriented dialog systems [10], [28 … It relies on counting word co-occurrence to group words into groups …
Automated scoring of chatbot responses in conversational dialogue
SK Yuwono, B Wu, LF D'Haro – … Workshop on Spoken Dialogue System …, 2019 – Springer
… deeper networks [5], or on aggregated global word-word co-occurrence statistics (GloVe … Rudnicky A (2015) TickTock: a non-goal-oriented multimodal dialog system with engagement … Proceedings of the association for the advancement of artificial intelligence spring symposium …
Unsupervised post-processing of word vectors via conceptor negation
T Liu, L Ungar, J Sedoc – … of the AAAI Conference on Artificial Intelligence, 2019 – aaai.org
Page 1. The Thirty-Third AAAI Conference on Artificial Intelligence (AAAI-19) … Spectral- ?Research done while visiting University of Pennsylvania. Copyright c 2019, Association for the Advancement of Artificial Intelligence (www.aaai.org). All rights reserved …
DRCoVe: An Augmented Word Representation Approach using Distributional and Relational Context
MA Parwez, M Abulaish, M Fazil – abulaish.com
… The first limitation is that a large corpus, though represents different contextual information, may have rare co-occurrence of two words because it might not be large enough to possess sufficient count of the co-occurrence of semantically similar word pairs …
Multiple Generative Models Ensemble for Knowledge-Driven Proactive Human-Computer Dialogue Agent
Z Dai, W Liu, G Zhan – arXiv preprint arXiv:1907.03590, 2019 – arxiv.org
… We count the en- tity frequency, possible and impossible entity co-occurrence times in the response that … In Thirty-Second AAAI Conference on Artificial Intelligence … How not to evaluate your dialogue system: An empirical study of unsupervised evaluation metrics for dialogue …
Promoting diversity for end-to-end conversation response generation
YP Ruan, ZH Ling, Q Liu, JC Gu, X Zhu – arXiv preprint arXiv:1901.09444, 2019 – arxiv.org
… Copyright c 2019, Association for the Advancement of Artificial Intelligence (www.aaai.org) … Different from previous data-driven dialog systems which mostly focused on chitchat, DSTC7 … Automatic evaluation of machine translation quality using n-gram co-occurrence statistics …
Enhancing Dialogue Symptom Diagnosis with Global Attention and Symptom Graph
X Lin, X He, Q Chen, H Tou, Z Wei, T Chen – Proceedings of the 2019 …, 2019 – aclweb.org
… (Wei et al., 2018) pro- posed a reinforcement learning based framework for medical dialogue system for automatic diag … Re- garding to the symptom graph, it is built by treat- ing each symptom as a node, and the edges are connected according to the true co-occurrence in the …
Enhancing Dialogue Symptom Diagnosis with Global Attention and Symptom Graph
Q Chen, X Lin, X He, H Tou, T Chen, Z Wei – sdspeople.fudan.edu.cn
… (Wei et al., 2018) pro- posed a reinforcement learning based framework for medical dialogue system for automatic diag … Re- garding to the symptom graph, it is built by treat- ing each symptom as a node, and the edges are connected according to the true co-occurrence in the …
Generating Topical and Emotional Responses Using Topic Attention
J Xiang – NII Testbeds and Community for Information Access …, 2019 – Springer
… embedding 1 Introduction Conversation generation is a significant part of artificial intelligence, and it … How to evaluate the quality of dialogues generated by the dialogue system is a … machine translation evaluation metric, which is provided for analyzing the co-occurrence times of …
ELG: An Event Logic Graph
X Ding, Z Li, T Liu, K Liao – arXiv preprint arXiv:1907.08015, 2019 – arxiv.org
… Hence, it is of great value for many Artificial Intelligence (AI) applications, such as discourse understanding, in … where f(A,B) is the co-occurrence frequency of event pair (A, B), and f(A) is … We can also incorporate ELG into dialog systems to ensure that the auto-reply answers are …
Generating Topical and Emotional Responses Using Topic Attention
Z Zhou, M Liu, Z Zhang, Y Fu, J Xiang – NII Conference on Testbeds and …, 2019 – Springer
… Conversation generation is a significant part of artificial intelligence, and it can enhance the human … How to evaluate the quality of dialogues generated by the dialogue system is a … machine translation evaluation metric, which is provided for analyzing the co-occurrence times of n …
Deep dialog act recognition using multiple token, segment, and context information representations
E Ribeiro, R Ribeiro, DM de Matos – Journal of Artificial Intelligence …, 2019 – jair.org
Journal of Artificial Intelligence Research 66 (2019) 861-899 … bidirectional LSTM unit, it considers information from future segments, which is not available to a dialog system … All of the previous approaches generate representations based on the co-occurrence of adjacent words …
Legal Summarization for Multi-role Debate Dialogue via Controversy Focus Mining and Multi-task Learning
X Duan, Y Zhang, L Yuan, X Zhou, X Liu… – Proceedings of the 28th …, 2019 – dl.acm.org
… Session: Long – Question Answering and Dialogue Systems I CIKM '19, November 3–7, 2019, Beijing, China … More details will be available in the dataset section. Session: Long – Question Answering and Dialogue Systems I CIKM '19, November 3–7, 2019, Beijing, China 1362 …
The World in My Mind: Visual Dialog with Adversarial Multi-modal Feature Encoding
Y Yao, J Xu, B Xu – Proceedings of the 2019 Conference of the North …, 2019 – aclweb.org
… modal Feature Encoding (AMFE) framework for effective and robust auxiliary training of visual dialog systems … In recent years, there has been a rising atten- tion in Artificial Intelligence on how … are only learned from pairwise (one image, one sen- tence) co-occurrence, and serve …
Transnfcm: Translation-based neural fashion compatibility modeling
X Yang, Y Ma, L Liao, M Wang, TS Chua – … on Artificial Intelligence, 2019 – aaai.org
… The second approach is more challenging and Copyright c 2019, Association for the Advancement of Artificial Intelligence (www.aaai … product between items under Bayesian Personalized Ranking (BPR) frame- work (He and McAuley 2016) using co-occurrence relation- ships in …
Session-based recommendation with graph neural networks
S Wu, Y Tang, Y Zhu, L Wang, X Xie, T Tan – … on Artificial Intelligence, 2019 – aaai.org
… Copyright © 2019, Association for the Advancement of Artificial Intelligence (www.aaai.org). All rights reserved. developed … 2001) is a natural solution, in which item similari- ties are calculated on the co-occurrence in the same session …
Self-Attentional Models Application in Task-Oriented Dialogue Generation Systems
M Saffar Mehrjardi – 2019 – era.library.ualberta.ca
… 56 ix Page 10. Acronyms ACT Adaptive Computation Time AI Artificial Intelligence AIML Artificial Intelligence Markup Language ALICE Artificial Linguistic Internet Computer Entity AMT Amazon Mechanical Turk BLEU Bilingual Evaluation Understudy BOW Bag of Words …
BI-GRU Capsule Networks for Student Answers Assessment
NA Khayi, V Rus – 2019 KDD Workshop on Deep Learning for Education …, 2019 – ml4ed.cc
… Our task of automatically assessing freely generated student answers within a dialog system context is a … It is a "count b-based" model where the word co- occurrence count matrix is … In Proceedings of the Thirtieth AAAI Conference on Artificial Intelligence, February 12-17, 2016 …
Key fact as pivot: A two-stage model for low resource table-to-text generation
S Ma, P Yang, T Liu, P Li, J Zhou, X Sun – arXiv preprint arXiv:1908.03067, 2019 – arxiv.org
… In this work, we define the co-occurrence facts between the table and the … The dropping simulates the cases when the key fact prediction model fails to recall some co- occurrence, while the inserting simulates the cases when the model predicts some extra facts from the table …
NPP: A neural popularity prediction model for social media content
G Chen, Q Kong, N Xu, W Mao – Neurocomputing, 2019 – Elsevier
… basis of many models dealing with sequence data, eg next basket prediction [24], machine translation [25] and dialogue system [26] … These word embedding models are learned from unlabeled text corpus by predicting co-occurrence relationships in a window, and can capture …
Enhancing conversational dialogue models with grounded knowledge
W Zheng, K Zhou – Proceedings of the 28th ACM International …, 2019 – dl.acm.org
… ACM, Paris, France, 10 pages. https://doi.org/10.1145/3357384. 3357889 1 INTRODUCTION Conversational dialogue systems have attracted attention from both academia and industry. Many products have been created, such as …
Semantic Representation and Analysis (SRA) and Its Application in Conversation-Based Intelligent Tutoring Systems (CbITS)
X Hu, Z Cai, A Olney – Learning Science: Theory, Research …, 2019 – blogs.memphis.edu
… student initiative), so AutoTutor is a typical mixed-initiative dialogue system with natural … Artificial Intelligence in Education: Shaping the Future of Learning Through Intelligent Technologies, 97 … ELDA): Combination of latent Dirichlet allocation with word co-occurrence analysis for …
Cm-net: A novel collaborative memory network for spoken language understanding
Y Liu, F Meng, J Zhang, J Zhou, Y Chen… – arXiv preprint arXiv …, 2019 – arxiv.org
… However, most existing models fail to fully utilize co- occurrence relations between slots and intents, which restricts their potential performance … 1 Introduction Spoken Language Understanding (SLU) is a core component in dialogue systems …
Top-down structurally-constrained neural response generation with lexicalized probabilistic context-free grammar
W Du, AW Black – Proceedings of the 2019 Conference of the North …, 2019 – aclweb.org
… This is estimated from the co-occurrence of wk and nk in the tagged training corpus. We only use those words whose frequency of co-occurrence with the given label is above a certain threshold. Rule prediction. The probability of rk is given by P(rk |nk,Hk) …
Developing context-aware dialoguing services for a cloud-based robotic system
JY Huang, WP Lee, TA Lin – IEEE Access, 2019 – ieeexplore.ieee.org
… For dialogue systems, most of the traditional approaches for natural language processing are based on hand-crafted rules or templates, for example [22 … is to learn word vectors such that their dot product equals the logarithm of the words' probability of co-occurrence, based on …
Combining Mutual Information and Entropy for Unknown Word Extraction from Multilingual Code-Switching Sentences.
CW Lee, YL Wu, LC Yu – Journal of Information Science & …, 2019 – search.ebscohost.com
… processing technologies have improved significantly, and are now incorporated into a wide range of applications, including speech recognition and synthesis [1, 2], spoken dialog systems [3-5 … PMI extracts unknown words based on co-occurrence frequency between them, while …
Towards automatic encoding of medical procedures using convolutional neural networks and autoencoders
Y Deng, A Sander, L Faulstich, K Denecke – Artificial intelligence in …, 2019 – Elsevier
… Volume 93, January 2019, Pages 29-42. Artificial Intelligence in Medicine … One query and category pair contains a sequence of normalized concepts, while the word2vec algorithm generates the embedding representation referring to the co-occurrence of the concepts within the …
A survey on deep neural network-based image captioning
X Liu, Q Xu, N Wang – The Visual Computer, 2019 – Springer
… of two natural parts ("look" and "language expression") which correspond to the two most important fields of artificial intelligence ("machine vision … sentences is based on templates with linguistic constraints, which is widely used in summarization [28] and dialogue systems [29] …
Intent Based Utterance Segmentation for Multi IntentNLU
A Sethupat Radhakrishna – 2019 – conservancy.umn.edu
… Page 19. 10 For example, GloVe [18] uses an unsupervised learning algorithm trained on aggre- gated global word-word co-occurrence statistics from a corpus to showcase interesting … NLU is a pre-processing step for later modules in the dialogue system, whose quality …
AutoEncoder Guided Bootstrapping of Semantic Lexicon
C Hu, M Nakano, M Okumura – … Conference on Artificial Intelligence, 2019 – Springer
… PRICAI 2019: PRICAI 2019: Trends in Artificial Intelligence pp 220-233 | Cite as … is beneficial for the other numerous application scenarios (eg, domain-specific dialogue systems) … instances by using the information from pattern confidence or co-occurrence between patterns and …
Emotion-Aware and Human-Like Autonomous Agents
N Asghar – 2019 – uwspace.uwaterloo.ca
… Agents. In 31st Conference on Uncertainty in Artificial Intelligence (UAI), 2015. [10] … interaction. A prime example is a dialogue system, where the agent should converse fluently and coher- ently with a user and connect with them emotionally …
Intent Based Utterance Segmentation for Multi IntentNLU
AS Radhakrishna – 2019 – search.proquest.com
… Page 20. 10 For example, GloVe [18] uses an unsupervised learning algorithm trained on aggre- gated global word-word co-occurrence statistics from a corpus to showcase interesting … NLU is a pre-processing step for later modules in the dialogue system, whose quality …
Paperrobot: Incremental draft generation of scientific ideas
Q Wang, L Huang, Z Jiang, K Knight, H Ji… – arXiv preprint arXiv …, 2019 – arxiv.org
… is qk?1 Figure 2: PaperRobot Architecture Overview pers based on KGs constructed from weighted co- occurrence. We propose a new entity representa- tion that combines KG structure and unstructured contextual text for link prediction (Section 2.3) …
Multimodal integration for interactive conversational systems
M Johnston – The Handbook of Multimodal-Multisensor Interfaces …, 2019 – dl.acm.org
… In weighted transducers the best path is the path with the lowest overall cost. Frames are a data structure that have been used in a variety of artificial intelligence applications including natural language processing, computer vision, and knowledge representation and reasoning …
Minimally Supervised Learning of Affective Events Using Discourse Relations
J Saito, Y Murawaki, S Kurohashi – arXiv preprint arXiv:1909.00694, 2019 – arxiv.org
… affective events is impor- tant to various natural language processing (NLP) applications such as dialogue systems (Shi and … (2005) and Turney (2002) linked instances using co-occurrence information and … In Proceedings of the 32nd AAAI Con- ference on Artificial Intelligence …
A survey of reinforcement learning informed by natural language
J Luketina, N Nardelli, G Farquhar, J Foerster… – arXiv preprint arXiv …, 2019 – arxiv.org
… RL algorithms have been success- ful in applications such as continuous control [White and Sofge, 1992], dialogue systems [Singh et al … Common techniques learn individual word representa- tions from co-occurrence statistics [Deerwester et al., 1990; Mikolov et al., 2013] or …
ConCET: Entity-aware topic classification for open-domain conversational agents
A Ahmadvand, H Sahijwani, JI Choi… – Proceedings of the 28th …, 2019 – dl.acm.org
… Session: Long – Question Answering and Dialogue Systems I … PMI is a measure of how much the actual probability of a particular co-occurrence of events p(x, y) differs from what we would expect it to be on the basis of 4https://www.washingtonpost.com/ 5https://developers …
Speech pause patterns in collaborative dialogs
M Koutsombogera, C Vogel – Innovations in Big Data Mining and …, 2019 – Springer
… multimodal learning analytics is about using advanced sensing and artificial intelligence technologies to … speech pauses contributes to the design and implementation of dialog systems that can … on the temporal, semantic and functional relations in the co-occurrence of pauses …
Machine reading comprehension: a literature review
X Zhang, A Yang, S Li, Y Wang – arXiv preprint arXiv:1907.01686, 2019 – arxiv.org
… aims to teach machines to understand a text like a human, and is a new challenging direction in Artificial Intelligence … To exclusively examine a system's ability of reading comprehension rather than using world knowledge or co-occurrence, further modifications are …
Multi-Turn Response Selection in Retrieval-Based Chatbots with Iterated Attentive Convolution Matching Network
H Wang, Z Wu, J Chen – Proceedings of the 28th ACM International …, 2019 – dl.acm.org
… 2 RELATED WORK Building a chatbot that can interact with human beings has long been an attractive but challenging task in artifical intelligence (AI) [28]. Due to the great quantity of human conversation data available, a number of data-driven dialogue systems are designed …
Conversation Generation with Concept Flow
H Zhang, Z Liu, C Xiong, Z Liu – arXiv preprint arXiv:1911.02707, 2019 – arxiv.org
… The structured knowledge graphs include rich semantics about concepts and relations. Lots of previ- ous studies focus on domain-targeted dialog system based on domain-specific knowledge base (Xu et al., 2017; Zhu et al., 2017; Gu et al., 2016) …
kBot: Knowledge-Enabled Personalized Chatbot for Self-Management of Asthma in Pediatric Population
D Kadariya – 2019 – rave.ohiolink.edu
… A more personalized approach to monitor pa- tients and their environmental factors are required. Recent years have seen immense maturity in Artificial Intelligence (AI) research which has … sational agent, virtual assistant, chatterbot and dialog system. Chatbot history begins with …
Annotation-efficient approaches towards real-time emotion recognition
IP Lajos – 2019 – ritsumei.repo.nii.ac.jp
… As a novel approach, the author argues that emotion-interdependent dialogue acts can improve emotion/sentiment/polarity recognition even on small sets of labeled data, thus making them applicable for the pre-training of commercial games, dialogue systems, and other …
A survey of reinforcement learning informed by natural language
J Luketina, N Nardelli, G Farquhar, J Foerster… – 2019 – ora.ox.ac.uk
… Common techniques learn individual word representa- tions from co-occurrence statistics [Deerwester et al … of the Twenty-Eighth International Joint Conference on Artificial Intelligence (IJCAI-19) … to recent question-answering [Chen et al., 2017a] and dialog systems [Dinan et al …
Beyond Labels and Captions: Contextualizing Grounded Semantics for Explainable Visual Interpretation
SN Aakur – 2019 – search.proquest.com
… The strength of artificial intelligence systems to offer explanations for its decisions is central to building user confidence and structuring smart … other hand, is a count-based model and as such, learn their representations through dimensionality reduction on a co-occurrence matrix …
KnowBots: discovering relevant patterns in chatbot dialogues
A Rivolli, C Amaral, L Guardão, CR de Sá… – … Conference on Discovery …, 2019 – Springer
… The latter uses artificial intelligence concepts to simulate a human-based behavior, which supposedly covers a broad … A., Campos, M., Thomas, R.: Fast vertical mining of sequential patterns using co-occurrence information … comparison of eliza with modern dialogue systems …
Modeling and computational characterization of Twitter customer service conversations
S Oraby, M Bhuiyan, P Gundecha, J Mahmud… – ACM Transactions on …, 2019 – dl.acm.org
… analysis and interpretation of intent. Modern intelligent conversational and dialogue systems draw principles from many disciplines, including philosophy, linguistics, computer science, and sociology [1, 37]. In this section, we …
On conducting better validation studies of automatic metrics in natural language generation evaluation
JTZ Wei – arXiv preprint arXiv:1907.13362, 2019 – arxiv.org
Page 1. On conducting better validation studies of automatic metrics in natural language generation evaluation Johnny Tian-Zheng Wei University of Massachusetts Amherst College of Natural Sciences jwei@umass.edu Abstract …
ReUS: a Real-time Unsupervised System For Monitoring Opinion Streams
M Dragoni, M Federici, A Rexha – Cognitive Computation, 2019 – Springer
… techniques that perform sentiment classification based on word co-occurrence frequencies … supply chain applications [29], human communication comprehension [30] and dialogue systems [31], etc … publicly available created through the adoption of artificial intelligence techniques …
Cognitive-inspired domain adaptation of sentiment lexicons
FZ Xing, F Pallucchini, E Cambria – Information Processing & Management, 2019 – Elsevier
… In particular, Tai and Kao (2013) integrated three sources: WordNet (Fellbaum, 1998), conjunction rule (Hatzivassiloglou & McKeown, 1997), and the second-order co-occurrence pointwise mutual information (PMI) (Islam & Inkpen, 2006) to build the graph …
Cross-lingual semantic specialization via lexical relation induction
EM Ponti, I Vuli?, G Glavaš, R Reichart… – Proceedings of the 2019 …, 2019 – aclweb.org
Page 1. Proceedings of the 2019 Conference on Empirical Methods in Natural Language Processing and the 9th International Joint Conference on Natural Language Processing, pages 2206–2217, Hong Kong, China, November 3–7, 2019 …
Hierarchical neural variational model for personalized sequential recommendation
T Xiao, S Liang, Z Meng – The World Wide Web Conference, 2019 – dl.acm.org
Page 1. Hierarchical Neural Variational Model for Personalized Sequential Recommendation Teng Xiao School of Data and Computer Science, Sun Yat-sen University, China Guangdong Key Laboratory of Big Data Analysis …
Cognitive computing on unstructured data for customer co-innovation
S Chen, J Kang, S Liu, Y Sun – European Journal of Marketing, 2019 – emerald.com
… theory. This paper looks to artificial intelligence and big data tools to leverage unstructured data to improve firms' dynamic capabilities via customer co-innovation processes. The paper makes following three main contributions …
Joint entity linking with deep reinforcement learning
Z Fang, Y Cao, Q Li, D Zhang, Z Zhang… – The World Wide Web …, 2019 – dl.acm.org
… By this property, RL has been successfully used in many NLP tasks, such as information retrieval [28], dialogue system [10] and … embeddings compress the semantic meaning of entities and drastically reduce the need for manually designed features or co-occurrence statistics …
Co-attention Memory Network for Multimodal Microblog's Hashtag Recommendation
R Ma, X Qiu, Q Zhang, X Hu, YG Jiang… – IEEE Transactions on …, 2019 – ieeexplore.ieee.org
… Recent works have showed that models can achieve significant improvements by using memory networks [70] in various NLP tasks, for example language modeling [19], reading comprehension [71], question answering [19], [72], [73], dialog systems [74], [75], etc …
Towards a Robot Architecture for Situated Lifelong Object Learning
JL Part, O Lemon – 2019 IEEE/RSJ International Conference on …, 2019 – joselpart.org
… used to generate hypothesis over unknown objects based on their co-occurrence matrices with … the quality of the collected data, the robustness of the dialogue system and the … Language Dialogues," in Proceedings of the 28th AAAI Conference on Artificial Intelligence, 2014, pp …
Findings of the third workshop on neural generation and translation
H Hayashi, Y Oda, A Birch, I Konstas, A Finch… – arXiv preprint arXiv …, 2019 – arxiv.org
Page 1. Findings of the Third Workshop on Neural Generation and Translation Hiroaki Hayashi?, Yusuke Oda?, Alexandra Birch?, Ioannis Konstas?, Andrew Finch?, Minh-Thang Luong?, Graham Neubig?, Katsuhito Sudoh …
Identification of Sarcasm in Textual Data: A Comparative Study
P Mehndiratta, D Soni – Journal of Data and Information …, 2019 – content.sciendo.com
Jump to Content Jump to Main Navigation …
Interactive Question-Posing System for Robot-Assisted Reminiscence from Personal Photos
YL Wu, E Gamborino, LC Fu – IEEE Transactions on Cognitive …, 2019 – ieeexplore.ieee.org
… Department of Computer Science and Information Engineering and Center for Artificial Intelligence & Advanced … be able to handle the responses from the user, dialogue systems often pose … the degree of association between concepts, assuming that the co-occurrence of words …
Resources for mental lexicon research
E Keuleers, M Marelli – pure.uvt.nl
… Page 4. Emmanuel Keuleers Department of Cognitive Science and Artificial Intelligence Tilburg University … in fact completely agnostic to the origin of the co-occurrence data. For instance … production or how personalized dialogue systems (such as Apple Siri, Amazon Echo …
Topological Representation of Text for Entailment
K Savle – 2019 – search.proquest.com
… Inference has been a central topic in artificial intelligence from the start, but comparatively … specialized domain such as legal and dialogue systems, deep language understanding is necessary … Considering we are using word co-occurrence; we would be using pointwise mutual …
Learning to merge-language and vision: A deep evaluation of the encoder, the role of the two modalities, the role of the training task.
R Shekhar – 2019 – eprints-phd.biblio.unitn.it
… We have proposed and an- alyzed a cognitive plausible architecture in which dialogue system modules are connected through a common grounded dialogue state encoder. Our in-depth … In this direction, one of the goals of artificial intelligence (AI) researchers is to enable …
Multimodal Integration
M Johnston – The Handbook of Multimodal-Multisensor Interfaces …, 2019 – books.google.com
… In weighted transducers the best path is the path with the lowest overall cost. Frames are a data structure that have been used in a variety of artificial intelligence applications including natural language processing, computervision, and knowledge representation and reasoning …
Using Functional Schemas to Understand Social Media Narratives
X Yan, A Naik, Y Jo, C Rose – Proceedings of the Second Workshop on …, 2019 – aclweb.org
… the content. Capturing the difference in transition paces allows the model to distinguish co-occurrence patterns of fast-changing words (functional structures) from words that occur consistently throughout (topical themes). CSM …
Survey of deep learning and architectures for visual captioning—transitioning between media and natural languages
C Sur – Multimedia Tools and Applications, 2019 – Springer
… the most primitive research in vision and neuroscience, the two inevitable combo in modern computer science and artificial intelligence … Improved version of Memory Networks model to reasoning and natural language for building intelligent dialogue system has been described …
Resources for mental lexicon research: A delicate ecosystem
E Keuleers, M Marelli – Word Knowledge and Word Usage, 2019 – library.oapen.org
… or word relatedness; Emmanuel Keuleers, Department of Cognitive Science and Artificial Intelligence, Tilburg University … in fact completely agnostic to the origin of the co-occurrence data … our online behavior in written production or how personalized dialogue systems (such as …
Open-World Story Generation with Sequence-to-Sequence and Hierarchical Recurrent Encoder-Decoder Models
R Zembrodt – 2019 – zembrodt.com
… storing context over time for deep learning has been explored in several similar problems recently, such as context-aware query suggestion and dialogue systems … It is able to use word-word co-occurrence counts and global corpus statistics to develop its word represen- tations …
A Joint Semantic Vector Representation Model for Text Clustering and Classification
S Momtazi, A Rahbar, D Salami… – Journal of AI and Data …, 2019 – jad.shahroodut.ac.ir
… processing tasks, including question answering [5], plagiarism detection [6], query suggestion [7], expert finding [8], and dialog systems [9], to … An aspect model is a latent variable model for co-occurrence data" [14] … International Journal of Artificial Intelligence & Applications, vol …
A narrative sentence planner and structurer for domain independent, parameterizable storytelling
SM Lukin, MA Walker – Dialogue & Discourse, 2019 – 129.70.43.92
… US Army Research Laboratory Los Angeles, CA Marilyn A. Walker MAWALKER@UCSC.EDU Natural Language and Dialogue Systems Lab University of California, Santa Cruz, CA Editor: Vera Demberg Submitted 07/2017; Accepted 04/2019; Published online 05/2019 …
Genetic Programming for Domain Adaptation in Product Reviews
I Chaturvedi, S Cavallari, E Cambria, RE Welsch – pdfs.semanticscholar.org
… 11] machine learning techniques that perform sentiment classification based on word co- occurrence frequencies … I., Zhou, H., Biswas, S., Huang, M.: Augmenting end- to-end dialogue systems with commonsense … Journal of Artificial Intelligence Research 55 (2016) 131–163 30 …
Nonverbal behavior in multimodal performances
A Cafaro, C Pelachaud, SC Marsella – The Handbook of Multimodal …, 2019 – dl.acm.org
Page 1. 6Nonverbal Behavior in Multimodal Performances Angelo Cafaro, Catherine Pelachaud, Stacy C. Marsella 6.1 Introduction The physical, nonverbal behaviors that accompany face-to-face interaction convey a wide variety …
Could you tell a bit more about your experience with the chatbot?
E de Louw, S Wubben – 2019 – drewhendrickson.github.io
… often referred to as chatbots (chatterbot/chatterbox) or natural dialogue systems, communicate with … of all, there are rule-based chatbots that depend on Artificial Intelligence Markup Language … which states that similar words occur in similar contexts (also called: co- occurrence) …
An entity-driven framework for abstractive summarization
E Sharma, L Huang, Z Hu, L Wang – arXiv preprint arXiv:1909.02059, 2019 – arxiv.org
Page 1. An Entity-Driven Framework for Abstractive Summarization Eva Sharma1* Luyang Huang2* Zhe Hu1* and Lu Wang1 1Khoury College of Computer Sciences, Northeastern University, Boston, MA 02115 2Department …
Explainable outfit recommendation with joint outfit matching and comment generation
Y Lin, P Ren, Z Chen, Z Ren, J Ma… – IEEE Transactions on …, 2019 – ieeexplore.ieee.org
… textual space. 2.3 Text generation Text generation involves a wide variety of tasks and stud- ies, such as text summarization [23, 24], machine transla- tion [25, 26], dialogue systems [27, 28], and image caption- ing [29, 30]. We …
Joint learning of question answering and question generation
Y Sun, D Tang, N Duan, T Qin, S Liu… – … on Knowledge and …, 2019 – ieeexplore.ieee.org
… We set the dimension of word embedding as 300, the hidden length of encoder and decoder in the QG model as 512, the hidden length of GRU in the QA model as 100, the dimension of word co-occurrence embedding as 10, the vocabulary size of the word co- occurrence …
A library for automatic natural language generation of spanish texts
S García-Méndez, M Fernández-Gavilanes… – Expert Systems with …, 2019 – Elsevier
… It has been defined as "[. . . the sub-field of artificial intelligence (ai) and computational linguistics that focuses on computer systems that can produce … Dialogue systems focus on human-machine communication and are of interest for call centres or games (Koller et al., 2010) …
Enhancing text using emotion detected from EEG signals
A Gupta, H Sahu, N Nanecha, P Kumar, PP Roy… – Journal of Grid …, 2019 – Springer
Page 1. J Grid Computing (2019) 17:325–340 https://doi.org/10.1007/s10723-018-9462- 2 Enhancing Text Using Emotion Detected from EEG Signals Akash Gupta · Harsh Sahu · Nihal Nanecha · Pradeep Kumar · Partha Pratim Roy · Victor Chang …
xslue: A benchmark and analysis platform for cross-style language understanding and evaluation
D Kang, E Hovy – arXiv preprint arXiv:1911.03663, 2019 – arxiv.org
Page 1. xSLUE: A Benchmark and Analysis Platform for Cross-Style Language Understanding and Evaluation Dongyeop Kang Eduard Hovy Carnegie Mellon University, Pittsburgh, PA, USA {dongyeok,hovy}@cs.cmu.edu Abstract Every natural text is written in some style …
A Deep Generative Approach to Search Extrapolation and Recommendation
FX Han, D Niu, H Chen, K Lai, Y He, Y Xu – Proceedings of the 25th ACM …, 2019 – dl.acm.org
… Seq2Seq models are proven to be performant in a number of NLP tasks like Automatic Summarization [19], Dialogue Systems [28] and Reading … Other works on machine translation [12, 16, 22] leverage bilin- gual word co-occurrence and word alignment features to find the …
Enriching Scientific Paper Embeddings with Citation Context
K Henner – 2019 – digital.lib.washington.edu
… Arman Cohan Allen Institute for Artificial Intelligence Amid profusion of scientific literature, methods to organize and search available papers are quite valuable … capture much of the word co-occurrence information in the original data. Furthermore …
Unsupervised Story Comprehension with Hierarchical Encoder-Decoder
B Wang, T Yao, Q Zhang, J Xu, K Liu, Z Tian… – Proceedings of the 2019 …, 2019 – dl.acm.org
… 1 INTRODUCTION Machine comprehension (MC) of text is one of the ultimate goals in natural language processing (NLP) and artificial intelligence … The advantage of HLSTM also accord with previous works such as dialogue systems [32], document summarization [5] who also …
Text Classification With Deep Neural Networks
T Huynh – 2019 – oro.open.ac.uk
… learned representations to be used with the discussed Deep Neural Net- works in different NLP tasks such as Dialog Systems, Machine Translation or Natural Language Inference. Page 4 … one of the central problems of Artificial Intelligence. The field of Natural Language …
Deception Detection in Political Statements
M Kamboj – 2019 – deepblue.lib.umich.edu
… The embeddings are created using statistics derived from global word-word co-occurrence in a corpus. It is a global log … recognition engine in a real-time affective dialogue system. It can run on different main-stream platforms such as Linux, Windows, and MacOS …
Deep learning based sentiment analysis on product reviews on Twitter
A Onan – International Conference on Big Data Innovations and …, 2019 – Springer
… Deep learning is an interdisciplinary research field, which involves artificial intelligence, pattern recognition … in R^{d} \) represent context word vectors, X denote co-occurrence matrix and … In: Proceedings of the 6th Dialog System Technology Challenges (DSTC6) Workshop (2017 …
Sentence mover's similarity: Automatic evaluation for multi-sentence texts
E Clark, A Celikyilmaz, NA Smith – … of the 57th Annual Meeting of the …, 2019 – aclweb.org
… Elizabeth Clark1? Asli Celikyilmaz2 Noah A. Smith1,3 1Paul G. Allen School of Computer Science & Engineering, University of Washington 2Microsoft Research 3Allen Institute for Artificial Intelligence {eaclark7,nasmith}@cs.washington.edu aslicel@microsoft.com Abstract …
Personalizing Graph Neural Networks with Attention Mechanism for Session-based Recommendation
S Wu, M Zhang, X Jiang, X Ke, L Wang – arXiv preprint arXiv:1910.08887, 2019 – arxiv.org
… is only provided by some positive clicks. The item-based neighborhood meth- ods [15] are natural solution, in which item similarities are calculated on the co-occurrence in the same session. However, These methods have difficulty …
Feature Engineering and Ensemble-Based Approach for Improving Automatic Short-Answer Grading Performance
A Sahu, PK Bhowmick – IEEE Transactions on Learning …, 2019 – ieeexplore.ieee.org
… ROUGE-N: N-gram Co-occurrence Statistics – ROUGE-L: Longest Common Subsequence (LCS) – ROUGE-W: Weighted Longest Common Subse- quence (WLCS) – ROUGE-S: Skip-bigram Co-occurrence Statistics – ROUGE …
Semantically aligned sentence-level embeddings for agent autonomy and natural language understanding
NE Fulda – 2019 – scholarsarchive.byu.edu
… in this section, (2) Strict co-occurrence counts using a Wikipedia corpus and a co-occurrence window of 9 words, (3) Results generated using ConceptNet's CapableOf relationship … and utilized for real-world applications like robot navigation and dialog systems. We further …
Exploiting social and local contexts propagation for inducing Chinese microblog-specific sentiment lexicons
C Zhao, S Wang, D Li – Computer Speech & Language, 2019 – Elsevier
… Corpora-based approaches make full use of the mutual reinforcement between documents and words or the co-occurrence relationships of words in the corpora … 4.2. Co-occurrence relations and linguistic semantic rules. Definition 5. Propagation window …
Arabic Poem Generation with Hierarchical Recurrent Attentional Network
S Talafha, B Rekabdar – 2019 IEEE 13th International …, 2019 – ieeexplore.ieee.org
… door to many applications including question- answering [6], neural machine translation [11], sentiment analyses [12], and dialogue systems [7]. M … On the other hand, GloVe creates word representations by constructing the co-occurrence matrix based on counting the number of …
Conceptual Representations for Computational Concept Creation
A CARDOSO, J CORREIA, P MACHADO, P MARTINS… – 2019 – eecs.qmul.ac.uk
… our aim is to shed light on the emerging research area, as well as to help researchers in artificial intelligence more generally … Unsupervised methods, such as those based on clustering or co-occurrence, are mostly used to discover hypernymy and synonymy relations, and often …
Conceptual representations for computational concept creation
P Xiao, H Toivonen, O Gross, A Cardoso… – ACM Computing …, 2019 – dl.acm.org
… our aim is to shed light on the emerging research area, as well as to help researchers in artificial intelligence more generally … Unsupervised methods, such as those based on clustering or co-occurrence, are mostly used to discover hypernymy and synonymy relations, and often …
Designing and evaluating recommender systems with the user in the loop
M Jugovac – 2019 – 129.217.131.68
Page 1. Designing and Evaluating Recommender Systems With the User in the Loop Dissertation zur Erlangung des Grades eines Doktors der Naturwissenschaften der Technischen Universität Dortmund an der Fakultät für Informatik von Michael Jugovac Dortmund 2019 …
Enhancing natural language understanding using meaning representation and deep learning
A Nugaliyadde – 2019 – researchrepository.murdoch.edu.au
… Anupiya Nugaliyadde Page 4. iii Abstract Natural Language Understanding (NLU) is one of the complex tasks in artificial intelligence. Machine learning was introduced to address the complex and dynamic nature of natural language …
Question Generation with Adaptive Copying Neural Networks
X Lu – 2019 – curve.carleton.ca
… Page 8. List of Tables 2.1 The co-occurrence matrix of the corpus … For example, dialog systems in chatbots are currently drawing significant attention … Deep learning is an artificial intelligence technology that helps computers learn from experiences and the world around them …
Enhanced twofold-LDA model for aspect discovery and sentiment classification
N Burns, Y Bi, H Wang, T Anderson – International Journal of …, 2019 – igi-global.com
… 12 Ravi,2015).Thisisbecauseaspectscanberecognizedbytheco-occurrenceofkeywordswhereas, sentiment can be expressed more subtly. We made an observation that sentiment classification techniqueswhichincorporatePOStaggingcanachievegoodperformancefor …
Effectiveness of data-driven induction of semantic spaces and traditional classifiers for sarcasm detection
MA Di Gangi, GL Bosco, G Pilato – arXiv preprint arXiv:1904.04019, 2019 – arxiv.org
… applications, such as natural language understanding, cognitive modeling, speech recognition, smart indexing, anti-spam filters, dialogue systems, and other … representing a single document in the training set, are used to generate a word-document co-occurrence raw matrix A …
Words of Estimative Correlation: Studying Verbalizations of Scatterplots
R Henkin, C Turkay – arXiv preprint arXiv:1911.12793, 2019 – arxiv.org
Page 1. JOURNAL OF LATEX CLASS FILES, VOL. 14, NO. 8, AUGUST 2015 1 Words of Estimative Correlation: Studying Verbalizations of Scatterplots Rafael Henkin and Cagatay Turkay Member, IEEE Abstract—Multimodal …
Topic-enriched word embeddings for sarcasm identification
A Onan – Computer Science On-line Conference, 2019 – Springer
… omega \) ?R d represent context word vectors, X denote co-occurrence matrix and … Senkerik, R., Kominkova, Z., Prokopova, Z., Silhavy, P. (eds.) Artificial Intelligence Trends in … In: Proceedings of the 6th Dialog System Technology Challenges Workshop (2017)Google Scholar. 24 …
Phonetic-enriched Text Representation for Chinese Sentiment Analysis with Reinforcement Learning
H Peng, Y Ma, S Poria, Y Li, E Cambria – arXiv preprint arXiv:1901.07880, 2019 – arxiv.org
… from minimizing the prediction loss, GloVe learned the embeddings with dimension reduction techniques on co-occurrence counts matrix … detection [35], manufacturing and supply chain applications [36], human communication comprehension [37] and dialogue systems [38], etc …
Optimising user experience with: conversational Interfaces
AMG Costa – 2019 – recipp.ipp.pt
… the main techniques and their state of the art in the field of artificial intelligence, more precisely … The article "How NOT To Evaluate Your Dialogue System: An Empirical Study of Unsupervised Evaluation … The word co-occurrence count matrix is pre-processed by normalizing the …
Understanding and Generating Multi-Sentence Texts
RK Kedziorski – 2019 – digital.lib.washington.edu
… Techniques for such synthesis, however, are necessary for improved language understanding and have the potential to transform downstream applications including dialog systems, question answering, and educational technologies. In this thesis, I …
Unsupervised summarization of public talk radio
S O'Brien – 2019 – dspace.mit.edu
… levels of noise such as music, advertisements, and traffic and weather announcements. Despite significant efforts to develop spoken dialogue systems, colloquial speech summarization of transcribed text remains an open problem. This may be due to …
A Lexical Resource-Constrained Topic Model for Word Relatedness
Y Yin, J Zeng, H Wang, K Wu, B Luo, J Su – IEEE Access, 2019 – ieeexplore.ieee.org
… kernel. However, in conventional topic models, such as PLSA and LDA, only document-level word co-occurrence has been taken into account, neglecting interactions between docu- ments that deserve consideration. Therefore …
Template-free Data-to-Text Generation of Finnish Sports News
J Kanerva, S Rönnqvist, R Kekki, T Salakoski… – arXiv preprint arXiv …, 2019 – arxiv.org
… To demonstrate the performance of our generation model architecture, we report results on a known dataset with published baselines, namely the E2E NLG Challenge (Dušek et al., 2018) on end-to-end natural language generation in spoken dialogue systems …
Deep learning for nlp and speech recognition
U Kamath, J Liu, J Whitaker – 2019 – Springer
Page 1. Uday Kamath · John Liu · James Whitaker Deep Learning for NLP and Speech Recognition Page 2. Deep Learning for NLP and Speech Recognition Page 3. Uday Kamath • John Liu • James Whitaker Deep Learning for NLP and Speech Recognition 123 Page 4 …
Social Media and Chatbots use for chronic disease patients support: case study from an online community regarding therapeutic use of cannabis
AR Teixeira – 2019 – repositorio-aberto.up.pt
Page 1. MESTRADO MULTIMÉDIA – ESPECIALIZAÇÃO EM TECNOLOGIA Social Media and Chatbots use for chronic disease patients support: case study from an online community regarding therapeutic use of cannabis Alice Rangel Teixeira M 2019 …
Knowledge Adaptive Neural Network for Natural Language Inference
Q Zhang, Y Yang, C Chen, L He… – 2019 International Joint …, 2019 – ieeexplore.ieee.org
… knowledge bases. C. Training Details In the encoding stage, we use 300-dimensional Glove word vectors, which are trained based on the global word co- occurrence [29]. The word embeddings are fine-tuned during training. The …
Auto-Generated User Profile Schemas as a Lens for Understanding Product Experience Trajectories on Reddit
X Yan – 2019 – lti.cs.cmu.edu
… Copyright c 2019, Association for the Advancement of Artificial Intelligence (www.aaai.org) … As such, the model de-emphasizes words that occur consistently throughout a conversation and identifies various co-occurrence patterns of other fast-changing words, which are likely to …
Text mining in education
R Ferreira?Mello, M André, A Pinheiro… – … : Data Mining and …, 2019 – Wiley Online Library
… highlight some specific conferences and journals because of the high number of papers published about ETM field, such as Conferences on Intelligent Tutoring Systems, Learning Analytics and Knowledge, Advanced Learning Technologies, Artificial Intelligence in Education …
Advances in Information Retrieval: 41st European Conference on IR Research, ECIR 2019, Cologne, Germany, April 14–18, 2019, Proceedings, Part I
L Azzopardi, B Stein, N Fuhr, P Mayr, C Hauff… – 2019 – books.google.com
Page 1. Leif Azzopardi· Benno Stein · Norbert Fuhr· Philipp Mayr· Claudia Hauff· Djoerd Hiemstra (Eds.) Advances in Information Retrieval 41st European Conference on IR Research, ECIR 2019 Cologne, Germany, April 14–18, 2019 Proceedings, Part I 123 Page 2 …
Neural Name Tagging for Low-Resource Languages
B Zhang – 2019 – blender.cs.illinois.edu
… Semantic web. Their early foreseeing contributions to the field of Artificial Intelligence still … in industrial applications, such as Question Answering and Dialogue System. State-of-the-art name tagging approaches rely on supervised machine learning mod …
Natural Language Processing and Chinese Computing: 8th CCF International Conference, NLPCC 2019, Dunhuang, China, October 9–14, 2019 …
J Tang, MY Kan, D Zhao, S Li, H Zan – 2019 – books.google.com
… Page 2. Lecture Notes in Artificial Intelligence 11838 Subseries of Lecture Notes in Computer Science Series Editors Randy Goebel University of Alberta, Edmonton, Canada Yuzuru Tanaka Hokkaido University, Sapporo, Japan Wolfgang Wahlster DFKI and Saarland University …
Neural machine reading comprehension: Methods and trends
S Liu, X Zhang, S Zhang, H Wang, W Zhang – Applied Sciences, 2019 – mdpi.com
Machine reading comprehension (MRC), which requires a machine to answer questions based on a given context, has attracted increasing attention with the incorporation of various deep-learning techniques over the past few years. Although research on MRC based on deep …
Towards the Automatic Classification of Student Answers to Open-ended Questions
JG Alvarado Mantecon – 2019 – ruor.uottawa.ca
… 14 2.2.5 Artificial Intelligence Techniques for ASAG … Similarly, a different kind of MOOCs, called xMOOCs (extended massive open online courses), raised in popularity triggered by Stanford's 'Artificial Intelligence' online course in the year 2011 …
An Automated Privacy Information Detection Approach For Online Social Media
J Wu – 2019 – orapp.aut.ac.nz
… In Proceedings of the 33rd Annual Conference of Japanese Society for Artificial Intelligence (JSAI), Japanese Society for Artificial Intelligence (JSAI) (Accepted) … Machine learning begins from the early research in Artificial Intelligence, which gives the computer
Rotational unit of memory: A novel representation unit for rnns with scalable applications
R Dangovski, L Jing, P Nakov, M Tatalovi?… – Transactions of the …, 2019 – MIT Press
… RNNs), which have become a standard tool for addressing a number of tasks ranging from language modeling, part-of-speech tagging and named entity recognition to neural machine translation, text summarization, question answering, and building chatbots/ dialog systems …
Text Summarization for Chatbots
M Lustig – 2019 – support.dce.felk.cvut.cz
… 5 2.1 Dialogue Systems … Recent advancements in artificial intelligence and natural language processing made pos- sible by abundant computational power and large datasets proved that the objective is not unreachable as there are already many applications of chatbots and …
Neural Language Models with Explicit Coreference Decision
J Kunz – 2019 – diva-portal.org
… The frequency-based matrix factorization methods are starting with a co- occurrence matrix M of size W ×W , where W is the vocabulary size and where entry Mij denotes how often word j occurs in the context of word i. Each row Mi is the representation of the corresponding word …
Cut & recombine: reuse of robot action components based on simple language instructions
MJ Aein, A Haidu, D Chrysostomou, B Ridge… – … , 2019, Vol. 38, iss. 10-11, 2019 – vdu.lt
… Physics-3, Georg- August-Universität Göttingen, Germany 2Faculty of Informatics, Vytautas Magnus University, Lithuania 3Institute for Artificial Intelligence, University of Bremen, Germany 4Department of Materials & Production, Robotics and Automation Group, Aalborg …
Response Retrieval in Information-seeking Conversations
L Yang – 2019 – scholarworks.umass.edu
… Liu Yang College of Information and Computer Sciences, UMass Amherst Follow this and additional works at: https://scholarworks.umass.edu/dissertations_2 Part of the Artificial Intelligence and Robotics Commons, and the Databases and Information Systems Commons …
Deep Exemplar Networks for VQA and VQG
BN Patro, VP Namboodiri – arXiv preprint arXiv:1912.09551, 2019 – arxiv.org
Page 1. 1 Deep Exemplar Networks for VQA and VQG Badri N. Patro, and Vinay P. Namboodiri, Member,IEEE Abstract—In this paper we consider the problem of solving semantic tasks such as 'Visual Question Answering' (VQA …
Improving Software Defect Assignment Accuracy with the LSTM and Rule Engine Model
R Zhu – 2019 – search.proquest.com
… 55 4.2 Artificial Intelligence Neural Networks/Recurrent Neural Network ….. 60 … which adds the burden of bug assignment engineering process. Recently thanks to the rapid development of artificial intelligence especially in the area of deep learning …
Automated Essay Scoring: Argument Persuasiveness
Z Ke – 2019 – utd-ir.tdl.org
… Histogram-based features (Klebanov and Flor, 2013) are computed as follows. First, the pointwise mutual information (PMI), which measures the degree of association between two words based on co-occurrence, is computed between each …
Aspect Term Extraction in Aspect-Based Sentiment Analysis
AD Francisco – 2019 – repository.ufrpe.br
… machine translation, speech recognition, and speech synthesis. Today's researchers refine and make use of such tools in real-world applications, creating spoken dialogue systems and speech-to-speech translation engines, mining social media for information about health …
Building Chatbots with Python
S Raj, S Raj, Karkal – 2019 – Springer
… 121 Understanding More on Rasa Core and Dialog System ….. 122 … xiii About the Technical Reviewer Nitin Solanki has extensive experience in Natural Language Processing, Machine Learning, and Artificial Intelligence Chatbot development …
Learning Representations for Text Classification of Indian Languages
N CHOUDHARY – 2019 – web2py.iiit.ac.in
… Dialogue Systems: To narrow down the possible answers to a sentence based on the previous dialogues … units such as phrases, words or morphemes of one language into the utterance of another language, whereas code-switching refers to the co-occurrence of speech …
Machine Learning Models for Efficient and Robust Natural Language Processing
E Strubell – 2019 – scholarworks.umass.edu
… Language Processing Emma Strubell Follow this and additional works at: https://scholarworks. umass.edu/dissertations_2 Part of the Artificial Intelligence and Robotics Commons … (2013)), or of co-occurrence counts (as in Pennington et al. (2014)), and whether the order …
R-trans: RNN transformer network for Chinese machine reading comprehension
S Liu, S Zhang, X Zhang, H Wang – IEEE Access, 2019 – ieeexplore.ieee.org
… [6] combine co-occurrence matrix and local context window to efficiently … Vectors produced by these methods have been widely applied in downstream NLP tasks, such as machine translation [30], name entity recognition [31], sentiment analysis [32] and dialogue systems [33] …
Representation Learning for Information Extraction
E Amjadian – 2019 – curve.carleton.ca
… language processing, machine learning, and deep learning, and nurtured them with her depth and breadth of knowledge in the field of artificial intelligence and computer … Science and Artificial Intelligence that employs statistics and machine learning at its …
Language Sense and Communication on Computer
A Abe – downloads.hindawi.com
… Student Evaluations of a (Rude) Spoken Dialogue System Insights from an Experimental Study Regina Jucks , Gesa A. Linnemann , and Benjamin Brummernhenrich Research Article (10 pages), Article ID 8406187, Volume 2018 (2019) Page 7. Editorial …
Efficient estimation of node representations in large graphs using linear contexts
T Pimentel, R Castro, A Veloso… – 2019 International Joint …, 2019 – ieeexplore.ieee.org
… Nodes represent proteins, and edges indicate biological interactions between pairs of proteins. 4) Wikipedia [27]: A co-occurrence network of words appearing in the first million bytes of the Wikipedia dump. Labels represent Part-of-Speech tags …
Paraphrase Generation with Collaboration between the Forward and the Backward Decoder
Q Wang, J Ren – … Joint Conference on Neural Networks (IJCNN …, 2019 – ieeexplore.ieee.org
Page 1. Paraphrase Generation with Collaboration between the Forward and the Backward Decoder Qianlong Wang and Jiangtao Ren* School of Data and Computer Science, Sun Yat-sen University Guangzhou, China wangqlong3 …
Computer Vision beyond the visible: Image understanding through language
A Salvador – 2019 – tdx.cat
… opened the doors to new challenges such as text-conditioned image generation [20, 224] image captioning [201, 215] or visual dialog systems [45 … In the field of artificial intelligence, the study of algorithms that are capable of performing a specific task by relying on patterns from …
Computer Vision beyond the visible: Image understanding through language
A Salvador Aguilera – 2019 – upcommons.upc.edu
… opened the doors to new challenges such as text-conditioned image generation [20, 224] image captioning [201, 215] or visual dialog systems [45 … In the field of artificial intelligence, the study of algorithms that are capable of performing a specific task by relying on patterns from …
Neural NLP models under low-supervision scenarios
Y Zhang – 2019 – repositories.lib.utexas.edu
Page 1. Copyright by Ye Zhang 2019 Page 2. The Dissertation Committee for Ye Zhang certifies that this is the approved version of the following dissertation: Neural NLP Models Under Low-supervision Scenarios Committee: Matthew A Lease, Supervisor …
Pleis' Celebrated Fit Powders
J Pleis – 2019 – urresearch.rochester.edu
… as a deeper understanding of natural language is increasingly important for user appli- cations such as information extraction, question answering and dialogue systems … tions such as question answering, information extraction, machine comprehension, and dialogue systems …
(Visited 128 times, 1 visits today)