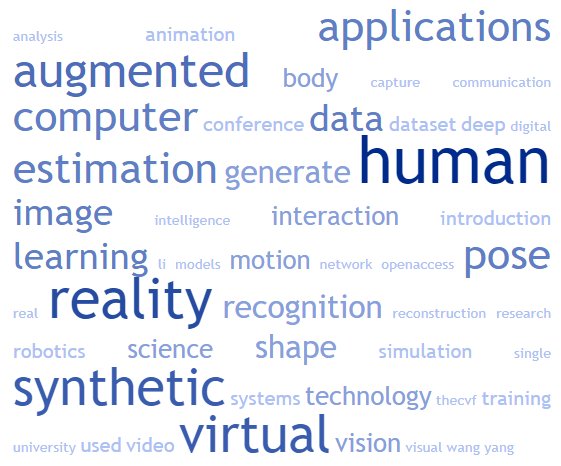 Notes:
Extended Reality (XR) is a term used to describe a range of technologies that allow people to experience digital content in a way that feels like it is a part of their physical world. This includes virtual reality (VR), augmented reality (AR), and mixed reality (MR). Synthetic humans, on the other hand, are digital representations of human beings that can be created and controlled using computer algorithms.
There is a relationship between Extended Reality and synthetic humans in that XR technologies can be used to create and interact with synthetic humans in virtual environments. For example, a user wearing a VR headset might be able to interact with a synthetic human in a virtual world, or an AR app might allow a user to see and interact with a synthetic human as if it were present in the physical world. Synthetic humans can also be used as avatars in XR experiences, allowing users to experience the virtual world through the perspective of the synthetic human.
Synthetic humans and artificial humans are both terms that refer to human-like entities that are created artificially, rather than being born as a result of natural processes. However, there are some important differences between the two terms.
Synthetic humans refer to entities that are designed to mimic or replicate the appearance, behavior, and abilities of real humans, often with the goal of creating more realistic and believable virtual or augmented reality experiences. Synthetic humans may be created using a variety of techniques, including computer graphics, robotics, and machine learning algorithms.
On the other hand, artificial humans refer to entities that are created using artificial intelligence (AI) or other advanced technologies, with the goal of creating autonomous, self-aware beings that are capable of thinking and acting on their own. Artificial humans may be designed to perform specific tasks or functions, or they may be intended to be more general-purpose beings with a wide range of abilities and capabilities.
Resources:
References:
See also:
100 Best MakeHuman Videos | 100 Best Virtual Human Videos | Chaos Group V-Ray | Human Language Technology | The Most Human Human Citations | Virtual Human Toolkit
---
Avatar-Facilitated Therapy and Virtual Reality: Next-Generation of Functional Rehabilitation Methods
DE Benrachou, M Masmoudi… – 020 1st International …, 2020 – ieeexplore.ieee.org
… of a synthetic human body, or Avatar, is an essential step before the animation process. These two important stages (control and animation) are applied in diverse areas, including video games and 3D animation films. Avatars deserve particular consideration in virtual reality (VR …
LCR-SMPL: Toward Real-time Human Detection and 3D Reconstruction from a Single RGB Image
E Peña-Tapia, R Hachiuma… – … Augmented Reality …, 2020 – ieeexplore.ieee.org
… reconstruction accu- racy and computational time using the SURREAL synthetic human dataset [6 … Results on synthetic humans demonstrate an on-par performance with previous SMPL-based … applications where fast inference is required, such as Mixed and Augmented Reality …
Synthetic crowd and pedestrian generator for deep learning problems
A Khadka, P Remagnino… – ICASSP 2020-2020 IEEE …, 2020 – ieeexplore.ieee.org
… Marin et al [9] use synthetic humans to detect pedestrians … data, which requires a labour-intensive 3D environment models, we concentrate on augmented reality where we … Unlike existing mixed-reality approaches for training data generation which are either simplistic where they …
Agent-based Testing of Extended Reality Systems
R Prada, I Prasetya, F Kifetew, F Dignum… – 2020 IEEE 13th …, 2020 – ieeexplore.ieee.org
… with advanced 3D UI, Virtual Real- ity (VR), and Augmented Reality (AR) systems … The Intelligent Verification/Validation of Extended Reality Systems (IV4XR) project is a recently … Computer generated solutions can easily be too 'synthetic' (humans would never produce them) …
Superficial Temporal Artery–Middle Cerebral Artery Bypass Ex Vivo Hybrid Simulator: Face, Content, Construct, and Concurrent Validity
CE Ferrarez, R Bertani, DML Batista, R Lovato… – World Neurosurgery, 2020 – Elsevier
… Twelve ex vivo simulators were constructed using 3 human placentas and 1 synthetic human skull for each … Several training models have been described for microsuture training, including synthetic, virtual reality, human cadavers, live or cadaver animals (eg, rat, chicken wing …
Deformation Aware Augmented Reality for Craniotomy using 3D/2D Non-rigid Registration of Cortical Vessels
N Haouchine, P Juvekar, WM Wells III, S Cotin… – … Conference on Medical …, 2020 – Springer
… 3 Results. We tested our method on simulated data of a 3D synthetic human brain. The … Open image in new window Fig. 4. Fig. 4. Augmented Reality views after applying our method on 6 patient data sets retrospectively. The …
High-Accuracy Facial Depth Models derived from 3D Synthetic Data
F Khan, S Basak, H Javidnia, M Schukat… – 2020 31st Irish …, 2020 – ieeexplore.ieee.org
… scene analysis & understanding, human behaviour analysis, driver monitoring for semi- autonomous driving, augmented reality systems and … Synthetic human facial data is used frequently to augment real data for pose invariant face recognition … Learning from synthetic humans …
3d human mesh regression with dense correspondence
W Zeng, W Ouyang, P Luo, W Liu… – Proceedings of the …, 2020 – openaccess.thecvf.com
… liuwentao@sensetime.com Abstract Estimating 3D mesh of the human body from a single 2D image is an important task with many applications such as augmented reality and Human-Robot interaction. How- ever, prior works …
MannequinChallenge: Learning the Depths of Moving People by Watching Frozen People
Z Li, T Dekel, F Cole, R Tucker… – IEEE transactions on …, 2020 – ieeexplore.ieee.org
… We focus on humans for two reasons: i) in many application areas, such as augmented reality, humans constitute the salient objects in the … Here, too, the data is limited to interior scenes and consists of synthetic humans placed in unrealistic configurations with respect to their …
Integrating human body mocaps into Blender using RGB images
J Sánchez Riera… – 2020 13th International …, 2020 – upcommons.upc.edu
… Synthetic human model; Action mimic. I. INTRODUCTION Motion Capture (MoCap) systems are used in industry and research to record real motions. The applications of such sys- tems span from animating virtual characters or facial expres- sions, navigating into Virtual Reality …
Rotationally-Consistent Novel View Synthesis for Humans
Y Kwon, S Petrangeli, D Kim, H Wang… – Proceedings of the 28th …, 2020 – dl.acm.org
… novel view synthesis could indeed have a variety of applications in the area of virtual and augmented reality, telepresence, volumetric … Sections 3 and 4 detail the proposed framework and loss formulation, and the characteristics of our synthetic human dataset, respectively …
Parametric Shape Estimation of Human Body under Wide Clothing
Y Lu, JH Cha, SK Youm… – IEEE Transactions on …, 2020 – ieeexplore.ieee.org
… of 300,000 paired ground-truth naked and dressed images of 1,500 synthetic humans with different … to the user can be useful in immersive games and virtual reality applications … contains 300,000 paired naked and dressed color images of 1,500 synthetic human avatars with …
Methods for High-Fidelity Spectral Data Collection for Generating Ground Truth Data for Simulated Tissues
AT Gong, A Dulal, MM Crane, T Reihsen, RM Sweet… – bioRxiv, 2020 – biorxiv.org
… characterization of the constitutive properties of human soft tissues remains a gap that has prevented the rapid expansion of synthetic human tissue modeling30 … 12. Cates, CU, Patel, AD & Nicholson, WJ Use of virtual reality simulation for mission rehearsal for carotid stenting …
Variable photorealistic image synthesis for training dataset generation
VV Sanzharov, VA Frolov, AG Voloboy – 2020 – ceur-ws.org
… XLIII, 2018, p. 78-100. Page 6. https://lppm3.ru/files/journal/XLIII/MathMontXLII I-Ershov.pdf [16] Alhaija, Hassan Abu, et al. Augmented reality meets computer vision: Efficient data generation for urban driving scenes … 2015. [18] Varol, Gul, et al. Learning from synthetic humans …
3D Human Body Shape and Pose Estimation from Depth Image
L Liu, K Wang, J Yang – Chinese Conference on Pattern Recognition and …, 2020 – Springer
… 1 Introduction. Human pose estimation has numerous applications in robotics, augmented reality (AR), and virtual reality (VR) … SURREAL is a large synthetic human dataset … 7122–7131, June 2018Google Scholar. 3. Varol, G., et al.: Learning from synthetic humans …
Pedestrian orientation estimation using cnn and depth camera
K Abughalieh, S Alawneh – 2020 – sae.org
… Kohari et al. [11] also used a CNN model, the authors used the Synthetic Humans for Real [12] dataset for network training after rela- beling it to suit the task … It is suitable for many applications as in robot navigation, virtual reality, tracking, motion tracking and so on …
The past, present, and future of innovation research
BC Lee, C Moorman, CP Moreau, AT Stephen… – Marketing Letters, 2020 – Springer
… While studying augmented reality, artificial intelligence, and other disruptive technologies essential to the advancement of our field, returning to "older" topics is … such as using AI to develop digital ad copy in real time, including images and videos with synthetic humans that are …
Learning to transfer texture from clothing images to 3d humans
A Mir, T Alldieck, G Pons-Moll – Proceedings of the IEEE …, 2020 – openaccess.thecvf.com
… To stimulate further research in this direction, we will make Pix2Surf publicly available for research purposes. This will allow researchers and users to add texture to the SMPL+Garments model [15], generate synthetic humans, and visualize garment images in 3D directly …
Application of VR image recognition and digital twins in artistic gymnastics courses
T Shi – Journal of Intelligent & Fuzzy Systems – content.iospress.com
… Not only do we require synthetic human movements to be natural and realistic, but we also want to provide users with a programming interface for … it from a high level, but also reuses motion capture data, which can be widely used in animation, games, virtual reality and other …
Digital humans on the big screen
D Monroe – Communications of the ACM, 2020 – dl.acm.org
… technologist and the artist," said Bar- ron, whose current work at Magnopus aims to extend storytelling to the realm of virtual and augmented reality … the power of the computer to teach it to simulate reality, whether it's through creating a performance or a synthetic human or an …
The Effect of Virtual Reality on Knowledge Transfer and Retention in Collaborative Group-Based Learning for Neuroanatomy Students
V Souza, A Maciel, L Nedel, R Kopper… – … Augmented Reality  …, 2020 – ieeexplore.ieee.org
… 2020 22nd Symposium on Virtual and Augmented Reality (SVR … The general results indicated that the application of virtual reality capabilities plays an important role in improving the performance of different health … 3. Neuroanatomy students assembling the synthetic human brain …
A Virtual Reality Based Surgical Simulation as an Alternative of Halal Surgical Trainings and Better Surgical Planning
S Rianto – IOP Conference Series: Materials Science and …, 2020 – iopscience.iop.org
… This is a virtual reality application in surgery simulation for minimally invasive surgery … The simulator has a synthetic human torso into which can be placed surgical procedures to allow trainees to introduce surgical like devices with force feedback Page 4 …
Positive Personality Education: An Ontological Aspect
HP Shevchenko, TL Antonenko… – Journal of History …, 2020 – kutaksam.karabuk.edu.tr
… Active interaction between different spaces, values, and meanings deepens the interdependence of the whole world. At the same time people who immerse in a virtual reality, which gives them easily accessible and brighter opportunities, lose connection with their "living" …
Learning Neural Light Transport
P Sanzenbacher, L Mescheder, A Geiger – arXiv preprint arXiv …, 2020 – arxiv.org
… Abstract In recent years, deep generative models have gained significance due to their ability to synthesize natural-looking images with applications ranging from virtual reality to data aug- mentation for training computer vision models …
Achieving affective human–virtual agent communication by enabling virtual agents to imitate positive expressions
T Numata, H Sato, Y Asa, T Koike, K Miyata… – Scientific reports, 2020 – nature.com
Affective communication, communicating with emotion, during face-to-face communication is critical for social interaction. Advances in artificial intelligence have made it essential to develop affective human–virtual agent communication. A person's belief during human–virtual agent …
Exploring the utility and student perceptions of synthetic cadavers in an undergraduate human anatomy course
NS Richardson, D Zwambag, K McFall… – Anatomical Sciences …, 2020 – Wiley Online Library
… et al., 2016), augmented and virtual reality (Codd and Choudhury, 2011; Moro et al., 2017; Barmacki … milieu is the full-sized synthetic human cadaver … Enhancement of anatomical education using augmented reality: An empirical study of body painting. Anat Sci Educ …
AdaFuse: Adaptive Multiview Fusion for Accurate Human Pose Estimation in the Wild
Z Zhang, C Wang, W Qiu, W Qin, W Zeng – International Journal of …, 2020 – Springer
… The task has attracted a lot of attention because it can benefit many applications such as augmented and virtual reality (Starner et al … We also create a synthetic human pose dataset in which human are purposely occluded by objects …
Single-Shot 3D Mesh Estimation via Adversarial Domain Adaptation
A Ghosh, R Chellappa – SN Computer Science, 2020 – Springer
… mass index (BMI) estimation from image/video, video synthesis, mixed reality and virtual … SURREAL provides photo-realistic image sequences of 3D synthetic humans [50] generated based on … parameter inference task, the source domain consists of synthetic human images with …
Training instance segmentation neural network with synthetic datasets for crop seed phenotyping
Y Toda, F Okura, J Ito, S Okada, T Kinoshita… – Communications …, 2020 – nature.com
… for human labor. A successful example can be found in person image analysis method that uses the image dataset with synthetic human models 21 for various uses such as person pose estimation 22 . Similar approaches have …
Self-supervised 3D human pose estimation via part guided novel image synthesis
JN Kundu, S Seth, V Jampani… – Proceedings of the …, 2020 – openaccess.thecvf.com
… This ill-posed classical inverse problem has diverse applications in human-robot interaction [53], augmented reality [15], gaming industry, etc. In a fully-supervised setting [52, 39, 10], the advances *Equal contribution. 1Project page: http://val.cds.iisc.ac.in/pgp-human …
Future prototyping Exhibition Catalogue
P Loh, M Qu, D Leggett – 2020 – minerva-access.unimelb.edu.au
… to mineralogical, light-weighting to waste-eliminating, visually-affective to reactively-sculpted, temporal to textile, pneumatic to auditory, paper to metal, interactively artistic to robotically prosthetic, self- organising to tele-present, artificially intelligent to mixed reality, and timber …
DeepTracking-Net: 3D Tracking with Unsupervised Learning of Continuous Flow
S Yuan, X Li, Y Fang – arXiv preprint arXiv:2006.13848, 2020 – arxiv.org
… 1836 (2006) 5. Chai, L., Hoff, WA, Vincent, T.: Three-dimensional motion and structure esti- mation using inertial sensors and computer vision for augmented reality … Varol, G., Romero, J., Martin, X., Mahmood, N., Black, MJ, Laptev, I., Schmid, C.: Learning from synthetic humans …
SDM3d: shape decomposition of multiple geometric priors for 3D pose estimation
M Jiang, Z Yu, C Li, Y Lei – Neural Computing and Applications, 2020 – Springer
… The experiment results show the effectiveness of SDM3d. Introduction. In many computer vision applications, such as human–robot interaction [16], virtual reality (VR) [18], and video surveillance [32], it is crucial to analyze and reconstruct the 3D object [1, 9, 28, 42, 59] …
Multi-scale Recalibration with Advanced Geometry Constraints for 3D Human Pose Estimation
M Xiao, H Xia, Z Xie, C Feng – 2020 IEEE 6th International …, 2020 – ieeexplore.ieee.org
… Keywords-3D human pose estimation; multi-scale recalibration; geometry constraint I. INTRODUCTION Human pose estimation is widely applied in human- computer interaction, virtual reality, and motion recognition … Learning from synthetic humans …
A Review Of 3D Human Pose Estimation From 2D Images
K BARTOL, D BOJANI?, T PETKOVI?, N D'APUZZO… – researchgate.net
… vision tasks, whose applications span from action detection [37] and recognition [36] to human tracking [27], augmented reality [5], video … viewpoints (indoors).To extend to outdoor scenes and enrich the dataset, they also provide controlled mixed reality evaluation scenarios …
Recurrent Multi-view Alignment Network for Unsupervised Surface Registration
W Feng, J Zhang, H Cai, H Xu, J Hou, H Bao – arXiv preprint arXiv …, 2020 – arxiv.org
Page 1. Recurrent Multi-view Alignment Network for Unsupervised Surface Registration Wanquan Feng1 Juyong Zhang1* Hongrui Cai1 Haofei Xu1 Junhui Hou2 Hujun Bao3 1University of Science and Technology of China 2City University of Hong Kong 3Zhejiang University …
Gamifying the teaching of facial expressions for children with autistic spectrum disorder
FAA Ribeiro, ÁIS Pereira, M de Sousa Freitas… – Revista …, 2020 – revista.ufs.br
… Drab e Artner (2005), developed an Augmented Reality Environment for teaching? learningof Diabetes Mellitus (AREDM), which was performed by means of three? dimensional, interactive and real?time representations of its main … intravenous synthetic human secretin in the …
Second-Order Spectral Transform Block for 3D Shape Classification and Retrieval
R Yu, J Sun, H Li – IEEE Transactions on Image Processing, 2020 – ieeexplore.ieee.org
… They enable wide applications such as human-computer inter- action, facial animation, archaeology, autonomous vehicles, virtual reality [1]–[3], etc. The classification and retrieval of 3D shapes are fundamental research topics in computer …
Sensor-realistic Synthetic Data Engine for Multi-frame High Dynamic Range Photography
J Hu, G Choe, Z Nadir, O Nabil… – Proceedings of the …, 2020 – openaccess.thecvf.com
Page 1. Sensor-realistic Synthetic Data Engine for Multi-frame High Dynamic Range Photography Jinhan Hu?1, Gyeongmin Choe2, Zeeshan Nadir2, Osama Nabil?3, Seok-Jun Lee2, Hamid Sheikh2, Youngjun Yoo2, and Michael Polley2 …
Pose Recognition of 3D Human Shapes via Multi-View CNN with Ordered View Feature Fusion
H Wang, P He, N Li, J Cao – Electronics, 2020 – mdpi.com
Rapid pose classification and pose retrieval in 3D human datasets are important problems in shape analysis. In this paper, we extend the Multi-View Convolutional Neural Network (MVCNN) with ordered view feature fusion for orientation-aware 3D human pose classification and …
Achieving affective human–virtual agent communication by enabling virtual agents to imitate positive expressions
N Takashi, S Hiroki, A Yasuhiro… – Scientific Reports …, 2020 – search.proquest.com
… For example, a person's emotional recognition of expressions made by a non-human agent with a non-proportionally sized facial features to human and synthetic human facial features was worse than for those made by humans and synthetic humans37 …
Monocular human pose estimation: A survey of deep learning-based methods
Y Chen, Y Tian, M He – Computer Vision and Image Understanding, 2020 – Elsevier
… research field and can be applied to many applications such as action/activity recognition (Li et al., 2017b, Luvizon et al., 2018, Li et al., 2018b), action detection (Li et al., 2017a), human tracking (Insafutdinov et al., 2017), Movies and animation, Virtual reality, Human–computer …
Learning to Estimate the Body Shape Under Clothing from a Single 3D Scan
P Hu, NN Kaashki, V Dadarlat… – IEEE Transactions on …, 2020 – ieeexplore.ieee.org
… Munteanu Abstract—Estimating the 3D human body shape and pose un- der clothing is important for many applications, including virtual try-on, non-contact body measurement, and avatar creation for virtual reality. Existing …
Srnet: Improving generalization in 3d human pose estimation with a split-and-recombine approach
A Zeng, X Sun, F Huang, M Liu, Q Xu, S Lin – European Conference on …, 2020 – Springer
… Download conference paper PDF. 1 Introduction. Human pose estimation is a longstanding computer vision problem with numerous applications, including human-computer interaction, augmented reality, and computer animation …
CHRISTIANITY, SCIENCE, AND THREE PHASES OF BEING HUMAN: with Bruce R. Reichenbach,"Christianity, Science, and Three Phases of Being Human"; and …
BR Reichenbach – Zygon® – Wiley Online Library
Abstract The alleged conflict between religion and science most pointedly focuses on what it is to be human. Western philosophical thought regarding this has progressed through three broad stages: …
Neural re-rendering of humans from a single image
K Sarkar, D Mehta, W Xu, V Golyanik… – European Conference on …, 2020 – Springer
… Download conference paper PDF. 1 Introduction. Algorithms to realistically render dressed humans under controllable poses and viewpoints are essential for character animation, 3D video, or virtual and augmented reality, to name a few …
SelfPose: 3D Egocentric Pose Estimation from a Headset Mounted Camera
D Tome, T Alldieck, P Peluse, G Pons-Moll… – arXiv preprint arXiv …, 2020 – arxiv.org
… Torre Abstract—We present a new solution to egocentric 3D body pose estimation from monocular images captured from a downward looking fish-eye camera installed on the rim of a head mounted virtual reality device. This …
Learning from THEODORE: A Synthetic Omnidirectional Top-View Indoor Dataset for Deep Transfer Learning
T Scheck, R Seidel, G Hirtz – Proceedings of the IEEE/CVF …, 2020 – openaccess.thecvf.com
… A few application fields are navigation of autonomous systems through visual odometry, personal security in public trans- portation services or in virtual reality. We expect a strong growth of the research field on omnidirectional images in computer vision …
Synthetic Training for Accurate 3D Human Pose and Shape Estimation in the Wild
A Sengupta, I Budvytis, R Cipolla – arXiv preprint arXiv:2009.10013, 2020 – arxiv.org
… metrics. 1 Introduction 3D human shape and pose estimation from a single RGB image is a challenging computer vision problem, with widespread applications in computer animation and augmented reality. Recently, several …
Sequential 3D human pose and shape estimation from point clouds
K Wang, J Xie, G Zhang, L Liu… – Proceedings of the IEEE …, 2020 – openaccess.thecvf.com
… from a sequence of point clouds. 1. Introduction Recovering 3D human shapes has numerous real-world applications in robotics, augmented reality (AR) and virtu- al reality (VR). Particularly, with the recent advancemen- t of …
Reconstructing Human Body Mesh from Point Clouds by Adversarial GP Network
B Zhou, JS Franco, F Bogo, B Tekin… – Proceedings of the …, 2020 – openaccess.thecvf.com
… human shape matching is a problem of broad interest in com- puter vision, for a variety of applications relevant to Augmented and Virtual Reality, surveillance and … Varol, G., Romero, J., Martin, X., Mahmood, N., Black, MJ, Laptev, I., Schmid, C.: Learning from synthetic humans …
Weakly Supervised Deep Functional Map for Shape Matching
A Sharma, M Ovsjanikov – arXiv preprint arXiv:2009.13339, 2020 – arxiv.org
… Page 2. which is of great interest in robotics[Chavdar et al., 2012] and Virtual reality applications[Sharma et al., 2016]. To this end, we propose a weakly supervised framework that addresses all three major issues. In this paper …
DOPE: Distillation Of Part Experts for whole-body 3D pose estimation in the wild
P Weinzaepfel, R Brégier, H Combaluzier… – … on Computer Vision, 2020 – Springer
… Download conference paper PDF. 1 Introduction. Understanding humans in real-world images and videos has numerous potential applications ranging from avatar animation for augmented and virtual reality [15, 46] to robotics [21, 23] …
MonoEye: Multimodal Human Motion Capture System Using A Single Ultra-Wide Fisheye Camera
DH Hwang, K Aso, Y Yuan, K Kitani… – Proceedings of the 33rd …, 2020 – dl.acm.org
Page 1. MonoEye: Multimodal Human Motion Capture System Using A Single Ultra-Wide Fisheye Camera Dong-Hyun Hwang1, Kohei Aso1, Ye Yuan2, Kris Kitani2, Hideki Koike1 1Tokyo Institute of Technology Meguro-ku, Tokyo …
SimPose: Effectively Learning DensePose and Surface Normals of People from Simulated Data
T Zhu, P Karlsson, C Bregler – European Conference on Computer Vision, 2020 – Springer
… modest in-the-wild accuracy. Improving the accuracy may lead to new applications such as telepresence in virtual reality, large-scale sports video analysis, and 3D MoCap on consumer devices. The challenges presented in …
I2L-MeshNet: Image-to-lixel prediction network for accurate 3D human pose and mesh estimation from a single RGB image
G Moon, KM Lee – arXiv preprint arXiv:2008.03713, 2020 – arxiv.org
… vertex locations. This is a very challenging task because of complicated human articulation and 2D-to-3D ambiguity. It can be used in many applications such as virtual/augmented reality and human action recognition. SMPL [28 …
Group-Level Emotion Recognition Using a Unimodal Privacy-Safe Non-Individual Approach
A Petrova, D Vaufreydaz, P Dessus – Proceedings of the 2020 …, 2020 – dl.acm.org
… The literature presents a wide variety of Convolutional Neural Networks (CNNs) algorithms with extensive applications in many areas, such as human-computer interaction, image retrieval, surveillance, virtual reality, etc … 2017. Learning from synthetic humans …
Temporally Refined Graph U-Nets for Human Shape and Pose Estimation From Monocular Videos
Y Zhao, Y Dou, J Feng – IEEE Signal Processing Letters, 2020 – ieeexplore.ieee.org
… I. INTRODUCTION HUMAN analysis from monocular videos has numerous applications in real life, such as robotics, 3D animation, virtual reality and so on … Int. Conf. 3D Vis., 2018, pp. 98–109. [17] G. Varol et al., "Learning from synthetic humans," in Proc. Comput. Vis …
ElderSim: A Synthetic Data Generation Platform for Human Action Recognition in Eldercare Applications
H Hwang, C Jang, G Park, J Cho, IJ Kim – arXiv preprint arXiv:2010.14742, 2020 – arxiv.org
Page 1. ELDERSIM:ASYNTHETIC DATA GENERATION PLATFORM FOR HUMAN ACTION RECOGNITION IN ELDERCARE APPLICATIONS APREPRINT Hochul Hwang Artificial Intelligence & Robotics Institute Korea Institute …
Towards Locality Similarity Preserving to 3D Human Pose Estimation
S Zhou, M Jiang, Q Wang, Y Lei – Proceedings of the Asian …, 2020 – openaccess.thecvf.com
… 3D human pose estimation from a single RGB image is quite an important task in the field of computer vision with a variety of practical applications, such as human-robot interaction, virtual reality, activity recognition, and abnormal be- havior detection [1–6]. Estimating 3D …
Temporal Interpolation of human point clouds using neural networks and body part segmentation
IR Corbella – dis.cwi.nl
… Page 7. 7 1. Introduction In the current technology revolution, Cross Reality (XR) Technologies (term that includes Augmented Reality, Virtual Reality and Mixed Reality) are gaining popularity. Because of this, new software, hardware …
Learning to Generate 3D Training Data Through Hybrid Gradient
D Yang, J Deng – Proceedings of the IEEE/CVF Conference …, 2020 – openaccess.thecvf.com
Page 1. Learning to Generate 3D Training Data through Hybrid Gradient Dawei Yang1,2 1University of Michigan ydawei@umich.edu Jia Deng2 2Princeton University jiadeng@cs.princeton.edu Abstract Synthetic images rendered …
Deep Learning-Based Human Pose Estimation: A Survey
C Zheng, W Wu, T Yang, S Zhu, C Chen, R Liu… – arXiv preprint arXiv …, 2020 – arxiv.org
… videos. It has drawn increasing attention during the past decade and has been utilized in a wide range of applications including human-computer interaction, motion analysis, augmented reality, and virtual reality. Although the …
Fine-Grained Vehicle Perception via 3D Part-Guided Visual Data Augmentation
F Lu, Z Liu, H Miao, P Wang, L Zhang, R Yang… – arXiv preprint arXiv …, 2020 – arxiv.org
Page 1. 1 Fine-Grained Vehicle Perception via 3D Part-Guided Visual Data Augmentation Feixiang Lu, Zongdai Liu, Hui Miao, Peng Wang, Liangjun Zhang, Ruigang Yang, Senior Member, IEEE, Dinesh Manocha, Fellow, IEEE, and Bin Zhou …
The 'Other'Actor
N Masura – Digital Theatre, 2020 – Springer
This chapter asks about the nature of the actor in the age of digital puppetry. What are the challenges and benefits of acting alongside animations and video projections? It discusses the way the…
Non-rigid 3D reconstruction of the human body in motion
S Elanattil – 2020 – eprints.qut.edu.au
Page 1. Non-rigid 3D Reconstruction of the Human Body in Motion Shafeeq Elanattil Bachelor of Technology (Hons) Submitted in Fulfilment of the Requirements for the Degree of Doctor of Philosophy Queensland University of Technology Science and Engineering Faculty …
Recognizing new classes with synthetic data in the loop: application to traffic sign recognition
G Villalonga, J Van de Weijer, AM López – Sensors, 2020 – mdpi.com
… 78], and benchmarking different on-board computer vision tasks [47]; building indoor scenes for semantic segmentation [79], as well as normal and depth estimation [80]; generating GT for optical flow, scene flow, and disparity [81,82]; generating augmented reality images to …
Humans interacting with intelligent machines: at the crossroads of symbiotic teamwork
MD McNeese, NJ McNeese – Living with robots, 2020 – Elsevier
… Virtual places contain attributes that amplify meaningful relationships, extend computational work or facilitate joint activities, or render entertainment venues (eg, YouTube) that can utilize augmented or virtual reality, chat rooms, blogs, shared writing mediums (Google Docs …
Unsupervised Domain Adaptation with Temporal-Consistent Self-Training for 3D Hand-Object Joint Reconstruction
M Qi, E Remelli, M Salzmann, P Fua – arXiv preprint arXiv:2012.11260, 2020 – arxiv.org
Page 1. IEEE TRANSACTIONS ON IMAGE PROCESSING 1 Unsupervised Domain Adaptation with Temporal-Consistent Self-Training for 3D Hand-Object Joint Reconstruction Mengshi Qi, Member, IEEE, Edoardo Remelli, Mathieu Salzmann, and Pascal Fua, Fellow, IEEE …
MONOCULAR 3D HUMAN BODY RECONSTRUCTION
A VENKAT – 2020 – web2py.iiit.ac.in
… A wide range of applications possible because of 3D Human Shape Recovery – (a) Procuring animatable 3D shape for gaming and animation, (b) Analysis of Sports Bio- mechanics, (c) Augmented Reality (AR) based Chat rooms, (d) Virtual Reality (VR) basedDressingRooms …
Omnis Prædictio: Estimating the full spectrum of human performance with stroke gestures
LA Leiva, RD Vatavu, D Martín-Albo… – International Journal of …, 2020 – Elsevier
JavaScript is disabled on your browser. Please enable JavaScript to use all the features on this page. Skip to main content Skip to article …
Dynamic human body reconstruction and motion tracking with low-cost depth cameras
K Wang, G Zhang, J Yang, H Bao – The Visual Computer, 2020 – Springer
… computer vision, computer graphics, and multimedia. It has numerous applications in many areas such as movie special effects, video game, tele-presence, online shopping, and virtual reality. With the development of low-cost …
Deep imitator: Handwriting calligraphy imitation via deep attention networks
B Zhao, J Tao, M Yang, Z Tian, C Fan, Y Bai – Pattern Recognition, 2020 – Elsevier
JavaScript is disabled on your browser. Please enable JavaScript to use all the features on this page. Skip to main content Skip to article …
HUMAN4D: A Human-Centric Multimodal Dataset for Motions and Immersive Media
A Chatzitofis, L Saroglou, P Boutis, P Drakoulis… – IEEE …, 2020 – ieeexplore.ieee.org
… vision research community and beyond. Several research works [4], [5] provide large cor- pora with synthetic humans generated based on human body priors [6], motion capture data and more. By applying 3D surface reconstruction …
Human pose estimation from sparse 3D Data on low power systems
M Vasileiadis – 2020 – spiral.imperial.ac.uk
… ADE Average Distance Error AR Augmented Reality BFGS Broyden–Fletcher–Goldfarb–Shanno … mersiveness of modern video-games, especially in the fast-developing area of Augmented and Virtual Reality games [Pugliese et al., 2015]. Moreover, human motion capture has …
Digital Creativity Support for Original Journalism
OF THEACM – Communications of the ACM, 2020 – dl.acm.org
Page 1. INJECT ? journalism ? digitalization ? crisis ? Other angles to explore Think about new angles using one or more of these related topics: • Generate associations • Evaluate story angles • Deliver digital editorial support …
Sign language recognition: A deep survey
R Rastgoo, K Kiani, S Escalera – Expert Systems with Applications, 2020 – Elsevier
… Furthermore, most of the well-known and big technology companies, like Google, Microsoft, and Facebook, contributed to some projects in Augmented Reality (AR), Virtual Reality (VR), and Mixed Reality (MR) technology, as new interactive personal computers …
Self-supervised Learning and Domain Adaptation for Visual Analysis
K Lin – 2020 – digital.lib.washington.edu
… model for multi-person part segmentation using a synthetic dataset and a real dataset. We observe that real and synthetic humans share a common skeleton structure. During learn … We observe that real and synthetic humans share a common skeleton structure …
A review on video-based active and assisted living technologies for automated lifelogging
P Climent-Perez, S Spinsante, A Mihailidis… – Expert Systems with …, 2020 – Elsevier
Rating vs. paired comparison for the judgment of dominance on first impressions
F Nunnari, A Heloir – IEEE Transactions on Affective Computing, 2020 – ieeexplore.ieee.org
… All this recent work was conducted using virtual characters, rather than pictures of real subjects, because generators of synthetic humans allow for a precise control of the numerical parameters associated to the visual output …
Historical dictionary of science fiction cinema
MK Booker – 2020 – books.google.com
Page 1. HISTORICAL DICTIONARY of SCIENCE FICTION CINEMA SEC OND ED IT | ON M. KEITH BOOKER Page 2. Page 3. The historical dictionaries present essential information on a broad range of subjects, including American …
Adversarial Appearance Learning in Augmented Cityscapes for Pedestrian Recognition in Autonomous Driving
A Savkin, T Lapotre, K Strauss, U Akbar… – … on Robotics and …, 2020 – ieeexplore.ieee.org
… [2] HA Alhaija, SK Mustikovela, L. Mescheder, A. Geiger, and C. Rother. Augmented reality meets deep learning for car instance segmentation in urban scenes … Learning from synthetic humans. IEEE Conference on Computer Vision and Pattern Recognition (CVPR), 2017 …
Micro-and nano-layered processing of new polymeric systems
Z Li, A Olah, E Baer – Progress in Polymer Science, 2020 – Elsevier
Studying Believability in Videogame Creature Design
NVBCM Barreto – 2020 – eg.uc.pt
Page 1. Nuno Vicente Borges Correia Malaquias Barreto STUDYING BELIEVABILITY IN VIDEOGAME CREATURE DESIGN Tese no âmbito do Programa Doutoral em Ciências e Tecnologias de Informação orientada pelos …
MeTRAbs: Metric-Scale Truncation-Robust Heatmaps for Absolute 3D Human Pose Estimation
I Sárándi, T Linder, KO Arras… – IEEE Transactions on …, 2020 – ieeexplore.ieee.org
… truncation ? 1 INTRODUCTION HUMAN pose estimation is a long-standing computer vision problem with wide applicability in human- robot interaction [1], virtual reality [2], medicine [3] and commerce [4], among others. Since …
Visual Methods for Sign Language Recognition: A Modality-Based Review
B Seddik, NEB Amara – arXiv preprint arXiv:2009.10370, 2020 – arxiv.org
Page 1. Chapter 1 Visual Methods for Sign Language Recognition: A Modality-Based Review Bassem Seddik and Najoua Essoukri Ben Amara Abstract Sign language visual recognition from continuous multi-modal streams is still one of the most challenging fields …
The grateful Un-dead? Philosophical and Social Implications of Mind-Uploading
IW Kelly – 2020 – researchgate.net
… Abstract: The popular belief that our mind either depends on or (in stronger terms) is identical with brain functions and processes, along with the belief that advances in technological in virtual reality and computability will continue, has contributed to the contention that one-day …
Biomechanical locomotion heterogeneity in synthetic crowds
MB Haworth – 2020 – 130.63.180.190
… Introduction Synthetic crowd simulation is an enabling technology across a broad spectrum of fields. By simulating crowds of synthetic humans, or agents, graphics and media artists can generate rich and complex scenes; event planners can predict the impacts of their event …
3D Shape Geometric Feature Learning
M Wang – 2020 – search.proquest.com
Page 1. 3D Shape Geometric Feature Learning DISSERTATION Submitted in Partial Fulfillment of the Requirements for the Degree of DOCTOR OF PHILOSOPHY (Computer Science) at the NEW YORK UNIVERSITY TANDON SCHOOL OF ENGINEERING by Meng Wang …
Integration of Reality and Virtual Environment: Using Augmented Virtuality with Mobile Device Input
??? – 2020 – s-space.snu.ac.kr
… Augmented reality (AR) and augmented virtuality (AV) are parts of the … the term, "virtual reality" on the Mixed Reality Continuum introduced by Milgram and Kishino[88] … computer intelligence disguised in a synthetic human figure (eg, virtual humans[44]) …
Learning in-the-wild Temporal 3D Pose Estimation from MoCap Data
D Çetin – 2020 – research-collection.ethz.ch
… interact with moving people. In this context, human pose estimation has many practical applications in areas such as human-computer interaction, activity recognition and augmented/virtual reality. Human pose estimation has …
Applying deep learning and synthetic data to improve power line inspection
TT Le – 2020 – hiof.brage.unit.no
Page 1. Applying deep learning and synthetic data to improve power line inspection Master's Thesis in Computer Science Le Tuan Tai June 15, 2020 Halden, Norway Page 2. Page 3. Abstract As electricity has played a critical …
Towards a Material Landscape of TUIs, Through the Lens of the TEI Proceedings 2008-2019
S Hayes, T Hogan – … of the Fourteenth International Conference on …, 2020 – dl.acm.org
… Some of these materials may have been used just once due to incredibly specific role within a design. For instance, synthetic human hair [18] was used in HairIO to explore the potential of this particular material as a site for novel interaction styles …
Filming the Fantastic with Virtual Technology: Filmmaking on the Digital Backlot
M Sawicki, J Moody – 2020 – books.google.com
Filming the Fantastic with Virtual Technology This book brings fantasy storytelling to a whole new level by providing an in-depth insight into the tools used for virtual reality, augmented reality, and motion capture in order to repurpose them to create a virtual studio for filmmaking …
AI and sex robots: an examination of the technologization of sexuality
K Godbout-Kinney – 2020 – library2.smu.ca
Page 1. AI and Sex Robots: An Examination of the Technologization of Sexuality By Keif Godbout-Kinney A Thesis Submitted to Saint Mary's University, Halifax, Nova Scotia in Partial Fulfillment of the Requirements for the Degree of Master of Arts in Women and Gender Studies …
Becoming Artificial: A Philosophical Exploration into Artificial Intelligence and What it Means to Be Human
D Sonik, A Colarossi – 2020 – books.google.com
… and Greta Sasser. He turned off the microphone and made sure that his BEAR™ (BE EVERYWHERE! Augmented Reality™) mask was still on as he reached once more for the sriracha- flavored Cheebos. The bag was almost …
ONE WORLD ONE SCHOOL
M Douse, P Uys – 2020 – globe-online.com
Page 1. Page 2. Page 1 of 183 ONE WORLD ONE SCHOOL Education's forthcoming fundamental transformation Mike Douse and Philip Uys Download – PDF for free http://www.globe-online.com/oneworldoneschool.pdf – Kindle …
Learning to Generate 3D Training Data
D Yang – 2020 – deepblue.lib.umich.edu
Page 1. Learning to Generate 3D Training Data by Dawei Yang A dissertation submitted in partial fulfillment of the requirements for the degree of Doctor of Philosophy (Computer Science and Engineering) in the University of Michigan 2020 Doctoral Committee …
A Discussion between Two French Translators of Chinese Science Fiction
L Aloisio, G Gaffric – SFRA Review, 2020 – monoskop.org
Page 72. SFRA Review 50.2-3• Spring-Summer 2020• 71 A DISCUSSION BETWEEN TWO FRENCH TRANSLATOR OF CHINESE SF A Discussion between Two French Translators of Chinese Science Fiction Loïc Aloisio Aix …
A review of 3D human pose estimation algorithms for markerless motion capture
Y Desmarais, D Mottet, P Slangen… – arXiv preprint arXiv …, 2020 – arxiv.org
Page 1. 1 A review of 3D human pose estimation algorithms for markerless motion capture Yann Desmaraisa, Denis Mottetb, Pierre Slangena, Philippe Montesinosa,? a EuroMov Digital Health in Motion, Univ Montpellier, IMT …