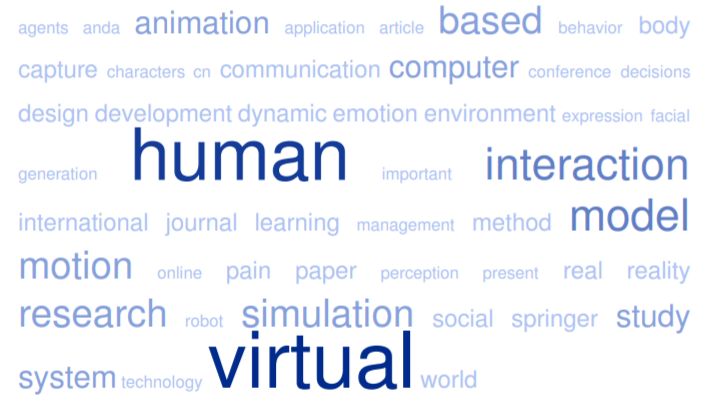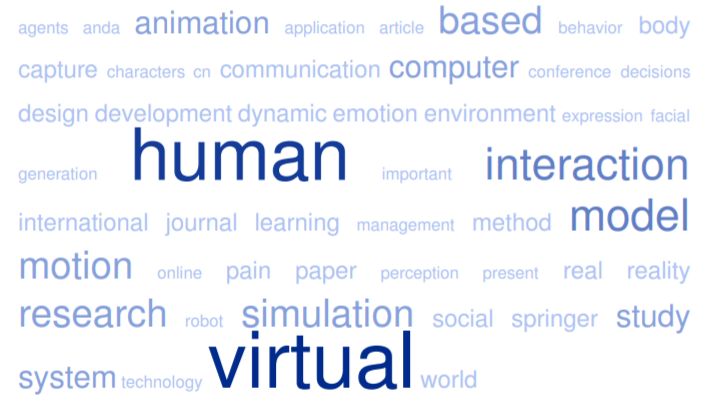 Notes:
In 2013, Virtual Humans were being used in a variety of ways, including:
As conversational agents in chatbots and other natural language processing systems.
As avatars in virtual reality environments, allowing users to interact with virtual worlds in a more immersive and realistic way.
As digital assistants, providing information and assistance to users in a range of contexts, such as healthcare, education, and customer service.
As training and simulation tools, allowing users to practice and rehearse complex tasks and scenarios in a safe and controlled environment.
As entertainment and marketing tools, providing engaging and interactive experiences for users.
Overall, Virtual Humans were starting to become more common and widely used in 2013, as advances in technology made it possible to create more realistic and sophisticated virtual characters.
See also:
---
Virtual humans for learning
W Swartout, R Artstein, E Forbell, S Foutz, HC Lane… – AI Magazine, 2013 – aaai.org
Virtual humans are computer-generated characters designed to look and behave like real people. Studies have shown that virtual humans can mimic many of the social effects that one finds in human-human interactions such as creating rapport, and people respond to …
Pro-arrhythmogenic effects of atrial fibrillation-induced electrical remodelling: insights from the three?dimensional virtual human atria
MA Colman, OV Aslanidi, S Kharche… – The Journal of …, 2013 – Wiley Online Library
Chronic atrial fibrillation (AF) is associated with structural and electrical remodelling in the atria, which are associated with a high recurrence of AF. Through biophysically detailed computer modelling, this study investigated mechanisms by which AF?induced electrical …
Navigation and steering for autonomous virtual humans
M Kapadia, NI Badler – Wiley Interdisciplinary Reviews …, 2013 – Wiley Online Library
The ever?increasing applicability of interactive virtual worlds in industry and academia has given rise to the need for robust, versatile autonomous virtual humans to inject life into these environments. There are two fundamental problems that must be addressed to produce …
Verbal indicators of psychological distress in interactive dialogue with a virtual human
D DeVault, K Georgila, R Artstein, F Morbini… – Proceedings of the …, 2013 – aclweb.org
We explore the presence of indicators of psychological distress in the linguistic behavior of subjects in a corpus of semistructured virtual human interviews. At the level of aggregate dialogue-level features, we identify several significant differences between subjects with …
Empathy toward virtual humans depicting a known or unknown person expressing pain
S Bouchard, F Bernier, E Boivin… – … , Behavior, and Social …, 2013 – liebertpub.com
This study is about pain expressed by virtual humans and empathy in users immersed in virtual reality. It focuses on whether people feel more empathy toward the pain of a virtual human when the virtual human is a realistic representation of a known individual, as …
Virtual human modeling for interactive assembly and disassembly operation in virtual reality environment
S Qiu, X Fan, D Wu, Q He, D Zhou – The International Journal of Advanced …, 2013 – Springer
Real operators are the initiators in assembly and disassembly activities. They participate throughout the whole process. In this sense, as an avatar of a real operator, virtual human (VH) plays an important role in virtual assembly and maintenance simulations. After detailed …
Virtual humans: a new toolkit for cognitive science research
J Gratch, A Hartholt, M Dehghani… – Proceedings of the …, 2013 – cloudfront.escholarship.org
Virtual humans (VHs) are digital anthropomorphic characters that exist within virtual worlds but are designed to perceive, understand and interact with real-world humans. Although typically conceived as practical tools to assist in a range of application (eg, HCI, training and …
Human-virtual human interaction by upper body gesture understanding
Y Xiao, J Yuan, D Thalmann – Proceedings of the 19th ACM symposium …, 2013 – dl.acm.org
In this paper, a novel human-virtual human interaction system is proposed. This system supports a real human to communicate with a virtual human using natural body language. Meanwhile, the virtual human is capable of understanding the meaning of human upper …
Learning intercultural communication skills with virtual humans: Feedback and fidelity.
HC Lane, MJ Hays, MG Core… – Journal of Educational …, 2013 – psycnet.apa.org
In the context of practicing intercultural communication skills, we investigated the role of fidelity in a game-based, virtual learning environment as well as the role of feedback delivered by an intelligent tutoring system. In 2 experiments, we compared variations on the …
The LINDSAY Virtual Human Project: An immersive approach to anatomy and physiology
JK Tworek, HA Jamniczky, C Jacob… – Anatomical sciences …, 2013 – Wiley Online Library
The increasing number of digital anatomy teaching software packages challenges anatomy educators on how to best integrate these tools for teaching and learning. Realistically, there exists a complex interplay of design, implementation, politics, and learning needs in the …
The virtual human face: superimposing the simultaneously captured 3D photorealistic skin surface of the face on the untextured skin image of the CBCT scan
KB Naudi, R Benramadan, L Brocklebank, X Ju… – International journal of …, 2013 – Elsevier
The aim of this study was to evaluate the impact of simultaneous capture of the three-dimensional (3D) surface of the face and cone beam computed tomography (CBCT) scan of the skull on the accuracy of their registration and superimposition. 3D facial images were …
Evaluating the effect of emotion on gender recognition in virtual humans
K Zibrek, L Hoyet, K Ruhland… – Proceedings of the ACM …, 2013 – dl.acm.org
In this paper, we investigate the ability of humans to determine the gender of conversing characters, based on facial and body cues for emotion. We used a corpus of simultaneously captured facial and body motions from four male and four female actors. In our Gender …
Ergonomic design through virtual Humans
G Colombo, D Regazzoni, C Rizzi – Computer-Aided Design and …, 2013 – Taylor & Francis
This paper presents a methodological approach to analyze ergonomic issues of equipment specifically designed to load refrigerated display units. The methodology is based on the integrated use of virtual humans and prototyping techniques and on the comparison …
Leveraging virtual humans to effectively prepare learners for stressful interpersonal experiences
A Robb, R Kopper, R Ambani, F Qayyum… – IEEE transactions on …, 2013 – ieeexplore.ieee.org
Stressful interpersonal experiences can be difficult to prepare for. Virtual humans may be leveraged to allow learners to safely gain exposure to stressful interpersonal experiences. In this paper we present a between-subjects study exploring how the presence of a virtual  …
Using virtual human technology to capture dentists' decision policies about pain
LD Wandner, AT Hirsh, CA Torres… – Journal of dental …, 2013 – journals.sagepub.com
Healthcare professionals use race, gender, and age cues when making pain management decisions. Use of these demographic cues, therefore, is an important topic in the study of healthcare disparities. This study used virtual human (VH) technology to investigate the …
On scaling virtual human models
L Hyncik, H Cechova, L Kovar, P Blaha – 2013 – papers.sae.org
The paper contributes to the development of virtual biomechanical human models as a support for design and optimization of both passive and active safety systems used in various modes of transportation. The paper shows the scaling methodology as simply as …
A conversational virtual human as autonomous assistant for elderly and cognitively impaired users? Social acceptability and design considerations
M Kramer, R Yaghoubzadeh, S Kopp… – … angepasst an Mensch …, 2013 – pub.uni-bielefeld.de
In this paper we explore how a conversational virtual human could be designed to be deployed as a socially acceptable autonomous assistive system for elderly and cognitively impaired users. In particular, we focus on a system's functionality in helping to maintain a …
The influence of sex, race, and age on pain assessment and treatment decisions using virtual human technology: a cross-national comparison
CA Torres, EJ Bartley, LD Wandner… – Journal of pain …, 2013 – ncbi.nlm.nih.gov
Purpose Studies in the United States have found that patients' sex, race, and age influence the pain assessment and treatment decisions of laypeople and medical professionals. However, there is limited research as to whether people of other nationalities make pain …
Virtual humans and gesturing during multimedia learning: An investigation of predictions from the temporal contiguity effect
J Twyford, S Craig – E-Learn: World Conference on E-Learning in …, 2013 – learntechlib.org
Virtual Humans are becoming an easily available and popular component of multimedia learning that are often used in online learning environments. While they offer new affordances for multimedia learning, little systematic research has been conducted to …
Human perception of a conversational virtual human: An empirical study on the effect of emotion and culture
C Qu, WP Brinkman, Y Ling, P Wiggers, I Heynderickx – Virtual Reality, 2013 – Springer
Virtual reality applications with virtual humans, such as virtual reality exposure therapy, health coaches and negotiation simulators, are developed for different contexts and usually for users from different countries. The emphasis on a virtual human's emotional expression …
The German VR Simulation Realism Scale-Psychometric Construction for Virtual Reality Applications with Virtual Humans.
S Poeschl, N Doering – Annual Review of Cybertherapy and …, 2013 – books.google.com
Virtual training applications with high levels of immersion or fidelity (for example for social phobia treatment) produce high levels of presence and therefore belong to the most successful Virtual Reality developments. Whereas display and interaction fidelity (as sub …
The perceptive puppet: Seamless embodiment exchange between real and virtual humans in virtual environments for training
AS Luna, V Gouranton, T Lopez… – … on Computer Graphics …, 2013 – hal.archives-ouvertes.fr
We present a novel mechanism that allows real and virtual humans to dynamically exchange the control of their embodiment in virtual environments. Such a mechanism raises two important issues: the possibility of dynamic embodiment exchanges between real …
Real-time control of 3D virtual human motion using a depth-sensing camera for agricultural machinery training
C Wang, Q Ma, D Zhu, H Chen, Z Yang – Mathematical and Computer …, 2013 – Elsevier
To recreate human movements in a virtual environment in real time, we propose a new method for real-time tracking of 3D virtual full-body motion using a depth-sensing camera. The method uses natural interaction and a non-contact mode. The 3D virtual environment …
Evaluating and benchmarking the interactions between a humanoid robot and a virtual human for a real-world social task
SMM Rahman – International Conference on Advances in Information …, 2013 – Springer
We developed two social agents (a virtual human and a humanoid robot) with various similar functionalities, interaction modalities, intelligence, autonomy etc. and integrated them through a common communication platform based on a novel control algorithm to assist …
Automatic system for virtual human reconstruction with 3D mesh multi-texturing and facial enhancement
R Pagés, D Berjón, F Morán – Signal Processing: Image Communication, 2013 – Elsevier
The present paper presents a fully automatic low-cost system for generating animatable and statically multi-textured avatars of real people captured with several standard cameras. Our system features a novel technique for generating view-independent texture atlases …
On the Relevance of Using Virtual Humans for Motor Skills Teaching: A Case Study on Karate Gestures
AM Burns – 2013 – hal.inria.fr
The main question of that thesis is on the relevance of using virtual humans to teach complex motor skills. The first study explores the question of the feasibility of learning by imitation of a virtual human by comparing the improvement of the performance on three …
Simulating the data investigative cycle in less than two hours: Using a virtual human population, cloud collaboration and a statistical package to engage …
J Baglin, J Reece, M Bulmer… – Proceedings of the Joint …, 2013 – Citeseer
Providing practical and relevant experience with the data investigative process is known to help engage students in quantitative research methods courses; however, limited student experience, time constraints, and ethical concerns present serious challenges to this goal …
A cross-cultural study of playing simple economic games online with humans and virtual humans
E Nouri, D Traum – International Conference on Human-Computer …, 2013 – Springer
We compare the simple online economic interactions between a human and a multimodal communication agent (virtual human) to the findings of similar simple interactions with other humans and those that were run in the laboratory. We developed protocols and dialogue …
Eye, lip and crying expression for virtual human
MC Prasetyahadi, IR Ali, AH Basori… – International Journal of …, 2013 – researchgate.net
Eye movement, lip and crying expression are facial elements that able to give realistic expression on virtual human, especially on transferring emotion expression from human to virtual human. Eye expression can be described through standard approach such as …
Surface text based dialogue models for virtual humans
S Gandhe, D Traum – Proceedings of the SIGDIAL 2013 Conference, 2013 – aclweb.org
We present virtual human dialogue models which primarily operate on the surface text level and can be extended to incorporate additional information state annotations such as topics or results from simpler models. We compare these models with previously proposed models …
Let's keep in touch online: a Facebook aware virtual human interface
G Liu, S Choudhary, J Zhang… – The Visual …, 2013 – Springer
A virtual human is an effective interface for interacting with users and plays an important role in carrying out certain tasks. As social networking sites are getting more and more popular, we propose a Facebook aware virtual human. The social networking sites are used to …
Diagnosis of atrial ectopic origin from the body surface ECG: Insights from 3D virtual human atria and torso
EAP Alday, MA Colman, TD Butters… – Computing in …, 2013 – ieeexplore.ieee.org
Ectopic atrial activity underlies atrial tachycardia (AT), which, may predispose to atrial fibrillation (AF). Such abnormal excitation may be reflected as an alteration in the P-wave morphology (PWM) of the body surface potential (BSP). Identifying the location of the ectopic …
Pain assessment and treatment decisions for virtual human patients
LD Wandner, SZ George, BC Lok… – … , Behavior, and Social …, 2013 – liebertpub.com
Laypeople and healthcare professionals use demographic cues when making pain management decisions. These decisions can negatively affect patient outcomes. This study examined whether laypeople base their pain management decisions in part on pain-related …
Macgyver virtual agents: using ontologies and hierarchies for resourceful virtual human decision-making
JT Balint, JM Allbeck – … of the 2013 International Conference on …, 2013 – dl.acm.org
Virtual Humans are becoming an ever more important asset in games, movies, and training simulations. The ability for virtual humans to select appropriate actions and objects for plausible behaviors is vital to creating believable and resourceful agents. For this purpose, a …
An integration framework for motion and visually impaired virtual humans in interactive immersive environments
F Sulzmann, R Blach, M Dangelmaier – International Conference on …, 2013 – Springer
A flexible framework has been created to test products taking into account different impairments. This system offers new opportunities to check products and design products as accessible as possible. The modular approach allows the integration of further models and …
Lesson authoring system for creating interactive activities involving virtual humans the thinking head whiteboard
M Milne, R Leibbrandt, P Raghavendra… – Intelligent Agent (IA) …, 2013 – academia.edu
Educators continually strive to provide learning materials that are specifically adapted to their students' unique learning preferences and needs. Software use continues to grow in classrooms however typical educational programs cannot be modified to suit individual …
People-centric adaptive social ecology between intelligent autonomous humanoid robot and virtual human for social cooperation
SMM Rahman – International Joint Conference on Ambient Intelligence, 2013 – Springer
The paper presents a simple people-centric adaptive ecology between a humanoid robot and a virtual human (social agents) to perform a real-world common complex social task. The social task was to assist the social agents each other in searching for a hidden object in …
Empathy and its modulation in a virtual human
H Boukricha, I Wachsmuth, MN Carminati… – Annual Conference on …, 2013 – Springer
Endowing artificial agents with the ability to empathize is believed to enhance their social behavior and to make them more likable, trustworthy, and caring. Neuropsychological findings substantiate that empathy occurs to different degrees depending on several factors …
Study on fatigue analysis and evaluation method of ergonomic virtual human
L Yun, Z Xiaoqi, Z QianXiang – World Congress on Medical Physics and …, 2013 – Springer
The ergonomic digital design and evaluation of man-machine system is the main application fields of Virtual Human Technology. Because of the complexity of physical person and uncertainty of fatigue generation mechanism, it is difficult to express and evaluate the Virtual  …
Teaching anatomy online using retrieval practice, 3D stereoscopic images and virtual human fly-through videos
MA Kolitsky – 2013 – fasebj.org
An online Human Anatomy and Physiology course used Quizlets (practice quizzes) as a form of retrieval practice pedagogy along with a lab based on reusable learning objects such as 3D anaglyph images made from stereo image pairs in the Bassett Collection at …
Scalable solutions for simulating, animating, and rendering real-time crowds of diverse virtual humans
D Thalmann, H Grillon, J Maïm, B Yersin – Modeling, Simulation and …, 2013 – Springer
In this chapter, we describe how we can model crowds in real-time using dynamic meshes, static meshes and impostors. Techniques to introduce variety in crowds including colors, shapes, textures, individual animation, individualized path-planning, simple and complex …
A game-based simulation utilizing virtual humans to train physicians to screen and manage the care of patients with mental health disorders
G Albright, C Adam, R Goldman… – GAMES FOR HEALTH …, 2013 – liebertpub.com
Every year, one in four American adults suffers from a diagnosable mental disorder, yet most of them go untreated, creating a significant public health challenge. This challenge is compounded by large-scale disasters, which can cause an influx of primary care patients …
Dynamic Motion Control Editor for Virtual Human [J]
I Ismail, MS Sunar, AH Basori – International Journal of Interactive …, 2013 – researchgate.net
Virtual human motion in computer games and animation look very dull and unrealistic. Researchers try to find a perfect balance to manipulate virtual human action in computer animation. Virtual human movement can be created by a combination of motions from …
Employee Motivation Research on Virtual Human Resource Management Based on Psychological Contract
D HAO, Z LI – Science and Technology Management Research, 2013 – en.cnki.com.cn
With the appearance of virtual human resource management, it has become a hot issue in human resource management in how to motivate knowledge workers of virtual human resource management effectively. The article, through analyzing concretely knowledge …
Hierarchical taskplanning method based on key-state for virtual human
D Zong, CP Li, SH Xia, ZQ Wang – Journal of System Simulation, 2013 – en.cnki.com.cn
Motion planning is the hot topic in character animation. The agent chooses the best motion clips to accomplish the given task by reasoning. However, few works have considered combinatorial tasks that contain multiple sub-tasks due to the problem of dimension. A novel …
A computational model of cooperative spatial behaviour for virtual humans
N Nguyen, I Wachsmuth – Representing Space in Cognition …, 2013 – pub.uni-bielefeld.de
This chapter introduces a model which connects representations of the space surrounding a virtual humanoid's body with the space it shares with several interaction partners. This work intends to support virtual humans (or humanoid robots) in near space interaction and is …
Virtual Human Model for 3D Simulation of Emergency Response of Major Industrial Accidents [J]
ZJC Guohua – Industrial Safety and Environmental Protection, 2013 – en.cnki.com.cn
After the occurrence of major industrial accidents, efficient emergency response can greatly reduce losses. Simulation analysis plays an important role in emergency training, developing emergency plans as well as emergency decision-making. Three-dimensional …
Impact Study of Nonverbal Facial Cues on Spontaneous Chatting with Virtual Humans
S Gobron, J Ahn, D Thalmann, M Skowron… – JVRB-Journal of Virtual …, 2013 – jvrb.org
Non-verbal communication (NVC) is considered to represent more than 90 percent of everyday communication. In virtual world, this important aspect of interaction between virtual humans (VH) is strongly neglected. This paper presents a user-test study to demonstrate the …
Cell repolarization variability modulates atrial fibrillation dynamics in 3D virtual human atria
C Sánchez, A Bueno-Orovio, E Pueyo… – Computing in …, 2013 – ieeexplore.ieee.org
Intersubject variability in cardiac electrophysiology might determine the patient-specific proneness to suffer and/or sustain arrhythmia episodes, such as atrial fibrillation (AF). However, its potential influence on arrhythmogenesis is not well understood. In this study …
Analysis of influence factors of virtual human real-time driven accuracy and its optimization in virtual reality environment
S Qiu, X Jing, X Fan, Q He… – ASME 2013 …, 2013 – … .asmedigitalcollection.asme.org
abstract In the case that a real operator drives a virtual human in real-time using the motion capture method and performs complex products assembling and disassembling simulation, a very high driven accuracy is needed to meet the quality requirements of interactivity and …
Simcoach an online intelligent virtual human agent system for breaking down barriers to care for service members and veterans
JG Buckwalter, J Williams, K Sagae… – Healing War Trauma: A …, 2013 – books.google.com
Over the last 15 years, virtual reality (VR) has emerged as an innovative tool for address-ing numerous issues in clinical research, assessment, and intervention. Technological advances in the areas of computation speed and power, graphics and image rendering …
Virtual Human Animation
D Thalmann, SR Musse – Crowd Simulation, 2013 – Springer
While designing an animation engine usable in crowd simulations, several criteria have to be taken into account: animation computation should be efficient and scalable, it should allow for variability, and it should be compatible with levels of detail. To understand the …
Virtual human skin deformation using Bézier curves
GF Deng, QH Gao – Application Research of Computers, 2013 – en.cnki.com.cn
For it is difficult to control the surface's shape or to connect surfaces smoothly in the traditional spline surface modeling method of the virtual human skin, this paper studied a skin deformation method using Bézier curves. The shape of Bézier curves could be …
Study on Emotion Based Walking Model for Virtual Human
Q GENG, Z LIU – Journal of System Simulation, 2013 – en.cnki.com.cn
Creating a virtual human with emotional movement is an interesting topic in the field of computer animation. An emotion based walking model was proposed based on previous research on virtual human. Emotion factor was introduced to describe the emotion state of a …
System Design of Virtual Human Science Museum
J Ge – Proceedings of the 2012 International Conference on …, 2013 – Springer
In recent years, with the use of internet and computer graphics program develop quickly, virtual reality technology emerges in an endless stream. According to this article, research museum of human sciences by Xin Xiang medical university for target, to achieve virtual …
GPU-based rendering method of virtual human motion
RJ Xu, DY Wu, Y Ming – Applied Mechanics and Materials, 2013 – Trans Tech Publ
Article Preview Article Preview Article Preview This paper doing research on the technology of multiple virtual human's rendering. With the problem of too much triangular patches needed to be rendering, make improvement on the technology of instancing based on GPU …
Optimization Techniques of Virtual Human Joints' Redundant DOFs
Q Yanqing, W Songshan, H Jianping – Computer Measurement & …, 2013 – en.cnki.com.cn
To solve the motion capture data reusing problem, an optimization method based on equivalent matrix of virtual human joints' redundant degree of freedom is proposed. This algorithm includes establishing of equivalent conversion matrix, Euler angle's solving …
A Methodology for Virtual Human Animation
FA Madera, CG Herrera, F Moo-Mena – 2013 – pdfs.semanticscholar.org
We propose a method to animate a 3D virtual human generating keyframes of the model and interpolating to achieve a realistic animation. The first two steps refer to the human modeling, the rigging and the skinning. The third step deals with the human in a …
An Emotion Model of Virtual Human Oriented to Trading Process
J LIU, Z LIU, P HUANG – Computer Engineering, 2013 – en.cnki.com.cn
Virtual human has important application value in e-business. The current trading model is lack of consideration on emotion parameters. An emotion model of virtual human in trading process is set up. The model integrates the personality and emotion of a virtual human. A …
Synthesising Tongue Movements for conversing Virtual Humans
K Ruhland, R McDonnell – pdfs.semanticscholar.org
Facial motion capture is a common method for accurately capturing realistic facial movements. An actor's performance can be used to bring a virtual human to life. However, the movement of the tongue is often forgotten in character animation. For the most part, the …
Towards Realism: Selection Techniques for Virtual Human Interaction
D Gunasekara, P Wimalaratne – Computer Graphics, Imaging …, 2013 – ieeexplore.ieee.org
Virtual community simulation has been engaged on extensive research studies with rapid usage of virtual worlds. Realistic interaction with virtual humans is a complex research area in such kind of simulations since significant concern need to be devoted in order to simulate …
Modeling Human Communication Dynamics for Virtual Human
LP Morency, A Shapiro, S Marsella – Coverbal Synchrony in …, 2013 – books.google.com
Face-to-face communication is a highly interactive process where participants mutually exchange and interpret linguistic and gestural signals. Communication dynamics represent the temporal relationship between these communicative signals. Even when only one …
Virtual Human Modeling and Simulation for Toll Booth Design in Indonesia
T Septyan, B Nurtjahyo – Advanced Engineering Forum, 2013 – Trans Tech Publ
Article Preview Article Preview Article Preview This research studies the ergonomic aspect from toll booth and operators performance. It is mainly based on working posture and service time of operators. The analysis of working posture based on Posture Evaluation …
Planning and Adaptation of Virtual Human Character Motion
C O'Brien – 2013 – tara.tcd.ie
Abstract is thesis covers some work on planning and adapting motions for a virtual d human character. e motivation is to use the physical features of the motion to drive both the planning of motion sequences and the subsequent editing of the motions to t with necessary …
Research on Virtual Human Walking Engine Based on Principal Component Analysis Method
C ZHAO, J LIANG, M LI – Computer Engineering, 2013 – en.cnki.com.cn
In this paper, according to the real-time generation problem of walking engine of virtual human, based on the motion capture data, the Principal Component Analysis (PCA) method is introduced into the research on generic walking engine of virtual human, and realize real …
Research of Virtual Human Perception Model and Behavior Planning Based on Virtual Teaching Environment
Z Yin'e – Journal of Gannan Normal University, 2013 – en.cnki.com.cn
With the extensive application of virtual reality technology, the study of the virtual human in the virtual environments has also become a research focus. This paper discusses the virtual human perception model and create a virtual spatial database query information, combine …
Online Collaborative Learning And Virtual Human Resource Development
ANC Pinto – 2013 – ir.inflibnet.ac.in
Page 1. CONTENTS Chapter Section Title Page No. List of Tables i List of Figures vi I Introduction 1 I.1 Social Learning 2 I.2 Social Software 6 I.3 Organisational Learning 7 I.4 Virtual Worlds and Learning 11 I.5 Collaborative Learning 14 I.6 Emergence of VHRD 18 I.7 Statement of Problem …
Pain decisions based on pain behavior of virtual humans
L Wandner, S George, B Lok, C Torres, J Chuah… – The Journal of …, 2013 – jpain.org
Laypeople, healthcare trainees, and healthcare professionals use sex and race as cues when making pain management decisions. The use of these demographic cues in making pain management decisions may negatively affect patient outcomes. This study extended …
The Perceptive Puppet: Seamless Embodiment Exchange Between Real and Virtual Humans
AS Luna, V Gouranton, B Arnaldi – Citeseer
We present a novel mechanism that allows real and virtual humans to dynamically exchange the control of their embodiment in virtual environments. Such a mechanism raises two important issues: the possibility of dynamic embodiment exchanges between real …
f. Gaze—Focus on gaze animation for autonomous virtual human characters
C Bode, B Dubbick, T Bremer… – … ¿ Berlin (ICCE-Berlin …, 2013 – ieeexplore.ieee.org
The advances in interactive realtime animation do not match the realistic visuals synthesized by modern hardware. We investigate if the liveliness of interactive virtual characters may be enhanced by a more detailed gaze animation compared to current games. We propose a …
Children's Pain: PICU Nurses' Beliefs and Responses to Virtual Human Vignettes
CM LaFond – 2013 – indigo.lib.uic.edu
Children's Pain: PICU Nurses' Beliefs and Responses to Virtual Human Vignettes Cynthia M. LaFond, Ph. D. Department of Nursing University of Illinois at Chicago Chicago, Illinois (2013) Dissertation Chairperson: Catherine Vincent, RN, Ph. D. Purpose: The purpose of …
Affective and Attentive Interaction with Virtual Humans in Gaze-based Settings
N Bee – 2013 – researchgate.net
This thesis investigates the affective and attentive gaze-based interaction with virtual humans and will answer related questions to affect and attention and the challenges facing the generation of an anthropomorphic interface for human-machine interaction. One focus is …
Graphical Simulation of skeletal muscles for virtual humans characters and humanoid robots
ON Hinojosa, MA Miranda – micai.org
Current muscle animations and simulations are based on the Hill muscle model or on techniques such as motion capture. However, those approaches do not generate accurate and real enough simulations and animations of the human body. We have analyzed the way …
Real-time Rendering Facial Skin Colours to Enhance Realism of Virtual Human
MHA Alkawaz – 2013 – eprints.utm.my
The research on facial animation has grown very fast and become more realistic in term of 3D facial data since the laser scan and advance 3D tools can support for creating complex facial model. However, that approaches still lacking in term of facial expression based on …
Research on the secondary generation of virtual human body based on customer shape in 3d fitting system
Y Gu, H Xie – Computer Science & Education (ICCSE), 2013 …, 2013 – ieeexplore.ieee.org
Through the single parameter control, the virtual person model shape change rule in V-Stitcher is found. According the rule of shape change, put shoulder slope, chest Position, chest peak distance, abdomen, body width, hip width, upper body length, posture, para …
On the Relevance of Using Virtual Humans for Motor Skills Teaching: A Case Study on Karate Gestures
M SLATER – 2013 – researchgate.net
The study of human motion and of physical activities is increasingly important as the problem is linked to a sedentary lifestyle and to the growth of the obesity crisis in our modern society. It has lead to numerous prevention and information campaigns to the general public …
SIMCOACH: AN ONLINE INTELLIGENT VIRTUAL HUMAN AGENT SYSTEM FOR BREAKING DOWN BARRIERS TO CARE FOR SERVICE MEMBERS AND …
A Rizzo, E Forbell, B Lange, JG Buckwalter, J Williams… – pdfs.semanticscholar.org
Over the last 15 years, virtual reality (VR) has emerged as an innovative tool for addressing numerous issues in clinical research, assessment, and intervention. Technological advances in the areas of computation speed and power, graphics and image rendering …
Board 364-Research Abstract Development and Validation of a Virtual Human Vignette to Explore Picu Nurses Assessment and Intervention Choices for Children's …
C Lafond, C Vincent, S Lee – Simulation in Healthcare, 2013 – journals.lww.com
Methods For the development of the VH vignettes, Adler et. al1 case development and review process was followed. This process included the adaptation of validated written vignettes, content review by advanced practice nurses with PICU expertise, and translation …
Research of virtual emotional human system based on artificial Life
SP Nian, L Chen, CX Hou, RK Gong… – Applied Mechanics and …, 2013 – Trans Tech Publ
… 063000 ashanpo1999@126.com, b clei@heuu.edu.cn, ccaixiasmile@163.com, dgrk@ heuu.edu.cn, byibiao@ heuu.edu.cn Keywords: Artificial Life, Artificial Emotional Model, Virtual Human System Abstract … The Characters and Applications of Virtual Human System …
A Functional Test Bed for Producing Virtual Human's Human-Like Movement Based on Limited Perception
CH Han, WI Kim, MH Oh – Applied Mechanics and Materials, 2013 – Trans Tech Publ
Article Preview Article Preview Article Preview In this paper, the movement behavior of a virtual human based on realistically limited perception (RLP) is proposed to be human-like. As an interface between perception and movement-path generation, a mapping module is a …
Multi-party interaction with a virtual character and a human-like robot
Z Yumak, N Magnenat-Thalmann – … of the 19th ACM Symposium on …, 2013 – dl.acm.org
… TRAUM, DR, AND MORENCY, LP 2010. Integration of vi- sual perception in dialogue understanding for virtual humans in multi-party interaction … YANG, X., YUAN, J., AND THALMANN, D. 2013. Human-virtual human interaction by upper body gesture understanding …
A Framework for Human-like Behavior in an immersive virtual world
F Kuijk, S Van Broeck, C Dareau… – … (DSP), 2013 18th …, 2013 – ieeexplore.ieee.org
… The objectives of the framework are: • To achieve an immersive interactive experience through the coherent and natural behavior of (semi-) autonomous virtual humans … To develop techniques for interaction between a virtual human and user with responses based on and …
Three-dimensional reconstruction of human Neiguan point structure based on digitized virtual reality technology
Y Liu, J Jiang, Z Yan, Y Guo, T Zhuang… – Chinese Journal of …, 2013 – wprim.whocc.org.cn
… was detected by the Micro-XCT-200 machine additional y. RESULTS AND CONCLUSION:The visualization of the anatomical structure of local Neiguan (PC6) was completed, and the localization and expression of Neiguan (PC6) in the digitized virtual human were realized …
Simulating the decentralized processes of the human immune system in a virtual anatomy model
V Sarpe, C Jacob – BMC bioinformatics, 2013 – bmcbioinformatics.biomedcentral …
… Ultimately, this system integration across scales is our goal for the LINDSAY Virtual Human project. Conclusions … Figure 1 illustrates the airborne Influenza a virus in the context of our virtual human model, which is the basis for our simulation. Figure 1 Virus entry …
Virtual validation of the manual assembly of a power electronic unit via motion capturing connected with a simulation tool using a human model
J Bönig, C Fischer, M Brossog, M Bittner… – Smart Product …, 2013 – Springer
… 471 5 Conclusion In this paper a virtual validation methodology for the manual assembly of a power electronic unit, using a virtual human model, has been presented. First, the problems of virtual validation and the state of the art are described …
3D Digital Human Models and collaborative virtual environments: A case study in oil and gas laboratories
V Santos, MCPL Zamberlan, P Streit… – … Safety and Hygiene, 2013 – ingentaconnect.com
… standards. Using a game engine plat- form to design the virtual environment, the virtual human model can be controlled by users on dynamic scenario in order to evaluate the new work settings and simulate work activities. The …
Human virtual communities: affinity and communication dynamics
A Cini, A Guazzini – Advances in Complex Systems, 2013 – World Scientific
… experimental settings. Nowadays the use of the modern information and communication technolo- gies can easily solve such criticality, representing at the same time a new domain: virtual human dynamics [26, 41, 42]. In the …
Evaluating the distinctiveness and attractiveness of human motions on realistic virtual bodies
L Hoyet, K Ryall, K Zibrek, H Park, J Lee… – ACM Transactions on …, 2013 – dl.acm.org
… to understand and replicate, so for many ap- plications real human motion is captured and retargeted to a virtual human model … To understand these issues, we ran a set of experiments to explore the distinctiveness and attractiveness of virtual humans walking, jogging and …
A virtual testbed for human-robot interaction
J Rossmann, EG Kaigom, L Atorf… – … UKSim), 2013 UKSim …, 2013 – ieeexplore.ieee.org
… 2) How do we model the interaction between human and robot? 3) How do we implement the robot control algorithms such that the robot can sensibly react on contacts and collisions with the virtual human? And since the final goal is always the real system …
Idle motion synthesis of human head and face in virtual reality environment
M Koco? – … Conference on Serious Games Development and …, 2013 – Springer
… main goal is to improve the situation when the virtual model of person is inactive in terms of external events, therefore we proposed an approach to produce motion of virtual human in idle … "Uncanny valley" involves the level of realism in the behaviour of virtual humans or robots …
Simulation of human behavior elements in a virtual world using decision trees
S Mercado Pérez, J Rentería Conseción… – International Journal of …, 2013 – redalyc.org
… This type of simulation cannot be played with a virtual human alone, it is important to establish an environment as close to reality, so … one significant number of factors similar to the real world, such as geographic location, climate, time and interaction with other virtual humans …
Markerless motion capture integrated with human modeling for virtual ergonomics
G Colombo, D Regazzoni, C Rizzi – International Conference on Digital …, 2013 – Springer
… factors, such as positioning, visibility, reaching, grasping and lifting of weights can all be evaluated by using virtual humans, providing a … They can be grouped in [1,9]: virtual human/actors for entertainment, mannequins for clothing [10], virtual manikin for ergonomic analysis [11 …
Research on Dynamic Modeling Of Virtual CNC System Of Human Machine Interface
O Bashir, DJ Hu – Applied Mechanics and Materials, 2013 – Trans Tech Publ
… Conclusion Dynamic modeling of virtual human machine interface technology aims to solve shortage of the domestic CNC simulation software and add a secondary development interface function for NC machining simulation replacement and updating asked of multi systems …
People hesitate more, talk less to virtual interviewers than to human interviewers
L Faust, R Artstein – Semdial 2013 DialDam: Proceedings of the 17th …, 2013 – Citeseer
… 2013. Verbal indicators of psychological distress in interactive dialogue with a virtual human. In Pro- ceedings of the SIGDIAL 2013 Conference, pages 193–202, Metz, France, August. Association for Computational Linguistics. Arne Jönsson and Nils Dahlbäck. 1988 …
Parametric human body modelling system for virtual garment fitting
SY Baek, K Lee – International Journal of Computer Aided …, 2013 – inderscienceonline.com
Virtual 3D atlas of a human body–development of an educational medical software application
A Hamrol, F Górski, D Grajewski, P Zawadzki – Procedia Computer Science, 2013 – Elsevier
… etc.). 2. Exercise. This case of use will concern the application being used as a support material during the practical class. The users will be students and they will be able to freely interact with the virtual human body. For this …
Enhancing human computer interaction with episodic memory in a virtual guide
F Rabe, I Wachsmuth – International Conference on Human-Computer …, 2013 – Springer
… 2, pp. 1257–1263. AAAI Press, Menlo Park (1994) 5. Leßmann, N., Kopp, S., Wachsmuth, I.: Situated interaction with a virtual human – perception, action, and cognition. In: Rickheit, G., Wachsmuth, I. (eds.) Situated Communication, Trends in Linguistics, vol. 166, pp. 287–323 …
Virtual research assistants: Replacing human interviewers by automated avatars in virtual worlds
BAS Hasler, P Tuchman, D Friedman – Computers in Human Behavior, 2013 – Elsevier
Skip to main content …
A Situated Video Interview Method: Understanding the Interplay between Human Engagement and the Power of Scripted Animations of a Virtual World
SS Jensen – Researching Virtual Worlds, 2013 – taylorfrancis.com
Page 1. The world of Second Life is an example of a persistent and immersive mul- tiuser virtual environment (MUVE) that generates a sense of being inside the world (Blascovich and Bailenson 2011), hence the embodied experience …