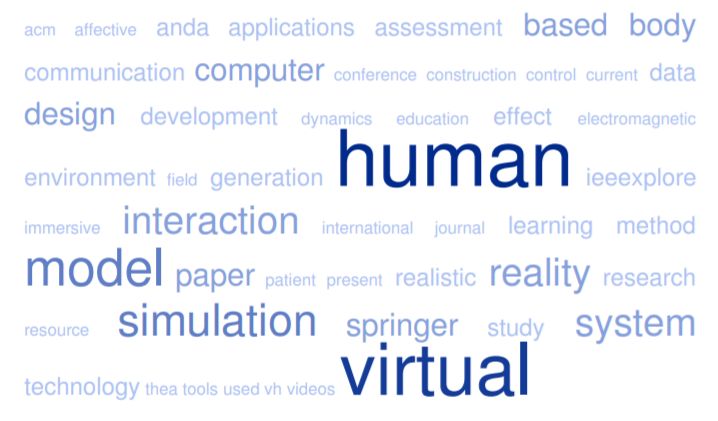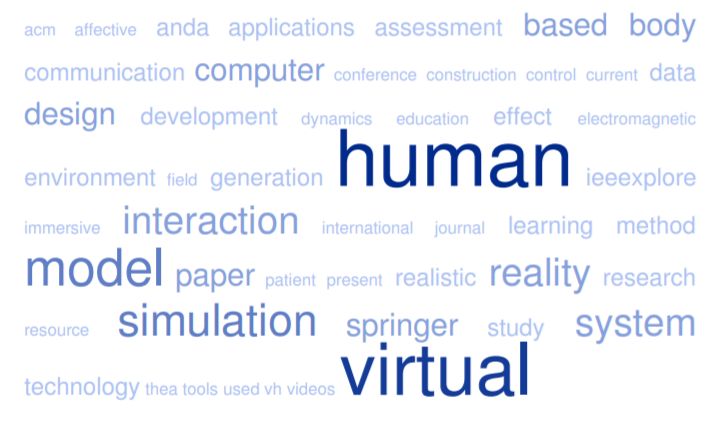 Notes:
Some interesting ideas in the references below include:
The development of a human factors layout virtual verification platform for the simulation of control room layouts and work spaces.
Methods for representing and deforming three-dimensional virtual human body models in real-time, and for rendering virtual human motion.
The use of numerical simulation to study the electromagnetic, thermal, and mechanical responses of the human body to different stimuli in various contexts, such as magnetic resonance imaging safety, antenna research, electromagnetic tomography, and electromagnetic stimulation.
The use of drone-based vision sensor networks to capture collocated viewpoints of a scene and send them to a remote user for volumetric 360-degree visual immersion.
The use of magnetic resonance imaging to provide detailed three-dimensional information on the internal anatomy and physiology of human patients without the use of ionizing radiation.
The challenges of realistically representing virtual humans, including generating realistic locomotion, facial expressions, natural speech, and interaction with clothes and hair.
The increasing significance and applications of virtual human technology in various fields, including as instructors in virtual classrooms, human-computer interfaces, and in video games.
A pipeline for creating ready-to-animate virtual humans by fitting a template character to a point set obtained by scanning a real person using multi-view stereo reconstruction.
Virtual human tutors hold significant promise for providing affective support in education and training, as they can simulate human-like interactions and engage learners through personalized and interactive experiences. However, a key open question in this field is how a tutor's facial expressions can influence learners' performance. Research in this area may help to understand the role of nonverbal cues in virtual human-human interactions, and how they can be used effectively to facilitate learning and engagement. Further research may also help to design virtual human tutors that are more realistic and believable, and that can adapt their facial expressions and behaviors in response to the emotional state of the learner.
See also:
---
Oxygenation absorption and light scattering driven facial animation of natural virtual human
MH Alkawaz, AH Basori, SZM Hashim – Multimedia Tools and Applications, 2017 – Springer
The color of skin is one of the key indicators of bodily change that affect facial expressions. The skin colour tenacity is majorly determined by the light effect and concentration from the chromophores inside skin and haemoglobin oxygenation in the blood. We did an extension …
Fast generation of realistic virtual humans
J Achenbach, T Waltemate, ME Latoschik… – Proceedings of the 23rd …, 2017 – dl.acm.org
In this paper we present a complete pipeline to create ready-to-animate virtual humans by fitting a template character to a point set obtained by scanning a real person using multi-view stereo reconstruction. Our virtual humans are built upon a holistic character model and …
Atrial arrhythmogenicity of KCNJ2 mutations in short QT syndrome: Insights from virtual human atria
DG Whittaker, H Ni, A El Harchi… – PLoS computational …, 2017 – journals.plos.org
Gain-of-function mutations in KCNJ2-encoded Kir2. 1 channels underlie variant 3 (SQT3) of the short QT syndrome, which is associated with atrial fibrillation (AF). Using biophysically-detailed human atria computer models, this study investigated the mechanistic link between …
Virtual Human Models for Electromagnetic Studies and Their Applications
SN Makarov, GM Noetscher… – IEEE reviews in …, 2017 – ieeexplore.ieee.org
Numerical simulation of electromagnetic, thermal, and mechanical responses of the human body to different stimuli in magnetic resonance imaging safety, antenna research, electromagnetic tomography, and electromagnetic stimulation is currently limited by the …
Virtual humans for temperature visualization in a tangible augmented reality educational game
V Ferrer, A Perdomo, HR Ali, C Fies… – K-12 Embodied …, 2017 – ieeexplore.ieee.org
Our primary objective is to enable effective game based learning approaches in tangible augmented reality. In game based learning there is often a tradeoff in motivation between the educational aspects and game aspects. For example, consider our previous work-a …
Reporting mental health symptoms: breaking down barriers to care with virtual human interviewers
GM Lucas, A Rizzo, J Gratch, S Scherer… – Frontiers in Robotics …, 2017 – frontiersin.org
A common barrier to healthcare for psychiatric conditions is the stigma associated with these disorders. Perceived stigma prevents many from reporting their symptoms. Stigma is a particularly pervasive problem among military service members, preventing them from …
The virtual human reliability analyst
M Rasmussen, R Boring, T Ulrich, S Ewing – International Conference on …, 2017 – Springer
This paper introduces the virtual human reliability analyst model (VHRAM). The VHRAM is an approach that automates the HRA process to enable HRA elements to be included in simulations in general and simulation based risk analysis in particular. Inspirations from …
Can social presence be contagious? Effects of social presence priming on interaction with Virtual Humans
S Daher, K Kim, M Lee, G Bruder… – 3D User Interfaces …, 2017 – ieeexplore.ieee.org
This paper explores whether witnessing a Virtual Human (VH) in what appears to be a socially engaging discussion with another virtual human confederate/accomplice (VHC) can prime a person to feel and behave more socially engaged with the VH in a subsequent …
Virtual human as a new diagnostic tool, a proof of concept study in the field of major depressive disorders
P Philip, JA Micoulaud-Franchi, P Sagaspe… – Scientific Reports, 2017 – nature.com
Abstract Embodied Conversational Agents (ECAs) are promising software to communicate with patients but no study has tested them in the diagnostic field of mental disorders. The aim of this study was 1) to test the performance of a diagnostic system for major depressive …
Virtual human motion design and ergonomics analysis in maintenance simulation
F Yu, Q Xue, M Liu – Advances in Applied Digital Human Modeling and …, 2017 – Springer
Maintainability is one of the main targets of product development. Through simulating the actual maintenance process, maintainability problems can be identified by virtual reality technology. Most virtual reality softwares provide virtual human motion simulation functions …
Towards the virtual human patient. Quantitative Systems Pharmacology in Alzheimer's disease
H Geerts, A Spiros, P Roberts, R Carr – European journal of pharmacology, 2017 – Elsevier
Abstract Development of successful therapeutic interventions in Central Nervous Systems (CNS) disorders is a daunting challenge with a low success rate. Probable reasons include the lack of translation from preclinical animal models, the individual variability of many …
Malleable embodiment: Changing sense of embodiment by spatial-temporal deformation of virtual human body
S Kasahara, K Konno, R Owaki, T Nishi… – Proceedings of the …, 2017 – dl.acm.org
We hypothesize that replacing the visual perception of one's body with a spatial-temporal deformed state would change sensations associated with the body. We developed a system that captures full-body movement and generates estimated past and future body movement …
CAD-Based Virtual Humans: Design and Safety Assessment of MRI Coils
GM Noetscher, ND Maino, P Lacroix, M Horner… – IEEE pulse, 2017 – ieeexplore.ieee.org
Magnetic resonance imaging (MRI) is a ubiquitous tool used in clinical settings around the world to provide detailed three-dimensional information on the internal anatomy and physiology of human patients without the use of ionizing radiation, which is the primary …
Social influence of humor in virtual human counselor's self?disclosure
SH Kang, DM Krum, P Khooshabeh… – … and Virtual Worlds, 2017 – Wiley Online Library
We explored the social influence of humor in a virtual human counselor's self?disclosure while also varying the ethnicity of the virtual counselor. In a 2× 3 experiment (humor and ethnicity of the virtual human counselor), participants experienced counseling interview …
Reconsidering the voice effect when learning from a virtual human
SD Craig, NL Schroeder – Computers & Education, 2017 – Elsevier
The current paper investigates an essential design component of virtual humans, the voice they communicate with, by examining the impact of varied voice types. A standard voice effect has held that human voices should be paired with virtual humans. The current study …
Research trends of virtual human applications in architecture, engineering and construction
R Eiris, M Gheisari – Journal of Information Technology in Construction …, 2017 – itcon.org
Human tasks that require interaction with the physical world are often constrained by time, location, and safety factors, precluding their feasibility of execution. Virtual reality has provided an opportunity for humans to experience similar interaction but with a virtual …
A Q-leaming algorithm applied to the behavioural decision-making of affective virtual human
Y Zhang, T Chen – Advanced Communication Technology …, 2017 – ieeexplore.ieee.org
Traditional Q-Learning algorithm has problems of data transmission lag and its environmental reward model is too simple. It cannot be well applied to the reinforcement learning of affective virtual human behaviour decision. Analogizing the thought of human's …
Aerial UAV-IoT sensing for ubiquitous immersive communication and virtual human teleportation
J Chakareski – … INFOCOM WKSHPS), 2017 IEEE Conference on, 2017 – ieeexplore.ieee.org
We consider UAV IoT aerial sensing that delivers multiple VR/AR immersive communication sessions to remote users. The UAV swarm is spatially distributed over a wide area of interest, and each UAV captures a viewpoint of the scene below it. The remote users are …
Three Dimensional (3D) Virtual Human Cadaver, Anatomage: An effective teaching tool for Human Anatomy
R Narnaware – The FASEB Journal, 2017 – fasebj.org
In an attempt to explore the innovative ways to introduce the knowledge of the human body in terms of its structures and functions, we have first time introduced three dimensional (3D) virtual human cadaver, Anatomage in our human anatomy classes, and discuss whether the …
Toward affect-sensitive virtual human tutors: The influence of facial expressions on learning and emotion
NV Mudrick, M Taub, R Azevedo… – … (ACII), 2017 Seventh …, 2017 – ieeexplore.ieee.org
Affective support can play a central role in adaptive learning environments. Although virtual human tutors hold significant promise for providing affective support, a key open question is how a tutor's facial expressions can influence learners' performance. In this paper, we report …
Of Fields and Phantoms: The Importance of Virtual Humans in Optimizing Cancer Treatment with Tumor Treating Fields
Z Bomzon, C Wenger – IEEE pulse, 2017 – ieeexplore.ieee.org
Cancer represents a compilation of diseases characterized by rapidly dividing, invasive cells. Worldwide data indicate that over 14 million new cancers were diagnosed in 2012, with a projected increase of more than 19 million diagnosed cases by 2025 [1]. Survival …
Simulated conversations with virtual humans to improve patient-provider communication and reduce unnecessary prescriptions for antibiotics: a repeated …
A Schoenthaler, G Albright, J Hibbard… – JMIR medical …, 2017 – ncbi.nlm.nih.gov
Background Despite clear evidence that antibiotics do not cure viral infections, the problem of unnecessary prescribing of antibiotics in ambulatory care persists, and in some cases, prescribing patterns have increased. The overuse of antibiotics for treating viral infections …
Don't stand so close to me: investigating the effect of control on the appeal of virtual humans using immersion and a proximity-based behavioral task
K Zibrek, E Kokkinara, R McDonnell – … of the ACM Symposium on Applied …, 2017 – dl.acm.org
In recent years, there has been much research and media attention devoted to investigating virtual reality environments. In this paper, we are investigating if there are differences in how characters are perceived in immersive virtual reality as opposed to more common, screen …
Modeling virtual humans
J Bender, K Erleben, B Solenthaler – IEEE Computer Graphics and …, 2017 – computer.org
Modeling virtual humans has been an important and active research field in computer graphics for many years. Realistically representing a virtual human necessitates that we address several multifaceted challenges, generating realistic locomotion, facial expressions …
Modeling Virtual Humans
AGAV Prosodic – computer.org
Realistically representing a virtual human necessitates that we address several multifaceted challenges, such as generating realistic locomotion, facial expressions, natural speech, and interaction with clothes and hair. This special issue focuses on these and other key factors …
Virtual Humans for antenna/implant modeling
GM Noetscher, J Yanamadala… – … and Propagation & …, 2017 – ieeexplore.ieee.org
Numerical simulation of the electromagnetic, thermal and mechanical responses of the human body to different stimuli in MRI safety, antenna research, electromagnetic tomography, and electromagnetic stimulation is currently limited by the availability of …
Context and the Virtual Human
C Wilson, RM Turner – … and Interdisciplinary Conference on Modeling and …, 2017 – Springer
Artificial agents that simulate aspects of human behavior are expected to behave much like a real human in a similar situation would. Human behavior however, is largely context-dependent. Ignoring the effect context can have on an agent's behavior can hinder the …
The Virtual Human Reliability Analyst
S Ewing – Advances in Human Error, Reliability, Resilience, and …, 2017 – books.google.com
This paper introduces the virtual human reliability analyst model (VHRAM). The VHRAM is an approach that automates the HRA process to enable HRA elements to be included in simulations in general and simulation based risk analysis in particular. Inspirations from …
CAD Virtual Human Male Model
ND Maino, PA Lacroix – 2017 – digitalcommons.wpi.edu
The purpose of this MQP has been to create an accurate cross-platform CAD representation of the male human body for the use in electromagnetic computer simulations. The model is to be employed as a substitute for the human body for SAR (Specific Absorption Rate) …
Virtual Human Model Representation and Driven Deformation Methods
H An, R Xu, L Zhao – 2017 International Seminar on Artificial …, 2017 – atlantis-press.com
In this paper, we will summarize the existing three-dimensional virtual human body model representation and drive deformation method with real-time and realistic requirements as a starting point, and propose a combination of surface model and skeleton driving to realize …
Virtual Human Motion Real-time Rendering Technology
R XU, L ZHAO – DEStech Transactions on Engineering and …, 2017 – dpi-proceedings.com
In this paper, we summarized the existing three-dimensional virtual human body model representation method with real-time and realistic requirements as a starting point, and proposed several virtual human motion rendering method to realize virtual human real-time …
Drone Networks for Virtual Human Teleportation
J Chakareski – Proceedings of the 3rd Workshop on Micro Aerial …, 2017 – dl.acm.org
We consider a drone-based vision sensor network that captures collocated viewpoints of the scene underneath and sends them to a remote user for volumetric 360-degree navigable visual immersion on his virtual reality head-mounted display. The reconstruction quality of …
Coherence changes gaze behavior in virtual human interactions
R Skarbez, GF Welch, FP Brooks… – 2017 IEEE Virtual Reality …, 2017 – computer.org
We discuss the design and results of an experiment investigating Plausibility Illusion in virtual human (VH) interactions, in particular, the coherence of conversation with a VH. This experiment was performed in combination with another experiment evaluating two display …
3D virtual human rapid modeling method based on top-down modeling mechanism
LI Taotao, F Xiongbing, LIN Rui… – Zhongguo Jianchuan …, 2017 – ingentaconnect.com
Aiming to satisfy the vast custom-made character demand of 3D virtual human and the rapid modeling in the field of 3D virtual reality, a new virtual human top-down rapid modeling method is put for-ward in this paper based on the systematic analysis of the current situation …
Automatic question generation for virtual humans
EL Fasya – 2017 – essay.utwente.nl
Alice, a virtual human that is created based on the ARIA-VALUSPA framework, is a representation of the main character from the Alice in Wonderland story. This research aims to prepare the domain knowledge of Alice by developing an automatic question generation …
An Initial Validation of Virtual Human Administered Neuropsychological Assessments
TD Parsons, P Schermerhorn… – ANNUAL …, 2017 – opus.bibliothek.uni-augsburg.de
Appropriate neuropsychological assessments are often not readily accessible due to remote geographical locations. The current study performs construct validation of a virtual human-administered neuropsychological assessment of learning and memory. Construct validity …
Implementation of Virtual Human for Military Application
PS Ramya – 2017 – ijariit.com
With the advancement in technology we can control almost any gadgets or equipments with appropriate hardware and software. This paper deals with haptic technology to control the locomotion of the robot. Haptics is the concept used to interact with the virtual world by …
Research on dynamic simulation of realistic virtual human hair
T Jie, H Jin – Application Research of Computers, 2017 – en.cnki.com.cn
Aiming at the problem of low efficiency and realistic in the simulation of the hair due to inextensible and large quantity, this paper developed a new hair dynamic simulation method. Firstly, this method established single hair model by a spring system, then …
Toward Multi-Stakeholder Value: Virtual Human Resource Management
HY Suen, HL Chang – Sustainability, 2017 – mdpi.com
Some large organizations have used online virtual worlds (eg, Second Life) in human resources (HR) in recent years, but few studies have explored how the values are generated by this technology and what factors have an impact on the performance of this technology. In …
ELECTROMAGNETIC MODELING OF VIRTUAL HUMANS TO DETERMINE HEART CURRENT FACTORS
H Jiang, M Tabaddor – 2017 – psma.com
According to the survey of emergency rooms by the NEISS (National Electronic Injury Surveillance System (NEISS)), approximately 5,000 people are injured every year due to electrical shock, the passing of electric (AC or DC) current though the body. In another study …
41. Research on Running of Virtual Human Based on CCD Algorithm
X Wang – Revista de la Facultad de Ingeniería, 2017 – revistadelafacultaddeingenieria.com
With the development of virtual reality technology, virtual human technology gradually highlights the significance, and gradually become an important branch of virtual reality technology and research hotspots. The motion generation and control of virtual human is an …
Triggering and measuring social inhibitory response in humans immersed in interactions with virtual humans
G Ahamba, DJ Roberts, P Eachus – Annual Review of …, 2017 – usir.salford.ac.uk
The aim of the proposed study is to determine if a virtual human can evoke a measurable inhibitory response to anti-social stimuli within the prefrontal cortex. Justification, protocol and demonstrator are described here. The work follows a previous study demonstrating that …
Virtual Human Joint Modeling and Predictive Dynamic Analysis Using Computational Simulation
JY Lee, R Kyung – Bulletin of the American Physical Society, 2017 – APS
In modern society, virtual human modeling and simulation has been an attraction for researchers. The new findings have influenced new designs and products in numerous fields. Predictive dynamics are used to create virtual simulations required to describe certain …
Automatic gesture generation for virtual humans with deep and temporal learning
Y Ferstl, R McDonnell – 2017 – scss.tcd.ie
With increasingly sophisticated technical and visual design, virtual humans are now finding numerous applications, as instructors in virtual classrooms, for human-computer interfaces, in video games, and more. As their behaviour becomes more and more automated, a key …
Avatar and participant gender differences in the perception of uncanniness of virtual humans
JD Bailey – Affective Computing and Intelligent Interaction (ACII …, 2017 – ieeexplore.ieee.org
The widespread use of avatars in training & simulation has expanded from entertainers to filling more serious roles. This change has emerged from the need to develop cost-effective & customizable avatars for interaction with trainees. While the use of avatars continues to …
Can Virtual Human Entourage Elements Facilitate Accurate Distance Judgments in VR?
K Paraiso, V Interrante – International Conference on Virtual Reality and …, 2017 – Springer
Entourage elements are widely used in architectural renderings to provide a sense of scale and bring the drawings to life. We explore the potential of using a photorealistic, three-dimensional, exact-scale model of a known person as an entourage element to ameliorate …
Full Skeleton-based Virtual Human Animation: An Improved Design for SL Avatars
F López-Colino, J Colás, J Garrido – IETE Technical Review, 2017 – Taylor & Francis
This paper presents a novel skeleton design for avatar animation. This design includes new bones, whose purpose is to meet the requirements of sign language (SL) synthesis. SL synthesis presents particular challenges regarding the processing of phonetic descriptions …
Question-Answering Virtual Humans Based on Pre-recorded Testimonies for Holocaust Education
M Ma, S Coward, C Walker – Serious Games and Edutainment Applications, 2017 – Springer
In this chapter, we present Interact—a project which builds question-answering virtual humans based on pre-recorded video testimonies for Holocaust education. It was created to preserve the powerful and engaging experience of listening to, and interacting with …
Full-body Shell Creation for CAD Virtual Humans including Tightly-Spaced, Enclosed Shells
AT Htet – 2017 – digitalcommons.wpi.edu
Computational human models have become essential in several different biomedical and electrical engineering research areas. They enable scientists to study, model, and solve complex problems of human body responses to various external stimuli including …
IDENTIFYING AND RANKING TEACHERS'BARRIERS IN A VIRTUAL HUMAN RESOURCE DEVELOPMENT ENVIRONMENT
Z JAAFARIFAR, A KHORASANI, M REZAEIZADEH – 2017 – sid.ir
E-learning is one of the appropriate tools to train employees in the organization due to some advantages such as flexibility of time and place. However, realizing these benefits and removing the barriers are in need of optimal use of e-learning. Thus the current study tried to …
IDENTIFYING AND RANKING LEARNERS'CHALLENGES IN A VIRTUAL HUMAN RESOURCE DEVELOPMENT ENVIRONMENT
FARZ JAFARI, A KHORASANI, M REZAEIZADEH – 2017 – sid.ir
Distance education is one of the most important criteria of education; organizations believe that it has important role in human resource (HR) education. However, there are some challenges in implementing distance learning in the organisations' HRD (Human Resource …
A novel Virtual Reality grocery shopping task: The impact of virtual human agents on task performance
P Shahim – 2017 – dspace.library.uu.nl
Virtual Reality (VR) has emerged as an ecological valid instrument for assessing everyday cognitive functioning. A key strength of VR lies within its ability to simulate dynamic real-life situations, whereas conventional cognitive tasks do not accurately represent real-life …
An EEG-based mind controlled virtual-human obstacle-avoidance platform in three dimensional virtual environment
C Zhao, Z Zhang, Y Li, X Pan, J Qu… – … (NER), 2017 8th …, 2017 – ieeexplore.ieee.org
In this paper, a novel electroencephalographic (EEG) based mind controlled virtual-human obstacle-avoidance platform (EEG-MC-VHOAP) is designed to improve brain computer interface (BCI) systems and offer a new game. With the EEG-MC-VHOAP, subjects can use …
Pragmatic multimodality: Effects of nonverbal cues of focus and certainty in a virtual human
F Freigang, S Klett, S Kopp – International Conference on Intelligent Virtual …, 2017 – Springer
In pragmatic multimodality, modal (pragmatic) information is conveyed multimodally by cues in gesture, facial expressions, head movements and prosody. We observed these cues in natural interaction data. They can convey positive and negative focus, in that they …
Exploring the effects of observed physicality conflicts on real-virtual human interaction in augmented reality
K Kim, G Bruder, G Welch – Proceedings of the 23rd ACM Symposium on …, 2017 – dl.acm.org
Augmented reality (AR) enables the illusion of computer-generated virtual objects and humans co-existing with us in the real world. Virtual humans (VHs) in AR can further induce an illusion of physicality in the real world due to their form of presentation and their behavior …
R3D3 in the Wild: Using A Robot for Turn Management in Multi-Party Interaction with a Virtual Human
M Theune, D Wiltenburg, M Bode… – 1st Interaction with …, 2017 – research.utwente.nl
R3D3 is a combination of a virtual human with a non-speaking robot capable of head gestures and emotive gaze behaviour. We use the robot to implement various turn management functions for use in multi-party interaction with R3D3, and present the results of …
Virtual Humans for Implantable Device Safety Assessment in MRI: Mitigating Magnetic Resonance Imaging Hazards for Implanted Medical Devices
JE Brown, R Qiang, PJ Stadnik, LJ Stotts… – IEEE pulse, 2017 – ieeexplore.ieee.org
Magnetic resonance imaging (MRI) is the preferred modality for soft tissue imaging because of its nonionizing radiation and lack of contrast agent. Due to interactions between the MR system and active implantable medical devices (AIMDs), patients with implants such as …
Optimizing Electric-Field Delivery for tDCS: Virtual Humans Help to Design Efficient, Noninvasive Brain and Spinal Cord Electrical Stimulation
PC Miranda, R Salvador, C Wenger… – IEEE pulse, 2017 – ieeexplore.ieee.org
Noninvasive electrical stimulation of the central nervous system is attracting increasing interest from the clinical and academic communities as well as from high-tech companies. This interest was sparked by two landmark studies conducted in 2000 and 2001 at the …
Initial construct validity evidence of a virtual human application for competency assessment in breaking bad news to a cancer patient
TC Guetterman, FW Kron, TC Campbell… – Advances in medical …, 2017 – ncbi.nlm.nih.gov
Background Despite interest in using virtual humans (VHs) for assessing health care communication, evidence of validity is limited. We evaluated the validity of a VH application, MPathic-VR, for assessing performance-based competence in breaking bad news (BBN) to …
Evidence of maturational processes in linguistic brain (fNIRS) and physiological emotional (Thermal IR) responses in hearing infants to signing virtual humans
B Manini, G Kartheiser, A Stone, A Merla, LA Petitto – language – researchgate.net
Conclusion• H2 Supported-Phonetic-syllabic rhythmic temporal patterning is important• Neural Processing of Language and Emotional arousal are linked in early language learning16-20• Broad Impact: Building augmentative language learning tools for babies …
An Evaluation Method for Human Fatigue in Virtual Maintenance Simulation Based on the Cube Model
Y Li, Q Xue, M Liu, J Wen – … Conference on Applied Human Factors and …, 2017 – Springer
… According to the analysis, a new posture level determination method in virtual maintenance simulation is put forward based on the advantage that virtual human's data of joints can be acquired in real time … One is that the data of virtual human can be acquired in real time …
Commentary: Atrial Fibrillation Dynamics and Ionic Block Effects in Six Heterogeneous Human 3D Virtual Atria with Distinct Repolarization Dynamics
C Campana, FG Akar – Frontiers in bioengineering and biotechnology, 2017 – frontiersin.org
… In this issue of Front Bioeng Biotechnol, Sanchez et al. (2017) leveraged a previously validated (Seemann et al., 2006) virtual human whole-atria model to determine how variations in the action potential morphology and repolarization gradients affect AF dynamics …
Construction of the Virtual Maintenance Human Action Library Based on Motion Capture System
X Shi, P Zhao, J Zhao, Y Liu, S Liu, Q Wang… – … Conference on Man …, 2017 – Springer
… The whole paper uses the MotionBuilder software for the post-processing of the capture data [4]. 4 Construction of the Maintenance Personnel's Virtual Human Body Data. In … intelligence. 4.1 Collection of Virtual Human Body Data …
The Layout Virtual Verification Method Based on Human Factors Engineering for Nuclear Power Control Room
K Yu – … Conference on Man-Machine-Environment System …, 2017 – Springer
… The human factors layout virtual verification platform was developed based on the simulation system, and the feasibility and visibility of the layout of control room, the work attitude and the rationality of the work space were realized with using the proposed virtual human model …
I Probe, Therefore I Am: Designing a Virtual Journalist with Human Emotions
KK Bowden, T Nilsson, CP Spencer, K Cengiz… – arXiv preprint arXiv …, 2017 – arxiv.org
… The use of virtual humans is consequently becoming increasingly popular in a wide range of areas where such a natural communication might … In this paper we discuss a Virtual Human Journalist, a project employing a number of novel solutions from these disciplines with the …
How Human Am I?: EEG-based Evaluation of Virtual Characters
M Mustafa, S Guthe, JP Tauscher, M Goesele… – Proceedings of the …, 2017 – dl.acm.org
… We use recordings from real humans, virtual humans from the Institute of Creative Technologies Virtual Human Toolkit [18] and state of the art computer-generated humans Digital Emily [2] and Digital Ira [1]. We also in- clude highly realistic characters from interactive drama …
Human behaviors modeling in multi-agent virtual environment
L Cai, B Liu, J Yu, J Zhang – Multimedia Tools and Applications, 2017 – Springer
… In [21], an action selection mechanism was presented to simulate human behaviors in realistic and believable virtual humans according to their personality and affective states. The proposed action selection model takes into account virtual human's beliefs, desires, intentions …
Airways, vasculature, and interstitial tissue: anatomically informed computational modeling of human lungs for virtual clinical trials
E Abadi, GM Sturgeon, G Agasthya… – … 2017: Physics of …, 2017 – spiedigitallibrary.org
… Abstract. This study aimed to model virtual human lung phantoms including both non-parenchymal and parenchymal structures. Initial branches of the non-parenchymal structures (airways, arteries, and veins) were segmented from anatomical data in each lobe separately …
The Virtual Ambience with Electronic Human Resource Management System: A Systematic Literature Review
M Patel, S Dhal – International Journal on Recent and Innovation Trends …, 2017 – ijritcc.com
… Both the terms electronic human resources management and the virtual human resource management systems doesn?t go with the same interpretations that is being streamlined by Lepak and Snellas "Thenetworkfounded structure built on partnerships and typically framed by …
Approaching the virtual-A human centred architecture
IE Radion – 2017 – aaltodoc.aalto.fi
Approaching the virtual – A human centred architecture. | Login …
Towards a virtual mechanical human brain
A Wagner, D Fink, P Schröder, W Ehlers – PAMM, 2017 – Wiley Online Library
… The development of a virtual human brain is embedded in the grand challenge of an integrated overall human model (OHM) faced within SimTech (Simulation Technology is a Cluster of Excellence located at the University of Stuttgart, Germany, cf …
Construction and simulation on intelligent medical equipment system based on virtual reality technology and human-computer interaction model
P Li – International Journal of Biomedical Engineering and …, 2017 – inderscienceonline.com
… al., 2015; Dharmaratne, 2013). ? Smart leading examining module, the patients by touching the intelligent virtual human body image on the screen to realise intelligent leading examining. ? Service evaluation module, rating …
Atrial fibrillation dynamics and ionic block effects in six heterogeneous human 3D virtual atria with distinct repolarization dynamics
C Sánchez, A Bueno-Orovio, E Pueyo… – … in bioengineering and …, 2017 – frontiersin.org
… Materials and Methods. Construction of Six Human Whole-Atria Electrophysiology Models. The human whole-atria anatomical model described in Seemann et al. (2006) was used as the basis to construct the six virtual human patient models of AF …
Design of a virtual reality training system for human–robot collaboration in manufacturing tasks
E Matsas, GC Vosniakos – International Journal on Interactive Design and …, 2017 – Springer
… System setup and configuration are presented in detail, as well as user tracking and navigation issues. Special emphasis is given to the interaction techniques used to facilitate implementation of virtual human–robot (HR) collaboration …
User experience evaluation of human representation in collaborative virtual environments
D Economou, I Doumanis, L Argyriou… – Personal and Ubiquitous …, 2017 – dl.acm.org
… This paper assesses how effectively different types of virtual human (VH) artefacts enable smooth communication and interaction … Keywords Virtual environments · Virtual humans · Avatars · Design guidelines · Immersion · Presence · Communication · Interaction · Collaboration …
Creation of a virtual anatomy system based on chinese visible human data sets
B Fang, Y Wu, C Chu, Y Li, N Luo, K Liu, L Tan… – Surgical and Radiologic …, 2017 – Springer
… data set. With this software, medical students can observe the detailed anatomical information of a virtual human through coronal, sagittal, and transverse sectional anatomical images and 3D-reconstructed models. Medical …
Virtual Environments Integrative Design–From Human-in-the-Loop to Bio-Cyber-Physical Systems
D Fass, F Gechter – International Conference on Applied Human Factors …, 2017 – Springer
… to get. Among the already existing applications, Virtual Human (VH) concept and especially Virtual Standardized Patient (VSP) such as Justin, Justina or Sgt. Castillo [10, 11], is well adapt to the specificity of Psychology. The …
Human-machine collaboration in virtual reality for adaptive production engineering
A de Giorgio, M Romero, M Onori, L Wang – Procedia Manufacturing, 2017 – Elsevier
… J. Prod. Res., vol. 55, no. 3, pp. 858–869, 2016. [14] S. Qiu, X. Fan, D. Wu, Q. He, and D. Zhou, "Virtual human modeling for interactive assembly and disassembly operation in virtual reality environment," Int. J. Adv. Manuf. Technol., vol. 69, no. 9–12, pp. 2355–2372, Dec. 2013 …