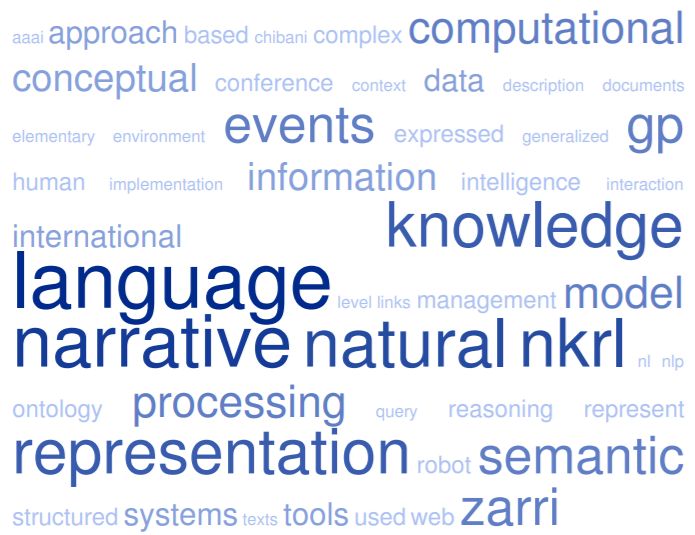 Notes:
Narrative Knowledge Representation Language (NKRL) is a knowledge representation language that is designed to represent knowledge in a way that is structured, narrative, and easier for humans to understand.
NKRL is based on the idea that knowledge is best represented and understood when it is presented in a structured and coherent manner, rather than as a series of disconnected facts. It uses a narrative structure to organize and present knowledge in a logical and coherent way, allowing humans to more easily understand and remember the information.
NKRL is often used in applications where it is important to present complex or technical information in a way that is easy for humans to understand and remember. This includes areas such as education, training, and technical documentation.
NKRL is typically used in combination with other knowledge representation languages, such as Semantic Web languages like RDF and OWL, to provide a more human-friendly interface for accessing and interacting with knowledge. It is also often used in conjunction with natural language processing (NLP) systems, which can help to generate NKRL representations of knowledge from free-form text or other sources.
Wikipedia:
References:
See also:
Narrative Extraction | Narrative Technology
---
Semantic/conceptual annotation techniques making use of the narrative knowledge representation language (nkrl)
GP Zarri – The Twenty-Eighth International Flairs Conference, 2015 – aaai.org
… name: Move:TransferOfServiceToSomeone father: Move:TransferToSomeone position: 4.11 natural language description: "Transfer or Supply a Service to Somone" MOVE … To supply an at least intuitive idea of how a complete narrative is represented in NKRL, let us …
A structured metadata approach for dealing in an 'intelligent' way with complex 'narrative' information
GP Zarri – International Journal of Metadata, Semantics and …, 2011 – inderscienceonline.com
… later, each elementary event is separately encoded making use of the NKRL knowledge representation … are isolated within the general stream corresponding to a whole narrative through the … in NL terms of the global stream, of a single 'generalised natural language predicate' …
A semantic approach for enhancing assistive services in ubiquitous robotics
N Ayari, A Chibani, Y Amirat, E Matson – Robotics and Autonomous …, 2016 – Elsevier
… In the proposed approach, we propose a hybrid model that bridges together the Narrative Knowledge Representation Language (NKRL), from natural language processing field, and the HARMS (Humans, software Agents, Robots, Machines and Sensors) model, from multi …
Advanced computational reasoning based on the NKRL conceptual model
GP Zarri – Expert systems with applications, 2013 – Elsevier
… From a structural point of view, NKRL views a single "narrative" as a … typical Davidsonian/neo- Davidsonian approach (Davidson, 1967, Higginbotham, 2000, Parson, 1990), each "elementary event" is recognized thanks the detection, within the natural language formulation of …
Semantic management of human-robot interaction in ambient intelligence environments using n-ary ontologies
N Ayari, A Chibani, Y Amirat – 2013 IEEE International …, 2013 – ieeexplore.ieee.org
… analysis about past and ongoing events and ii) the use of narrative inference procedures … we have shown that the robot is able to understand natural language dialogues, communicate … We have shown also that NKRL inference procedures such as transformation rules allow for …
The "Qua-Entities" Paradigm versus the Notion of "Role" in NKRL (Narrative Knowledge Representation Language)
GP Zarri – The Twenty-Eighth International Flairs Conference, 2015 – aaai.org
… As we will later NKRL, the Narrative Knowledge Representation Language (Zarri 2009 … The three main clas- ses of NKRL determiners, "modulators", "location attrib- utes … name: Behave:Role father: Behave:HumanProperty position: 1.11 natural language description: 'A Human …
A semantic approach to enhance human-robot interaction in AmI environments
N Ayari, A Chibani, Y Amirat – … of the 2012 International Workshop on …, 2012 – academia.edu
… framework based on semantic observation, communication and reasoning functionalities. The resulting semantic mod- ule achieves semi-automatic conversion of natural language statements into NKRL (Narrative Knowledge Representation Language) semantic annotations …
From RESEDA's Metalanguage to NKRL, the Narrative Knowledge Representation Language: Useful Computational Tools for the Historians
G Zarri – Journal of Data Mining and Digital Humanities, 2020 – hal.archives-ouvertes.fr
… take now into account the "dynamic/structured" component of the narrative historical information … The instances of templates are called "predicative occurrences" in NKRL and correspond then … Note that, to avoid the ambiguities of natural language and any possible combinatorial …
A representation language for describing and managing elementary/complex events in a non-fictional narrative context
GP Zarri – EVENTS@ SETN, 2010 – Citeseer
… this sort of definition, see [9: 8-13] for some information in this context, we can note that, from an NKRL point of … The criterion consists then in the identification, within the description in natural language (NL) terms of the global stream representing a narrative/complex event …
Towards the design of intelligent assistive services by integrating NKRL and the HARMS model
N Ayari, A Chibani, Y Amirat… – International Workshop on …, 2013 – researchgate.net
… Note that, NKRL does not make a difference between concepts and individuals and each event is recognized through the use of generalized predicates that reflect the way we use natural language for the formulation of the narrative/complex events …
Sentiments analysis at conceptual level making use of the narrative knowledge representation language
GP Zarri – Neural networks, 2014 – Elsevier
… appear in the original natural language documents. To this end, this paper focuses on the conceptual representation tools proper to a (wholly implemented) knowledge representation language and computer system environment, NKRL, the Narrative Knowledge Representation …
Behaviour representation and management making use of the narrative knowledge representation language
GP Zarri – Behavior Computing, 2012 – Springer
… To avoid the ambiguities of natural language and the possible "combinatorial explosion" problems—see [3, 56–61]—both … but that (ii) are never strictly necessary for their basic semantic interpretation in NKRL terms, see … 3.1 above, the formal representation of a (whole) narrative …
Representation and Management of Narrative Information: Theoretical Principles and Implementation
GP Zarri – acl-arc.comp.nus.edu.sg
… approaches to the semantic interpretation problem of natural language and the repre- sentation of the … implementation of the system is intriguing, and the book provides many narrative texts exemplifying the expressiveness and capability of NKRL, an unaddressed …
Use of a Knowledge Patterns-Based Tool for Dealing With the" Narrative Meaning" of Complex Iconographic Cultural Heritage Items.
GP Zarri – VIPERC@ IRCDL, 2019 – ceur-ws.org
… NKRL has been successfully used in many different "narrative" domains see, eg, [11, 12, 13, 14 … The (natural language) connectivity phenomenon involved here is the "indirect speech … In NKRL, this mechanism is called "completive construction" see [8: 87-91] and the occurrences …
Representation Languages for Unstructured 'Narrative'Documents
GP Zarri – Encyclopedia of Knowledge Management, Second …, 2011 – igi-global.com
… Templates are included in an inheritance hierarchy, HTemp(lates), which implements in practice the 'ontology of events' of NKRL. Narrative Documents or 'Narratives': Multimedia documents (very often, unstructured, natural language documents like memos, policy statements …
Dealing with 'Narrative'Terrorism Information According to Conceptual/Semantic Approach
GP Zarri – researchgate.net
… To represent the narrative completely, we must add to the two previous predicative occurrences a binding occurrence, eg, mod3.c8, to link together the conceptual … Search patterns can be considered as the NKRL counterparts of natural language queries; they offer …
Representation and Management of Narrative Information: Theoretical Principles and Implementation Gian Piero Zarri (Politecnico di Milano) Springer Verlag …
F Schilder – 2010 – MIT Press
… approaches to the semantic interpretation problem of natural language and the repre- sentation of the … implementation of the system is intriguing, and the book provides many narrative texts exemplifying the expressiveness and capability of NKRL, an unaddressed …
Conceptual Tools for Dealing with 'Narrative'Terrorism Information
GP Zarri – Handbook of Research on Computational Forensics …, 2010 – igi-global.com
… if a large amount of non-fictional narratives are embodied within natural language (NL) texts … Congress" is not of course an NL document, yet it surely represents a narrative. In this paper, we will present an Artificial Intelligence tool, NKRL, "Narrative Knowledge Representation …
Representation and management of complex 'narrative'information
GP Zarri – Language, Culture, Computation. Computing of the …, 2014 – Springer
… of a narrative corresponds to a logically (and temporally) connected stream of (non-fictional) elementary events – we can also add that the verbalized expression of a single (NKRL) elementary event includes at most an (implicit or explicit) generalized natural language (NL …
Dependency Parsing Sandra Kübler, Ryan McDonald, and Joakim Nivre (Indiana University, Google Research, and Uppsala and Växjö Universities) Morgan & …
J Carroll – 2010 – MIT Press
… approaches to the semantic interpretation problem of natural language and the repre- sentation of the … implementation of the system is intriguing, and the book provides many narrative texts exemplifying the expressiveness and capability of NKRL, an unaddressed …
Narrative Knowledge Representation and Blockchain: A Symbiotic Relationship
L Sabri, A Boubetra – International Conference on Advanced Information …, 2020 – Springer
… Zarri, GP: NKRL a knowledge representation language for narrative natural language processing. In: Proceedings of the 16th conference on Computational linguistics, vol. 2, pp. 1032–1035 (1996)Google Scholar. 12. Fensel, D.: Ontologies …
Modelling and exploiting the temporal information associated with complex'narrative'documents
GP Zarri – … Journal of Knowledge Engineering and Data …, 2019 – inderscienceonline.com
… When expressed in natural language (NL) terms, non-fictional narratives can take the form … immediately the ubiquitous character of this sort of non-fictional narrative resources and … NKRL, the narrative knowledge representation language, is both a conceptual modelling tool (Zarri …
A novel approach based on commonsense knowledge representation and reasoning in open world for intelligent ambient assisted living services
N Ayari, A Chibani, Y Amirat… – 2015 IEEE/RSJ …, 2015 – ieeexplore.ieee.org
… 1). This architecture is based on the HARMS model [19] and NKRL, a knowledge representation model for narrative reasoning and natural language processing. It includes four layers that are embeded in each artificial agent. Fig. 1. Distributed cognitive architecture …
Knowledge representation and inference techniques to improve the management of gas and oil facilities
GP Zarri – Knowledge-Based Systems, 2011 – Elsevier
… from filmmaking industry and used to describe in written, and in a 'narrative' style, a … are stored in the two storyboards; for illustrative purposes, the original natural language formulation of few … sensitive information; as shown below, see Section 3.1 in particular, NKRL is obviously …
The Third Workshop on Computational Models of Narrative
MA Finlayson – 2012 – narrative.csail.mit.edu
… Examples concerning some recent applications of NKRL in different domains will be used in the paper to better explain the use of these tools … First, we query human workers to write natural language narrative examples of a given situation …
Representing and managing narratives in a computer-suitable form
GP Zarri – 2010 AAAI Fall Symposium Series, 2010 – aaai.org
… the general theoretical framework underpinning the NKRL approach to the narrative problems, we … the form these narratives can assume, at the surface level, in a particular natural language … and surface levels obviously exists, for practical reasons, also in an NKRL context, but …
Semantics-based information extraction for detecting economic events
A Hogenboom, F Hogenboom, F Frasincar… – Multimedia Tools and …, 2013 – Springer
… of several key components which can be useful components for many custom natural language processing pipelines … Because CAFETIERE stores knowledge in an ontology by means of the Narrative Knowledge Representation Language (NKRL), Semantic Web …
From Story to Narrative Network1
E Soulier – researchgate.net
… But on the other hand environment like NKRL, as powerfull as it is, remains very complex to manipulate by … (Step 1) collect and and store RSS narrative data from … in the feeds throught a very complex IT functiona- lity based on one part on a Natural language processing (NLP …
Book Review: Dependency Parsing by Sandra Kübler, Ryan McDonald, and Joakim Nivre
JA Carroll – Computational Linguistics, 2010 – aclweb.org
… approaches to the semantic interpretation problem of natural language and the repre- sentation of the … implementation of the system is intriguing, and the book provides many narrative texts exemplifying the expressiveness and capability of NKRL, an unaddressed …
A structured and in–depth representation of the semantic content of elementary and complex events
GP Zarri – International Journal of Metadata, Semantics and …, 2015 – inderscienceonline.com
… associated with the detection of a particular generalised predicate, according to the above acceptation, within the natural language formulation of … For clarity's sake, let us look at two simple 'narrative' examples concerning the 'industrial' NKRL application mentioned …
A Computational Model for Dealing with Narratives
GP Zarri – World Summit on Knowledge Society, 2011 – Springer
… for a complete description of the formal system utilized by NKRL to deal … name: Move: TransferOfServiceToSomeone father: Move:TransferToSomeone position: 4.11 natural language description: "Transfer or … an at least intuitive idea of how a complete narrative is represented in …
Affective neural networks and cognitive learning systems for big data analysis.
A Hussain, E Cambria, BW Schuller, N Howard – Neural Networks, 2014 – sentic.net
… variants of LDA and ultimately make the argument that natural language processing is … Sentiments Analysis at Conceptual Level Making Use of the Narrative Knowledge Representation … implemented conceptual language, NKRL (Narrative Knowledge Representation Language …
Conceptual and content-based annotation of (multimedia) documents
GP Zarri – Multimedia tools and applications, 2014 – Springer
… paper focuses on the techniques used in an NKRL environment (NKRL = Narrative Knowledge Representation … on 'significant fragments' of the documents, eg, "sentences" for natural language texts or … In this context, NKRL makes use of second order knowledge representation …
Using the Formal Representations of "Elementary Events" to Set Up Computational Models of Full "Narratives"
GP Zarri – Data Analytics in Digital Humanities, 2017 – Springer
… concepts, take into account the "dynamic/structured" component of the narrative information … (1) and denoted as Move:TransferMaterialThingsToSomeone in NKRL is instantiated to … Note that, to avoid the ambiguities of natural language and any possible combinatorial explosion …
Semantic framework to enhance human-robot interaction using EKRL
A Omar, A Ramdane-Cherif – 2017 IEEE 16th International …, 2017 – ieeexplore.ieee.org
… can describe events in a narrative way, closely resembling the natural language. EKRL is used to describe general knowledge of a specific domain. Ontologies are used as structures to store information and extract the meaning. EKRL is inspired from and close to NKRL [12] so …
Mapping from lexical resources to high-level data modelling languages
GP Zarri – Proceedings of ColabTKR, 2012 – lrec-conf.org
… bring together into a unique, global entity (complex event, narrative, multifaceted eChronicles etc … These links are normally expressed in natural language through lexical/syntactic constructions like … represent, at the conceptual level, the connectivity phenomena, NKRL makes use …
A Conceptual Methodology for Dealing with Terrorism "Narratives"
GP Zarri – Crime Prevention Technologies and Applications for …, 2012 – igi-global.com
… This description will be integrated with concrete examples that illustrate the use of NKRL tools in two recent … is recognized through) the presence of a single 'predicate' ("buy", "kill", "send"…) in the natural language (NL) description of the narrative under examination …
Differentiating between "functional" and "semantic" roles in a high-level conceptual data modeling language
GP Zarri – Twenty-Fourth International FLAIRS Conference, 2011 – aaai.org
… Case Systems for Natural Language. Artificial Intelligence 6, 327-360 … 2005. Integrating the Two Main Inference Modes of NKRL, Transformations and Hypotheses … 2009. Representation and Management of Narrative Information, Theoretical Principles and Implementation …
7 GIS Data Models for Depicting Traditional Knowledge of Processes: Connecting Spatio-Temporal Motifs into More Complex Narrative Structures
K Mackenzie, F Reitsma – A NEW GIS DATA MODEL FOR DEPICTING … – ir.canterbury.ac.nz
… This is the work that this paper builds upon. Another approach is the Narrative Knowledge Representation Language (NKRL). It provides a conceptual language for documenting the semantic content of narrative documents …
Knowledge Representation and Reasoning According to an Advanced N-Ary Model
GP Zarri – 2019 Third IEEE International Conference on Robotic …, 2019 – ieeexplore.ieee.org
… paper, we provide some basic information about the rule system of NKRL, the Narrative Knowledge Representation … To avoid the ambiguities of natural language and any possible combinatorial explosion problem, both the predi … 1 – around one of the seven Pj admitted by NKRL …
Narrative Annotation of Content for Cultural Legacy Preservation
P Bruneau – … Conference on Data Management Technologies and …, 2017 – Springer
… In their Narrative Knowledge Representation Language (NKRL), they define data structures and … The way narrative entities, relationships and predicates are extracted is seldom considered in … to determine links between events, and the use of Natural Language Processing (NLP …
Narratives, formalism, computational tools, and nonlinearity
E Nissan – Language, Culture, Computation. Computing of the …, 2014 – Springer
… 76. Dyer, MG: In-Depth Understanding: A Computer Model of Integrated Processing of Narrative Comprehension. The … 79. Dyer, MG: Symbolic NeuroEngineering for Natural Language Processing: A Multilevel Research Approach …
Functional and semantic roles in a high-level knowledge representation language
GP Zarri – Artificial Intelligence Review, 2019 – Springer
… j}}}}\ is a conceptual predicate, ie, a deep level abstraction, independent from a particular natural language, of the … from Table 2 we can also deduce that the top-level representation in NKRL terms of a complex, structured/dynamic knowledge entity (narrative, complex event …
Storing and Processing Personal Narratives in the Context of Cultural Legacy Preservation.
P Bruneau, O Parisot, T Tamisier – DATA, 2017 – scitepress.org
… heuristic is used in (Gaeta et al., 2014) to determine links between events, and the use of Natural Language Processing (NLP … 3 NARRATIVE ENTITY MODEL … and spatio-temporal coordi- nates at the center of narratives, we developed a sim- plified variant of NKRL (Zarri, 2009) …
Contextual Knowledge Representation and Reasoning Models for Autonomous Robots
N Ayari, A Chibani, Y Amirat, G Fried – 2017 AAAI Fall Symposium Series, 2017 – aaai.org
… The natural language (NL)/NKRL service provides a set of common techniques, algorithms and … by reasoning techniques or query-answering system; • The online NKRL context-aware reasoning is based on the inference engine of Narrative Knowledge Representation …
Towards robust agent behaviours in modeling and simulation: Situation filling in with commonsense knowledge
HW Leong, K Kwok – 20th Behavior Representation in Modeling & …, 2011 – acs.ist.psu.edu
… Zarri GP (1996). NKRL, a Knowledge Representation Language for Narrative Natural Language Processing. In Proceeding COLING '96 Proceedings of the 16th conference on Computational Linguistics, 2. Miller, GA (1995). WordNet: A Lexical Database for English …
Aware computing guided by Lmd expression and direct knowledge in spatial language understanding
M Yokota – 2011 3rd International Conference on Awareness …, 2011 – ieeexplore.ieee.org
… linguistic and pictorial expressions as spatial language understanding. Index Terms-Knowledge representation, natural language understanding, cross-media operation. I. INTRODUCTION The serious need for more human …
The Narrative Dimension
E Nissan – Computer Applications for Handling Legal Evidence …, 2012 – Springer
… Computer Applications for Handling Legal Evidence, Police Investigation and Case Argumentation pp 323-481 | Cite as. The Narrative Dimension … arguments. Download chapter PDF. 5.1 Legal Narratives. 5.1.1 Overall Narrative Plausibility: Preliminaries …
High-level knowledge representation and reasoning in a cognitive IoT/WoT context
GP Zarri – Cognitive Computing for Big Data Systems Over IoT, 2018 – Springer
… Two elementary events , the first corresponding to the warning expressed by the robot—this event is identified by the surface natural language verb "to remind", see in this context, eg, [63: 2366–2367]—the second to … Using NKRL, the Narrative Knowledge Representation …
A New Data Model for Depicting Traditional Ecological Knowledge in GIS via Motifs, Folk Thesauri and Narratives
K Mackenzie, D Kirk, C Claramunt, F Reitsma – researchgate.net
… Baltimore: Johns Hopkins University Press. Zarri, GP 1996. NKRL, a knowledge representation language for narrative natural language processing. In Tsujii, J. ed. Proceedings of the 16th conference on computational linguistics …
A lexico-semantic pattern language for learning ontology instances from text
W IJntema, J Sangers, F Hogenboom… – Journal of Web …, 2012 – Elsevier
… In our framework we benefit from the natural language processing steps performed by GATE [41] and the … level, ie, semantic concepts are derived from an ontology (knowledge base) described in Narrative Knowledge Representation Language (NKRL) [44] …
Towards awareness computing under control by world knowledge grounded in sensory data
M Yokota – 2010 IEEE International Conference on Systems …, 2010 – ieeexplore.ieee.org
… its capability of formalizing both temporal and spatial event concepts on the level of human sensations while other similar knowledge representation languages are designed to describe the logical relations among conceptual primitives represented by natural-language words [8 …
Aware computing in spatial language understanding guided by cognitively inspired knowledge representation
M Yokota – Applied Computational Intelligence and Soft …, 2012 – hindawi.com
Page 1. Hindawi Publishing Corporation Applied Computational Intelligence and Soft Computing Volume 2012, Article ID 184103, 10 pages doi:10.1155/2012/184103 Research Article Aware Computing in Spatial Language Understanding Guided by …
Towards Semantic Multimodal Emotion Recognition for Enhancing Assistive Services in Ubiquitous Robotics
N Ayari, H Abdelkawy, A Chibani, Y Amirat – 2017 AAAI Fall Symposium …, 2017 – aaai.org
… affects in intelligent ambient environment, the ontological model based on the Narrative Knowledge Representation … of a query of the user during a discus- sion using NKRL language … guage aims to represent and to reason on the meaning of natural language sentences which …
Language, Culture, Computation: Computing for the Humanities, Law, and Narratives: Essays Dedicated to Yaacov Choueka on the Occasion of His 75 …
N Dershowitz, E Nissan – 2014 – books.google.com
… NKRL is a representation and querying and inferencing environ- ment for an "intelligent" exploitation of (non … Parrot of Sfakion," refers to the hapless protago- nist of the narrative being formalized … from such search engines as Google), as well as for natural-language processing …
History on the semantic web as linked data-an event gazetteer and timeline for World War I
E Hyvönen, T Lindquist, J Törnroos… – Proceedings of …, 2012 – pdfs.semanticscholar.org
… twofold: 1) Facilitate event-based cataloging for curators in memory organizations; 2) Utilize semantic event descriptions and narrative event structures … identified by language- neutral identifiers for machine use, not by their names or titles in a particular natural language that are …
Semantic Architecture for Human Robot Interaction
S Dourlens, A Ramdane-Chérif – Semantic Agent Systems, 2011 – Springer
… MurML [9], MMIL [12], MutliML [6] are pure XML and are based on a natural language processing (NLP … languages more suitable and powerful as KRL like Knowledge Inter- change Format (KIF12) or Narrative Knowledge Representation Language (NKRL) [19] …
Semantic memory for pervasive architecture
S Dourlens, A Ramdane-Cherif – International Conference on Information …, 2010 – Springer
… MurML [7], MMIL [8], MutliML [9] are pure XML and are based on a natural language processing (NLP) parser made by a … Other languages more suitable, powerful and simple as KRL like Knowledge Interchange Format (KIF [25]) or Narrative KRL (NKRL) exist [12] …
Conceptual Encoding and Advanced Management of Leonardo da Vinci's Mona Lisa: Preliminary Results
A Amelio, GP Zarri – Information, 2019 – mdpi.com
… It has been successfully used in many different narrative-based domains like terrorism news, analysis of industrial … ranges from the direct questioning of NKRL knowledge bases making use of "search patterns" (NKRL equivalents of natural language queries) to high …
Cognitive memory for semantic agents in Robotic interaction
S Dourlens, A Ramdane-Cherif – 9th IEEE International …, 2010 – ieeexplore.ieee.org
… MurML [7], MMIL [8], MutliML [9] are pure XML and are based on a natural language processing (NLP … more suitable, powerful and simple as KRL like Knowledge Interchange Format (KIF 10 ) or Narrative Knowledge Representation Language (NKRL) [12] exist …
SPEED: a semantics-based pipeline for economic event detection
F Hogenboom, A Hogenboom, F Frasincar… – … on Conceptual Modeling, 2010 – Springer
… As knowledge is stored in an ontology using Narrative Knowledge Representa- tion Language (NKRL … NKRL has no formal semantics and there is no reasoning support, which is desired … Journal of Natural Language Engineering 10(3-4), 375–392 (2004) 5. Navigli, R., Velardi, P …
Financial events recognition in web news for algorithmic trading
F Hogenboom – International Conference on Conceptual Modeling, 2012 – Springer
… Our main contribution in the field of news analysis is the Hermes frame- work [12], which makes use of Natural Language Processing (NLP … For this, CAFETIERE uses a specific representation, ie, Narrative Knowledge Represen- tation Language (NKRL), a knowledge …
Research and trends in the studies of collective intelligence from 2012 to 2015
F Grimon, J Meza, M Vaca-Cardenas… – E-Learning, E-Education …, 2017 – Springer
… in the scientific literature, including one has to [22] proposed in their research a framework of CI based narrative reasoning and natural language processing. It exhibits a hybrid model that combines the Narrative Knowledge Representation Language (NKRL) and HARMS …
Data analytics in digital humanities
S Hai-Jew – 2017 – Springer
… Dr. Gian Piero Zarri offers an in-depth description of Narrative Knowledge Representation Language (NKRL) and its use to … Technologies as an integration of methods from Knowledge Engineering, the Semantic Web, Linked Data, Natural Language Pro- cessing …
Semantic-based industrial engineering: Problems and solutions
GP Zarri, L Sabri, A Chibani… – … Conference on Complex …, 2010 – ieeexplore.ieee.org
… [6] GP Zarri, "Using Rules in the Narrative Knowledge Representation Language (NKRL) Environment," in Handbook of … [10] G. Witt, "A Practical Method for Developing Natural Language Rule Statements (Parts 1-11)", Business Rules Journal, vol. 10, 2009. Fig …
History on the Semantic Web as Linked Data
E Hyvönen, T Lindquist, J Törnroos, E Mäkelä – cidoc.mini.icom.museum
… use, not by their names or titles in a particular natural language that are … Tuffield, M., Millard, D., Shadbolt, N.: Ontological Approaches to Modelling Narrative … Zarri, GP: Semantic Annotations and Semantic Web Using NKRL (Narrative Knowledge Representation Language) …
The intangible nature of drama documents: an frbr view
V Lombardo, R Damiano, A Pizzo… – Proceedings of the 2017 …, 2017 – dl.acm.org
… In particular, projects such as Narrative Knowledge Representation Language (NKRL) [36] leveraged the use of … The SIG elaborated can be rephrased, by generating a natural language re-telling of the … which it is possible to pursue data-driven investigations of narrative structure …
Modeling wth Events from Polcy Descriptions
N Parameswaran, PN Chakrapani – The Thirtieth International Flairs …, 2017 – aaai.org
… Controlled natural languages (CNL) is a carefully chosen subset of natural language that is used for policy … a method to "isolate and represent" events in a stream of narrative information(Zarri 2015) using a knowl- edge representation language called NKRL (the Narrative …
Using cognitive ubiquitous robots for assisting dependent people in smart spaces
A Chibani, A Bikakis, T Patkos, Y Amirat… – Intelligent Assistive …, 2015 – Springer
… In [13], we proposed a narrative- based approach for representing and reasoning about space, changes and events in … is used to build a reasoning procedure that allows the robot to forward a failed NKRL query to the … The failed query is posed to the user in natural language …
Algorithms and interoperability between drama and artificial intelligence
A Pizzo, V Lombardo, R Damiano – TDR/The Drama Review, 2019 – MIT Press
… of the content (ie, lighting hue represented as mathematical values), but also of more com- plex elements such as the narrative sequence … by Alan Turing in 1950 to determine whether a machine can exhibit intel- ligent behavior (by means of natural language conversation) well …
AJAX 14 Albanian language 371 Albanian Stemmer 379 alerting emergency services 414 algorithm 402, 404, 405, 406, 409
EC Amazon, AM Image, AAL AAL… – Internet of Things and …, 2012 – Springer
… 408 N N-ary knowledge representation 355 natural language processing 374 network IP 117 mobility 117 sensors and actuators 120 network 391, 392, 393395, 397, 405 neural network 33 news 391 Next Generation Networks 236 NKRL (Narrative Knowledge Representation …
An expressive event-based language for representing user behavior patterns
H Sharghi, K Sartipi – Journal of Intelligent Information Systems, 2017 – Springer
… In (Zarri 2012) a conceptual language NKRL (Narrative Knowledge Representation Language) provides an … They interpreted a narrative including a sequence of logically structured elementary events … attempt to infer the semantics of a behavior described by a natural language …
Drama heritage: prototype of a corpus
V Lombardo, R Damiano, A Pizzo – 2018 3rd Digital Heritage …, 2018 – ieeexplore.ieee.org
… In particular, projects such as Narrative Knowledge Representation Language (NKRL) [27] leveraged the use of markup languages for the representation of the narrative content of text, revamping the use of frames into the emerging scenario of media indexing and retrieval …
IoT Semantic Modeling Using the GWE (Generalized World Entities) Paradigm
GP Zarri – World Conference on Information Systems and …, 2018 – Springer
… Two elementary events, the first corresponding to the warning expressed by the robot – this event is identified by the surface natural language verb "to remind", see [12] – the second to the information about the … Using NKRL, the Narrative Knowledge Representation …
Deep HMResNet Model for Human Activity-Aware Robotic Systems
H Abdelkawy, N Ayari, A Chibani, Y Amirat… – arXiv preprint arXiv …, 2018 – arxiv.org
… advantages, com- pared to computer vision and natural language process- ing … with previously proposed Nar- rative Knowledge Representation Language (NKRL) rea- soning … The knowledge representation services exploited the narrative knowledge representation language …
Generalized world entities as an unifying IoT framework: A case for the GENIUS project
GP Zarri – Internet of Things and Inter-cooperative Computational …, 2013 – Springer
… high-level conceptual representation language used in GENIUS, ie, NKRL (Narrative Knowledge Representation … the representation of a conceptual entity (of an NKRL "template") like … These links are normally expressed in natural language through syntactic constructions like …
A semantic-rich approach to IoT using the generalized world entities paradigm
F Amarilli, F Amigoni, MG Fugini, GP Zarri – Managing the Web of Things, 2017 – Elsevier
… A modality, the audio warning. • Two elementary events, the first corresponding to the warning of the robot surface natural language verb "to remind"), the second to the information about the necessity of locking the front door (surface verb "to lock"). • …
Synthesis Lectures on the Semantic Web: Theory and Technology
J Hendler, Y Ding – 2012 – pdfs.semanticscholar.org
Page 1. Publishing and Using Cultural Heritage Linked Data on the Semantic Web Copyright © 2012 by Morgan & Claypool, Palo Alto, CA, USA Page 2. Synthesis Lectures on Semantic Web: Theory and Technology Editors …
CITATIONS TO THE WORK OF
WJ Rapaport – 2016 – cse.buffalo.edu
… 4. Hite, Molly (2010), "Tonal Cues and Uncertain Values: Affect and Ethics in Mrs. Dalloway", Narrative 18(3) (October): 249–275 … 1. Nakhimovsky, Alexander (1988), "Aspect, Aspectual Class, and the Temporal Structure of Narrative", Computational Linguistics 14(2): 29–43 …
Access control obligation specification and enforcement using behavior pattern language
M Sharghigoorabi – 2018 – ir.library.dc-uoit.ca
… abstract level. In [18] a conceptual language NKRL (Narrative Knowledge Representation Lan … tools. They interpreted a narrative including a sequence of logically structured ele … Due to the ambiguity in the natural language to specify the access control re …
Multimodal interaction semantic architecture for ambient intelligence
S Dourlens – 2012 – tel.archives-ouvertes.fr
… These systems must have the capability to take advantage of the environment in order to improve interaction. This extends the capabilities of system (machine or robot) to better reach natural language used by human beings …
The ontology of drama
R Damiano, V Lombardo, A Pizzo – Applied Ontology, 2019 – content.iospress.com
… In particular, the pioneering Narrative Knowledge Representation Language (NKRL) project combines the use of markup for the encoding of the narrative content of text with the use of frames to represent the narrated story incidents (Zarri, 1997, 2014) …
Historical research in archives: user methodology and supporting tools
T Elena, A Katifori, C Vassilakis, G Lepouras… – International Journal on …, 2010 – Springer
… regarding a number of con- cepts (persons, departments, locations etc.) or interactions between these concepts (eg, person X becomes president of department Y). Such a modeling of natural language queries is always possible through typical languages such as NKRL ([20,21 …
Automated detection of financial events in news text
F Hogenboom – 2014 – repub.eur.nl
… Modeling. Common natural language processing and machine learning techniques are frequently deployed to solve crucial aspects of event extraction tasks, eg, the recognition of named entities (such as Page 25. 4 Introduction …
RDF and OWL for Knowledge Management
GP Zarri – … and Knowledge: Concepts, Methodologies, Tools and …, 2012 – igi-global.com
… within a Web context, SPARQL is based on a strict 'pattern-matching' approach – see, by contrast, the equivalent FUM (Filtering Unification Module) query module in NKRL (Zarri, 2009 and the Chapter "Representation Lan- guages for Unstructured 'Narrative' Documents" in this …
Improving Call Center Load Prediction using News
AC Verheij – 2012 – thesis.eur.nl
… 12 2.5 Natural Language Processing … While there is no literature available on models that try to predict call center load using news, there exists literature in other fields that applies news or other items consisting of natural language for forecasting purposes …
Hypercontext: Using context in adaptive hypertext
C Staff, MMSD Tal-Qroqq, E Malta – Proceedings of the International and …, 2015 – dif.unige.it
Page 147. 1 HyperContext: Using Context in Adaptive Hypertext Christopher Staff Department of Computer Science and AI University of Malta Tal-Qroqq, Msida MSD 06 Malta, Europe e-mail: cstaff@ cs. um. edu. mt Tel:+(356 …
Digital cognitive technologies: epistemology and knowledge society
C Brossard, B Reber – 2013 – books.google.com
… But we could also believe that here again it is the tools that would give birth to new paradigms, to such an extent that some disciplines might feel endangered by some of their specialties: linguistics with NLP (natural language processing), geography with geomatics and …
Content-based access control
MA Hart – 2011 – ir.stonybrook.edu
… 7.1.1 Shallow features…..116 7.1.2 Employing Natural Language Processing…..119 7.1.3 NLP co-training…..120 …
Augmenting User Experience in the Social Web by Means of Storytelling and Semantic Web Techniques.
E Chiabrando – dott-informatica.campusnet.unito.it
… characteristics and three main pleasures (immersion, agency and transforma- tion) that provide the basis for an expressive narrative digital form … information of Wikipedia to compute the semantic similarity degree between words and between fragments of natural language text …
Digital Cognitive Technologies
B Reber, C Brossaud – Wiley Online Library
… 40 3.2.3. Social narrative ontology … could also believe that here again it is the tools that would give birth to new paradigms, to such an extent that some disciplines might feel endangered by some of their specialties: linguistics with NLP (natural language processing), geography …
Hybrid Cloud Model Checking Using the Interaction Layer of Harms for Ambient Assistive Living Environments
MAG Morales – 2018 – search.proquest.com
Page 1. HYBRID CLOUD MODEL CHECKING USING THE INTERACTION LAYER OF HARMS FOR AMBIENT ASSISTIVE LIVING ENVIRONMENTS A Dissertation Submitted to the Faculty of Purdue University by Mauricio Alejandro Gomez Morales In Partial Fulfillment of the …