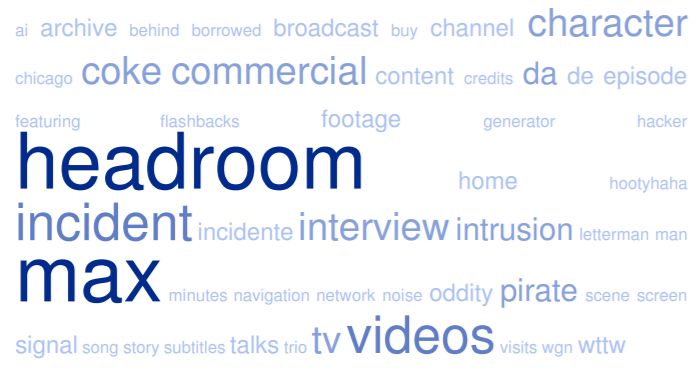 Notes:
Max Headroom was a fictional artificial intelligence (AI) character and media franchise created in the 1980s. The character was portrayed by actor Matt Frewer and was originally developed as a computer-generated on-screen personality for use in television commercials and music videos.
The character of Max Headroom was portrayed as a snarky, irreverent, and highly intelligent AI with a distinctive stuttering speech pattern. He was known for his quick wit and his ability to make observations and comments on various topics, including technology, media, and society.
The Max Headroom franchise included a number of television shows and films, including a British television movie called "Max Headroom: 20 Minutes into the Future," which served as the basis for an American television series of the same name. The series aired on ABC in the United States from 1987 to 1988 and followed the character as he navigated a dystopian future in which television and media played a central role in society.
In addition to his appearances on television and in films, Max Headroom also made a number of appearances in other media, including video games, books, and music videos. The character remains a popular and enduring cultural icon from the 1980s and is remembered for his unique personality and his contributions to the science fiction genre.
Max Headroom was a fictional character created in the 1980s and was portrayed as an artificial intelligence (AI) with a distinctive stuttering speech pattern. As a fictional character, Max Headroom was not a real AI, but rather a representation of what an AI might be like in the future.
In the context of the Max Headroom media franchise, the character was portrayed as a virtual being, or a being that exists entirely in a digital or virtual form. As a virtual being, Max Headroom had no physical body and was able to exist and communicate through various forms of media, including television, computers, and other electronic devices.
The concept of virtual beings, or digital entities that are capable of interacting with humans and other beings in a manner that is similar to real-life beings, is a topic that is of interest to many in the field of artificial intelligence and technology. While virtual beings like Max Headroom are currently purely fictional, advances in technology and AI may eventually lead to the development of more advanced virtual beings that are able to interact with humans in more sophisticated and realistic ways.
Wikipedia:
References:
Cancelled Too Soon: Max Headroom (1987) (11 Jan 2020)
Matt Frewer – Max Headroom himself – joins Fear TWD cast (15 May 2019)
Max Headroom Returns, Looks Fugly (21 Jan 2019)
Max Headroom recites the ABCs (2 Jan 2019)
Classic Ad Review: Max Headroom shills for New Coke (5 Apr 2018)
Watch "Max Headroom: 20 Minutes into the Future" (1985) (23 Mar 2018)
The enduring and mysterious legacy of Max Headroom (1 Dec 2017)
The Max Headroom incident (22 Nov 2017)
30 Years Ago: Max Headroom Hijacked Chicago TV (22 Nov 2017)
This creepy unsolved mystery has been haunting TV … (25 Oct 2017)
You Should Be Watching: 'Max Headroom' (12 Sep 2017)
How Max Headroom, The Geico Gecko, And Other Ad … (15 May 2017)
Retrotechtacular: Max Headroom Takes Chicago In … (23 Nov 2016)
Max Headroom: The wiseass AI who hacked his way into … (21 Oct 2016)
The Max Headroom hijacker remains at large, but Super … (30 Sep 2016)
The Curious Case Of The Max Headroom Broadcast, The … (21 Nov 2015)
Max Headroom, the full story (3 Apr 2015)
Downfall of a simulated celebrity: Brian Williams, Max … (21 Feb 2015)
Tech Time Warp of The Week: Remembering the Max … (2 Nov 2014)
The Creepily Accurate Dystopian Forecast of Max Headroom (29 Aug 2014)
TRANSCENDENCE Movie Review – The Return of Max … (19 Apr 2014)
Kojak, Hopper, and Max Headroom (26 Nov 2013)
Mitt Romney's Secret: Is He Really Max Headroom? (25 Aug 2012)
Rembert Explains the '80s: Max Headroom Interviews Sting (28 Jun 2012)
Poly iPad App Makes You Look Like M… M… M… Max … (2 Jan 2012)
Max Headroom: The Complete Series (16 Sep 2010)
Max Headroom: The Complete Series (review) (18 Aug 2010)
How Max Headroom Predicted My Job, 20 Years Before It … (11 Aug 2010)
80s Nostalgia? MM-Max Headroom Is Now On DVD (10 Aug 2010)
Look Who's Back: The Original Talking Head (7 Aug 2010)
TV Junkie: 'Damages' Lives; 'Max Headroom' Series on DVD (20 Jul 2010)
Max Out: The Max Headroom computer game remembered (19 Mar 2008)
See also:
100 Best Character Generator Videos | 100 Best Daz3d Character Videos | 100 Best Houdini Character Videos | 100 Best Non-Player Character Videos | 100 Best Poser Character Videos | 100 Best Reallusion Character Creator Videos | 100 Best The-Sims Character Videos
---