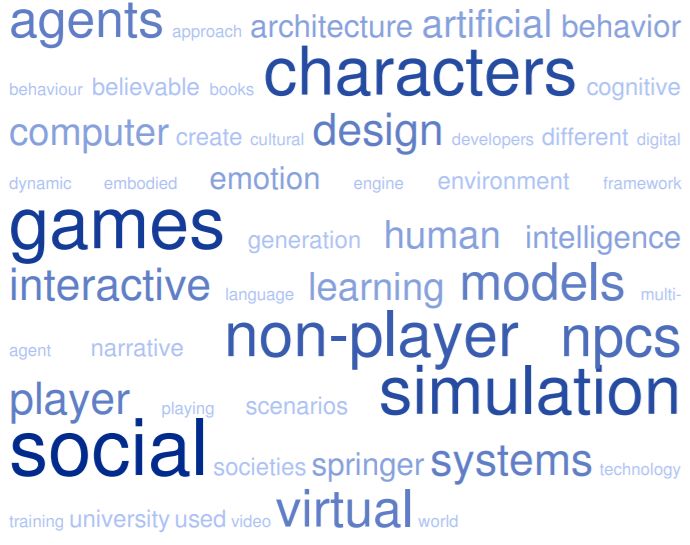 Notes:
Non-Player Characters (NPCs) are computer-controlled characters that are used in games, simulations, and other interactive media. They are typically designed to interact with the player in some way, either by providing information, selling items, or engaging in combat. In social simulation games, NPCs are used to represent other characters or individuals in the game world and to provide a sense of immersion and social interaction for the player. They can be programmed to behave and interact in specific ways, such as by following certain routines or responding to player actions. NPCs can be used to create a sense of realistic social interaction within a game or simulation, and they can be used to provide challenges, goals, and other types of gameplay elements for the player.
A non-playable character (NPC) is a character in a game that cannot be controlled by the player. These characters are typically controlled by the game's AI and are used to provide background or story elements in the game. NPCs are often used to provide information, quest objectives, or other types of gameplay elements for the player, but they cannot be directly controlled by the player. Non-playable characters are often used in games to provide a sense of realism and to help advance the story or gameplay.
The main difference between NPCs and virtual humans is that NPCs are simpler and more limited in their behavior and interactions, while virtual humans are designed to be more realistic and lifelike. Virtual humans are also typically more complex and require more advanced programming and technologies to create and maintain.
Resources:
Wikipedia:
References:
See also:
100 Best Social Robotics Videos | 100 Best Social Virtual Reality Videos | Computational Social Science & Natural Language Processing 2017 | JAMES (Joint Action for Multimodal Embodied Social Systems) | Social Robot News 2018 | Social Robot News 2019
---
A simple method for evolving large character social networks
J Ryan, M Mateas, N Wardrip-Fruin – Proc. Social Believability in …, 2016 – researchgate.net
… Keywords world generation, social simulation, affinity modeling, non-player characters, believability INTRODUCTION Human beings embed themselves in large, dynamic social networks, but this has not been the case with non-player characters (NPCs) in games …
Data-driven alibi story telling for social believability
B Li, M Thakkar, Y Wang, MO Riedl – Social Believability in Games, 2014 – fdg2014.org
… 2. BACKGROUND AND RELATED WORK 2.1 Social Non-Player Characters Humans respond to virtual agents much the same way they respond to each … Prom Week [15] is an excellent example of a social simulation game in which the player must navigate a character through …
Composing social interactions via social games
D Shapiro, K Tanenbaum, J McCoy, L LeBron… – Proceedings of the …, 2015 – dl.acm.org
… All rights reserved. 573 Page 2. These behaviors flow into a social simulation that supports real- time, whole-body interaction with virtual characters that exhibit nuanced performances … A single SIU can control the behavior of multiple non- player characters …
Multi-agent modeling methods for massivley multi-player on-line role-playing games
M Schatten, I Tomi?i?, BO Ðuri? – 2015 38th International …, 2015 – ieeexplore.ieee.org
… platform as well as the design and implementation large- scale distributed artificial intelligence (in form of non-player characters – NPCs, mobs … low-level behaviors to higher level targeted goals (low level such as collision detection, followed by social simulation, idle behaviors …
Parasocial and social player-avatar relationships: social others in Thomas was alone
E Loyer – Press Start, 2015 – press-start.gla.ac.uk
… Only player-PC relationships are considered, not player-Non-Playable Character (NPC) relationships … This type of relationship is also most common in social simulation games where the main goal of the game is to interact with others …
The ensemble engine: Next-generation social physics
B Samuel, AA Reed, P Maddaloni… – Proceedings of the …, 2015 – pdfs.semanticscholar.org
… General Terms Design Keywords Game design, social simulation, interactive narrative, authoring tools, javascript … For example, some role-playing games allow the player character to move relationship values up and down with non-player characters, gating the possibility of …
Learning in multi agent social environments with opponent models
C Kiourt, D Kalles – Multi-Agent Systems and Agreement Technologies, 2015 – Springer
… Computer social simulation and agent-based simulation began to be used widely in the 1990s, as a way of modeling and understanding social processes [1, 2, 3]. Many agents in a common … MacNamee, B., Cunningham, P.: Creating socially interactive non player characters …
Engineering agent-based social simulations: An introduction
PO Siebers, P Davidsson – … Artificial Societies and Social Simulation; …, 2015 – muep.mau.se
… DAVIDSSON, P. (2001). 'Multi agent based simulation: beyond social simulation.' In Multi-Agent-Based Simulation, Lecture Notes in Computer Science, Vol. 1979 (pp. 97–107) … A Proposal for an Agent Architecture for Proactive Persistent Non Player Characters …
An active analysis and crowd sourced approach to social training
D Feng, E Carstensdottir, SM Carnicke… – … on Interactive Digital …, 2016 – Springer
… We have adapted Stanislavsky's Active Analysis (AA) rehearsal technique [11] as the design basis for social simulation training … The result is a large space of coherent stories that support rich, meaningful variations in both learner's and non-player characters' choices and thus …
Artificial intelligent player's planning in massively multi-player on-line role-playing games
M Malikovic, M Schatten – Central european conference on …, 2015 – search.proquest.com
… A usual setting is that a protagonist is placed into a world in which he interacts with various NPCs (non- player characters) which give out … from low-level behaviors to higher level targeted goals (low level such as collision detection, followed by social simulation, idle behaviors …
A multi-player approach in serious games: testing pedestrian fire evacuation scenarios
M Oliveira, N Pereira, E Oliveira… – Oporto, DSIE15 …, 2015 – researchgate.net
… play multi-player scenarios for which some experiments can be made in the future, for the purpose of social simulation research … framework, new and interesting features and scenarios arose, that are proposed as future work: • Having different non-playable characters (NPCs) in …
Emotion modeling in social simulation: a survey
M Bourgais, P Taillandier… – … and Social Simulation, 2018 – hal.archives-ouvertes.fr
… Emotion Modeling in Social Simulation: A Survey Mathieu Bourgais, Patrick Taillandier, Laurent Vercouter, Carole Adam To cite this version: Mathieu Bourgais, Patrick Taillandier, Laurent Vercouter, Carole Adam … Page 2. Emotion Modeling in Social Simulation: A Survey …
AI-based game design patterns
M Treanor, A Zook, MP Eladhari, J Togelius, G Smith… – 2015 – strathprints.strath.ac.uk
… The most common role for AI in a game is controlling the non-player characters (NPCs), usually adversaries to the player … For example, what types of games could be made when a social simulation, or a learning algorithm are visualized and made central to gameplay …
Reviews of social embodiment for design of non-player characters in virtual reality-based social skill training for autistic children
J Moon – Multimodal Technologies and Interaction, 2018 – mdpi.com
… 3.2.1. Emotional Modeling of Non-Player Characters … Authentic social scenarios can be a viable option to enhance learners' internal motivation in the naturalistic intervention. With VR, storytelling encourages learners to be immersed in a given social simulation …
Social simulation for social justice
ML Dickinson, N Wardrip-Fruin, M Mateas – Thirteenth Artificial Intelligence …, 2017 – aaai.org
… a game design context by Mitu Khandaker- Kokoris as "anything that allows social interactions with or between [non-playable characters] to meaningfully … We take this further, defining a social simulation more narrowly as a computational model which affords meaning- ful social …
Playable experiences at AIIDE 2018
B Samuel, A Reed, E Short, S Heck, B Robison… – … Artificial Intelligence and …, 2018 – aaai.org
… hu- man-level text-to-speech and speech-to-text, and years of design wisdom about procedural text generation and social simulation … The player's dialogue options and the non-player character responses are determined by En- semble [Samuel et al., 2015] and the Social …
Bad News: An Experiment in Computationally Assisted Performance
B Samuel, J Ryan, AJ Summerville, M Mateas… – … on Interactive Digital …, 2016 – Springer
… 3 The Game. BN is a game about death, death notification, and everyday life, combining deep social simulation and live performance. 3.1 The Premise … 6 The Actor. As previously mentioned, all of the non-player characters in the town are played by a single actor …
Synthetic learning agents in game-playing social environments
C Kiourt, D Kalles – Adaptive Behavior, 2016 – journals.sagepub.com
This paper investigates the performance of synthetic agents in playing and learning scenarios in a turn-based zero-sum game and highlights the ability of oppone…
Authoring conversational narratives in games with the Chimeria platform.
DF Harrell, D Kao, CU Lim, J Lipshin, A Sutherland… – FDG, 2014 – pdfs.semanticscholar.org
… Keywords Game design, Social simulation, Role-playing games, Con- versational narratives … or decrements to abil- ities, to constrain the visual appearance of a player character (PC), and to trigger different canned reactions in conversa- tions with non-player characters (NPCs) …
Open design challenges for interactive emergent narrative
JO Ryan, M Mateas, N Wardrip-Fruin – International Conference on …, 2015 – Springer
… If the affordances given to a player are a subset of (or are coextensive with) the actions that non-player characters (NPCs) may themselves … In [31], event logs constituting the lives of characters in a social simulation are curated by the system to produce stories that interweave …
Virtual humans in games: realistic behavior and emotions for non-player characters
S Ercan, R Harel, JB Peperkamp, U Yilmaz – 2014 – Citeseer
Page 1. Final Report Virtual humans in games: realistic behavior and emotions for non-player characters TI3800 Bachelorproject July 2014 … In this project we have set out to promote behavioral-realism in non-player-characters (NPCs) on an emotional level …
Enhancing the behavior of agents in social simulations with emotions and social relations
M Bourgais, P Taillandier, L Vercouter – … on Multi-Agent Systems and Agent …, 2017 – Springer
… proposed an agent architecture incorporating personality and using emotions to add dynamism to social relations to non playable characters of video … This paper aims at proposing an architecture for social simulation that deals with cognition, emotions and social relations and …
iATTAC: a system for autonomous agents and dynamic social interactions–the architecture
E Cebolledo, O De Troyer – Joint International Conference on Serious …, 2015 – Springer
… Role Playing Games (RPG) are the ones with the biggest amount of so- cial interactions; these games contain Non-Player Characters (NPCs, agents, or … Prom Week [14, 15] is a social simulation game like The Sims, but while The Sims focuses on having characters do all kind of …
Integrating cognitive architectures into virtual character design
JO Turner, M Nixon, U Bernardet, S DiPaola – 2016 – books.google.com
… Virtual characters are agents (ie humanoid and non-human types) that are embedded within a virtual environment (world) and are known by many domain-specific categories. In video-games, these agents are known as Non-Player Characters (NPCs) …
CiF-CK: An architecture for social NPCS in commercial games
M Guimaraes, P Santos, A Jhala – 2017 IEEE Conference on …, 2017 – ieeexplore.ieee.org
… search for a model that we could implement in a com- mercial game we looked at some available social simulation architectures … 2) GAMYGDALA: GAMYGDALA is an emotional ap- praisal engine that enables game developers to add emotions to their Non-Player Characters …
Designing story-centric games for player emotion: A theoretical perspective
JM Harley, JP Rowe, JC Lester, C Frasson – Eleventh Artificial Intelligence …, 2015 – aaai.org
… 2015), and playable social simulation models (McCoy et al. 2014) … In the context of story-centric games, a player might wake up feeling irritable, having little patience for the exposition- heavy monologue or side-quest presented by a non-player character …
Human-in-the-Loop Simulation of a Virtual Classroom
J Nilsson, F Klügl – Multi-Agent Systems and Agreement Technologies, 2015 – Springer
… for human players in virtual reality game and training settings for some time: QuakeBot [15] for controlling a non-player character in games and … Clearly, in agent-based social simulation, we will find a wider range of agent architectures that might be suitable in our project context …
The challenge of artificial socio-cognitive systems
P Noriega, J Padget, H Verhagen, M d'Inverno – 2014 – diva-portal.org
… An illustration of this value is the advantages of designing non-player characters (NPC), or in general BDI agents [3] within a … topic of social coordination is currently being inspected (within the Sintelnet project) from different standpoints: games, social simulation, analytical soci …
Emotion in games
CM de Melo, A Paiva, J Gratch – Handbook of Digital Games, 2014 – ict.usc.edu
… This information can then be used to adjust game parameters or have non-player characters react to the player's intentions and, thus, contribute to improve the player's overall experience. Page 2 … Simulating Emotion in Non-Player Characters …
Games and online research methods
H Verhagen, M Johansson… – The SAGE handbook of …, 2017 – books.google.com
… for human-to-human and human-to-non-human interaction (where the computer plays the non-human or non-player characters (NPC … the Consumat approach (Jager, 2000), which has been developed as a generic framework to guide the development of social simulation models …
RAIN in indoor rescue training
J Ulisses, JE Almeida… – 2015 10th Iberian …, 2015 – ieeexplore.ieee.org
… firefighters in fire rescuing situations and simulate different strategic approaches in such scenarios by having Non-Playable-Characters (NPC) mimicking a … possible even with multiple NPCs and multiple players making the results more interesting for social simulation studies in …
Social Simulation of Rescue Teams' Dynamic Planning
J Ulisses, RJF Rossetti, JE Almeida… – New Advances in …, 2016 – Springer
… can be used to train these teams and extending it with the use of agents to be used for non- playable characters and team … such as human behaviour elicitation and modelling to feature bots in multiplayer serious games environments and agents in social simulation of pedestrian …
Integration of RPG use and ELC foundation to examine students' learning for practice
WH Wu, WC Yan, HY Kao, WY Wang… – Computers in Human …, 2016 – Elsevier
… These figures show the learner beginning the game use by meeting the customer, a non-player character (NPC), in his office, talking with the customer, reviewing documents related to the situation, and … In Jasss-the Journal of Artificial Societies and Social Simulation (Vol …
Opening pandora's box: Some insight into the inner workings of an Agent-Based Simulation environment
D Dawson, PO Siebers, TM Vu – 2014 Federated Conference …, 2014 – ieeexplore.ieee.org
… of UML that is specifically used for the development of multi-agent systems [4], as for example mobile agents [5], [6]. However, in the field of Social Simulation it is … Non Player Characters (NPCs) must have the ability to act in a complex way in order to give the player a challenge …
A Relationship Model for Believable Social Dynamics of Characters in Games
B O'Connor – 2015 – scss.tcd.ie
… The aim of this dissertation is to design a relationship model to improve the believability of Non-Player Characters in games. This model will then be implemented and evaluated … This response is emergent from the underlying social simulation rather than from pre-determined …
Populating virtual cities with diverse physiology driven crowds of intelligent agents
T Trescak, A Bogdanovych, S Simoff – Social Simulation Conference, 2014 – ddd.uab.cat
… Miguel, Amblard, Barceló & Madella (eds.) Advances in Computational Social Science and Social Simulation Barcelona: Autònoma University of Barcelona … of Second Life is in its lacking capability of handling large societies of intelligent agents (or non-playable characters, NPCs …
The ACT-R Unity Interface: Integrating ACT-R with the Unity Game Engine
PR Smart, K Sycara, Y Tang, G Powell – 2015 – eprints.soton.ac.uk
… ACT-R UI) framework, enables individual ACT-R models to control the behaviour of virtual non-player characters that inhabit 3D … cognitive architecture, virtual environment, game engine, social simulation, embodied cognition, cognitive modelling. University of Southampton …
Towards Simulated Morality Systems: Role-Playing Games as Artificial Societies
J Casas Roma, M Nelson, J Arnedo-Moreno, S Gaudl… – 2019 – repository.falmouth.ac.uk
… in which certain actions are inherently judged by the simulated world to be good or evil, as well as social simulations, in which non-player characters (NPCs) react to judgments of the player's and each others' activities. Games with a larger amount of social simulation have clear …
Simulating complex social behaviours of virtual agents through case-based planning
T Trescak, A Bogdanovych – Computers & Graphics, 2018 – Elsevier
… In modern video games, we often encounter situations in which computer-controlled avatars (non-player characters or simply NPCs) must interact intelligently with a human player … The structure of EI adheres to HTN, as the way of expressing norms in social simulation …
Toward acquiring a human behavior model of competition vs. cooperation
DV Pynadath, N Wang, C Merchant – I/ITSEC, 2015 – people.ict.usc.edu
… build both the game itself as well as the agent models of player strategies using the multiagent social simulation framework, PsychSim … an interactive narrative environment in which students practice their language and culture skills by talking to non-player characters built upon …
Virtual Soar-Agent Implementations: Examples, Issues, and Speculations
JO Turner – … Cognitive Architectures into Virtual Character Design, 2016 – igi-global.com
… 182 by external developers, academics and hobbyists. However, most virtual agents (eg bots, Non-player-characters [NPCs]) created up to the present day, still do not directly utilize cognitive architectures for interaction with the agent's embodied environment …
Chapter Ten, UrbanSim: Using Social Simulation to Train for Stability Operations
R McAlinden, D Pynadath, RW Hill Jr – Understanding Megacities with the … – nsiteam.com
… elicits causality) has proven allusive due to the complexity of modeling human cognitive function in the minds of non?player characters … However for social simulation?based training applications, agents represent individuals and groups in a society with myr? iad beliefs, desires …
Prom week meets skyrim: Developing a social agent architecture in a commercial game
M Guimarães, P Santos, A Jhala – Proceedings of the 16th Conference …, 2017 – dl.acm.org
… 1563 Page 3. REFERENCES [1] N. Afonso and R. Prada. Agents that relate: Improving the social believability of non-player characters in role-playing games … ACM, 1997. [6] M. Mateas and J. McCoy. An architecture for character-rich social simulation …
An Active Analysis and Crowd Sourced Approach to Social Training
MS El-Nasr, S Marsella – … , ICIDS 2016, Los Angeles, CA, USA …, 2016 – books.google.com
… We have adapted Stanislavsky's Active Analysis (AA) rehearsal technique [11] as the design basis for social simulation training … The result is a large space of coherent stories that support rich, meaningful variations in both learner's and non-player characters' choices and thus …
Addressing the Elephant in the Room: Opinionated Virtual Characters.
S Azad, C Martens – AIIDE Workshops, 2018 – researchgate.net
… Abstract A number of recent models for empirically-grounded social simulation have emerged recently from games and interac- tive narrative research … tracks the sources from which they originate with their inherent bias or ratings, and allow the non-player characters (NPCs) to …
A Light-weight Emotion Model for Non-Player Characters in a Video Game
Y Brammadesam Manavalan – 2015 – era.library.ualberta.ca
… 2.1 What is a Believable NPC? The believability of a non-player character is determined by the extent to which an … of discreet values used in COR-E. Thespian is built on PsychSim (Si et al., 2005), a multi-agent system for social simulation based on Partially Observable Markov …
Facilitating Social Inclusion of Migrant Workers through Digital Game Play
VHH Chen – 2014 – researchgate.net
… Marginalized groups have to be equally represented in terms of frequency and variety. Hence, in the game, marginalized groups (in this case foreign immigrants) are equally represented in the game in the form of non-player characters. Future …
Making First Impressions: A Playable Model of Cross-Cultural Trust Building.
H Morrison, C Martens – INTWICED@ AIIDE, 2018 – ceur-ws.org
… PsychSim, created by Marsella et al. [MPR04], is a "social simulation tool" that can be used to generate a variety of social situations … The player's goal is to maintain good relationships with both individual Non-Player Characters and the community as a whole …
Computer Simulation for Space-Oriented Strategic Thinking
WS Bainbridge – Computer Simulations of Space Societies, 2018 – Springer
… This fraction of the population has become outraged at the high taxes imposed by the government, a reflection of the fact that this social simulation includes variables representing the condition of the population, which can also be affected by problems like pollution and …
Machiavellian agents: Player modelling to deceive and be deceived
S Watson, A Vardy, W Banzhaf… – 2015 Computer Games …, 2015 – ieeexplore.ieee.org
… The game worlds in RPGs can be extremely large in scope and complexity and the player often has great freedom to explore these worlds. RPG game worlds can be inhabited by thousands of non-player characters (NPCs). B. Agents in Role Playing Games …
Preliminary Evaluation of a Serious Game for Socio-Moral Reasoning
F Morasse, MH Beauchamp – … Montreal, QC, Canada, June 11–15 …, 2018 – books.google.com
… To this end, Non-Player Characters (NPC) were integrated in the game, such that the main player was surrounded by them when he was … than during the game, which might be related to the higher level of perceived immersion and also to the social simulation associated with …
Villanelle: Towards Authorable Autonomous Characters in Interactive Narrative.
O Iqbal – 2019 – repository.lib.ncsu.edu
… The user can choose to not act at all and let the autonomous behaviors decide the next events. These kind of systems that allow you to create believable agents with a sophisticated level of autonomy facilitate the creation of social simulation works [McC12]. 2.3 Behavior Trees …
Understanding Digital Affection Games as Cultural Lens
LN War – academia.edu
… Dating simulations, particu- larly those with a more sexual focus, may treat the non-player characters as objects … These games, while a fascinating space for cultural examination, are not focused on affection. They are better as they describe them- selves, social simulation …
Agent-Based Simulation Modelling for Reflecting on Consequences of Digital Mental Health
D Stroud, C Wagner, PO Siebers – arXiv preprint arXiv:1902.01642, 2019 – arxiv.org
… Agents are comparable to non-player characters in games … was previously created by my supervisor Peer-Olaf Siebers and his colleagues Elvira Perez Vallejos and Tommy Nilsson (Siebers et al unpublished) using the Engineering Agent Based Social Simulation framework …
Investigating the role of social eye gaze in designing believable virtual characters
M Nixon – 2017 – summit.sfu.ca
… 64 3.4. Social Simulation ….. 65 3.4.1. SimCity / The Sims 3 ….. 65 3.4.2. Comme il Faut / Prom Week …
Narrative Progression Traits for Role-Playing Games
S Samothrakis – ssamot.me
… 2]. The GM is responsible for: 1) handling the mechanics of the universe, and 2) acting on be- half of non-player characters (NPCs) … tems: Method and Lessons of its Appli- cation to Senegal River Valley Irrigated Systems', Journal of Artificial Societies and Social Simulation, vol …
Design of a Screen-Based Simulation for Training and Automated Assessment of Teamwork Skills
RH Steadman, YM Huang, A Koenig, J Lee, M Iseli… – 2018 – apps.dtic.mil
… An inventory of skills appropriate for the scope of practice for the roles of the player and non-player characters (NPCs) for each scenario was also created. ? Subtask 4: Create a knowledge assessment (baseline team skills) scenario: 100% completed …
Crowd Simulation in 3D Virtual Environments
S Phon-Amnuaisuk, A Rafi, TW Au, S Omar… – … Workshop on Multi …, 2016 – Springer
… Wolfram Media, Champaign (2002)zbMATHGoogle Scholar. 3. Ron, S.: Cognition and Multi-agent Interaction: From Cognitive Modeling to Social Simulation … Phon-Amnuaisuk, S.: Learning chasing behaviours of non-player characters in games using SARSA …
Bad News: An Experiment in Computationally Assisted Performance
N Wardrip-Fruin – … on Interactive Digital Storytelling, ICIDS 2016 …, 2016 – books.google.com
… 1). 3 The Game BN is a game about death, death notification, and everyday life, combining deep social simulation and live performance … 6 The Actor As previously mentioned, all of the non-player characters in the town are played by a single actor …
Dungeons for Science: Mapping Belief Places and Spaces
A Dant, P Feldman, W Lutters – arXiv preprint arXiv:1904.05216, 2019 – arxiv.org
… I'll need my armor Jemmish – Group 5 The previous encounters can be dangerous, but it is unlikely the party will lose a player. This encounter introduces Grogg the troll, a non-player character (NPC) who is far more powerful than the game rules indicate is fair …
Artificial society generation for modern video games
B Sarlo, M Katchabaw – 2015 IEEE Games Entertainment …, 2015 – ieeexplore.ieee.org
… Abstract— Video games have long had a need for realistic non-player characters or agents driven by some form of artificial intelligence … Journal of Artificial Societies and Social Simulation. 15 (1), 2012. [14] J. Epstein and R. Axtell. Growing Artificial Societies. MIT Press, 1996 …
Promoting innovative water infrastructure systems
H Söbke, J Londong – researchgate.net
… Journal of Artificial s and Social Simulation. Retrieved March 05, 2013, from sss.soc.surrey.ac. uk/6/3/5.html ta, BR, & Hellweger, FL (2007) … Designing the Non-player Character of an Educational Adventure-game: The Role of Personality, Naturalism, and Color …
Ego-Perspective Simulation of Moral Dilemmata and Identification of Behavioural Predictors of Moral Decisions
C TEICHMANN – 2016 – cogsys.uni-bamberg.de
Page 1. UNIVERSITY OF BAMBERG MASTER'S THESIS Ego-Perspective Simulation of Moral Dilemmata and Identification of Behavioural Predictors of Moral Decisions Author: Christian TEICHMANN (Matr. No.: 1760765) Supervisor: Prof. Dr. Ute SCHMID …
AI-based game design patterns
M Cook – 2015 – repository.falmouth.ac.uk
… The most common role for AI in a game is controlling the non-player characters (NPCs), usually adversaries to the player … For example, what types of games could be made when a social simulation, or a learning algorithm are visualized and made central to gameplay …
The Effect of Theory of Mind in Detecting Deception
R Soares – fenix.tecnico.ulisboa.pt
… We want to create agents with the ability to detect lies told in a social simulation … tested their model with non-player characters in a social game based on deception called MIXER, where a group of villagers has to discover who among them is the werewolf, this last one must …
Belief places and spaces: Mapping cognitive environments
P Feldman, A Dant, W Lutters – arXiv preprint arXiv:1907.04191, 2019 – arxiv.org
… Table 1: Depth evaluation non-player-characters) individual posts, which are contained in the gray bars that represent each group. The white rectangles are the identified "marker text" used to identify common events in the narrative …
On Feeling Productive: Videogames and Superfluous Labor
J Pruett – Theory & Event, 2019 – muse.jhu.edu
… can be sold for gold, the in-game currency, in order to purchase upgrades for the farm or gifts for the non-player characters (NPCs) in … Interestingly, the social-simulation aspect of the game is also key: the ability to effect change in the lives of others helps alleviate the isolation of …
Ephemerality'in game development: opportunitiees and challenges
AJ Fernández-Leiva, AE Vázquez-Núnez – 2016 – riuma.uma.es
… (2015)) suggest some principal lines of research such as AI-assisted game design, computational narrative, procedu- ral content generation, non-player-character (NPC) behavior learning, NPC affective computing, believable bots, social simulation, and player modeling …
Multi-Agent Based Models of Social Creativity
R Saunders – robsaunders.net
Page 1. Multi-Agent Based Models of Social Creativity Rob Saunders Abstract This chapter provides an introduction to the computational modelling of social creativity using multi-agent systems. It reviews motivations for computation …
An empirical platform for behavioural modelling using serious games
D dos Santos Teixeira – 2016 – repositorio-aberto.up.pt
… applications have a wide range of domains, naturally including social simulation, where data … de Engenharia da Universidade do Porto LIACC Artificial Intelligence and Computer Science Laboratory FPS First-Person Shooter NPC Non-Playable Character SPEED Simulation of …
Representations of Colonialism in Three Popular, Modern Board Games: Puerto Rico, Struggle of Empires, and Archipelago
C Borit, M Borit, P Olsen – 2018 – nofima.brage.unit.no
… Buy – Build – Move – Attack – Colonise or Enslave – Resource harvest – Construction – Transaction – Migration – Exploration – Recruitment of workers – Taxes – Reproduction Main non-player characters (NPCs) – Colonists …
Exploring Cultural Differences in Game Reception: JRPGs in Germany and Japan
S Brückner, Y Sato, S Kurabayashi, I Waragai – 2018 – digra.org
… The games' elements of social simulation are also viewed differently, being positively perceived in Germany and more critical in Japan. Japanese users criticized the restrictiveness of having to spend "bonding points" to view social events with non-player characters, making it …
Towards a framework for socio-cognitive technical systems
P Noriega, J Padget, H Verhagen… – International Workshop on …, 2014 – Springer
… An illustration of this value is the advantages of designing non-player characters (NPC), or in general BDI agents [5] within … of social coordination is currently being inspected (within the SINTELNET project) from different standpoints: games, social simulation, analytical sociology …
Papers, Please and the systemic approach to engaging ethical expertise in videogames
P Formosa, M Ryan, D Staines – Ethics and Information Technology, 2016 – Springer
… of a game choice. The design also allows the author to create one-on-one conversations with individual non-player characters, thereby encouraging the player to investigate different perspectives on a problem. On the one hand …
Immerse: Interactive mentoring for multimodal experiences in realistic social encounters
W Ferguson, D Diller, K Moffitt, B Roberts, W Coon… – 2015 – apps.dtic.mil
… Center for Advanced Operational Culture and Learning 3.3 Publications and Presentations 4. Simulator System Description 4.1 System Architecture 4.2 System Components 4.2.1 MiBA 4.2.2 Social Pragmatics 4.2.3 MiBA Signal Visualization 4.2.4 Social Simulation Engine and …
Interstellar Travel Across Virtual Galaxies
WS Bainbridge – Computer Simulations of Space Societies, 2018 – Springer
… Arthur is a robot, thus comparable to the non-player characters (NPCs) in role-playing computer games, simulated people who are largely pre-programmed but … As an IGN review explains, there are several ways in which this is a social simulation: "As you play the game you not …
Territoriality and Visible Social Commitment for Virtual Agents
J Rossi, L Veroli, M Massetti – skemman.is
… Abbreviations NPC Non-Player Character STRIPS Stanford Research Institute Problem Solver … it contains the informations of multiple objects in its area, their relationships and the scripts used by the Non-Player Character (NPC) to interact with them. The scripting …
Enabl: A modular authoring interface for creating interactive characters
A Grow – Advancement report, University of California, Santa …, 2015 – users.soe.ucsc.edu
… scenario (Sosa & Gero 2003). Shapiro et. al., in their social simulation, used improv and live action to help conceptualize details of their scenario for their graphics and AI authors (Shapiro et. al. 2013). Belief-Desire-Intention (BDI …
Game engine architecture
J Gregory – 2017 – content.taylorfrancis.com
Page 1. Page 2. Game Engine Architecture SECOND EDITION Page 3. Page 4. CRC Press is an imprint of the Taylor & Francis Group, an informa business Boca Raton London New York Game Engine Architecture SECOND EDITION Jason Gregory …
Creation of a mobile game about environmental sustainability
VE Alcázar López – 2018 – upcommons.upc.edu
… to communicate with them. Dont Starve It is a survival game about resisting the harshness of nature and various monster attacks. Some mechanics like exploration and the dynamics of creature Non-Playable Characters (NPCs) might be useful for the project. 16 Page 24 …
Generating Semantic Information for Virtual Environments
JT Balint, JM Allbeck – … on Virtual Humans and Crowds for …, 2016 – pdfs.semanticscholar.org
… They provide ambiance as Non-Player Characters is games [1], and are essential for testing out new scenarios before physical … Beyond simulations: serious games for training interpersonal skills in law enforcement," in Proceedings of European Social Simulation Asso- ciation …
Gamification to improve adherence to clinical treatment advice
D Richards, PH Caldwell – … Lit. Breakthr. Res. Pract. Breakthr. Res …, 2017 – books.google.com
… In most current VWs for social simulation, a human selects an 'avatar', typically a humanlike graphical representation that they … we are interested in VWs which support intelligent social interactions between humans and computer-based non-player characters (NPCs) known as …
A panorama of artificial and computational intelligence in games
GN Yannakakis, J Togelius – IEEE Transactions on …, 2014 – ieeexplore.ieee.org
… AI/CI areas identified during the Dagstuhl seminar and covered in this paper are as follows: 1) Non-player character (NPC) behavior … is because pathfinding is a relatively isolated area with restricted interaction with the other research areas, and social simulation overlaps very …
Application areas of ephemeral computing: A survey
C Cotta, AJ Fernández-Leiva, FF de Vega… – Transactions on …, 2016 – Springer
… intelligence, and that results in a number of interesting sub-fields such as AI-assisted game design, computational narrative, procedural content generation, non-player-character (NPC) behavior learning, NPC affective computing, believable bots, social simulation, and player …
Artificial intelligence and behavioral geography
PM Torrens – Handbook of Behavioral and Cognitive Geography, 2018 – books.google.com
… 2008), and around non-player characters (NPCs) that are often required to move, run away, give chase, and collaborate with realistic behavioral … Street: An environment for exploring agent-based models in Second Life, Journal of Artificial Societies and Social Simulation, 12 (4 …
Multi-agent simulations for the evaluation of Looting Systems design in MMOG and MOBA games
LA Ripamonti, M Granato, M Trubian, A Knutas… – … Modelling Practice and …, 2018 – Elsevier
… common Game Description Language. In video game design, agents can be assimilated to Non-Playable Characters (NPCs), that try to mimic the behaviour of an actual living being (not necessarily human). For example, ABM …
Creating Affective Autonomous Characters Using Planning in Partially Observable Stochastic Domains
X Huang, S Zhang, Y Shang… – IEEE Transactions on …, 2015 – ieeexplore.ieee.org
… I. INTRODUCTION N early computer games, in-game agents were simulated as part of the game logic; Non-player Characters (NPCs) were merely … is based on PsychSim [51], a multi-agent framework for social simulation using POMDP agents. Thespian has been used for the …
Simulating Collaborative Learning through Decision-Theoretic Agents
DV Pynadath, N Wang, R Yang – ceur-ws.org
… We have built our testbed using the multiagent social simulation framework, PsychSim [22, 23] … Language Training System (TLTS) is an interactive narrative environment in which students practice their language and culture skills by talking to non-player characters built upon …
What are the graphical differences between Asian and Western playable female game character?: And what do people with different ethnic background prefer?
L Lin – 2017 – diva-portal.org
… The characters were playable characters, because many games do not always contain a protagonist or antagonist and that the focus is often on the playable characters than non-playable characters, and because of this, the choice of character was more reasonable …
Application Domains
J Padget, H Aldewereld, P Noriega… – … Frameworks for Social …, 2016 – Springer
… the nonessential characteristics of 'Hybrid human/software agents' and 'On-line/real-time', because of their interactive nature (non-player characters, or AI … For example, in Social Simulation, it is less likely that there is a mixture of agents of different types (different frameworks …
Capital Sandbox: Fantasy and the Mechanics of Form in Fallout 3
C Seidl – 2015 – scholarworks.gsu.edu
… and not merely a traveler through, the level. Neither does the player simply pass ethics by; as part of the social simulation of the Fallout 3 universe, the player's actions literally alter the ethical status of the player-character. Each …
The virtual little Albert experiment: Creating conditioned emotion response in virtual agents
A Patrick, C Gittens… – 2015 IEEE Games …, 2015 – ieeexplore.ieee.org
… I. INTRODUCTION Virtual agents are significant because they give the illusion of life as non-player characters (NPCs) by looking like and acting like humans in … [19] R. Sun, "The CLARION cognitive architecture: Extending cognitive modeling to social simulation," in Cognition …
Papers, Please and the systemic approach to engaging ethical expertise in videogames
F Paul, R Malcolm, S Dan – 2016 – philpapers.org
Page 1. 1 Papers, Please and the Systemic Approach to Engaging Ethical Expertise in Videogames 1. Introduction Papers, Please, by Lucas Pope (2013), explores the story of a nameless citizen assigned the role of customs …
General Guidelines for Design of Affective Multi-Agent Systems
M Pud?ne, E Lavendelis – Applied Computer Systems, 2017 – degruyter.com
Page 1. Applied Computer Systems 5 ISSN 2255-8691 (online) ISSN 2255-8683 (print) December 2017, vol. 22, pp. 5–12 doi: 10.1515/acss-2017-0012 https://www.degruyter. com/view/j/acss ©2017 M?ra Pud?ne, Egons Lavendelis …
Frameworks Comparison
O Boissier, V Dignum, E García – Social Coordination Frameworks for …, 2016 – Springer
… case for instance with reliability or trustworthiness labelling in electronic markets (eg, listing in "red books"), or whitewashing and ostracism (in social simulation) … In games it is usual to distinguish two types: players and non-player characters, the first are meant to be human, the …
Remaking as Revision of Narrative Design in Digital Games
T? Sezen – Interactive Digital Narrative, 2015 – books.google.com
Page 275. 17 Remaking as Revision of Narrative Design in Digital Games Tonguç ?brahim Sezen 1. INTRoDUCTIoN In his book Best Before: Videogames, Supersession and Obsolescence, James Newman argues that game …
Intelligence unleashed: An argument for AI in education
R Luckin, W Holmes, M Griffiths, LB Forcier – 2016 – oro.open.ac.uk
Page 1. Open Research Online The Open University's repository of research publications and other research outputs Intelligence Unleashed: An argument for AI in Education Other How to cite: Luckin, Rose; Holmes, Wayne; Griffiths, Mark and Forcier, Laurie B. (2016) …
An Approach To Artificial Society Generation For Video Games
B Sarlo – 2015 – ir.lib.uwo.ca
… new layers to the system to improve the realism of the generated society. Keywords Video games, artificial societies, simulation, generation, believable agents, social network, population, artificial intelligence, non-player characters, society models Page 4. iii Acknowledgments …
Ludological Communication of Social Reality
A Hrustanovic – core.ac.uk
Page 1. University of Gothenburg Department of Applied Information Technology Gothenburg, Sweden, June 2015 Ludological Communication of Social Reality (A communicational perspective) Aladin Hrustanovic Master of Communication Thesis Report nr. 2015:026 Page 2 …
Cultural Simulation and the Applications of Culturally Enabled Games and Technology
J Donahue – 2017 – utd-ir.tdl.org
… NGO: Non-Governmental Organization Page 14. xiv NPC: Non-Player Character (agent) PAL: Personal Assistants for Learning PDIA: Problem-Driven Iterative Adaptation PMESII: Political, Military, Economic, Social, Information, and Infrastructure …
Learning Emotions: A Software Engine for Simulating Realistic Emotion in Artificial Agents
D Code – 2015 – openworks.wooster.edu
… models and simulations with greater depth and realism. In a different domain, video games frequently incorporate large numbers of non-player characters (NPCs). Games increasingly focus on open-world gameplay, where …
Schema formalism for the common model of cognition
AV Samsonovich – Biologically inspired cognitive architectures, 2018 – Elsevier
Skip to main content …
Computer games and language learning
M Peterson – 2016 – books.google.com
Page 1. DIGITALs EDUCATION ANDLEARNING N – – – – – s s -º- – — s- º- – *- º – s COMPUTER GAMES AND LANGUAGE ARNING V. º MARK PETERSON Page 2. Palgrave Macmillan's Digital Education and Learning Much …
Interpersonal and intrapersonal skill assessment alternatives: Self-reports, situational-judgment tests, and discrete-choice experiments
R Anderson, M Thier, C Pitts – Learning and Individual Differences, 2017 – Elsevier
Skip to main content …
Towards a living earth simulator
M Paolucci, D Kossman, R Conte, P Lukowicz… – core.ac.uk
… The game environment of the LES Virtual World(s) will include social community tools, simulation modelling visualizations, avatars, non-player characters (NPCs), and open environments for meeting and discussions [38]. The environment …
Modelling Adaptation through Social Allostasis: Modulating the Effects of Social Touch with Oxytocin in Embodied Agents
I Khan, L Cañamero – Multimodal Technologies and Interaction, 2018 – mdpi.com
… Previous Article in Special Issue Reviews of Social Embodiment for Design of Non-Player Characters in Virtual Reality-Based … embodied agents. embodied affect. embodied interaction. social allostasis. oxytocin. homeostasis. social salience. social adaptation. social simulation …
A value equivalence approach for solving interactive dynamic influence diagrams
R Conroy, Y Zeng, M Cavazza, J Tang… – Proceedings of the 2016 …, 2016 – dl.acm.org
… 3.2.1 Value of the Learned Policy In the context of RTS games, we build an I-DID from the per- spective of a non-player character (NPC, or one human-player, de- noted by agent i) that models human-players (agent j) at a low level …
A method to assess pervasive qualities in mobile games
L Valente, B Feijó, JCSDP Leite, E Clua – Personal and Ubiquitous …, 2018 – dl.acm.org
… mobile games. First, games are software applica- tions that face almost every aspect of computing challenges. Secondly, games permeate many different areas (from social simulation to playful learning). Thirdly, pervasive games …
Intelligence Unleashed
R Luckin, W Holmes, M Griffiths… – An argument for AI in …, 2016 – researchgate.net
Page 1. Intelligence Unleashed An argument for AI in Education Rose Luckin Wayne Holmes UCL Knowledge Lab, University College London Mark Griffiths Laurie B. Forcier Pearson Open Ideas at Pearson Sharing independent …
Choosing and using digital games in the classroom
K Becker – 2017 – Springer
Page 1. Advances in Game-Based Learning Katrin Becker Choosing and Using Digital Games in the Classroom A Practical Guide Page 2. Advances in Game-Based Learning Series Editors Dirk Ifenthaler Scott Joseph Warren Deniz Eseryel …
Virtual Humans: Today and Tomorrow
D Burden, M Savin-Baden – 2019 – taylorfrancis.com
… THE ROLES OF VIRTUAL HUMANS 166 Intelligent Speaker 167 Customer Service Chatbot 167 Personal Virtual Assistant 168 Virtual Tutor 168 Virtual Non-Player Character 168 Virtual Life Coach 169 Virtual Expert 169 Virtual Persona 170 Virtual Person 171 Digital Immortal …
Exploring users' goals and behaviors in two commercial games a case study of" Animal Crossing" and" Farmville"
XK Cao – 2014 – search.proquest.com
… information of the subjects by games. Game 1: Animal Crossing # Subjects Gender Ethnicity Grade Game Genre 1 Diana F Asian 7th Grade Animal Crossing Social simulation Adventure/Exploratory 2 Art M Asian 7th Grade 3 Al F White Freshman High 4 Eli M Black Jr. High …
Characterizing developers rework on github open source projects
TR Rúbio, CA Gulo – Proceedings of the 10th Doctoral Symposium …, 2015 – paginas.fe.up.pt
Page 72. Characterizing Developers' Rework on GitHub Open Source Projects Thiago RPM Rúbio and Carlos ASJ Gulo LIACC/DEI, Faculdade de Engenharia, Universidade do Porto, Rua Dr. Roberto Frias, 4200-465 Porto, Portugal, {reis. thiago, prodei1300766}@ fe. up …
Gossip and Reputation in Computational Systems
J Sabater-Mir – The Oxford Handbook of Gossip and Reputation, 2019 – books.google.com
… In fact we have been able to find only one work in this direction. In (Brusk, 2010) the author develops a model of gossip initiation that is used by an NPC (non-player character) to decide if it is worth it to engage in gossip conversations …
An open-data-driven agent-based model to simulate infectious disease outbreaks
E Hunter, B Mac Namee, J Kelleher – PloS one, 2018 – journals.plos.org
Agent-based models are a tool that can be used to better understand the dynamics of an infectious disease outbreak. An infectious disease outbreak is influenced by many factors including vaccination or immunity levels, population density, and the age structure of the population …
Changeful tales: design-driven approaches toward more expressive storygames
A Reed – 2017 – escholarship.org
… 172 4.6 Ice-Bound as Sculptural Fiction . . . . . 176 5 Social Simulation 178 5.1 Introduction . . . . . 178 5.2 Defining Social Simulation . . . . . 185 5.3 Survey of Major Social Simulation Storygames …
Serious games as a behaviour elicitation tool: applications to evacuation scenarios
JESC de Almeida – 2016 – repositorio-aberto.up.pt
… NFPA National Fire Protection Association NIST National Institute of Standards and Technology NPC Non-Player Character Page 14. Serious Games as a Behaviour Elicitation Tool: Applications to Evacuation Scenarios Ph.D. Thesis Page x © João Emílio Almeida …
End-user development and learning in second life: the evolving artifacts framework with application
AI Mørch, V Caruso, MD Hartley – New perspectives in end-user …, 2017 – Springer
… However, using the Linden Scripting Language (LSL), boxes can also be modified by writing code. Such modification was not observed in this course, but the professor has used LSL in another course to create a non-player character (NPC) in a roleplay …
on Games Based Learning ECGBL 2014
IC Busch – 2014 – researchgate.net
Page 1. Abstracts of Papers Presented at The 8th European Conference on Games Based Learning ECGBL 2014 Research and Training Center for Culture and Computer Science (FKI) University of Applied Sciences HTW Berlin, Germany 9-10 October 2014 Edited by …
Programming Interactive Worlds with Linear Logic
C Martens – 2015 – reports-archive.adm.cs.cmu.edu
… One domain for such methods is the simulation of non-player characters (NPCs … More recent investigations into the space of generative narrative experiences include the high school social simulation game, Prom Week, which uses sophisticated social models to determine how …
Investigation into game-based crisis scenario modelling and simulation system
P Praiwattana – 2018 – researchonline.ljmu.ac.uk
Page 1. INVESTIGATION INTO GAME-BASED CRISIS SCENARIO MODELLING AND SIMULATION SYSTEM Pisit Praiwattana A thesis submitted in partial fulfilment of the requirements of Liverpool John Moores University for the degree of Doctor of Philosophy June 2018 …
When Strangers Meet: Collaborative Construction of Procedural Conversation in Embodied Conversational Agents
S Ólafsson – skemman.is
… 9 interactions between the user (player) and the non-player characters (NPCs) takes place in a … their conversational skills in different ways, whether directly in relation to IceLangVR or not. The CADIA Populus social simulation platform (Pedica, 2009), which later became the …
Approximating value equivalence in interactive dynamic influence diagrams using behavioral coverage
R Conroy, Y Zeng, J Tang – 2016 – tees.openrepository.com
… Emerging I-DID applications include supplying control policies in automated vehicle routing problems [Luo et al., 2011], developing adversarial models in money laundering activities [Ng et al., 2010], designing intelligent non-player characters in real-time strategy games …
Evaluating scaffolding in serious games with children
CO Obikwelu – 2017 – clok.uclan.ac.uk
Page 1. Evaluating Scaffolding in Serious Games with Children By Chinedu Okwudili Obikwelu A thesis submitted in partial fulfilment for the requirements for the degree of Doctor of Philosophy at the University of Central Lancashire March 2017 Page 2. ii ii …
Telltale Hearts: Encoding Cinematic Choice-based Adventure Games
JT Murray – 2018 – escholarship.org
… One can classify IDNs by how content is manipulated and selected1. Figure 1.1 classifies several prominent works in IDNs, including the social simulation platform Versu [15], the social physics puzzle game Prom Week [16], Façade [17] …
Narrativized Video Games: Playing Cultural Influences and Intentionalities
SA Pedraça – 2015 – era.library.ualberta.ca
Page 1. Narrativized Video Games: Playing Cultural Influences and Intentionalities By Sâmia Alves Pedraça A thesis submitted in partial fulfillment of the requirements for the degree of Master of Arts Humanities Computing University of Alberta © Sâmia Alves Pedraça, 2015 …
Dynamic secularization
WS Bainbridge – 2017 – Springer
Page 1. Dynamic Secularization William Sims Bainbridge Information Technology and the Tension Between Religion and Science Page 2. Dynamic Secularization Page 3. William Sims Bainbridge Dynamic Secularization Information Technology and the Tension …
Curating Simulated Storyworlds
J Ryan – 2018 – escholarship.org
… 293 7.3.3 Birth and Death . . . . . 294 7.3.4 Social Simulation . . . . . 295 7.3.5 Marriage and Divorce . . . . … 400 9.2.4 Character Routines . . . . . 402 9.2.5 Social Simulation …
Artificial emotions in virtual storytelling
M Bída – 2017 – dspace.cuni.cz
… 4In this thesis the terms Intelligent Virtual Agent (IVA), Non-player Character (NPC), agent and character will be used interchangeably. 4 … On the other hand in social simulation games such as The Sims [Electronic Arts, 2014] – the whole game is about keeping your characters …
Progress in artificial intelligence
L Correia, L Reis, J Cascalho – 2014 – Springer
… and applica- tions. Social Simulation and Modelling (SSM) may be considered as a spin-off of MAS with a special focus on simulation and synthesis of social behaviors in order to understand real social systems. Text Mining …
Gamification in Foreign Language Education: Fundamentals for a Gamified Design of Institutional Programs for Chinese as a Foreign Language
C Li – 2018 – rave.ohiolink.edu
Page 1. Gamification in Foreign Language Education: Fundamentals for a Gamified Design of Institutional Programs for Chinese as a Foreign Language Dissertation Presented in Partial Fulfillment of the Requirements for the …
Narrative Agents as a Reporting Mechanism for Agent-Based Models
BD Auble – 2015 – ebot.gmu.edu
… completion of the model run. A review of several general books on ABM and social simulation (Gilbert 2008, Gilbert … In order to do 6 Page 18. this, he created a computer-controlled agent ("non-player character" or NPC) that was …
Enough of a world: A phenomenology of videogame Weltlichkeit
IB Jones – 2015 – search.proquest.com
Page 1. THE UNIVERSITY OF CHICAGO ENOUGH OF A WORLD: A PHENOMENOLOGY OF VIDEOGAME WELTLICHKEIT A DISSERTATION SUBMITTED TO THE FACULTY OF THE DIVISION OF THE HUMANITIES IN CANDIDACY FOR THE DEGREE OF …
Evaluating the Effectiveness of Immersive Interfaces for Combat Training
A Butler, R Fowler, M Winkel – 2015 – apps.dtic.mil
Page 1. Standard Form 298 (Rev 8/98) Prescribed by ANSI Std. Z39.18 956-665-2534 W911NF-11-1-0126 59095-CS-REP.2 Final Report a. REPORT 14. ABSTRACT 16. SECURITY CLASSIFICATION OF: This project focuses directly on immersive science …
Supplementary Materials for "A Survey of Corpora in Computational and Cognitive Narrative Science"
MA Finlayson – 2014 – dspace.mit.edu
… One field in which games still have much to gain is in Non-Player Character behavior in socially demanding games, like Role-Playing Games … In order to attain this we propose a model that has at its core social relationships with/between Non-Player Characters …