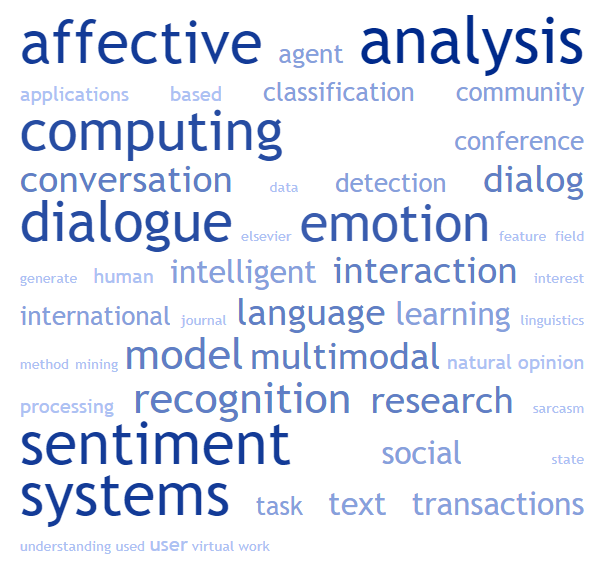 Notes:
Affective computing is a field of study that focuses on the development of systems that are able to recognize, interpret, and respond to human emotions. It involves the use of artificial intelligence (AI) and machine learning techniques to analyze emotional data, such as facial expressions, body language, and speech patterns, in order to understand and respond to human emotions.
Sentiment analysis is a related field that involves the use of AI and machine learning techniques to analyze text data in order to identify and classify the sentiment or emotion expressed in the text. This can be used to determine whether a particular piece of text is positive, negative, or neutral in sentiment, and to understand how people feel about a particular topic or product.
Both affective computing and sentiment analysis have a number of applications in the field of dialog systems. For example, these techniques can be used to improve the performance of dialog systems by enabling them to recognize and respond to the emotions of the user. This can be useful in a number of different contexts, such as customer service or virtual assistants, where it is important for the system to be able to understand and respond to the emotional needs of the user.
The number of academic papers covering both sentiment analysis and dialog systems continues to go up year on year.
Wikipedia:
Reference:
Affective Computing and Sentiment Analysis (2011)
See also:
100 Best Sentiment Analysis Videos | Affective Computing Meta Guide | Chatbots & Sentiment Analysis  | Sentiment Analysis Tools & Dialog Systems
---
A Supplementary Feature Set for Sentiment Analysis in Japanese Dialogues
PL Ihasz, M Kovacs, I Piumarta… – ACM Transactions on …, 2019 – dl.acm.org
… A Supplementary Feature Set for Sentiment Analysis in Japanese Dialogues … a growing need for real-time recognition of the affective state of emotions or sentiments in the field of affective computing … Dialogue systems and affect-aware games (Szwoch and Szwoch 2014), where …
Can a Humanoid Robot be part of the Organizational Workforce? A User Study Leveraging Sentiment Analysis
N Mishra, M Ramanathan, R Satapathy… – 2019 28th IEEE …, 2019 – ieeexplore.ieee.org
… under- standing human languages, such as linguistics, commonsense reasoning, and affective computing … handle informal texts and common sense reasoning for an effective dialogue system … Both user survey and aspect-based sentiment analysis of customer feedback show …
Measuring service encounter satisfaction with customer service chatbots using sentiment analysis
J Feine, S Morana, U Gnewuch – 2019 – aisel.aisnet.org
… and the Neutral: Affective Profile in Dialog System-User Communication. In: D'Mello, S., Graesser, A., Schuller, B., Martin, J.-C. (eds.) Affective Computing and Intelligent Interaction, pp. 337– 346. Springer, Berlin, Heidelberg (2011) 17. Liu, B.: Sentiment analysis and opinion …
Adversarial training in affective computing and sentiment analysis: Recent advances and perspectives
J Han, Z Zhang, B Schuller – IEEE Computational Intelligence …, 2019 – ieeexplore.ieee.org
… We expect that this overview will help facilitate the development of adversarial training for affective computing and sentiment analysis in both the academic and industrial communities … Adversarial Training in Affective Computing and Sentiment Analysis …
Sentiment and sarcasm classification with multitask learning
N Majumder, S Poria, H Peng, N Chhaya… – IEEE Intelligent …, 2019 – ieeexplore.ieee.org
… His research interests include in sentiment analysis, mul- timodal interaction, natural language processing, and affective computing … His research interests include multilingual sentiment analysis, text representation learning, dialogue system, and deep learning …
Emotion recognition based preference modelling in argumentative dialogue systems
N Rach, K Weber, A Aicher… – 2019 IEEE …, 2019 – ieeexplore.ieee.org
… "Sentiment analysis and opinion mining." Synthesis lectures on human language technologies 5.1 (2012): 1-167 … "A human-computer dialogue system for educational … and lessons learnt from CALLAS and IRIS." 3rd International Conference on Affective Computing and Intelligent …
Affective computing and crowdsourcing: subjective labels and sequential effects
JH Shen – 2019 – dspace.mit.edu
… Recognizing or inferring emotion from text is the task of sentiment analysis. In … Best practices for crowdsourcing labels for Affective Computing tasks have been examined [52]. Siegert et al … recognition and dialog system evaluation. This chapter describes experimental design …
Multitask Prediction of Exchange-level Annotations for Multimodal Dialogue Systems
Y Hirano, S Okada, H Nishimoto… – … Conference on Multimodal …, 2019 – dl.acm.org
… while simultaneous sentiment level and next action prediction for the dialogue systems are un … To our knowledge, multimodal sentiment analysis in a human- system interaction setting are rare … Multimodal Dialogue System According to [19], a virtual agent, MMD-Agent1 was used …
Learning from personal longitudinal dialog data
C Welch, V Pérez-Rosas, JK Kummerfeld… – IEEE Intelligent …, 2019 – ieeexplore.ieee.org
… end-to-end dialog systems has used corpora from Twitter12 and specific types of chatrooms, such as the Ubuntu chat corpus.13 The construction of such datasets is motivated by the desire to have more useful dialog systems … Affective Computing and Sentiment Analysis 22 …
Combining speech-based and linguistic classifiers to recognize emotion in user spoken utterances
D Griol, JM Molina, Z Callejas – Neurocomputing, 2019 – Elsevier
… there is a very active research community working on affective computing in many … recognition of educative course reviews [23], aspect-based Sentiment Analysis [24], recommendation … Although emotion is receiving increasing attention from the dialog systems community, most …
Intent Classification for Dialogue Utterances
J Schuurmans, F Frasincar – IEEE Intelligent Systems, 2019 – ieeexplore.ieee.org
… Therefore, this research focuses on improving the existing practice of intent classification for dialogue utterances. In order to classify intents of customers, a dialogue system needs to analyze the incoming … Affective Computing and Sentiment Analysis 88 …
Dynamic emotion modelling and anomaly detection in conversation based on emotional transition tensor
X Sun, C Zhang, L Li – Information Fusion, 2019 – Elsevier
… Nowadays, emotional transition research and dialogue system are becoming ever more popular, which can be applied to complex … The security applications include depression detection [5], anomaly detection, public opinion monitoring, sentiment analysis [6], and emotional …
CORK: A COnversational agent framewoRK exploiting both rational and emotional intelligence.
F Catania, M Spitale, D Fisicaro, F Garzotto – IUI Workshops, 2019 – research.ibm.com
… Affective computing is the interdisciplinary research field regarding systems and devices that can recognize … 4 THE FRAMEWORK In order to hold a conversation, a dialog system must be … to-text module; • the NLP Unit and intent detector; • the sentiment analysis module; • the …
Emotionally-aware chatbots: A survey
EW Pamungkas – arXiv preprint arXiv:1906.09774, 2019 – arxiv.org
… Other works also try to incorporate affective computing to build emotionally-aware … Shantalaet.al.[50] 2018 Building neural dialogue system which addresses emotional aspect … The model consists of several modules including intent predictor, sentiment analysis, emotion analysis …
Multimodal Embeddings from Language Models
SY Tseng, P Georgiou, S Narayanan – arXiv preprint arXiv:1909.04302, 2019 – arxiv.org
… [9] Anthony Hu and Seth Flaxman, "Multimodal sentiment analysis to explore … Erik Cambria, Rajiv Bajpai, and Amir Hussain, "A review of affective computing: From uni … and Wolfgang Minker, "Emotion recognition and adaptation in spo- ken dialogue systems," International Journal …
Sentiment Recognition for Short Annotated GIFs Using Visual-Textual Fusion
T Liu, J Wan, X Dai, F Liu, Q You… – IEEE Transactions on …, 2019 – ieeexplore.ieee.org
… Multimodal analysis has already created a lot of buzz in the field of affective computing … The tensor fusion network model to solve the problem of multimodal sentiment analysis was proposed … dyadic dialogue videos [4], which can be plugged into any dialogue system to generate …
Theoretical Underpinnings on Text Mining
F Xing, E Cambria, R Welsch – Intelligent Asset Management, 2019 – Springer
… Welsch. Chapter First Online: 14 November 2019. Part of the Socio-Affective Computing book series … Recent research in dialog systems [20] develops many mechanisms to look up and store key … B. Liu, Many facets of sentiment analysis, in A Practical Guide to Sentiment Analysis …
Dialoguegcn: A graph convolutional neural network for emotion recognition in conversation
D Ghosal, N Majumder, S Poria, N Chhaya… – arXiv preprint arXiv …, 2019 – arxiv.org
… conversation (ERC). ERC is also undeniably im- portant in affective dialogue systems (as shown in Fig. 1) where bots understand users' emotions and sentiment to generate emotionally coherent and empathetic responses. Recent …
Coastal at semeval-2019 task 3: Affect classification in dialogue using attentive bilstms
AV González, VPB Hansen, J Bingel… – Proceedings of the 13th …, 2019 – aclweb.org
… 2017b. Datastories at semeval-2017 task 4: Deep lstm with attention for message-level and topic-based sentiment analysis … 2005. Using context to improve emo- tion detection in spoken dialog systems … In Affective Computing and Intelli- gent Interaction, pages 415–424 …
Modeling both Context-and Speaker-Sensitive Dependence for Emotion Detection in Multi-speaker Conversations.
D Zhang, L Wu, C Sun, S Li, Q Zhu, G Zhou – IJCAI, 2019 – ijcai.org
Page 1. Modeling both Context- and Speaker-Sensitive Dependence for Emotion Detection in Multi-speaker Conversations Dong Zhang1 , Liangqing Wu1 , Changlong Sun2 , Shoushan Li1 , Qiaoming Zhu1? and Guodong …
Expressing reactive emotion based on multimodal emotion recognition for natural conversation in human–robot interaction
Y Li, CT Ishi, K Inoue, S Nakamura… – Advanced …, 2019 – Taylor & Francis
… we have been working on implementing backchannels in a spoken dialogue system to express … is to determine how to recognize and generate emotion in dialogue systems to improve … specifically in the valence dimension, by combining prosody and sentiment analysis to enable …
ReUS: a Real-time Unsupervised System For Monitoring Opinion Streams
M Dragoni, M Federici, A Rexha – Cognitive Computation, 2019 – Springer
… Sentiment analysis is a branch of affective computing research [1] that aims to … Sentiment analysis has raised growing interest both within the scientific community, leading to many … chain applications [29], human communication comprehension [30] and dialogue systems [31], etc …
Human-inspired socially-aware interfaces
D Schiller, K Weitz, K Janowski, E André – International Conference on …, 2019 – Springer
… Socially-interactive agents Social signal processing Affective computing. Download conference paper PDF … a promising approach to automatically learn linguistic representations for sentiment analysis [50] … response timing for a virtual agent in an interactive dialogue system …
Research on Knowledge Discovery and Affective Computing for Short Text Processing
?? – 2019 – repo.lib.tokushima-u.ac.jp
… In the dialogue system or QA system, the uncertainty and handling difficulties of short … understanding ability. QA system framework is mainly based on semantic analysis, affective computing, con … recognition(NER), syntax and dependency analysis and simple sentiment analysis …
When your face and tone of voice don't say it all: Inferring emotional state from word semantics and conversational topics.
A Valenti, M Chita-Tegmark, T Law, A Bock… – ww.andyvalenti.com
… In future work, DIARC will be able to coordinate evolving affective states with the task driven dialogue system of DIARC to enable more realistic and engaging … VADER: A Parsimonious Rule-Based Model for Sentiment Analysis of Social Media Text … Affective computing: A review …
An affect-rich neural conversational model with biased attention and weighted cross-entropy loss
P Zhong, D Wang, C Miao – Proceedings of the AAAI Conference on …, 2019 – aaai.org
… Handling negators and intensifiers properly still remains as a challenge in sentiment analysis … One note is that the out-domain test perplex- ity for all models is quite large as compared to in-domain perplexity, as well as other dialog systems, eg, (Vinyals and Le 2015) …
An architecture for emotional facial expressions as social signals
R Aylett, C Ritter, MY Lim, F Broz… – … Affective Computing, 2019 – ieeexplore.ieee.org
… level to other agent actions rather than giving them control of agent activity, while in dialogue system research, agent … Transactions on Affective Computing … more difficult as it requires analysis of the chosen dialogue action with fallible approaches such as sentiment analysis …
Cognitive-inspired domain adaptation of sentiment lexicons
FZ Xing, F Pallucchini, E Cambria – Information Processing & Management, 2019 – Elsevier
… Abstract. Sentiment lexicons are essential tools for polarity classification and opinion mining. In contrast to machine learning methods that only leverage text features or raw text for sentiment analysis, methods that use sentiment lexicons embrace higher interpretability …
Annotation-efficient approaches towards real-time emotion recognition
IP Lajos – 2019 – ritsumei.repo.nii.ac.jp
… In particular, in the field of affective computing, real-time recognition of affective states is expected to be achieved within 100 ms [4]. Dialogue systems and affect-aware games [5] are typical examples of … affect aware games or dialogue systems … Application for sentiment analysis …
EDA: Enriching Emotional Dialogue Acts using an Ensemble of Neural Annotators
C Bothe, C Weber, S Magg, S Wermter – arXiv preprint arXiv:1912.00819, 2019 – arxiv.org
… The recognition of emotion and dialogue acts enriches conversational analysis and help to build natural dialogue systems. Emotion … 1975). However, while build- ing an interactive dialogue system, the interface needs di- alogue acts …
End-to-End Personalized Humorous Response Generation in Untrimmed Multi-Role Dialogue System
Q Yang, Z He, Z Zhan, R Li, Y Lee, Y Zhang… – IEEE Access, 2019 – ieeexplore.ieee.org
… Therefore, the task of concurrently identifying speakers and recognizing speaker- to-speaker relationships is a challenge for constructing a more intelligent dialogue system. A few role-related dialogue systems have been proposed recently, such as multi-party conversations [2 …
Emotion recognition in conversation: Research challenges, datasets, and recent advances
S Poria, N Majumder, R Mihalcea, E Hovy – IEEE Access, 2019 – ieeexplore.ieee.org
… INDEX TERMS Emotion recognition, sentiment analysis, dialogue systems, natural language processing … understanding, but also improve the performance of dialogue systems by catering to … S. Feuerriegel, and H. Prendinger, "Deep learning for affective computing: Text-based …
On-the-Fly Detection of User Engagement Decrease in Spontaneous Human–Robot Interaction Using Recurrent and Deep Neural Networks
A Ben-Youssef, G Varni, S Essid, C Clavel – International Journal of Social …, 2019 – Springer
… a public space. We first describe the UE-HRI dataset that collects spontaneous human–robot interactions following the guidelines provided by the affective computing research community to collect data "in-the-wild". We then …
Monitoring and Classification of Emotions in Elderly People
D Fonseca, KCN da Silva, RL Rosa… – 2019 International …, 2019 – ieeexplore.ieee.org
… A. Kappas, "Affect and social processes in online communication–experiments with an affective dialog system," IEEE Transactions on Affective Computing, vol … Rodriguez, and A. Grutzman, "Calculating the influence of tagging people on sentiment analysis," in 2018 …
Developing enhanced conversational agents for social virtual worlds
D Griol, A Sanchis, JM Molina, Z Callejas – Neurocomputing, 2019 – Elsevier
… Statistical dialog management. User modeling. Social networks. Virtual worlds. Second life. Affective computing … communication in these environments, we propose the integration of dialog systems to develop … domain in order to optimize the behavior of the dialog system in that …
Gated Convolutional Encoder-Decoder for Semi-supervised Affect Prediction
K Chawla, S Khosla, N Chhaya – Pacific-Asia Conference on Knowledge …, 2019 – Springer
… psychology, understanding audiences and opinions in computational social science, and more recently, for dialogue systems and conversational … Picard, RW: Affective Computing … dos Santos, C., Gatti, M.: Deep convolutional neural networks for sentiment analysis of short texts …
Phonetic-enriched Text Representation for Chinese Sentiment Analysis with Reinforcement Learning
H Peng, Y Ma, S Poria, Y Li, E Cambria – arXiv preprint arXiv:1901.07880, 2019 – arxiv.org
… IEEE TRANSACTIONS ON AFFECTIVE COMPUTING 3 C. Sentiment Analysis and Chinese Phonetics Sentiment analysis has raised growing interest both within the … and supply chain applications [36], human communication comprehension [37] and dialogue systems [38], etc …
Strong and simple baselines for multimodal utterance embeddings
PP Liang, YC Lim, YHH Tsai, R Salakhutdinov… – arXiv preprint arXiv …, 2019 – arxiv.org
… Page 2. efficiency during learning and inference. We perform a set of experiments across two tasks and datasets spanning multimodal personal- ity traits recognition (Park et al., 2014) and multi- modal sentiment analysis (Zadeh et al., 2016) …
Future Research Directions
S Höhn – Artificial Companion for Second Language …, 2019 – Springer
… Task- oriented dialogue systems and chatbots that constantly need confirmations that they fulfil tasks correctly can benefit … 11.3 Dialogue Processing and Affective Computing … understanding for different types of applications, such as sentiment analysis of short text messages (for …
LAMAL: LAnguage Modeling Is All You Need for Lifelong Language Learning
FK Sun, CH Ho, HY Lee – arXiv preprint arXiv:1909.03329, 2019 – arxiv.org
… 2019), we conducted experiments on four text classifi- cation tasks: (1) news classification, (2) sentiment analysis, (3) Wikipedia article classification … A network-based end-to-end trainable task-oriented dialogue system … IEEE Transactions on Affective Computing 8(4):480– 491 …
Bimodal Speech Emotion Recognition Using Pre-Trained Language Models
V Heusser, N Freymuth, S Constantin… – arXiv preprint arXiv …, 2019 – arxiv.org
… Being the proverbial bearer of bad news, for example, a dialogue system should not … A. Hussain, "Convolutional mkl based multimodal emotion recog- nition and sentiment analysis," in 2016 … on emotional body gesture recogni- tion," IEEE Transactions on Affective Computing, vol …
Deep and Dense Sarcasm Detection
D Pelser, H Murrell – arXiv preprint arXiv:1911.07474, 2019 – arxiv.org
… and sentiment analysis [2]. With the rise of social media use, and the need for understanding comments therein, affective computing has gained … Phonetic-based microtext normalization for twitter sentiment analysis … "yeah right": Sarcasm recognition for spoken dialogue systems …
Corpus for Emotion Detection on Roman Urdu
MU Arshad, MF Bashir, A Majeed… – 2019 22nd …, 2019 – ieeexplore.ieee.org
… This task is purely a research-oriented task which play a role in different applications including dialog systems (chatbots, tutoring systems … Discrimina- tive Feature Spamming Technique for Roman Urdu Sentiment Analysis … IEEE transactions on affective computing, 5(2), 101-111 …
LAMOL: LAnguage MOdeling for Lifelong Language Learning
FK Sun, CH Ho, HY Lee – International Conference on Learning …, 2019 – openreview.net
… A network-based end-to-end trainable task-oriented dialogue system. arXiv preprint arXiv:1604.04562, 2016. R. Xia, J. Jiang, and H. He. Distantly supervised lifelong learning for large-scale social media sentiment analysis. IEEE Transactions on Affective Computing, 8(4) …
Design and Analysis of a Human-Machine Interaction System for Researching Human's Dynamic Emotion
X Sun, Z Pei, C Zhang, G Li… – IEEE Transactions on …, 2019 – ieeexplore.ieee.org
… Dynamic emotional modeling can be used in the dialog system. Today's dialog systems are becoming increasingly more intelligent and can be applied to complex tasks … depression detection [5], anomaly detection [6], public opinion monitoring, public sentiment analysis [7], and …
Business Sentiment Analysis. Concept and Method for Perceived Anticipated Effort Identification
N Rizun, A Revina – Concept and Method for Perceived Anticipated …, 2019 – papers.ssrn.com
… 2.2. Sentiment Analysis Application Areas … key directions can be highlighted: 1) brand and customer management: SA of blogs, tweets and posts is widely used to analyze the brand image, track customer feedbacks and in development of automatic dialogue systems [30], [27 …
Emotion Recognition in Conversations with Transfer Learning from Generative Conversation Modeling
D Hazarika, S Poria, R Zimmermann… – arXiv preprint arXiv …, 2019 – arxiv.org
… is an important task with applications ranging from dialogue understanding to affective dialogue systems [1]. Apart … Finally, we look at recent works on emotion/sentiment analysis that have employed TL … in Conversations ERC is an emerging sub-field of affective computing and is …
Multimodal sentiment analysis: A survey and comparison
R Kaur, S Kautish – International Journal of Service Science …, 2019 – igi-global.com
… Sentimentanalysis,"productionsasubstantialprotagonistinfieldsin"affectivecomputing,"refers to … methods (Contentanalysis/ textmining,trend analysis,opinion mining/sentiment analysis,social network … Theirgrindhas beenrealisticinageneralinterface(ordialog)system,calledRDS …
Opinion Analysis in Interactions: From Data Mining to Human-Agent Interaction
C Clavel – 2019 – books.google.com
… In this work, we shall make use of research carried out in all three fields (affective computing, machine learning and natural language … I.2. Computational models of opinions The literature for opinion mining and sentiment analysis, ie concerning detection from written texts or …
Emotion-Aware and Human-Like Autonomous Agents
N Asghar – 2019 – uwspace.uwaterloo.ca
… 21 2.5 A Brief History of Dialogue Systems … 63 4.3 Pipeline to integrate Affect Control Theory (ACT) into a dialogue system. 69 xii Page 13 … Simple positive-negative sentiment analysis or basic knowl- edge of linguistic rules is not enough …
Neural conversation generation with auxiliary emotional supervised models
G Zhou, Y Fang, Y Peng, J Lu – ACM Transactions on Asian and Low …, 2019 – dl.acm.org
… 2014), and sentiment analysis (Zhou et al … To our knowledge, it is the first work to adopt the ground truth as a comparator for emotional dialogue system evaluation … 2017). There is no uniform and accepted automatic evaluation technique for dialogue systems …
Understanding the Attention Model of Humans in Sarcastic Videos
D Das, MF Hossain, AJ Clark – researchgate.net
… eg, image and text) in sarcasm research from a sentiment analysis perspective instead of text … in affective contents is a well researched area from the affective computing and interaction … and S. Narayanan, "" yeah right": Sarcasm recognition for spoken dialogue systems," in Ninth …
A fuzzy logic approach to reliable real-time recognition of facial emotions
K Bahreini, W van der Vegt, W Westera – Multimedia Tools and …, 2019 – Springer
… Emotion recognition Affective computing Software development Statistical data analysis Fuzzy logic Webcam, E … The combination of posture and conversational dialogue systems reveals a modest … Such analysis is called sentiment analysis and uses natural language processing …
PRIMER: An Emotionally Aware Virtual Agent.
C Gordon, A Leuski, G Benn, E Klassen, E Fast… – IUI …, 2019 – research.ibm.com
… KEYWORDS Virtual Reality, Virtual Agents, Spoken Dialogue Systems, Mixed- Initiative Dialogue … These values are detected through the use of lexical sentiment analysis, in a process that will be further elaborated below in the section on the Dialogue System …
The Routledge Handbook of Chinese Discourse Analysis
C Shei – 2019 – books.google.com
… proposed by Wang and Lan (2016) Principal components of a dialog system The block … Western concepts translated into Kanji in Japan Two types of dialog systems and their … His research interests are in computational linguistics, sentiment analysis and their applications in …
Intelligent Asset Management
F Xing, E Cambria, R Welsch – 2019 – Springer
… ISSN 2509-5706 ISSN 2509-5714 (electronic) Socio-Affective Computing ISBN 978-3-030-30262- 7 ISBN … Specially, augmented sentic computing, a concept-level sentiment analysis method that takes advantages of syntactic features … 115 7.2 Robo-Advisory and Dialog System …
Enhanced twofold-LDA model for aspect discovery and sentiment classification
N Burns, Y Bi, H Wang, T Anderson – International Journal of …, 2019 – igi-global.com
… Model),whereascomparablewith ASUMonsentimentclassificationperformance. KEywORDS Aspect Discovery, Sentiment Analysis, Sentiment Classification, Topic Modeling INTRODUCTION TheInternetisacommonwayoflife …
Implementing an Adaptive Neuro-Fuzzy Model for Emotion Prediction Based on Heart Rate Variability (HRV)
SS Park, KC Lee – Journal of Digital Convergence, 2019 – koreascience.or.kr
… IEEE Transactions on Affective Computing, 7(1), 17-28 … In E. André, L. Dybkjær, W. Minker, & P. Heisterkamp (Eds.), Affective Dialogue Systems (pp … ??? ?(??????) ????? : ????(Artificial Intelligence), ????(Big Data), ????(Sentiment Analysis) ? ?E …
Learn to Gesture: Let Your Body Speak
T Gan, Z Ma, Y Lu, X Song, L Nie – Proceedings of the ACM Multimedia …, 2019 – dl.acm.org
… Adequate head movements and manual gestures have shown positive impacts for multimodal dialogue systems and social robotics [2]. Social robotics incorporate both speech and gesture synthesis; and in most cases the gestures are limited to the predefined repertoires of …
SEWA DB: A rich database for audio-visual emotion and sentiment research in the wild
J Kossaifi, R Walecki, Y Panagakis… – … on Pattern Analysis …, 2019 – ieeexplore.ieee.org
… emotion from a set of annotations, gener- ally referred as the 'Gold Standard' to differentiate with 'ground-truth', which is avoided for affective computing as there … 5 tense/WOZ multimodal dialogue system that supposedly allows the user to interact almost naturally with a computer …
Comparison and efficacy of synergistic intelligent tutoring systems with human physiological response
F Alqahtani, N Ramzan – Sensors, 2019 – mdpi.com
The analysis of physiological signals is ubiquitous in health and medical diagnosis as a primary tool for investigation and inquiry. Physiological signals are now being widely used for psychological and social fields. They have found promising application in the field of computer …
A taxonomy of social cues for conversational agents
J Feine, U Gnewuch, S Morana, A Maedche – International Journal of …, 2019 – Elsevier
Automatic recognition of self-reported and perceived emotions
B Zhang, EM Provost – Multimodal Behavior Analysis in the Wild, 2019 – Elsevier
… Appraisal theory is commonly used in affective computing [63] … For example, participants were asked to interact with a dialog system [57], [59] … 20.5.1. Text datasets. Sentiment analysis and textual emotion recognition are closely related …
Emotional State Prediction Using Speech Signals
BE Martinez, J Cerda… – 2019 International …, 2019 – ieeexplore.ieee.org
… [1]. Affective computing researchers are … V. CONCLUSIONS AND FUTURE WORK This paper describes a tool for sentiment analysis based on voice signals and … [7] S. Young, M. Gašic, B. Thomson, and JD Williams, "Pomdp-based statistical spoken dialog systems: A review …
First Impressions Count! The Role of the Human's Emotional State on Rapport Established with an Empathic versus Neutral Virtual Therapist
H Ranjbartabar, D Richards, A Bilgin… – … on Affective Computing, 2019 – ieeexplore.ieee.org
… Citation information: DOI 10.1109/TAFFC.2019.2899305, IEEE Transactions on Affective Computing IEEE TRANSACTIONS ON TAFFC-2017-07-0192 … Citation information: DOI 10.1109/TAFFC.2019.2899305, IEEE Transactions on Affective Computing 2 …
Comparing the utility of different classification schemes for emotive language analysis
L Williams, M Arribas-Ayllon, A Artemiou… – Journal of Classification, 2019 – Springer
… Unlike schemes derived from psychological theory, EARL has been designed for a wide range of tasks in affective computing, including corpus annotation and … 3). WordNet–Affect has been used as a lexical resource to support many sentiment analysis studies, eg (Balahur et al …
Effectiveness of data-driven induction of semantic spaces and traditional classifiers for sarcasm detection
MA Di Gangi, GL Bosco, G Pilato – arXiv preprint arXiv:1904.04019, 2019 – arxiv.org
… Affective computing has raised a great deal of interest in the last years … sarcasm correctly would greatly improve the per- formance of sentiment analysis systems (Chiavetta, Lo … cognitive modeling, speech recognition, smart indexing, anti-spam filters, dialogue systems, and other …
An Investigation on the Effectiveness of Multimodal Fusion and Temporal Feature Extraction in Reactive and Spontaneous Behavior Generative RNN Models for …
HH Huang, M Fukuda, T Nishida – … of the 7th International Conference on …, 2019 – dl.acm.org
… The SEMAINE project [16, 18] was launched to build a Sensitive Artifi- cial Listener (SAL). SAL is a multimodal dialogue system with the social interaction skills needed for a sustained conversation with the user … 2017. Multimodal Sentiment Analysis with Word-Level …
Taking the emotional pulse of software engineering—A systematic literature review of empirical studies
M Sánchez-Gordón, R Colomo-Palacios – Information and Software …, 2019 – Elsevier
… themselves. The Affective Computing community is grounded in the definition of "emotion" provided by Scherer [25] … 53]. A different approach is to identify affective states reported in sentences which is called sentiment analysis [34] …
Children's Speaker Recognition Method Based on Multi-dimensional Features
N Jia, C Zheng, W Sun – … Conference on Advanced Data Mining and …, 2019 – Springer
… expression, promoting the development of voice communication and dialogue system, recognizing personal … end-to-end speech recognition models for sentiment analysis (2019)Google … In: International Conference on Affective Computing & Intelligent Interaction (2017)Google …
An interactive multi-agent reasoning model for sentiment analysis: a case for computational semiotics
J Akhtar – Artificial Intelligence Review, 2019 – Springer
… al. 2017) or sentence-level scalable representations through capsule network (Zhao et al. 2019). Links between multi-modal affective computing and sentiment analysis are also being rightly explored (Cambria 2016). While …
Proceedings of the 57th Annual Meeting of the Association for Computational Linguistics
A Korhonen, D Traum, L Màrquez – … of the 57th Annual Meeting of the …, 2019 – aclweb.org
… Sentence-level Semantics Mona Diab, Ivan Titov, Wei Xu, Siva Reddy, Steven Bethard, Eduardo Blanco, Wenpeng Yin, Liang Huang, Edward Grefenstette, Michael Roth, Mehrnoosh Sadrzadeh, Anette Frank Sentiment Analysis and Argument Mining …
Interactive Question-Posing System for Robot-Assisted Reminiscence from Personal Photos
YL Wu, E Gamborino, LC Fu – IEEE Transactions on Cognitive …, 2019 – ieeexplore.ieee.org
… on predefined rules that were manually designed in the dialogue system and its knowledge base could not be easily extended. Due to limited ability of natural language understanding, in order to be able to handle the responses from the user, dialogue systems often pose …
This is the author's version of a work that was published in the following source
J Feine, U Gnewuch, S Morana, A Maedche – 2019 – researchgate.net
… Research on voice-based CAs, which are often referred to as spoken-dialog systems, voice-user interfaces, or interactive voice response systems, began in the late 1980s (McTear et al., 2016). One of the most prominent spoken-dialog system projects were ATIS (Air Travel …
Proceedings of the 2019 Conference of the North American Chapter of the Association for Computational Linguistics: Human Language Technologies, Volume …
J Burstein, C Doran, T Solorio – Proceedings of the 2019 Conference of …, 2019 – aclweb.org
… Sentiment Analysis Isabelle Augenstein, University of Copenhagen, Denmark Wai Lam, The Chinese University of Hong Kong … Evaluations, Natural Language Engineering, Journal of Artificial Intelligence Research, IEEE Transactions on Affective Computing, and Transactions of …
Wearable-Based Affect Recognition—A Review
P Schmidt, A Reiss, R Dürichen, KV Laerhoven – Sensors, 2019 – mdpi.com
… and pattern recognition problem [1]. From a practical standpoint, affect recognition is an essential building block of affective computing, which aspires … We refer readers with an interest in affect recognition or sentiment analysis methods based on audio or visual data to Poria et al …
Emotion recognition from video using transfer learning and stacking
ST BEYENE – 2019 – politesi.polimi.it
… feeling and emotion of a client. 2.1.4 Emotion recognition Models and Techniques In the growing field of affective computing, there are so many algorithm tech … meaning of the words to classify the sentiment analysis as positive, negative and neutral …
Commercialization of multimodal systems
PR Cohen, R Tumuluri – The Handbook of Multimodal-Multisensor …, 2019 – dl.acm.org
Page 1. 15Commercialization of Multimodal Systems Philip R. Cohen, Raj Tumuluri 15.1 Introduction This chapter surveys the broad and accelerating commercial activity in build- ing products incorporating multimodal-multisensor interfaces …
BACHELORS THESIS
ME Adam – 2019 – researchgate.net
… 23 2.7 Difference between Sentiment Analysis and Tone Analysis [Mar10b … defined as "any software application that engages in a (text-based) dialogue with a human using natural language" [Dal16]; they are further known as: conversational dialogue systems, chatterbots, chat …
A multimodal approach to sarcasm detection on social media
D Das – 2019 – researchgate.net
… Due to the variety and large number of users, SNSs have drawn the attention of the computer science (CS) community, par- ticularly the affective computing (also known as emotional AI), information retrieval, natural lan- guage processing, and data … 6.1.2 Sentiment Analysis …
Standardized representations and markup languages for multimodal interaction
R Tumuluri, D Dahl, F Paternò… – The Handbook of …, 2019 – dl.acm.org
Page 1. 9Standardized Representations and Markup Languages for Multimodal Interaction Raj Tumuluri, Deborah Dahl, Fabio Patern`o, Massimo Zancanaro 9.1 Introduction This chapter discusses some standard languages …