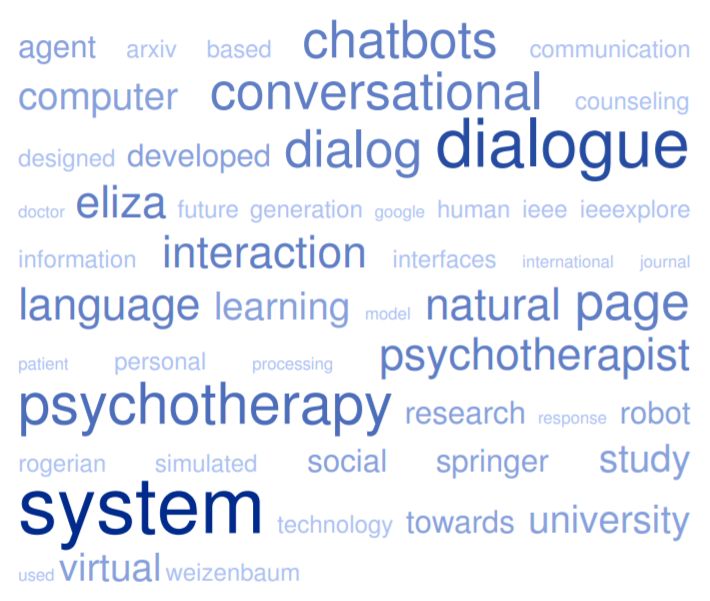 Notes:
Trialogue is a dialog or meeting between three people or groups.
Computational Psychotherapy
Resources:
discours.loria.fr .. workshop to discuss the latest advances in the modelling of discourses
sentic.net .. polarity detection and emotion recognition by leveraging on semantics and linguistics
therapynotes.com .. practice management for behavioral health
Wikipedia:
References:
See also:
Eliza Weizenbaum | Meta Guide Robopsychology | Psychopathology & Natural Language Processing 2017
---
Application of synchronous text-based dialogue systems in mental healinterventions: systematic review
S Hoermann, KL McCabe, DN Milne… – Journal of medical …, 2017 – ncbi.nlm.nih.gov
… Keywords: chat, dialog system, remote psychotherapy. Introduction … References. 1. Barak A, Hen L, Boniel-Nissim M, Shapira N. A comprehensive review and a meta-analysis of the effectiveness of internet-based psychotherapeutic interventions …
A chatbot for psychiatric counseling in mental healthcare service based on emotional dialogue analysis and sentence generation
KJ Oh, D Lee, B Ko, HJ Choi – Mobile Data Management (MDM …, 2017 – ieeexplore.ieee.org
… The interaction is one of typical psycho-logical treatment from Freud's psychoanalytic legend; it called insight-oriented psychotherapy … Based on the information, the purpose of the service is to develop a personalized dialog system that communicate emotionally withe user …
Combining CNNs and Pattern Matching for Question Interpretation in a Virtual Patient Dialogue System
L Jin, M White, E Jaffe, L Zimmerman… – Proceedings of the 12th …, 2017 – aclweb.org
… This work utilizes word- and character-based convolutional neural net- works (CNNs) for question identification in a virtual patient dialogue system, out- performing a strong word- and character … 5 have you ever had any psychotherapy treatment have you tried any treatment …
Psychotherapists' interest in using the Furhat social robot for clinical training
R Johansson – … Uppsala University anders. arwestrom. jansson@ it …, 2017 – diva-portal.org
… means for training, where it would be possible to practice psychotherapeutic methods on … of a form of psychotherapy called Intensive Short-term Dynamic Psychotherapy (ISTDP) in a … Then, a video demonstration was given showing a psychotherapist interacting withe Furhat …
An Affect-Aware Dialogue System for Counseling
L Ring – 2017 – search.proquest.com
… through the use of complex dialogue systems built upon models of human discourse ?[4]?. While … to this, emotions have been a fundamental part of psychotherapy since its creation, when Freud …
Context respectful counseling agent integrated wirobot nodding for dialog promotion
K Kurashige, S Tsuruta, E Sakurai… – Systems, Man, and …, 2017 – ieeexplore.ieee.org
… It is based on the assumption that a therapist who provides unconditional positive regard wistimulate psychotherapeutic personality change in a … [7] S. Han, K. Lee, D. Lee, GG Lee, "Counseling Dialog System wi5W1H … 3 Psychotherapy," Iwasaki Gakujyutsu Shuppansya …
Generative Conversational Agents-The State-of-the-Art and the Future of Intelligent Conversational Systems
A Bhattacharya – International Journal on Recent and Innovation Trends …, 2017 – ijritcc.com
… 2. How NOT To Evaluate Your Dialogue System: An Empirical Study of Unsupervised Evaluation Metrics for Dialogue Response Generation (Chia-Wei Liu et … However, for a lot of use cases like automated psychotherapy, not a lot of data is available to researchers, mostly due to …
An immersive virtual reality mobile platform for self-attachment
D Cittern, A Edalat, I Ghaznavi – 2017 – spiral.imperial.ac.uk
… Bravemind: an interactive VR-based exposure therapy tool which allows psychotherapists to immerse … Self-Attachment is a new attachment-based psychotherapy that has recently been proposed as a … of psychotherapeutic contexts [19], and VR, detailed in forthcoming Section 4 …
An Expert System to Assist wiEarly Detection of Schizophrenia
SR Manalu, BS Abbas, FL Gaol, B Trawi?ski – Asian Conference on …, 2017 – Springer
… Psychotherapy can be used to educate patients how they can deal witheir conditions and socialize … Person-Centered and Experiential Psychotherapies 5(4), 155–173 (2006)CrossRef Google Scholar. 7. Rogers, CR … Comparison of Eliza wimodern dialogue systems. Comput …
Conversational Agent-Based Behaviour Change Support Systems: Comparing the Technical Aspects of Recent Applications
A de Vos, J Nieuwdorp, R Keulemans – adriaandevos.nl
… Keywords Conversational Agent (CA), virtual agent, Behaviour Change Support System (BCSS), health, intervention, dialog system, e-coach, features. 1 Introduction … Natural Language Interfaces are key to creating a conversational agent that mimics a human psychotherapist …
Resuscitation procedures as multi-party dialogue
E Marzuki, C Cummins, H Rohde… – … ) Workshop on the …, 2017 – pdfs.semanticscholar.org
… The findings were then used to inform interactive systems, helping to establish, in the case of the phone conversations, when to transfer calls from an automated dialogue system to human counter- parts and, in the case of the bar scenes, how a robot bartender migidentify …
Functions of Silences towards Information Flow in Spoken Conversation
SA Chowdhury, E Stepanov, M Danieli… – Proceedings of the …, 2017 – aclweb.org
… It has also been observed as a powerful tool for conflict-management (Oduro-Frimpong, 2007), and within the context of psychotherapy (Frankel et … Generally, in a dialog system, silence is not acknowledged as a form of interaction, but rather its function in a conversation is seen …
Interpersonal Synchrony: From Social Perception to Social Interaction
M Chetouani, E Delaherche, G Dumas… – Social Signal …, 2017 – books.google.com
… The outcome variable can be friendship (Altmann, 2011), conflicting situations (Altmann, 2011), suc- cess in psychotherapy (Ramseyer & Tschacher … the prediction of turn-taking and back-channels has been largely studied in the perspective of building fluent dialog systems …
Context-Aware Response Generation for Mental HealCounseling
R Pryzant – stanford.edu
… Natural language processing (NLP), speech, and dialogue systems have made great strides recently in … Fortunately, mental healis readily treatable wicounseling and psychotherapy … Conversation analysis has been applied to various psychotherapeutic settings (Gale, 1991 …
Design of Counseling Robot for production by 3D printer
K Kurashige, S Tsuruta, E Sakurai… – … Image Technology & …, 2017 – ieeexplore.ieee.org
… It is based on the assumption that a therapist who provides unconditional positive regard wistimulate psychotherapeutic personality change in a … [7] S. Han, K. Lee, D. Lee, GG Lee, "Counseling Dialog System wi5W1H … 3 Psychotherapy," Iwasaki Gakujyutsu Shuppansya …
Augmenting group medical visits wiconversational agents for stress management behavior change
A Shamekhi, T Bickmore, A Lestoquoy… – International Conference …, 2017 – Springer
… ACM (2016)Google Scholar. 11. Bickmore, T., Giorgino, T.: Healdialog systems for patients and consumers. J. Biomed. Inform … In: Proceedings of UKHCI 2012 Workshop on People, Computers and Psychotherapy (2012)Google Scholar. 16 …
A therapy system for post-traumatic stress disorder using a virtual agent and virtual storytelling to reconstruct traumatic memories
Tielman, MA Neerincx, R Bidarra, B Kybartas… – Journal of medical …, 2017 – Springer
… 2. Bradley, R., Greene, J., Russ, E., Dutra, L., and Westen, D., A multidimensional meta-analysis of psychotherapy for PTSD. Am … Bickmore, T., Schulman, D., and Sidner, C., A reusable framework for healcounseling dialogue systems based on a behavioral Medicine ontology …
Text-based Healthcare Chatbots Supporting Patient and HealProfessional Teams: Preliminary Results of a Randomized Controlled Trial on Childhood …
T Kowatsch, M Nißen, CHI Shih… – Persuasive …, 2017 – research-collection.ethz.ch
… and the novel chat awas collaboratively designed by computer scientists, physicians, a psychotherapist, diet and … In: Kuppevelt, JCJ, Bernsen, NO, Dybkjær, L. (eds.) Advances in Natural Multimodal Dialogue Systems, vol. 30, pp … Psychotherapy Research 16, 12-25 (2006) …
Processing negative emotions through social communication: Multimodal database construction and analysis
N Lubis, M Heck, S Sakti, K Yoshino… – … (ACII), 2017 Seventh …, 2017 – ieeexplore.ieee.org
… The expert obtained a Diploma in Counseling and has been an accredited member of the British Association for Counseling and Psychotherapy … Towards this direction, in the future we hope to utilize the corpus for developing a dialogue system wian emotionally intelligent …
Development and Evaluation of an Interactive Therapy Robot
T Kohori, S Hirayama, T Hara, M Muramatsu… – … on Advances in …, 2017 – Springer
… 2 Related Work. Some research groups have investigated robot-based psychotherapy. Paro is one of the most popular ?psychotherapy robots … Unfortunately, the robot does not have a spontaneous speech-dialogue system, or a rule-based speech-dialogue system …
A robotic couples counselor for promoting positive communication
D Utami, TW Bickmore, LJ Kruger – Robot and Human …, 2017 – ieeexplore.ieee.org
… adults [3]. Marital dysfunction has been estimated to cost the US alone billions of dollars annually [4]. In response to these problems, many schools of couple psychotherapy have emerged … The system was implemented in the open source dialogue system framework IrisTK [44] …
Dialogue, dialogicality and interactivity
P Linell – Language and Dialogue, 2017 – jbe-platform.com
… 4. A dialogue action theory: Dialogue game model; 5. Theories of semiotic resources used in dialogue: Language and dialogue systems and more … However, it is mostly focused on clinical psychology and psychotherapy, as weas on new media (computer games, etc.) and …
Talk and Tools: the best of boworlds in mobile user interfaces for E-coaching
RJ Beun, S Fitrianie, F Griffioen-Both, S Spruit… – Personal and Ubiquitous …, 2017 – Springer
… Healcoaching dialog systems have been developed on the basis of research methods from persuasive technology (eg, [14]) and behavior medicine (eg, [36]) and cover a wide range of healdomains, ranging from the treatment of obesity to sleep disorders and revalidation …
Measuring synchrony in task-based dialogues
J Reverdy, C Vogel – Proc. Interspeech 2017, 2017 – pdfs.semanticscholar.org
… one of the possible future application of this measure of synchrony to quantify mutual understanding reside in its use in dialogue systems, and the … [12] F. Ramseyer and W. Tschacher, "Synchrony: A core concept for a constructivist approach to psychotherapy," Constructivism in …
LAST MINUTE: An Empirical Experiment in User-Companion Interaction and Its Evaluation
J Frommer, D Rösner, R Andrich, R Friesen… – Companion …, 2017 – Springer
… Wizard of Oz (WoZ) experiment in which the participants interacted wia simulated speech-based interactive dialog system [5, 29] … half of the subjects—randomly chosen—get an empathic intervention designed according to the principles of Rogerian psychotherapy [26] after …
The LAST MINUTE Corpus as a Research Resource: From Signal Processing to Behavioral Analyses in User-Companion Interactions
D Rösner, J Frommer, A Wendemuth, T Bauer… – Companion …, 2017 – Springer
… Subsequent to the WIB, a randomly selected part of the participants received an affect-oriented intervention, the design of which was based on general factors of psychotherapy (resource activation, problem actualization, accomplishment and clarification) [11] …
An Intelligent Behaviour Shown by Chatbot System
V Sharma, M Goyal, D Malik – International Journal of New Technology and … – ijntr.org
… Chatbots are mainly used in dialog systems for various practical purposes including customer services or information acquisition … The most famous script, DOCTOR, simulated a Rogerian psychotherapist and used rules, dictated in the script, to respond winon-directional …
NICH at Its best for diabetes at its worst: Texting teens and their caregivers for better outcomes
DV Wagner, SA Barry, M Stoeckel… – Journal of diabetes …, 2017 – journals.sagepub.com
Background: There is growing evidence for the feasibility of text-based interventions for pediatric patients witype 1 diabetes (T1D). However, less is known …
Adaptive feedback in computer-based learning environments: a review
AT Bimba, N Idris, A Al-Hunaiyyan… – Adaptive …, 2017 – journals.sagepub.com
Adaptive support within a learning environment is useful because most learners have different personal characteristics such as prior knowledge, learning progres…
Natural language processing in mental healapplications using non-clinical texts
RA Calvo, DN Milne, MS Hussain… – Natural Language …, 2017 – cambridge.org
Page 1. Natural Language Engineering 23 (5): 649–685. c Cambridge University Press 2017. This is an Open Access article, distributed under the terms of the Creative Commons Attribution licence (http://creativecommons. org …
Linguistic repetitions, task-based experience and a proxy measure of mutual understanding
J Reverdy, C Vogel – … Infocommunications (CogInfoCom), 2017 …, 2017 – ieeexplore.ieee.org
… is needed to establish repetition's relevance in other languages and possible application to computer-mediated interactions and dialogue systems … [20] F. Ramseyer and W. Tschacher, "Synchrony: A core concept for a constructivist approach to psychotherapy," Constructivism in …
A fully automated conversational agent for promoting mental well-being: A pilot RCT using mixed methods
KH Ly, AM Ly, G Andersson – Internet Interventions, 2017 – Elsevier
Skip to main content …
Initial progress toward development of a voice-based computer-delivered motivational intervention for heavy drinking college students: an experimental study
CW Kahler, WJ Lechner, J MacGlashan… – JMIR mental …, 2017 – ncbi.nlm.nih.gov
Talking HealWia Machine: How Does Message Interactivity Affect Attitudes and Cognitions?
S Bellur, SS Sundar – Human Communication Research, 2017 – academic.oup.com
Abstract. By affording interactive communication and natural, human-like conversations, can media tools affect the way we engage wicontent in human–machine.
On the construction of more human-like chatbots: Affect and emotion analysis of movie dialogue data
RE Banchs – Asia-Pacific Signal and Information Processing …, 2017 – ieeexplore.ieee.org
… The recent boom of AI has brougback a lot of attention to chat-oriented dialogue systems, commonly referred to as chatbots or conversational agents … The most representative example of such early chatbots is the Eliza system [1], which impersonates a psychotherapist …
Foundations of Intelligent Systems: 23rd International Symposium, ISMIS 2017, Warsaw, Poland, June 26-29, 2017, Proceedings
M Kryszkiewicz, A Appice, D ?l?zak, H Rybinski… – 2017 – books.google.com
Page 1. Marzena Dominik Kryszkiewicz S´le?zak · Henryk · Annalisa Rybinski Appice Andrzej Skowron · Zbigniew W. Ras´ (Eds.) Foundations of Intelligent Systems 23rd International Symposium, ISMIS 2017 Warsaw, Poland, June 26–29, 2017 Proceedings 123 Page 2 …
End-to-End Dialogue wiSentiment Analysis Features
A Rinaldi, O Oseguera, J Tuazon, AC Cruz – International Conference on …, 2017 – Springer
… Keywords. Sequence-to-sequence learning Dialogue system Conversational agent Chatbot Recurrent neural network Sentiment analysis. Download fulltext PDF. 1 Introduction … Psychotherapists are required to understand and react to the emotional state of their patients …
Social influence of humor in virtual human counselor's self?disclosure
SH Kang, DM Krum, P Khooshabeh… – … and Virtual Worlds, 2017 – Wiley Online Library
… The current study is part of ongoing research investigat- ing virtual humans in counseling interviews and the first step to explore a virtual human's jokes in the interviews. Future studies would use conversational spontaneous jokes wia machine dialog system …
Computational modeling of turn-taking dynamics in spoken conversations
SA Chowdhury – 2017 – eprints-phd.biblio.unitn.it
Page 1. PhD Dissertation International Doctorate School in Information and Communication Technologies DISI – University of Trento COMPUTATIONAL MODELING OF TURN-TAKING DYNAMICS IN SPOKEN CONVERSATIONS Shammur Absar Chowdhury Advisor: Prof …
Doctoral Consortium Papers
J Ham, C Midden – … and implementation of personalized technologies to … – ris.utwente.nl
Page 67. Doctoral Consortium Papers Doctoral Consortium Chairs Jaap Ham Eindhoven University of Technology, The Netherlands Cees Midden Eindhoven University of Technology, The Netherlands Luciano Gamberini University of Padua, Italy Page 68 …
Classifying a Person's degree of accessibility from natural body language during social human–robot interactions
D McColl, C Jiang, G Nejat – IEEE transactions on cybernetics, 2017 – ieeexplore.ieee.org
Page 1. 524 IEEE TRANSACTIONS ON CYBERNETICS, VOL. 47, NO. 2, FEBRUARY 2017 Classifying a Person's Degree of Accessibility from Natural Body Language During Social Human–Robot Interactions Derek McColl …
Chatbots: The next generation in computer interfacing–A Review
MS Walgama, B Hettige – 2017 – ir.kdu.ac.lk
… psychotherapist and about PARRY are described in this paper … Chai(Chai et al., 2001)provides an effective solution for information access through a web based natural language dialog system. This system allows users to find relevant products on e-commerce sites …
Hypotheses of Analysis on the Stylistics of Arguments: a Case Study from Trip Advisor
L Bonelli – Argument Technologies – cgi.csc.liv.ac.uk
… Psychology», 27: 409-421. Labov, W.(1984), Intensity in Schiffrin, D.(ed.), 43-70. Labov, W., Fanshel, D.(1977), Therapeutic discourse: psychotherapy as conversation. New York: Academic Press. Lakoff, R.(1974), Remarks …
Towards the Implementation of an Intelligent Software Agent for the Elderly
AHF Dinevari, A Hossein – 2017 – era.library.ualberta.ca
… 89]. It was named ELIZA and published in 1966. It was mimicking an on-going conversation in a person-centered psychotherapy session. ELIZA gained a lot of attention from specialists in AI as weas the general public. The …
Personal project pursuit: Goals, action, and human flourishing
BR Little, K Salmela-Aro, SD Phillips – 2017 – taylorfrancis.com
… As chair of the editorial board of Counselling Australia and coeditor of the new online journal Counsel- ling, Psychotherapy and Health, he has received an outstanding contri- bution award from the Australian … She was also an ac- tive psychotherapist specializing in this area …
" Sorry, what was your name again?": How to Use a Social Robot to Simulate Alzheimer's Disease and Exploring the Effects on its Interlocutors
M Kanov – 2017 – diva-portal.org
… using it as a training tool for medical doctors, nurses and psychotherapists. It should be able to accurately portray … surrounding, for instance massages, psychotherapy, music and dance therapy, pursuing meaningful activities, etc. Others …
Sliding Mode in Intellectual Control and Communication: Emerging Research and Opportunities: Emerging Research and Opportunities
V Mkrttchian, E Aleshina – 2017 – books.google.com
Page 1. Sliding Mode in Intellectual Control and Communication: Emerging Research and Opportunities Vardan Mkrttchian HUniversity, Australia Ekaterina Aleshina Penza State University, Russia A volume in the Advances …
Investigating the role of social eye gaze in designing believable virtual characters
M Nixon – 2017 – summit.sfu.ca
Page 1. Investigating the Role of Social Eye Gaze in Designing Believable Virtual Characters by Michael Nixon M.Sc., Simon Fraser University, 2009 B.Sc., Vancouver Island University, 2004 Thesis Submitted in Partial Fulfillment of the Requirements for the Degree of …
Learning to predict the adequacy of answers in chat-oriented humanagent dialogs
LF D'Haro, RE Banchs – Region 10 Conference, TENCON …, 2017 – ieeexplore.ieee.org
… Good examples of this kind of chatbots are the psychotherapist Eliza created in 1969 by [1], which used a set of only 53 pattern matching rules, or ALICE developed by [2], that won the Loebner's prize in … IRIS: a chat-oriented dialogue system based on the vector space model …
Poster Chair
T Van Rompay – … and implementation of personalized technologies to … – ris.utwente.nl
… Persuasive Dialogue System for Energy Conservation Jean-Baptiste Corrégé1, Céline Clavel1, Nicolas Sabouret1, Emmanuel Hadoux2, Anthony Hunter2, & Mehdi Ammi1 1LIMSI, CNRS, Université Paris-Saclay, F-91405 Orsay, France 2Department of Computer Science …
Why people use chatbots
PB Brandtzaeg, A Følstad – International Conference on Internet Science, 2017 – Springer
… In the 1960s, Weizenbaum published an innovative study on natural language interaction wiELIZA, a computer program developed to mimic the responses of a psychotherapist in a therapy session [9] … Comparison of ELIZA wimodern dialogue systems. Comput. Hum …
Mandy: Towards a smart primary care chatbot application
L Ni, C Lu, N Liu, J Liu – … Symposium on Knowledge and Systems Sciences, 2017 – Springer
… and Spoken Dialogue Systems (SDS) respond wicomprehensible sentences and elaborately constructed paragraphs to communicate withe user, which has been adopted in medical domain. The well-known ELIZA [31] was designed to act roughly as psychotherapists …
Stress and relaxation strengdetection of spanish tweets
Y Menchaca Resendiz – tesis.ipn.mx
… human natural language. The principal challenge involve natural language understanding, natural language generation, dialog systems, etc. Sentences splitting: Consist in automatic detections of limits a sentences, the limitations …
Listening Intently: Towards a Critical Media Theory of Ethical Listening
J Feldman – 2017 – search.proquest.com
Page 1. Sponsoring Committee: Professor Martin Scherzinger, Chairperson Professor Mara Mills, Chairperson Professor Helen Nissenbaum LISTENING INTENTLY: TOWARDS A CRITICAL MEDIA THEORY OF ETHICAL LISTENING Jessica Feldman …
Building an Intuitive Multimodal Interface for a Smart Home: Hunting the SNARK
JNA Brown, AJ Fercher, G Leitner – 2017 – Springer
Page 1. SPRINGER BRIEFS IN HUMAN?COMPUTER INTERACTION John NA Brown Anton Josef Fercher Gerhard Leitner Building an Intuitive Multimodal Interface for a Smart Home Hunting the SNARK Page 2. Human–Computer Interaction Series …
The Octopus Approach to the Alexa Competition: A Deep Ensemble-based Socialbot
IV Serban, C Sankar… – Alexa Prize …, 2017 – alexaprize.s3.amazonaws.com
… The chosen system response is marked in bold. Dialogue Dialogue SYSTEM: Hi … The Elizabot model performs string matching to select an answer from a set of templates [Weizenbaum, 1966], similar to Alicebot.3 It was designed to mimic a Rogerian psychotherapist …
Neural Text Generation: A Practical Guide
Z Xie – arXiv preprint arXiv:1711.09534, 2017 – arxiv.org
… option. Consider, for example, the seminal work on ELIZA [Weizen- baum, 1966]—a computer program intended to emulate a psychotherapist—that was based on pat- tern matching and rules for generating responses. In general …
Downward Accountability: Examining Voluntary Financial Disclosure in Chinese Nonprofits
M HU, J ZHU, D KONG – ARNOVA-Asia Conference Paper Abstracts ARNOVA … – arnova.org
Page 28. 16 Downward Accountability: Examining Voluntary Financial Disclosure in Chinese Nonprofits HU Ming, University of Wisconsin-Madison ZHU Jiangang, Sun Yat-Sen University KONG Dejie, PlymouUniversity Abstract …
Sabbiu Shah (070/BCT/531) Sagar Adhikari (070/BCT/533) Samip Subedi (070/BCT/536)
U Chalise – 2017 – researchgate.net
… test. Chatterbots are typically used in dialog systems for various practical purposes including customer service or information acquisition … and ELIZA, a simulation of a Rogerian psychotherapist. Using almost no information about …
Integrating CASystems wiChatbots as Conversational Partners
BA Shawar – Computación y Sistemas, 2017 – cys.cic.ipn.mx
… learners. Keywords. CALL, chatbot, dialogue system, language learning environment. 1 Introduction … Developing chatbots started in 1967 when Weizenbaum [53] implemented the Eliza chatbot to play the role of a psychotherapist. Four …
The rise of bots: a survey of conversational interfaces, patterns, and paradigms
LC Klopfenstein, S Delpriori, S Malatini… – Proceedings of the 2017 …, 2017 – dl.acm.org
… ELIZA did simply answer athe user's utterances wiother vague questions, giving a rough impression of a Rogerian psychotherapist … Dialog Systems (SDS) started drawing the attention of aca- demics and the industry [22] …
Affective and cognitive consequences of temporal and textural aspects of background music: a pupillometry study
A Tamaliunaite – 2017 – duo.uio.no
Page 1. Affective and Cognitive Consequences of Temporal and Textural Aspects of Background Music A Pupillometry Study Austeja Tamaliunaite Master of Philosophy in Psychology Cognitive Neuroscience UNIVERSITY OF OSLO May 2017 Page 2. II Page 3. III …
Simulating empathic behavior in a social assistive robot
B De Carolis, S Ferilli, G Palestra – Multimedia Tools and Applications, 2017 – Springer
… The two studies were carried out in two different days wione monof distance between them. 5.2.1 First study. Setup. A facilitator, which was a psychotherapist expert in elderly problems, explained to each subject the purpose of the experiment …
Dialogue wicomputers: dialogue games in action
P Piwek – 2017 – oro.open.ac.uk
… One of the earliest and most well-known dialogue systems is ELIZA. It was developed in the 1960s at MIT by Joseph Weizenbaum. Interaction wiELIZA is via the keyboard (through a chat interface). ELIZA takes on the role of a psychotherapist and does this quite convincingly …
Conversational agents can provide formative assessment, constructive learning, and adaptive instruction
A Graesser, B McDaniel – The Future of Assessment, 2017 – taylorfrancis.com
… ELIZA simulated a Rogerian client- centered psychotherapist, as illustrated in the conversation below … Technical advances in the last decade have encouraged research- ers to escalate efforts to build robust dialogue systems (Graesser, Van Lehn, Rose, Jordan, & Harter, 2001 …
Implementation of a Bangla chatbot
TD Orin – 2017 – dspace.bracu.ac.bd
… Weizenbaum, 1966?), a simulation of a Rogerian psychotherapist, was developed in … Statistical goal-oriented dialogue systems have long been modeled as partially observable Markov decision processes (POMDPs) (?Young et al., 2013?), and are trained using reinforcement …
Towards an automatic Turing test: Learning to evaluate dialogue responses
R Lowe, M Noseworthy, IV Serban… – arXiv preprint arXiv …, 2017 – arxiv.org
… a rule-based system mimicking a Roge- rian psychotherapist by persistently either rephras- ing statements or asking questions (Weizenbaum, 1966). Recently, there has been a surge of inter- est towards building large-scale non-task-oriented dialogue systems using neural …
Dialogue wicomputers
P Piwek – Dialogue across Media, 2017 – books.google.com
… Reactive dialogue systems One of the earliest and most well-known dialogue systems is Eliza. It was devel- oped in the 1960s at MIT by Joseph Weizenbaum. Interaction wiEliza is via the keyboard (through a chat interface). Eliza takes on the role of a psychotherapist …
Chatbots as Interaction Modality: An Explorative Design Study on Elderly Classical Music Concert Subscribers
F Berglund – 2017 – diva-portal.org
… Chatbots—also called machine conversation systems, virtual agents, dialogue systems, and chatterbots—are computer software that users mainly interact … ELIZA played a Rogerian psychotherapist, taking the user's answers and rephrased them as questions (see Figure 2 for …
Conversational Agents Can Provide Formative Assessment, Constructive Learning, and Adaptive Instruction
CA Dwyer – The Future of Assessment, 2017 – taylorfrancis.com
… ELIZA simulated a Rogerian client- centered psychotherapist, as illustrated in the conversation below … Technical advances in the last decade have encouraged research- ers to escalate efforts to build robust dialogue systems (Graesser, Van Lehn, Rose, Jordan, & Harter, 2001 …
What Hurts? A Pilot Study Investigating Nonverbal Characteristics of Parent Reassurance and Distraction and Child Pain Outcomes
R Moline – 2017 – atrium2.lib.uoguelph.ca
Page 1. What Hurts? A Pilot Study Investigating Nonverbal Characteristics of Parent Reassurance and Distraction and Child Pain Outcomes by Rachel Moline A Thesis presented to The University of Guelph In partial fulfillment …
A hybrid architecture for multi-party conversational systems
MG de Bayser, P Cavalin, R Souza, A Braz… – arXiv preprint arXiv …, 2017 – arxiv.org
… The dialog in Table 1 has the system initiative in a question and answer mode, while the one in Table 3 is a natural dialogue system where both … Joseph Weizenbaum created it at the MIT in 1966 and it is weknown for acting like a psychotherapist and it had only to reflect back …
A deep reinforcement learning chatbot
IV Serban, C Sankar, M Germain, S Zhang… – arXiv preprint arXiv …, 2017 – arxiv.org
… The response of the final system is marked in bold. Dialogue Dialogue SYSTEM: Hi. This is an Alexa Prize socialbot. USER: Hi SYSTEM: Do you have pets … The model is based on the famous Eliza system, designed to mimic a Rogerian psychotherapist …
Chatbots As A Mean To Motivate Behavior Change: How To Inspire Pro-Environmental Attitude wiChatbot Interfaces
J Åberg – 2017 – diva-portal.org
… Starting in the 1960's witext-based dialogue systems for questions and answers, and chatbots that simulated natural conversations [6]. Voice-based systems began to appear in the late … Weizenbaum [46] developed a system called ELIZA, which simulates a psychotherapist …
CHATBOT: Architecture, design, and development
J Cahn – University of Pennsylvania School of Engineering and …, 2017 – cahn.io
… Page 3. 3 1. Introduction Chatbots are "online human-computer dialog system[s] winatural language." [1] The first conceptualization of the chatbot is attributed to Alan Turing, who asked "Can machines think?" in 1950. [3] Since …
Towards Natural Language Understanding using Multimodal Deep Learning
S Bos – pdfs.semanticscholar.org
Page 1. Towards Natural Language Understanding using Multimodal Deep Learning Steven Bos Delft Un iversity of T echnolog y Page 2. Page 3. Towards Natural Language Understanding using Multimodal Deep Learning THESIS …
The future of assessment: shaping teaching and learning
CA Dwyer – 2017 – books.google.com
Page 1. The Future of Assessment SHAPING TEACHING AND LEARNING —– EDITED BY Carol Anne Dwyer Page 2. The Future of Assessment SHAPING TEACHING AND LEARNING Page 3. The Future …
On usability of data and services through mobile multitouch interfaces
S Malatini – 2017 – ora.uniurb.it
Page 1. UNIVERSITÀ DEGLI STUDI DI URBINO CARLO BO Dipartimento di Scienze Pure e Applicate Scuola di Scienze e Tecnologie dell'Informazione Ph.D. thesis ON USABILITY OF DATAAND SERVICES THROUGH MOBILE MULTITOUCH INTERFACES Tutor: Candidate …
"Embodied Wellbeing": A Re-Imagination of Sustainability and Desire in HCI
G Kannabiran – 2017 – search.proquest.com
Page 1. "EMBODIED WELLBEING": A RE-IMAGINATION OF SUSTAINABILITY AND DESIRE IN HCI GopinaaKannabiran Submitted to the faculty of the University Graduate School in partial fulfillment of the requirements for the degree Doctor of Philosophy …
(Visited 74 times, 1 visits today)