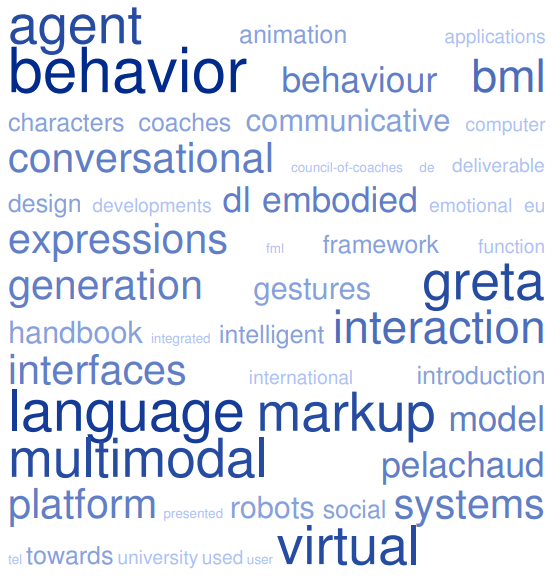 Notes:
Behavior Markup Language (BML) is a set of standards and tools for representing and controlling nonverbal behavior in virtual characters and agents. BML is used in a variety of applications, including virtual reality, games, and simulations, and it is designed to allow developers to create and control the behavior of virtual characters in a more intuitive and realistic way.
Greta is a virtual assistant platform that uses BML to control the nonverbal behavior of its virtual agents. When using Greta, developers can use BML to specify the nonverbal behaviors that they want the virtual agent to exhibit, such as facial expressions, gestures, and body movements. Greta's virtual agents can then use BML to interpret and execute these behaviors in real-time, creating a more lifelike and engaging experience for users.
BML is an important tool for creating and controlling the nonverbal behavior of virtual characters, and it is used in Greta and other virtual assistant platforms to enable developers to create more realistic and engaging virtual agents.
See also:
BML (Behavior Markup Language) & Dialog Systems | EMBR (Embodied Agents Behavior Realizer) & BML (Behavior Markup Language) | SmartBody & BML (Behavior Markup Language)
---
An asap realizer-unity3d bridge for virtual and mixed reality applications
J Kolkmeier, M Bruijnes, D Reidsma… – … Conference on Intelligent …, 2017 – Springer
… AN, Pelachaud, C., Pirker, H., Thórisson, KR, Vilhjálmsson, HH: Towards a common framework for multimodal generation: the behavior markup language … User Interfaces 8(1), 97–108 (2014) 5. Niewiadomski, R., Bevacqua, E., Mancini, M., Pelachaud, C.: Greta: an interactive ex …
Embodied coversational agents: A methodology for learning to express facial emotions
I Perikos, I Hatzilygeroudis – 2015 6th International Conference …, 2015 – ieeexplore.ieee.org
… The resulting facial deformation can be presented in the Greta's face and so it can be easily emotionally annotated. The generated facial expression can be represented and saved in Behavior Markup Language (BML) format …
Fostering user engagement in face-to-face human-agent interactions: a survey
C Clavel, A Cafaro, S Campano… – Toward Robotic Socially …, 2016 – Springer
… The multimodal behaviors to express a given communicative function to achieve (eg facial expressions, gestures and postures) are described by the Behavior Markup Language (BML) [70, 137]. The Greta system has been embedded in the Virtual Interactive Behavior (VIB …
SceneMaker: creative technology for digital StoryTelling
M Akser, B Bridges, G Campo, A Cheddad… – … , Game Creation, Design …, 2016 – Springer
… Two standard XML languages, FML-APML (Function Markup Language, Affective Presentation Markup Language) for communicative intentions and BML (Behavior Markup Language) for behaviours enable users to define Greta's communicative intentions and behaviours …
of deliverable Requirements and Concepts for Interaction Mobile and Web
C Pelachaud, RB Kantharaju – 2018 – council-of-coaches.eu
… For example, the same SAIBA platform can use the ASAP realizer or the Greta-Behaviour Realizer without changing its other modules … They are called Function Mark-up Language (FML) (Cafaro, et al., 2014) (Heylen et al., 2008) and Behaviour Mark-up Language (BML) (Kopp …
Cognitive embodied conversational agents in virtual learning environment
B Nakhal, R Querrec – 2017 29th International Conference on …, 2017 – ieeexplore.ieee.org
… [9] C. Pelachaud, "Greta: an interactive … Springer International Publishing, 2014. [13] H. Vilhjálmsson, N. Cantelmo, J. Cassell, N. Chafai, M. Kipp, S. Kopp, M. Mancini, S. Marsella, A. Marshall, C. Pelachaud and Z. Ruttkay, "The behavior markup language: Recent developments …
Model for verbal interaction between an embodied tutor and a learner in virtual environments
R Querrec, J Taoum, B Nakhal… – Proceedings of the 18th …, 2018 – dl.acm.org
… 2009. Greta: an interactive expressive ECA system. In 8th International Conference AAMAS. 1399–1400 … 2007. The Behavior Markup Language: Recent Developments and Challenges. In 7th IVA (LNCS), Vol. 4722. Springer, Paris, France, 99–111. 202
Exploiting evolutionary algorithms to model nonverbal reactions to conversational interruptions in user-agent interactions
A Cafaro, B Ravenet… – IEEE Transactions on …, 2019 – ieeexplore.ieee.org
… Four videos were presented to participants, each representing a genome, displaying an ECA expressing inter- ruption reactions behaviors. The behaviors were rendered through the VIB/Greta platform [32] … The VIB/Greta platform was used to generate the
of deliverable First Prototype description and evaluations of the virtual coach platform
D Simonetti, R Kantharaju, R Klaassen – 2019 – council-of-coaches.eu
… BML Behavior Markup Language … To provide a description of improvements/progress in individual components: o Greta: Support of … work of the scenario taskforce part of work package 7. The content from the scenarios is transformed into Behaviour Markup Language (BML) and …
A robot commenting texts in an emotional way
L Volkova, A Kotov, E Klyshinsky, N Arinkin – Conference on Creativity in …, 2017 – Springer
… phenomena, and conjugating these with text semantics processing is of most interest (see IBug [17], SEMAINE [43], Greta [13], Max [4 … The reactions (gestures, mimics, and text) generated in BML (behavior markup language [46]) are sent to the RCS which preprocesses these for …
20 Body Movements Generation for Virtual Characters and Social Robots
A Beck, Z Yumak… – Social Signal …, 2017 – books.google.com
… Greta uses a set of five attributes to describe expressivity: overall activation (amount … functional language markup language (FML) and produces in turn behaviour markup language (BML … Towards a common framework for multimodal generation: The behavior markup language …
A design proposition for interactive virtual tutors in an informed environment
J Taoum, B Nakhal, E Bevacqua, R Querrec – International Conference on …, 2016 – Springer
… language. In: Gratch, J., Young, M., Aylett, R., Ballin, D., Olivier, P. (eds.) IVA 2006. LNCS (LNAI), vol. 4133, pp. 205–217. Springer, Heidelberg (2006). doi: 10.1007/11821830_17 CrossRefGoogle Scholar. 17. Niewiadomski, R., Bevacqua, E., Mancini, M., Pelachaud, C.: Greta …
The rise of the conversational interface: A new kid on the block?
MF McTear – International Workshop on Future and Emerging …, 2016 – Springer
… GRETA, a real-time three dimensional embodied ECA that talks and displays facial expressions, gestures, gaze, and … The development of standards, such as SAIBA (Situation, Agent, Intention, Behaviour, Animation), BML (Behavior Markup Language), FML (Functional Markup …
Towards reasoned modality selection in an embodied conversation agent
C Ten-Ventura, R Carlini, S Dasiopoulou, GL Tó… – … on Intelligent Virtual …, 2017 – Springer
… de Rosis, F., Pelachaud, C., Poggi, I., Carofiglio, V., De Carolis, N.: From Greta's Mind to her Face: Modeling the Dynamics of … S., Marshall, A., Pelachaud, C., Ruttkay, Z., Thórisson, K., van Welbergen, H., van der Werf, R.: The behavior markup language: Recent developments …
Deployment of Synthetic Emotions in Robotic Mechanism: A Systematic Approach
S Patil, P Wararkar, R Bhat, S Kurumbanshi – ijcem.org
… Behaviour Planning receives the FML and produces a Behaviour Markup Language (BML), organizes and orders … Few researchers used SAIBA to make the GRETA vivacious proxy which communicates … The Behavior Markup Language: Recent Developments and Challenges …
in Computer and Information Science 754
A Cuzzocrea, O Kara, D Sl?zak, X Yang – researchgate.net
… phenomena, and conjugating these with text semantics processing is of most interest (see IBug [17], SEMAINE [43], Greta [13], Max [4 … The reactions (gestures, mimics, and text) generated in BML (behavior markup language [46]) are sent to the RCS which preprocesses these for …
A platform for building mobile virtual humans
AW Feng, A Leuski, S Marsella, D Casas… – … on Intelligent Virtual …, 2015 – Springer
… AN, Pelachaud, C., Pirker, H., Thórisson, KR, Vilhjálmsson, HH: Towards a common framework for multimodal generation: the behavior markup language … Poggi, I., Pelachaud, C., de Rosis, F., Carofiglio, V., De Carolis, B.: Greta: a believable embodied conversational agent …
of deliverable First virtual coach design and model
D Simonetti, F Yunus, R Bangalore – 2019 – council-of-coaches.eu
… ASAP Articulated Social Agents Platform ATG Attraction to the group BEAT Behavior Expression Animation Toolkit BML Behavior Markup Language CM Character Manager CMC Centre for Monitoring and Coaching COUCH Council of Coaches D Deliverable …
of deliverable Dialogue and Argumentation Framework Design
M Snaith, A Pease – 2018 – council-of-coaches.eu
… API Application Programming Interface BML Behaviour Markup Language CMC Centre for Monitoring and Coaching … These behaviours will be returned to the user interface, in the form of Behaviour Markup Language (BML), for rendering/animating. Functional requirements …
Interactive narration with a child: impact of prosody and facial expressions
O ?erban, M Barange, S Zojaji, A Pauchet… – Proceedings of the 19th …, 2017 – dl.acm.org
… OAK is therefore based on three major elements: 1) the SEMAINE Platform [40], which proposes a component-based communication system; 2) the Greta virtual characters [33] which are part of the SEMAINE project; and 3) OAK, which consists in a pilot graphical interface (see …
Lip Syncing Method for Realistic Expressive Three-dimensional Face Model
IRA Al-Rubaye – 2016 – eprints.utm.my
… 58 2.6.1 Microsoft Agents 58 2.6.2 Emotional Chinese Talking Head 59 2.6.3 GRETA 59 2.6.4 Xface Engine 60 2.6.5 LUCIA 61 … 168 5.5 Evaluation results for Xface 170 5.6 Evaluation results for GRETA 170 5.7 Evaluation results for the proposed 3D face model 171 …
Conversational interfaces: devices, wearables, virtual agents, and robots
M McTear, Z Callejas, D Griol – The Conversational Interface, 2016 – Springer
… Different standards are being defined to establish common architectures and languages, such as the Situation, Agent, Intention, Behavior, Animation (SAIBA) framework, the Behavior Markup Language (BML), and the Functional Markup Language (FML) (described in … Greta …
An architecture for a socially adaptive virtual recruiter in job interview simulations
A Ben-Youssef, M Chollet, H Jones… – Proceedings of the …, 2015 – gipsa-lab.grenoble-inp.fr
… The ren- dering of this behaviour is based on the Greta/Semaine plat- form [27] … In this paper, we do not present the emotion expression mechanism, which is based on previous work by the Greta team [27]: we focus on the attitude expression, which is the novelty of our agent …
MSP-AVATAR corpus: Motion capture recordings to study the role of discourse functions in the design of intelligent virtual agents
N Sadoughi, Y Liu, C Busso – 2015 11th IEEE International …, 2015 – ieeexplore.ieee.org
… Towards a common framework for multimodal generation: The behavior markup language. In Intelligent virtual agents, pages 205–217. Springer, 2006 … [20] I. Poggi, C. Pelachaud, F. Rosis, VCB, and Carolis. Greta. a believable embodied conversational agent …
The Brain-IHM Dataset: a New Resource for Studying the Brain Basis of Human-Human and Human-Machine Conversations
M Ochs, R Bertrand, A Goujon… – Language …, 2020 – hal.archives-ouvertes.fr
… Conversational Agent Greta of the platform VIB (Pelachaud, 2009). In this platform, the communicative signals, such as feedback, are described through an XML- based languages called FML (Function Markup Language) and BML (Behaviour Markup Language) of the SAIBA …
Automating the production of communicative gestures in embodied characters
B Ravenet, C Pelachaud, C Clavel… – Frontiers in …, 2018 – frontiersin.org
In this paper we highlight the different challenges in modeling communicative gestures for Embodied Conversational Agents (ECAs). We describe models whose aim is to capture and understand the specific characteristics of communicative gestures in order to envision how an …
Developing Embodied Agents for Education Applications with Accurate Synchronization of Gesture and Speech
J Xu, Y Nagai, S Takayama, S Sakazawa – Transactions on Computational …, 2015 – Springer
… been developed for various fields such as the interface agents in human computer interaction (eg Rea [5], Greta [13, 29 … Although synchronization description schemes (eg the Behavior Markup Language, BML [15]) have been proposed and widely used in the academic field [21 …
of deliverable Final prototype description and evaluations of the virtual coaches
G Huizing, B Donval, M Barange, R Kantharaju… – 2019 – council-of-coaches.eu
… 24 Figure 15: Visualisation of objects and virtual characters in Unity (left) and Ogre player of Greta (right) … ASAP Articulated Social Agents Platform AU Action Unit BML Behaviour Markup Language CMC Centre for Monitoring and Coaching COUCH Council of Coaches …
Google, Inc.(search)
ACM Books – dl.acm.org
… FML expressions are input to behav- ior planning, which results in expressions in the Behavior Markup Language (BML) that describe the type and timing of head and body motions, deriving gestures from a "gesticon" (a set of primitive gestural elements) …
Closing the gender gap in STEM with friendly male instructors? On the effects of rapport behavior and gender of a virtual agent in an instructional interaction
NC Krämer, B Karacora, G Lucas, M Dehghani… – Computers & …, 2016 – Elsevier
JavaScript is disabled on your browser. Please enable JavaScript to use all the features on this page. Skip to main content Skip to article …
Generative Model of Agent's Behaviors in Human-Agent Interaction
S Dermouche, C Pelachaud – 2019 International Conference on …, 2019 – dl.acm.org
… (4) Behaviour generation from the predicted agent's behavior using the GRETA-VIB platform [25] … GRETA-VIB GRETA-VIB is used as a virtual agent platform [25]. GRETA- VIB follows the SAIBA framework illustrated in Figure 3 [30] …
Virtual coaches for healthy lifestyle
HJA op den Akker, R Klaassen, A Nijholt – Toward Robotic Socially …, 2016 – Springer
… The messages from the system could be presented by Greta, by a human actor, only by the voice of Greta or via a text message … 3 This is a realizer for the interpretation of embodied agent behavior specified in the Behavior Markup Language (BML) [67] …
Nonverbal behavior in multimodal performances
A Cafaro, C Pelachaud, SC Marsella – The Handbook of Multimodal …, 2019 – dl.acm.org
… They are typically biphasic (two movement components ), small, low energy, rapid flicks of the fingers or hand" [McNeill 1992]. Behavior Markup Language bml is an XML-like mark up language specially suited for representing communicative behavior …
Generation of communicative intentions for virtual agents in an intelligent virtual environment: application to virtual learning environment
B Nakhal – 2017 – tel.archives-ouvertes.fr
… VH Virtual Human MARC Multimodal Affective and Reactive Character FML Function Markup Language BML Behavior Markup Language Page 13. xi SAIBA Situation, Agent, Intention, Behavior and Animation FML-APML FML-Affective Presentation Markup Language …
Nonverbal Behavior in
A Cafaro, C Pelachaud… – The Handbook of …, 2019 – books.google.com
… Behavior Markup Language bml is an XML-like mark up language specially suited for representing communicative behavior … Specific Complete Systems The Virtual Interactive Behavior Platform The Virtual Interactive Behavior platform (VIB, formerly Greta)[Pecuneet al …
of deliverable Initial user interface design for Home UI and Mobile UI
G Huizing, R Klaassen, R Bangalore – 2018 – council-of-coaches.eu
… 3D Three-dimensional ASAP Articulated Social Agents Platform ASR Automatic Speech Recognition BML Behaviour Markup Language CMC Centre for Monitoring and Coaching COUCH Council of Coaches D Deliverable DBT Danish Board of Technology Foundation …
BEAT-o-matic: a baseline for learning behavior expressions from utterances
M Gallé, A Arora – europe.naverlabs.com
… [2], Mancini and Pelachaud [12] among others were centered around the development of a virtual conversational agent GRETA. It … Towards a common framework for multimodal gener- ation: The behavior markup language. In …
Automatic nonverbal behavior generation from image schemas
B Ravenet, C Clavel, C Pelachaud – Proceedings of the 17th …, 2018 – ifaamas.org
… 4.5 Integrated system and examples We implemented our whole framework within the agent platform Greta [31], the Image Schema extractor, the gesture modeler and the Ideational Unit … Towards a common framework for multimodal generation: The behavior markup language …
Designing and Testing an Experimental Framework of Affective Intelligent Agents in Healthcare Training Simulations
M Loizou – 2016 – wlv.openrepository.com
… expressions (Smith and Scott 1997) …. 35 Figure 2.18 – Architecture for the intelligent expressions ….. 36 Figure 2.19 – Facial expressions of Greta (Ochs, Niewiadomski et al. 2005) …. 36 …
Speech-driven animation with meaningful behaviors
N Sadoughi, C Busso – Speech Communication, 2019 – Elsevier
… The synchronization is decided based on the timing of the words in the text. Poggi et al. (2005) introduced GRETA, which is an embodied conversational agent (ECA), comprising several modules such as emotional mind, dialog manager, plan enrichment and body generator …
of deliverable Initial knowledge base design and coaching strategies
T Beinema, G Huizing, H op den Akker, M Snaith… – 2018 – council-of-coaches.eu
… Ad Adaptation AIF (db) Argument Interchange Format (database) APML Affective Presentation Markup Language BCTT Behavior Change Technique Taxonomy BML Behavior Markup Language BS Behaviour Set CA Context Awareness CBT Cognitive Behaviour Therapy …
Leveraging the Dynamics of Non-Verbal Behaviors For Social Attitude Modeling
S Dermouche, C Pelachaud – IEEE Transactions on Affective …, 2020 – ieeexplore.ieee.org
… We also rate two patterns for the two "reference" attitudes. Using the virtual agent platform called GRETA-VIB [59], we gen- erate videos showing an agent displaying these patterns. Examples of generated videos are available here: https:// youtu.be/ouiwShHfe3I …
Retrieving target gestures toward speech driven animation with meaningful behaviors
N Sadoughi, C Busso – Proceedings of the 2015 ACM on International …, 2015 – dl.acm.org
Page 1. Retrieving Target Gestures Toward Speech Driven Animation with Meaningful Behaviors Najmeh Sadoughi, Carlos Busso Multimodal Signal Processing (MSP) Laboratory The University of Texas at Dallas, Richardson …
Standardized representations and markup languages for multimodal interaction
R Tumuluri, D Dahl, F Paternò… – The Handbook of …, 2019 – dl.acm.org
… Application Programming Interface (API). Set of procedures made available by a software application to provide services to external programs. Behavior Markup Language (BML). An XML-based language for describing behaviors that should be realized by animated agents …
D4. 7 1st Expressive Virtual Characters
F Yang, C Peters – 2016 – prosociallearn.eu
… Greta 3 is a real-time 3D embodied conversational agent with a 3D model of a female compliant with MPEG-4 animation standard. Greta can synthetize speech and simultaneously show facial expressions, gestures, gaze, and head movements to communicate …
A methodology for the automatic extraction and generation of non-verbal signals sequences conveying interpersonal attitudes
M Chollet, M Ochs, C Pelachaud – IEEE Transactions on …, 2017 – ieeexplore.ieee.org
… multimodal corpus. These extracted sequences are then used to train a behavior planning model, which was integrated with the Greta ECA platform [8] in the TARDIS job interview simulation. 4 METHODOLOGY Many researchers …
of deliverable System architecture and design of APIs
G Huizing, K Konsolakis, O Banos, K Konsolakis… – 2018 – council-of-coaches.eu
… BML Behaviour Markup Language BS Business Service … Take into account that the existing systems that we are going to integrate into Council of Coaches (eg Greta) do not qualify as assets, since they will be actually an integral part of the architecture itself …
Challenge discussion: advancing multimodal dialogue
J Allen, E André, PR Cohen, D Hakkani-Tür… – The Handbook of …, 2019 – dl.acm.org
Page 1. 5Challenge Discussion: Advancing Multimodal Dialogue James Allen, Elisabeth André, Philip R. Cohen, Dilek Hakkani-Tür, Ronald Kaplan, Oliver Lemon, David Traum 5.1 Introduction Arguably, dialogue management …
of deliverable First periodic report
J van Loon, H op den Akker, T Beinema, M Broekhuis… – 2019 – council-of-coaches.eu
… project partners have been integrated (the University of Twente ASAP Platform works together with Sorbonne University's GRETA platform and … of and future release of an extended open source dialogue platform, and eg the core integration of Behaviour Markup Language (BML …
Multimodal conversational interaction with robots
G Skantze, J Gustafson, J Beskow – The Handbook of Multimodal …, 2019 – dl.acm.org
Page 1. 2Multimodal Conversational Interaction with Robots Gabriel Skantze, Joakim Gustafson, Jonas Beskow 2.1 Introduction Being able to communicate with machines through spoken interaction has been a long-standing vision in both science fiction and research labs …
Commercialization of multimodal systems
PR Cohen, R Tumuluri – The Handbook of Multimodal-Multisensor …, 2019 – dl.acm.org
Page 1. 15Commercialization of Multimodal Systems Philip R. Cohen, Raj Tumuluri 15.1 Introduction This chapter surveys the broad and accelerating commercial activity in build- ing products incorporating multimodal-multisensor interfaces …
Multimodal databases
M Valstar – The Handbook of Multimodal-Multisensor Interfaces …, 2019 – dl.acm.org
Page 1. 10Multimodal Databases Michel Valstar 10.1 Introduction In the preceding chapters, we have seen many examples of Multimodal, Multisen- sor Interfaces (MMIs). Almost all of these interfaces are implemented as computer …
Adapting a Virtual Advisor's Verbal Conversation Based on Predicted User Preferences: A Study of Neutral, Empathic and Tailored Dialogue
H Ranjbartabar, D Richards, AA Bilgin, C Kutay… – Multimodal …, 2020 – mdpi.com
… environment, and responding accordingly. There are a number of frameworks and agent architectures such as MultiSense/SimSensei [1], Greta [2], ODVIC [3] and FAtiMA [4] and Agent United Open Platform. Humans will adapt …
Early integration for movement modeling in latent spaces
R Hornung, N Chen, P van der Smagt – The Handbook of Multimodal …, 2019 – dl.acm.org
Page 1. 8Early Integration for Movement Modeling in Latent Spaces Rachel Hornung, Nutan Chen, Patrick van der Smagt 8.1 Introduction In this chapter, we will show how techniques of advanced machine and deep learn- ing …
Generation of audio-visual prosody for expressive virtual actors
A Barbulescu – 2015 – tel.archives-ouvertes.fr
Page 1. HAL Id: tel-01241413 https://tel.archives-ouvertes.fr/tel-01241413v2 Submitted on 10 Jun 2017 HAL is a multi-disciplinary open access archive for the deposit and dissemination of sci- entific research documents, whether they are pub- lished or not …
Automotive multimodal human-machine interface
D Schnelle-Walka, S Radomski – The Handbook of Multimodal …, 2019 – dl.acm.org
Page 1. 12Automotive Multimodal Human-Machine Interface Dirk Schnelle-Walka, Stefan Radomski 12.1 Introduction The majority of user interfaces in the automotive domain were not developed as the result of user-centered …
Multimodal dialogue processing for machine translation
A Waibel – The Handbook of Multimodal-Multisensor Interfaces …, 2019 – dl.acm.org
Page 1. 14Multimodal Dialogue Processing for Machine Translation Alexander Waibel 14.1 Introduction Humans converse with each other to communicate and to develop ideas interac- tively in the presence of imprecise and under-specified information …
A User Perception–Based Approach to Create Smiling Embodied Conversational Agents
M Ochs, C Pelachaud, G Mckeown – ACM Transactions on Interactive …, 2017 – dl.acm.org
… One aim of the work presented in this article was to embed a computational model of smiles in the Greta system [Bevacqua et al. 2010b]. Greta … behaviors. Moreover, Greta has been integrated in the platform SEMAINE [Schröder 2010] …
Towards an intelligent system for generating an adapted verbal and nonverbal combined behavior in human–robot interaction
A Aly, A Tapus – Autonomous Robots, 2016 – Springer
… (2009). The authors developed the virtual conversational agent GRETA, which uses verbal and nonverbal behaviors to express intentions and emotional states. It can be used as a dialog companion, a virtual tutor, a game-actor, or even a storyteller. Cassell et al …
Privacy concerns of multimodal sensor systems
G Friedland, MC Tschantz – The Handbook of Multimodal-Multisensor …, 2019 – dl.acm.org
Page 1. 16Privacy Concerns of Multimodal Sensor Systems Gerald Friedland, Michael Carl Tschantz 16.1 Introduction This chapter explains that ignoring the privacy risks introduced by multimodal sys- tems could have severe consequences for society in the long term …
Ergonomics for the design of multimodal interfaces
A Heloir, F Nunnari, M Bachynskyi – The Handbook of Multimodal …, 2019 – dl.acm.org
Page 1. IIPART MULTIMODAL BEHAVIOR Page 2. Page 3. 7Ergonomics for the Design of Multimodal Interfaces Alexis Heloir, Fabrizio Nunnari, Myroslav Bachynskyi 7.1 Introduction There are many ways a machine can infer …
Investigating the role of social eye gaze in designing believable virtual characters
M Nixon – 2017 – summit.sfu.ca
Page 1. Investigating the Role of Social Eye Gaze in Designing Believable Virtual Characters by Michael Nixon M.Sc., Simon Fraser University, 2009 B.Sc., Vancouver Island University, 2004 Thesis Submitted in Partial Fulfillment of the Requirements for the Degree of …
Situated interaction
D Bohus, E Horvitz – The Handbook of Multimodal-Multisensor Interfaces …, 2019 – dl.acm.org
Page 1. 3Situated Interaction Dan Bohus, Eric Horvitz 3.1 Introduction Interacting with computers via natural language is an enduring aspiration in artificial intelligence. The earliest attempts at dialog between computers and …
State of the art in hand and finger modeling and animation
N Wheatland, Y Wang, H Song, M Neff… – Computer Graphics …, 2015 – Wiley Online Library
Abstract The human hand is a complex biological system able to perform numerous tasks with impressive accuracy and dexterity. Gestures furthermore play an important role in our daily interactions, …
Sentiment analysis: from opinion mining to human-agent interaction
C Clavel, Z Callejas – IEEE Transactions on affective computing, 2015 – ieeexplore.ieee.org
… To show the feasibility of the general guidelines proposed we also approach them from a specific perspective by applying them to the case of the Greta embodied conversational agents platform and discuss the way they can be used to make a more significative sentiment …
Embedded multimodal interfaces in robotics: applications, future trends, and societal implications
EA Kirchner, SH Fairclough, F Kirchner – The Handbook of Multimodal …, 2019 – dl.acm.org
Page 1. 13Embedded Multimodal Interfaces in Robotics: Applications, Future Trends, and Societal Implications Elsa A. Kirchner, Stephen H. Fairclough, Frank Kirchner 13.1 Introduction In the past, robots were primarily used …
Medical and health systems
D Sonntag – The Handbook of Multimodal-Multisensor Interfaces …, 2019 – dl.acm.org
Page 1. IIIPART EMERGING TRENDS AND APPLICATIONS Page 2. Page 3. 11Medical and Health Systems Daniel Sonntag 11.1 Introduction In this chapter, we discuss the trends of multimodal-multisensor interfaces for medical and health systems …
Software platforms and toolkits for building multimodal systems and applications
M Feld, R Ne?elrath, T Schwartz – The Handbook of Multimodal …, 2019 – dl.acm.org
Page 1. 4Software Platforms and Toolkits for Building Multimodal Systems and Applications Michael Feld, Robert Neßelrath, Tim Schwartz 4.1 Introduction This chapter introduces various concepts needed for the realization of multimodal systems …
The TTS-driven affective embodied conversational agent EVA, based on a novel conversational-behavior generation algorithm
M Rojc, I Mlakar, Z Ka?i? – Engineering Applications of Artificial Intelligence, 2017 – Elsevier
… Function Markup Language (FML) (Cafaro et al., 2014), while co-verbal behavior is represented through Behavior Markup Language (BML) (Vilhjalmsson et al., 2007). A similar strategy is used in systems designed for virtual human research, such as Greta (Pelachaud, 2015 …
Companion Robots Behaving with Style: Towards Plasticity in Social Human-Robot Interaction
WB Johal – 2015 – tel.archives-ouvertes.fr
Page 1. HAL Id: tel-01679314 https://tel.archives-ouvertes.fr/tel-01679314 Submitted on 9 Jan 2018 HAL is a multi-disciplinary open access archive for the deposit and dissemination of sci- entific research documents, whether they are pub- lished or not …
Learning data-driven models of non-verbal behaviors for building rapport using an intelligent virtual agent
R Amini – 2015 – digitalcommons.fiu.edu
Page 1. Florida International University FIU Digital Commons FIU Electronic Theses and Dissertations University Graduate School 3-25-2015 Learning Data-Driven Models of Non-Verbal Behaviors for Building Rapport Using an Intelligent Virtual Agent …
Companion Robots Behaving with Style
M Chetouani, P De Loor, P Dillenbourg, D Duhaut… – iihm.imag.fr
Page 1. THÈSE Pour obtenir le grade de DOCTEUR DE L'UNIVERSITÉ DE GRENOBLE Spécialité : Informatique Arrêté ministérial : 151 Présentée par Wafa BENKAOUAR JOHAL Thèse dirigée par Sylvie Pesty et codirigée par Gaëlle Calvary …
HCI perspectives on behavior change support systems
R Klaassen – 2015 – ris.utwente.nl
Page 1. Page 2. HCI PERSPECTIVES ON BEHAVIOR CHANGE SUPPORT SYSTEMS DISSERTATION to obtain the degree of doctor at the University of Twente, on the authority of the rector magnificus Prof.dr. H. Brinksma on account of the decision of the graduation committee …
Capturing and Animating Hand and Finger Motion for 3D Communicative Characters
NS Wheatland – 2016 – escholarship.org
Page 1. UC Riverside UC Riverside Electronic Theses and Dissertations Title Capturing and Animating Hand and Finger Motion for 3D Communicative Characters Permalink https://escholarship.org/uc/item/39w9397t Author Wheatland, Nkenge Safiya Publication Date …
This is the author's version of a work that was published in the following source
J Feine, U Gnewuch, S Morana, A Maedche – 2019 – researchgate.net
Page 1. This is the author's version of a work that was published in the following source Feine, J., Gnewuch, U., Morana, S., & Maedche, A. (2019). A Taxonomy of Social Cues for Conversational Agents. International Journal of Human-Computer Studies, 132, 138-161 …
Expressive Inverse Kinematics Solving in Real-time for Virtual and Robotic Interactive Characters
T Ribeiro, A Paiva – arXiv preprint arXiv:1909.13875, 2019 – arxiv.org
Page 1. EXPRESSIVE INVERSE KINEMATICS SOLVING IN REAL-TIME FOR VIRTUAL AND ROBOTIC INTERACTIVE CHARACTERS Tiago Ribeiro? INESC-ID & Instituto Superior Técnico University of Lisbon Portugal me@tiagoribeiro.pt …
Physical engagement as a way to increase emotional rapport in interactions with embodied conversational agents
IG Sepulveda – 2015 – search.proquest.com
Page 1. PHYSICAL ENGAGEMENT AS A WAY TO INCREASE EMOTIONAL RAPPORT IN INTERACTIONS WITH EMBODIED CONVERSATIONAL AGENTS IVAN GRIS SEPULVEDA Department of Computer Science Charles Ambler, Ph.D. Dean of the Graduate School …
Physical engagement as a way to increase emotional rapport in interactions with embodied conversational agents
I Gris Sepulveda – 2015 – scholarworks.utep.edu
Page 1. University of Texas at El Paso DigitalCommons@UTEP Open Access Theses & Dissertations 2015-01-01 Physical Engagement As A Way To Increase Emotional Rapport In Interactions With Embodied Conversational Agents …
The effects of interpersonal attitude of a group of agents on user's presence and proxemics behavior
A Cafaro, B Ravenet, M Ochs… – ACM Transactions on …, 2016 – dl.acm.org
… stimuli of our experiment presented in Section 5. 4.1. Virtual Interactive Behavior System The VIB, formerly known as Greta, is a SAIBA-compliant (cf Kopp et al. 2006; Heylen et al. 2008) framework for generating virtual or robotic …