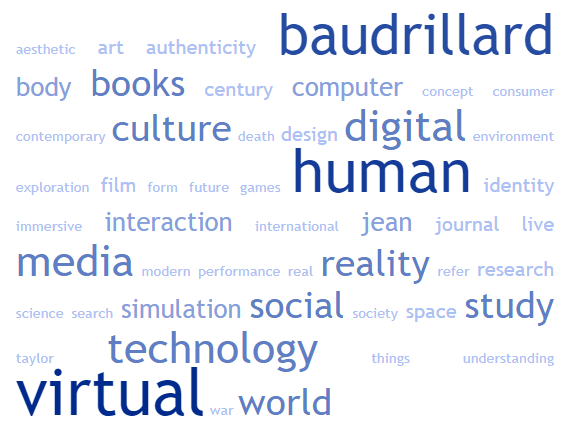 Notes:
Jean Baudrillard was a French philosopher and cultural critic who wrote about a wide range of topics, including media, technology, consumer culture, and the nature of reality. "The Ghost" is a concept referred to by Baudrillard which states the representation of a thing becomes more real than the thing itself. He argues that in today's world, the models and representations of things have become more important than the things themselves. He uses the term "the simulacrum" to refer to these copies of reality that have replaced the original thing. He said that as the copy becomes more dominant, we begin to experience a sense of loss and a "nostalgia for the real". This loss of the real, or "the disappearance of the real," he argues, is a defining characteristic of our postmodern condition.
He also wrote about the concept of hyperreality which is a state in which it is hard to tell the difference between what is real and what is a representation. He believed that in this state, reality is replaced by a simulation or copy of itself, and that people experience reality primarily through the lens of mass media and technology. In summary, "Baudrillard's Ghost" refers to the idea that modern society is increasingly dominated by simulations and representations of reality, rather than by the reality itself and this concept was developed through many of his works.
The references below discuss various topics related to virtual humans, digital performance, and the intersection of technology and society, in the context of Jean Baudrillard's theory. The text explores the political signification of the selfie and how it relates to our understanding of ourselves as virtual humans. It also suggests that digital performance and queer theory can be used to reimagine the political subject, and references Baudrillard's concept of hyperreality, which is the blurring of the line between reality and representation, as a way to understand the effects of technology on our existence. The text also mentions the ethical concerns around treating virtual humans cruelly and touches on the idea of digital immortality and mind uploading.
Wikipedia:
See also:
Hyperreality, Extended Reality & Artificial Intelligence | Labyrinths, Extended Reality & Artificial Intelligence | Walter Benjamin & Extended Reality
---
Digital Virulence and Post-Truth in Light of Baudrillard's Science-Fiction Theory of Pataphysics
S MAKRIS – Global Politics in a Post-Truth Age – uwe-repository.worktribe.com
… In an innovative way, Baudrillard placed capitalist technology within the frame of digital … Everybody wants to play this fascinating game of digital cloning and virtual human. Talking …
The Live Commerce of VTuber
Z Zhao – 2022 5th International Conference on Humanities …, 2022 – books.google.com
… In the book" Consumer Society", Baudrillard believes that in … " virtual human live broadcast" on a short video platform to search. There are already many tutorials for virtual human live …
Living Among Simulacra–Augmented Reality as a Commonplace
J Solecki – Aleksandra ?ukaszewicz – u-pad.unimc.it
… In this essay, I examine to what extent Baudrillard's theory of the precession of simulacra, which is represented in augmented reality, can be seen as a viable vision of the end of the …
The Effect of Virtual Reality as a form of Escapism.
WV Siricharoen – CONF-IRM, 2019 – researchgate.net
… In order to create virtual human so called "avatar" to look and act like the real human, the … human believe in the virtual human existing and cooperating with other virtual human beings (…
Authentic virtual others? The promise of post-modern technologies
T Dotson – AI & society, 2014 – Springer
… Emerging technologies such as virtual humans and sociable robots exemplify this post-modern promise. This paper aims to explore the potential unintended consequence of such …
Bodies under glass: Gay dating apps and the affect-image
T Penney – Media International Australia, 2014 – journals.sagepub.com
… Baudrillard becomes 'delimited', for it can be reflected back to the narcissist through any object. As a result of 'seeing themselves in all things', Baudrillard's … or distort virtual human beings…
Another Allegory of Simulation: On the Virtusphere
G Canizares – Journal of Architectural Education, 2019 – Taylor & Francis
… In Jean Baudrillard's introduction to Simulacra and Simulation… For Baudrillard, this condition described the Western world … Stanford University's Virtual Human Interaction Lab has …
Virtual trauma: Prospects for automediality
M Broderick, SM Bender – M/C Journal: A …, 2018 – researchrepository.murdoch.edu.au
… The virtual humans in this study are regarded as having greater authenticity than an earlier project on social anxiety (North, North, and Coble) which did not have much visual …
Posthuman amusements: Gaming and virtuality
BS Bini – Media and Utopia, 2017 – taylorfrancis.com
… myriad occasions of virtual human interaction and competition… According to Baudrillard, there is no alienation while … Baudrillard reminds us of the presentness of utopias ever on …
I am a virtual girl from Tokyo: Virtual influencers, digital-orientalism and the (Im) materiality of race and gender
E Miyake – Journal of Consumer Culture, 2022 – journals.sagepub.com
… A product of Aww Inc., a Tokyo-based Japanese CGI company specialising in 'virtual humans' or '… In this context, we can understand Imma as not just relating to the idea of Baudrillard's …
Virtual Trauma: Prospects for Automediality
S Bender, M Broderick, A McHugh – M/C Journal, 2018 – espace.curtin.edu.au
… The virtual humans in this study are regarded as having greater authenticity than an earlier project on social anxiety (North, North, and Coble) which did not have much visual …
Being more than yourself: Virtuality and human spirit
A Nusselder – 2014 – books.google.com
… The work of Jean Baudrillard describes, in its extreme conditions, this subject position of a (… Nevertheless, Baudrillard tried to formulate an alternative to the all-encompassing mode of …
Made with Words: Textual Virtuality in Modernism
H Choi – 2018 – search.proquest.com
… human being; thus it is already potent with the virtual human within itself, while this potential … Bergson's and Deleuze's idea of the virtual as potential stands in stark contrast to Baudrillard…
A human in the urban space of the globalized world
IO Merylova, KV Sokolova – Anthropological Measurements of …, 2020 – ampr.diit.edu.ua
Purpose. The purpose of the research is to define certain interaction features between a human and the urban environment in the global world. Theoretical basis. The study in based on …
People, things, memory and human-machine communication.
S Jones – International Journal of Media & Cultural Politics, 2014 – stevejones.me
… , frequent mentions of simulacra, Jean Baudrillard and Slavoj Zizek. While most seemed to … a small but definitive step in our goal of developing a virtual human that can pass the …
All hail our robot overlords
E Schwarz – Death machines, 2018 – manchesterhive.com
… , illustrates this process towards building a virtual human in ever-more detailed replication as … Baudrillard concludes, is here done by science and technology – computers. Baudrillard's …
Alienation in the information age: Wafaa Bilal's domestic tension
L Stevens – Australasian Drama Studies, 2014 – search.informit.org
… -first centuries has been unsettled since Jean Baudrillard described the media-saturated visual … in the online chat room, the Virtual Human Shield used the mediating power of machines …
Studying the Role of 3D Computer Simulation in Generating Photorealistic Images
HK Rezakhani – 2015 – researchgate.net
… Baudrillard valued the notions of imitation and representation equally, and thus there is no … Based on the flight simulator example, it is concluded that what Baudrillard believed in is …
Policy in the time of Anthropocene: Children, childhoods and digital worlds
M Tesar, N Hood – Policy Futures in Education, 2019 – journals.sagepub.com
2019: We live in precarious times. We have entered the era of the Anthropocene, the first man-made era from which there is, apparently, no return. The Anthropocene, the current …
The spectacular anthropocene
A Kalaidjian – Angelaki, 2017 – Taylor & Francis
… 's Virtual Human … Baudrillard makes explicit through his assertion that "the human race and the entire planet are already becoming their own virtual reality" (Vital Illusion 16). Baudrillard …
"The Fairy Tale is True": Social Technologies of the Religious Supernatural in Film and New Media
D Walsh Pasulka – Journal of the American Academy of Religion, 2016 – academic.oup.com
… reality at Stanford University's Virtual Human Interaction Lab suggest … Baudrillard's theorization of "hyperreality" as a product of a media-saturated landscape. According to Baudrillard, …
Strategic Concepts of Media Studies: from Marshall McLuhan to Manuel Castells
NB Kirillova – GALACTICA MEDIA: JOURNAL OF MEDIA STUDIES …, 2022 – elibrary.ru
… Following the French post-structuralism, in particular Jean Baudrillard, many scholars … the media sphere and the creation of a virtual human environment; the formation of media culture, …
Working from Home/In Quarantine: Commodifying COVID-19 "lockdown" period in India.
N Kumar, P Maurya – 2020 – advance.sagepub.com
… Facebook functions not only a site for virtual human interaction but has been a potential site … Writing about the modern consumer society, Jean Baudrillard (1970) observes that "the …
Juxtapose: An Exploration of the Technical and Aesthetic Potential of Print-based Augmented Reality Design
D Menorath – 2016 – openrepository.aut.ac.nz
This practice-led research project examines how the technological and aesthetic components of augmented reality (AR) serve to extend, enhance and disrupt print-based design. The …
Attention Economy in Metaverse: An NFT Value Perspective
C Wang, C Yu, Y Zhang – 2022 IEEE 24th International …, 2022 – ieeexplore.ieee.org
… man-machine interaction and digital virtual humans, aiming to … The most extreme situation is found in the work of Baudrillard [… Baudrillard's insight into semiotics is very accurate, and can …
Deeply Ecological Deleuze and Guattari: Humanism's Becoming-Animal
R Iveson – Humanimalia, 2013 – humanimalia.org
… In this paper, which is practically a primer for the constitution of Animal Studies, Baudrillard offers an alternative notion of alliance to that proposed by Deleuze and Guattari, one which …
CHAPTER FIVE DREAMING OF ELECTRIC SHEEP: TECHNOLOGY AND THE CONSTRUCTION OF HUMAN IDENTITY LJUBICA MATEK
L MATEK – academia.edu
… This explains why Baudrillard refers to Dick's novels as … and as such they epitomize Baudrillard's idea of hyperreality. … sort of competition with another virtual human: Buster Friendly, …
CHAPTER FIVE DREAMING OF ELECTRIC SHEEP: TECHNOLOGY AND THE CONSTRUCTION
L MATEK – Facing the Crises: Anglophone Literature in the …, 2014 – books.google.com
… This explains why Baudrillard refers to Dick's novels as … and as such they epitomize Baudrillard's idea of hyperreality. … sort of competition with another virtual human: Buster Friendly, …
Against brain-in-a-vatism: On the value of virtual reality
J Cogburn, M Silcox – Philosophy & Technology, 2014 – Springer
… In spite of his professed nihilism, Jean Baudrillard achieves … longer even spectators: receivers" (Baudrillard 1994, p. 160) "… If non-passive VR's virtual humans must respond intelligently …
Master Thesis Myrthe Tiemessen
MT Tiemessen – 2022 – studenttheses.uu.nl
… displayed by a virtual human like Shudu, who can't be considered as realistic comparison … Jean Baudrillard all regard technologies and their role in society from different perspectives. …
New Concepts of Media Science in the Sociocultural System of the Information Civilization [????? ???????? ?????????? ? ??????????????? ??????? …
NB Kirillova – 2021 – elar.urfu.ru
… of the media sphere development and virtual human environment creation; the formation of … The exaggerated nature of audiovisual media was also noted by Baudrillard, who called …
The emulation of emotions in artificial intelligence: another step into anthropomorphism
M Goya-Martinez – Emotions, technology, and design, 2016 – Elsevier
… These software agents are virtual humans that through hand and facial gestures, turn-taking processes, bodily positions, prosody in speech, and nonverbal signs, are able to convey …
Analyzing the influence of virtuality on playful social interaction
M Sakamoto, T Alexandrova, T Nakajima – Multimedia Tools and …, 2016 – Springer
… Jean Baudrillard explains our consumption behavior as follows: we consume symbols that are … In particular, we give an approach to use empathetic virtual human to overcome pitfalls. …
Probabilistic Online Prediction of Robot Action Results based on Physics Simulation
S Rockel – 2015 – ediss.sub.uni-hamburg.de
The motivation for this work is the today's abstraction gap between the high-level robot control involved in symbolic planning and the low-level, fine-grained control of mobile robot …
Investigating the role of social eye gaze in designing believable virtual characters
M Nixon – 2017 – summit.sfu.ca
… Then, I examine how people interact with a virtual human equipped with this gaze model through an in-person HCI-style study. This allowed me to evaluate the effectiveness of …
Virtual reality and computer simulation
P Brey – Ethics and emerging technologies, 2014 – Springer
… violent and degrading behavior toward virtual human … , it is wrong to treat virtual humans cruelly because doing so will … to in the treatment of virtual humans are the same emotions that …
Celebrity Politicians and Publicity Rights in the Age of Obama
MG Bennett – Hastings Comm. & Ent. LJ, 2013 – HeinOnline
… Jean Baudrillard, the social theorist to whom both right of publicity scholars and science … For intellectual property scholars, and particularly doctrinal minimalists, Baudrillard is an ideal …
Ethical Issues of Computer Games
A Sukhov – 3rd International Scientific Conference on Social …, 2016 – academia.edu
Computer games are bright example of the evolution of digital media and modern audiovisual technologies. Extremely popular now, computer games have come ? lon? ??? ?rom t?? …
Space, Body and Humanities: Aesthetic Construction and Cultural Expression of Cyberpunk Films
R Huang – 3rd International Conference on Art Studies: Science …, 2019 – atlantis-press.com
… Baudrillard believes that in order to maximize the creation of the landscape, the film will inevitably move toward "surreality". "Surreality" is the aesthetic foundation of science fiction films, …
transference and translation
A Roosevelt, W Guide – The Films of Robin Williams: Critical …, 2019 – books.google.com
… layers to yet different purposes, thus becoming virtual human museums.) as in epics/origin … the "real" is abolished, says Baudrillard. Conjecture about reality in a product of mechanical …
Philosophy of Human-Centrism in the System of Anthropological Studies
VH Kremen, VV Ilin – Anthropological Measurements of …, 2022 – ampr.diit.edu.ua
… Baudrillard wrote that it is not even about imitation and repetition, but … human, intelligent human, moral human, symbolic human, virtual human, digital human, etc.) do not exhaust their …
EFFECTS OF CYBERTECHNOLOGY ON BODY AND IDENTITY IN SELECTED AMERICAN CYBERPUNK AND POST-CYBERPUNK FICTIONS
E SOOFASTAEI – 2019 – psasir.upm.edu.my
… Based on the views of Baudrillard and Cavallaro, this study looks at the body in cyberspace which could be formed in a hyperreal status that is not real, but simulated. In this sense, …
Fronteras mutantes": secret spaces, solitude and transparency in Kentukis" by Samanta Schweblin
DRM LOBINA – Nuevos retos y perspectivas de la investigación en …, 2021 – torrossa.com
This study analyses the novel Kentukis (2018) by Samanta Schweblin as a literary and moral reflection on the construction of contemporary identities ambiguously embedded in digital …
Samuel Beckett in Virtual Reality
AC Balaam – 2020 – research-information.bris.ac.uk
… The conclusion suggests that in identifying the lineage of the ontological genealogy of the digital and virtual human we can point forward to a Quantum human and world. …
Lacking a self (ie):" Apps" of desire in virtual Cairo
F Revelo La Rotta – 2016 – fount.aucegypt.edu
… Instead, the goal of such an exploration is to take a seemingly banal object, the selfie, that is laden with political signification to see what it has to say about ourselves, as virtual human, …
The Life and Death of an American Archetype: The Shopping Mall and the Suburbs
AR Dallessandro – 2015 – etda.libraries.psu.edu
… As we continue to increase our connectivity to the virtual humans … Jean Baudrillard, a notable theorist of the late twentieth century … If we accept Baudrillard's definition of reality as "that for …
Hyperanimals: Inverting Nature Through Pokémon Go
S Morey, J Crider – ISLE: Interdisciplinary Studies in Literature …, 2020 – academic.oup.com
… distance between a "real" human and a virtual human, whereas if killing an animal in GTA V … This phenomenon is perhaps even easier to tie to Baudrillard's simulacra, by which the …
The Anatomy of Frank and Stein. An Ontological Exploration of Cyborg Identity, Culture, and Education
P Strandbrink – The New Bioethics, 2020 – Taylor & Francis
This contribution aims to unpack the ontological nexus of cyborg identity and culture. It highlights a set of core assumptions driving its operations that merit critical attention as cyborgic …
Toward Understanding Attention Economy in Metaverse: A Case Study of NFT Value
C Wang, C Yu, Y Li – IEEE Transactions on Computational …, 2022 – ieeexplore.ieee.org
… interaction, and digital virtual humans, aiming to reach a … The most extreme situation is found in the work of Baudrillard [6], … Baudrillard's insight into semiotics is very accurate and can …
Extracting intermediate-level design knowledge for speculating digital–physical hybrid alternate reality experiences
F Ishizawa, M Sakamoto, T Nakajima – Multimedia Tools and Applications, 2018 – Springer
… A 3D virtual human character is replaced with a physical card depicting the virtual human … In addition to the 3D virtual human character, the information written on the card is also …
Second Life and Virtual Environments: Uses and Gratifications and Identity Effects
R Majed – eimj.org
This study aims to discuss the virtual world in cyberspace and its effects on its users by focusing on Second Life (SL) platform as a case. A focus group is conducted in order to …
Towards a postmortal society of virtualised ancestors? The Virtual Deceased Person and the preservation of the social bond
J Hurtado Hurtado – Mortality, 2021 – Taylor & Francis
Research about digital immortality has grown in recent years, predominantly focusing on either the social effects of forms of digital immortalisation or on the available technologies. Few …
Hyperrealistic Body in the Mod-ern Culture, Observatory of Culture, 2018, vol. 15, no. 2
OV Stroeva – ????????, 2018 – observatoria.rsl.ru
Stroeva OV Hyperrealistic Body in the Modern Culture/pp. 154–160/hand, it generates a "new vision" changed under the influence of virtual experience. Thus, the article considers the …
Art technologization in the context of theatrical science development
T Portnova – Astra Salvensis-revista de istorie si cultura, 2020 – ceeol.com
The current article is devoted to the issue of art technologization in the context of theatrical science development. The author recognizes that digital technologies are currently one of the …
Next Step for Influencer Marketing-the Fascination of Robots
S Santo António… – … Business School. https …, 2020 – research-api.cbs.dk
… intrigued and interested in engaging with these virtual human brands. The authors have chosen to … Baudrillard explains the way our saturated information, modern media world and the …
Hyperrealistic body in the modern culture
OV Stroeva – Observatory of Culture, 2018 – observatoria.rsl.ru
The article analyzes the phenomenon of hyperrealistic body in the context of the phenomenological discourse of "corporeality". In the non-classical aesthetics of the twentieth century, …
Semiotic and discursive consequences of the cybertextual condition: The case of tragedy
JJ Vargas-Iglesias – Semiotica, 2019 – degruyter.com
In recognition of the central place that the concept of tragedy holds in the historical understanding of culture and society, this paper features an analysis of its presence, current state, …
A Study of how the Technological Advancements in Capturing Believable Facial Emotion in Computer Generated (CG) Character in Film Has Facilitated …
C Louis – 2014 – core.ac.uk
… Baudrillard defines simulacra as copies that portray things that no longer have an original -… This is the first virtual human animated sequence that completely bypasses all my …
Digital Technology for Saudi Arabian Fashion Shows
B Sabbahi – 2019 – dora.dmu.ac.uk
Saudi fashion designers have encountered numerous challenges promoting their designs to the public in Saudi Arabia, especially women's wear, due to religious and cultural …
Digital Culture Unplugged: Probing the Native Cyborg's Multiple Locations
N Rajan – 2020 – books.google.com
… the onetime prisoners of the road have become virtual human beings … Robocop on wheels, … The culture that is created by the digital media inclines towards what Baudrillard has called '…
Dreaming-machine. Diurnal Insomnia in Digital Wonderland
M Wojtaszek – … New Perspectives on the Anglophone World, 2018 – journals.openedition.org
The intensified sensory contact with digital media and their capacity to pre-cognitively extract sensible data and industrially reengineer experience make our existence increasingly feel …
Posthumanism and Drama: From Shakespeare to Climate Change Plays
J Hoydis – Palgrave Handbook of Critical Posthumanism, 2022 – Springer
… between postmodernity and multimedia technology and deconstruction of conceptions of simulation and reality (drawing on hallmarks of postmodern media theory such as Baudrillard's …
The Augmented Reality Internet of Things: Opportunities of Embodied Interactions in Transreality
K Kim, N Norouzi, D Jo, G Bruder, GF Welch – Springer Handbook of …, 2023 – Springer
… Also, to the best of our knowledge, the first academic paper that introduced an interactive virtual human in AR is Balcisoy and Thalmann's application in real-time interactive drama with …
The Shock and Awe of the Real: Political Performance and the War on Terror
M Jones – 2020 – search.proquest.com
This dissertation offers a transnational study of theatre and performance that responded to the recent conflicts in Iraq, Afghanistan, Syria, and beyond. Looking at work by artists primarily …
Moral blindness: The loss of sensitivity in liquid modernity
Z Bauman, L Donskis – 2013 – books.google.com
… It cannot happen to us — this is a familiar feeling, provoked by our understanding of the technological and virtual human world. When you constantly see crashing planes in the movies, …
In Silico: A practice-based exploration of computer simulations in art
P Dolan – 2018 – search.proquest.com
… Eco and Baudrillard agree that hyperreality is self-perpetuating, and that culture reinforces itself in an autopoietic process. Baudrillard refers to this system of autonomous signification …
3D digital modelling, fabrication and installation for understanding space and place
A Taylor, C Benincasa-Sharman, E Unver – 2014 – eprints.hud.ac.uk
… The decision to render the virtual humans as figurative and abstract projections in hand drawn ink and paint silhouette style was chosen to make reference to historical art and …
STRANGE VISITOR: SUBJECTIVITY, SIMULATION, AND THE FUTURE OF THE FIRST SUPERHERO
J Anderson – academia.edu
3 Newby points out how thoroughly fleshed-out comic book characters have become, even beyond comic books:" most of our contemporary superhero films and series play the long …
Spaces for the future: A companion to philosophy of technology
JC Pitt, A Shew – 2017 – books.google.com
Focused on mapping out contemporary and future domains in philosophy of technology, this volume serves as an excellent, forward-looking resource in the field and in cognate areas of …
Vibrating tilt platform enhancing immersive experience in VR
G Zwoli?ski, D Kami?ska, A Laska-Le?niewicz… – Electronics, 2022 – mdpi.com
… The participants were presented with three types of stimuli: visual and audio (the footsteps of an approaching virtual human), visual and vibration of the footsteps, and visual vibration of …
Classifying the narrated# selfie: Genre typing human-branding activity
T Eagar, S Dann – European Journal of Marketing, 2016 – emerald.com
Purpose This paper explores the purposive use of the selfie in the construction of personal narratives that develop and support an individual's human brand. Selfies were divided into …
The Routledge Handbook of Architecture, Urban Space and Politics, Volume I: Violence, Spectacle and Data
N Bobic, F Haghighi – 2022 – books.google.com
For architecture and urban space to have relevance in the 21st Century, we cannot merely reignite the approaches of thought and design that were operative in the last century. This is …
This Isn't Even My Final Form
J Love – 2015 – scholarworks.iupui.edu
… If my investigation feels authentic to the audience then our virtual human connection actualizes … BIBLIOGRAPHY Baudrillard, Jean. Simulacra and Simulation. Ann Arbor: University of …
Are you even real? Virtual influencers on Instagram and the role of authenticity in the virtual influencer consumer relationship
M Nisandzic – 2020 – diglib.uibk.ac.at
This thesis explores the role of authenticity in the virtual influencer consumer relationship. While doing so, qualitative empirical research was applied, particularly in-depth interviews …
Engineering the Metaverse for Innovating the Electronic Business: A Socio-technological Perspective
G Festa, Y Melanthiou, P Meriano – Business Advancement through …, 2022 – Springer
The metaverse is a hybrid world, mixing real, augmented, and virtual spaces, in which people (as users) can be represented in a three-dimensional way, with an avatar, activating …
The Human World is Made of Stories: Postmodernism and the Planetary in the Novels of David Mitchell
K Frame – 2017 – unsworks.unsw.edu.au
… Accordingly, I will refer extensively to Baudrillard's … Sapiens", literally "virtual humans", which simulates the … The virtual father would be considered by Baudrillard to be a …
The Human World is Made of Stories
K Frame – 2016 – unsworks.unsw.edu.au
… Accordingly, I will refer extensively to Baudrillard's … Sapiens", literally "virtual humans", which simulates the … The virtual father would be considered by Baudrillard to be a …
Human Digital Twin: A Survey
Y Lin, L Chen, A Ali, C Nugent, C Ian, R Li… – arXiv preprint arXiv …, 2022 – arxiv.org
… French philosopher Baudrillard proposed the fundamental ambiguity of representation is … The reproduced stage of a deceased artist in the form of a virtual human attracted widespread …
High-fidelity behaviours for model people on model streetscapes
PM Torrens – Annals of GIS, 2014 – Taylor & Francis
Computational techniques for generating plausible-looking and authentically behaving synthetic walkers on simulated sidewalks are an important component of social science, …
A framework for the analysis of identity and expression of self within Second Life
PF Wardle – 2016 – search.proquest.com
This research uses Second Life as a research environment to examine the ways in which expression of self and identity are developed via avatars within social virtual worlds. It …
Temporary Legitimacy: Queer Possibilities in Digital Performance
S Greer – Performance, Identity, and the Neo-Political Subject, 2013 – taylorfrancis.com
Digital performance and queer theory's mutual troubling of stable identity may provide particularly fertile ground for re-imagining the political subject: terrain, as this discussion will argue…
A Framework for Navigating Collective Human Behavior through Gameful Digital Rhetoric
M Sakamoto – 2015 – waseda.repo.nii.ac.jp
… Baudrillard explains our consumption behavior as consuming symbols associated with things rather than the things themselves (Baudrillard, 1994). Due to the fact that the symbolisation …
Critical affection: an expanded portrait of the artist-as-player in digital cultures
T Penney – 2017 – researchrepository.rmit.edu.au
… talks of the "vitrified exacerbation of the body, of vitrified exacerbation of genitalia, of an empty space where nothing takes place and which nonetheless fills our vision" (Baudrillard 1987…
Change for the machines: the cyborg in fact and fiction into the 21st century
T Honey – 2015 – researchonline.jcu.edu.au
… Allied with this are the concerns of post-modern thought, particularly the development of "war as spectacle" theorised by Baudrillard ("The Gulf War did not Take Place" 10) and the first …
Speeding up fast capitalism: Cultures, jobs, families, schools, bodies
B Agger – 2015 – taylorfrancis.com
… The answer is that it doesn't matter if you are using chat to make a connection, to feel the virtual human touch and receive virtual recognition of your humanity. E-mail is less anonymous, …
Hell is a Teenage Girl: Monstrous [Im] Perfection in Contemporary Horror
C Egan – 2017 – csusm-dspace.calstate.edu
This thesis examines the monstrous female characters and horror archetypes in Stephen Graham Jones' short story,"So Perfect," his novel The Last Final Girl, and the Hollywood film …
Holograms and Vocaloids: a deep dive into the virtual persona of Hatsune Miku-Polyniki Katrantsioti-2792841
P Katrantsioti – 2022 – studenttheses.uu.nl
Hatsune Miku, originally created as a software for music creation created by Crypton Future Media, puts forward a different way to look into intermediality and playfulness through the …
Resonance as a design strategy for AI and social robots
JD Lomas, A Lin, S Dikker, D Forster… – Frontiers in …, 2022 – ncbi.nlm.nih.gov
Resonance, a powerful and pervasive phenomenon, appears to play a major role in human interactions. This article investigates the relationship between the physical mechanism of …
An Empirical Exploration of Aesthetic Distance Through Mimetic Interface Design in Videogames
MSR Khandaker-Kokoris – 2015 – researchportal.port.ac.uk
Aesthetic distance is determined by the frame of reference created by the use of technical devices around an artwork, to differentiate it psychologically from reality, so it may be critically …
Immersive Communication: The Communication Paradigm of the Third Media Age
Q Li – 2019 – books.google.com
… Wise men such as Jean Baudrillard showed me the framework of a consumer society, but also prompted a further question: perhaps we are already in a new social age? So is it a new …
The synthetic hyper femme: On sex dolls, fembots, and the futures of sex
K Puig – 2017 – search.proquest.com
In this thesis, I use queer of color and intersectional feminist knowledges and practices–and draw from performance studies, media and cultural studies, post-humanist theories, and …
Playing with virtual reality: early adopters of commercial immersive technology
MH Foxman – 2018 – academiccommons.columbia.edu
On August 6, 2015, Time Magazine's cover heralded the coming of a new age: Virtual Reality (VR) would" change the world" and" revolutionize the way we live, play and learn"(Stein, …
Upgrading ekphrasis: representations of digital space and virtual worlds in contemporary literature
N Shiel – 2015 – doras.dcu.ie
This thesis addresses the concept of ekphrasis from a new perspective: in the context of digital graphics. The focus of this thesis lies in textual representations of computer-generated …
The Posthuman Reality of Feed-Based Social Media Systems
DJ DeJong – 2019 – yorkspace.library.yorku.ca
The conceptual boundary between the subject and user parallels the boundary between humanist and posthumanist definitions of human being, and the challenges of new media …
JPEG: the quadruple object
PL Caplan – 2013 – eprints.bbk.ac.uk
… In a discussion of the later Baudrillard's interest in games and play, Galloway writes of how for the French theorist, "both sovereignty and resistance are gamic" (2007b, p. 377). It is not …
4 The Personal Archive
FC Boltanski – Installation Art and the Practices of Archivalism, 2016 – books.google.com
Archivalist art, as we have seen, has the capacity to disrupt shared norms and understandings, for example in the disorientation around gender and ethnicity, place and time wrought by …
Doubling the duality: a theoretical and practical investigation into materiality and embodiment of meaning in the integration of live action and animation
FLY Lin – 2014 – books.google.com
This book is about the aesthetic, philosophical and cultural aspects of the integration of live action and animation. It argues that, even in the digital era, when the integration of live action …
An ethnographic sociolinguistic study of virtual identity in Second Life
ARA Abdullah – 2014 – etheses.whiterose.ac.uk
The virtual world Second Life (SL) offers its millions of users a fertile environment in which to socialise and engage in digital communication, immersed in a world where it seems like …
Reflections on Violence and Death in Critical War Games
S Lutters – 2021 – scriptiebank.be
… death of others is also sometimes used to gain profit (eg looting), within games it goes much further, and also diminishes the opponents in their representational form as virtual humans. …
Internet Afterlife: Virtual Salvation in the 21st Century: Virtual Salvation in the 21st Century
K O'Neill – 2016 – books.google.com
Can you imagine swapping your body for a virtual version? This technology-based look at the afterlife chronicles America's fascination with death and reveals how digital immortality …
Social Computing and Social Media: Applications in Marketing, Learning, and Health: 13th International Conference, SCSM 2021, Held as Part of the 23rd …
G Meiselwitz – 2021 – books.google.com
… [4] presented a virtual human interviewer system designed to create an engaging face-to-face interaction where the user feels comfortable talking and sharing information. Using a …
Authenticity as Performativity on Social Media
AS Taylor – 2022 – books.google.com
? Authenticity is a highly-prized concept on social media, but given the history of the term, has it been adequately scrutinised? This book provides an alternative definition of authentic …
Experiencing sense of place in a virtual environment: real in the moment?
I Tjøstheim – 2020 – diva-portal.org
… Some authors refer to Baudrillard's (1993) concept hyperreality when discussing this distinction. …
To Upload is to Live Forever: Explicating the Eschatological Implications of Mind-Uploading in Neal Stephenson's Fall or, Dodge in Hell
I Patra – researchgate.net
The article seeks to analyze the apocalyptic and eschatological dimensions of mind uploading that is, transferring of mind and consciousness from a biological to a computational …
Negative space of things: a practice-based research approach to understand the role of objects in the Internet of Things
DJ Shingleton – 2018 – era.ed.ac.uk
This is a practice-based research thesis situated in the research context of the 'Internet of Things', and critiques contemporary theoretical discourse related to the 21st century turn of …
Digital Single Market, First Stop to The Metaverse: Counterlife of Copyright Protection Wanted
D Friedmann – LAW AND ECONOMICS OF THE DIGITAL …, 2022 – papers.ssrn.com
… Baudrillard has prophesied the fusion of the real and fictional worlds in a hyperrealistic reality.The tokenization of physical art via NFTs and the metaverse are the capricious harbingers …
Forum 38: Body and Technology.
E Gudova, A Karaseva, M Kozhevnikova… – … for Anthropology & …, 2019 – academia.edu
The issues of techniques and the body, corporeality and technology—whether in interaction with each other or treated as separate fields—have preoccupied scholars back to the origins …
Flirting, cheating, dating, and mating in a virtual world
JM Albright, E Simmens – The Oxford handbook of virtuality, 2014 – books.google.com
Early theorists in the field of computer-mediated communication studies thought it unlikely if not impossible to form "normal" relationships over computer networks. Despite these dire …
Where in the World Are These Worlds?
ML Johnson – Social Virtual Worlds and Their Places, 2022 – Springer
We begin this chapter by asking the rhetorical question, "where in the world are we?" More to the point, this chapter provides a brief overview of how conversations about social virtual …
Virtuality's expansion in the modern era: Media and society
SN Lehman-Wilzig – Virtuality and Humanity, 2021 – Springer
This chapter concludes Part II, viewing the past two centuries from a "holistic" perspective: the huge expansion of media technologies (telegraph Media telegraph through the computer) …
The Strange Case of the Animated Jekyll and the Online Hyde: a documentary study of Korean youth culture and identity
MK Park – 2015 – core.ac.uk
Robert Louis Stevenson's The Strange Case of Dr Jekyll and Mr Hyde (1886) is the starting point for my practice-led research project. Stevenson's Victorian novella enables me to …
Experiencing Cinema: Participatory Film Cultures, Immersive Media and the Experience Economy
E Pett – 2021 – books.google.com
Film is often conceived as a medium that is watched rather than experienced. Existing studies of film audiences, and of media reception more broadly, have revealed the complexity of …
Social Virtual Worlds and Their Places: A Geographer's Guide
ML Johnson – 2022 – books.google.com
This book provides a foundational look at social virtual worlds from the geographer's perspective. How can the geographer's craft be applied to social virtual worlds? This question is …
Storytelling for Sustainability in Higher Education
P Molthan-Hillleads – api.taylorfrancis.com
Storytelling has been rediscovered within higher education as an effective pedagogical tool to facilitate conceptual understanding within and across academic disciplines. It continues to …
Rematerializing Vision-Contemporary Dis/Embodied Art on the'War on Terror'
P Nottebaum – 2015 – search.proquest.com
This inquiry into corporeal experiences of the'war on terror'is pursued through the lens of contemporary art that, it is argued here, can be seen to innovatively trace war through its …
From an invasive to an immersive language in virtual environments: tools to prevent Infoxication in our near future
L Hernández Blázquez – 2021 – upcommons.upc.edu
Through artistic and technological references, the concept of immersion is analysed, as well as its relationship with the language present in New Media: Virtual Reality, Augmented …
Writing futures: Collaborative, algorithmic, autonomous
AH Duin, I Pedersen – 2021 – Springer
… Flusser theorized about the impact of media on culture and writing and the future of machine automation in ways similar to Jean Baudrillard, Marshall McLuhan, and Paul Virilio of the …
Virtual war and magical death: technologies and imaginaries for terror and killing
NL Whitehead, S Finnström – 2013 – books.google.com
Virtual War and Magical Death is a provocative examination of the relations between anthropology and contemporary global war. Several arguments unite the collected essays, which …
Internet video culture in China: YouTube, Youku, and the space in between
ML Moskowitz – 2019 – taylorfrancis.com
Examining Internet culture in the People's Republic of China, Taiwan, Hong Kong, and the US, this book analyzes videos which entertain both English and Chinese-speaking viewers to …