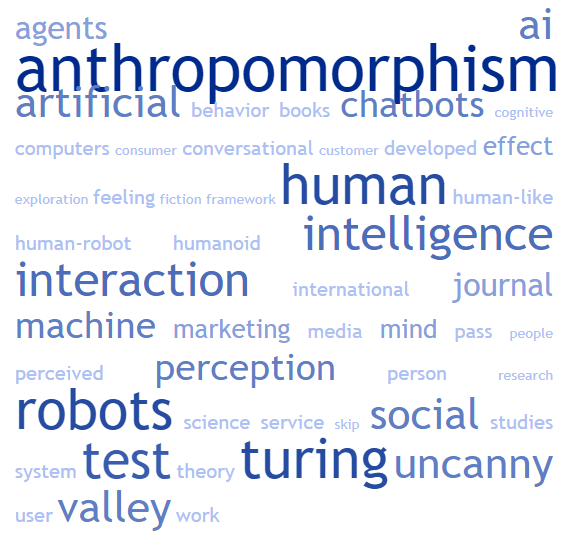 Notes:
Anthropomorphism is the attribution of human characteristics or behaviors to non-human entities, such as animals, objects, or abstract concepts. This is a common phenomenon in many cultures, and it is often used as a way to make non-human entities more relatable and understandable to humans. In the context of artificial intelligence and chatbots, anthropomorphism is often used to make these systems seem more lifelike and human-like, which can help improve the user experience and make the technology more accessible.
The Turing Test is a well-known benchmark for evaluating the performance of artificial intelligence systems. It is a test in which a human evaluator engages in a conversation with a human and a machine, without knowing which is which. If the evaluator is unable to determine which is the machine and which is the human, the machine is said to have passed the Turing Test. In this context, anthropomorphism can play a role in the performance of a chatbot on the Turing Test, as a more human-like chatbot may be more likely to pass the test.
The uncanny valley is a phenomenon in which an entity that is almost, but not quite, human-like can cause feelings of eeriness or revulsion in humans. This can occur when an artificial intelligence or chatbot is designed to be highly human-like, but falls short in certain ways that make it seem unnatural or unsettling. In this context, anthropomorphism can contribute to the uncanny valley effect, as it can make an artificial intelligence or chatbot more human-like, but also more likely to fall short of the mark and elicit an eerie response.
Wikipedia:
References:
See also:
Chatbots & Easter Eggs | Empathy & Robots | Uncanny Valley
---
Assessing the hotel service robot interaction on tourists' behaviour: the role of anthropomorphism
JW Jia, N Chung, J Hwang – Industrial Management & Data Systems, 2021 – emerald.com
… anthropomorphic robots. This research uses human–robot interaction theory to evaluate and explain customer satisfaction with service robots and the uncanny valley theory to investigate the impact of service robots on visitor behaviour and to verify the role of anthropomorphism …
Using Anthropomorphism In Movies For Promoting Humanoid Robots In The Age Of Artificial Intelligence: Ex-Machina Movie
S GÜDÜM – Diyalektolog, 2020 – academia.edu
… Using Anthropomorphism in Movies For … YEAR FINDINGS Caporael 1986 Identifying with an object, induces high affect, accompanied by anthropomorphic behavior … Chandler and Schwarz 2010 Consumers who likes to anthropomorphize their vehicles, seem to be less willing to …
The adaptation of anthropomorphism and archetypes for marketing artificial intelligence
GZ Karimova, VP Goby – Journal of Consumer Marketing, 2020 – emerald.com
… Karimova, GZ and Goby, VP (2020), "The adaptation of anthropomorphism and archetypes for marketing artificial intelligence", Journal of … Prior research revealed that a tendency to anthropomorphize artificial agents induces positive psychological and behavioral changes in …
Acceptance of Anthropomorphic Technology: A Literature Review
S Cornelius, D Leidner – … of the 54th …, 2021 – scholarspace.manoa.hawaii.edu
… may be strain due to privacy concerns [4]. A particular machine can motivate anthropomorphism in more than one dimensions based on the anthropomorphic design … explore the user perspective is to explore and identify the dimensions that users anthropomorphize AT on …
Speciesism: an obstacle to AI and robot adoption
B Schmitt – Marketing Letters, 2020 – Springer
… Philosophers have argued that once AI has passed the Turing Test, terms such … Research focusing on algorithm aversion, uniqueness neglect, and anthropomorphism is consistent … Moreover, according to Mori's (1970) "uncanny valley" hypothesis, consumers react differently to …
How perceptions of intelligence and anthropomorphism affect adoption of personal intelligent agents
S Moussawi, M Koufaris, R Benbunan-Fich – Electronic Markets, 2020 – Springer
… How perceptions of intelligence and anthropomorphism affect adoption of personal intelligent agents. Download PDF. Download PDF. Research Paper; … How perceptions of intelligence and anthropomorphism affect adoption of personal intelligent agents …
The Race Between Cognitive and Artificial Intelligence: Examining Socio-Ethical Collaborative Robots Through Anthropomorphism and Xenocentrism in Human …
AS Arora, A Arora – International Journal of Intelligent Information …, 2020 – igi-global.com
… isusefulinofficeandhomeenvironments(Spot,nd).Humansanthropomorphize robotsby … 2011).Uncannyvalleyeffect(Mori,2012)phenomenonstates thatanthropomorphicappearance of … toitsacceptanceasasocial- collaborativerobot.Criticsofroboticanthropomorphismhaveargued …
Hints of Uncanny Utterances in a Disrupted Interaction Continuum.
D Occhiuto, F Garzotto – VISIGRAPP (2: HUCAPP), 2020 – scitepress.org
… We agree with the fact that the extent to which users give human traits to agents – anthropomorphism – may be a multi … We can now sum up all the agent's per- formances to obtain the agent anthropomorphic traits by weighting the diverse … In Parsing the Turing Test, pages 23 …
The impact of chatbot conversational skill on engagement and perceived humanness
RM Schuetzler, GM Grimes… – Journal of Management …, 2020 – Taylor & Francis
… that are contingent on the messages they have received—are perceived as more anthropomorphic … Mindful anthropomorphism is the conscious application of humanness and human expectations to the … the agent is, akin to the expectations imposed by the Turing Test of artificial …
Mind the robot! Variation in attributions of mind to a wide set of real and fictional robots
O Jacobs, K Gazzaz, A Kingstone – 2020 – psyarxiv.com
… underlies the perception of human-like behavior in an anthropomorphized robot as the perception of an actual human's behavior (Gazzola et al., 2007) … interaction and predictability of robot behavior on perceptions of anthropomorphism. HRI … The anthropomorphic brain: The …
Human-Robot Handshaking: A Review
V Prasad, R Stock-Homburg, J Peters – International Journal of Social …, 2021 – Springer
… In the context of Social Robots and Human-Robot Interaction (HRI), there has been an increase in the use of anthropomorphic robots in … As the Uncanny Valley [50] hypotheses, uncanny feelings are triggered by highly human-like robots (androids) but not as realistic as a human …
AI for Feeling
RT Rust, MH Huang – The Feeling Economy, 2021 – Springer
… For example, some studies find that anthropomorphized robots (robots designed to look like humans … Stevie, an Irish anthropomorphic robot that is purposely not human-like, is warmly received … but are still discriminable from humans (ie, do not pass the Turing test), humans tend …
Uncanny Robots of Perfection
PP Boltuc, TP Connelly – Biologically Inspired Cognitive Architectures …, 2020 – Springer
… But something like the Turing Test for Robots [6] has been met only for trivial … The uncanny valley effect with respect to non-human forms may be exhibited in people … The Avatar characters are anthropomorphized aliens rather than unnatural humans—more Easter Bunny than …
Service robot implementation: a theoretical framework and research agenda
D Belanche, LV Casaló, C Flavián… – The Service Industries …, 2020 – Taylor & Francis
… android are common, often used indiscriminately, to refer to robots with anthropomorphic figures (Van … prefer to spend more time with robots presenting higher levels of anthropomorphism or perceived … The Turing test is a classic challenge; it asks whether robots can become so …
Customer contact in a digital world
SE Sampson, RB Chase – Journal of service management, 2020 – emerald.com
… oral communication has the increased complexity of intonation, and a Turing test involving fact … interacting with customers (eg social media), customers interacting with anthropomorphic devices (eg … of what we mean by "eerie," see the concept referred to as the "uncanny valley." …
Frontiers of the (non) humanly (un) imaginable. Anthropological estrangement and the making-of Persona at the Musée du Quai Branly
E Grimaud – 2020 – hal.archives-ouvertes.fr
… in all its forms, whether indis- cernible, more than human, anthropomorphic or not … the experimental sciences had experimented with perception, hallucination, anthropomorphism, and the extrapolation of … The most well-known of these, such as the Turing test or the experiments of …
The power of computer-mediated communication theories in explaining the effect of chatbot introduction on user experience
F Hendriks, CXJ Ou, AK Amiri, S Bockting – interaction, 2020 – pure.uvt.nl
… It originates in the three-factor theory of anthropomorphism that defines humanness in terms of thoughtfulness, politeness and responsiveness of the … [10] L. Qiu and I. Benbasat, "Evaluating Anthropomorphic Product Recommendation … [15] C. Vlek, "Geslaagd voor de Turing test …
The changing nature of childhood environments: investigating Children's Interactions with digital voice assistants in light of a new paradigm
J Festerling – ACHI 2020, The Thirteenth International Conference on …, 2020 – ora.ox.ac.uk
… one reasonable implication – similar to the reasoning of the original Turing Test [18] – would be … state, rather than expressing a pretended imagination of the DVAs' anthropomorphic inner state … to be human Lastly, and most importantly, the argument of anthropomorphism skips a …
The Impacts of Information-seeking Strategies and Social Presence on the Interaction between Customers and Conversational Agents
TH Nguyen – 2021 – 156.62.60.45
… Benbasat, Dimoka, Pavloi, and Qiu, 2020 Anthropomorphism, similarity-attraction theory, dissimilarity-repulsion theory … Current anthropomorphic designs of CAs may achieve a level of human-likeness close to an uncanny … Hill, Ford, and Farreras, 2015 Turing Test MANOVA
Anthropomorphization in the context of human cooperation with intelligent machines
B Schiffer – 2020 – hcommons.org
… 30 5.3 Can humans distinguish between anthropomorphized machines and machine tools … 6 A study proposal on anthropomorphic nudging in the real world … for the use-case differentiation to be successful, humans need to be able to selectively anthropomorphize only humanoid …
Distinguishablity, Indistinguishability And Robot Ethics: Calling Things By Their Right Names
A Elder – ETHICOMP 2020, 2020 – dialnet.unirioja.es
… com EXTENDED ABSTRACT In Turing's (in) famous Turing Test, he proposes that entities should … less realistic approximations of humans, thus avoiding what he calls the "Uncanny Valley" … Darling, K.(2015).'Who's Johnny?'Anthropomorphic Framing in Human-Robot Interaction …
Predicting the intentions to use chatbots for travel and tourism
S Melián-González, D Gutiérrez-Taño… – Current Issues in …, 2021 – Taylor & Francis
… Test (Oppy & Dowe, 2016), in which chatbots compete against each other to be undistinguishable from humans (eg The Loebner Prize, Chatbottle). Sheehan (2018) suggested that because chatbots are capable of free-form conversation, they can generate anthropomorphism …
Testing of a usability assessment tool for chatbots: investigating the effect of believing that a chatbot might be a human
S Neumeister – 2020 – essay.utwente.nl
… However, in 2014, a machine was able to pass the Turing test at the Royal Society London … chatbot is actually human-like because people put more trust in anthropomorphized systems … Another factor that influences trust in chatbots is the uncanny valley effect. This effect …
Human–dog relationships as a working framework for exploring human–robot attachment: a multidisciplinary review
F Krueger, KC Mitchell, G Deshpande, JS Katz – Animal Cognition, 2021 – Springer
Robotic agents will be life-long companions of humans in the foreseeable future. To achieve such successful relationships, people will likely attribute emo.
Philosophical and methodological foundations of post-Turing intelligent robotics
A Efimov – 2021 – philpapers.org
… and becomes ever more varied, including anthropomorphic, but also the corporality of man that … (Turing test) in the context of interdisciplinary development of science and technologies, as well … validated in the 70s of the last century, when the so-called uncanny valley effect was …
Talking with chatbots: the influence of visual appearance and conversational style of text-based chatbots on UX and future interaction intention
AM Stan – 2020 – essay.utwente.nl
… The Turing test was created to test the ability of online agents using natural language to converse with humans (Turing, 1950) … The chatbot that did not include the anthropomorphic elements in the messages received a lower score for anthropomorphism (M = 2.63, SD = 0.34 …
Design lessons from AI's two grand goals: Human emulation and useful applications
B Shneiderman – IEEE Transactions on Technology and …, 2020 – ieeexplore.ieee.org
… Other forms of Turing Test include visually representing a human with computer generated imagery (CGI) in a computer game or … Emulation Goal protagonists promote embodied intelligence through humanoid (or anthropomorphic) robots, which are bio-inspired (or bionic) so as …
Alexa, What Are You? Exploring Primary School Children's Ontological Perceptions of Digital Voice Assistants in Open Interactions
J Festerling, I Siraj – Human Development, 2020 – karger.com
… Hence, children's observable interactions with, and perception of, DVAs would not be the result of anthropomorphism; instead, these empirical patterns would … VAIG), an activity developed by the authors based on the original imitation game concept of the Turing Test (TT) (Turing …
Modelling User Preference for Embodied Artificial Intelligence and Appearance in Realistic Humanoid Robots
C Strathearn, M Ma – Informatics, 2020 – mdpi.com
… Thus, people empathise more with RHRs than non-anthropomorphic robots as humans feel an innate association with machines … Masahiro Mori's [17] uncanny valley (UV) hypothesis accounts for the negative psychological stimulus propagated by RHRs upon observation, as …
Robot Theatre and AI Films
IH Tuan – Pop with Gods, Shakespeare, and AI, 2020 – Springer
… Culture: Performance, Imagination and Modernity raises the concern about the "anthropomorphic and zoomorphic … Japanese engineer Masahiro Mori in 1970 published the "theory of Uncanny Valley." 9 It … is a humanoid robot in the beginning so as to administer the Turing test …
Gender of machines: is she a woman or is it a female device?
K INCARNATO, R NIRO, E ROSSI… – … e Innovazione Clinica … – medicjournalcampus.it
… Strong anthropomorphic paradigms in HCI may increase a user's expectations of the system's per- formance.(Duffy, 2003 … Concerning this interaction, it is important to distinguish how the anthropomorphism is perceived in different socie- ties … This test is called "The Turing Test" …
The human side of human-chatbot interaction: A systematic literature review of ten years of research on text-based chatbots
A Rapp, L Curti, A Boldi – International Journal of Human-Computer Studies, 2021 – Elsevier
Transforming the customer experience through new technologies
WD Hoyer, M Kroschke, B Schmitt, K Kraume… – Journal of Interactive …, 2020 – Elsevier
JavaScript is disabled on your browser. Please enable JavaScript to use all the features on this page. Skip to main content Skip to article …
The Gears and Wires of Robot Sex
R Gibson – Desire in the Age of Robots and AI, 2020 – Springer
… portrayed as a sentient antagonist, with storms, earthquakes, deserts, and oceans given anthropomorphic form or … The theory of the uncanny valley maintains that humans are desirous of 'human-likeness' in … One way we can 'know' this is the administration of the Turing Test …
Embodiment and Humanoid Robotics
T Mergner, M Funk, V Lippi – Philosophisches Handbuch Künstliche …, 2020 – Springer
… Linguistic accounts of anthropomorphic word- ing need to be explicitly identified in order to enable methodologically … This is the most obvious anthropomorphism … With these often implicit and unintended projections we tend to anthropomorphize humanoid robotics even more …
Building a stronger CASA: extending the computers are social actors paradigm
A Gambino, J Fox, RA Ratan – Human-Machine Communication, 2020 – stars.library.ucf.edu
… It is possible that participants conducted a sort of Turing test, determined that this social agent … Many media agents have thus become more anthropomorphic in the way they behave or how … Anthropomorphism is the perception of human traits or qualities in an entity and indicate …
Post-human encounters: Humanising the technological Other in videogames
I Coanda, S Aupers – New Media & Society, 2020 – journals.sagepub.com
Whether we are talking about Alexa, chat bots or a videogame character, technological artefacts are increasingly being developed to mimic different aspects of being human. However, research on peop…
Uncanny valleys: sex, power, & the artificial person
M Arruda – 2020 – via.library.depaul.edu
… irrevocably blurred? Page 5. Arruda 2 Once we pass through this uncanny valley and come out the other side, this new class of synthetic persons will necessitate a reconfiguration of slavery and labor laws. The successful creation …
"An AI doesn't need a gender "(but it's still assigned one): paradigm shift of the artificially created woman in film
J Escudero Perez – Feminist Media Studies, 2020 – Taylor & Francis
… theories on the gaze (1975), and how this could interact with the Uncanny Valley, it is … the second protocol"—and the ability to impersonate the human, ie, passing the Turing Test … Bergen judges Theo's temptation and ours to anthropomorphize her as absurd, adding that in fact …
A Conversational Agent as Facilitator: Guiding Groups Through Collaboration Processes
N Tavanapour, D Theodorakopoulos… – … Conference on Human …, 2020 – Springer
… PARRY is that it was the first system to pass a restrictive Turing test [32 … Anthropomorphized CAs with social cues such as task specific appearance [64, 65], human-likeness [64 … a shift from the perception of "likable" to "unsettling" is recognized and known as the "uncanny valley" …
Investigating Perceptions of Social Intelligence in Simulated Human-Chatbot Interactions
N Mariacher, S Schlögl, A Monz – Progresses in Artificial Intelligence and …, 2020 – Springer
… Yet, increasing levels of anthropomorphism do not always correlate with increasing levels of perceived … While the feeling of talking to a human being (ie, anthropomorphic behaviour) is … Mauldin, ML: Chatterbots, tinymuds, and the turing test: entering the loebner prize competition …
Does context matter? Effects of robot appearance and reliability on social attention differs based on lifelikeness of gaze task
A Abubshait, PP Weis, E Wiese – International Journal of Social Robotics, 2020 – Springer
Social signals, such as changes in gaze direction, are essential cues to predict others' mental states and behaviors (ie, mentalizing). Studies sho.
Mind Meets Machine: Towards a Cognitive Science of Human–Machine Interactions
ES Cross, R Ramsey – Trends in Cognitive Sciences, 2020 – Elsevier
JavaScript is disabled on your browser. Please enable JavaScript to use all the features on this page. Skip to main content Skip to article …
"How could you even ask that?": Moral Considerability, Uncertainty and Vulnerability in Social Robotics
A Elder – The Journal of Sociotechnical Critique, 2020 – digitalcommons.odu.edu
… In the field of artificial intelligence, the Turing Test is sometimes taken to give at least defeasible criteria for mentality, but its status is highly controversial, and Turing may have taken the term artificial intelligence to itself be an important means of deflecting any ethically significant …
A Comparison Of Interpolation Methods For Virtual Character Upper Body Animation
X Lei – 2020 – hammer.figshare.com
… 2007). The more anthropomorphic the characters are, the more likely viewers are to report their … conducted by Chaminade et al. (2007) to balance sensitivity, anthropomorphism, and the gender … similar to the motion Turing test where participants judge whether the motion is …
Micro-Archives and the Survival of Print in Momma Tried and Sabat
S Fazli – Journal of European Periodical Studies, 2020 – ojs.ugent.be
… It opens with the model of the 'uncanny valley', that is, the finding that robots … better imitate human bodies and speech eventually reach a point of anthropomorphic perfection where … voices are used by a machine to simulate humanlike characteristics in a Turing Test-like scenario …
An extended framework for characterizing social robots
K Baraka, P Alves-Oliveira, T Ribeiro – Human-Robot Interaction, 2020 – Springer
… human tendency of ascribing human-like qualities to non-human entities, called anthropomorphism, which has … [69] considered anthropomorphic, zoomorphic, caricatured … evoke social and emotional responses in humans, leveraging the human tendency to anthropomorphize …
The Mind in the Machine: Mind Perception Modulates Gaze Aversion During Child–Robot Interaction
L Desideri, P Bonifacci, G Croati, A Dalena… – International Journal of …, 2020 – Springer
Page 1. International Journal of Social Robotics https://doi.org/10.1007/s12369- 020-00656-7 The Mind in the Machine: Mind Perception Modulates Gaze Aversion During Child–Robot Interaction Lorenzo Desideri1,2 · Paola …
Spoken Dialogue for Social Robots
T Kawahara, K Jokinen – interspeech2020.org
Page 1. Spoken Dialogue for Social Robots Tatsuya Kawahara (Kyoto University, Japan) 1 Kristiina Jokinen (AIST AI Center, Japan) Page 2. Spoken Dialogue Systems (SDS) are prevailing • Smartphone Assistants • Smart Speakers What about Social Robots? • Social Robots …
A Framework for Collaborative Artificial Intelligence in Marketing
MH Huang, RT Rust – Journal of Retailing, 2021 – Elsevier
… Reflected in marketing studies, some studies find support for replacement, such as consumer perceived warmth and liking of anthropomorphized robots (Kim, Schmitt, and Thalmann 2019) and anthropomorphized display of product and consumer's attachment and willingness …
Effects of Agency Locus And Transparency of Artificial Intelligence: Uncertainty Reduction and Emerging Mind
B Liu – 2020 – etda.libraries.psu.edu
… Underlying the influence of agency locus and transparency of AI on trust are both a route of anthropomorphism (person presence ? Page 4. iv uncertainty reduction ? trust) and a non-anthropomorphism route of mind perception (perceived …
News from Artificial Intelligence is Believed Less
C Longoni, A Fradkin, L Cian… – Available at SSRN …, 2021 – papers.ssrn.com
… by humans (Brown et al., 2020; Kreps, McCain, & Brundage, 2020; Zellers et al., 2019). Although AI reporting can pass the Turing test, it is unclear how disclosing whether an … uncanny valley. Cognition, 125, 125–130 … The mind in the machine: Anthropomorphism …
Human Rights of Users of Humanlike Care Automata
LF Miller – Human Rights Review, 2020 – Springer
… An MHA may best be considered as one which has passed a kind of modified Turing test (MTT) for humanlike automata: A panel of (non-technically expert) witnesses, perhaps as audience before a stage, would not distinguish the automaton from a human after observation over …
AI and Constitutionalism: The Challenges Ahead
C Casonato – Reflections on Artificial Intelligence for Humanity, 2021 – Springer
… The use of anthropomorphic robots in certain sectors also raises concern. With reference to the so-called Uncanny Valley [100], we may feel cheated or deceived, for example, when we hand over information about our … As is well known, this is at the center of the Turing test [99] …
On the usefulness of the preliminary Usability Satisfaction Questionnaire (USQ), its dimensionality, and the impact of user characteristics
A Dehmel – 2020 – essay.utwente.nl
… Seventy years have passed since Alan Turing introduced the Turing test to determine a machines' cognitive abilities. If a certain … A phenomenon further contributing to this reasoning is the so-called uncanny valley effect, which suggests that …
"Understanding How Chatbots Work": An Exploratory Study of Mental Models in Customer Service Chatbots
S Ordemann – 2020 – duo.uio.no
… humanlike agent as possible. In an annual tournament, Loebner Prize Turing Test, chatbots … Implementations of social cues influence user's thinking towards chatbots, such as the phenomena of anthropomorphism (Araujo, 2018). Anthropomorphism refers to "attributing …
Across Anthropology: Troubling Colonial Legacies, Museums, and the Curatorial
M von Oswald, J Tinius – 2020 – library.oapen.org
… 76 Fig. 1.2 Uncanny Valley Graph. Cited in: Mori (2012 [1970]: 99) 79 …
Artificial Humanities: A Literary Perspective on Creating and Enhancing Humans from Pygmalion to Cyborgs
N Beguš – 2020 – search.proquest.com
… 225 4.1 First, Anthropomorphism ….. 228 4.1.1 A Humanoid Entity as a Paralyzed Person: Neškovi? ….. 231 … 80 Figure 4 The uncanny valley according to Masahiro Mori …
How Should My Chatbot Interact? A Survey on Social Characteristics in Human–Chatbot Interaction Design
AP Chaves, MA Gerosa – International Journal of Human …, 2020 – Taylor & Francis
Chatbots' growing popularity has brought new challenges to HCI, having changed the patterns of human interactions with computers. The increasing need to approximate conversational interaction style…
Deceitful media: Artificial intelligence and social life after the Turing test
S Natale – 2021 – books.google.com
Page 1. DECEITFUL MEDIA Artificial Intelligence and Social Life after the Turing Test SIMONE NATALE Page 2. Deceitful Media Page 3. Page 4. Deceitful Media Artificial Intelligence and Social Life after the Turing Test Simone Natale 1 Page 5 …
Dual humanness and trust in conversational AI: A person-centered approach
P Hu, Y Lu – Computers in Human Behavior, 2021 – Elsevier
JavaScript is disabled on your browser. Please enable JavaScript to use all the features on this page. Skip to main content Skip to article …
The Effects of Perceived Competence, Predictability, and Context of Interaction on Perceived Human-Likeness and Human-AI Interactions
ST Jesso – 2020 – search.proquest.com
… 1 Competence and Anthropomorphism ….. 2 Perception of Animate vs … 5 The Turing Test ….. 6 Human-AI Interactions ….. 7 …
The 'Other' Actor
N Masura – Digital Theatre, 2020 – Springer
… In addition to enacting a performative demonstration of the Turing Test of whether a computer can pass as human (Turing 1950, p. 433), it is a depiction of the boundary between humans and … Artists tend to do that (anthropomorphize) by putting faces on the display in the show …
The Feeling Economy: How Artificial Intelligence Is Creating the Era of Empathy
HA Intelligence – Springer
… It also seems foolish to write off AI's capabilities when it comes to feeling. The great AI pioneer, Alan Turing, developed his famous Turing test as a way of testing AI. In the Turing test, if a human observer can't tell the difference between AI behavior vs …
A posthuman exploration of the robot in contemporary science fiction films
A Bhana – 2020 – eprints.hud.ac.uk
Page 1. University of Huddersfield Repository Bhana, Aliyah A posthuman exploration of the robot in contemporary science fiction films Original Citation Bhana, Aliyah (2020) A posthuman exploration of the robot in contemporary science fiction films …
AI in Talent Development: Capitalize on the AI Revolution to Transform the Way You Work, Learn, and Live
M Meacham – 2020 – books.google.com
Page 1. margie meacham splode! 010011 100101 111010 FL 0101 1001 ai in talent development capitalize on the ai revolution to transform the way you work, learn, and live ald PRESS Page 2. © 2021 ASTD DBA the Association …
A strategic framework for artificial intelligence in marketing
MH Huang, RT Rust – Journal of the Academy of Marketing Science, 2020 – Springer
The authors develop a three-stage framework for strategic marketing planning, incorporating multiple artificial intelligence (AI) benefits: mechanical AI f.
Machine learning for dummies
JP Mueller, L Massaron – 2021 – books.google.com
Page 1. Machine Learning 2nd Edition by John Paul Mueller and Luca Massaron FM.indd i December 30, 2020 2:10 AM Trim size: 7.375 in × 9.25 in Page 2. Machine Learning For Dummies®, 2nd Edition Published by: John …
Suspicious Minds: The Link Between Stress and Perceptions of Agency
J Meier – 2020 – researcharchive.vuw.ac.nz
… 2019)2. We perform the Turing Test every day when we decide which things have minds and which do not (Wegner & Gray, 2016) … 2 If you are curious what people do when the Turing Test is turned against them, see McCoy and Ullman (2018) …
A human algorithm: how artificial intelligence is redefining who we are
F Coleman – 2020 – books.google.com
… REDRAWING THE SOCIETAL ROAD MAP Automation and Wealth Disparity Growing and Thriving Curious and Creative Navigating the Politics Redrawing the Societal Road Map The Awakening 8 | SEARCHING FOR THE DIGITAL SOUL The Uncanny Valley Self-Aware …
Addressing the Recommender System Data Solicitation Problem with Engaging User Interfaces
Q Dao – 2020 – hammer.figshare.com
… 43 5.4 Mimicking Human Interaction for Engagement ….. 46 5.4.1 Anthropomorphism ….. 47 … 108 APPENDIX C. ANTHROPOMORPHISM INDEX ….. 114 …
Computers, People, and Thought: From Data Mining to Evolutionary Robotics
M Eaton – 2020 – books.google.com
… 5.2 Asimov's Laws and Turing's Test . . . . 5.3 Bio-inspired Computation and Beyond … 8.1.1 From the Reality Gap: Into the Uncanny Valley … 9.5.2 The Japanese Approach to Spirituality . . . 9.5.3 Cute Anthropomorphic Robots …
Robotization of work?: Answers from popular culture, media and social sciences
B Czarniawska, B Joerges – 2020 – books.google.com
Page 1. BARBARA CZARN AWSKA BERNWARD |OERGES Elgar ROBOTIZATION OF WORK? Answers from Popular Culture, Media and Social Sciences Page 2. Robotization of Work? Page 3. Page 4. Robotization of Work …
Human-Robot Interaction
C Jost, B Le Pévédic, T Belpaeme, C Bethel… – 2020 – Springer
… 3https://sites.google.com/view/emshri2017/. Introduction and Book Overview xv Page 16. • AMPH: A New Short Anthropomorphism Questionnaire • Employing Nonparametric Statistics in Human-Robot Interaction Experimental Studies: An Alternative Approach …
Conceptual metaphors impact perceptions of human-ai collaboration
P Khadpe, R Krishna, L Fei-Fei, JT Hancock… – Proceedings of the …, 2020 – dl.acm.org
… The notion of "metaphors" extends beyond conversational AI to non-anthropomorphic systems that "personas" or "roles" may be ill-equipped to describe. Metaphors are effective: they influence a person's folk theories of an AI system even before they use it [19] …
Understanding Chatbot Service Encounters: Consumers' satisfactory and dissatisfactory experiences
X Yang, EL Oikarinen, S Saraniemi – Marketing, 2020 – jultika.oulu.fi
… humans are likely to see chatbots' characteristics as humanlike due to anthropomorphism (Lee, 2018) … Turing Test in 1950 opened the door for AI, which came up with an idea called … which helps chatbots to understand and interact with humans in an anthropomorphic …
The Machine in the Novel: Fictional Human-Machine Interactions at the European Periphery (ca. 1870-1914)
A Ilievska – 2020 – search.proquest.com
Page 1. THE UNIVERSITY OF CHICAGO THE MACHINE IN THE NOVEL: FICTIONAL HUMAN-MACHINE INTERACTIONS AT THE EUROPEAN PERIPHERY (ca.1870-1914) A DISSERTATION SUBMITTED TO THE FACULTY OF THE DIVISION OF THE HUMANITIES …