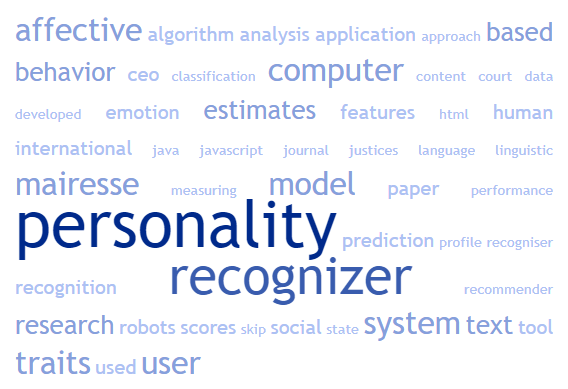 Notes:
Trait organization refers to the pattern in which an individual's personality characteristics are related and work together to create a unique and integrated whole. Personality traits are individual characteristics that describe the way a person thinks, feels, and behaves. Trait organization is important because it helps to explain how an individual's personality traits interact with each other and contribute to their overall personality.
A Personality Recognizer is a tool or algorithm that is used to identify and distinguish an individual's personality traits. This could involve using various methods, such as psychological tests or interviews, to gather data on the person's characteristics and behavior. The goal of a Personality Recognizer is to build a detailed profile of the individual's personality in order to gain insights into their behavior, thoughts, and emotions.
Personality Recognizers are often used in a variety of different settings, such as psychology, marketing, or human resources. In psychology, Personality Recognizers could be used to diagnose mental health conditions or to understand an individual's behavior and motivations. In marketing, Personality Recognizers could be used to target advertisements or marketing messages to individuals based on their personality traits. In human resources, Personality Recognizers could be used to identify individuals who are well-suited to certain job roles or work environments.
Resources:
Wikipedia:
References:
See also:
Automated Personality 2018 | Human Personality & Computational Models 2020 | Personality Engines
---
A portable personality recognizer based on affective state classification using spectral fusion of features
A Basu, A Dasgupta, A Thyagharajan… – IEEE Transactions …, 2018 – ieeexplore.ieee.org
In this paper, we introduce a system named Portable Personality Recognizer (PPR), which classifies the personality of an individual using his/her transitions of affective states. This work attempts to reveal the latent relationship between emotions and personality of a …
Toward real-time personality recognizer for social human-robot interaction
H Bhin, Y Lim, J Choi – cares.blogs.auckland.ac.nz
? Personality is one of the typical behavioral traits of person in various situation. For a long time, the relationship between personality and human behavior has been studied in the field of psychology? To build more natural interaction between human and robot, robot needs to …
Talking Heads: Measuring Elite Personality Using Speech
GE Hollibaugh, J Klingler, A Ramey – 2015 – publications.ut-capitole.fr
… Nevertheless, this effect would simply attenuate 2The categories are found in the appendix. 3JAVA code for Mairesse et al.'s (2007) Personality Recognizer program is found at http://people.csail.mit. edu/francois/research/personality/recognizer.html …
Recognition of personality traits using word vector from reflective context
H Bhin, Y Lim, J Choi – 2019 7th International Conference on …, 2019 – ieeexplore.ieee.org
… We are planning to develop a real time personality recognizer that operates with utterance in the human-robot interaction situation … Then, through experiment and performance verification, we made a foundation that can be extended to automatic personality recognizer …
Mining Personality Traits from Social Text Messages
HC Yang, CH Lee, CY Yeh – Proceedings of the 7th Multidisciplinary in …, 2020 – dl.acm.org
… The first method used the Personality Recognizer tool developed by Mairesse et al … The Personality Recognizer is a Java command-line application that reads a set of text files and computes estimates of personality scores along the OCEAN traits …
How do personality traits affect communication among users in online social networks?
JM Balmaceda, S Schiaffino, D Godoy – Online Information Review, 2014 – emerald.com
… In this work we used a software application to detect users' personality, named Personality Recogniser (http://people.csail.mit.edu/francois/research/personality/ recogniser.html), based on the models proposed by Mairesse et al. (2007) …
A comparative evaluation of personality estimation algorithms for the twin recommender system
A Roshchina, J Cardiff, P Rosso – … of the 3rd international workshop on …, 2011 – dl.acm.org
… crawled from the TripAdvisor [13]. They are provided by the Personality Recognizer tool utilized by the TWIN system and include linear regression , M5′ model tree, M5′ regression tree and support vector machines. Our goal is to …
Automatic evaluation of neural personality-based chatbots
Y Xing, R Fernández – arXiv preprint arXiv:1810.00472, 2018 – arxiv.org
… In addi- tion, we estimate the personality of each charac- ter as follows: for each character, we randomly select 50 samples of 500 utterances each, and esti- mate the OCEAN scores for each sample using the personality recogniser by Mairesse et al …
Evaluating the Similarity Estimator component of the TWIN Personality-based Recommender System.
A Roshchina, J Cardiff, P Rosso – LREC, 2012 – researchgate.net
… It consists of two components, the Personality Recognizer (Mairesse, 2007) and the Profile Creator. The Personality Recognizer allows the estimation of the personality from the text by calculating the overall percentage of words …
Text mining on player personality for game recommendation
HC Yang, CS Lin, ZR Huang, TH Tsai – Proceedings of the 4th …, 2017 – dl.acm.org
… developed a tool, namely Personality Recognizer, which provides 4 prediction models to identify the scores of five personality traits … According to the result of personality recognizer, we may iden- tify the Big Five personality traits of a game G by the following equation …
Predicting personality traits of Chinese users based on Facebook wall posts
KH Peng, LH Liou, CS Chang… – 2015 24th Wireless and …, 2015 – ieeexplore.ieee.org
… The rest of the paper is organized as follows. In Section 2, we provide the background information about personality recognizer, including the Big Five personality model and related works. In Section 3, we introduce the models used in our experiments …
Twin: Personality-based intelligent recommender system
A Roshchina, J Cardiff, P Rosso – Journal of Intelligent & …, 2015 – content.iospress.com
… [35, 36]. The system includes the following components: Data Processor, Personality Recogniser, Profile creator, Similarity Estimator and Results Visualiser (Fig. 1). 3.4.1Data preprocessor. The … 3.4.2Personality Recogniser. To …
User profile construction in the twin personality-based recommender system
A Roshchina, J Cardiff, P Rosso – … on Sentiment Analysis where AI meets …, 2011 – aclweb.org
… Reviews Processor The Reviews Processor component retrieves the textual data from the user (plain text written by person) and does the text preprocessing step (dealing with special characters, etc.). Personality Recognizer … Using the Personality Recognizer …
Inferring Big Five Personality Factors Using Text Analysis Its Assessment and Impact on Prosocial Behavior and IS Security Compliance
BJB Koffi – 2020 – search.proquest.com
… The first essay is conducted to validate three services/programs, namely, IBM Watson Personality Insights, Indico, and Personality Recognizer … case of extraversion measures. Both Indico and Personality Recognizer also showed similarity in the prediction of openness …
Mining personality traits from social messages for game recommender systems
HC Yang, ZR Huang – Knowledge-Based Systems, 2019 – Elsevier
JavaScript is disabled on your browser. Please enable JavaScript to use all the features on this page. Skip to main content Skip to article …
The Multiple Hazards of Using Concurring Opinions to Estimate Personality Traits of US Supreme Court Justices
RC Black, RJ Owens, J Wedeking… – Available at SSRN …, 2019 – papers.ssrn.com
… These authors estimate justices' personalities by analyzing their concurring opinions with the Personality Recognizer program (Mairesse et al. 2007). The … Personality Recognizer, employing the same settings as used by Hall (2018). We undertake four comparisons …
Quantitative study of music listening behavior in a social and affective context
YH Yang, JY Liu – IEEE Transactions on Multimedia, 2013 – ieeexplore.ieee.org
… to establish the tripartite relationship between music emotion, user mood, and music listening behavior. Moreover, to access the personal traits of the bloggers, the text-based Personality Recognizer [38] is employed … with the use of the Personality Recognizer [38], [39] …
Considerations in Personality Measurement: Replicability, Transparency, and Predictive Validity
MEK Hall, GE Hollibaugh, JD Klingler, AJ Ramey – 2021 – journals.uchicago.edu
… Page 3. WPI) and HHKR using an open-source method via a Java applet called the Personality Recognizer (Mairesse et al … For example, in their book, Black et al. (2020) lamented that the "Personality Recognizer" was no longer supported by the developer …
Measuring CEO personality: Developing, validating, and testing a linguistic tool
JS Harrison, GR Thurgood, S Boivie… – Strategic Management …, 2019 – Wiley Online Library
Research Summary We introduce to the upper echelons literature a novel, linguistic measure of CEOs' Big Five personality traits that we specifically developed and validated using a sample of CEOs. …
A model for synthesizing a combined verbal and nonverbal behavior based on personality traits in human-robot interaction
A Aly, A Tapus – 2013 8th ACM/IEEE International Conference …, 2013 – ieeexplore.ieee.org
… A. Personality Recognizer Personality markers in language had received lot of interest from psycholinguistic studies … This first step is used by the robot to automatically identify the user's personality based on the linguistic cues (the Personality Recognizer tool is used) …
Inferring Trust Using Personality Aspects Extracted from Texts
J Granatyr, HM Gomes, JM Dias… – … on Systems, Man …, 2019 – ieeexplore.ieee.org
… to change/excitement. IV. PERSONALITY AND TEXTS One of the first tools for personality extraction from texts based on the Big Five Model was developed in [27] and was called Personality Recognizer. Since then other works …
Toward Gamified Personality Acquisition in Travel Recommender Systems
F Teklemicael, Y Zhang, Y Wu, Y Yin, C Xing – International Conference on …, 2016 – Springer
… Therefore, we employed the Personality Recognizer [16] mentioned in Sect. 2 to calculate personality scores of the authors/users from our Trip Advisor dataset … The Personality Recognizer outputs personality scores based on the FFM ranging from 1?7 for each domain …
Attributes beyond attitudes: Measuring personality traits on the US Supreme Court
M Hall, G Hollibaugh, J Klingler… – Available at SSRN …, 2016 – papers.ssrn.com
… minimizes the possibility of content bias in the measures. We used the Personality Recognizer (Mairesse et al. 2007) to generate SCIPEs for each "Big … methods (Tausczik and Pennebaker 2010). Similarly, the Personality Recognizer was developed …
Using nuances of emotion to identify personality
S Mohammad, S Kiritchenko – … AAAI Conference on Weblogs and Social …, 2013 – aaai.org
… scores representing stronger 2http://mypersonality.org/wiki/doku.php?id=wcpr13 3http://www.liwc.net 4http://people.csail.mit.edu/francois/research/personality/ recognizer.html 5http://www.typealyzer.com associations. The lexicon …
Measuring elite personality using speech
AJ Ramey, JD Klingler, GE Hollibaugh – Political Science Research …, 2019 – cambridge.org
… 6 JAVA code for Mairesse et al.'s (2007) Personality Recognizer program is found at http://people.csail.mit.edu/ francois/research/personality/recognizer.html. The program performs both the LIWC and MRCPD processing as well as the fitting of the machine learning models …
2018 Index IEEE Transactions on Affective Computing Vol. 9
MK Abadi, A Acakpovi, J Aigrain – IEEE Transactions on Affective …, 2019 – computer.org
… Sept. 2018 299-302,Basu, A.,, Dasgupta, A., Thyagharajan, A., Routray, A., Guha, R., and Mitra,,P., A Portable Personality Recognizer Based on Affective State,Classification Using Spectral Fusion of Features;,T-AFFC July -Sept …
Towards enhancing human-robot relationship: customized robot's behavior to human's profile
A Aly, A Tapus – 2014 AAAI Fall Symposium Series, 2014 – aaai.org
… The system's architecture contains different subsystems: (1) Personality recognizer toolkit, which estimates human's personality traits through performing a psycho-linguistic analysis on the dictated lan- guage, (2) PERSONAGE natural language generator, which adapts the …
Do realismo à constitucionalização do direito internacional.
CTL da Silva – Revista do Direito Público, 2014 – uel.br
… right . This axiom weakened by the absolutism of sovereignty acquires, also in international relations, constitutional rules tutelage of his personality recognizer already detached from territoriality required by diplomatic protection …
Classification Algorithms to Predict Students' Extraversion-Introversion Traits
L Ge, H Tang, Q Zhou, Y Tang… – … on Cyberworlds (CW), 2016 – ieeexplore.ieee.org
… Twitter based on Big Five Model. They clustered the 18,435 Tweets (Twitter messages) into 41 groups, and the groups were labeled by Personality Recognizer 813: which is described above. Then a Naïve Bayes classifier, a …
Predicting programmers' personality via interaction behaviour with keyboard and mouse
IA Khan, O Khalid, W Jadoon, RU Shan, AN Nasir – PeerJ PrePrints, 2015 – peerj.com
… of 54 technologies like semantic web and userML (User Model Mark-up Language) (Heckmann, 2005). 55 Personality recognizer from linguistic and conversational cues were also introduced (Mairesse et 56 al., 2007). There …
Devanagari digit recognition by using artificial neural network
R Dhakad, D Soni – 2017 International Conference on Energy …, 2017 – ieeexplore.ieee.org
… Handwriting recognition may be achieved by character, digit and sentence level. a personality recognizer has to be trained with sample characters from the alphabets utilized in the language. There square measure 2 approaches for the of isolated written syllabic script digits …
Guest editorial: apparent personality analysis
S Escalera, X Baró, I Guyon… – IEEE Transactions on …, 2018 – ieeexplore.ieee.org
… regression results. The link between affect and personality is explored in the article entitled "A Portable Personality Recognizer based on Affective State Classification using Spectral Fusion of Features" by A. Basu et al.. The …
Deep learning-based document modeling for personality detection from text
N Majumder, S Poria, A Gelbukh… – IEEE Intelligent …, 2017 – ieeexplore.ieee.org
… shorter). Extracting document-level features. We used Mairesse and colleagues' library (http://farm2.user.srcf.net /research/personality/recognizer .html) to extract the 84 Mairesse fea- tures from each document.4 Sentence filtering …
Examining Personality Differences in Chit-Chat Sequence to Sequence Conversational Agents
Y Xing – 2017 – eprints.illc.uva.nl
… 16 2.2.4 Personality Recognizer … Based on the correlation between language traits and OCEAN, researchers have proposed personality recognizer: with texts or speeches of a person, his/her personality can be automatically examined with this system …
TWIN: Personality-based Recommender System
A Roshchina – Institute of Technology Tallaght, Dublin, 2012 – users.dsic.upv.es
… 50 4.4 User profile construction ….. 53 4.5 Comparison of the performance of Personality Recogniser Algorithms ….. 56 4.6 Summary ….. 58 …
1993 Statement of Recusal Policy, 292 20,000 Leagues Under the Sea, 32
HJ Abraham – cambridge.org
Page 1. Index 1993 Statement of Recusal Policy, 292 20,000 Leagues Under the Sea, 32 AT Massey Coal Company, 290, 291n Abraham, Henry J., 1 actuaries, 29 Affordable Care Act, 286n Affordable Care Act cases, See National …
Finding valuable yelp comments by personality, content, geo, and anomaly analysis
J Koven, H Siadati, CY Lin – 2014 IEEE International …, 2014 – ieeexplore.ieee.org
… For the personality analysis we separated and consolidated the reviews by reviewer into individual files. The MIT Personality Recognizer Tool (PRT) [5] is used to analyze and create a personality profile for each reviewer. The …
An ensemble classification approach for prediction of user's next location based on Twitter data
S Kumar, MI Nezhurina – Journal of Ambient Intelligence and Humanized …, 2019 – Springer
… Such people are ready to accept new challenges and are very creative. The personality recognizer tool (PRT) (Matthews et al. 2009; PersonalityRecognizerTool 2018) has been used to estimate the personality scores for all the profiles in the data set …
GARS: Real-time system for identification, assessment and control of cyber grooming attacks
D Michalopoulos, I Mavridis, M Jankovic – Computers & security, 2014 – Elsevier
JavaScript is disabled on your browser. Please enable JavaScript to use all the features on this page. Skip to main content Skip to article …
Attributes Beyond Attitudes: Personality Traits on the US Supreme Court
MEK Hall, GE Hollibaugh, JD Klingler, AJ Ramey – 2021 – journals.uchicago.edu
… Estimating Justice Personality Traits We used the Personality Recognizer (Mairesse et al. 2007) to generate SCIPEs for each "Big … 9Java code for the Personality Recognizer is found at http://people.csail.mit.edu/francois/research/personality/ recognizer.html …
Towards an intelligent system for generating an adapted verbal and nonverbal combined behavior in human–robot interaction
A Aly, A Tapus – Autonomous Robots, 2016 – Springer
… An overview of the system architecture is illustrated in Fig. 1. 3.1 Personality recognizer Personality markers in language had received a lot of interest from psycholinguistic studies. Scherer (1979), Furn- ham (1990), and Dewaele and Furnham (1999) described …
On Estimating Personality Traits of US Supreme Court Justices
RC Black, RJ Owens, J Wedeking, PC Wohlfarth – 2021 – journals.uchicago.edu
… come? Typically, scholars will employ texts of a more "natural" cast to estimate personality. Personality Recognizer—the approach utilized by Hall et al. (2021)—repurposed a corpus of essays written by undergraduate psychology students who responded to a prompt that …
Data Formats for Emotion and Personality
MASN Nunes, J Granatyr – almanaquesdacomputacao.com.br
… Additionally, Table 6 presents all 5 papers as a proprietary model. From that, 2 papers labeled their model, they are: (i) paper 7: titled as Personality Recognizer; and (ii) paper 8: titled as User Psychological Profile (UPP) … Personality Recognizer 8. Yes …
What justices want: Goals and personality on the US Supreme Court
MEK Hall – 2018 – books.google.com
Page 1. Page 2. What Justices Want The most sophisticated theories of judicial behavior depict judges as rational actors who strategically pursue multiple goals when making decisions. However, these accounts tend to disregard …
More than a feeling: Personality and Congressional behavior
A Ramey – APSA 2014 Annual Meeting Paper, 2014 – papers.ssrn.com
… 10JAVA code for the approach is found here: http://people.csail.mit.edu/francois/research/ personality/recognizer.html. 15 Page 17 … cues tied to personality, which are not known to legislators, but which may be captured by the personality recognizer algorithm described above …
Learning Complex Users' Preferences for Recommender Systems
S Yakhchi – arXiv preprint arXiv:2107.01529, 2021 – arxiv.org
… 90 4.6 Overall framework of TWIN [2] including data processor, personality recogniser, profile creator, similarity estimator, and results visualiser. . . . . 91 4.7 Graphical model for the CTR framework [3]. . . . 92 …
Using an affective multimedia learning framework for distance learning to motivate the learner effectively
M Leontidis, C Halatsis… – International Journal of …, 2011 – inderscienceonline.com
… This component (Figure 1) is composed by three subcomponents, the personality recogniser (PR), the mood recogniser (MR) and the emotion recogniser (ER), which are responsible for the recognition of the personality, mood and emotions of the student …
The Conscientious Justice: How Supreme Court Justices' Personalities Influence the Law, the High Court, and the Constitution
RC Black, RJ Owens, J Wedeking, PC Wohlfarth – 2019 – books.google.com
Page 1. The Conscientious Justice How Supreme Court Justices' Personalities Influence the Law, the High Court, and the Constitution Ryan C. Black, Ryan J. Owens, Justin Wedeking and Patrick C. Wohlfarth CAMBRIDGE Page 2 …
Emotion, Affect, and Personality
M McTear, Z Callejas, D Griol – The Conversational Interface, 2016 – Springer
… other application domains. The solution in these cases is to build an automatic personality recognizer. Automatic personality detection has been widely studied recently in application domains related to text mining. For example …
More than a Feeling
GE Hollibaugh, J Klingler, A Ramey – 2014 – publications.ut-capitole.fr
… 12JAVA code for the approach is found here: http://people.csail.mit.edu/francois/research/ personality/recognizer.html … cues tied to personality, which are not known to legislators, but which may be captured by the personality recognizer algorithm described above …
Personality predicting model based on user's linguistic behavior
Y Nie, G Gao, Y Wang, D Liu… – 2017 9th International …, 2017 – ieeexplore.ieee.org
… The main process is given in the pseudo-code below? IV. EXPERIMENTS AND RESULTS To evaluate the accuracy of the personality analysis model of Chinese personality recognizer, the paper chooses the largest platform Sina to get users' micro-blog posts as dataset …
Mining Linguistic Clues From Social Network: Impact of CEO Personality on Business Performance.
S Wang, X Chen – CONF-IRM, 2018 – aisel.aisnet.org
… shallow, unimaginative). Mairesse et al. (2007) trained predictive models for recognition of all Big Five personality traits, on both conversation and written text. They released their trained models on the Internet (http://farm2.user.srcf.net/research/personality/recognizer.html) …
Using hashtags to capture fine emotion categories from tweets
SM Mohammad, S Kiritchenko – Computational Intelligence, 2015 – Wiley Online Library
Detecting emotions in microblogs and social media posts has applications for industry, health, and security. Statistical, supervised automatic methods for emotion detection rely on text that is lab…
Personality-aware followee recommendation algorithms: An empirical analysis
A Tommasel, A Corbellini, D Godoy… – … Applications of Artificial …, 2016 – Elsevier
JavaScript is disabled on your browser. Please enable JavaScript to use all the features on this page. Skip to main content Skip to article …
Personality Trait Recognition on Twitter
B Bermeitinger, T Weißgerber – 2015 – pars.ie
… But there may be a moral limit on how deep a personality recognizer is allowed to work. References [1] Fabio Celli et al. "Workshop on Computational Personality Recognition: Shared Task". In: WCPR13. 2013. [2] Continuum-Analytics. Anaconda …
Affective State Analysis Through Visual and Thermal Image Sequences
S Nayak, V Sharma, SK Panda, S Uttarkabat – Emerging Technologies in …, 2021 – Springer
… Euro. Psych. 18(4), 155–160 (2003)CrossRefGoogle Scholar. 5. Basu, A., Dasgupta, A., Thyagharajan, A., Routray, A., Guha, R., Mitra, P.: A portable personality recognizer based on affective state classification using spectral fusion of features. IEEE Trans. Affect. Comput …
What is (s) he worth? exploring mechanisms and boundary conditions of the relationship between CEO extraversion and pay
S Malhotra, W Shen, PC Zhu – British Journal of Management, 2021 – Wiley Online Library
Abstract Integrating human capital theories and the status incongruity hypothesis at the upper echelons, we examine for whom extraversion, the personality trait that has been most strongly and cons…
Personality Traits Prediction Based on Sparse Digital Footprints via Discriminative Matrix Factorization
S Wang, D Zhang, L Cui, X Lu, L Liu, Q Li – International Conference on …, 2021 – Springer
… 2019JZZY011007. References. 1. Basu, A., Dasgupta, A., Thyagharajan, A., Routray, A., Guha, R., Mitra, P.: A portable personality recognizer based on affective state classification using spectral fusion of features. IEEE Trans. Affect. Comput …
CEO extraversion and the cost of equity capital
B Adebambo, RM Bowen, S Malhotra… – Available at SSRN …, 2019 – papers.ssrn.com
… The Mairesse et al. (2007) algorithm is available through a Java command-line application, The Personality Recognizer, which reads text files and computes estimates of personality scores for the Big Five personality traits. The algorithm was …
CEO Extraversion and Expected Cost of Capital
B Adebambo, S Malhotra, PC Zhu – 2018 – efmaefm.org
… calls. Mairesse et al. (2007) algorithm is available through a Java command-line application, The Personality Recognizer, which reads text files and computes estimates of personality scores along the Big Five personality dimensions …
Identification and Prediction of Human Behavior through Mining of Unstructured Textual Data
MR Davahli, W Karwowski, E Gutierrez, K Fiok… – Symmetry, 2020 – mdpi.com
The identification of human behavior can provide useful information across multiple job spectra. Recent advances in applying data-based approaches to social sciences have increased the feasibility of modeling human behavior. In particular, studying human behavior by analyzing …
Personality Traits of GitHub Maintainers and Their Effects on Project Success
S Yun – 2020 – uwspace.uwaterloo.ca
… Some of its limitations will be discussed in-depth in Chapter 5.2. Another method called the Personality Recognizer by Mairesse et al. [37] was built on top of LIWC dimensions by incorporating additional features from the MRC Psycholin- guistic database …
A large-scale, in-depth analysis of developers' personalities in the apache ecosystem
F Calefato, F Lanubile, B Vasilescu – Information and Software Technology, 2019 – Elsevier
The Biology of M&A
O Josefsson, F Nilsson – 2020 – lup.lub.lu.se
Page 1. Lund University Master's Thesis The Biology of M&A CEO Personality Psychology in Corporate Takeovers Authors: Filip Nilsson Olle Josefsson Supervisor: Håkan Jankensgård Department of Business administration …
It pays to be extraverted: Executive personality and career outcomes
TC Green, R Jame, B Lock – 2016 – Citeseer
… For each report, we retrieve an identifying 6 Trained model files for the Weka toolkit (Witten and Frank, 2005) are available at: http://farm2.user.srcf.net/research/personality/recognizer. 7 Concreteness refers to the ability to see, hear or touch something (eg desk, chair) …
Do Auditors Price CEO-CFO Conflict?
RM Bowen, JK Jollineau, S Lyon, S Malhotra, P Zhu – community.bus.emory.edu
… The Mairesse et al. (2007) algorithm is available through a Java command-line application, The Personality Recognizer, which reads text files and computes estimates of personality scores along the Big Five personality dimensions. The algorithm was …
Inferring Human Personality from Written Media
WR Wright – 2020 – search.proquest.com
… Mairesse, et al. [29] built an ambitious automated personality recognizing tool, Personality Recognizer; it uses LIWC and a comparable tool MRC [30] to extract linguistic features (principally relative frequencies of words falling in various categories such as emotion, per …
The leader-second dyad: how complementarity and status impact collective performance
BJ Dow – 2019 – repositories.lib.utexas.edu
Page 1. Copyright by Benjamin John Dow 2019 Page 2. The Dissertation Committee for Benjamin John Dow Certifies that this is the approved version of the following Dissertation: The Leader-Second Dyad: How Complementarity and Status Impact Collective Performance …
Computational assessment of facial expression production in ASD children
M Leo, P Carcagnì, C Distante, P Spagnolo… – Sensors, 2018 – mdpi.com
In this paper, a computational approach is proposed and put into practice to assess the capability of children having had diagnosed Autism Spectrum Disorders (ASD) to produce facial expressions. The proposed approach is based on computer vision components working on sequence …
Encoding Text Information with Graph Convolutional Networks for Personality Recognition
Z Wang, CH Wu, QB Li, B Yan, KF Zheng – Applied Sciences, 2020 – mdpi.com
Personality recognition is a classic and important problem in social engineering. Due to the small number and particularity of personality recognition databases, only limited research has explored convolutional neural networks for this task. In this paper, we explore the use of graph …
4. The Lure of Extraverted CEOs: How Personality and Interpersonal Dynamics Affect Acquired Firm's CEO Retention
S Pavicevic, TH Reus… – A Social-Psychological …, 2018 – scholar.archive.org
… To assess CEO personality, we followed Malhotra et al.(2017) in using "The Personality Recognizer"(Mairesse, Walker, Mehl, & Moore, 2007)–an algorithm that estimates personality scores along the Big Five personality dimensions (eg, Barrick & Mount, 1991) from the spoken …
A Cultural heritage framework using a Deep Learning based Chatbot for supporting tourist journey
G Sperlí – Expert Systems with Applications, 2021 – Elsevier
JavaScript is disabled on your browser. Please enable JavaScript to use all the features on this page. Skip to main content Skip to article …
CR-Net: A Deep Classification-Regression Network for Multimodal Apparent Personality Analysis.
Y Li, J Wan, Q Miao, S Escalera, H Fang… – International Journal of …, 2020 – cbsr.ia.ac.cn
Page 1. International Journal of Computer Vision https://doi.org/10.1007/s11263-020- 01309-y CR-Net: A Deep Classification-Regression Network for Multimodal Apparent Personality Analysis Yunan Li1,2 · Jun Wan3,4 · Qiguang …
TensorFlow-based automatic personality recognition used in asynchronous video interviews
HY Suen, KE Hung, CL Lin – IEEE Access, 2019 – ieeexplore.ieee.org
… 38, no. 2, pp. 259–277, Jan. 2014. [39] A. Basu, A. Dasgupta, A. Thyagharajan, A. Routray, R. Guha, and P. Mitra, "A portable personality recognizer based on affective state classification using spectral fusion of features," IEEE Trans. Affective Comput., vol. 9, no. 3, pp …
Recognizing CEO personality and its impact on business performance: Mining linguistic cues from social media
S Wang, X Chen – Information & Management, 2020 – Elsevier
JavaScript is disabled on your browser. Please enable JavaScript to use all the features on this page. Skip to main content Skip to article …
The acquisitive nature of extraverted CEOs
S Malhotra, TH Reus, PC Zhu… – Administrative Science …, 2018 – journals.sagepub.com
This study examines how extraversion, a personality trait that signifies more or less positive affect, assertive behavior, decisive thinking, and desires for social engagement, influences chief exe…
Emerging trends in personality identification using online social networks—a literature survey
V Kaushal, M Patwardhan – … on Knowledge Discovery from Data (TKDD), 2018 – dl.acm.org
Page 1. 15 Emerging Trends in Personality Identification Using Online Social Networks—A Literature Survey VISHAL KAUSHAL and MANASI PATWARDHAN, Vishwakarma Institute of Technology Personality is a combination …
Thermal infrared imaging-based affective computing and its application to facilitate human robot interaction: A review
C Filippini, D Perpetuini, D Cardone, AM Chiarelli… – Applied Sciences, 2020 – mdpi.com
Over recent years, robots are increasingly being employed in several aspects of modern society. Among others, social robots have the potential to benefit education, healthcare, and tourism. To achieve this purpose, robots should be able to engage humans, recognize users' emotions …
The value of personality-Using algorithms and econometrics to analyze CEO conscientiousness and its impact on M&A performance
A Gillmert, H Persson – 2019 – gupea.ub.gu.se
Page 1. GRADUATE SCHOOL The value of personality – Using algorithms and econometrics to analyze CEO conscientiousness and its impact on M&A performance Axel Gillmert Henrik Persson 2019-06-10 Abstract Even after …
A survey of multidisciplinary domains contributing to affective computing
R Arya, J Singh, A Kumar – Computer Science Review, 2021 – Elsevier
A smartphone-based drowsiness detection and warning system for automotive drivers
A Dasgupta, D Rahman… – IEEE transactions on …, 2018 – ieeexplore.ieee.org
Page 1. IEEE TRANSACTIONS ON INTELLIGENT TRANSPORTATION SYSTEMS, VOL. 20, NO. 11, NOVEMBER 2019 4045 A Smartphone-Based Drowsiness Detection and Warning System for Automotive Drivers Anirban …
Multi-Scenario Fusion for More Accurate Classifications of Personal Characteristics
A Guo, H Jiang, J Ma – 2020 IEEE Intl Conf on Dependable …, 2020 – ieeexplore.ieee.org
Page 1. Multi-Scenario Fusion for More Accurate Classifications of Personal Characteristics Ao Guo Graduate School of Computer and Information Sciences Hosei University To;yo 184-8584, Japan guo.ao.33@stu.hosei.ac.jp …
Intertwining cognitive and affective intelligence into digital artifacts: An infrastructural approach
M Pathak, B Verma, R Patel – 2012 4th International …, 2012 – ieeexplore.ieee.org
… Routine Processes of System User's Affective & Cognitive Space User's Mood User's Emotion User's Status User's Personality Facial Expression Recognizer User Personality Recognizer User Status Analyzer Face Image Grabber Data from User- profile and Log file Page 7 …
Natural Language Processing Research with NAO Robots
J De Smedt – scriptieprijs.be
Page 1. Faculteit Letteren en Wijsbegeerte Bachelorscriptie Taal- en Letterkunde Bachelor Engels-Frans Natural Language Processing Research with NAO Robots Jessica De Smedt Promotor: Prof. Dr. Walter Daelemans Assessor: Dr. Guy De Pauw Universiteit Antwerpen …