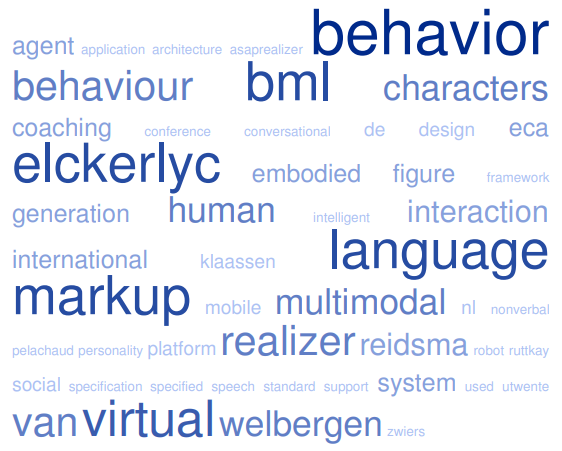 Notes:
Elckerlyc is a natural language processing (NLP) system that was developed by researchers at the University of Antwerp in Belgium. It is a virtual character that is designed to interact with users in a natural and intuitive way, using text or speech. Elckerlyc uses a combination of artificial intelligence (AI) techniques, including natural language processing, machine learning, and robotics, to simulate human-like conversation and behavior.
Elckerlyc uses a variety of tools and techniques to enable it to understand and interpret natural language, including the use of behavior markup language (BML). BML is a markup language that is used to specify and control the behavior of virtual characters in real-time. It is based on the idea of behavior trees, which are hierarchical structures that define the sequence of actions and decisions that a character can take in response to various stimuli.
In the context of Elckerlyc, BML is used to specify and control the behavior of the virtual character in real-time as it interacts with users. For example, BML might be used to specify how Elckerlyc should respond to various user inputs, such as by providing information, answering questions, or initiating a conversation. BML can also be used to control the facial expressions, gestures, and other nonverbal behaviors of the virtual character, to make it more lifelike and engaging.
References:
See also:
BML (Behavior Markup Language) & Dialog Systems | EMBR (Embodied Agents Behavior Realizer) & BML (Behavior Markup Language) | Greta & BML (Behavior Markup Language) | SmartBody & BML (Behavior Markup Language)
---
Elckerlyc goes mobile enabling technology for ECAs in mobile applications
R Klaassen, J Hendrix, D Reidsma… – UBICOMM …, 2012 – researchgate.net
… The ECA can be specified by using the behavior markup language (BML). An application and user evaluations of Elckerlyc and the PictureEngine in a mobile embedded digital … Its Behaviour Markup Language (BML) defines a specification of the form and relative timing of the …
A BML based embodied conversational agent for a personality detection program
GS Méndez, D Reidsma – International Workshop on Intelligent Virtual …, 2011 – Springer
… The project uses the Elckerlyc platform, a Behavior Markup Language (BML) compliant behavior realizer for ECAs [1]. BML allows the design and implementation of verbal and nonverbal behaviors in an abstract way, without reference to the ECA model in question …
Developing educational and entertaining virtual humans using Elckerlyc
D Reidsma, H Van Welbergen, RC Paul… – International Conference …, 2010 – Springer
… language: Recent developments and challenges. In: Panayiotopoulos, T., Gratch, J., Aylett, RS, Ballin, D., Olivier, P., Rist, T. (eds.) IVA 2005. LNCS (LNAI), vol. 3661, pp. 99–120. Springer, Heidelberg (2005) 2. Van Welbergen, H., Reidsma, D., Ruttkay, ZM, Zwiers, J.: Elckerlyc …
Connecting Elckerlyc with the psychometer
G Solano Méndez – 2011 – e-archivo.uc3m.es
… Conversational Agent (from now on ECA). The ECA that is being used is the Elckerlyc ECA [14], which has several possible configurations and uses the Behavior Mark-up Language (BML syntax). This is the first time Elckerlyc …
Simulating human movement
L Toet – Gate Magazine, 9, 2010 – projects.science.uu.nl
… Elckerlyc: A Behavior Markup Language Realizer We developed the virtual human platform "Elck- erlyc" (http://hmi.ewi.utwente.nl/showcase/ Elckerlyc) for generating multimodal verbal and nonverbal behavior for Virtual Humans (VHs) …
Elckerlyc on Android: A Lightweight Embodiment
J Hendrix – pdfs.semanticscholar.org
… This application is based on the Elckerlyc system [7]. Elckerlyc is a Behavior Markup Language (BML) realizer. BML [3] is a lan- guage that allows for the specification of the form and timing of behavior that is to be executed by a virtual human …
AsapRealizer in practice–A modular and extensible architecture for a BML Realizer
D Reidsma, H van Welbergen – Entertainment computing, 2013 – Elsevier
… Previous article in issue; Next article in issue. Keywords. Elckerlyc. AsapRealizer. Behavior Markup Language. Virtual human. Embodied conversational agents. Architecture. System integration. Customization. 1. Introduction. Virtual …
A demonstration of continuous interaction with elckerlyc
H Van Welbergen, D Reidsma… – Proceedings of the third …, 2010 – pub.uni-bielefeld.de
… Elckerlyc encompasses the realization stage. It takes a specification of the intended behavior of a virtual human written in the Behavior Markup Language (BML)(Kopp et al., 2006) and executes this behavior through the virtual human …
Elckerlyc
H van Welbergen, D Reidsma, ZM Ruttkay… – Journal on Multimodal …, 2009 – Springer
… multimodal verbal and nonverbal behavior for VHs.1 A BML Realizer takes a specification of the intended be- havior (speech, gaze, gestures, etc.) of a VH—written in the Behavior Markup Language (BML) [9]—and executes this behavior through the VH. Elckerlyc builds upon …
Feedback presentation for mobile personalised digital physical activity coaching platforms
R Klaassen, R op Den Akker… – Proceedings of the 6th …, 2013 – dl.acm.org
… The office workers only receive feedback about physical ac- Page 3. Figure 1: Overview of the Elckerlyc architecture. Behavior Markup Language (BML) input is processed by the Elckerlyc system by different engines. The result is combined into one embodiment. tivity level …
Behavior Generation for Interpersonal Coordination with Virtual Humans: on Specifying, Scheduling and Realizing Multimodal Virtual Human Behavior
H van Welbergen – 2011 – research.utwente.nl
… The Behavior Markup Language (BML) has become the de facto standard for the specification of the synchronized motor behavior (including speech and … "Elckerlyc" is designed as a BML Realizer for generating multimodal verbal and nonverbal behavior for virtual humans …
Entertainment Computing
BML Realizerq – 2013 – herwinvanwelbergen.nl
… Available online 20 May 2013 Keywords: Elckerlyc AsapRealizer Behavior Markup Language Virtual human Embodied conversational agents Architecture System integration Customization abstract Building a complete virtual …
Elckerlyc in practice–on the integration of a BML Realizer in real applications
D Reidsma, H van Welbergen – International Conference on Intelligent …, 2011 – Springer
… Its emerging Behavior Markup Language (BML) defines a specification of the form and relative timing of the behavior (eg speech, facial expression, gesture) that a BML Realizer should display on the embodiment of a VH. Elckerlyc is a state-of-the-art BML Realizer …
Monitoring User's Brain Activity for a Virtual Coach
B Van de Laar, A Nijholt, J Zwiers – International Conference on …, 2010 – Springer
… [9]. The Behaviour selection and Dialogue component communicate through Behaviour Markup Language (BML). Elckerlyc visualizes the movements and dialogues on the screen. 3 Analysis and Use of Neurophysiological Data …
Multimodal plan representation for adaptable BML scheduling
D Reidsma, H Van Welbergen, J Zwiers – International Workshop on …, 2011 – Springer
… The behavior is specified using the Behavior Markup Language (BML) [8], defining the form of the behavior and the constraints on its timing (see Fig … 2). The flexibility of our plan representation, used in our BML realizer Elckerlyc [13] makes it possible to make on-the-fly …
Digital lifestyle coaches on the move1
R Klaassen, ROP DEN AKKER, A Nijholt – technology, 2013 – researchgate.net
… The Elckerlyc platform is a Behavior Markup Language (BML) realizer for real-time generation of behaviours of virtual humans (VHs). The verbal and nonverbal behaviour of the ECA will be specified in BML and realized by the Elckerlyc platform …
Nonverbal behaviour of an embodied storyteller
F Jonkman – 2012 – essay.utwente.nl
… non-verbal behaviour realizer. Elckerlyc uses the Behaviour Mark-up Language (BML) to simulate multiple nonverbal behaviours, including the gaze behaviours. As mentioned before two viewing perspectives will be created …
Demonstrating and testing the BML compliance of BML realizers
H Van Welbergen, Y Xu, M Thiebaux, WW Feng… – … Workshop on Intelligent …, 2011 – Springer
… Marshall, AN, Pelachaud, C., Ruttkay, Z., Thórisson, KR, van Welbergen, H., van der Werf, RJ: The behavior markup language: Recent developments … van Welbergen, H., Reidsma, D., Ruttkay, ZM, Zwiers, J.: Elckerlyc: A BML realizer for continuous, multimodal interaction with a …
Multimodal plan representation for adaptable BML scheduling
H van Welbergen, D Reidsma, J Zwiers – Autonomous agents and multi …, 2013 – Springer
… (3) Finally, we discuss practical examples of how we use these new capabilities, implemented in Elckerlyc [13], to do a number of things that would not have been … The type of behavior, and the constraints on its timing, are specified using the Behavior Markup Language (BML) …
User evaluations of a behaviour change support system
SM Akkersdijk – 2013 – essay.utwente.nl
… We will now discuss Elckerlyc, after which we will tell something about the PictureEnging. The Elckerlyc platform is a Behaviour Markup Language (BML) realizer. It can generate behaviours of virtual humans real-time. "BML …
Providing Physical Appearance and Behaviour to Virtual Characters
M del Puy Carretero, HV Diez, S García… – … on Articulated Motion …, 2016 – Springer
… In order to specify the behaviour, the standard BML (Behaviour Markup Language) is used … The authoring tool presented in this paper is based on Behavior Markup Language (BML) standard … are several interpreters like SmartBody [9], BMLRealizer [10] or Elckerlyc [11] that …
Thalamus: Closing the mind-body loop in interactive embodied characters
T Ribeiro, M Vala, A Paiva – International Conference on Intelligent Virtual …, 2012 – Springer
… S., Mancini, M., Marsella, S., Marshall, AN, Pelachaud, C., Ruttkay, Z., Thórisson, KR, van Welbergen, H., van der Werf, RJ: The Behavior Markup Language: Recent Developments … Springer, Heidelberg (2007) [10] Welbergen, H., Reidsma, D., Ruttkay, ZM, Zwiers, J.: Elckerlyc …
Continuous interaction with a virtual human
D Reidsma, I de Kok, D Neiberg, SC Pammi… – Journal on Multimodal …, 2011 – Springer
Page 1. J Multimodal User Interfaces (2011) 4:97–118 DOI 10.1007/s12193-011- 0060-x ORIGINAL PAPER Continuous interaction with a virtual human Dennis Reidsma · Iwan de Kok · Daniel Neiberg · Sathish Chandra Pammi …
Spatial cues in hamlet
C Talbot, GM Youngblood – International Conference on Intelligent Virtual …, 2012 – Springer
… Tools and markup languages, such as Behaviour Markup Language (BML), Functional Markup Language (FML), and BML Realizers are making it possible to … Applications such as SmartBody [6] or Elckerlyc [7] execute behaviours spec- ified by BML on the character in the …
An incremental multimodal realizer for behavior co-articulation and coordination
H Van Welbergen, D Reidsma, S Kopp – International Conference on …, 2012 – Springer
… Thus, the combination of Elckerlyc's synchronization to predicted interlocutor events with ACE's bottom-up last minute shape … C., Pirker, H., Thórisson, KR, Vilhjálmsson, HH: Towards a Common Framework for Multi- modal Generation: The Behavior Markup Language …
Continuous interaction within the SAIBA framework
J Zwiers, H van Welbergen, D Reidsma – International Workshop on …, 2011 – Springer
… AN, Pelachaud, C., Pirker, H., Thórisson, KR, Vilhjálmsson, HH: Towards a common framework for multimodal generation: The behavior markup language … van Welbergen, H., Reidsma, D., Ruttkay, ZM, Zwiers, J.: Elckerlyc: A BML realizer for continuous, multimodal interaction …
Virtual Environment Positioning Utilizing Play-Script Spatiotemporal Reasoning
C Talbot, GM Youngblood – IEEE Transactions on Games, 2019 – ieeexplore.ieee.org
… Other methods involve the use of Behavior Markup Language (BML), a form of XML which describes character behaviors [15]. BML Realizers, such as SmartBody [16] and Elckerlyc [17], take this BML and performs the requested behavior(s) on the characters …
Effects of having an embodied agent in a personality assessment application
N Foustanas – Citeseer
… This ECA is based on the "Elckerlyc" ECA. "Elckerlyc" is a BML (Behavior Markup Language) Realizer that generates multimodal verbal and non-verbal behaviours for Virtual Humans (Welbergen et al., 2010). At its core, the Psychometer is a personality assessment application …
All together now
A Hartholt, D Traum, SC Marsella, A Shapiro… – … Workshop on Intelligent …, 2013 – Springer
… the Function Markup Language [17], and in between the behavior planning and behavior realiza- tion phases, called the Behavior Markup Language (BML) [18]. Several BML realiz- ers are publically available, including LiteBody [9], GRETA [11], Elckerlyc [12], SmartBody [13 …
A platform for building mobile virtual humans
AW Feng, A Leuski, S Marsella, D Casas… – … on Intelligent Virtual …, 2015 – Springer
… 24(6), 510–529 (2010)CrossRefGoogle Scholar. 7. Klaassen, R., Hendrix, J., Reidsma, D., et al.: Elckerlyc goes mobile … AN, Pelachaud, C., Pirker, H., Thórisson, KR, Vilhjálmsson, HH: Towards a common framework for multimodal generation: the behavior markup language …
An embodied conversational agent in a mobile health coaching application
JK Hendrix – 2013 – essay.utwente.nl
… 13 3.1.3 Further Information . . . . . 15 3.2 Elckerlyc . . . . . 15 3.2.1 A Behavior Markup Language Realizer . . . . . 15 3.2.2 Modular Design and Embodiments …
Hand gesture synthesis for conversational characters
M Neff – Handbook of Human Motion, 2016 – cs.ucdavis.edu
… Elckerlyc-A BML realizer for continuous, multimodal interaction with a virtual human. JMUI, 2010. 50. H. Vilhjalmsson, N. Cantelmo, J. Cassell, NE Chafai, M. Kipp, S. Kopp, M. Mancini, S. Marsella, A. Marshall, C. Pelachaud, et al. The behavior markup language: Recent de …
AsapRealizer 2.0: The next steps in fluent behavior realization for ECAs
H Van Welbergen, R Yaghoubzadeh… – … Conference on Intelligent …, 2014 – Springer
… The first version of AsapRealizer [9] combined the incremental behavior realiza- tion capabilities of ACE [7] with Elckerlyc's capabilities for interactional coordination [8]. AsapRealizer 2.0 enhances AsapRealizer 1.0's capabilities by implementing the capabilities that were only …
Cross-media agent platform
R Niewiadomski, M Obaid, E Bevacqua… – Proceedings of the 16th …, 2011 – dl.acm.org
… details. Elckerlyc [van Welbergen et al. 2010] is a modular and extensible Behavior Realizer following the SAIBA framework … behavior. Elckerlyc is able to re-schedule behaviors that are already queued with behaviors coming from a …
A personal context-aware multi-device coaching service that supports a healthy lifestyle
R op den Akker, R Klaassen, T Lavrysen… – Proceedings of HCI …, 2011 – scienceopen.com
… In particular, we will use the Behaviour Markup Language (BML) for the specification of synchronous multi-modal (speech, gestures, facial expressions) behaviours. We use the Elckerlyc platform (van Welbergen et al. 2010) for the behaviour realization by a character …
of deliverable Requirements and Concepts for Interaction Mobile and Web
C Pelachaud, RB Kantharaju – 2018 – council-of-coaches.eu
… 10 Behaviour Mark-up Language (BML) …. 10 … ASAP A Social Agent Platform AU Action Unit BML Behaviour Mark-up Language CMC Centre for Monitoring and Coaching COUCH Council of Coaches D Deliverable …
User handover in a cross media device environment, a coaching service for physical activity
W Wieringa – 2012 – essay.utwente.nl
… Figure 6 Standard Architecture for a Dialog System 31 Figure 7 Example of a VoiceXML field 32 Figure 8 Elckerlyc Architecture 34 Figure 9 Architecture of a standard C3PO application 38 Figure 10 Smartphone home screen 42 Figure 11 Smartphone Questionnaire Screen 42 …
HCI perspectives on behavior change support systems
R Klaassen – 2015 – ris.utwente.nl
Page 1. Page 2. HCI PERSPECTIVES ON BEHAVIOR CHANGE SUPPORT SYSTEMS DISSERTATION to obtain the degree of doctor at the University of Twente, on the authority of the rector magnificus Prof.dr. H. Brinksma on account of the decision of the graduation committee …
Automating the transfer of a generic set of behaviors onto a virtual character
A Feng, Y Huang, Y Xu, A Shapiro – International Conference on Motion in …, 2012 – Springer
… Many systems have been developed to utilize BML, such as EMBR [12], Elckerlyc [31], Beat [6] and Greta [24] in … Marshall, AN, Pelachaud, C., Pirker, H., Thórisson, K., Vilhjálmsson, H.: Towards a Common Framework for Multimodal Generation: The Behavior Markup Language …
Interactive virtual characters
D Thalmann, NM Thalmann – SIGGRAPH Asia 2013 Courses, 2013 – dl.acm.org
Page 1. Interactive Virtual Characters Nadia Magnenat Thalmann MIRALab, University of Geneva and NTU, Singapore Daniel Thalmann NTU, Singapore and EPFL, Switzerland Syllabus • Introduction (Daniel Thalmann) 5 minutes …
Directing Virtual Humans Using Play-Scripts and Spatio-Temporal Reasoning
C Talbot – 2018 – researchgate.net
… have a character move from one place to another. Other methods involve the use of Behavior Markup Language (BML), a form of XML, which describes character behaviors … 3.3. Markup Languages 18 3.3.1. Behavior Markup Language 18 3.3.2. Functional Markup Language 19 …
Virtual character performance from speech
S Marsella, Y Xu, M Lhommet, A Feng… – Proceedings of the 12th …, 2013 – dl.acm.org
… Our animation system [Shapiro 2011] translates Behavior Markup Language (BML) instructions into animated performances, similar to other BML realizers [Niewiadomski et al. 2009; van Welbergen et al. 2009; Thiebaux et al. 2008; Heloir and Kipp 2009]. 3 System Overview …
Realization and high level specification of facial expressions for embodied agents
R Paul – 2010 – essay.utwente.nl
… 11 3 Behavior Markup Language 15 … Chapter 3 Behavior Markup Language This chapter describes Behavior Markup Language (BML), the design of a parser that reads BML and stores it in an internal representation and includes some words on schedul- ing of behaviors …
An eye gaze model for controlling the display of social status in believable virtual humans
M Nixon, S DiPaola, U Bernardet – 2018 IEEE Conference on …, 2018 – ieeexplore.ieee.org
… Page 3. [32] for saccades and Elckerlyc's implementation of breathing and blinking [33] … This finding is in contrast to at least one previous finding, wherein a character implemented in Elckerlyc was used to mediate communication between two people [51] …
A multimodal approach of generating 3D human-like talking agent
M Yang, J Tao, K Mu, Y Li, J Che – Journal on Multimodal User Interfaces, 2012 – Springer
… As a highly modular and extensible script, Behavior Markup Language were proposed to provide a mix between the precise temporal and spatial control … In: Proceedings of SIGGRAPH, pp 73–80 6. Van Welbergen H, Reidsma D, Ruttkay ZM, Zwiers Elckerlyc J (2010) A BML …
Effect personality matching on robot acceptance: effect of robot-user personality matching on the acceptance of domestic assistant robots for elderly
M Brandon – 2012 – essay.utwente.nl
… 72 Figure 14: mean values and standard deviations for personality traits…..72 Figure 15: SAIBA framework for multimodal generation, figure from (Kopp et al., nd) ….77 Figure 16: Elckerlyc's architecture …
Effect of robot-user personality matching on the acceptance of domestic assistant robots for elderly
M Brandon, D Lowet, DKJ Heylen, E van Dijk… – University of Twente …, 2012 – Citeseer
… 72 Figure 14: mean values and standard deviations for personality traits…..72 Figure 15: SAIBA framework for multimodal generation, figure from (Kopp et al., nd) ….77 Figure 16: Elckerlyc's architecture …
Let us get real! integrated approach for virtual coaching and real-time activity monitoring in lifestyle change support systems
O Kulyk, R op den Akker, R Klaassen… – Proceedings of the …, 2014 – Citeseer
… on a mobile app. The system can produce ECA behaviors (eye blink, eye gaze, head movements, lip sync with natural speech and facial expressions) specified in the Behavior Markup Language (BML) [27]. In the centralized …
Things that Make Robots Go HMMM: Heterogeneous Multilevel Multimodal Mixing to Realise Fluent, Multiparty, Human-Robot Interaction
NCEDD Reidsma – researchgate.net
… We tackled this challenge by designing a framework which can mix these two types of behaviour, using AsapRealizer, a Behaviour Markup Language realiser. We call this Heterogeneous Multilevel Mul- timodal Mixing (HMMM) …
Personalized virtual coaching for lifestyle support: principles for design and evaluation
O Kulyk, R op den Akker, R Klaassen… – International journal on …, 2014 – Citeseer
… on a mobile app. The system can produce ECA behaviors (eye blink, eye gaze, head movements, lip sync with natural speech and facial expressions) specified in the Behavior Markup Language (BML) [38]. In the centralized …
Nonverbal behavior in multimodal performances
A Cafaro, C Pelachaud, SC Marsella – The Handbook of Multimodal …, 2019 – dl.acm.org
… They are typically biphasic (two movement components ), small, low energy, rapid flicks of the fingers or hand" [McNeill 1992]. Behavior Markup Language bml is an XML-like mark up language specially suited for representing communicative behavior …
of deliverable Initial user interface design for Home UI and Mobile UI
G Huizing, R Klaassen, R Bangalore – 2018 – council-of-coaches.eu
… 3D Three-dimensional ASAP Articulated Social Agents Platform ASR Automatic Speech Recognition BML Behaviour Markup Language CMC Centre for Monitoring and Coaching COUCH Council of Coaches D Deliverable DBT Danish Board of Technology Foundation …
Virtual coaches for healthy lifestyle
HJA op den Akker, R Klaassen, A Nijholt – Toward Robotic Socially …, 2016 – Springer
… 3 This is a realizer for the interpretation of embodied agent behavior specified in the Behavior Markup Language (BML) [67]. The back-end animator can be a full 3D graphical avatar and is running on desktop PC or a physical robot. Klaassen et al …
Nonverbal Behavior in
A Cafaro, C Pelachaud… – The Handbook of …, 2019 – books.google.com
… They are typically biphasic (two movement components), small, low energy, rapid flicks of the fingers or hand"[McNeill 1992]. Behavior Markup Language bml is an XML-like mark up language specially suited for representing communicative behavior …
Social Spatial Behavior for 3D Virtual Characters
N Karimaghalou – 2013 – summit.sfu.ca
Page 1. Social Spatial Behavior for 3D Virtual Characters by Nahid Karimaghalou B.Sc., University of Tehran, 2007 Thesis in Partial Fulfillment of the Requirements for the Degree of Master of Science in the School of Interactive Arts and Technology …
Believable Virtual Characters in Human-Computer Dialogs.
Y Jung, A Kuijper, DW Fellner, M Kipp… – Eurographics …, 2011 – michaelkipp.de
Page 1. EUROGRAPHICS '11/ NN and NN STAR – State of The Art Report Believable Virtual Characters in Human-Computer Dialogs Yvonne Jung1, Arjan Kuijper1,2, Dieter Fellner1,2, Michael Kipp3, Jan Miksatko3, Jonathan Gratch4, and Daniel Thalmann5 …
State of the art in hand and finger modeling and animation
N Wheatland, Y Wang, H Song, M Neff… – Computer Graphics …, 2015 – Wiley Online Library
Abstract The human hand is a complex biological system able to perform numerous tasks with impressive accuracy and dexterity. Gestures furthermore play an important role in our daily interactions, …
The TTS-driven affective embodied conversational agent EVA, based on a novel conversational-behavior generation algorithm
M Rojc, I Mlakar, Z Ka?i? – Engineering Applications of Artificial Intelligence, 2017 – Elsevier
… FML) (Cafaro et al., 2014), while co-verbal behavior is represented through Behavior Markup Language (BML) (Vilhjalmsson et al., 2007). A similar strategy is used in systems designed for virtual human research, such as Greta (Pelachaud, 2015), Elckerlyc (Van Welbergen et al …
Synthesis of listener vocalizations: towards interactive speech synthesis
SC Pammi – 2012 – scidok.sulb.uni-saarland.de
Page 1. Synthesis of Listener Vocalizations Towards Interactive Speech Synthesis Dissertation zur Erlangung des Grades des Doktors der Ingenieurwissenschaften der Naturwissenschaftlich- Technischen Fakultäten der Universität des Saarlandes vorgelegt von Sathish Pammi …
Designing a social robot to support children's inquiry learning: A contextual analysis of children working together at school
DP Davison, FM Wijnen, J van der Meij… – International journal of …, 2019 – Springer
Page 1. International Journal of Social Robotics https://doi.org/10.1007/s12369-019- 00555-6 Designing a Social Robot to Support Children's Inquiry Learning: A Contextual Analysis of Children Working Together at School Daniel …
Investigating the role of social eye gaze in designing believable virtual characters
M Nixon – 2017 – summit.sfu.ca
Page 1. Investigating the Role of Social Eye Gaze in Designing Believable Virtual Characters by Michael Nixon M.Sc., Simon Fraser University, 2009 B.Sc., Vancouver Island University, 2004 Thesis Submitted in Partial Fulfillment of the Requirements for the Degree of …
Capturing and Animating Hand and Finger Motion for 3D Communicative Characters
NS Wheatland – 2016 – escholarship.org
Page 1. UC Riverside UC Riverside Electronic Theses and Dissertations Title Capturing and Animating Hand and Finger Motion for 3D Communicative Characters Permalink https://escholarship.org/uc/item/39w9397t Author Wheatland, Nkenge Safiya Publication Date …
Feedback presentation for physical activity coaching: by an embodied conversational agent or by a simple e-mail?
A Wiekens – 2011 – essay.utwente.nl
Page 1. Master thesis – Feedback presentation for physical activity coaching: by an embodied conversational agent or by a simple e-mail? Adri Wiekens 1 Page 2. Page 3. Contents 1 Introduction 9 1.1 Behavior modification . . . . . 9 1.2 Thesis outline …
Motion capture based animation for virtual human demonstrators: modeling, parameterization and planning
Y Huang – 2012 – search.proquest.com
… avatar with a low-dimensional input device. For explicit behavior modeling, [KKM06] describes Behavior Markup Language (BML) within a framework to unify a multi-modal behavior generation. As an efcient way for motion synthesis …
of deliverable First periodic report
J van Loon, H op den Akker, T Beinema, M Broekhuis… – 2019 – council-of-coaches.eu
… Relevant existing standards are being used and extended wherever possible, including the use of and future release of an extended open source dialogue platform, and eg the core integration of Behaviour Markup Language (BML) …